Complete Guide to Walnut Canyon National Monument in Arizona, including things to do, history, nearby lodging and camping, directions, and so much more.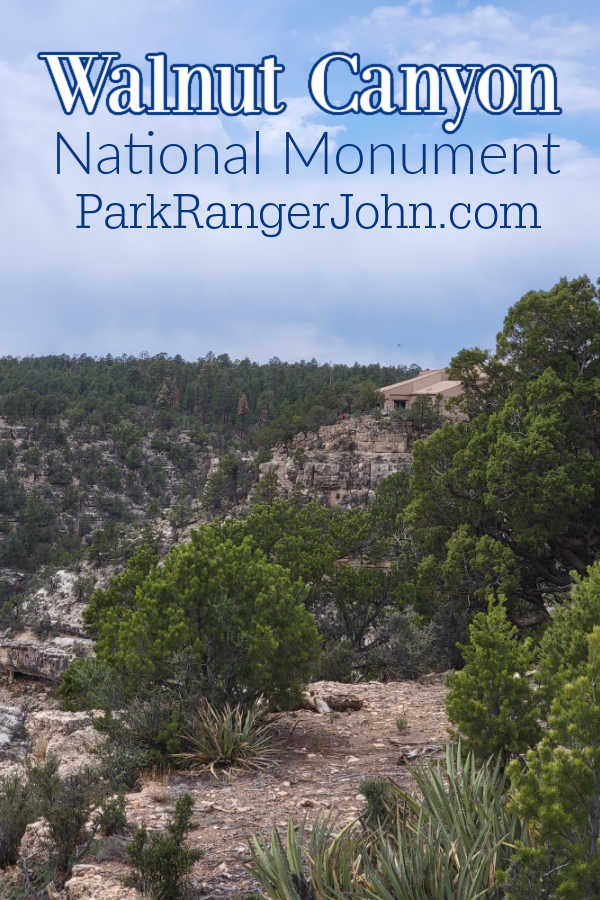 Walnut Canyon National Monument
Walnut Canyon National Monument is located just outside of Flagstaff, Arizona. Visitors have the opportunity to see Cliff dwellings of the Sinagua Indians, built-in alcoves in the sandstone walls of the canyon.
About Walnut Canyon National Monument
This National Monument offers the amazing chance to walk right up to Sinagua people's cliff dwellings. Located 10 miles east of Flagstaff, this park is incredibly easy to visit.
The canyon in Walnut Canyon is 600 feet deep. The canyon was created by Walnut Creek which flows into the Colorado River and down to the Grand Canyon.
The upper layer of this canyon is Kaibab limestone. There are cliff-dwelling ruins scattered throughout this canyon.
Visitors have the choice to take the Island Trail which includes a steep set of stairs down to the dwellings or you can explore the Canyon rim with the rim trail.
The ruins were used by Sinagua cave dwellers during the 12th and 13th centuries.
The Sinagua people also built Tuzigoot, Montezuma Castle, and other cliff dwellings in Arizona.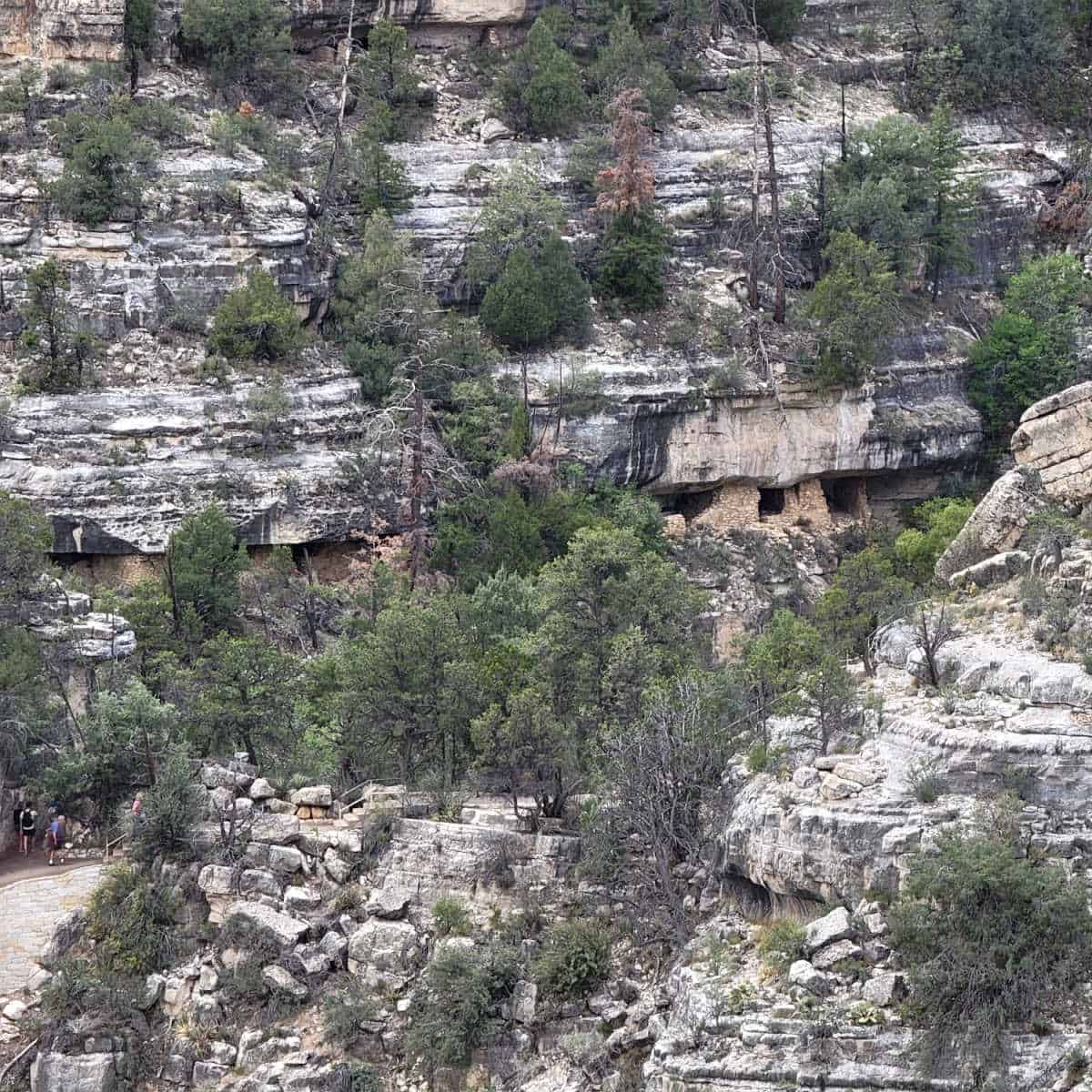 Is Walnut Canyon National Monument worth visiting?
Walnut Canyon National Monument is a unique and beautiful destination that offers visitors the opportunity to learn about the ancient culture of the region and enjoy its natural beauty. If you are interested in history, archaeology, and outdoor recreation, then this park is definitely worth a visit.
History of Walnut Canyon National Monument
Just outside of Flagstaff, Arizona, is a canyon filled with incredible walking trails that pass directly below centuries-old cliff dwellings. This national monument combines the stunning natural beauty of the Southwest United States with architectural prowess of the Ancestral Sinagua people.
Geologic History of Walnut Canyon National Monument
Walnut Canyon was formed by Walnut Creek. The erosional forces have work of flowing water, fracturing from freezing, and wind have worked for millions of years to carve a canyon nearly 600 feet deep.
Walnut Creek has worn its way through limestone and sandstone that was laid down more than 200 million years ago during the late Triassic period. During the late Triassic a massive inland sea stretched from north to south across the interior of North America.
At the same time dinosaurs like the coloradisaurus were roaming the seaway's shores, sharks and plesiosaurs were swimming where the Rockies are today. How is this possible?
Beginning about 200 million years ago, the sea floor of the Western Interior Seaway began to slowly rise. Why? A tectonic subducted, or went under, the plate which much of North America rests upon at a slight angle.
As these massive plates were propelled by the forces of the Earth's interior, the subducted plate began pushing up the middle of the North American plate. This uplift incrementally pushed the Western Interior Seaway floor skywards.
Through this process the sandstone and siltstone floors of the sea were vaulted skyward. Millions of years later it was this exposed stone that provided building materials to the Ancestral Sinagua people in Walnut Canyon.
Walnut Creek
Walnut Creek, which is responsible for much of the erosion work that formed the Walnut Canyon formation, is a tributary of the Little Colorado River. The Little Colorado eventually flows into the Colorado and on into the famous Grand Canyon.
Walnut Creek waterway is regularly a dry creek bed today. How the Ancestral Sinagua people survived in this area may seem a mystery to visitors today. Dams upriver from Walnut Canyon and use of those reservoirs for residential and commercial uses means that water flows in Walnut Creek only in extreme weather scenarios.
When the Ancestral Sinaguans formed their cliffside homes, Walnut Creek was one of the only reliable water sources in an otherwise incredibly arid region. The name "Sinagua" is actually of Spanish origin. In Spanish, sin means "without" and agua is "water." The Ancestral Sinaguans managed to thrive in the canyon despite its hostile environment.
Native American at Walnut Canyon National Monument
While the Ancestral Sinauguan people built impressive cliffside dwellings within Walnut Canyon, it seems as though they were in the canyon for a relatively short period. Based on dendrochronology and the dating of artifacts from within the canyon, the Ancestral Sinaguan people were in the canyon for less than 200 years.
During the 12th-15th centuries across the Colorado Plateau similar cliff-dwelling villages emerged. In most cases there are nearby pit houses associated with older Ancestral Puebloan dwelling. At Walnut Canyon there is a pit house in the immediate vicinity.
The Walnut Canyon Ancestral Sinaguan people present an intriguing mystery to historians and archaeologists. Their architectural methods fit in squarely with the movement towards megastructures happening among the Ancestral Puebloans.
Were the Walnut Canyon Ancestral Sinaguan people a group of outcasts or adventures? Does this late appearance in hostile terrain point towards social strain developing by overpopulation?
What we know about the Ancestral Sinaguan people at Walnut Canyon and the larger Ancestral Puebloans throughout the region is that these groups largely migrated off of the plateau. Many merged with other groups along the El Paso River.
The Walnut Canyon Cliff Houses
More than 80 cliff houses are located just below the canyon rim. The canyon itself is narrow. Twelve-hundred feet across, 400 feet deep, and almost two-dozen miles long.
Skillfully building in high alcoves, the Ancestral Sinaguan people built what archaeologists believe were small, four-room homes. Each structure is approximately 6 feet high, 18 feet wide, and 9 feet deep. This makes each "skyline apartment" around 150 square feet.
In these tight quarters, Ancestral Sinaguan people would sleep and eat. They would use clever ladders and handholds to go down to their cliff dwelling and back up to the plateau top.
Similar to other Ancestral Puebloan groups, the Ancestral Sinaguans relied on crops commonly referred to as the Three Sisters: maize, beans, and squash. Clever dams on the plateau's surface were used to create small reservoirs to nourish their crops.
Water from Walnut Creek used to meet the group's basic needs when it was flowing. Walnut Creek, archaeologist's think, was a seasonal creek that filled only during the rainy seasons and during periods of heavy snow melt occurring near the Walnut Creek's source.
The United States and Walnut Canyon National Monument
Following the Mexican-American War (1846-1848), waves of US settlers, explorers, and speculators washed over the American Southwest. Some were commissioned by the young government to chart the new territory. Others were seeking personal glory and wealth.
The artifacts of the Ancestral Sinaguan people at Walnut Canyon National Monument were discovered and were pilloried again and again. Some treasure hunters went so far as to dynamite some of the cliff dwellings.
As one can imagine, this blasted seven-hundred-year-old walls to the floor of Walnut Canyon and blasted artifacts to smithereens. Thankfully several of the original 80 structures survived.
Visitors today to the park are presented with several walking trails that wind down to the canyon floor. These walking trails guide visitors beneath cliff dwellings. If visitors make reservations ahead of time, walks can be scheduled with park rangers to walk on the canyon's rim.
These guided tours provide up close visits with an Ancestral Sinaguan pit house and cross-canyon views of the old cliff dwellings.
Walnut Canyon preserves a small, unique culture who flitted onto the archaeological scene. The Ancestral Sinaguan people left behind a host of artifacts and cliff dwellings, some of which remain incredibly well preserved. A quick visit to the park provides moderate hiking trails and a glimpse into the area's ancient past.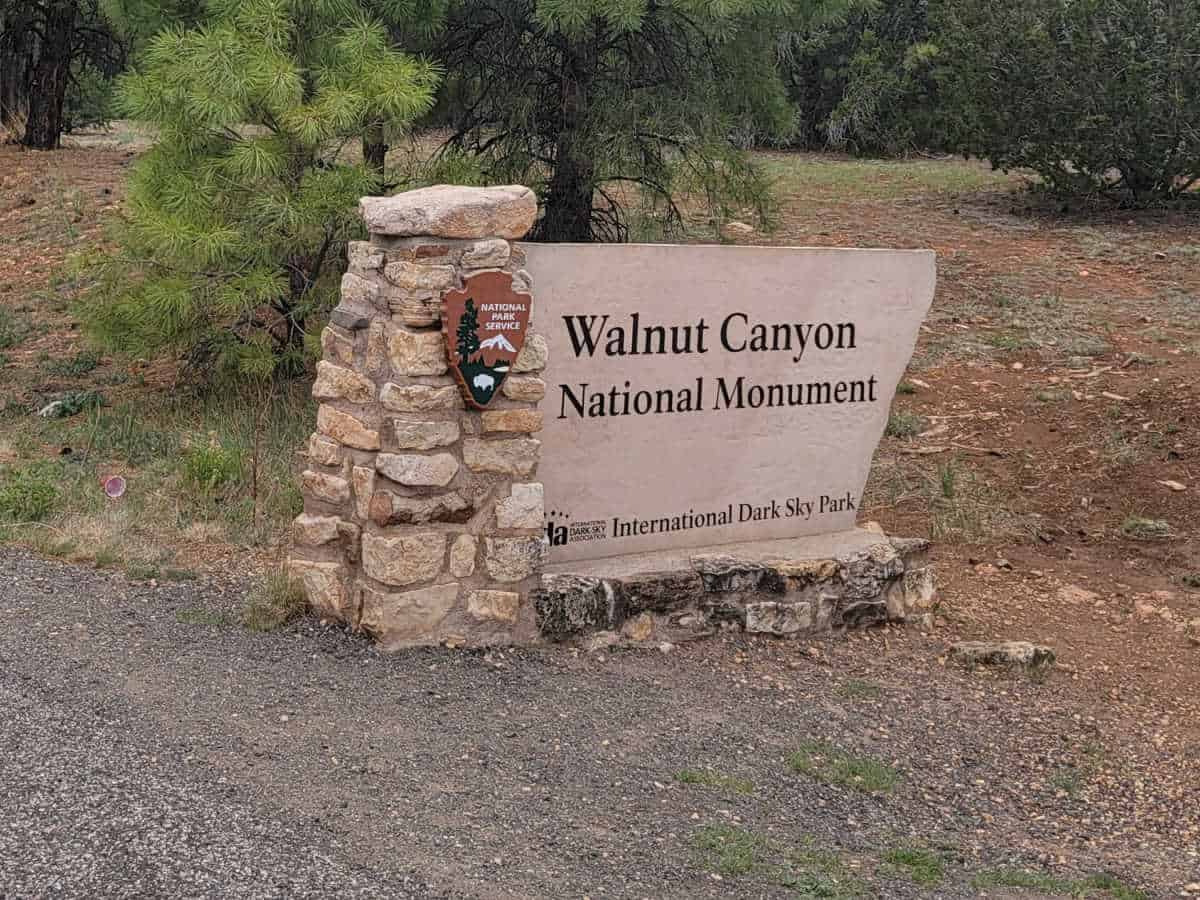 Things to know before your visit
Entrance fees
Walnut Canyon Private Vehicle Entrance Fee - $25.00
This fee covers the occupants of one private vehicle for seven consecutive days at Walnut Canyon National Monument.
Commercial Sedan - Walnut Canyon Entrance Fee - $28.00
This fee covers the occupants of one commercial sedan for one day at Walnut Canyon National Monument.
Commercial Van - Walnut Canyon Entrance Fee - $40.00
This fee covers the occupants of one commercial van for one day at Walnut Canyon National Monument.
Commercial Bus - Walnut Canyon Entrance Fee - $100.00
This fee covers the occupants of one commercial bus for one day at Walnut Canyon National Monument.
Learn more about National Park Passes for parks that have an entrance fee.
Free Entrance Days -Mark your calendars with the five free entrance days the National Park Service offers annually.
Time Zone
Mountain Standard Time (year-round)
Pets
Pets are allowed on the Rim Trail and in the visitor center parking lot. Pets/dogs are not allowed in the Visitor Centers. The park is pet-friendly
Cell Service
Cell phone reception and 4G is very limited within Walnut Canyon
Park Hours
Walnut Canyon is accessible throughout the year from 9 AM to 5 PM, but closes at 1 PM on Thanksgiving, Christmas Day, and New Year.
Both the Island Trail and the Rim Trail have specific closing times, with the Island Trail closing at 4 PM. and the Rim Trail closing at 4:30 PM.
Any viewpoints of the canyon, the visitor center, and other park facilities are inaccessible after 5 PM.
Wi-Fi
There is no public Wi-Fi available at the park.
Insect Repellent
Insect repellent is always a great idea when outdoors, especially if you are around any body of water.
We use Permethrin Spray on our clothes before our park trips.
Water Bottle
Make sure to bring your own water bottle and plenty of water with you. Plastic water bottles are not sold in the park.
Parking
There is a large parking area near the visitor center.
Food/Restaurants
There are no restaurants within the park.
Gas
There are no gas stations within the park.
Drones
Drones are not permitted within National Park Sites.
National Park Passport Stamps
National Park Passport stamps can be found in the visitor center.
We use the Explorer Edition Passport Book that can be expanded and updated. This is a great way to track all of the parks you have visited over time.
Make sure to bring your National Park Passport Book with you or we like to pack these circle stickers so we don't have to bring our entire book with us.
Electric Vehicle Charging
A total of 252 public charging stations are available in Flagstaff, Arizona, of which 32 are free.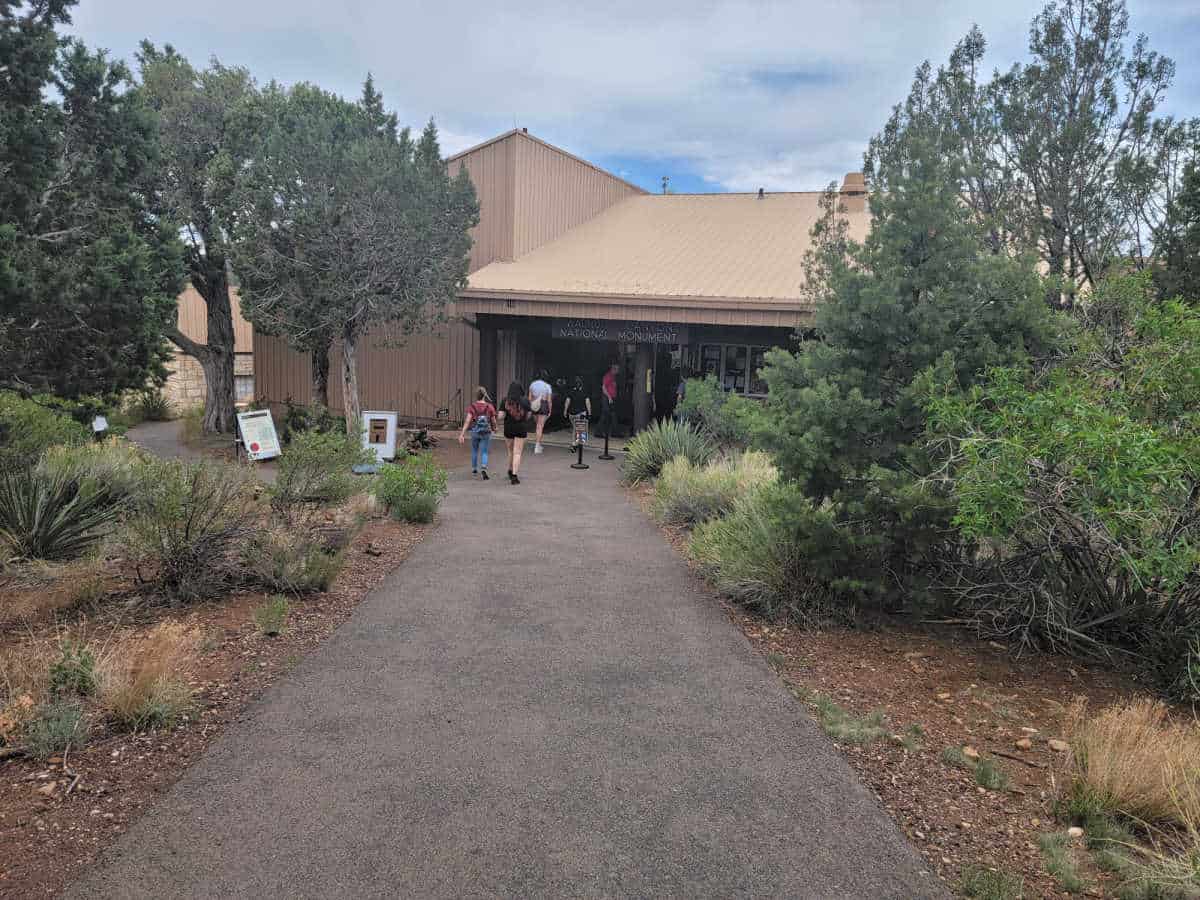 Details about Walnut Canyon National Monument
Size - 3,588 acres
Check out how the park compares to other National Parks by Size.
Date Established
President Woodrow Wilson established Walnut Canyon National Monument on November 30, 1915.
Visitation
In 2022, Walnut Canyon NM had 179,396 park visitors.
In 2021, Walnut Canyon NM had 212,328 park visitors.
In 2020, Walnut Canyon NM had 107,422 park visitors.
In 2019, Walnut Canyon NM had 152,333 park visitors.
Learn more about the most visited and least visited National Parks in the US
National Park Address
3 Walnut Canyon Road
Flagstaff, AZ 86004
United States
Park Phone Number - (928) 526-3367
National Park Map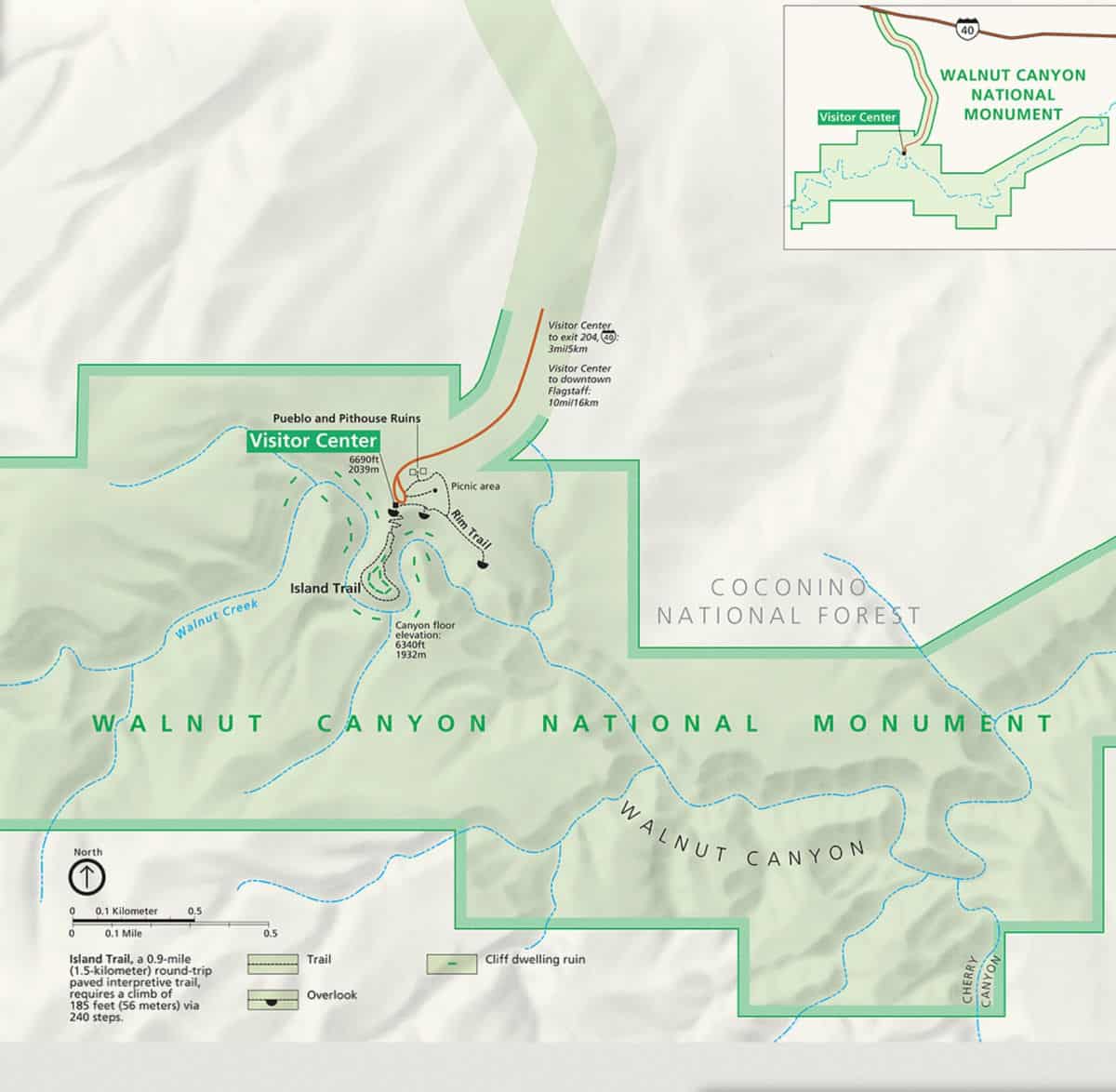 Where is Walnut Canyon National Monument?
Walnut Canyon National Monument is located in northern Arizona, United States, about 7.5 miles east of Flagstaff.
The park borders Coconino National Forest (Managed by the U.S. Forest Service)
Estimated distance from major cities nearby
Downtown Flagstaff - 14 miles
Glendale, AZ - 119 miles
Scottsdale, AZ - 119 miles
Phoenix, AZ - 123 miles
Mesa, AZ - 124 miles
Chandler, AZ - 131 miles
Henderson, NV - 197 miles
Paradise, NV - 207 miles
Las Vegas, NV - 208 miles
Tucson, AZ - 209 miles
Mexicali, Mexico - 278 miles
Estimated Distance from nearby National Park
Petrified Forest National Park - 107 miles
Grand Canyon National Park - 96 miles
Mesa Verde National Park - 277 miles
Zion National Park - 239 miles
Bryce Canyon National Park - 285 miles
Canyonlands National Park - 317 miles
Capitol Reef National Park - 353 miles
Where is the National Park Visitor Center?
The Visitor Center is located just off US-89, about 7 miles east of Flagstaff. The entrance to the park is clearly marked with signs, and the Visitor Center is located just inside the park entrance.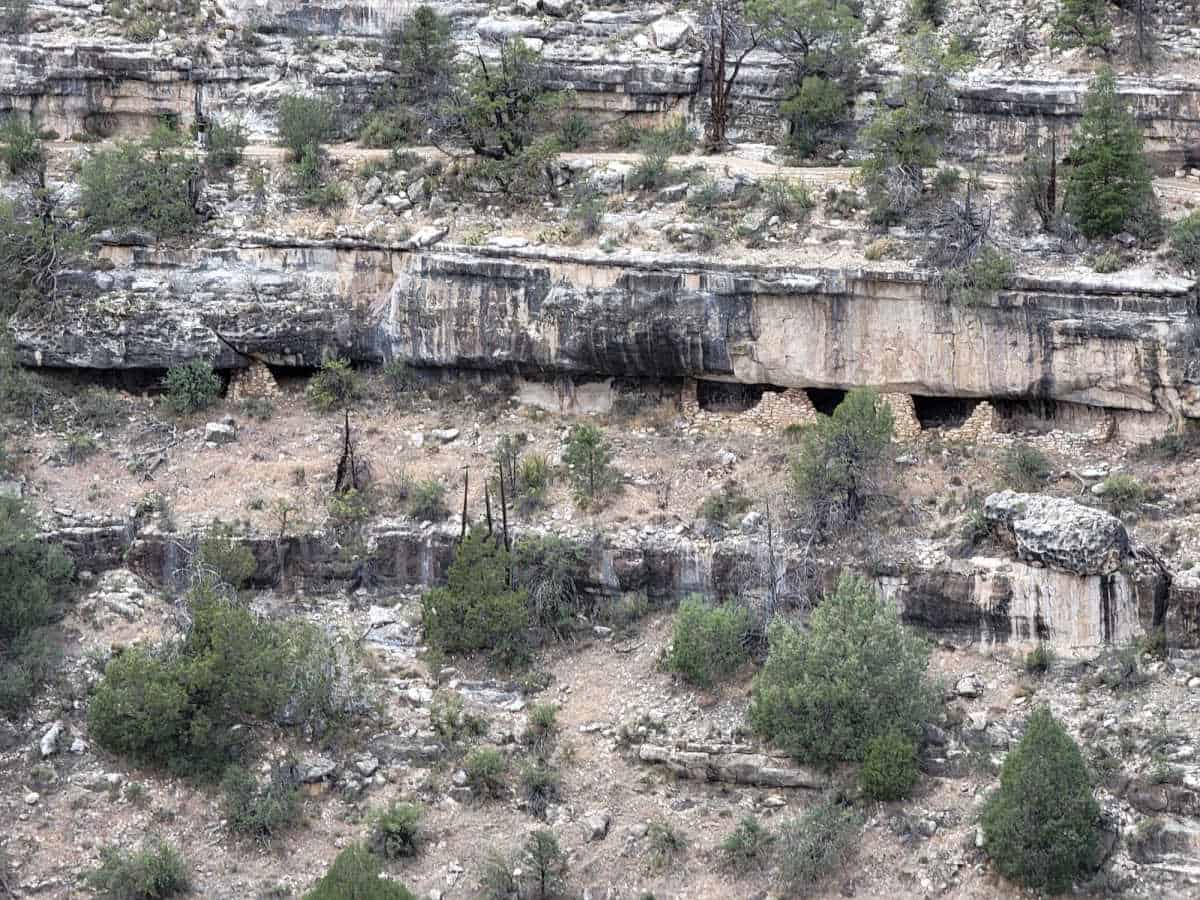 Getting to Walnut Canyon National Monument
Closest Airports
Flagstaff Pulliam Airport (FLG / KFLG)
International Airports
Phoenix Sky Harbor International Airport (PHX / KPHX)
Las Vegas McCarran International Airport (LAS / KLAS)
Tucson International Airport (TUS / KTUS)
Regional Airports
Show Low Regional Airport (SOW / KSOW)
Driving Directions
From Flagstaff, travel east on Interstate 40 towards Albuquerque. Take Exit 204, and head south. The Walnut Canyon visitor center is located at the end of this 3 mile road.
Oversized vehicles - the turn-around area at Walnut Canyon for oversized and towed vehicles is limited. The maximum recommended length is 40 feet (12 meters). There is no turn around area for oversized vehicles when the park is closed.
GPS challenges - GPS systems often lead visitor to Walnut Canyon down Forest Road 303, a dirt, unmaintained road. This road often requires a high clearance vehicle. Please follow the directions above for the easiest route to Walnut Canyon National Monument.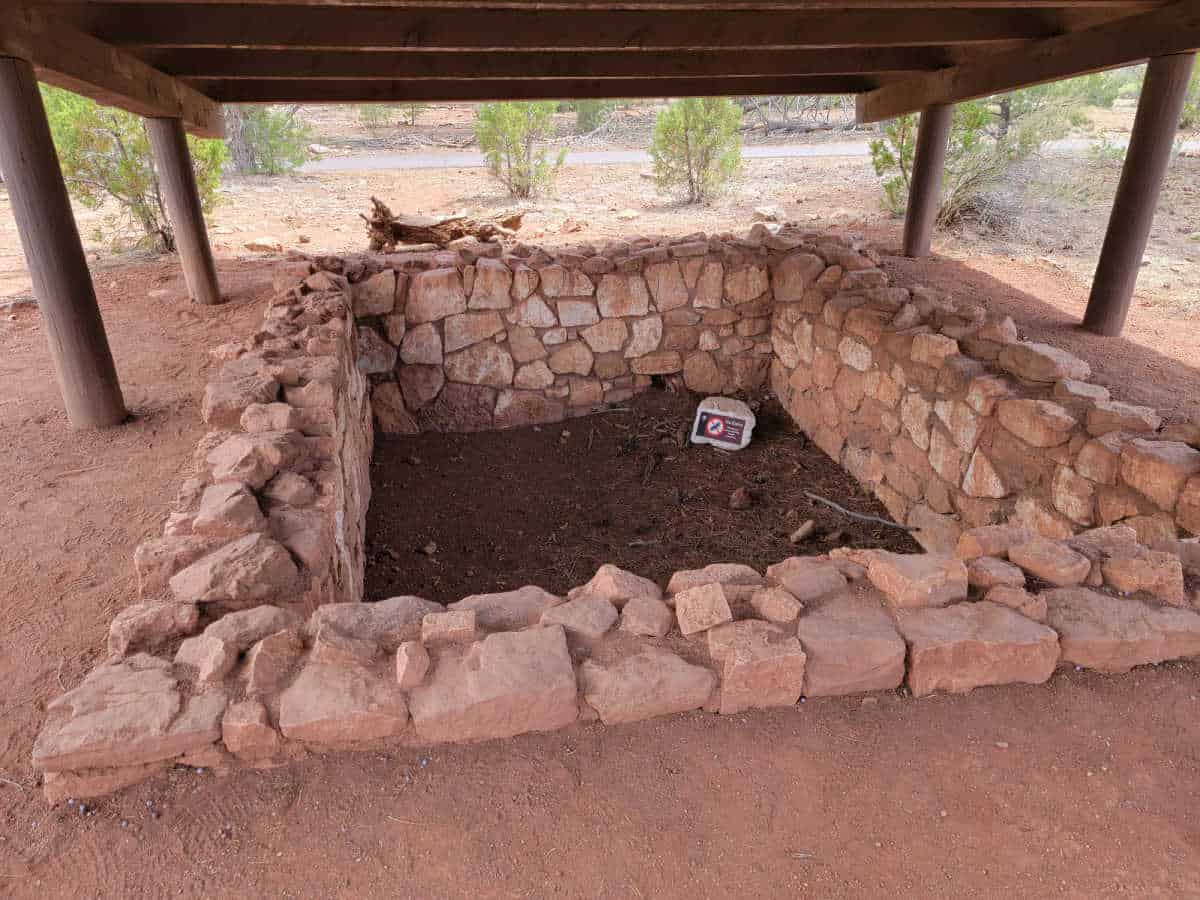 Best time to visit Walnut Canyon National Monument
The best time to visit Walnut Canyon National Monument depends on your preferences and what you would like to see and do. However, generally speaking, the most popular time to visit is during the spring and fall seasons, which offer mild temperatures and pleasant weather.
Weather and Seasons
The warmest season begins from June 2nd to September 13th, with an average daily high temperature above 73 degrees.
The coldest season begins from November 20th to March 6th, with an average daily high temperature below 49 degrees.
The snowiest season begins from October 30th to April 29th, with a snowfall of at least 1 inch a month. It snows the most in January, with an average of 7.3 inches.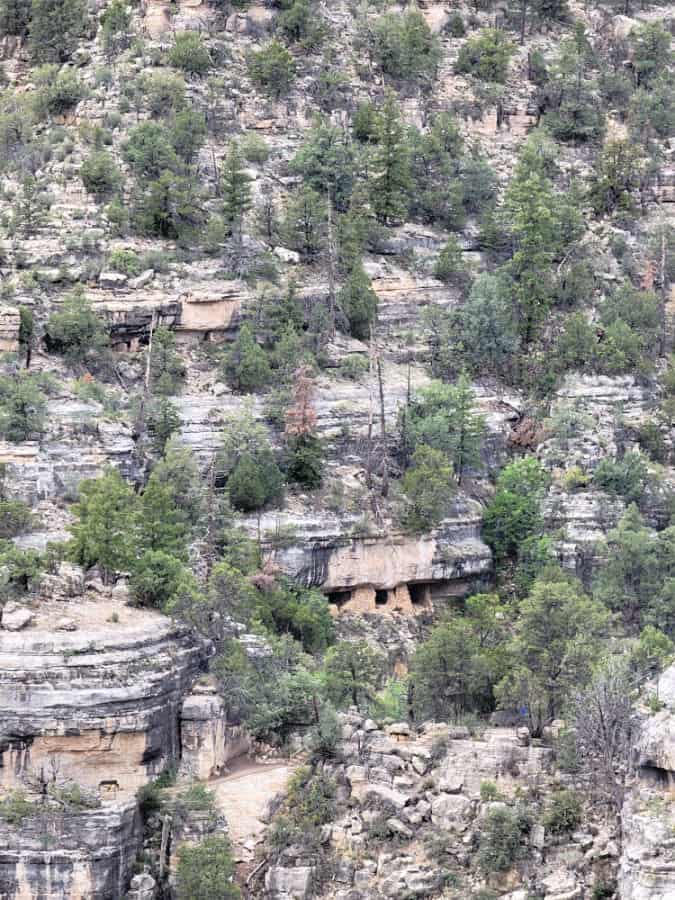 Best Things to do in Walnut Canyon National Monument
We suggest planning at least a few hours if not more to explore Walnut Canyon NM! If you plan to hike the main trails you will want to give yourself more than enough time.
One thing to know is Walnut Canyon is a higher elevation park at 6,690 feet!
One really cool thing about the park is it is an International Dark Sky Park.
Visitor Center
The visitor center is located next to the parking lot and is easy to get to. They have a nice gift shop along with information on the area.
Learn about Walnut Canyon's history, and view exhibits and artifacts in the park's museum.
The park film is a great way to learn more about Walnut Canyon's cultural and natural history. The film is 20 minutes long and plays on a continuous loop in the museum/visitor center.
The Junior Ranger booklets can be picked up at the visitor center. This program does a great job of explaining geology, history, and more.
Viewpoints
The two ADA Accessible viewpoints offer amazing views of the canyon walls, ancient dwellings, and archaeological sites.
Both the indoor and back patio observation areas are accessible. The views from the rim of Walnut Canyon area spectcular.
The rim of the canyon offers viewpoints of actual pueblos built into the cliff side along the canyon overlooks.
The entire family will have an amazing time exploring this great park!
Bird Watching
Visitors may spot a variety of bird species in the area, including the Canyon Wren, Steller's Jay, Acorn Woodpecker, Dark-eyed Junco, White-crowned Sparrow, and many more.
The park's diverse habitats, including forests, riparian areas, and canyons, provide a habitat for a range of bird species.
Bird watchers are advised to bring their binoculars and field guides and explore the park's trails, such as the Island Trail and the Rim Trail, to observe the birds in their natural habitats.
Keep an eye out for mule deer while exploring the park. The park has amazing biodiversity includes a Douglas Fir-Gambel Oak Forest, Shrubland vegetation, and Pinyon Pines-Juniper Woodland with Ponderosa Pine Trees, and grasslands.
Picnic Area
Pack a picnic and enjoy the parks fantastic picnic area.
Hiking in Walnut Canyon National Monument
Always carry the 10 essentials for outdoor survival when exploring. The self-guided trails offer the opportunity to see the remarkable geological formations of the canyon, ancient cliff dwellings (former homes of ancient inhabitants), archeological sites, panoramic views, and more!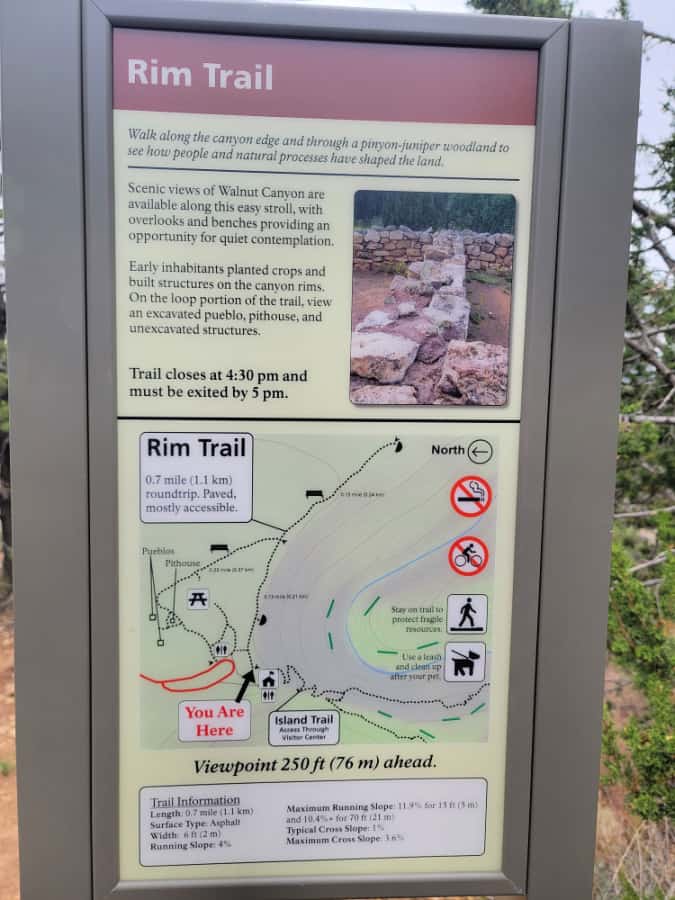 Rim Trail
Explore the 0.7-mile round-trip Rim Trail to look down into Walnut Canyon. You will also pass a pit house and the remains of a pueblo.
Entry to the trail closes 30 minutes before the monument closes.
The Rim Trail is pretty flat with only a couple of small inclines/declines. The entire trail is paved and easy to maneuver.
There is a great overlook along the Rim Trail that gives you a view of the Island Trail. With a telephoto lens or binoculars, you can get a great look at the cliff dwellings on the other side of the canyon.
Walnut Canyon is packed with vegetation including Ponderosa Pines, Pinyon, and Juniper Trees.
Along the path you can see interpretive signs detailing some of the plants and flowers.
Make sure to check out the pit houses and freestanding pueblos that can be seen on the trail.
The pit houses were built near the farm fields. They were built partially underground so they kept warm in the winter and cool in the summer.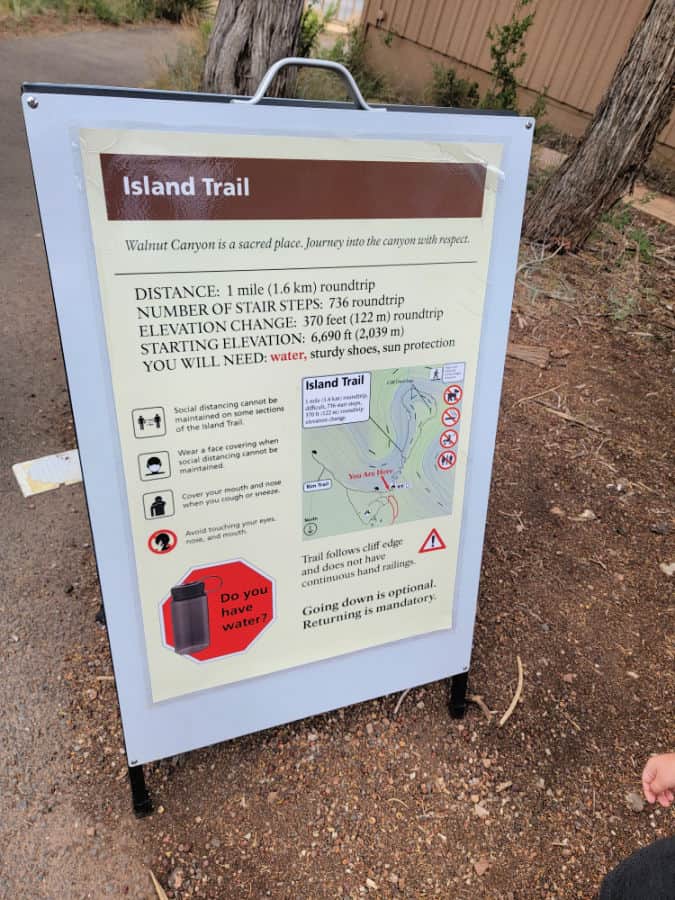 Island Trail
The island trail descends 185 vertical feet into the canyon and you have to come back up the same path! While this may not sound too rough please remember the trail is at 7,000 feet elevation.
If you are not used to this elevation this hike can easily wipe you out. The trail is not recommended for visitors with health problems.
There are 240 steps to reach the top and the visitor center! We saw many people gasping for breath trying to make it up the trail.
Along the trail, you will see 25 cliff dwelling rooms and see additional rooms on the other side of the canyon.
The Island Trail may be closed due to snow or inclement weather. Entry to the trail closes 1 hour before the park closes.
Ranger Guided Hikes
Discovery Hikes are offered in the summer from July through September. Check with the park for the most up-to-date information on when these ranger-guided hikes will be available. Call 928-526-3367
How to beat the crowds
Walnut Canyon NM is very popular! We suggest planning to arrive early in the morning or during the week to miss some of the crowds.

Where to stay when visiting Flagstaff
There are no National Park Lodges within the park.
Nearby Lodging includes:
Sonesta ES Suites Flagstaff - 3-star hotel adjacent to a golf course. Consider a stay at Sonesta ES Suites Flagstaff and take advantage of a free breakfast buffet, 18 holes of golf, and a grocery/convenience store. Active travelers can enjoy basketball at this hotel. For some rest and relaxation, visit the hot tub. In addition to dry cleaning/laundry services and a 24-hour gym, guests can connect to free in-room Wi-Fi.
Hampton Inn & Suites Flagstaff East - Hotel in the mountains. Take advantage of free continental breakfast, a free grocery shopping service, and dry cleaning/laundry services at Hampton Inn & Suites Flagstaff East. In addition to a gym and a 24-hour business center, guests can connect to free in-room Wi-Fi.
Fairfield Inn & Suites by Marriott Flagstaff Northeast - Hotel in the mountains. Located close to Northern Arizona University and Lowell Observatory, Fairfield Inn & Suites by Marriott Flagstaff Northeast provides free continental breakfast, a terrace, and laundry facilities. Free in-room Wi-Fi is available to all guests, along with a 24-hour gym and a business center.
Click on the map below to see current vacation rentals and lodges near the park.


Camping
There are no National Park Campgrounds within the park.
The closest campgrounds to the park are Bonito Campground and Canyon Vista Campground in Coconino National Forest.
The United States Forest Service (USFS) operates a number of campgrounds in the Flagstaff area. For more information, visit the Coconino National Forest campground site, or contact the Coconino National Forest at (928) 526-0866
These campgrounds are open seasonally and not open during the winter months.
For a fun adventure check out Escape Campervans. These campervans have built in beds, kitchen area with refrigerators, and more. You can have them fully set up with kitchen supplies, bedding, and other fun extras. They are painted with epic designs you can't miss!
Escape Campervans has offices in Vancouver, Seattle, Portland, San Francisco, Las Vegas, Los Angeles, Phoenix, Salt Lake City, Denver, Chicago, New York, and Orlando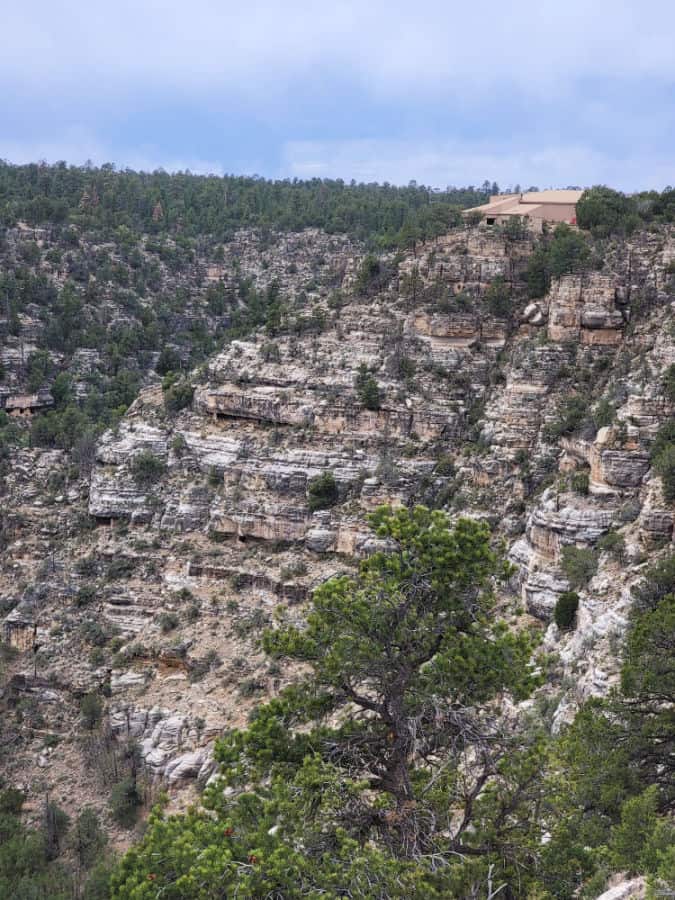 Parks Near Walnut Canyon National Monument
Sunset Crater Volcano National Monument - 18 miles
Wupatki National Monument - 30 miles
Tuzigoot National Monument - 59 miles
Montezuma Castle National Monument - 62 miles
Hubbell Trading Post National Historic Site - 133 miles
Tonto National Monument - 160 miles
Canyon de Chelly National Monument - 161 miles
Check out all of the National Parks in Arizona along with neighboring National Parks in California, National Parks in Colorado, National Parks in Nevada, New Mexico National Parks, and Utah National Parks