When are the Free National Park Days? There are five days during the year that the National Park Service waives entrance fees. These are great days to check out a park that normally charges an entrance fee.
It is worth noting that only 110 of the 424 National Park Service sites charge a fee! If you have an NPS site near you it is worth checking to see if they charge an entrance fee!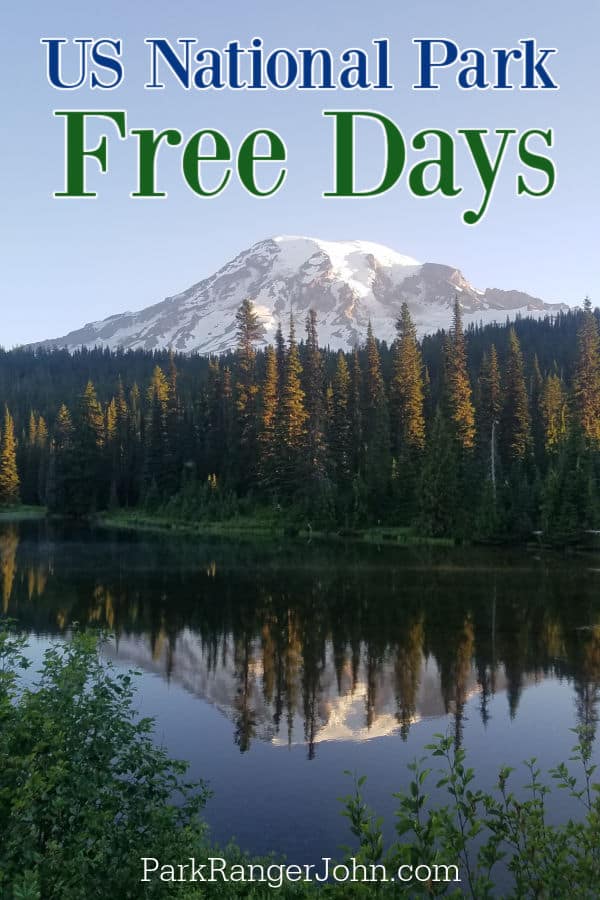 2023 Free National Park Day
Mark your calendar for these entrance fee-free dates in 2023! The free entry day is a great opportunity to visit one of the beautiful National Parks in the United States.
Why not visit a new place, explore America's best idea and visit one of the amazing National Park Sites listed below.
As a frequent visitor of parks we love sharing these amazing places with you!
The free entrance days for 2023 are:
January 16: Birthday of Martin Luther King, Jr.
April 22: First day of National Park Week
August 4: Anniversary of the Great American Outdoors Act
September 23: National Public Lands Day
November 11: Veterans Day
The entrance fee waiver for entrance fee-free days does not cover amenities or user fees for activities such as camping, boat launches, transportation, or special tours.
If you want to visit a National Park outside of the Free National Park Days we highly suggest buying a National Park Annual Pass. These Federal Recreational Lands Pass get you into any of the 424 National Park Service Sites along with working at over 2,000 recreation sites that charge a daily park admission fee.
The park pass covers everyone in the car for per vehicle sites and for up to 4 adults for per-person sites.
There are 309 NPS sites that do not charge an entrance fee. They are open to all visitors for free.
These 110 National Park Service sites normally charge an entrance fee which is waived during Free National Park Days.
Below is a current list of U.S. National Parks and historic sites that will be offering free admission during specific days of the year.
There are many parks in the National Park system that are free year-round.
Alaska
Arizona
Glen Canyon National Recreation Area
Lake Mead National Recreation Area
Organ Pipe Cactus National Monument
Tonto National Monument
Arkansas
California
Colorado
Florida
Georgia
Cumberland Island National Seashore
Hawai'i
Idaho
Maine
Maryland
Antietam National Battlefield
Chesapeake and Ohio Canal National Historical Park
Fort McHenry National Monument and Historic Shrine
Harpers Ferry National Historical Park
Massachusetts
Adams National Historical Park
Cape Cod National Seashore
Michigan
Mississippi
Missouri
Montana
Nevada
Lake Mead National Recreation Area
New Hampshire
New Jersey
Thomas Edison National Historical Park
New Mexico
New York
Sagamore Hill National Historic Site
North Carolina
North Dakota
Ohio
Perry's Victory & International Peace Memorial
Oklahoma
Oregon
Puerto Rico
San Juan National Historic Site
South Carolina
South Dakota
Tennessee
Texas
Utah
Glen Canyon National Recreation Area
Virgin Islands
Christiansted National Historic Site
Virginia
Colonial National Historical Park
George Washington Memorial Parkway's Great Falls Park
Harpers Ferry National Historical Park
Prince William Forest Park
Washington
West Virginia
Harpers Ferry National Historical Park
Wyoming
We hope this list helps you make the most of the Free National Park Days. Don't miss our printable checklist of National Parks so you can document all the parks you have visited.
We have a full listing of every NPS Site available so you can plan an amazing visit to our US National Parks.
If you are looking at visiting multiple parks during the year check out this blog post about the America The Beautiful - National Park and Federal Recreational Lands Pass so you can plan your trip.
There are specific park passes for Gold Star Families, fourth graders, military veterans, senior citizens, current members of the military, and more.
Reader Interactions