Epic Guide to Devils Tower National Monument in Wyoming including things to do, history, camping, nearby lodging, and more!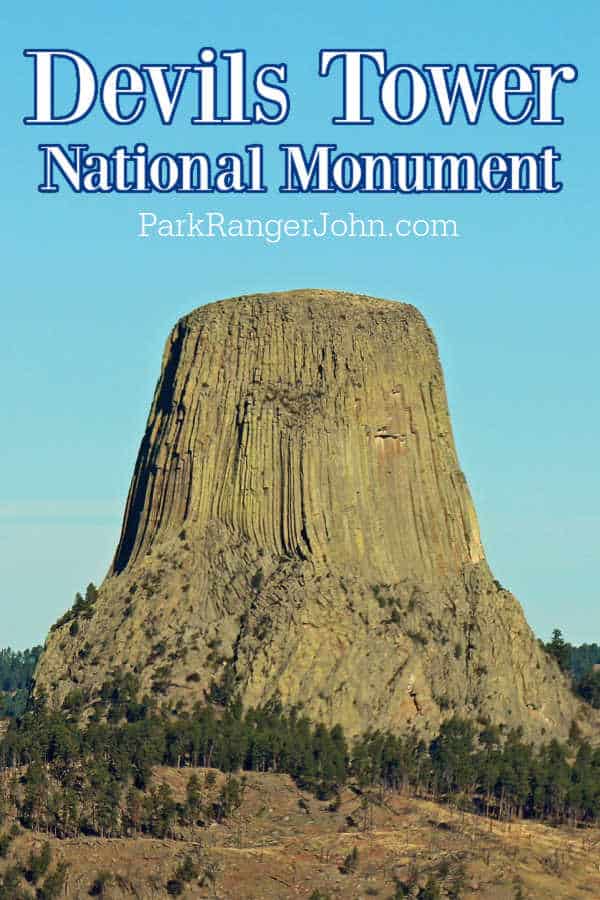 Devils Tower National Monument
Devils Tower is a bucket list park for many people! There is something so unique and amazing about this park.
About Devils Tower National Monument
100 miles northwest of Rapid City and the Black Hills it is well worth taking a side trip to Devils Tower.
How tall is Devils Tower?
The tower rises 1,267 feet above the Belle Fourche River, standing 867 feet from summit to base.
How big is the summit of Devils Tower?
The summit is approximately 1.5 acres about the size of a football field.
What is the top of Devils Tower like?
The top is rocky and domed shape. You may be surprised to learn there are native grasses, cactus, and sagebrush on top.
Snakes have occasionally been found on top along with chipmunks, mice, and pack rats.
Is Devils Tower a Tree?
It seems this question has been floating around the internet lately so I figured we would answer it.
Devils Tower is not a tree. This is a myth that was started online and is false. The tower is not a petrified tree.
What National Park is Devils Tower In?
Devils Tower is the main feature in Devils Tower National Monument.
Is Devils Tower a National Park?
Devils Tower was the first National Monument in the National Park Service. It is not technically a "National Park" but it is part of the National Park Service.
Can you see the Tower from outside the park?
Yes, The tower is visible from Wyoming Highway 24.
What kind of rock is Devils Tower?
The tower is made of phonolite porphyry similar to granite but does not have quartz.
How old is Devils Tower?
Scientists believe the tower was formed around 50 million years ago. The erosion that formed the current structure occurred between 5 to 10 million years ago.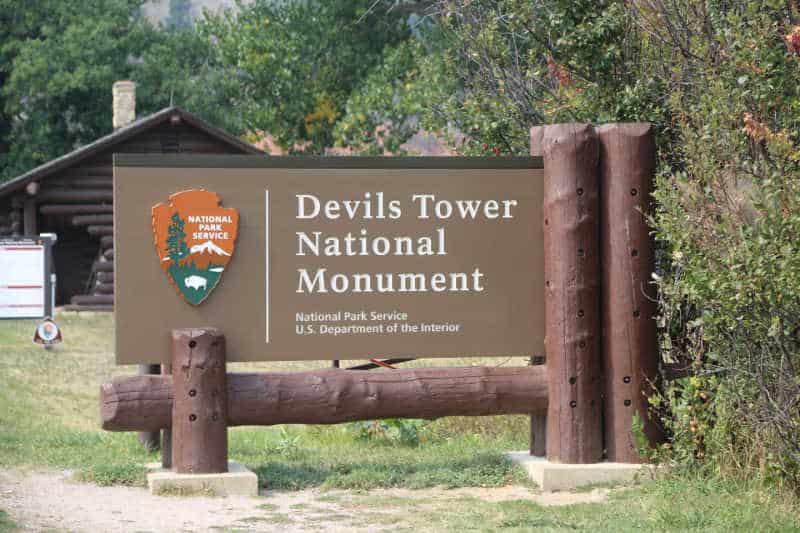 Is Devils Tower National Monument worth visiting?
This huge rock structure has awed humans for years! Native Americans had many names for the formation including Bear Lodge and Tree Rock. They thought that the vertical fissures in the rock often resembled bear claw marks.
It is believed the English name of Devils Tower came from the mistranslation of the American Indian term which was loosely translated to bad gods tower and then changed to devils tower.
When you are staring up at the tower it is hard to believe it is real and I always wonder how in the world did it end up in the middle of Wyoming.
While most people believe it was caused by a volcano it is actually a formation called an igneous intrusion.
Around 60 million years ago, magma forced its way up through layers of sedimentary rock but did not reach the earth's surface. As the magma cooled it shrank and cracked.
Over time erosion wore away the sedimentary rock exposing the igneous rock formation.
Don't forget to watch Close Encounters of the Third Kind before your trip to see Devils Tower in the movie.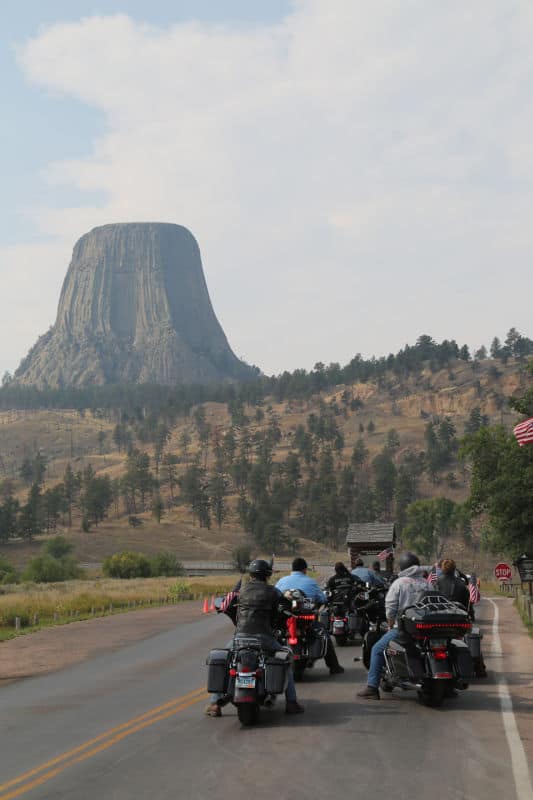 History of Devils Tower National Monument
Devils Tower National Monument is located in Devils Tower, Wyoming, in the northeastern section of the state.
The Tower is a butte that rises 1,267 feet above the Belle Fourche River and stands 867 feet from summit to base.
Devils Tower was the first National Monument established in the United States which was declared in 1906 by President Teddy Roosevelt.
The original proclamation inadvertently left out the punctuation in the word "Devil's," so the name Devils Tower became official.
Two theories have survived time regarding the origin of Devils Tower in the wide expanses of the Wyoming plains.
Most geologists believe that Devils Tower was formed at a spot where magma from the Earth's mantle surged up between masses of sedimentary rock.
It is believed that Devils Tower was likely formed by the same process which formed the Rock Mountains 65 million years ago.
Devils Tower, however, is estimated to be about 50 million years old, but the erosion that uncovered the Tower and made it visible took place between 5 and 10 million years ago.
The Lakota people are a subculture of the Sioux tribes that have inhabited the Dakotas for centuries before the European settlers arrived.
The Lakota Sioux legend tells the story of six Lakota girls who were picking flowers on the plains. Suddenly, a group of ferocious bears appeared and began chasing the girls.
The Great Spirit was watching and felt the need to protect the girls. The Spirit rose the ground beneath their feet as they ran.
The bears attempted to climb the tower to attack the girls, but their claws slid down the massive tower and rocks poured down the side of the mound, burying the ferocious bears.
A group of birds then appeared to help and each girl chose a beautiful bird to safely fly them back to the ground below.
The Lakota have the strongest and most well-documented historical connection with the Tower. The most widely used name of the Tower by the Lakota is Mato Tipila which means "Bear Lodge."
The Lakota and other tribes throughout history have long considered Bear Lodge an extremely spiritual place of worship.
Other tribes that had a spiritual connection to the area of Bear Lodge were the Arapaho, Crow, Cheyenne, and Shoshone.
The Sioux Nation is full of historically strong, fierce, and revered natives who relied greatly on rituals at places such as Bear Lodge to lead their chiefs and tribes. Crazy Horse, Red Cloud, and Sitting Bull all came to the area to worship.
Their beliefs do not worship the butte itself, but the area is a sacred place where their Gods hear their prayers.
At Bear Lodge, the tribes prayed, fasted, left offerings, and worshipped The Great Mystery. The Great Mystery was the basis of Lakota spirituality.
Healing ceremonies were also held there. One of the most intense and significant experiences a Lakota can accomplish is called a Vision Quest.
These Quests were often completed at Bear Lodge. The Quest requires intense preparation in which intense praying, fasting, purification, and complete solitude takes place.
Many Lakota undertook the experience of the Vision Quest to seek spiritual guidance in their lives.
The Lakota also held their traditional Sun Dance during the summer solstice at Bear Lodge.
The Sun Dance is a ritual that seeks to stop the suffering of Nature. These dances still take place at the site today. The Lakotas also used Bear Lodge as their sacred location to receive the White Buffalo Calf Pipe.
This object holds strong spiritual meaning and ceremonies involving the Pipe were held in a cave on the side of Bear Lodge. These Pipes were used in the aforementioned events of Sun Dances and Vision Quests.
The area of Bear Lodge was a curious draw for early white explorers.
The Treaty of 1868 prohibited settlers from passing through the area without permission from the natives.
After an expedition he led in 1874, General George Custer confirmed that he had found gold in the area and the rush in the Black Hills began.
This event brought many settlers in and through the Lakota's land which led to fast and fierce tension between the Lakota and the U.S. Government.
Little did Custer realize that this cause and effect would lead to his death just two years later at the Battle of Little Bighorn.
Ironically, in 1875 after months of disputes and incidents with Native Americans, Custer swore by the White Buffalo Calf Pipe to never fight Native Americans again.
The Lakota Legend states "He who swears by the pipe and breaks oaths, comes to destruction, and his whole family dies, or sickness comes upon them."
In 1875 Colonel Richard Irving Dodge led an expedition to the Bear Lodge area.
It was during this expedition that "Devils Tower" received its historic name in American history.
It was Dodge who explained that the natives referred to the butte as "Bad Gods Tower" which he then referred to as "Devils Tower" as a better English translation.
This name stuck as it became publically popular. It is believed by historians that Dodge misunderstood the translation.
The Lakota word wakansica is used for bad god or evil spirit and the word wahanksica is used for black bear.
In 1890, when Wyoming was issued statehood, the name "Devils Tower" was the official name listed for the butte.
There has recently been debate about changing the name of the site.
Supporters of changing the monument name back to its native roots of Bear Lodge say that not only is it disrespectful that their sacred name was changed but that it was changed to a name using the word "Devil" for such a spiritual place that the Lakota held dear.
Opponents to the name change say that Devils Tower is one of the most historically well-known names and sites in the National Park Service and the name should remain.
Today, Devils Tower serves as one of the most sought-after and challenging ventures for climbers.
It is obviously a climb that is suggested only for seasoned experts. The Lakota still hold many of their sacred ceremonies in the area as well.
At times, certain areas of the National Monument are closed for these purposes.
Visitors may also find spiritual offerings near the sacred Lakota Bear Lodge which are encouraged by the National Park Service to not be disturbed.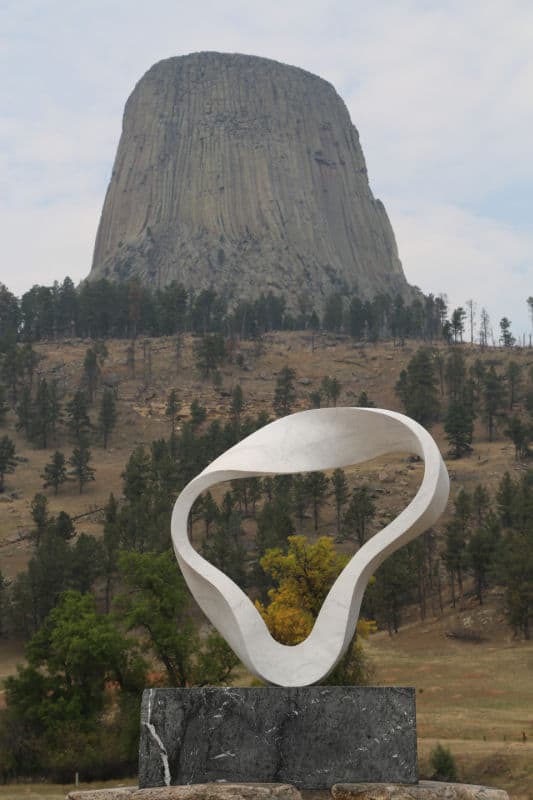 Things to know before your visit to Devils Tower National Monument
Entrance fee
7-day single-vehicle park pass - $25
7-day individual park pass - $15
7-day motorcycle park pass - $20
Planning a National Park vacation? America the Beautiful/National Park Pass covers entrance fees for an entire year to all US National Park Sites and over 2,000 Federal Recreation Fee Sites.
The park pass covers everyone in the car for per vehicle sites and for up to 4 adults for per-person sites.
Buy on REI.com and REI will donate 10% of pass proceeds to the National Forest Foundation, National Park Foundation and the U.S. Endowment for Forestry & Communities.
Learn more about National Park Passes for parks that have an entrance fee.
Free Entrance Days -Mark your calendars with the five free entrance days the National Park Service offers annually.
Time Zone
Mountain Time Zone
Pets
Pets must be on a leash less than 6 feet in length.
Pets are allowed in parking areas and along the roadways including the campground road and the road to Joyner Ridge Trailhead.
Pets are also allowed in the picnic area and campground.
Cell Service
Cell service is available in different parts of the park depending on your carrier.
Park Hours
Open 24 hours a day, 7 days a week, and every day of the year.
Wi-Fi
There is no public WiFi available.
Insect Repellent
Insect repellent is always a great idea when outdoors, especially if you are around any body of water.
We use Permethrin Spray on our clothes before our park trips.
Water Bottle
Make sure to bring your own water bottle and plenty of water with you. Plastic water bottles are not sold in the park.
Parking
There is a fairly good-sized parking lot near the visitor center but it can get full quickly, especially during the summer.
Cars/vehicles less than 19 feet in length can park at the visitor center, picnic area, or Joyner Ridge Trailhead.
Vehicles longer than 19 feet can park in the visitor center lot or in the long vehicle lot near the picnic area.
If you are pulling a trailer you can drop it at the long vehicle parking near the picnic area and drive your passenger car to the visitor center lot.
Food/Restaurants
There are no restaurants within the park.
Gas
There are no gas stations within the park.
Drones
Drones are not permitted within National Park Sites.
National Park Passport Stamps
National Park Passport stamps can be found in the visitor center.
Make sure to bring your National Park Passport Book with you or we like to pack these circle stickers so we don't have to bring our entire book with us.
Devils Tower NM is part of the 1987 Passport Stamp Set.
Electric Vehicle Charging
There is at least 1 EV Charging station within 30 miles of Devils Tower.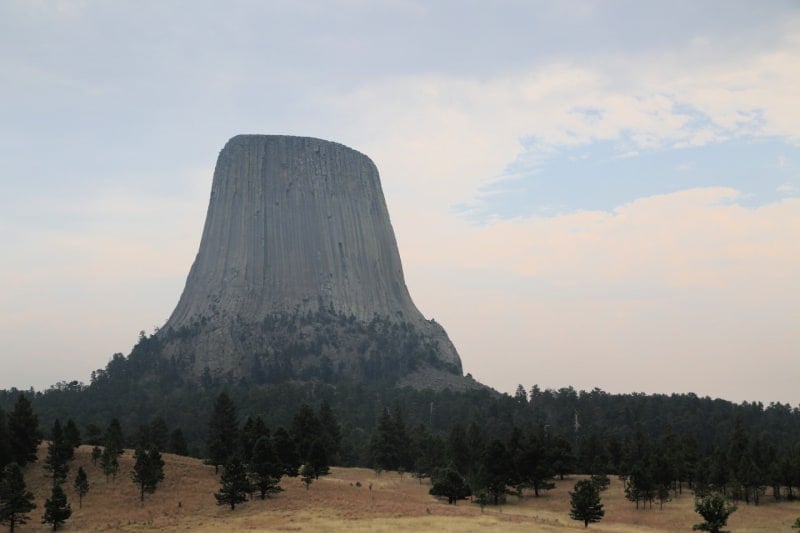 Details about Devils Tower National Monument
Size - 1,347 acres
Check out how the park compares to other National Parks by Size.
Date Established
September 24, 1906 - The 1st US National Monument was established by President Theodore Roosevelt.
Visitation
In 2021, NP had 550,712 park visitors.
In 2020, NP had 423,997 park visitors.
In 2019, NP had 450,785 park visitors.
Learn more about the most visited and least visited National Parks in the US
National Park Address
149 State Highway 110
Devils Tower, WY 82714
National Park Map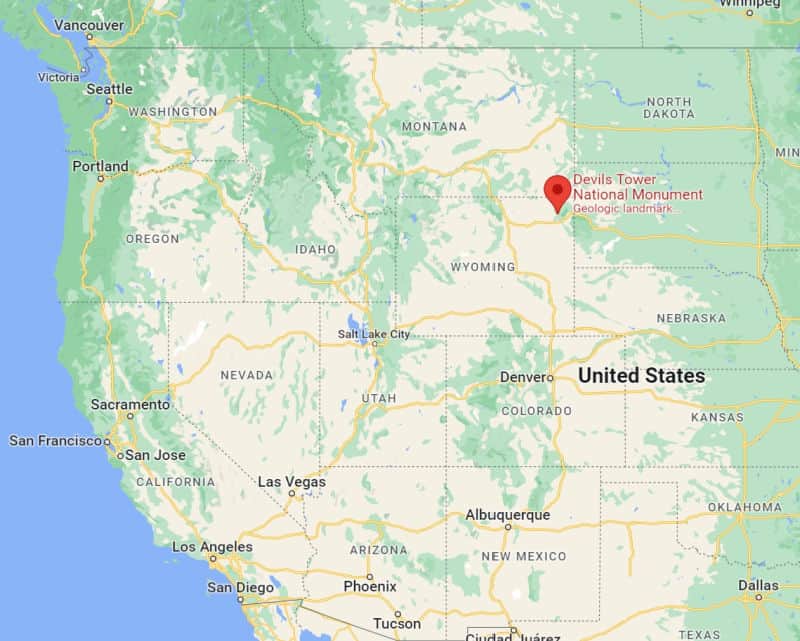 Where is Devils Tower National Monument?
If you are wondering what state is Devils Tower in the answer is...Wyoming
Devils Tower is located in eastern Wyoming, United States
Estimated distance from major cities nearby
Deadwood, SD - 73.8 miles
Rapid City, SD - 106.8 miles
Denver, CO - 392 miles
Aurora, CO - 397 miles
Colorado Springs, CO - 460 miles
Lincoln, NE - 615 miles
Omaha, NE - 627 miles
Minneapolis, MN - 677 miles
Boise, ID - 831 miles
Wichita, KS - 796 miles
Estimated Distance from nearby National Park
Wind Cave National Park - 125 miles
Yellowstone National Park - 507 miles
Badlands National Park - 165 miles
Theodore Roosevelt National Park - 221 miles
Grand Teton National Park - 429 miles
Where is the National Park Visitor Center?
The park visitor center is located near the base of Devils Tower.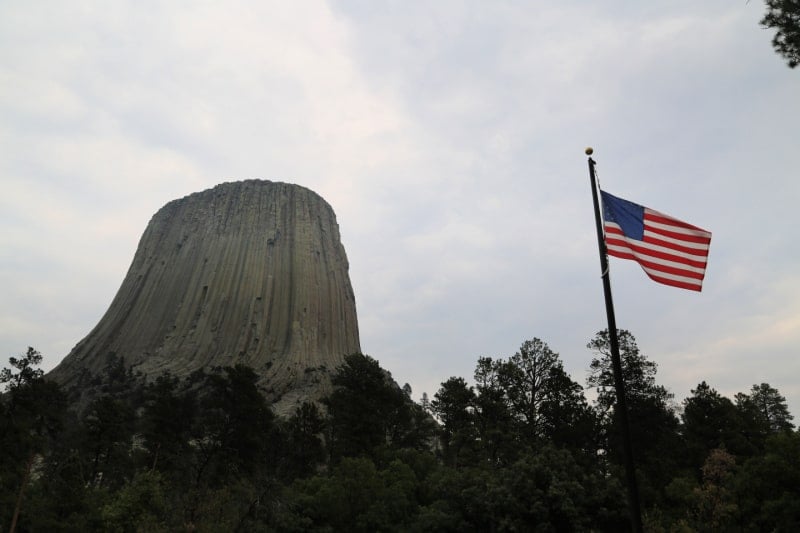 Getting to Devils Tower National Monument
Closest Airports
Gillette-Campbell County Airport (GCC)
International Airports
Denver International Airport (DEN)
Regina International Airport - Canada (YQR)
Hector International Airport (FAR)
Salt Lake City International Airport (SLC)
Driving Directions
From the east or west, take US Hwy 14 to WY 24 (follow the signs from I-90).
If approaching from the north, take WY 112 to WY 24 (from Montana) or SD 34 / WY 24 (from South Dakota).
GPS Coordinates: 44º 35' 23.95″ N; 104º 41' 47.88″ W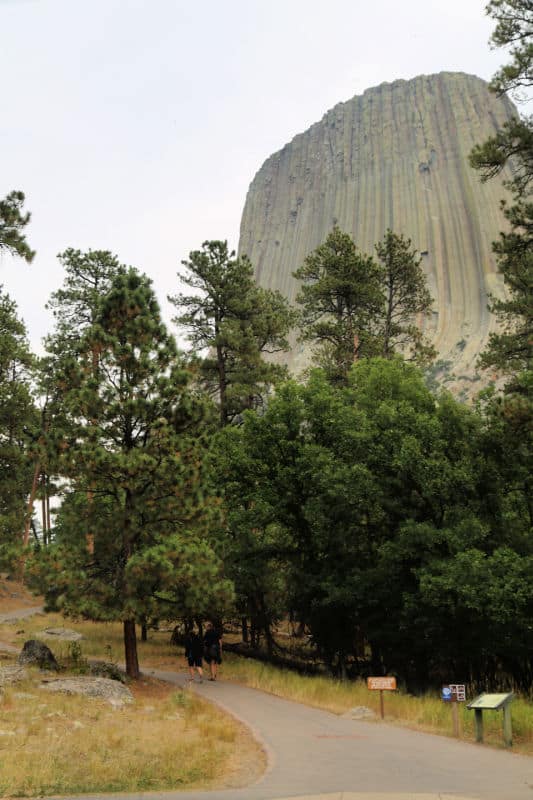 Best time to visit Devils Tower National Monument
The best time to visit Devils Tower Wyoming is during the summer for the nicest weather.
The shoulder seasons may be a bit cooler but can still be a great time to visit.
Weather and Seasons
Devils Tower, Wyoming experiences warm summers and snowy winters.
The hottest weather is from June 14th to September 11th when the average daily temperature is above 76 degrees.
The coldest weather is from November 17th to March 7th when the average daily temperature is below 45 degrees.
The "rainy" season lasts from March 30th to October 29th with May receiving the most rain.
Snow occurs on average from November 13th to May 5th with March getting the most snow.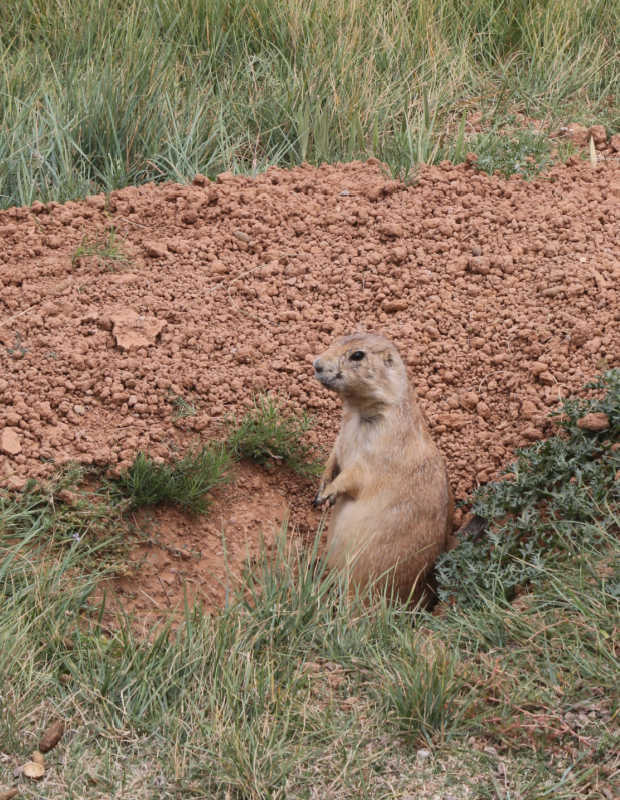 Best Things to do in Devils Tower National Monument
We suggest planning a minimum of a half a day if not longer to visit the park.
We always end up spending longer in the park than we think we will.
Prairie Dog Town
Shortly after entering the park, you will run into a Prairie Dog Town. Here you will find several Prairie Dogs that seem to wait to pose for you!
From here you can continue driving towards Devils Tower or take one of a few trails including the Valley View Trail, The South Side Trail, and the Red Beds Trail.
The Junior Ranger program is a great opportunity for visitors of all ages to learn more about the park.
You can pick up a program at the visitor center.
Circle of Sacred Smoke
The next stop is at the day-use area and the Belle Fourche River Campground.
Make sure to take time and visit this area and visit the sculpture named Circle of the Sacred Smoke. World-Renowned sculptor Junkyu Muto created this sculpture.
It is the third of seven sculptures around the world designed to help raise visitor awareness of the importance of Devils Tower to over 20 affiliated tribes.
Rock Climbing
Devils Tower is one of the finest traditional crack climbing areas in North America! There are hundreds of parallel cracks with varying lengths including the longest at almost 400' long.
Click here to visit the National Parks page for regulations, closures, routes, and climber registration.
Bring your binoculars and watch the rock climbers work their way up Devils Towers rock formations.
Guided Tours
From Rapid City - Private Tour and hike
Take your passion for hiking to the next level at Devils Tower. Benefit from an experienced guide and enjoy the convenience of transfers to and from Rapid City or Spearfish.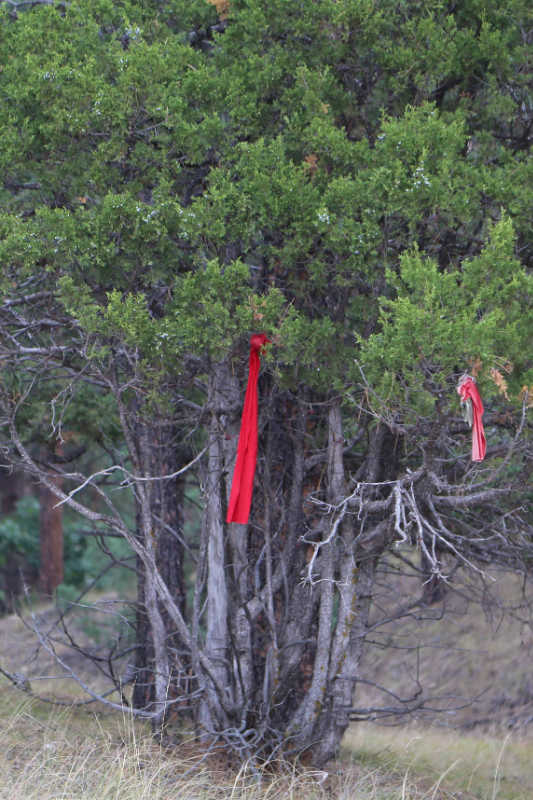 Hiking in Devils Tower National Monument
Always carry the 10 essentials for outdoor survival when exploring.
Joyner Ridge Trail
Distance - 1.5-mile loop trail
This is a great trail to view Devils Tower at a distance. You may also see prayer bundles and prayer cloths along the way.
Remember that Devils Tower is a sacred site for many Native Americans. What I really like about this trail is that it crosses over several ecosystems on a short 1.5-mile hike.
After taking a nice hike on the Joyner Ridge Trail, continue up to the top parking lot. Remember that this is a very popular park and unless you get here early you may end up hiking a distance to get to the visitor center.
Tower Trail
Distance - 1.3 mile
Trailhead - Parking area by the visitor center
Make sure to take the 1.3-mile Tower Trail that goes all the way around the monument. We thoroughly enjoyed watching the climbers going up to the top of the monument.
Red Beds Trail
Distance - 2.8-mile loop trail
Trailhead - Visitor center parking lot or connects to other park trails.
The Red Beds Trail offers epic views of Devils Tower and the surrounding Belle Fourche River Valley.
South Side Trail
Distance - .6 miles
Trailhead - Picnic area or Red Beds Trail
This trail follows from the amphitheater through the prairie dog trail. It links to the Red Beds Trail.
Valley View Trail
Distance - .6 mile
Trailhead - Picnic area or Red Beds Trail
The Valley View Trail winds through the prairie dog town and offers great views of the Belle Fourche River.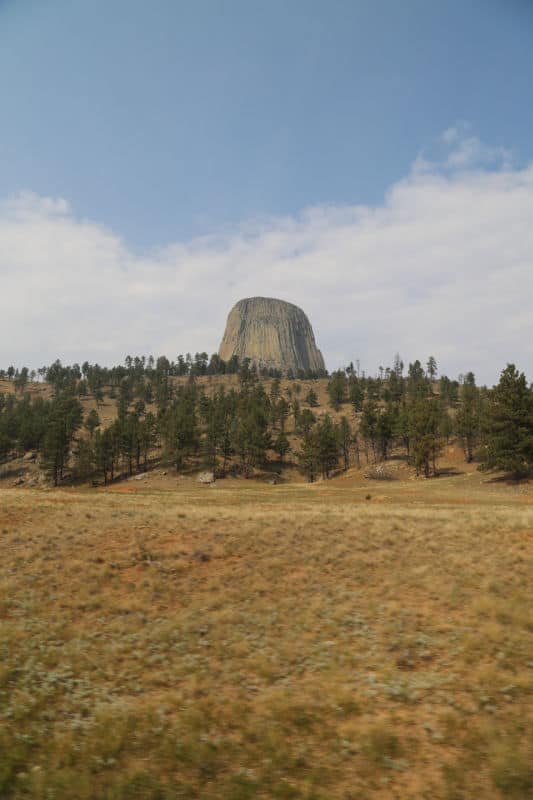 How to beat the crowds in Devils Tower National Monument?
The best way to beat the crowds especially during the summer is to visit early or late in the day and midweek.
Most people arrive between 10 am and 3 pm
Where to stay when visiting Devils Tower National Monument
There are no National Park Lodges within the park. There is lodging near the park including:
Devils Tower Lodge - Free English breakfast, a terrace, and a garden are just a few of the amenities provided at Devils Tower Lodge. Enjoy the gym, as well as activities like rock climbing. In addition to a library and laundry facilities, guests can connect to free in-room Wi-Fi.
Best Western Devils Tower Inn - Take advantage of free continental breakfast, dry cleaning/laundry services, and a hot tub at Best Western Devils Tower Inn. Guests can connect to free in-room Wi-Fi.
Bearlodge Mountain Resort - All guestrooms at Bearlodge Mountain Resort have perks such as laptop-friendly workspaces and air conditioning, in addition to amenities like free Wi-Fi.
For additional lodging options check out the map below for current rates on hotels and vacation rentals in the area.


Devils Tower Camping
Camping is a great way to wake up with a view of the tower and be right in the park.
Check out our entire post on Devils Tower Camping for more information on the Belle Fourche River campground and what to expect.
If for some reason the campground is full the Devils Tower KOA is located right outside of the park. There is ice cream and a gift shop close by.
For a fun adventure check out Escape Campervans. These campervans have built in beds, kitchen area with refrigerators, and more. You can have them fully set up with kitchen supplies, bedding, and other fun extras. They are painted with epic designs you can't miss!
Escape Campervans has offices in Vancouver, Seattle, Portland, San Francisco, Las Vegas, Los Angeles, Phoenix, Salt Lake City, Denver, Chicago, New York, and Orlando
Additional Campgrounds in the area include:
Sturgis View Campground - Sturgis, SD
This campground offers lodging, RV and Tent Sites
Sturgis Hideaway Campground - Sturgis, SD
This campground offers lodging, RV and Tent Sites
Black Hills Trailside Park Resort - Hill City, SD
This campground offers lodging, RV and Tent Sites.
Check out additional campgrounds in the area on CampSpot.
For camping in the Black Hills check out our experience at the Mount Rushmore KOA
Devils Tower Facts
How tall is Devils Tower?
Devils Tower is 867 feet from its base to the summit.
How far is it around Devils Tower - It is 1 mile around, though the trail is 1.3 miles around the base.
5,000 to 6,000 people climb Devils Tower each year
President Theodore Roosevelt designated Devils Tower as America's first National Monument in 1906.
The parks original visitor center was built in 1935
What movies have featured Devils Tower?
Close Encounters of the Third Kind (1977)
Paul (2011)
My Darling Clementine (1946)
National Park Adventure (2016)
Path of Souls (2012)
The Big Ride (2017)
Natural Wonders of the West (1938)
Parks Near Devils Tower National Monument
Mount Rushmore National Memorial
Minuteman Missile National Historic Site
Knife River Indian Villages National Historic Site
Check out all of the National Parks in Wyoming along with neighboring National Parks in Colorado, National Parks in Idaho, Montana National Parks, Nebraska National Parks, South Dakota National Parks, and Utah National Parks
Nearby Wyoming State Parks include Custer State Park and Keyhole Reservoir State Park.