A US National Parks Pass is one of our must purchases every year. We set a goal of using the park pass as often as we can. Having the parks pass is the perfect motivator to visit new parks and get out and explore our great park system.
One question we hear often is what park pass is right for me?
How do I know which park pass to purchase? Today we are breaking down the different types of passes and which one may be right for you.
National Parks Passes are valid at over 2,000 recreation sites that charge a daily park admission fee.
One thing to know is if you own a convertible or Jeep with an open top you can request a decal to attach to your vehicle so you don't have to worry about your pass being stolen out of your vehicle. These decals can be requested in person at the parks by showing your vehicle registration, drivers license and parks pass.
All three pieces of information must have the same person name on them to make sure the registered owner is requesting the decal. These decals are issued on an annual basis to park pass holders.
If the park you are visiting has a booth/entrance area you still need to show your park pass, just having the decal will not work.
If you drive a vehicle that is closed in you can request a hang tag to hang your park pass from so you can easily show that you have one. These work great in parks that do not have a front entrance booth. Just make sure your windows are closed and the park pass is secure in the hangtag.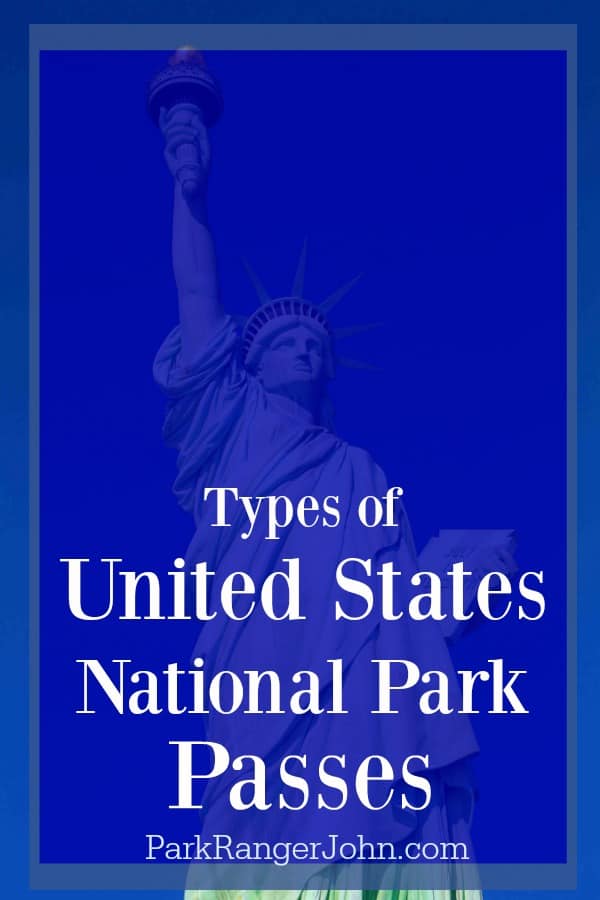 Types of National Parks Pass
National Park Annual Pass
Cost - $80.00
Who can purchase a National Park Annual Pass - Anyone over the age of 16 who wants to visit the parks.
What parks does the National Park Annual Pass give you access to?
The National Park Annual Pass gives you access to over 2,000 recreation areas.
The National Park Annual Pass does not cover fees for camping, boat launch, parking, tours, special permits, ferries or other activity fees.
National Parks Senior Pass
Cost - $80
A new $20 annual Senior Pass will become available on August 28, 2017. This pass is valid for one year from the date of issuance.
Four annual Senior Passes purchased in prior years can be traded in for a lifetime pass! Make sure and keep your annual senior passes each year if you plan to turn them in for a lifetime senior pass.
This is a great way to spread the cost of the $80 lifetime pass out over 4 years.
Who can purchase a Senior National Park Pass?
US citizens or permanent residents 62 years or older are eligible for the Senior Pass.
Where can I buy a Senior National Park Pass?
You can purchase your Senior National Park Pass at most National Parks that charge an entrance fee.
What if I have a current Senior Pass?
The current passes are lifetime passes and will remain valid.
National Park Pass for Disabled/Access Pass
Cost - Free
There is a $10 fee if you mail in your application versus picking the pass up at a park.
Who is eligible - U.S. citizens or permanent residents with permanent disabilities. Must provide documentation of permanent disability and residency or citizenship. There is no age limit on this pass.
Access Pass may provide a 50 percent discount on some amenity fees charged for facilities and services such as camping, swimming, boat launching, and specialized interpretive services.
Golden Access Passports are no longer sold. However, these passes will continue to be honored according to the provisions of the pass.
4th Grade National Park Pass
Cost - Free
Valid for the duration of the 4th grade school year through the following summer (September-August). Make sure to get your 4th grade pass!
Including home-schooled and free-choice learners 10 years of age, you just need every kid in the park pass.
You can request a pass on the Every Kid in the Park website.
Make sure and print a copy of the pass to bring with you. Digital copies on a phone are not accepted.
Volunteer Park Pass
Cost - Free for volunteers with 250 service hours with federal agencies that participate in the Interagency Pass Program. Service hours do not need to occur in the same year. They can be accumulated over time volunteering in the parks.
Volunteer Pass is valid for 12 months from the month of issuance, expiring the last day of that month.
For information on volunteer programs and where you can volunteer visit Volunteer.gov.
Military Annual Pass
Cost - Free
Who can receive a Free Military Annual Pass?
Current U.S. military members and dependents in the Army, Navy, Air Force, Marines, and Coast Guard as well as Reserve and National Guard members.
Dependents of deployed military members with DoD Form 1173 may obtain a pass. If the military member has not been deployed, the dependent may be the second signer on their sponsor's pass.
Where can I pick up a Free Military Annual Pass?
At a federal recreation site, you will need to show a Common Access Card (CAC) or Military ID (Form 1173).
Which Agencies participate in the National Park Pass program?
U.S. Forest Service
U.S. Fish and Wildlife Service
Bureau of Land Management
Bureau of Reclamation
U.S. Army Corps of Engineers
Make sure and hold onto your park pass! If you lose your National Park Annual Pass they can not be replaced unless you buy a new one.
Check out this list of National Parks to check off how many you have visited.
If you have ever wondered what it is like to work in parks check out this How to become a park ranger article.