The Caribbean. For many, a mere mention of that far-off sea conjures up visions of lush tropical islands and bright sun-drenched beaches lines with graceful palms that rustle in the breeze, beaches where lovely turquoise water, warm and soothing, laps gently at the shore. And what comfort we find in the knowledge that such places do exist! There are, for instance, the U.S. Virgin Islands, St. Croix, St. Thomas, and St. John, together with many smaller islands and islets, scattered across the deep blue sea just east of Puerto Rico. And on one of them is found a uniquely beautiful natural treasure, Virgin Islands National Park.
Comprising more than half of the island of St. John and 5,650 acres of adjacent waters, it totals only about 15,000 acres, and so is one of the very smallest of our national parks. But size alone is no measure of the special quality of a place. Here we have an island rich in natural beauty and with a varied human heritage. (No other national park can boast a direct historical link with Christopher Columbus.) Even more intriguing is the underwater portion of the park, a marine preserve where all can explore the mysteries of the secret realm beneath the sea: coral reefs, broad expanses of white sand, underwater grasslands, each of them teeming with incredibly colorful creatures.
Coastline.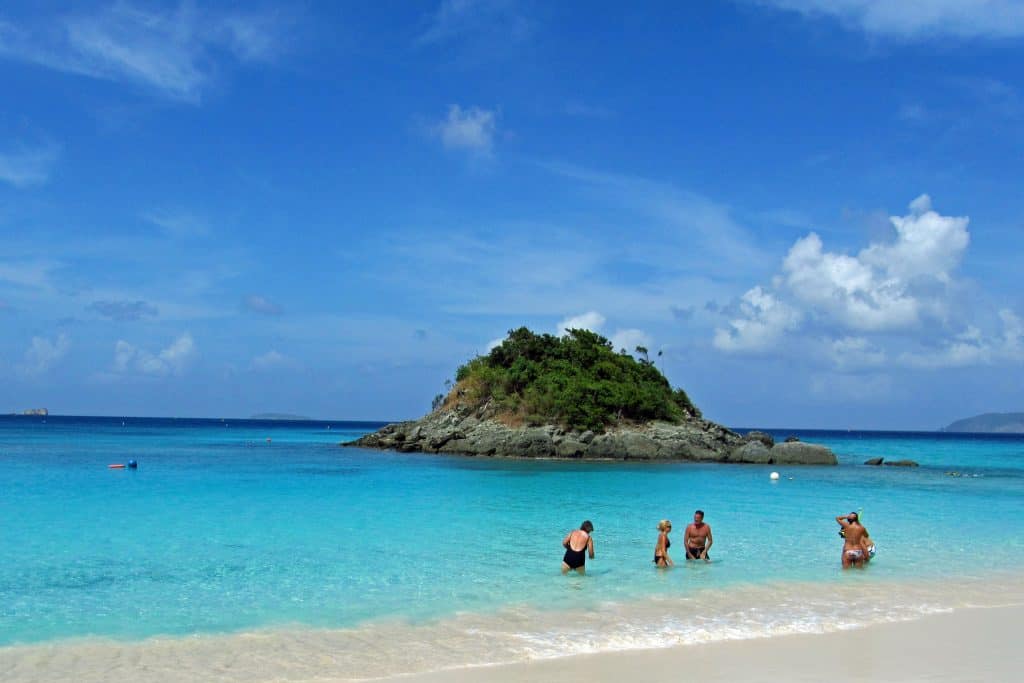 Biscayne National Park, Canaveral National Seashore and many more #caribbeantravel #cruisetravel #nationalparks #floridanationalparks" width="980" height="654">
Like most of the other islands of the Lesser Antilles, curving southward like an emerald necklace toward the shoulder of South America, this earthly Eden was born of volcanic fires. The first eruptions, beginning perhaps 100 million years ago, took place far beneath the sea. With the weight of thousands of feet of overlying water suppressing explosive activity, lava flowed smoothly from an opening in the earth's crust and solidified to form the foundation of the island-to-be.
Then about 70 million years ago, a general uplifting of the ocean floor set the stage for the next episode of island building, violent eruptions above the surface of the sea. By the time they ended, a substantial island had risen above the Caribbean. Parts of the island's flanks were covered by a veneer of sedimentary rocks, some of them limestone formed from the calcareous remains of marine plants and animals, others apparently formed from debris deposited there by submarine landslides.
The greening of St. John no doubt began not long after the island was formed. Modern observations at such volcanic sites as Mount St. Helens and the island of Surtsey in the North Atlantic have shown that plants become established very soon after the eruptions quiet down: seeds blown in by the wind or washed up on the shore quickly take root and begin to flourish. So it must have been on St. John. And as soon as plants gained a foothold, animals also colonized the island. Some, such as birds, insects, and bats (St. John's only native mammals) flew in; others, including the island's several kinds of lizards, probably landed there by accident, perhaps after long journeys adrift at sea on floating logs or other vegetation.
Humans, too, eventually found their way to St. John, presumably by island-hopping northward from the coast of South America. Such a feat would not have been especially difficult, even in the crudest of boats: as modern-day sailors know, it is possible to cruise the full length of the Lesser Antilles and seldom be out of sight of one island or another. By the second century A.D., a peaceful people, the Tainos, had established settlements on St. John. There they remained for more than a thousand years, fishing in the bountiful offshore waters and practicing a crude form of agriculture. In the 1300's, however, their tranquil lives were shattered forever by the arrival of aggressive, seafaring Caribs, who had also migrated up the island chain from South America. It was probably these fierce warriors who exterminated the Tainos on St. John.
The greatest human impact on the island, however, was yet to come. In 1493, Christopher Columbus set out on his second voyage to the New World, taking settlers to his recent discovery, Hispaniola, in a fleet of 17 ships; making his landfall on the island of Dominica, well to the south of his goal, he sailed north and discovered other islands along the way, Guadeloupe, Montserrat, Antigua, St. Kitts, and more. Then, with the persistent force of the trade winds in his sails, Columbus swung westward and chanced upon a cluster of islands and islets of particular charm and beauty. These he named Las Once Mil Virgines ("The 11,000 Virgins") after the legendary Virgins of St. Ursula.
Though he was clearly impressed by their pristine beauty, Columbus never returned to the Virgin Islands. He claimed them as a Spanish territory, but for almost 200 years they were rarely visited by any Europeans, save for occasional pirates. (Caves on nearby Norman Island served as pirates' dens, and a smaller island, Deadman's Cay, was frequented by that most infamous of freebooters, Blackbeard.)
The islands changed hands in 1672 with the establishment of a permanent Danish settlement, and before long St. John was transformed. With the discovery that the balmy climate was just right for growing sugarcane and cotton, several plantations were established; and with the help of slaves imported from Africa, large tracts of forest were cleared for cane and cotton fields. Then in 1848, with rumblings of revolt in the air, the Danish governor declared an end to slavery. And with emancipation, sugar and cotton production declined abruptly. By 1909 all the plantations had been abandoned and left to the encroaching forest. In 1917 the United States purchased the Virgin Islands from Denmark, and eventually, they found new prosperity as a tourist destination.
Check out all of the US Virgin Islands and Puerto Rico National Park sites.