Dry Tortugas National Park is located in the United States 70 miles past Key West at the southern tip of Florida. It is composed of a set of seven small islands of coral and sand in the Gulf of Mexico.
It is one of the most remote national parks in the United States.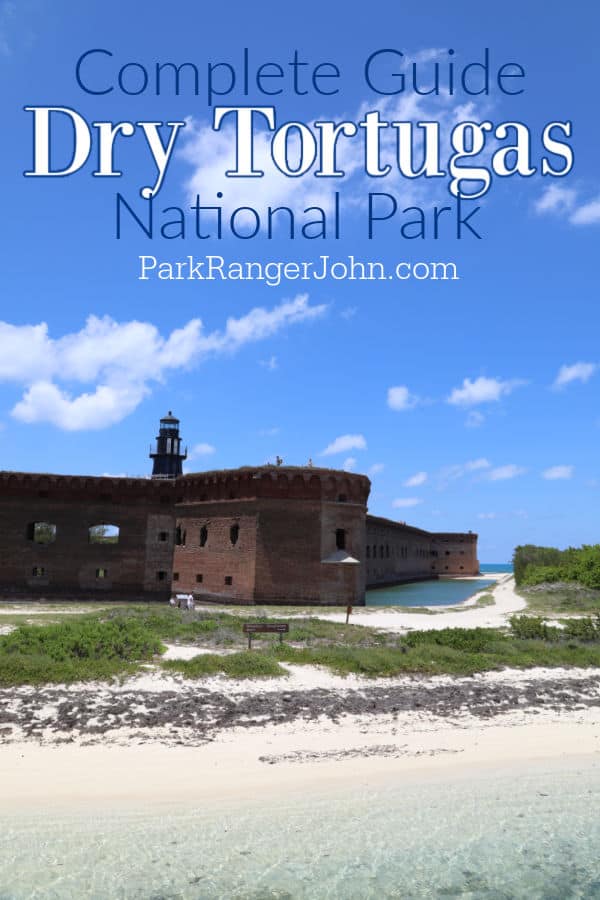 Dry Tortugas National Park
Dry Tortugas National Park is a subtropical island rich in history, heritage, wildlife, coral reefs, and shipwrecks.
This uncharted remote island has so much to offer those who are willing to take the journey here.
Whether you decide to plan out your visit or just go with the flow, you will find out that there is more than enough to learn and explore during your visit.
The beauty of Dry Tortugas National Park will certainly leave you breathless as time passes by and, before you realize it, it is time to catch a ferry back to Key West.
Your time has ended but you will find yourself wanting to return to this incredible destination.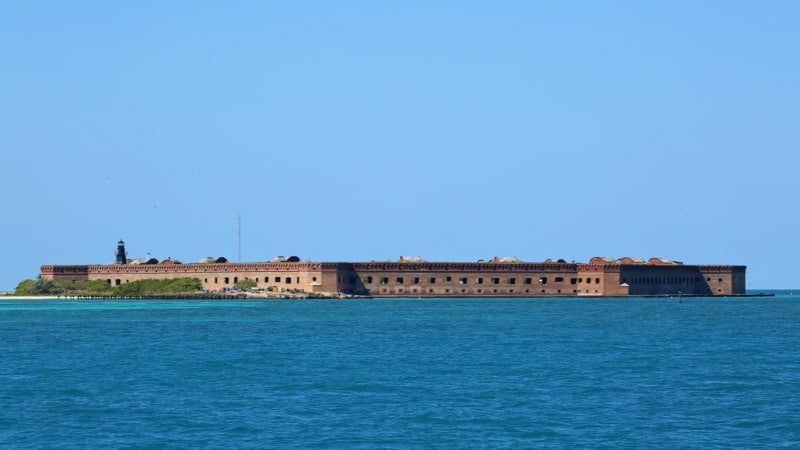 About Dry Tortugas National Park
Dry Tortugas National Park is a cluster of coral islands in the Gulf of Mexico about 70 miles off the tip of Florida's vibrant city of Key West. At the heart of Dry Tortugas is Fort Jefferson, one of the largest forts in the Western Hemisphere
Fort Jefferson consists of a whopping 16 million bricks. The fort was never completely finished yet it's still considered the largest masonry building in the Western Hemisphere.
Dry Tortugas National Park is 64,701 acres (261.84 km square) and consists of seven Islands.
Dry Tortugas is named 'dry' because the island doesn't have fresh water. Tortugas means turtles and the island has many of those, thus the name Dry Tortugas.
The most amazing thing about Dry Tortugas NP is that it has an abundance of marine life and ecology as well as a multitude of colorful and unusual coral reefs.
You will hear stories about the many shipwrecks surrounding the park, pirate legends, and sunken treasures.
Here you can walk in the footsteps of legendary pirates like Jean Lafitte: a man of mystery, who was considered "the terror of the gulf" yet also referred to as "the gentleman pirate" with his handsome looks.
His moment of fame came when he was sought after by Andrew Jackson who requested his help in The Battle of New Orleans. His help quite possibly was the turning point for the Americans against the British and gained Lafitte US Citizenship.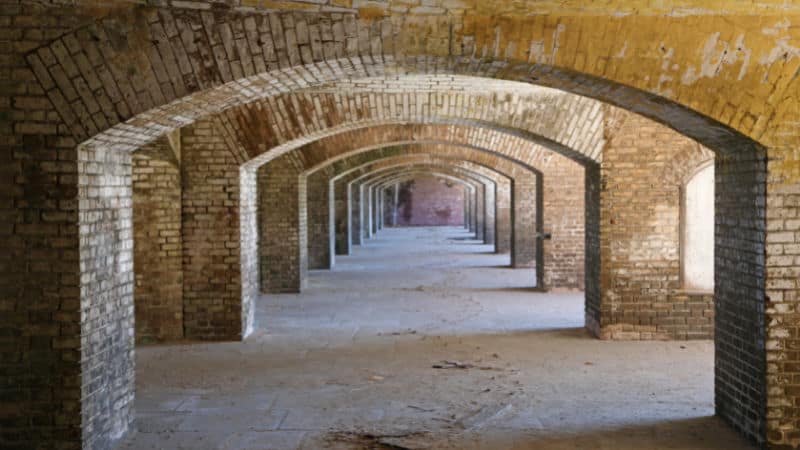 Is Dry Tortugas National Park worth visiting?
Yes! Have you ever wished of owning your own piece of paradise?
This is a place where you can go find somewhere to sit by yourself and soak in the sun, its rays, and the waves and feel like you have this little piece of paradise all to yourself.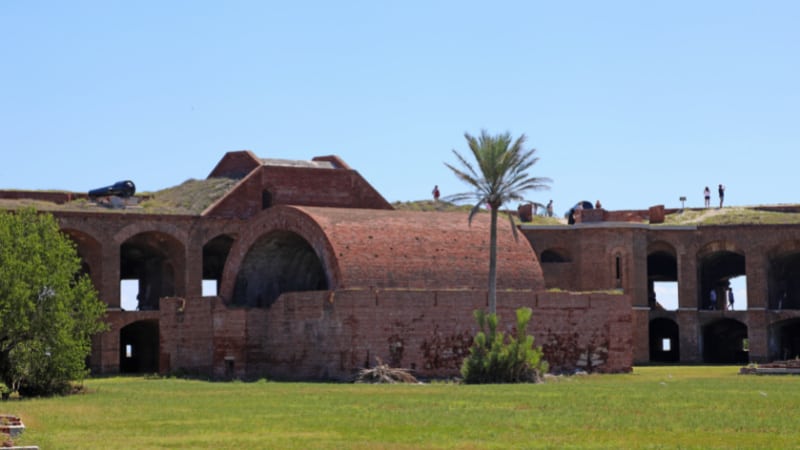 Ponce de Leon was the first European to discover Dry Tortugas on his discovery trip in 1513. While there, Ponce de Leon caught 160 sea turtles and when he returned to Europe, he referred to the islands as "Las Tortugas" which means turtles.
During the 1600s and 1700s, this area was a pirate base for attacks on numerous merchant ships that sailed the Mexican Gulf.
Florida joined the United States in 1821, and pirated activities were almost completely eliminated.
In 1825, it was decided to build a lighthouse on Garden Key Island, which was completed the following year.
The lighthouse, almost 65 feet high, is made of bricks with a white exterior and is accompanied by a small white house used to accommodate the guard.
Even with the added precautions of the lighthouse ships continued to wreck.
The lighthouse had a number of issues one being an inadequate light source and the iron door of the lighthouse created blind spots, limiting the visibility for incoming vessels.
The lighthouse keeper petitioned Congress for two new lighthouses that would be constructed at each end of the shoals.
The idea was to eventually be able to replace the first lighthouse, but Congress decided to send inspectors to survey the problems and replace the glass plate with a new one and new lanterns were installed to help increase the efficiency of the current lighthouse.
These changes did not solve the problem as there were continued shipwrecks. There was a continued increase in navigational issues until a new lighthouse was finally commissioned.
Originally named the Dry Tortugas Light, the Loggerhead Lighthouse was outfitted with a modern optical lens and a powerful new reflector that was better equipped to handle warning vessels.
The lighthouse was constructed on the more dangerous Loggerhead Key which accounted for most of the shipwrecks in the area. While the lighthouse was completed in 1858 it sustained damage during some particularly severe hurricanes in 1873 and 1875.
The lighthouse was transferred under the control of the US Coast Guard after World War II until it became fully automated in 1982 allowing the Coast Guard to leave the islands entirely.
The islands of today's Dry Tortugas National Park became a military reserve in 1845, and in 1846 the construction of a fortress began.
The major's buildings were completed in 1850 and the fort was named Fort Jefferson after former US President Thomas Jefferson. The construction of exterior walls at about 45 feet high was completed in 1862.
The construction of the fort has continued over the next thirty years but was never completed. During and after the American Civil War, the fort was used as a prison for fugitives and criminals.
After a few hurricanes and a yellow fever epidemic, the fort was abandoned in 1874, and the army returned only in 1898 during the Spanish–American War.
From 1888 to 1900 the fort was used as a quarantine fortress, and for military purposes, it was briefly used during the First World War.
Fort Jefferson was designated a national monument in 1935 under the Antiques Act and the monument was later expanded to Dry Tortugas National Park on October 26, 1992, under an act of the United States Congress.
The Dry Tortugas was established as a National Park to preserve the area's rich history and to protect the islands and ecosystems.
Make sure to click the link in the title "History of Dry Tortugas National Park" for more history of this park.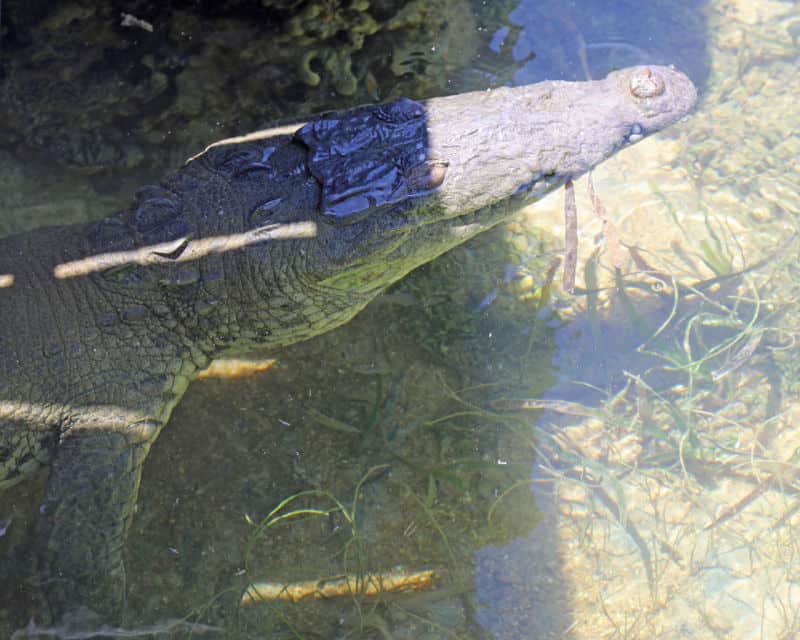 Things to know before your visit to National Park
Entrance fee
$15.00 per person for 7 days.
Visitors under the age of 16 are free.
Planning a National Park vacation? America the Beautiful/National Park Pass covers entrance fees for an entire year to all US National Park Sites and over 2,000 Federal Recreation Fee Sites.
The park pass covers everyone in the car for per vehicle sites and for up to 4 adults for per-person sites.
Buy on REI.com and REI will donate 10% of pass proceeds to the National Forest Foundation, National Park Foundation and the U.S. Endowment for Forestry & Communities.
Learn more about National Park Passes for parks that have an entrance fee.
Free Entrance Days -Find the five free entrance days the National Park Service offers annually.
Time Zone
EST - Eastern Standard Time
The Dry Tortugas are technically in the Central Time Zone. If you take a seaplane ride into the park you cross the timeline 45 miles west of Key West.
You actually land 15 minutes before you take off! To keep things simple the Park Service, Yankee Freedom, and Key West Seaplane Adventures operate on Eastern Time.
Pets
Pets are permitted in Dry Tortugas NP. They are permitted on Garden Key but not inside of Fort Jefferson.
They are not permitted in any other areas of the park. They must be on a leash at all times.
Pets are not permitted on the Commercial Ferry or on the seaplane rides to the park.
Cell Service
There is no cell service on the island
Park Hours
The Dry Tortugas is open 24 hours, 7 days a week. This includes holidays.
Wi-Fi
There is no Wi-Fi on the island.
Insect Repellent
Insect repellent is always a great idea when outdoors, especially if you are around any body of water.
We use Permethrin Spray on our clothes before our park trips.
Water Bottle
Make sure to bring your own water bottle and plenty of water with you. Plastic water bottles are not sold in the park.
Parking
There is a public parking garage near the Yankee Freedom Ferry dock.
Food/Restaurants
There are no restaurants within the park. The ferry does sell a limited amount of snack food and drinks.
We highly suggest bringing snacks and water with you.
Gas
There are no gas stations within the park. You will find gas in Key West near the ferry loading area.
Drones
No, drones and other unmanned aircraft are not allowed in the park or any other National Park Service site.
National Park Passport Stamps
National Park Passport stamps can be found in the visitor center.
Make sure to bring your National Park Passport Book with you or we bring these circle stickers with us so we don't have to pack our entire Passport Book.
Dry Tortugas NP is part of the 1997 Passport Stamp Set.
Electric Vehicle Charging
There are 118 public charging stations in Key West, Florida.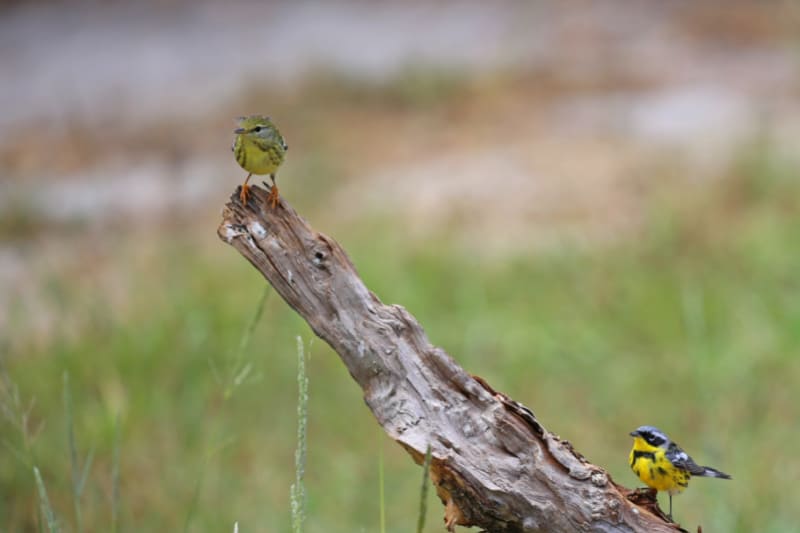 Details about National Park
Size - 64,701 Acres
Dry Tortugas NP is currently ranked at 47 out of 63 National Parks by Size.
Date Established
Fort Jefferson National Monument was established as a National Park on January 4, 1935, by President Franklin D. Roosevelt under the antiquities act.
The park was expanded to Dry Tortugas National Park in October 1992.
Visitation
In 2021, Dry Tortugas NP had 83,817 park visitors.
In 2020, Dry Tortugas NP had 48,543 park visitors.
In 2019, Dry Tortugas NP had 79,200 park visitors.
Learn more about the most visited and least visited National Parks in the US
National Park Address
Dry Tortugas National Park
40001 State Road 9336
Homestead Florida
33034
National Park Map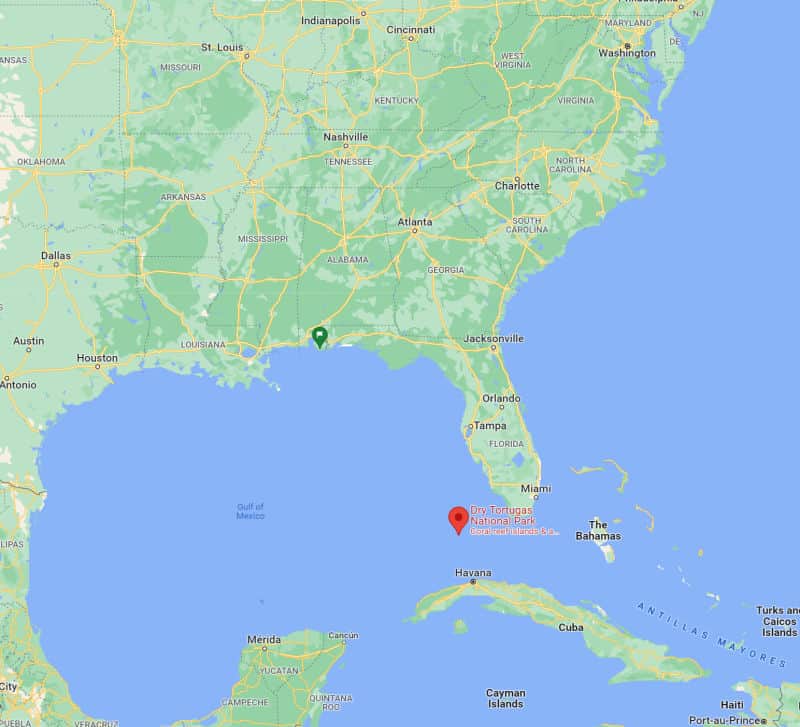 Where is Dry Tortugas National Park?
Dry Tortugas National Park can be found on the Dry Tortugas Island in the U.S.A. It's approximately 70 miles (110k.m) West of Key West Florida in the Gulf of Mexico.
Estimated distance from major cities nearby
Key West, FL – Dry Tortugas National Park 70 miles. (112 k.m)
It will take you about two hours and fifteen minutes to get there with the Yankee Freedom, which is the Dry Tortugas ferry ride.
Miami, FL – Dry Tortugas National Park is 184.54 miles (297 k.m) from Miami
You can either take a flight from Miami airport directly to Key West airport, the bus, or drive the overseas highway.
The flight will take around 55 minutes. You will then be able to take the ferry from Bight Ferry Terminal in Key West to get to Dry Tortugas National Park.
Alternately, if you're on a budget, it's recommended that you take the bus from Miami to Key West and then hop on to a ferry ride directly to the national park.
Estimated Distance from nearby National Park
Distance is calculated from Key West, Florida
Everglades National Park - 152 miles
Biscayne National Park - 135 miles
Congaree National Park - 781 miles
Great Smoky Mountains National Park - 971 miles
Shenandoah National Park - 1,134 miles
Where is the National Park Visitor Center?
The Dry Tortugas National Park has three visitor centers:
The Florida Keys Eco-Discovery Center
Admission is Free, Parking is free
Has been temporarily closed for remodeling. Tentative reopens in 2022.
Call in advance to see if they are open
Operating Hours: Tuesday-Saturday 9:00 am -4:00 PM
Located in the Florida Keys National Marine Sanctuary
35 Quay Rd. Key West, FL. 33040
(305)809-4750
(Closed on Thanksgiving and Christmas)
The Bight Interpretive Center Key West Historical Sea point
Location: Located at the Yankee Freedom Ferry Terminal (Ferry to/from Dry Tortugas National Park)
100 Grinnell St.
Key West, FL. 33040
They have tons of interesting information available for anyone interested in our National Parks
The Park bookstore can be found at Garden Key inside the visitor center at Dry Tortugas National Park.
This store is managed by Florida National Parks Association which is a non-profit organization.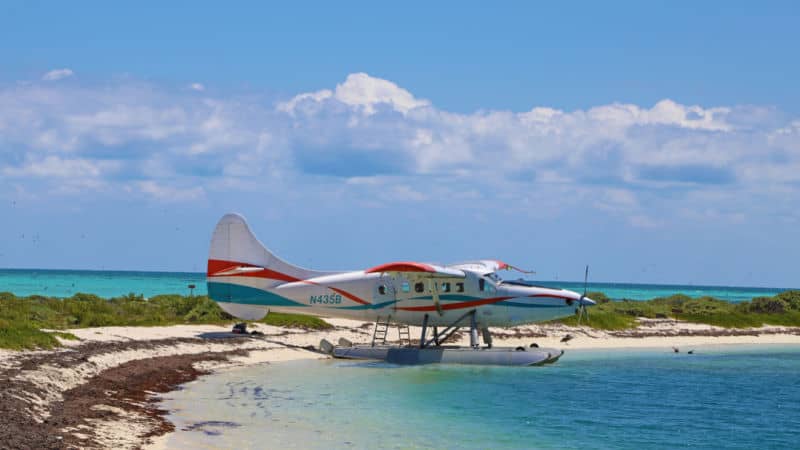 Getting to Dry Tortugas National Park
Dry Tortugas National Park is accessible only by ferry, seaplane, private boat, or charter boat.
We took the Yankee Freedom (Ferry) to Dry Tortugas National Park and it was great! the boat was clean, efficient, and easy ride out to the park. I would suggest bringing a book, notepad, or some form of entertainment.
We saw a lot of families playing cards and having a great time. I wish I would have brought my laptop and spent the time getting some work done. Tammilee took a nap and soaked up not having to do a thing.
There are two safe and comfortable modes of transport to get you to Dry Tortugas National Park. You can either hire a boat, or you can fly with a seaplane.
Once you're in Key West, you can get on the ferry to take you directly to the National Park. Alternately, you can use the Dry Tortugas Sea Plane which lands on the Island.
If you take the Dry Tortugas Sea Plane, from Key West, Florida, you will get to spend a few hours in the park. The seaplane to Dry Tortugas will cost you between $361 to $634 per adult, depending on how long you plan to stay on the island.
It takes about 40 minutes each way. They also have a morning and an afternoon flight which you can choose from.
You can decide to stay on the island for two and a half hours or if you prefer you can get six and a half hours of Island time.
No matter what you decide, you should make your bookings in advance to avoid disappointment.
Closest Airports
The Key West Airport is just 3 miles from the Yankee Freedom ferry dock.
International Airports
Miami International Airport
Driving Directions
There is no car service to the island.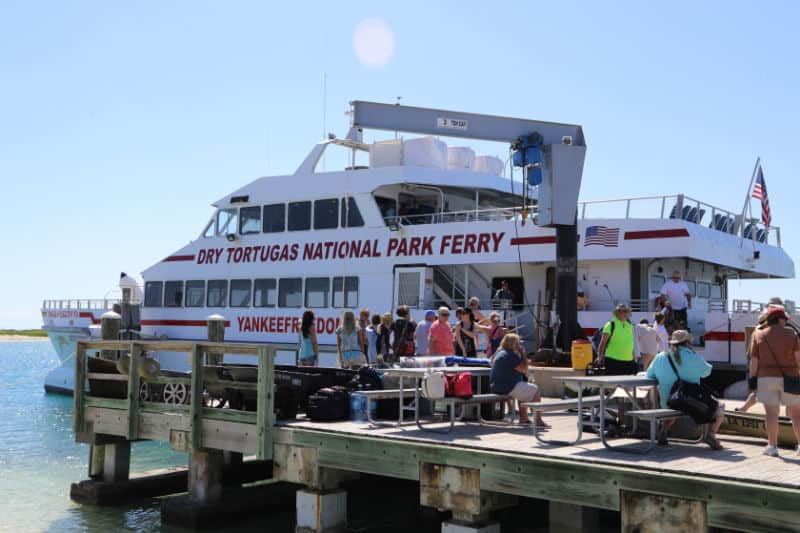 Ferry Service To Dry Tortugas
The Yankee Freedom ferry will get you to the National Park within two hours and fifteen minutes. The Yankee Freedom Ferry service is recommended as they serve breakfast and lunch.
They also have restrooms on the boat. Remember that Garden Key doesn't have public restrooms. You should take advantage of this.
They also sell snacks on the ferry. You will be able to purchase snacks if you forgot to pack your own. It may take you longer to reach the island but it's definitely worth taking a trip with the ferry.
Park rangers on the sea ferry are friendly and helpful and they often provide information throughout the trip.
We do suggest booking your tickets on the Yankee Freedom in advance! We tried to get tickets for a trip and they were completely sold out.
I would book your tickets as soon as you know what day you want to visit the park. You can find the Yankee Freedom reservations here.
Seaplane Service to Dry Tortugas
Another option to reach Fort Jefferson is Key West Seaplane Charters to the National Park. The seaplane service will get you to the National Park faster, so you will have more time on the island.
There is one downside to traveling on the seaplane. You are allowed a limited weight when it comes to your luggage.
The best part about traveling on the seaplane is the enthralling view from above. You will get to view amazing shipwrecks and unusual marine life.
Private Boat to Dry Tortugas
You can hire/charter a private boat or bring your own boat to the island.
The best part about hiring your own boat is that you won't have to follow the crowds. You will be able to explore at your leisure and within your own time.
A gentle reminder, that you must visit the Garden Center to obtain your permit and to pay your entrance fee before you embark any further.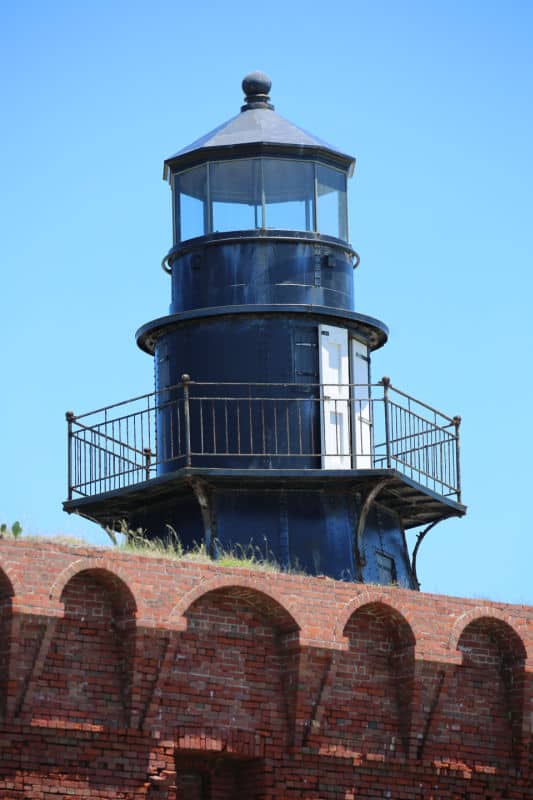 Best time to visit Dry Tortugas National Park.
Exploring Dry Tortugas National Park will, without a doubt, be one of your most memorable National Park experiences.
The best time to visit the island is from February to April.
Having said that, it is also a busy time for tourists so if you're not big on crowds, you may want to come another time.
The Dry Tortugas National Park is open to visitors all year-round, for twenty-four hours a day from dawn till dusk.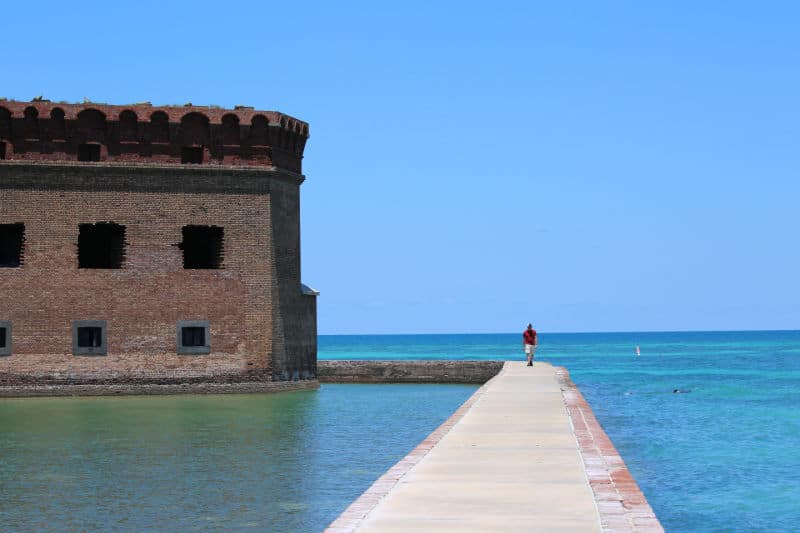 Dry Tortugas NP Weather and Seasons
The winter season runs from November through April bringing cold fronts from the north and west. These cold fronts generate large swells and often windy conditions.
During the winter season, it is not uncommon for the park to experience 20+ knot winds and 5 feet or higher seas for consecutive days in a row.
This means the boat ride to the park can be rough and there may be poor visibility for snorkeling.
The winds do bring in epic birds that are blown in from the storms.
The summer season runs from May through October which includes hurricane season in the Atlantic.
During the summer season, there is generally little to no wind making it a great time to go snorkeling.
If you are planning a visit during the summer season make sure to check the weather and storm forecasts ahead of your trip.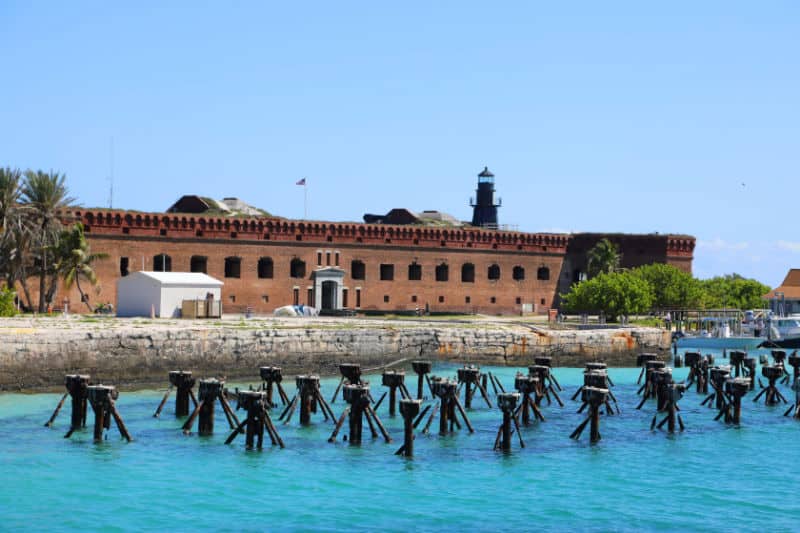 Dry Tortugas is, without a doubt, one of the most beautiful places on this earth.
Whether you're into bird watching, scuba diving, snorkeling, camping, historical structures, and history Dry Tortugas National Park has got you covered.
Fort Jefferson
Fort Jefferson is located on Garden Key and is most likely what you have seen photos of from Dry Tortugas NP.
Visitors can explore all over Fort Jefferson. Make sure to check out the views from inside the fort.
Fort Jefferson was strategically built to protect the waters in the gulf as it was on one of the busiest shipping lanes in the world. It proved to be a tremendous asset as whatever the fort couldn't hit with its cannons and guns, the warships in its protected harbor could.
There is a great book on Fort Jefferson available on Amazon if you want to learn more about the history.
Wildlife viewing
For those who are keen on snorkeling, scuba diving, and kayaking, this island will feel like a little piece of heaven on earth. It's abundant with many different reefs and species of unusual fish.
You will enjoy the underwater beauty and the mysterious creatures such as stingrays, sea turtles, lobsters, grouper, snapper, octopus, tarpon, and even little sharks. Don't worry though if you don't aggravate them, they won't bother with you either.
The Junior Ranger program is a fantastic way for visitors of all ages to learn more about the park. Junior Ranger programs can be picked up at the visitor center.
The park also offers the Underwater Explorer Junior Ranger program.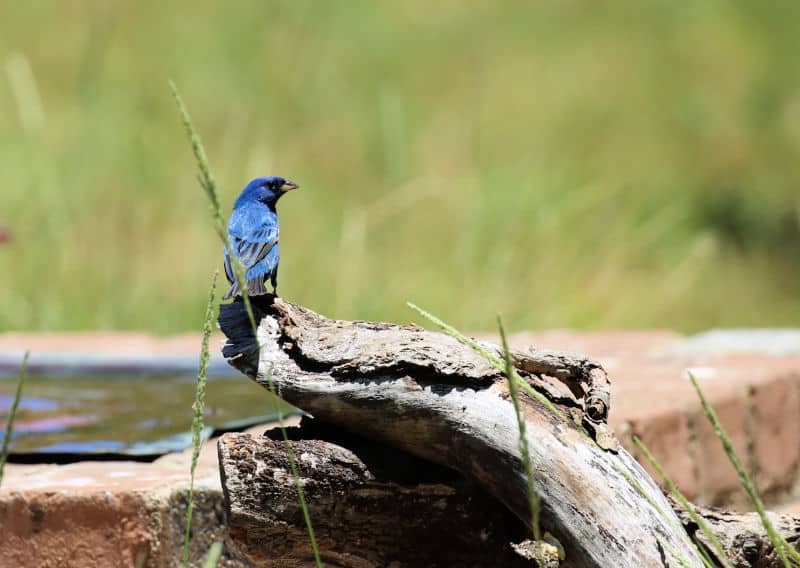 Bird Watching
Spring is by far the premier season to enjoy bird watching on Dry Tortugas Island. Don't forget to bring your binoculars if you're an avid bird watcher.
You will get to view an array of different bird species while you're on the island. There are Roseate, Bridled Terns, Brown Pelicans, Double-Crested Cormorants, and other numerous bird species, etc.
These birds build their nest along the seashore where it's easier for them to feed off the fish in the ocean. You will also find them in the mangroves as well.
We had so much fun watching the birds at a small fountain in the center of Fort Jefferson. We sat for a while just in awe of the different bird species we saw enjoying the freshwater.
Fishing
Fishing is allowed from seaplane beach east of the main dock when a seaplane is not present, the main dock when the Yankee Freedom is not present, the two westernmost finger piers.
All other areas of Garden Key are closed to fishing.
Anyone 16 or older who wishes to fish needs to have a valid Florida fishing license. Please read the current park fishing regulations before fishing.
Swimming/Snorkeling
You can enjoy swimming and snorkeling as well as other water sports at Dry Tortugas beaches. Garden Key and Loggerhead Key offer you pristine and untouched beaches which are most serene.
The coral reefs are a sight to behold. That being said, you should know that you're forbidden from swimming at Dinghy beach for obvious reasons, as it can be treacherous if you bump into sea ferries.
Please make sure you do not disturb coral, shells, or shipwrecks.
There is a Dive Map and Coral Reef Guide for the park.
Kayak/Paddle sports
A boating permit is required for all boats/vessels in the park including kayaks. The permit is free and can be picked up at the dock house information room.
Required equipment for any kayak use includes a PFD (Personal Floatation Device), a signaling device (typically a whistle and/or hand-held mirror), and a portable VHF radio. You must bring these with you. They are not available from the park.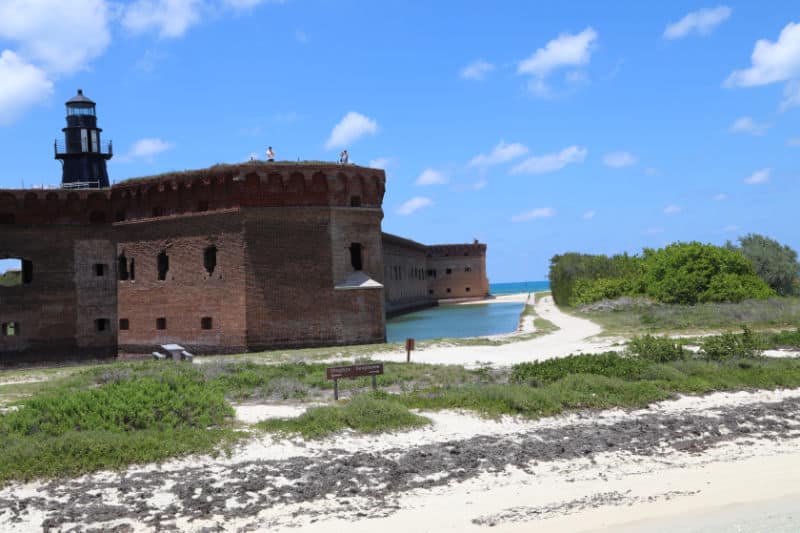 How to beat the crowds in Dry Tortugas?
We did not experience a large crowd at Dry Tortugas. Most visitors come in on the Yankee Freedom ferry boat so there is a limited number of people on the island with you.
The boat may feel pretty crowded but once you are on the island everyone spreads out and we didn't feel crowded at all.
The best way to beat the crowds at Dry Tortugas is to go camping. Sure you will have a charter boat show up during the day but once it's gone, you will practically have the island to yourself.
Well, except for a small group of campers and park staff. Make sure to stay up enough to enjoy the stars at night!
Where to stay when visiting National Park
There are no designated National Park Lodges within Dry Tortugas NP.
The closest lodging is in Key West, Florida or nearby.
Pier House Resort & Spa - 4-star resort in the heart of Key West Historic District. Close to Duval Street, Pier House Resort & Spa provides a beach bar, a poolside bar, and a terrace. With a private beach, beachfront dining, and sun loungers, this resort is the perfect place to soak up some sun. Indulge in a hot stone massage, a body treatment, and a facial at the onsite spa. Enjoy American cuisine and ocean views at the two onsite restaurants. Stay connected with free in-room Wi-Fi, with speed of 25+ Mbps, and guests can find other amenities such as a garden and a hair salon.
24 North Hotel - 4-star hotel. You can look forward to a poolside bar, a terrace, and a coffee shop/café at 24 North Hotel Key West. Adventurous travelers may like the cycling at this hotel. Be sure to enjoy a meal at any of the 3 onsite restaurants, which feature American cuisine and a poolside location. Yoga classes are offered at the 24-hour gym; the property also has a garden, dry cleaning/laundry services, and an outdoor entertainment area. Stay connected with free in-room Wi-Fi, and guests can find other amenities such as 2 bars.
The Conch House Heritage Inn - 3.5-star bed & breakfast in the heart of Key West Historic District. Close to Duval Street, The Conch House Heritage Inn provides amenities like a garden. Guests can connect to free in-room Wi-Fi.
The Reach Key West, Curio Collection by Hilton - 4-star family-friendly hotel in the heart of Old Town Key West. The Reach Key West, Curio Collection by Hilton is located close to Duval Street, and provides a golf course, a poolside bar, and a terrace. This hotel is a great place to bask in the sun with a private beach, rowing, and sailing. Indulge in a massage at Spa al Mare', the onsite spa. The onsite restaurant, Four Marlins, features local cuisine. Enjoy the gym, as well as activities like boat tours, ecotours, and kayaking. In addition to shopping on site and a coffee shop/café, guests can connect to free Wi-Fi in public areas.
Courtyard by Marriott Key West Waterfront - A poolside bar, a coffee shop/café, and dry cleaning/laundry services are just a few of the amenities provided at Courtyard by Marriott Key West Waterfront. Active travelers can enjoy cycling at this hotel. For some rest and relaxation, visit the hot tub. The onsite restaurant, Tiki Bar, features a poolside location and light fare. In addition to a bar and a business center, guests can connect to free in-room Wi-Fi.
Kimpton Winslow's Bungalows, an IHG Hotel - 4-star hotel in the heart of Key West Historic District. Near Duval Street, Kimpton Winslow's Bungalows, an IHG Hotel provides a poolside bar, a terrace, and a garden. In-room Wi-Fi (surcharge) and a bar are available to all guests.
Click on the map below to see current rates for hotels and vacation rentals in Key West, Florida.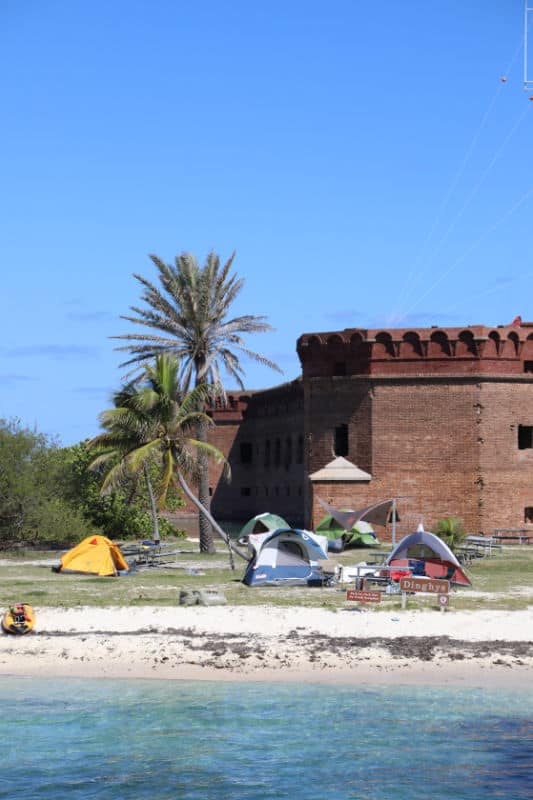 There is nothing quite like lying under the canopy of an open sky and viewing the twinkling stars as you drift off to sleep.
Can you imagine waking up to the most spectacular sunrise? Spending a night under the stars is a once-in-a-lifetime experience and therefore highly recommended.
There is no running water on the island for campers. Campers are required to bring water with them.
Campgrounds near Key West
For a fun adventure check out Escape Campervans. These campervans have built in beds, kitchen area with refrigerators, and more. You can have them fully set up with kitchen supplies, bedding, and other fun extras. They are painted with epic designs you can't miss!
Escape Campervans has offices in Vancouver, Seattle, Portland, San Francisco, Las Vegas, Los Angeles, Phoenix, Salt Lake City, Denver, Chicago, New York, and Orlando
There are multiple campgrounds located in the Keys. Here are a few of the options:
Sun Outdoors Marathon - 53 miles from Key West
This campground offers RV sites, lodging, a dog park, and waterfront.
Sun Outdoors Key Largo - 89 miles from Key West
This campground offers RV sites, lodging, beach access, and a boat launch
Key Largo Kampground - 93 miles away
This campground offers RV sites and lodging, a boat launch, beach, and a pool.
Check out other campgrounds in the area on Campspot.
Anchoring Overnight
Overnight anchoring is allowed in the sand and rubble within 1 nautical mile of Fort Jefferson harbor light.
Boats must not block any designated channel.
Overnight anchoring is not allowed in any other locations within Dry Tortugas NP.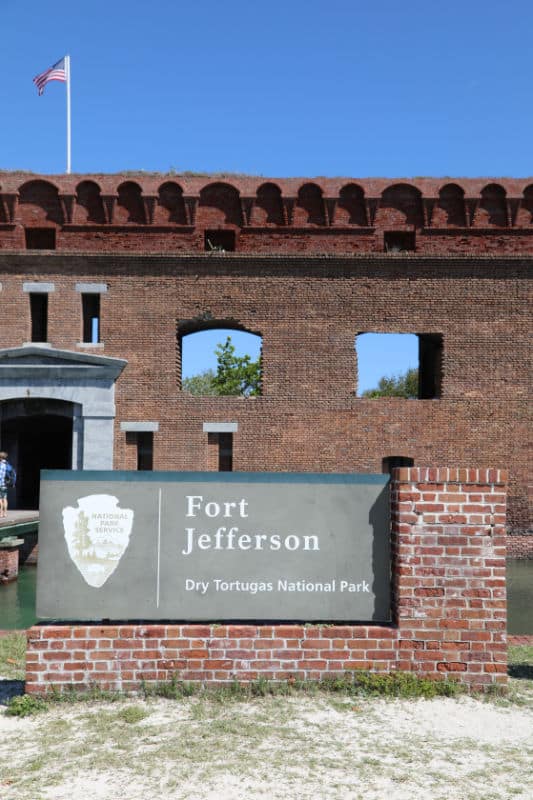 Dry Tortugas National Park Facts
Historic Fort Jefferson is one of the largest coastal forts ever built
Juan Ponce de Leon discovered the Dry Tortugas in the summer of 1513
Construction of Fort Jefferson began in 1846
Dry Tortugas was established as a National Park in 1992
80,000+ people a year visit Dry Tortugas
1822 the United States acquired the Dry Tortugas from Spain
Dry in Dry Tortugas is used to refer to the Island's lack of surface freshwater.
Seven major islands of Dry Tortugas National Park include Loggerhead Key, Garden Key, Bush Key, Long Key, Hospital Key, East Key, and Middle Key.
99% of Dry Tortugas National Park is water!
Fort Jefferson is America's largest masonry structure in existence
More than 299 bird species can be found in Dry Tortugas National Park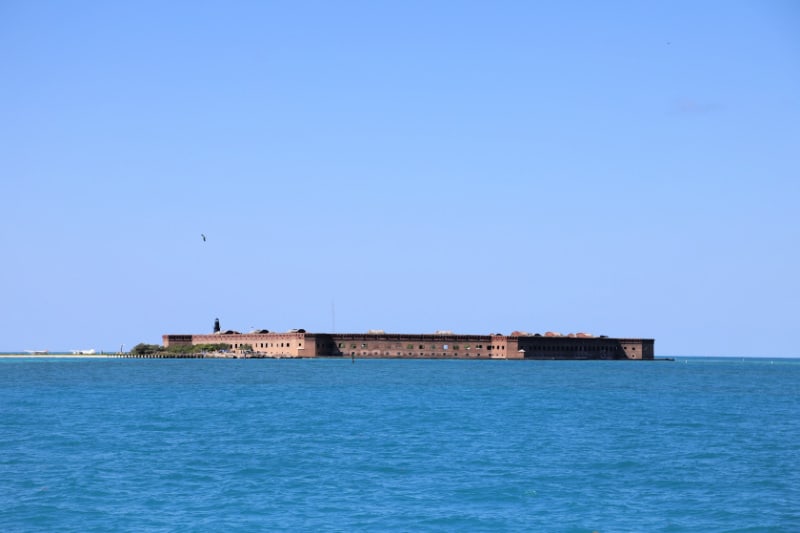 Parks near Dry Tortugas National Park
Bahia Honda State Park
Curry Hammock State Park
Indian Key Historic State Park
John Pennekamp Coral Reef State Park
Fort Zachary Taylor Historic State Park
Check out all of the National Parks in Florida along with neighboring National Parks in Alabama and Georgia National Parks
National Park Service Website