There are nine National Parks in Alabama including National Monuments, National Military Parks, National Preserves and more.
From one of the longest rivers in the nation that flows almost entirely atop a mountain to the place where Andrew Jackson's soldiers forever ended the power of the Creek Nation, the National Parks found in Alabama provide a unique cross-section of natural wonders and historic landmarks.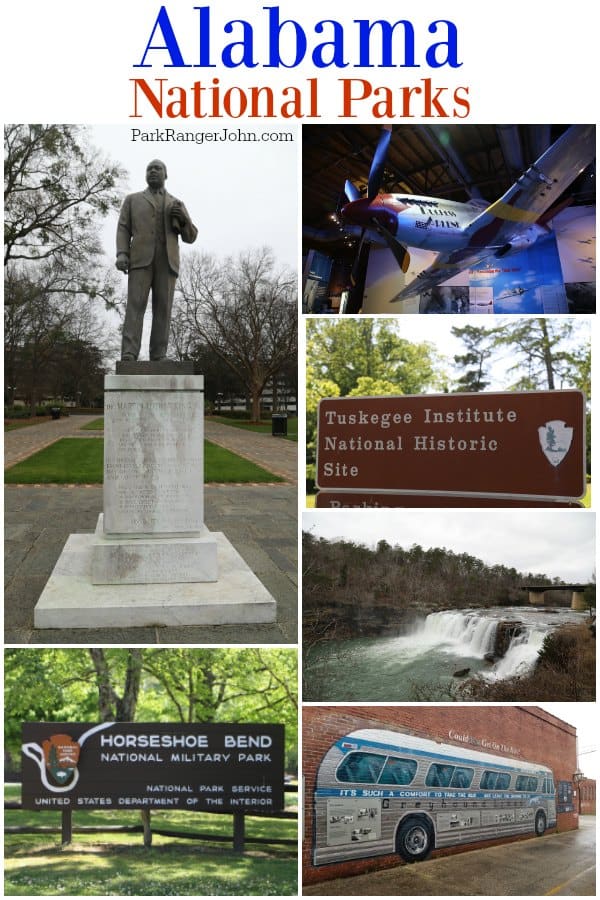 National Parks in Alabama
If you have been wondering if there are any national parks in Alabama we have the answers for you!
Not only are there parks focused on Alabama's natural beauty, but there are several national parks service sites focused on the civil rights movement, a major turning point in American history.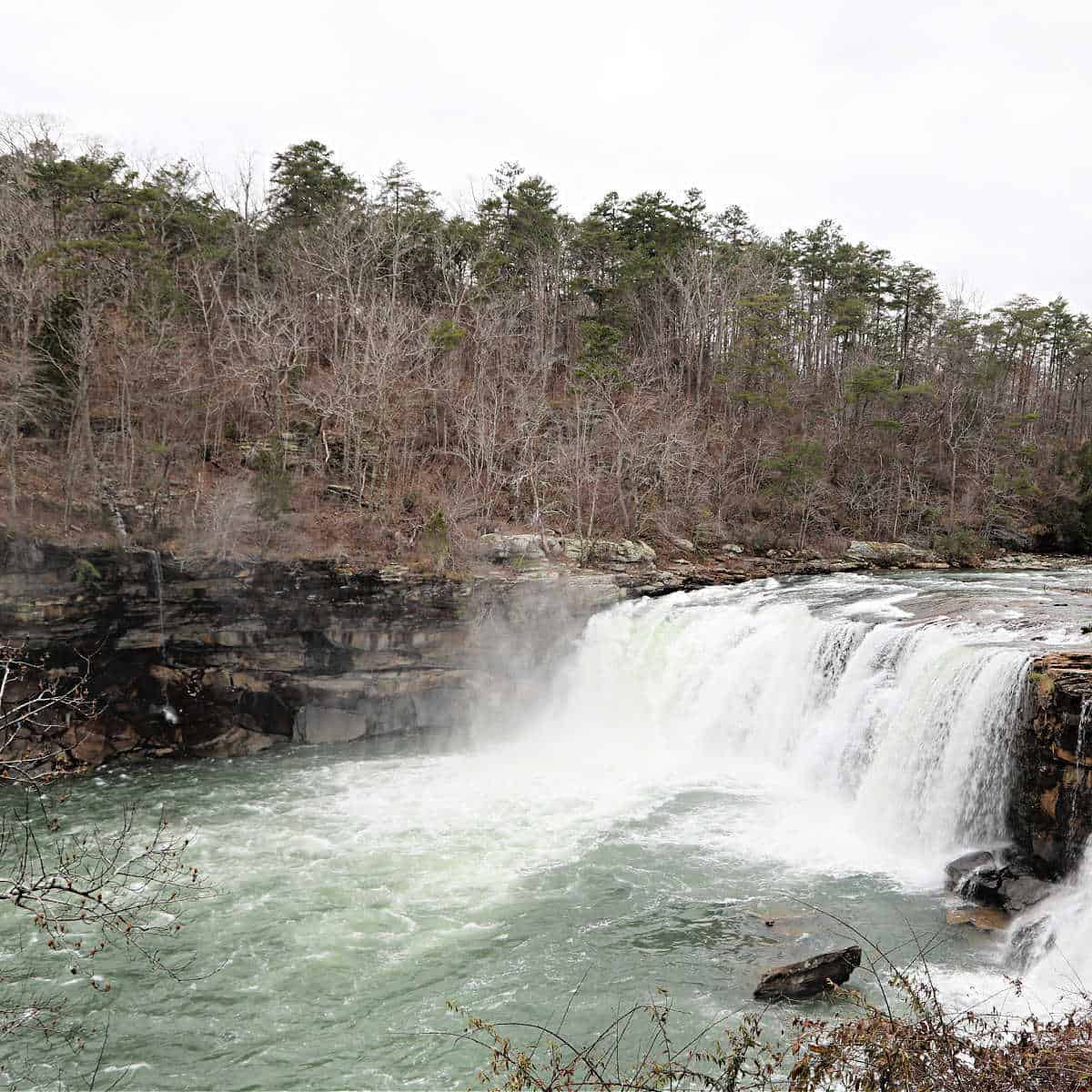 Location: Northeast Alabama
Top Things to do - Bird Watching, Bicycling, Fishing, Hiking, Horseback Riding. Kayaking, Hunting, rock climbing, photography, Little River Falls
Lodging - There are no lodging options within the park
Camping- There are currently no campgrounds and backcountry camping is not permitted at Little River Canyon National Preserve
Park Address - 4322 Little River Canyon Trail NE, Suite 100, Fort Payne, AL 35967
Little River Canyon National Preserve is one of the newest of the state's national parks, covers thousands of acres atop Lookout Mountain near Fort Payne. Protecting the natural wonder called the "Grand Canyon of the East" by many, the preserve provides spectacular views of mountain scenery, stunning year-round waterfalls, rare plants and animals and a whitewater river that should only be attempted by seasoned enthusiasts.
The canyon, cut as much as 600 feet into the top of Lookout Mountain over thousands of years, is a favorite place for outings, sightseeing, photography, picnicking and more.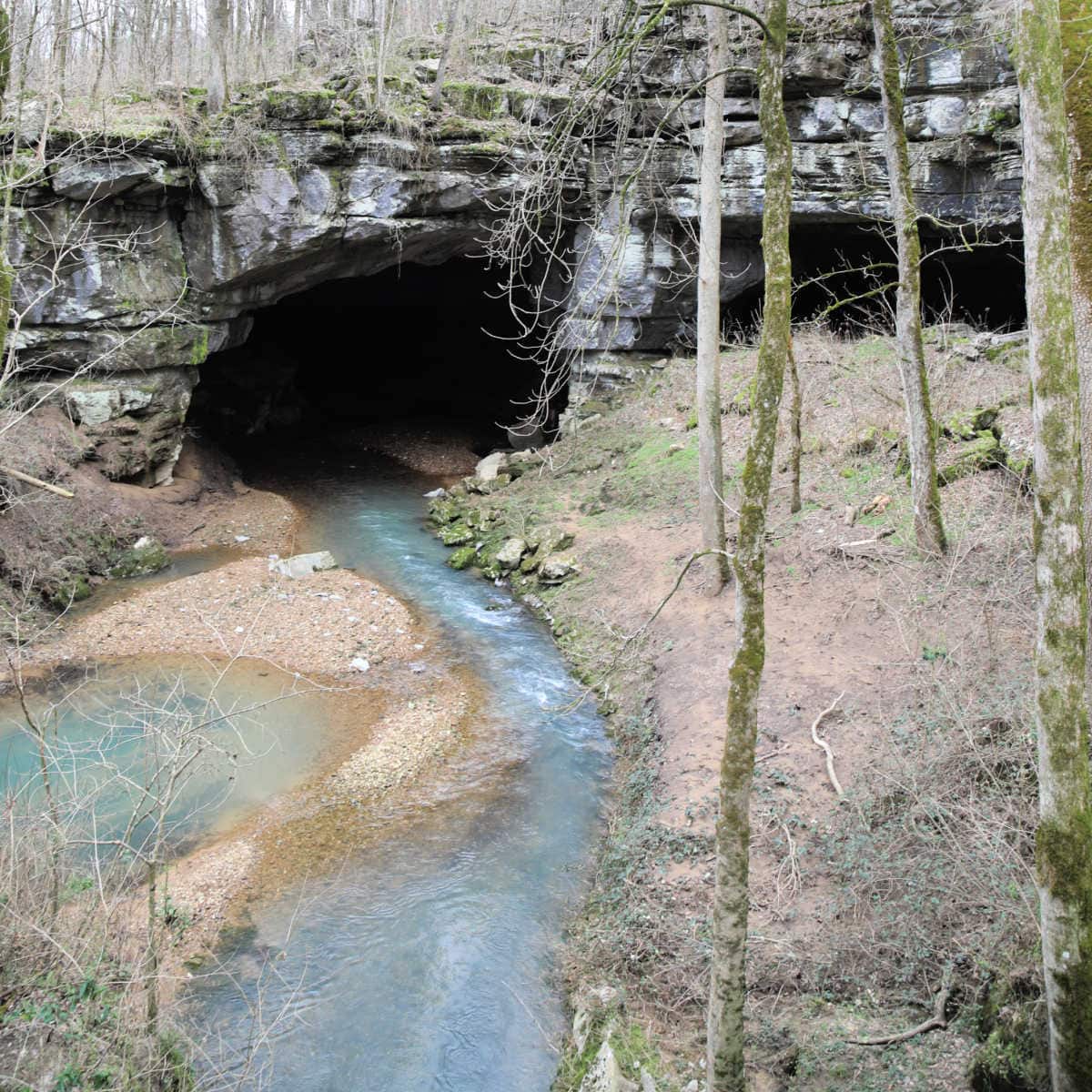 Location: Northeast Alabama
Top Things to do - Museum Exhibits, View the Russell Cave Film, Self-Guided Tours - Walking, Hiking, Junior Ranger Program
Lodging - There are no lodging options within Russell Cave National Monument itself.
Camping- There are no camping opportunities within the NM
Park Address - 3729 County Road 98, Bridgeport 35740
In the far northeast corner of the state, Russell Cave National Monument preserves a cave shelter used by Native Americans for more than 10,000 years. Archaeological research at the cave leads some to believe this may be the oldest cave shelter site in the United States.
It is believed that Native American hunters and their families used the cave from around 6500 B.C. to roughly 1650 A.D. The monument is located near Bridgeport. You can walk along a boardwalk that leads you into the cave structure. You can see where part of the cave was excavated in years past and how the park service is protecting the cave today.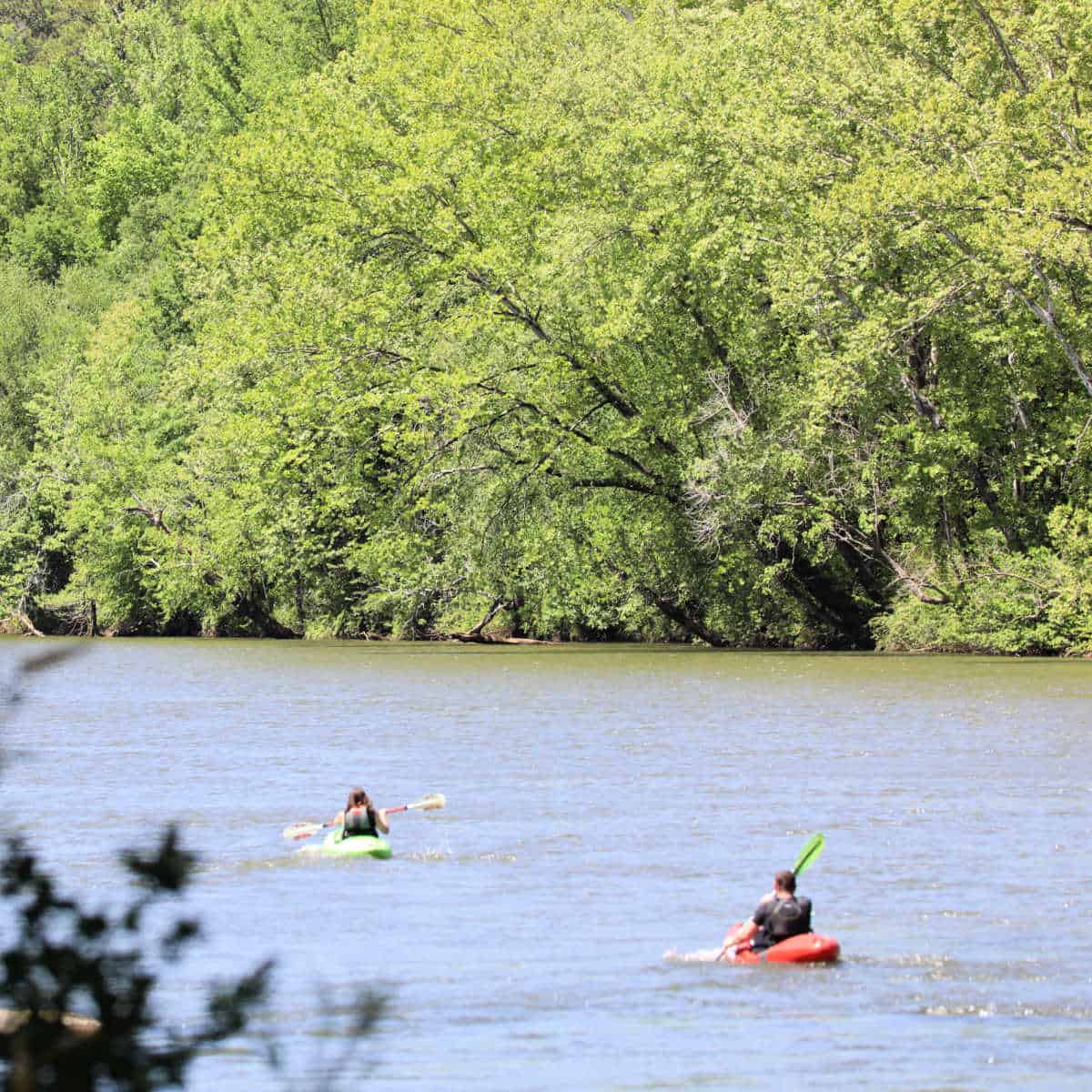 Location: East Central Alabama
Top Things to do -Tour Roadm Hiking, Boating, Picnicking, Fishing. Horseback Riding, Hunting and Trapping, Horseback Riding
Lodging - For lodging options, you would likely need to look to nearby towns and cities like Alexander City, Dadeville, Tallassee,Auburn and Opelika
Camping- Horseshoe Bend National Military Park does not offer camping facilities within the park itself. However, there may be camping options available in nearby areas for visitors who wish to stay overnight.
Park Address - 11288 Horseshoe Bend Road, Daviston, AL 36256
Native American and military history, meanwhile, highlights the Horseshoe Bend National Military Park in the central part of the state. Located near the small community of Daviston, Alabama, the park preserves the scene of the Battle of Horseshoe Bend.
Here, in March of 1814, an army under General (and future President) Andrew Jackson attacked an entrenched force of Creek warriors. The culminating battle of the Creek War of 1813-1814, Horseshoe Bend was also one of the major engagements of the War of 1812.
The Creeks were American Indians members of the "Red Stick" faction, a division of the nation that rebelled in hopes of sparking a return to native ways and lifestyles. They literally fought to the death at Horseshoe Bend, with more than 500 losing their lives after Jackson stormed their fortifications.
The park features an overlook, interpretive facilities, a tour road through the battlefield, and beautiful scenery along the Tallapoosa River.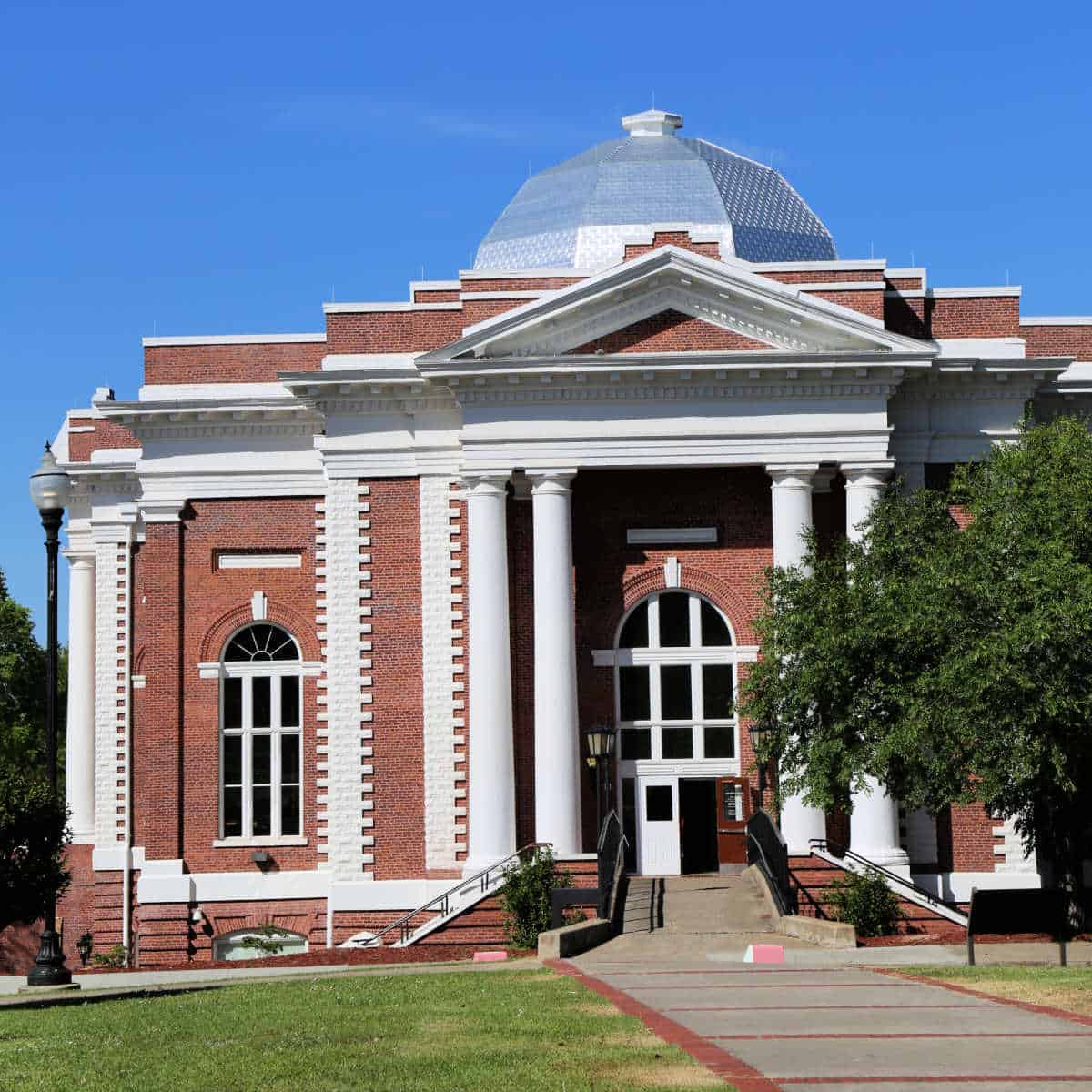 Location: East Central Alabama
Top Things to do - Visit the home of Booker T. Washington, Explore the museum dedicated to the renowned scientist and educator George Washington Carver, visitor center
Lodging - Limited lodging is available in the Tuskegee-Macon County area.
Camping- There are no camping opportunities within the site
Park Address - 1212 West Montgomery Road, Tuskegee Institute 36088
Groundbreaking cultural history also took place at a pair of national park sites in the city of Tuskegee. Here, at Tuskegee Institute National Historic Site, men including Booker T. Washington and Dr. George Washington Carver created new opportunities and new lives for African Americans in the decades following the end of slavery.
The site includes the George Washington Carver Museum, which recognizes the spectacular contributions of the scientist who developed scores of products using native plants and agricultural products. Other features of the park are the historic campus of Tuskegee Institute and the home of Booker T. Washington.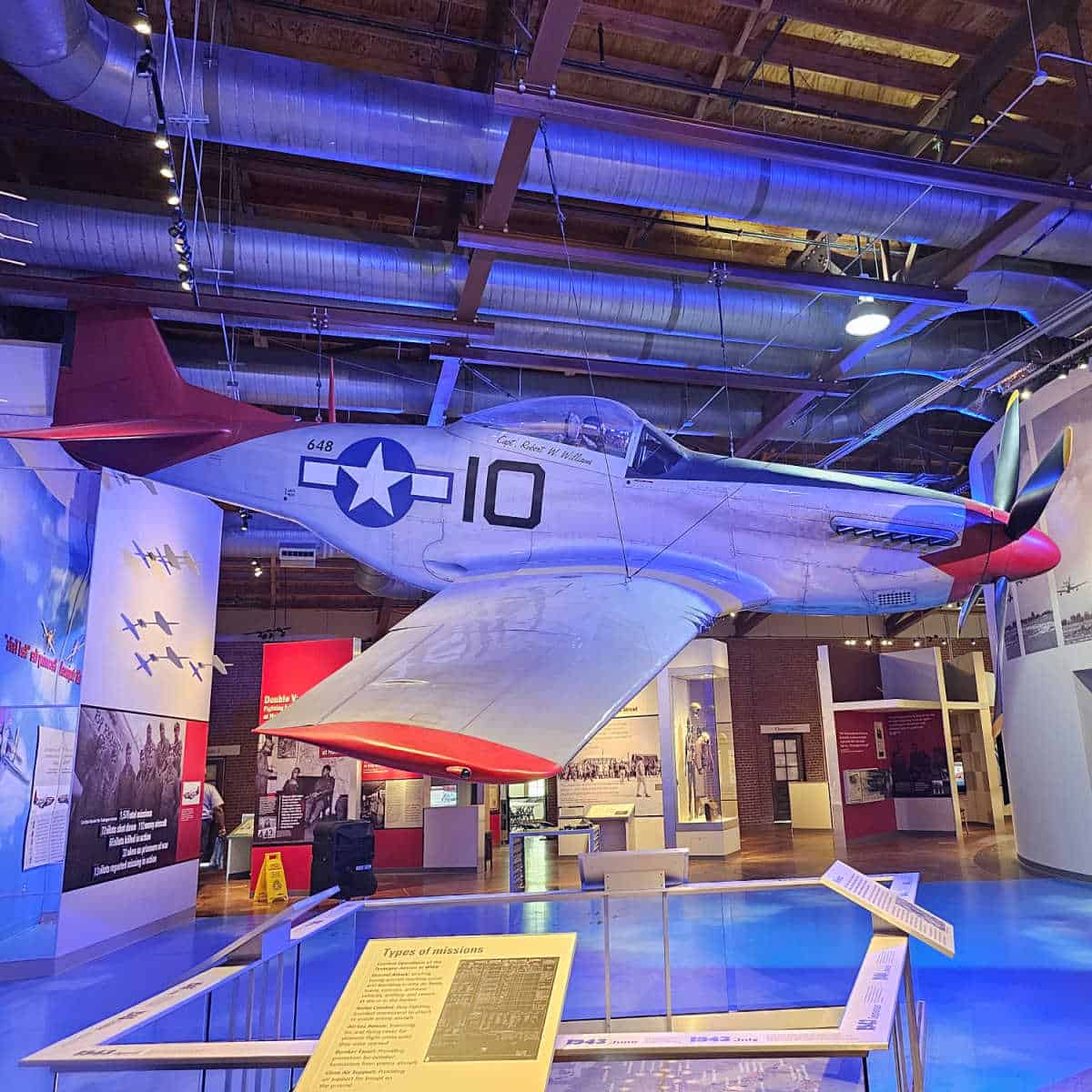 Location: East Central Alabama
Top Things to do - Watch the park film Tuskegee Airmen: Sacrifice and Triumph, Tour the outside grounds, Visit our museums inside Hangars 1 & 2, Participate in Junior Ranger programs, look out over Moton Field, a place where flight training took place for the famous Red Tails.
Lodging - Lodging options can be found within a 15-35 minute drive to Auburn or Montgomery.
Camping- The site does not offer camping options
Park Address - 1616 Chappie James Ave., Tuskegee 36083
Nearby, the Tuskegee Airmen National Historic Site preserves the airfield where the famed Tuskegee Airmen were trained during World War Two. The Tuskegee Airmen were the nation's first African American fighter pilots and among the most successful of the war.
Over 1,000 men trained here and paved the way for full African American integration into the United States Armed Forces.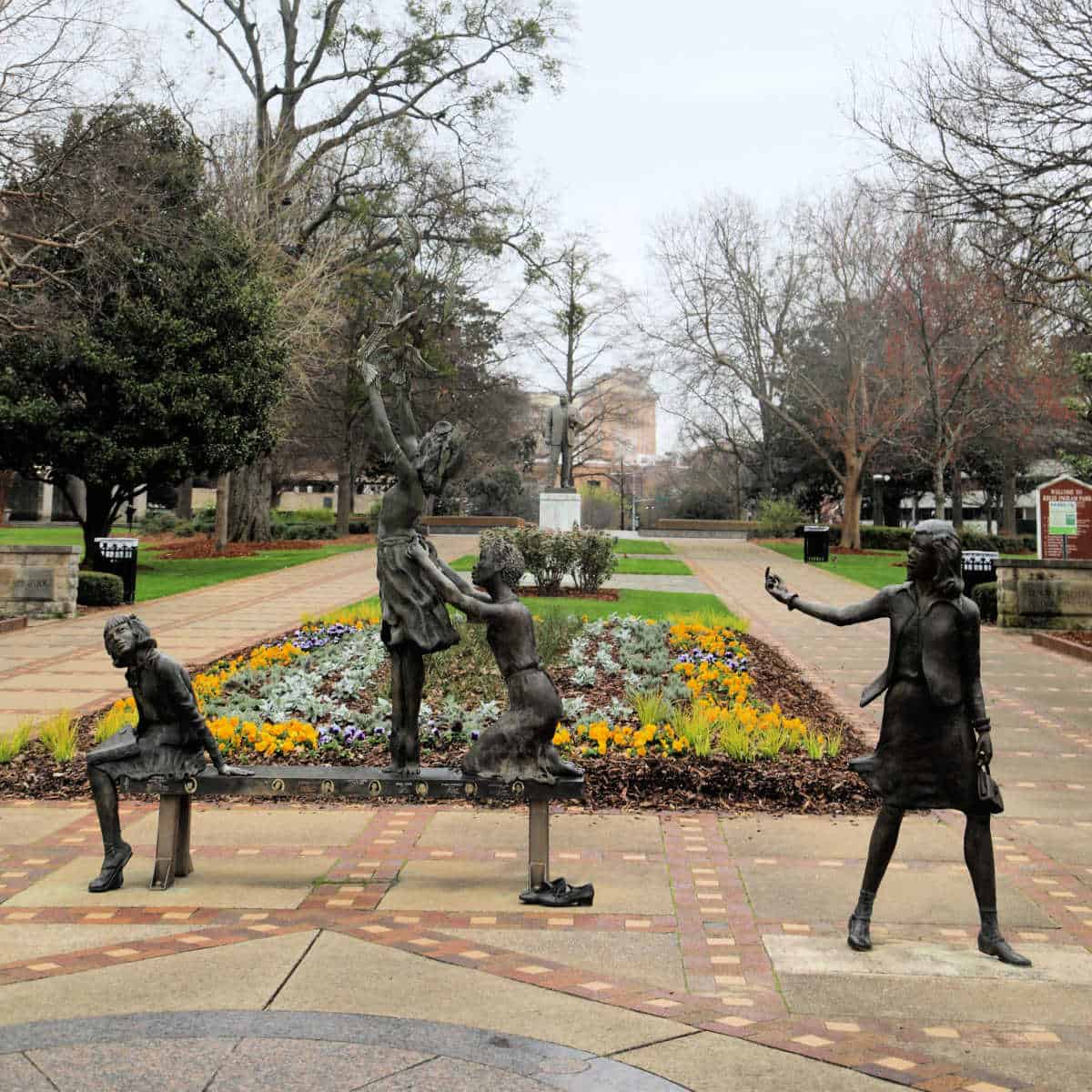 Location: Central Alabama
Top Things to do - Visit the historic 16th Street Baptist Church, A.G. Gaston Motel, walk through Kelly Ingram Park, Museum Exhibits , visit the Birmingham Civil Rights Institute
Lodging - There are no lodging within the National Monument, However, the city offers a variety of lodging choices including downtown hotels, accommodations near historic districts, options near the University of Alabama at Birmingham (UAB), and hotels in the airport area.
Camping- There are no camping options within the NM
Park Address - Birmingham Civil Rights National Monument Visitor Center
Address: 1510 5th Avenue North, Birmingham, AL 35203, USA
Birmingham Civil Rights National Monument is a park in progress. You can check out the amazing statues and civil rights walk around the city of Birmingham, Alabama. The A.G Gaston Motel is being rehabilitated by the National Park Service for a future visitor center and interpretive site.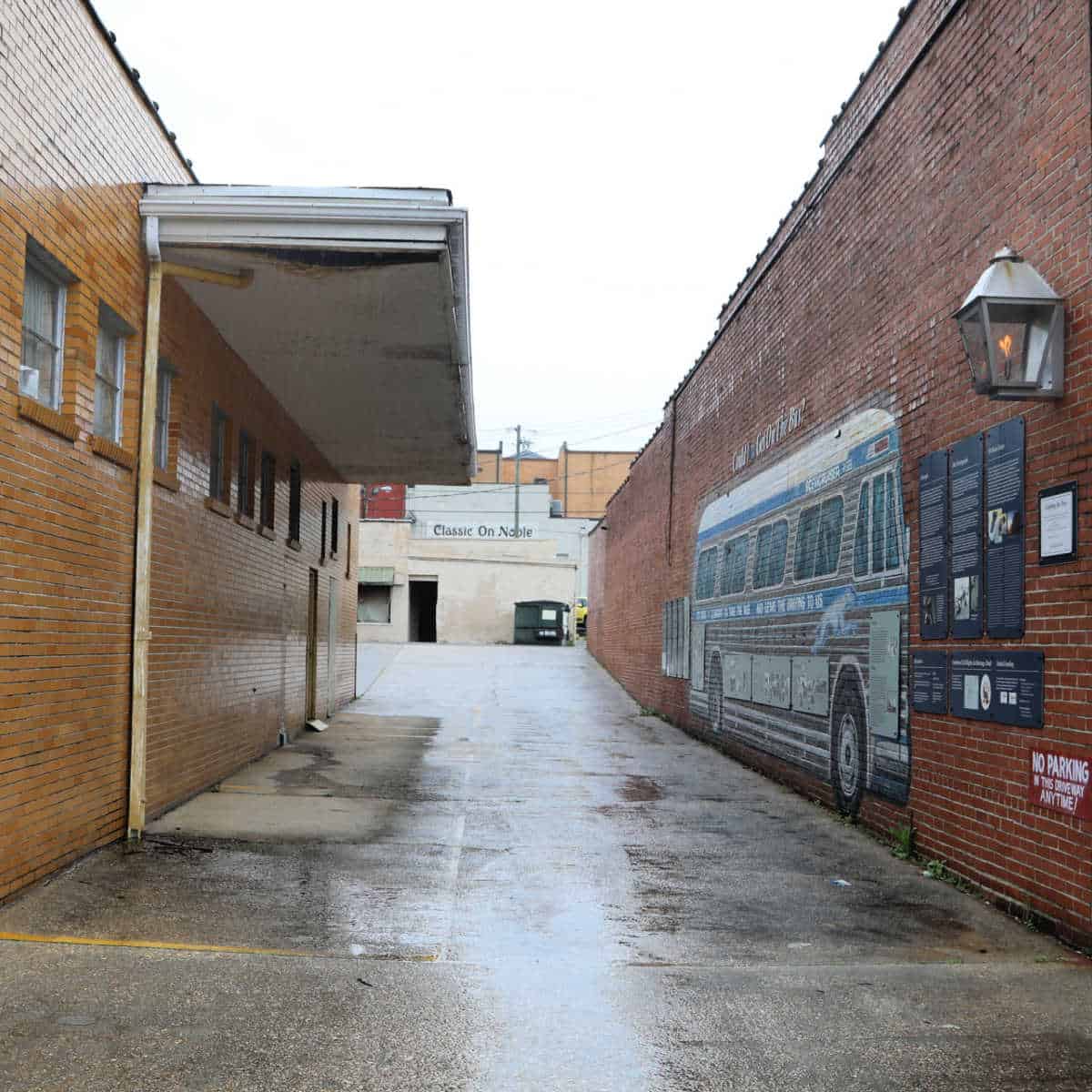 Location: Eastern Central Alabama
Top Things to do - Nine-stop driving tour
Lodging - While there are no lodging options within the monument, visitors can find lodging in Anniston, Oxford, Jacksonville, and Talladega
Camping- There are no camping options within the NM
Park Address - 1031 Gurnee Avenue, Anniston, AL 36201, USA
Freedom Riders NM is a park in progress. Currently, the visitor center is not open but you can visit the site and see interpretive displays with a mural of the Greyhound Bus.
This site was created to tell the story of what happened to the Freedom Riders in 1961.
On May 14, 1961, a group of segregationists including members of the Ku Klux Klan attacked a bus carrying freedom riders and white freedom riders at the Anniston Greyhound Bus Station.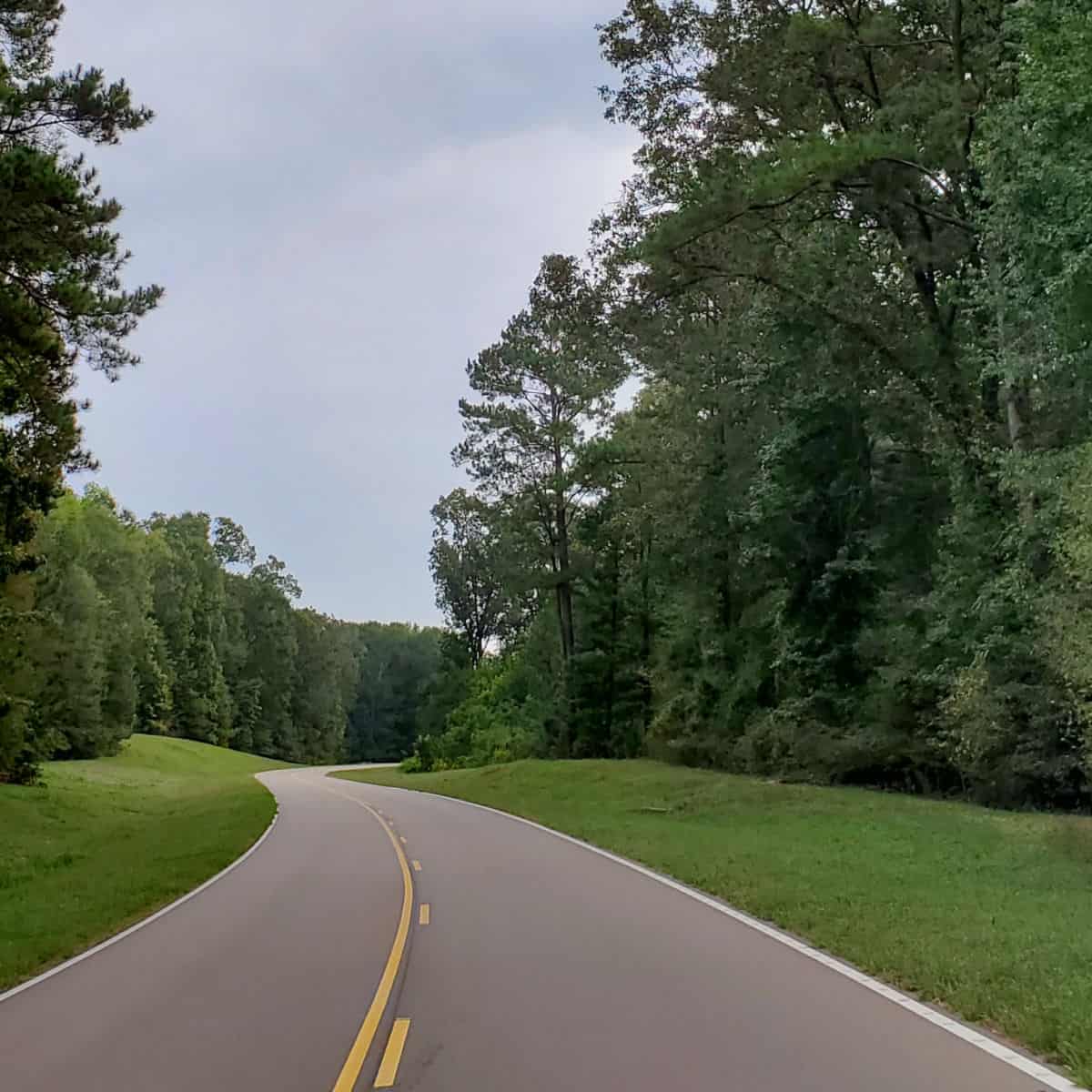 Natchez Trace Parkway
Location: Northwestern Alabama
Top Things to do -Hiking, picnicking, biking, camping, horseback riding, fishing
Lodging - While the parkway itself does not offer lodging, there are various lodging options available in nearby towns and communities along the route.
Camping- The Natchez Trace Parkway manages three campgrounds along the length of the 444 mile Parkway. Those campgrounds are Meriwether Lewis at Milepost 385.9, Jeff Busby at Milepost 193.1 and Rocky Springs at Milepost 54.
Park Address - 2680 Natchez Trace Parkway, Tupelo, MS 38804
A small section of the Natchez Parkway also passes through the northwest corner of Alabama, completing the state's fascinating collection of national park areas.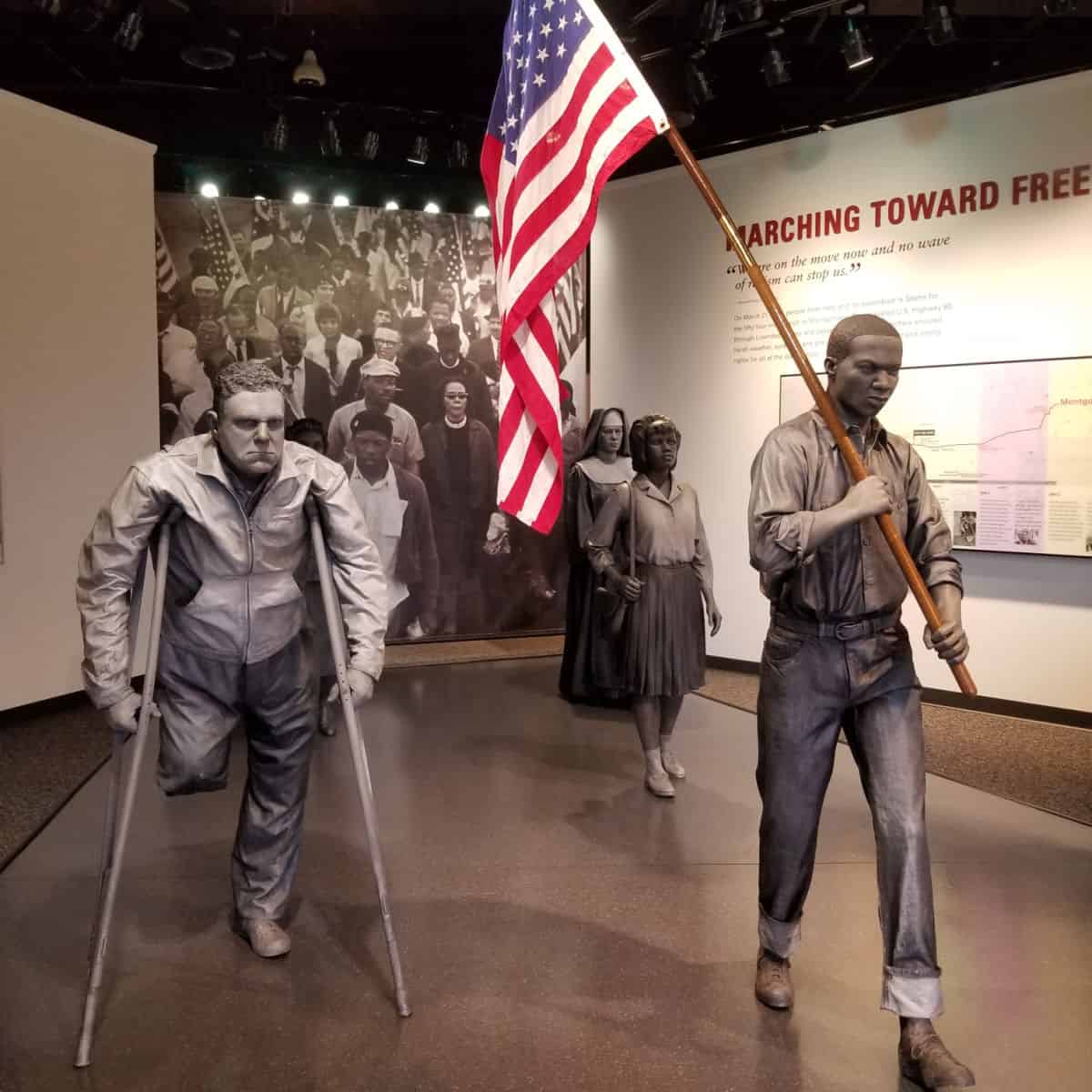 Location: South Central Alabama
Top Things to do - Walk Edmund Pettus Bridge, Visit Brown Chapel AME Church, Experience National Voting Rights Museum, Learn at Lowndes Interpretive Center, Discover Freedom Rides Museum, Reach Montgomery State Capitol, Walk the historic route, Reflect on civil rights history, visit the Selma Interpretative Center.
Lodging - There are no lodging options within the trail
Camping- There are no camping opportunities within Selma to Montgomery National Historic Trail
Park Address - 7002 U.S. Highway 80 West, White Hall, AL 36040
The Selma to Montgomery National Historic Trail in Alabama memorializes the route taken by marchers during the Voting Rights March from March 21 to March 25, 1965.
There are two visitor centers you can visit and learn more about the trail. One is located in Hayneville and the other is in Selma near the Edmund Pettus Bridge.
Here is a list of the nine National Parks in Alabama and a few sites that are located in multiple states
Alabama National Parks
Natchez Trace Parkway
Natchez Trace National Historic Trail
Affiliated areas
Mussel Shoals National Heritage Area
These parks have over 1 million visitors each year as of 2018. These visitations produce over $55 million in economic benefits according to the National Park Service.
Alabama also has 1,313 National Register of Historic Places listings. 38 National Historic Landmarks, 7 National Natural Landmarks, 1,259 places recorded by the Heritage documentation program and 257 Archeological sites within the national park sites.
There are 11 threatened and endangered species found in the Alabama National Parks.
Check out this checklist of US National Parks to check off and see how many you have been to!
If you have ever wondered about how to become a Park Ranger check out this article on How to Become a Park Ranger.
Planning a National Park vacation? America the Beautiful/National Park Pass covers entrance fees for an entire year to all US National Park Sites and over 2,000 Federal Recreation Fee Sites.
The park pass covers everyone in the car for per-vehicle sites and for up to 4 adults for per-person sites.
Buy on REI.com and REI will donate 10% of pass proceeds to the National Forest Foundation, National Park Foundation, and the U.S. Endowment for Forestry & Communities.
Free Entrance Days -Mark your calendars with the five free entrance days the National Park Service offers annually.
For a fun adventure, check out Escape Campervans. These campervans have built-in beds, kitchen area with refrigerators, and more. You can have them fully set up with kitchen supplies, bedding, and other fun extras. They are painted with epic designs you can't miss!
Escape Campervans has offices in Vancouver, Seattle, Portland, San Francisco, Las Vegas, Los Angeles, Phoenix, Salt Lake City, Denver, Chicago, New York, and Orlando
Check out the National Parks in neighboring states
Alabama State Parks
Gulf State Park- Explore Alabama's Gulf Coast and sugar white sand beaches