The Selma to Montgomery National Historic Trail in Alabama memorializes the route taken by marchers during the Voting Rights March from March 21 to March 25, 1965.
This march was a huge event in the civil rights movement which eventually leads to the passage of the 1965 Voting Rights Act.
3,000 people assembled in Selma, Alabama on March 21st to march on foot to the state capital in Montgomery 54 miles away.
Dr. Martin Luther King addressed the crowd at a concluding rally near the state capitol giving his famed " How long, Not long" speech. (see video below)
The march was no easy and on March 7, 1965, now known as "Bloody Sunday" marches ran into police on the outskirts of Selma. The police attacked peaceful marchers with clubs and tear gas.
These events sent shockwaves through the world and convinced political leaders the time had come for voting rights legislation.
You can travel along the Selma to Montgomery March route to see the route taken by marches, see where the tent camps were set up and learn about what went into this civil rights movement.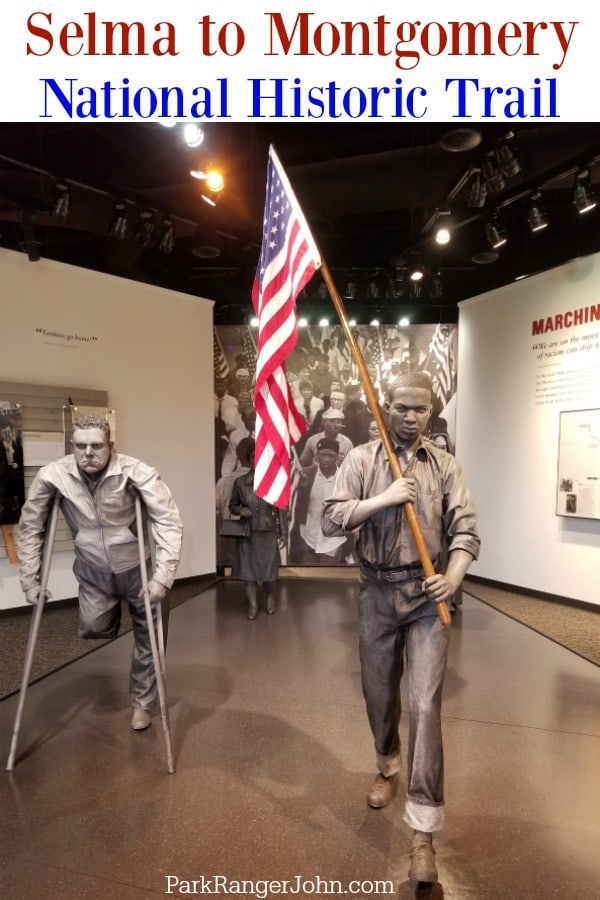 Selma to Montgomery National Historic Trail
I have to tell you that this site hit me hard! I walked around in awe that humans can treat other humans so horribly and that it happened only a little over 50 years ago.
This is a site everyone should visit to learn about what people went through to get voting rights. It is hard to hear people talk about not voting in today's elections after you hear about US citizens being hit with cattle prods while trying to march for voting rights.
Things to do at Selma to Montgomery National Historic Trail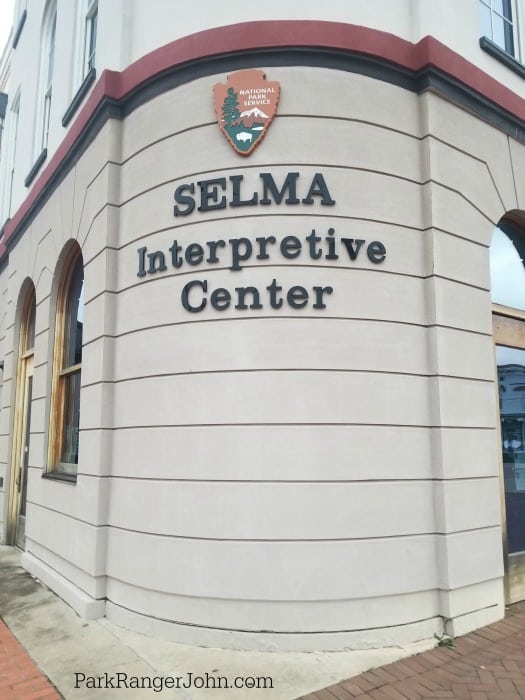 Selma to Montgomery National Historic Trail Interpretive Centers
Selma Interpretive Center
The Selma Interpretive Center is located across from the Edmund Pettus Bridge. The center has a bookstore, interpretive programs and serves as a welcome center with staff available to answer your questions.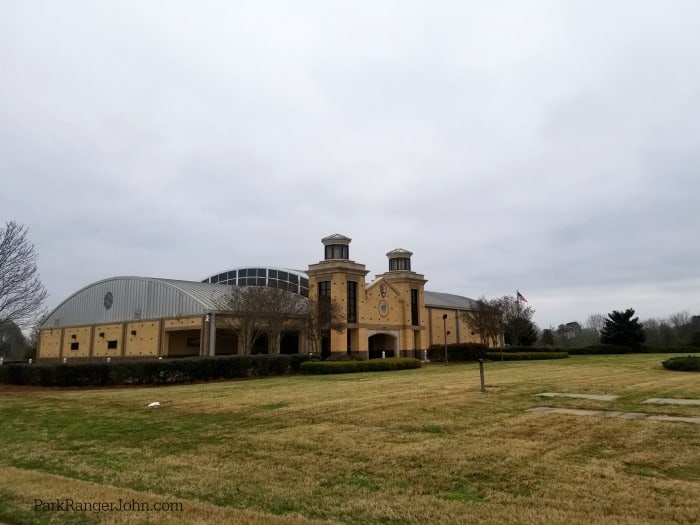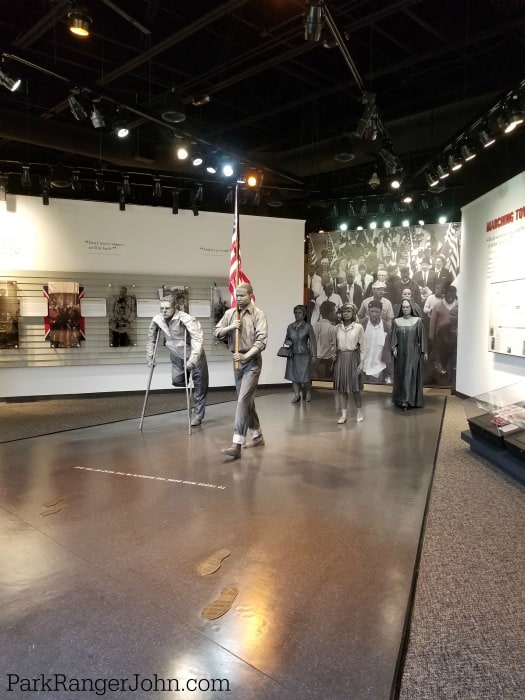 Lowndes Interpretive Center
Located midway between Selma and Montgomery in White Hall, Alabama the Lowndes Interpretive Center is a large visitor center with amazing interpretive exhibits.
Plan to spend a minimum of an hour learning more about the Selma to Montgomery March. I would plan a couple of hours if you can to truly absorb all of the exhibits and watch the park 25-minute film titled, "Never Lose Sight of Freedom".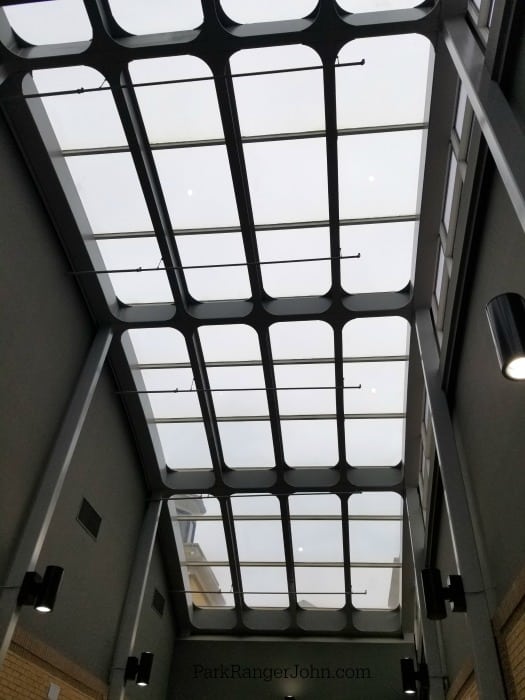 Make sure to check out the ceiling in the entryway that looks like the Edmund Pettus Bridge.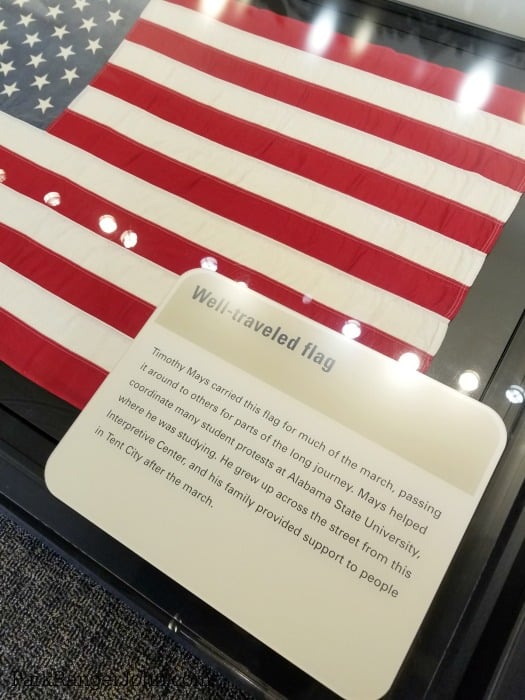 The interpretive displays at the Lowndes Interpretive Center are honestly amazing!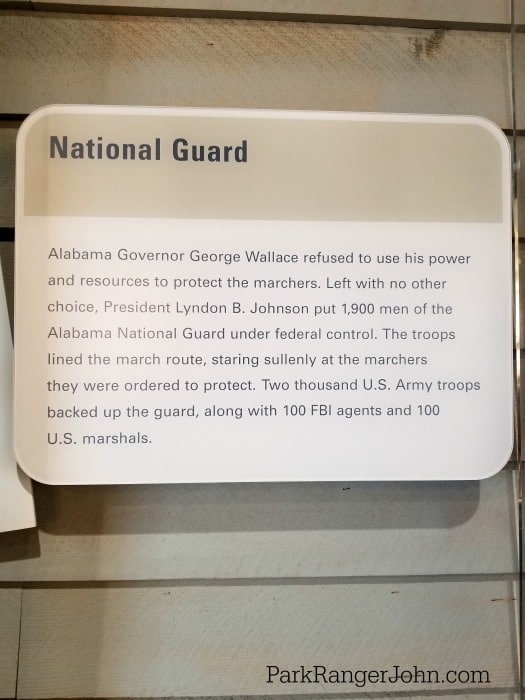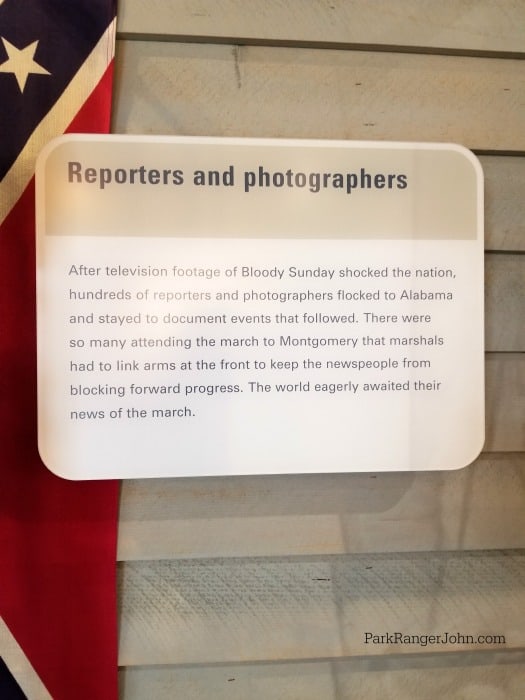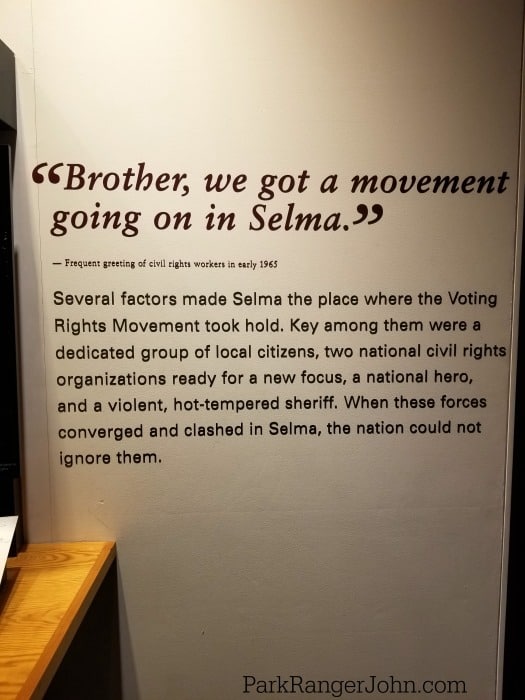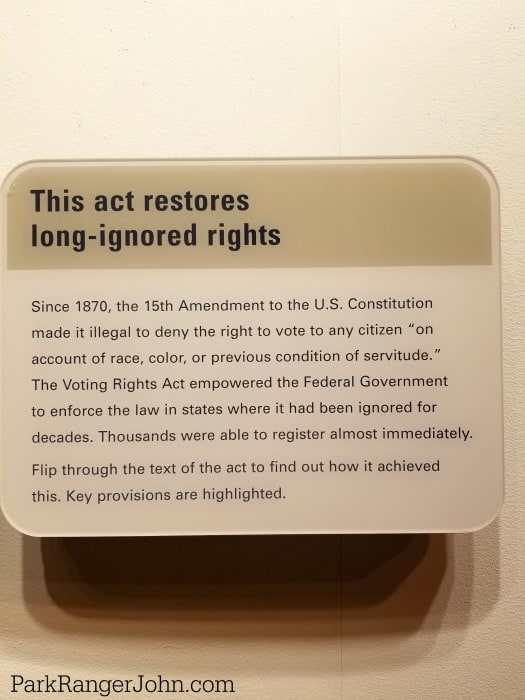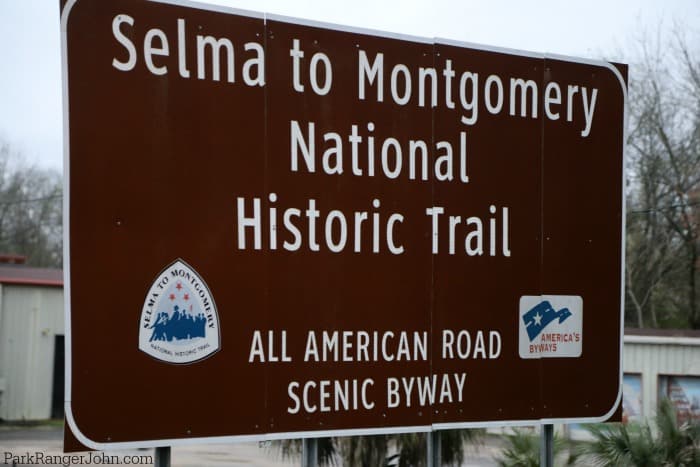 Follow the Selma to Montgomery March Route
The National Historic Trail follows the actual march route which began at Brown Chapel, A.M.E. Church in Selma, AL, located on Martin Luther King, Jr. Street. Follow the trail markers to U.S. Hwy. 80 through Lowndes County, AL. Continue on U.S. Hwy. 80 to Montgomery concluding at the Alabama State Capitol in Montgomery, AL, located on Dexter Avenue.
There are road signs along the route showing where to stop and specific historic sites along the way.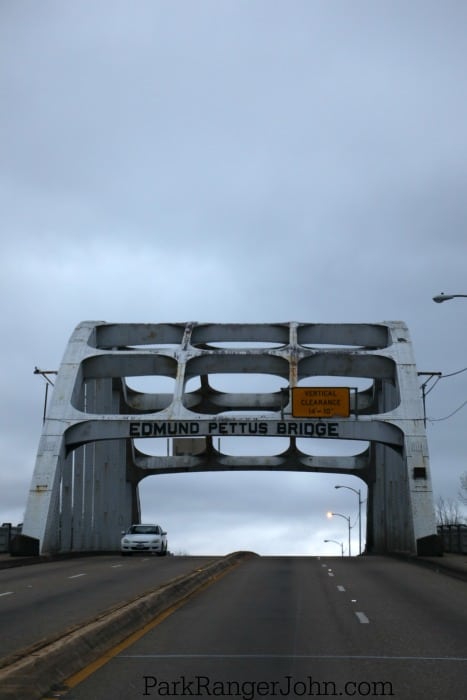 Edmund Pettus Bridge
You can walk across the Edmund Pettus Bridge and feel the history of the area.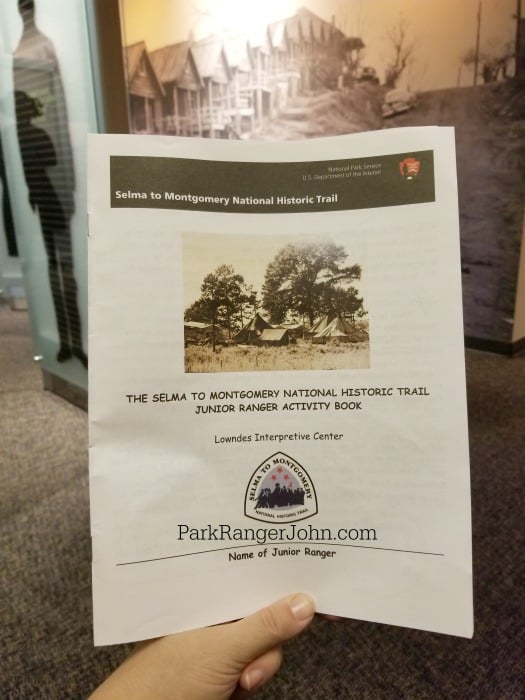 Become a Junior Ranger
The Junior Ranger program is great for all ages. We do them in every park we visit. The Selma to Montgomery NHT program is a great way to learn more about this historic event.
You can fill out the program while visiting one of the visitor centers.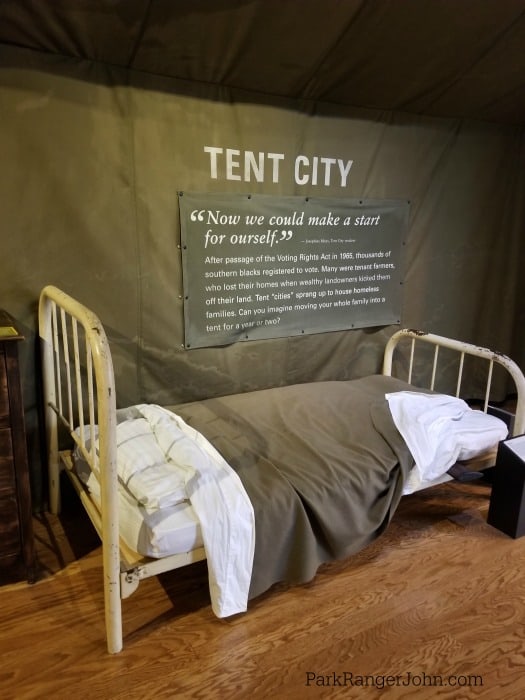 Things to know when planning a visit to the Selma to Montgomery National Historic Trail
Entrance Fee: $0.00, There is no charge to visit this National Park Site
Visitor Center Hours: Closed on Sundays, Monday through Saturday 9 am to 4:30 pm
Visitor Center Address:
Lowndes Interpretive Center, U.S. 80, Hayneville, AL, USA
Selma Interpretive Center, 2 Broad Street, Selma, AL 36701, USA
National Park Sites near Selma to Montgomery National Historic Trail
Tuskegee Airman National Historic Site
Tuskegee Institute National Historic Site
Little River Canyon National Preserve
Horseshoe Bend National Military Park
Birmingham Civil Rights National Monument
Freedom Riders National Monument
Check out all of the Alabama National Parks and neighboring Mississippi National Parks and Georgia National Parks