Freedom Riders National Monument is a new park that is in the progress of being built by the National Park Service. There are currently two sites for the Freedom Riders National Monument in Anniston, Alabama that you can visit.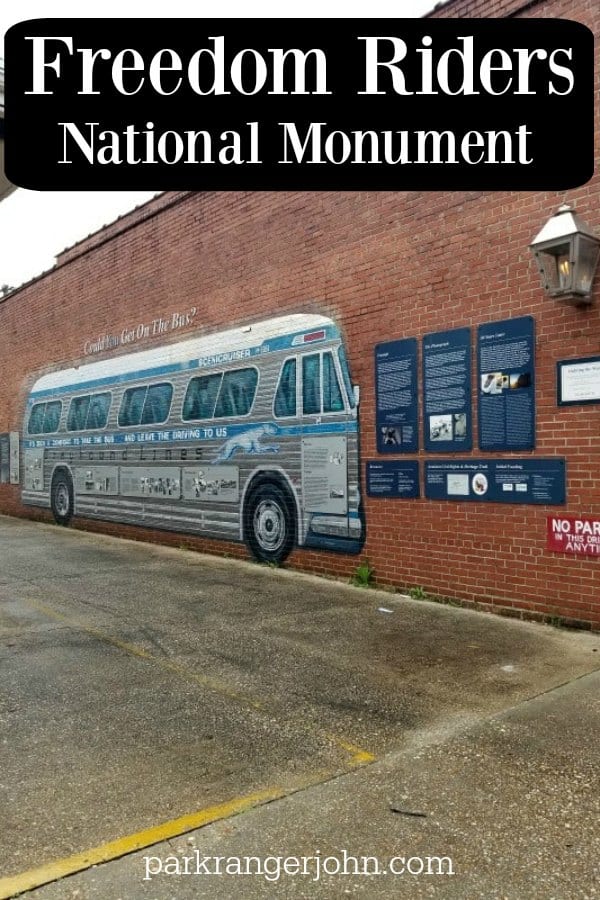 Freedom Riders National Monument
Currently, there is no visitor center or ranger always on duty. There are times on the weekend that a ranger is located at the Greyhound Bus station.
If you would like to learn more about Civil Rights there is a Civil Rights Tour offered in Birmingham which pairs nicely with a visit to Birmingham Civil Rights National Monument.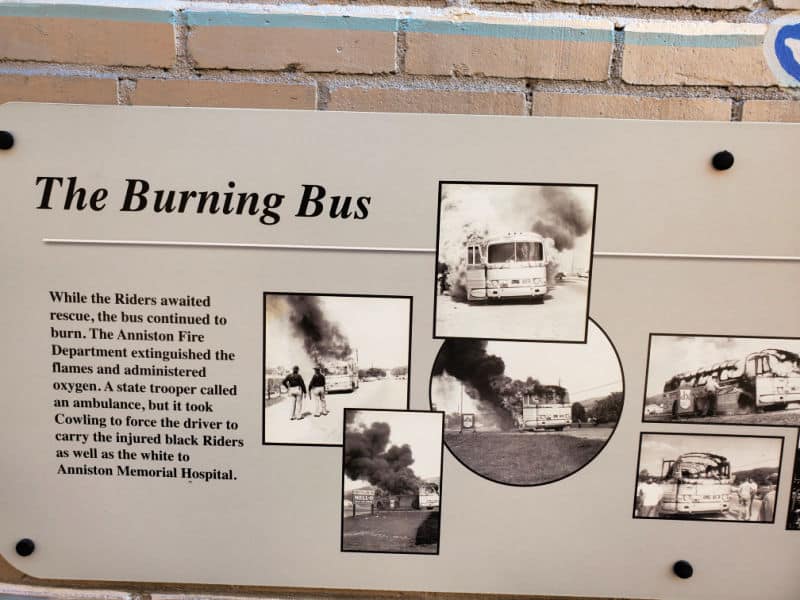 About Freedom Riders National Monument
Freedom Riders National Monument was created to tell the story of what happened to the Freedom Riders in 1961.
On May 14, 1961, a group of segregationists including members of the Ku Klux Klan attacked a bus carrying freedom riders and white freedom riders at the Anniston Greyhound Bus Station.
They threw rocks, broke windows, and slashed the tires of the bus. The police intervened and the bus was able to head towards Birmingham. Unfortunately, the mob continued to pursue the bus once it left the station.
Six miles outside of Anniston the slashed tires on the bus gave out forcing the driver to pull over on the side of the road. The segregationist mob continued to attack the bus. During the attack, someone threw a bundle of flaming rags at the bus causing it to explode moments later.
Joseph "Little Joe" Postiglione, a freelance photographer, captured the scene. Little Joe's photographs of the burning bus—which appeared in hundreds of newspapers on Monday morning—became iconic images of the civil rights movement.
Currently, an Alabama history marker designates the site of the bus burning. This site is near private homes so please be respectful if you choose to visit the site of the bus burning.
Is Freedom Riders NM worth visiting?
Yes! While this is still a park in progress so visitor services are not what you may find at other parks it is still worth visiting.
We have visited this site multiple times and each time we come out learning something new and feeling even more inspired to talk about racial injustices and equality.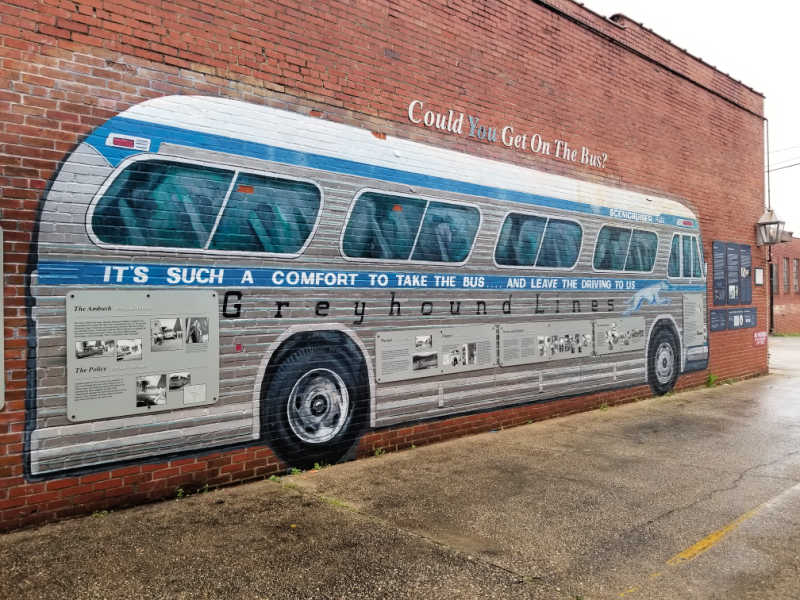 History of Freedom Riders
The Freedom Riders National Monument was one of three national monuments President Barack Obama dedicated in January of 2017.
This monument consists of two sites that symbolize the Freedom Riders and their significant role in the Civil Rights Movement.
The first site is the former Greyhound Bus Station in downtown Anniston, the second was a location on the outskirts of Anniston. Both sites were involved in a horrific attack on May 14th, 1961.
Let us go back just a few years and talk about who these heroic Freedom Riders were.
The group of riders were comprised of both white and African American citizens who were passionate about protesting the segregated bus stations in the south.
These riders took bus trips through the southern states in 1961. Along the way they attempted to visit "whites only" public restrooms and restaurants.
The particular rides in 1961 were a type of "highway travel protest" to gain attention to the southern state's refusal to recognize a 1960 court decision. The Boynton v. Virginia case stated that segregation of interstate transportation and facilities were unconstitutional.
By some estimates there were over 400 Freedom Riders protesting in the south. During this particular trip in May of 1961, there were 13 involved.
The historic group of 13 brave Freedom Riders left Washington D.C. on May 4th, 1961. One of the 13 on this bus was Mr. John Lewis. In 1986, Lewis was elected to the U.S. House of Representatives.
The Freedom Riders planned to arrive in New Orleans, Louisiana by May 17th to celebrate the anniversary of the Supreme Court's case Brown v. Board of Education. This decision stated that segregated schools were unconstitutional.
On May 13th, as the riders reached Atlanta, some of them split off onto a Trailway bus. It was becoming evident that citizens of the south who were not supporters of African Americans exhibiting their rights and freedoms were becoming aware of this monumental protest.
The riders, though, might not have realized the magnitude of what was waiting for them in Alabama. Or maybe they did, but perseverance and a passionate spirit for change kept them moving.
The Greyhound bus with the first to arrive in Anniston, Alabama around 1:00pm. The riders found the bus terminal closed and an angry mob surrounding their bus.
Reports range from 50 to 200 men waiting, but nonetheless, the mob was armed with pipes, chains, and bats and did the best they could to destroy the bus and terrify the riders.
The nearly destroyed bus moved on to the outskirts of the city where a member of the mob threw a firebomb through a broken window. The riders escaped as the flames engulfed the bus. As they exited they were brutally beaten by the mob surrounding them.
Just as would happen two years later after riots in Birmingham, photographs of the event spread across the nation. America saw the destruction of the bus and the badly beaten Freedom Riders.
Attorney General Robert Kennedy arranged for police escorts to safely lead the riders out of the Anniston area. Safety was fleeting, as the police escorts left the bus near Montgomery where riders were again beaten with baseball bats as they tried to exit the bus.
As this was happening, Dr. Martin Luther King, Jr. and thousands of other supporters were leading a church service at the First Baptist Church in Montgomery. Riots ensued here as well.
Eventually, Robert Kennedy called in the National Guard to assist. The riders were finally on the road again and arrived in Jackson, Mississippi to groups of supporters.
Although, when the Freedom Riders attempted once again to use public facilities, they were arrested. After being unfairly sentenced to 30 days in jail. Their convictions went all the way to the Supreme Court where they were finally reversed.
The Freedom Rides continued into the fall of 1961. On November 1st, 1961, the Interstate Commerce Commission ruled that segregation on interstate buses and facilities was illegal.
Today, the two sites dedicated to the Freedom Riders National Monument provide a timeline and details about the events surrounding the event on May 14th, 1961.
At the old Greyhound Bus Station, there is a mural of the 1961 bus asking the visitor to contemplate if they would have been courageous enough to get on the bus.
The site outside the city points the visitor to envision the horrific scene as a group of brave men and women exited a burning bus in their quest to spread their message of change.
It asks the visitor to realize the significance this day had in the Civil Rights Movement of the 1960s.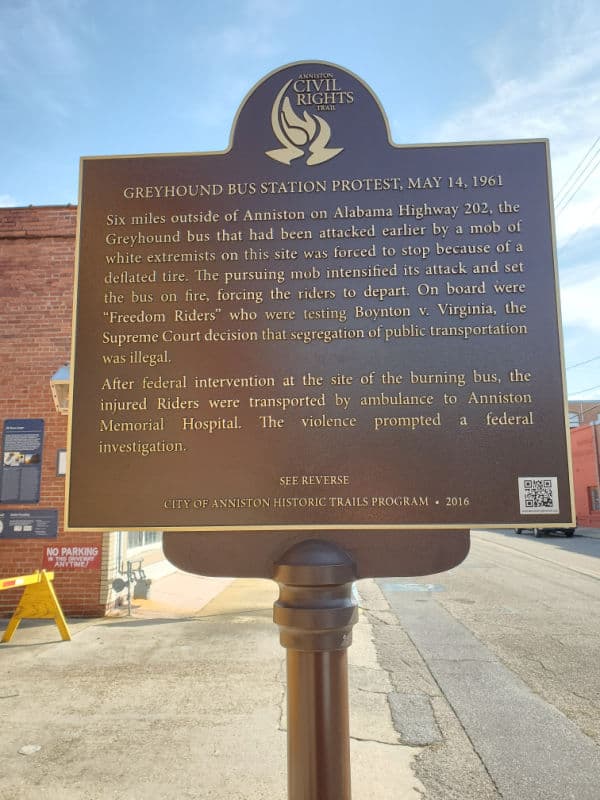 Things to know before your visit to Freedom Riders NM
Entrance fee
$0.00, There is no entrance fee to visit the park.
Learn more about National Park Passes for parks that have an entrance fee.
Free Entrance Days -Find the five free entrance days the National Park Service offers annually.
Time Zone
CST - Central Standard Time
Pets
Currently all of the sites are outside. You could easily walk your dog on a leash to view the mural.
Cell Service
We had great cell service while visiting the park.
Park Hours
There are no designated hours currently.
Wi-Fi
There is no designated wifi for the park.
Water Bottle
Make sure to bring your own water bottle and plenty of water with you. Plastic water bottles are not sold in the park.
Parking
There is easy street parking near the bus station site.
The bus burning site is on the side of the road. Parking is interesting near residential homes on the side of the road.
Food/Restaurants
There are multiple restaurants located within Anniston, Alabama along with in nearby Oxford.
Gas
There are multiple gas stations within Anniston, Alabama along with in nearby Oxford, AL
Drones
Drones are not allowed within National Park Service Sites.
This site is within the city of Anniston, Alabama so their rules and regulations along with FAA regulations will need to be followed.
National Park Passport Stamps
National Park Passport stamps is available twenty-four hours a day, seven days a week in the foyer of the Calhoun County Chamber of Commerce.
Calhoun County Chamber of Commerce
1330 Quintard Ave
Anniston, AL 36201
Make sure to bring your National Park Passport Book with you.
Electric Vehicle Charging
There closest charging ports are located in Oxford, Alabama.
Details about Freedom Riders NM
Size - 7.83 acres
See how the park compares to other National Parks by Size.
Would you believe it is not one of the 30 smallest parks by size!
Date Established
The park was established by President Barack Obama on January 12, 2017
Visitation
Park statistics are currently not being tracked.
Learn more about the most visited and least visited National Parks in the US
Freedom Riders National Monument Address
1031 Gurnee Ave, Anniston, AL 36201
Freedom Riders National Monument Map
Where is Freedom Riders NM?
Freedom Riders NM is located in the city of Anniston, Alabama.
Anniston is located in north-eastern Alabama
Estimated distance from major cities nearby
Atlanta, GA - 91 miles
Nashville, TN - 230 miles
Memphis, TN - 308 miles
New Orleans, LA - 405 miles
Louisville, KY - 401 miles
Charlotte, NC - 336 miles
Estimated Distance from nearby National Park
Great Smoky Mountains National Park - 272 miles
Mammoth Cave National Park - 320 miles
Shenandoah National Park - 601 miles
Hot Springs National Park - 496 miles
Congaree National Park - 319 miles
Everglades National Park - 769
Where is the National Park Visitor Center?
There is no specific visitor center established for the park at this time.
The park is still a park in progress with a visitor center coming in the future.
Interim Visitor Center
Calhoun County Chamber of Commerce
1330 Quintard Ave
Anniston, AL 36201
Telephone: (256) 237-3536
Hours: Monday through Friday, 8:00 am to 5:00 pm
Calhoun County Chamber of Commerce staff are available to answer visitor questions during normal business hours.
A digital interpretive kiosk and NPS passport stamp are available twenty-four hours a day, seven days a week in the foyer of the Calhoun County Chamber of Commerce.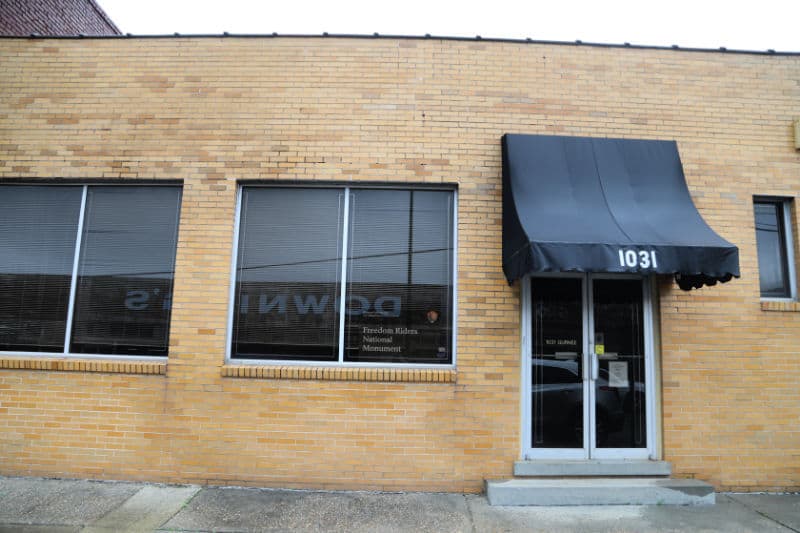 Getting to Freedom Riders National Monument
Closest Airports
Birmingham-Shuttlesworth International Airport (BHM)
Driving Directions
These directions will take you to the bus mural.
From Atlanta and Points East
From I-20, take exit 185 to Alabama State Hwy 21 North.
Turn left on East Eighth Street, then right on Gurnee Avenue. Greyhound Station is located at the corner of East Eleventh Street and Gurnee Avenue.
From Birmingham and Points West
From I-20, take exit 179 and turn left onto Alabama State Highway 202.
Turn left on Gurnee Avenue. Greyhound Station is located at the intersection of East Eleventh and Gurnee Avenue.
From Gadsden and Points North
From US 431 South, turn right onto Alabama State Hwy 21 North, then turn right on East Eleventh Street. Greyhound Station is at the corner of East Eleventh and Gurnee Avenue.
Best time to visit National Park.
As this is still a park in progress, there are no park visitor services. Having said that, feel free to go to the site during daylight hours.
Weather and Seasons
Alabama is hot and humid in the summer! Winters are typically pretty mild though they can be cod and wet.
The hottest temperatures are from May 24 to September 21 with an average daily high of 82 degrees Fahrenheit.
The coldest temperatures are from November 30 to February 24 with an average temperature below 60 degrees Fahrenheit.
The coldest month is January with an average high of 53 degrees and a low of 34 degrees Fahrenheit.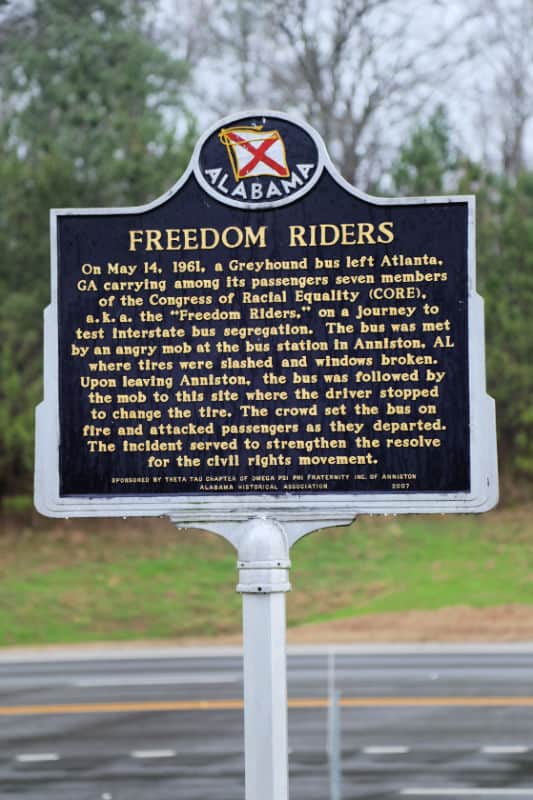 Things to see at Freedom Riders NM
Greyhound Bus Station
The Greyhound Bus Station is not currently open to the public, nor is the bus burning site an easily accessible public place. You can view the bus mural and interpretive panels at the monument.
1031 Gurnee Avenue, Anniston, Alabama
Greyhound Station is located at the corner of East Eleventh Street and Gurnee Avenue.
The mural is titled "Could You Get on the Bus?" and was created by artist Joseph Giri.
The mural depicts a period-correct depiction of a Greyhound bus similar to the bus that carried a small group of Freedom Riders to Anniston in May of 1961.
Bus Burning Site
There is currently no parking provided at the bus burning site along Old Birmingham Highway. There is a sign designating the spot near the old highway. This is on a dead-end road near residential houses.
Anniston Trailways Station
The Anniston Trailways Station was the site of violent intimidation of Freedom Riders on May 14, 1961.
A group of young white men boarded a bus carrying Freedom Riders who were black and white. The young men came aboard to enforce segregated seating.
The young men beat the Freedom Riders forcing them into segregated seats. The police intervened and the bus departed for Birmingham with badly injured Freedom Riders.
Location - 900 Noble Street, Anniston, AL
Anniston Civil Rights & Heritage Trail
The Greyhound Bus Station is part of the Anniston Civil Rights and Heritage Trail, which includes nine sites associated with the struggle for civil rights in Anniston.
A self-guided driving tour is available online at annistoncivilrightstrail.org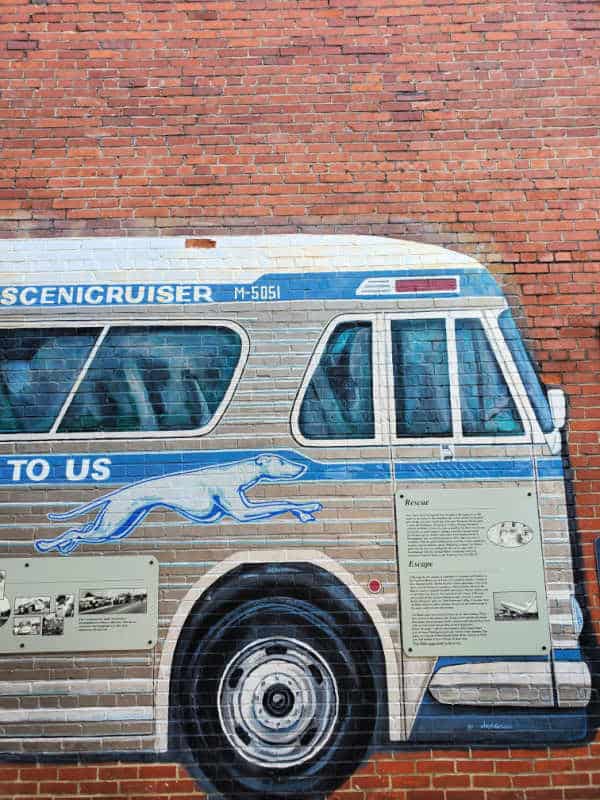 Where to stay when visiting Freedom Riders NM
The park does not have a National Park Lodge to stay at. That being said there are hotel and vacation rental options nearby.
Click on the map below to find current rates for hotels and vacation rentals near Anniston, Alabama.


Camping
There is no designated campground for Freedom Riders NM.
There are multiple campgrounds near Anniston, Ala.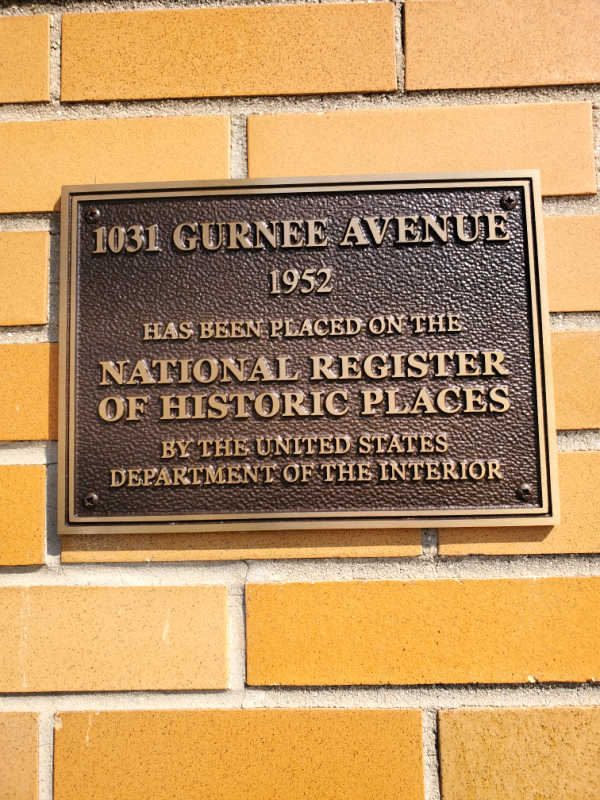 Additional Resources
Moon U.S. Civil Rights Trail: A Traveler's Guide to the People, Places, and Events that Made the Movement (Travel Guide)
Freedom Riders: 1961 and the Struggle for Racial Justice (Pivotal Moments in American History)
American Experience: Freedom Riders
Buses Are a Comin': Memoir of a Freedom Rider
The Road South: Personal Stories of the Freedom Riders
Breach of Peace: Portraits of the 1961 Mississippi Freedom Riders
Autobiography of a Freedom Rider: My Life as a Foot Soldier for Civil Rights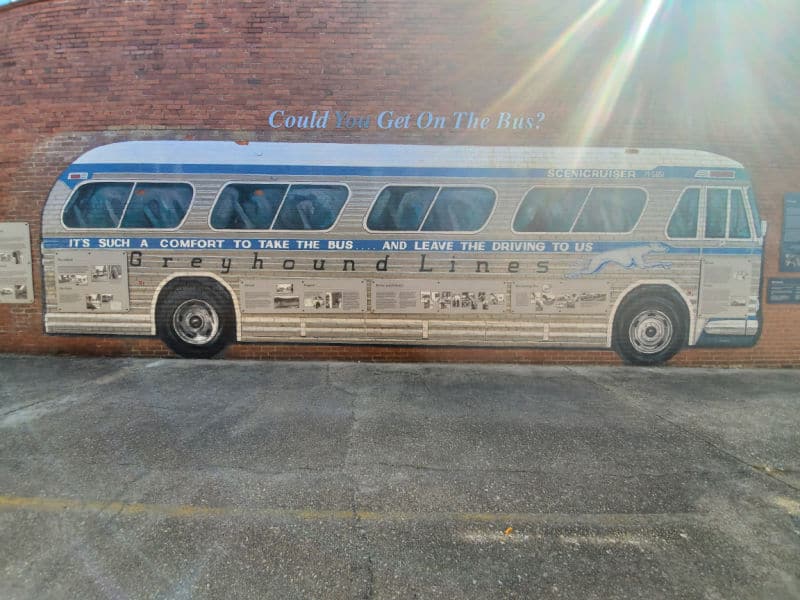 Parks near Freedom Riders NM
Of the other 423 NPS units, 13 are within a 3-hours drive from Freedom Riders NM!
Birmingham Civil Rights National Monument - 1.25 hrs
Horseshoe Bend National Military Park - 1.25 hrs

Little River Canyon National Preserve - 1.5 hrs

Martin Luther King, Jr. National Historical Park - 1.75 hrs

Tuskegee Institute National Historic Site - 2.25 hrs

Tuskegee Airmen National Historic Site - 2.25 hrs

Russell Cave National Monument - 2.25 hrs

Kennesaw Mountain National Battlefield Park - 2.25 hrs

Chattahoochee River National Recreation Area - 2.25 hrs

Selma to Montgomery National Historic Trail - 2.5 hrs

Chickamauga & Chattanooga National Military Park - 2.5 hrs
Natchez Trace Parkway (Tupelo) - 3 hrs

Tupelo National Battlefield - 3 hrs
Check out all of the Alabama National Parks along with neighboring National Parks in Tennessee, National Parks in Georgia, National Parks in Florida, and Mississippi National Parks
National Park Service Website