Mammoth Cave National Park in south-central Kentucky is a national park that well deserves its name. Hundreds of miles of limestone caves form the longest underground system in the world. One cannot explore anywhere else like it in the entire world! It is truly a wonder of nature.
The cave's modern-day history is one that began in the early 1800's. Mammoth Cave National Park wasn't a national park back then and it wasn't even considered a place of wonder but instead, it was used as a source of minerals. The United States government harvested saltpeter from inside the underground caves in order for United States soldiers to make gunpowder during the war of 1812.
After the war came to an end the land encompassing the cave was bought by Dr. John Croghan of Louisville. He used the caves to house tuberculosis patients during the early 1840's but treatment was deemed unsuccessful and the program was quickly abandoned. Tourism soon became popular instead and the Croghan family owned the cave until its last descendant died in 1926. The United States took over the land and Mammoth Cave National Park became the nation's 26th National Park in 1941.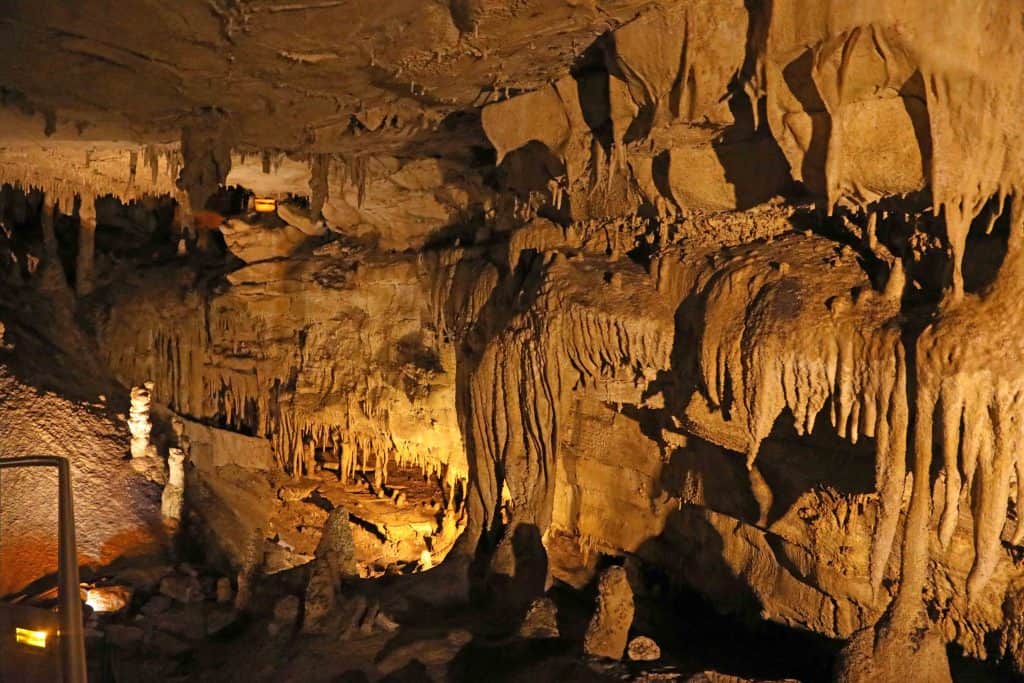 The cave itself is home to more than 40 species of animals and fish, like the unique eyeless fish, that have evolved to live underground. There are also outdoor wonders to explore at Mammoth Cave National Park. Visitors can enjoy a hike through heavy Kentucky woodland along backcountry trails. Many different species of eastern wildlife inhabit the forest and can be spotted from the park's seven miles of trails.
Cave tours, guided by park rangers are the best way to explore the cave. Park rangers are full of information, facts, and figures, about the park. Mammoth Cave National Park does a great job of accommodating people of all ages and abilities. There are tours for the mobility impaired but there are also tours for younger children. The Frozen Niagara tour is a specialized tour for the adventurist. It is best described as a tour with a workout. It is quite strenuous but it also provides the tourist with the best views of the park. Cave tours can range from 1-6 hours in length. Check out other great things to do at Mammoth Cave!
All ranger-led cave tours, as well as ranger-led hikes, begin at the visitor's center. The visitor's center is located at the center of the park and has maps available for those who choose to venture out on their own. The visitor's center is open from 8-5 pm daily. The park is open 24 hours and day, 365 days per year.
Check out these great Mammoth Cave NP travel tips for more info on planning your trip!