Epic Guide to Mammoth Cave National Park in Kentucky includes top things to do, history, camping, lodging, hiking, cave tours, and so much more!
Mammoth Cave National Park
Located in South Central Kentucky is the oasis home to the world's longest cave system, jagged mountains, sprawling green valleys, wildlife, and more.
Known as the Mammoth Cave National Park, it is spread across ​​52,830 acres and is believed to be an excellent national park to visit over the holidays.
Named after one of the oldest tourist attractions in the country, the Mammoth Caves that go on for miles and miles, the park has so much more to offer, like the river valleys of the cascading Green and Nolin Rivers, distinctive wildlife, and unique topography.
So what're you waiting for? Keep scrolling to read more about the wonders of the Mammoth Caves, the history of the region, the best routes to get there, the activities to indulge in, and so much more!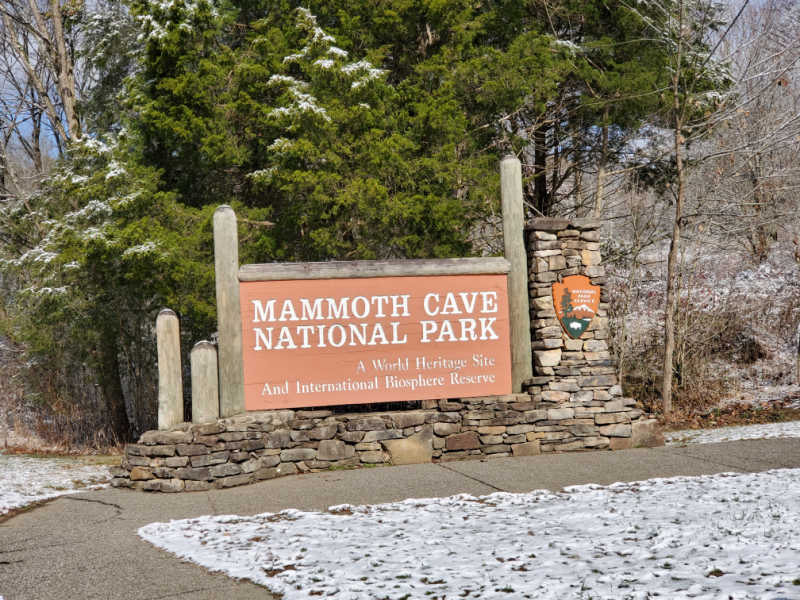 About Mammoth Cave National Park
Centered around the magnificent cave system, accompanied by the preservation of the Kentucky country hills and river valleys, the Mammoth Cave National Park is truly a sight to see.
The region of South Central Kentucky was established as a national park by the NPS in 1941, while it is believed that the oldest parts of the Mammoth Cave are over 10 million years old!
A naturally occurring cave system like no other, explorers have observed and quantified data about over 400 miles of the cave passages, which still isn't all of it.
Scientists and cave explorers are constantly discovering newer routes and parts of the system and sometimes say that when it comes to mapping the entirety of the Mammoth Caves, "there is no end in sight."
The park offers a wide variety of tours to explore the caves and understand different things about them - their geology, history, place in past cultures, etc.
One of the most exciting tours that you'll have the option to take is the River Styx tour (Until the 90s, you could have taken a boat through the underground rivers; however, the constant human interactions with nature were leading to its degradation, so now the tour will give you a look into the caves filled with underground rivers).
Spread across 52,830 acres, at the park, you'll find lush forests, vast backcountry (With up to 70 miles of trails that'll challenge you but be completely worth the struggle), and river tributaries in which you can go boating or kayaking on a pleasant summer day.
Though the structure of the park and density of forests definitely don't leave much leeway for stunning overlooks like many of the other top national parks in the country, the views from the lookouts, like the Doyel Valley, Sunset Point, Turnhole Bend, and Green River, in the summer months are still worth the tiresome hikes.
The beautiful Green River flows through the park, both in the caves and on the surface, and can be explored by taking a ferry across the river, going wishing on the riverbank, or canoeing when the weather allows. The Houchin Ferry campground (one of the three campgrounds in the park's front country) is located right by this iconic river.
At the park, you'll spot several different birds, mammals, fish, reptiles, etc., including about 70 species that are either endangered or threatened.
In particular, with the caves come a wide variety of bats, each unique in their own way. Other species you'll spot are the White-Tailed Deer, Coyote, American Black Bear (which has an interesting story concerning the park that you can learn more about in the history of the park), Black-Throated Green Warblers, Rose-Breasted Grosbeaks, Wild Turkey, American Bullfrog, Cave Salamanders, Timber Rattlesnakes, and the list goes on.
A region of pure natural beauty, the Mammoth Cave National Park is one of the lesser-known national parks in the system, though entirely worth a visit to explore the caves, traverse the riverside hikes, and spend a night under the starlight sky!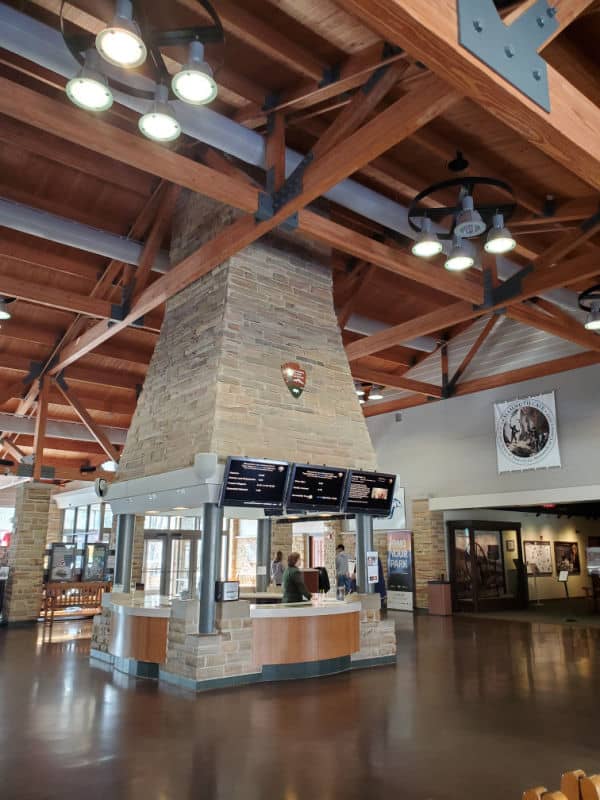 Is Mammoth Cave National Park worth visiting?
Yes! The park offers not only the opportunity to take an epic cave tour but also camping, cabins, and so much to see and do.
This is a US National Park you can visit multiple times and see something different every time you visit.
History of Mammoth Cave National Park
After years and years of mapping and surveying, explorers have come to believe that the oldest part of the entire Mammoth Cave system is over 10 billion years old.
Formed as a result of the natural process of limestone erosion in which rainwater mixes with the soil, collecting carbon dioxide, creating soft limestone that gave way to this extensive system of caves.
It was around 4000 BCE when Native Americans began settling in the area and scouring through the caves in search of minerals and other critical natural resources.
It was first called the "Mammoth Cave" in a newspaper article in Richmond, Virginia, due to its colossal size and continued network that explorers continue to learn more about with each day.
The tale of the discovery of the caves dates back to the 1790s when supposedly a young explorer named John Houchin was out hunting and shot a black bear.
The bear apparently went to save himself in the Mammoth Cave entrance (now called the Historic Entrance), and John went after it. As a result, John Houchin has been accredited for discovering the caves, though parts of the cave continue to be found even today.
Several artifacts of the natives and other indigenous inhabitants were found in the cave in the early days, particularly in 1813; the remains of a Native American woman were excavated right by the Short Cave's entrance.
For a couple of years in the 1810s, mining in the region was permitted, with enslaved groups of people mining salt and other natural resources in which the caves were rich.
These operations were ultimately ceased, and Nahum Ward, a writer, and explorer, wrote about the cave and its beauty, leading to its fame.
Ownership of the cave and the land around it kept shifting amongst the rich and passing down generations as the decades passed. In 1842, a new map of the cave was drawn, and as more and more is understood about the region, newer diagrams were presented.
Ultimately, in the 1920s, Congress passed an act to transfer the land's ownership to the government and establish the region as a National Park in 1941.
Ever since, it has been given the title of a World Heritage Site and an International Biosphere Reserve and continues to work towards preserving such a unique natural system and the hills and valleys surrounding it.
With an average of 2 million visitors a year, the Mammoth Cave National Park has come a long way from the days when solitary explorers went into the cave and discovered more and more caves and has, in fact, become a global phenomenon, definitely worth a weekend visit!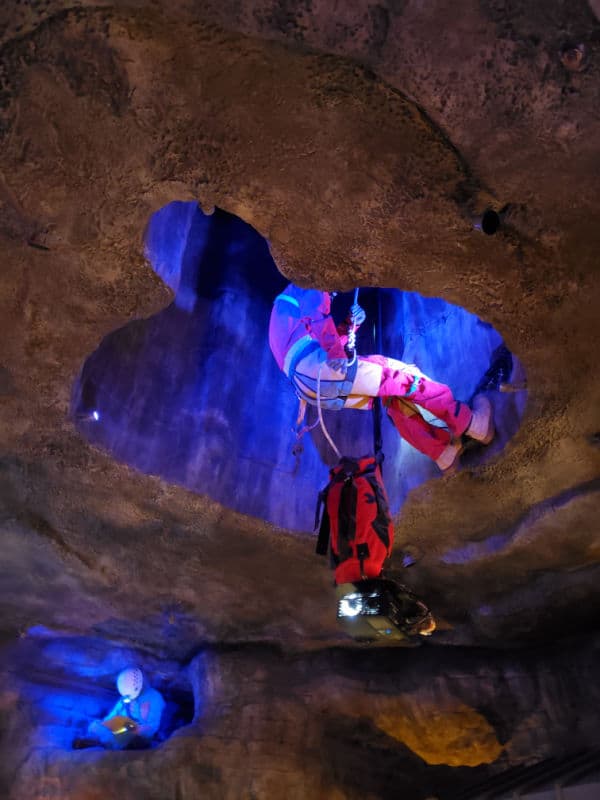 Things to know before your visit to Mammoth Cave National Park
Entrance fee
$0.00- There is no entrance fee to visit the park.
There is a fee for cave tours, campground stays, and to reserve a picnic shelter.
Planning a National Park vacation? America the Beautiful/National Park Pass covers entrance fees for an entire year to all US National Park Sites and over 2,000 Federal Recreation Fee Sites.
The park pass covers everyone in the car for per vehicle sites and for up to 4 adults for per-person sites.
Buy on REI.com and REI will donate 10% of pass proceeds to the National Forest Foundation, National Park Foundation and the U.S. Endowment for Forestry & Communities.
Learn more about National Park Passes for parks that have an entrance fee.
Free Entrance Days -Mark your calendars with the five free entrance days the National Park Service offers annually.
Time Zone
Central Time Zone
Pets
Pets are permitted within the National Park but must follow the guidelines mentioned below to ensure the safety of all visitors and the natural beauty of the park:
Pets are not allowed into the park buildings or caves

They must be on a leash (maximum 6 feet in length) at all times

Can be put into the kennel operated by the Lodge at Mammoth Cave while you explore areas that they cannot accompany you in
Cell Service
Your cell service within the park depends mainly on your carrier. It is reported that most visitors with Verizon have service in the region, though there are several zones in which it'll fluctuate.
Park Hours
The Mammoth Cave National Park is open year-round, 24 hours a day, though the visitor center and cave tours have limited operating hours.
Some attractions may be subject to change depending on the weather, especially in case of a snowstorm in the winter months.
Wi-Fi
Free WiFi is available at the visitor center.
Insect Repellent
Carrying and applying insect repellent is always an excellent idea when outdoors, especially if you are around any body of water and exploring the caves. We use permethrin Spray on our clothes before our park trips to keep us safe from mosquito bites.
Water Bottle
Make sure to bring your own water bottle and plenty of water with you as plastic water bottles are not sold in the park, and the weather (especially in the summer) can get hot pretty fast.
Parking
There are parking spots at each campsite and significant attractions, with some spots outside the visitor center, etc.
Food/Restaurants
Green River Grill
Though closed for 2022 due to the lodge undergoing renovation, the Green River Grill is one of the in-house dining options at the lodge and specializes in fine dining and catering services for events.
Spelunkers Café and Ice Cream Parlor
Again closed due to the renovation project at the lodge, the Spelunkers Café and Ice Cream Parlor is a great place to purchase food for on-the-go or quick dining options.
Cavers Camp Store
Operating hours:
Sunday - Thursday from 8:00 a.m. to 5:00 p.m.
Friday - Saturday from 8:00 a.m. to 7:00 p.m.
At Caver's, you'll find grab-and-go and counter service dining options, perfect for a snack between a cave tour and hike, or vice versa.
Gas
Unfortunately, there are no gas stations located within the park boundary. The closest gas and service stations are in the nearby towns of Park City, Brownsville, and Cave City.
Drones
Drones are not permitted within National Park Sites.
National Park Passport Stamps
National Park Passport stamps can be found in the visitor center.
Make sure to bring your National Park Passport Book with you or we like to pack these circle stickers so we don't have to bring our entire book with us.
Mammoth Cave NP is part of the 1991 Passport Stamp Set.
Electric Vehicle Charging
Unfortunately, there are no EV charging stations within the Mammoth Cave National Park; however, you'll find EV stations in nearby towns of Glasgow, Bowling Green, and Elizabethtown.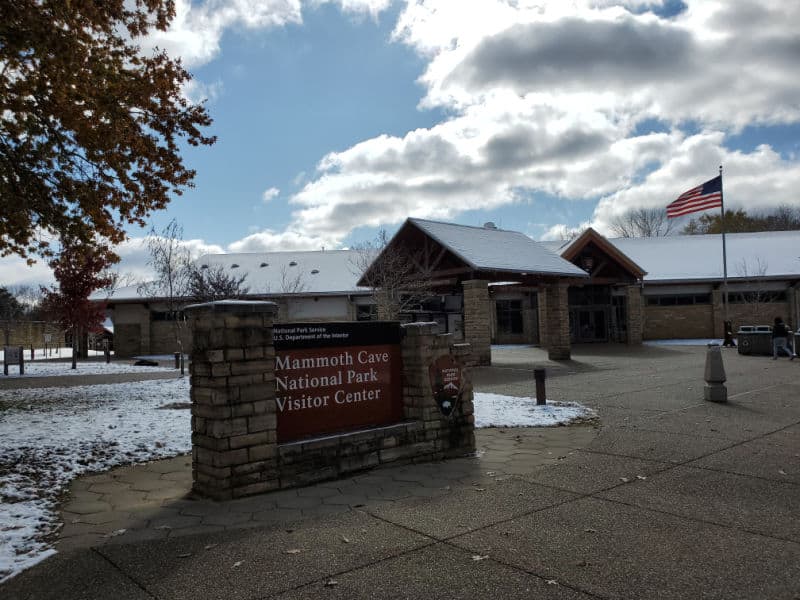 Details about Mammoth Cave National Park
Size - 54,011 acres
Mammoth Cave NP is currently ranked at 48 out of 63 National Parks by Size.
Date Established
July 1, 1941 - Established as a National Park
October 27, 1981 - Established as a UNESCO World Heritage Site
September 26, 1990 - Established as a International Biosphere Reserve.
Visitation
In 2021, Mammoth Cave NP had 515,774 park visitors.
In 2020, Mammoth Cave NP had 290,392 park visitors.
In 2019, Mammoth Cave NP had 551,590 park visitors.
Learn more about the most visited and least visited National Parks in the US
National Park Address
1 Visitor Center Parkway
Mammoth Cave, KY 42259-0007
United States
Mammoth Cave National Park Map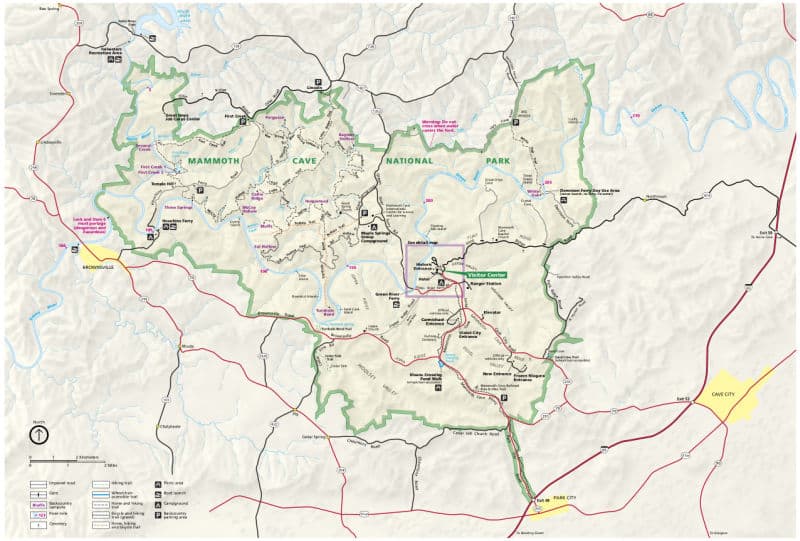 For a more detailed map we really like the National Geographic Trails Illustrated Maps available on Amazon.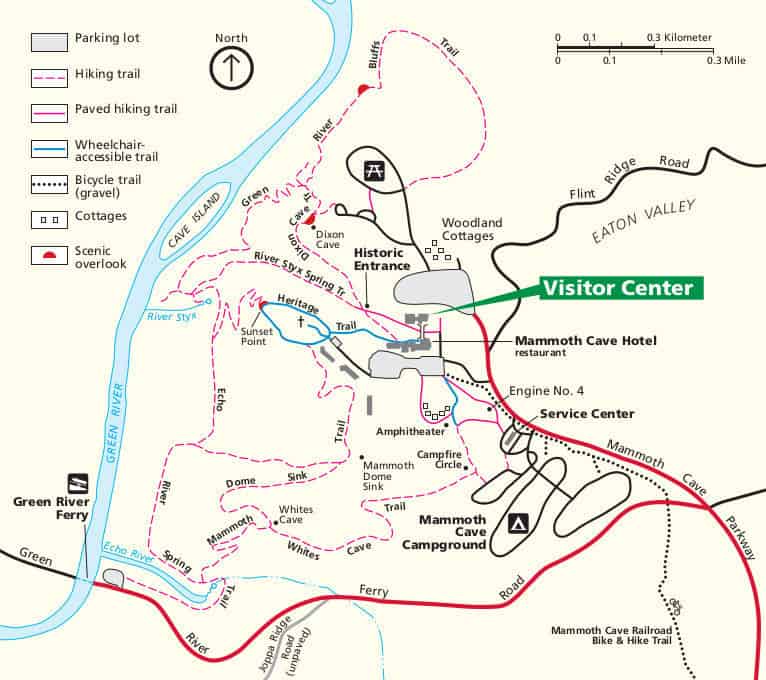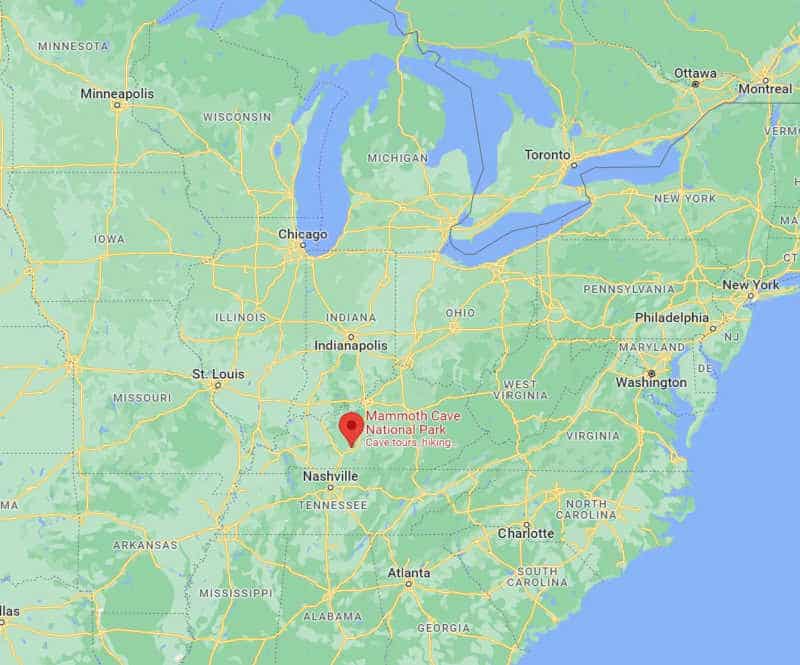 Where is Mammoth Cave National Park?
The Mammoth Cave National Park is located in South Central Kentucky, 76 miles from Louisville.
It is not a very far drive from southern Indiana or from Nashville, so it's a great place to visit if you live anywhere near it.
The area is home to the most comprehensive cave system in the entire world, along with rugged cliffs, bubbling rivers, unique wildlife, and other distinctive topographical features.
Estimated distance from major cities nearby
Louisville, Kentucky - 76 miles
Nashville, Tennessee - 80 miles
Lexington-Fayette, Kentucky - 107 miles
Cincinnati, Ohio - 158 miles
Indianapolis, Indiana - 177 miles
St. Louis, Missouri - 241 miles
Columbus, Ohio - 252 miles
Birmingham, Alabama - 257 miles
Memphis, Tennessee - 260 miles
Atlanta, Georgia - 260 miles
Estimated Distance from nearby National Park
Great Smoky Mountains National Park - 195 miles
The Gateway Arch National Park - 260 miles
Hot Springs National Park - 483 miles
Congaree National Park - 472 miles
Shenandoah National Park - 533 miles
Indiana Dunes National Park - 358 miles
Cuyahoga Valley National Park - 422 miles
Where is the National Park Visitor Center?
Mammoth Cave Visitor Center
It is open year-round, with operational hours varying according to the seasons.
Operational hours:
Spring: 8:00 a.m. to 6:00 p.m.
Summer: 8:30 a.m. to 6:30 p.m.
Fall: 8:00 a.m. to 6:00 p.m.
Winter: 8:30 a.m. to 4:30 p.m.
The Mammoth Cave Visitor Center is located in the middle of the park and is the place to go to if you need some information, have a question for a park ranger, or need to get a permit to go boating in the river.
It is located near the historical entrance to the caves, making it the departure point for all cave tours. The center also has a gift store, visitor amenities, informational exhibits, and washrooms for your convenience.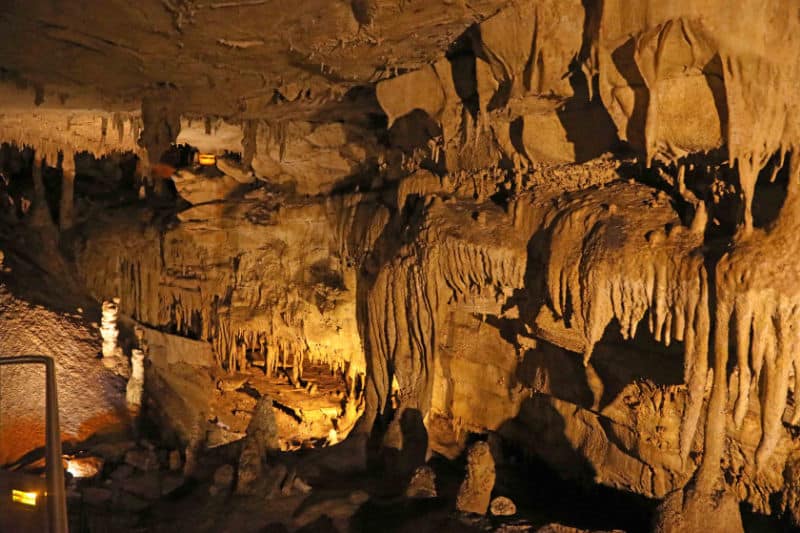 Getting to Mammoth Cave National Park
International Airports
Louisville International Airport (SDF) - 88 miles
Nashville International Airport (BNA) - 101 miles
Regional Airports
Glasgow Municipal Airport (GLW) - 18 miles
Bowling Green-Warren County Regional Airport (BWG) - 35 miles
Elizabethtown Regional Airport (EKX) - 54 miles
Owensboro-Daviess County Regional Airport (OWB) - 87 miles
Evansville Regional Airport (EVV) - 129 miles
Driving Directions
From Louisville, Kentucky - 1 hour 22 minutes from Mammoth Cave National Park
You'll begin your journey in Louisville by getting on Interstate 65 South from W Liberty Street and follow along this road until you come across Exit 53 for Kentucky Route 70 towards Cave City.
After a couple of minutes of driving, you'll continue straight onto Kentucky Route 255, which will lead you to the park's entrance.
From Nashville, Tennessee - 1 hour 25 minutes from Mammoth Cave National Park
You'll begin your road trip in Nashville by getting on Interstate 65 North towards Memphis/Louisville, which will lead you into the state of Kentucky and cover most of your miles.
You'll proceed to take Exit 48 for Kentucky Route 255 towards Park City, leading you to the entrance to this magnificent park.
From Lexington-Fayette, Kentucky - 2 hours from Mammoth Cave National Park
You'll begin your trip to Mammoth Cave National Park using US Route 60 West to get on Blue Grass Parkway Ramp heading towards Lawrenceburg.
You'll follow the road for over 70 miles before taking Exit 1B to merge with Interstate 65 South.
Ultimately, you'll spot Exit 53 for Kentucky Route 70 heading towards Cave City. Promptly, you'll drive straight onto Kentucky Route 255, which will take you to the park.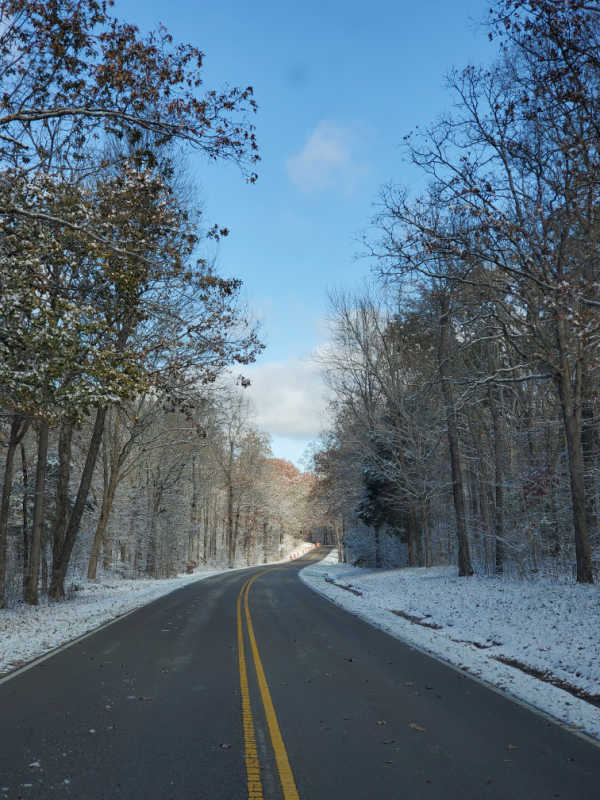 Best time to visit Mammoth Cave National Park
The best time to visit the park is when you have time to explore. We have visited throughout the year and enjoyed every visit.
Weather and Seasons
Spring
The months of March, April, and May are definitely when the crowd starts picking up in the park, especially around long weekends or public holidays.
By springtime, the winter ice has disappeared, and all the campgrounds and trails open up, just as the wildflowers and ferns bloom.
The daytime temperature is pretty warm, fluctuating between the 60s to 70s, though in the earlier parts of spring, it drops to nearly zero after sunset.
The cave tours at this time of year are pretty exciting, though they may be crowded. The RIver Styx cave tour isn't available at this time due to the high water levels, so if you want to take that tour, visiting some other time is ideal.
Summer
Usually, the park's busiest season due to great weather and summer holidays, visiting Mammoth Cave National Park in the summer is considered reasonably popular!
With fairly high temperatures that keep increasing as the months go on, coupled with high humidity, it can definitely be exhausting to explore and hike in the heat.
However, the temperature within the caves remains in the mid-50s, providing respite from the otherwise sweltering weather.
All the campgrounds and trails are open for you to traverse, and you'll also get a chance to go boating or canoeing on the Nolin or Green River, spot wildlife, or even take the River Styx tour to explore the underground rivers.
Fall
The months of September, October, and November are a brilliant time to plan a trip to the Mammoth Cave National Park, as the park is clad with red, orange, and yellow foliage and even frost flowers!
The crowds in the park in the autumn are still packed, though slightly lesser than in the summer.
The frequency of cave tours decreases, but with the temperatures in the first part of the season ranging in the 70s and then progressively reducing, it's an excellent time to explore the park's backcountry and trails and go kayaking in the river, and stargaze.
Winter
Visiting in the winter is definitely not everyone's cup of tea, though the park covered in snow is indeed worth braving the cold.
With the daytime temperature averaging under 50°F and dropping to sub-zero at night, coupled with a snow storm or two, the weather is undoubtedly not for everyone.
However, the wintertime brings solitude and tranquility to the park, devoid of crowds, and you'll be able to explore the caves easily and at your own pace.
You can spend some time in the backcountry, traversing up to 70 miles of trails that remain open all year, exploring the ranger programs, or bike through the thick wilderness around the caves.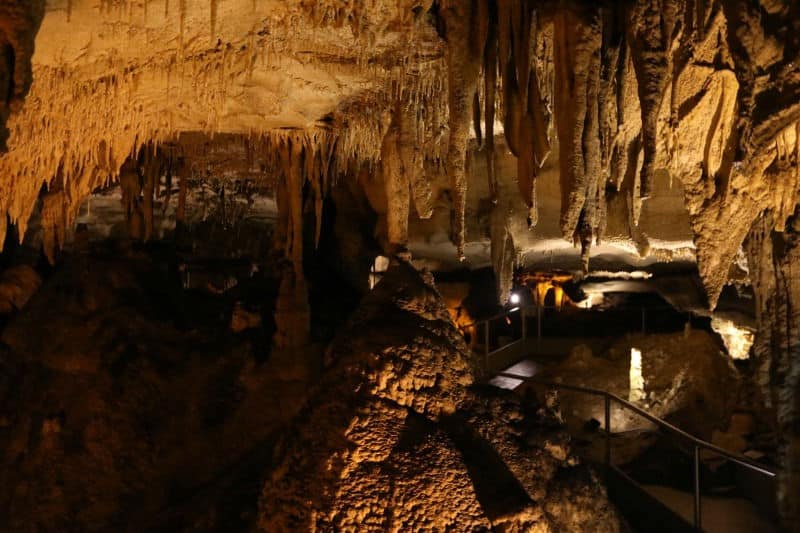 We suggest planning a full day or two to explore Mammoth Cave NP!
While cave tours are the most popular thing to do in Mammoth Cave there is also an extensive trail system, horseback riding, a great picnic area, epic views of this part of the Green River Valley, and more in the Mammoth Cave area.
Mammoth Cave Tours
The crown jewel of the Mammoth Cave National Park is undoubtedly the world's longest cave system that the park houses.
Named the mammoth caves due to their colossal size, exploring the cave system is truly one of the best ways to spend your time at the park.
The caves are definitely the top attraction, especially in the late spring to early fall time of year, so be sure to book your tour in advance so that you have a chance to admire the beauty of the caves properly.
The park offers several different kinds of tours, each more interesting than the next, though their availability is heavily dependent on the weather and season of your visit.
Some popular tours that you could explore are the River Styx Tour, Frozen Niagara Tour, Gothic Avenue Tour, Star Chamber Tour, Wild Cave Tour, and more.
Even though scientists and explorers have surveyed and explored up to 420 miles of the cave system, it is believed that there's lots more to go, and with geological structures like that, a tour of the Mammoth Cavs is bound to leave you awestruck.
Make sure to confirm your tour times. To go into the cave, you must purchase a tour ticket.
Unless otherwise noted, all visitors under the age of 16 must be accompanied by an adult age 18 or over. For further cave tour restrictions click here.
You will want to make sure you are aware of White-nose syndrome and don't wear shoes you have worn in any other caves.
Be prepared to walk across bio-security mats to help protect the bats.
Each of the tours has a different difficulty level and experiences different portions of the cave.
We took a tour that did not have many steps due to my knee injury and it was great. There was one section of the Frozen Niagara Tour that included stairs but you can easily skip it if you don't want to deal with the stairs. I highly suggest looking at the cave tours and making sure they are a fit for you physically and if you are not a fan of caves.
Some cave tours include upwards of 500 stairs! Be prepared!
The variety of cave tours offered is seasonal so make sure to check the park's website for which tours will be offered during your visit.
What can I bring with me into Mammoth Cave?
You can bring camera gear but no tripods into the cave. Flashlights are allowed but can not be used during tour stops. No weapons, strollers, backpack child carriers are allowed in the cave.
What should I wear in Mammoth Cave?
Sturdy shoes or hiking boots are required. No sandals or bare feet are allowed in the caverns. Cave temperatures range from freezing to up to 60 degrees so a light jacket or cover is recommended.
At the Mammoth Cave National Park, you can meet with a Park Ranger to receive your badge for this park.
Make sure you take your Junior Ranger Book with you and head to the visitor center if you have any queries.
Ranger Led Programs
The Mammoth Cave National Park boasts an extensive list of ranger-led programs to help you discover more parts of the park and fully immerse yourself in the environment.
Since the ranger-led programs keep changing and may also be affected by adverse weather conditions, be sure to check the comprehensive list of programs being offered at the time of your visit to the Mammoth Cave Visitor Center.
Some ranger-led programs you can choose from are the Echo River Spring Hike (A hike to the Echo River Spring along with you'll learn more about the rich geological structures in the park), Wildflower Hike (A one and a half-hour long hike chasing ferns, wildflowers, and other gorgeous plants), etc.
Canoeing, Kayaking, Boating
Flowing through the park are over 30 miles of the Green and Nolin Rivers, where you can go canoeing, kayaking, and boating.
You'll be able to enjoy a new look at the park as you boat through the gorgeous river surrounded by the rolling valleys of South Central Kentucky.
Be sure to get a permit for all your water activities, always wear your life jacket, and plan your river trip well so as to prevent any mishaps or accidents.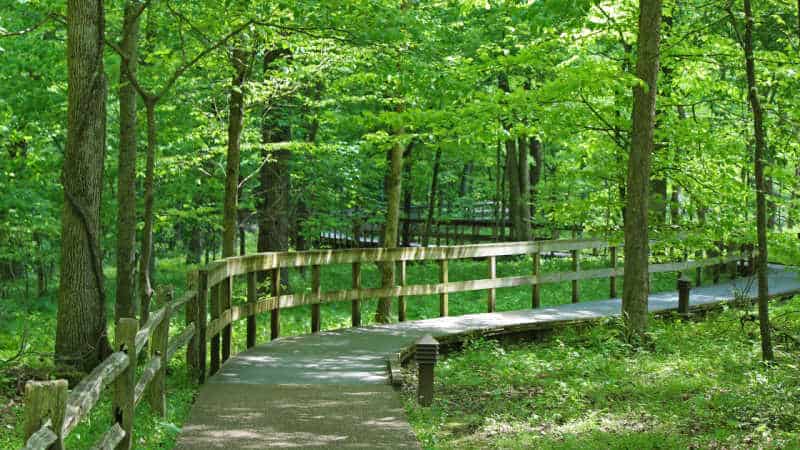 Hiking in Mammoth Cave National Park
With over 18 miles of accessible trails and nearly 70 miles of backcountry trails, hiking in the Mammoth Cave National Park is one of the best things to do while visiting the region.
Each trail varies in difficulty, has stunning views and traverses through different parts of the park, ranging from trails with river views to those that go through ancient cemeteries.
No matter which trails you choose to go on, remember to always carry the ten essentials for outdoor survival when exploring.
Some trails that you shouldn't miss out on are the Dixon Cave Overlook Trail, Sunset Point Trail, Whites Cave Trail, Mammoth Cave Railroad Bike, and Hike Trail - Furlong, Cemetery Spur, etc.
For some more rugged and primitive hikes, choose among the man backcountry trails like the Big Hollow Trail North Loop, Firs Creek Trail, White Oak Trail, Maple Springs Trail, and more.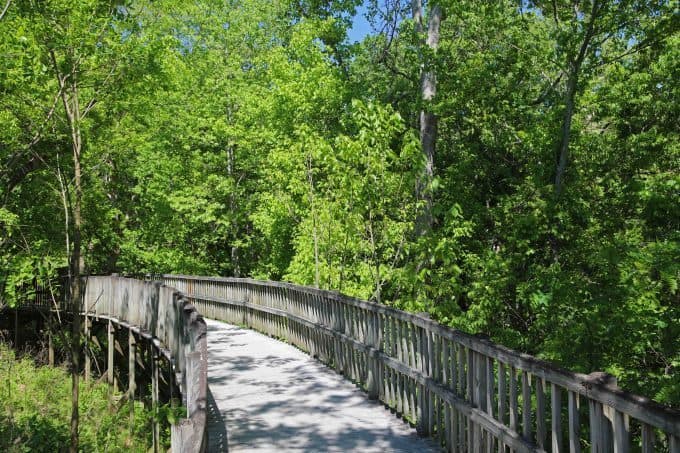 How to beat the crowds in Mammoth Cave National Park?
Garnering over 2 million visitors annually, the Mammoth Cave National Park is a fairly popular park, especially during particular seasons of the year.
During the peak tourist season - the summertime and the first part of autumn - the crowds are roaring due to great weather and summer holidays.
Nearly 25% of visitors who visit the park choose to opt for a cave tour, making them rather crowded and slow to walk through with large crowds.
Even though the most number of cave tours (that you should book and plan out well in advance) take place in the summer, to truly admire the beauty of the caves, observe the hidden nooks and crannies of these stunning naturally occurring structures, and not be in a rush, visiting in the winter is recommended.
Though two out of the three campgrounds are closed from November to February, you'll be able to explore the caves without too many crowds.
Also, whichever time of year you end up booking your trip, try and take an early morning cave tour to avoid the long queues and crowded parking.
Where to stay when visiting Mammoth Cave National Park
Situated just a stone's throw from the park's visitor center, the Mammoth Cave Lodge is believed to be one of the best accommodation options while visiting the park.
With comfortable and well-equipped rooms, along with several dining options and gift shops to spend time buying souvenirs, staying in the lodge while you explore the park is bound to be a great experience.
Currently, the lodge building is undergoing an extensive renovation, as a result of which the gift shop, diners, and reception have been relocated to the area behind the campsite, near the Post Office.
The Mammoth Cave hotel offers both hotel rooms and cabin rentals.
Lodging near Mammoth Cave
Holiday Inn Express Horse Cave - At Holiday Inn Express Horse Cave, an IHG Hotel, you can look forward to a free breakfast buffet, a terrace, and a 24-hour gym. Stay connected with free in-room Wi-Fi, and guests can find other amenities such as a business center.
Hampton Inn Cave City - Hampton Inn offers an indoor pool, free parking, air conditioning, and more.
Days Inn by Wyndham Glasgow - You can look forward to free to-go breakfast, a terrace, and dry cleaning/laundry services at Days Inn by Wyndham Glasgow. Stay connected with free in-room Wi-Fi, and guests can find other amenities such as a 24-hour business center.
The Hotel Sync - You can look forward to a coffee shop/café, laundry facilities, and a gym at The Hotel Sync. Stay connected with free in-room Wi-Fi, and guests can find other amenities such as a business center.
Courtyard Bowling Green - Take advantage of 18 holes of golf, a coffee shop/café, and a garden at Courtyard Bowling Green Convention Center. The onsite restaurant, The Bistro, features American cuisine. In addition to dry cleaning/laundry services and a bar, guests can connect to free in-room Wi-Fi.
Click on the map below to see additional hotels and vacation rentals near Mammoth Cave NP!
Camping
At the Mammoth Cave National Park, you'll find three primary front country camping grounds, each located close to the park's top attractions and well-equipped with basic amenities.
The park is also home to up to 13 backcountry camping spots if you're looking for a more secluded and challenging core camping experience.
For a fun adventure check out Escape Campervans. These campervans have built in beds, kitchen area with refrigerators, and more. You can have them fully set up with kitchen supplies, bedding, and other fun extras. They are painted with epic designs you can't miss!
Escape Campervans has offices in Vancouver, Seattle, Portland, San Francisco, Las Vegas, Los Angeles, Phoenix, Salt Lake City, Denver, Chicago, New York, and Orlando
The front country camping grounds are as follows:
Mammoth Cave Campground
Season: March to November, closed for the winter season
Campsites: 111 (RVs permitted, up to 38 feet in length)
Accessibility: Yes, two ADA sites are available
A perfect mix of the excellent camping experience while still being equipped with all the necessities, the Mammoth Cave Campground is located within proximity of the park's visitor center, Whites Cave Trail, and the Green River Ferry Road.
It requires a reservation and has flush toilets, potable water, firewood, ice, and other basic amenities and costs $25/night.
Maple Springs Group Campground
Season: March to November, closed for the winter season
Campsites: 7 (RVs permitted, up to 40 feet in length)
Accessibility: No sites were designed as specific ADA campsites; however, all parts of the campground are leveled and paved
Located in the north part of the park, a couple of miles north of Green River Ferry is the Maple Springs Group Campground.
This campground, ideal for big groups looking for more isolated sites, is situated at the trailhead of over 70 miles of hikes in the park.
It requires a reservation and has potable water, a fire ring, and a picnic table available on-site, with other amenities being stripped back for the quintessential camping experience. It costs $50/night, with a maximum of 16 people per group, and also has equestrian-friendly sites available for the same cost.
Houchin Ferry Campground
Season: Open year-round
Campsites: 12 (RVs not permitted)
Accessibility: No ADA sites available
The ideal campground for a peaceful night in the forest, the Houchin Ferry Campground is located by the Green River, with each site enjoying a scenic river view.
Easy to drive up to, the site requires reservations, offers potable water, toilets, and a fire ring, and costs $20/night.
If you're looking for a more primitive camping experience, be sure to explore the backcountry of Mammoth Cave National Park!
Travel Tips
Have you visited the cave? What did you think?
Over 365 miles of caves have been surveyed within the Mammoth Cave National Park system. In order to experience as much as possible during a visit to Mammoth Cave, a tour is highly recommended. There are a ton of activities above ground that can be enjoyed without having to go into the cave. If you have a fear of caves don't let it stop you from visiting this great park.
The visitor center has a ton of interpretive areas to learn more above the caves without going down in them.
The ice cream shop is well worth a visit just to try the local ice cream. You can also just sit and soak up the beautiful weather while looking for birds.
We took a lovely walk around a pond and saw baby geese and other wildlife.
Check out this post on Things to do in Mammoth Caves for more ideas on ways to explore this great park.
The cave is only one portion of this park and while it is the part that it is best known for there truly are so many other ways to explore the park.
We did not have cell phone service is most of the park. There is free Wi-Fi available at the visitor center.
If you are taking a tour make sure and use the restroom before you head to the cave. There are no restrooms within the cave and some of the tours take a couple of hours.
You can buy snacks, ice cream, and souvenirs at the visitor center. There are multiple gift stores selling a little bit of everything.
If you are taking a tour make sure you wear shoes that can get wet. When you exit the cave you will need to walk through a soapy water mixture with your shoes on.
This is to prevent the spread of a disease that can affect bats and other cave dwellers. Tammilee had on her favorite Birkenstocks and they were a bit damp after walking through the water.
Bring a sweater or light cover for the cave. It can be a bit cool when you are on tour.
Be careful using GPS to reach the park. Make sure you follow signs to reach the visitor center. Our GPS almost took us in completely the wrong direction.
Make sure and read the tour descriptions closely, especially if you have any mobility or physical concerns! Some of the tours include a lot of steps and are 3-4 hours long. There is no bathroom on the tour so make sure you are prepared.
Mammoth Cave National Park Facts
130 forms of life can be found in the park!
Mammoth Cave is the most extensive cave system on Earth with over 365 miles of surveyed passageways.
Mammoth Cave was authorized as a national park in 1926 and fully established in 1941.
In 1981 Mammoth Cave was named a World Heritage Site.
Additional Resources
Mammoth Cave Curiosities: A Guide to Rockphobia, Dating, Saber-toothed Cats, and Other Subterranean Marvels
Parks Near Mammoth Cave National Park
Mill Springs Battlefield National Monument
Abraham Lincoln Birthplace National Historical Park
Fort Donelson National Battlefield
Lincoln Boyhood National Memorial
Check out all of the National Parks in Kentucky along with neighboring National Parks in Illinois, National Parks in Indiana, National Parks in Missouri, Ohio National Parks, Tennessee National Parks, Virginia National Parks, and National Parks in West Virginia