Complete Guide to Hot Springs National Park in Arkansas including things to do, lodging, camping, historic Bathhouse Row, history, and so much more.

Hot Springs National Park
Hot Springs National Park attracts people for hundreds if not thousands of years with its impressive natural beauty.
Visitors will find an abundance of thermal springs, gorgeous views, and natural wonders every step of the way.
We hear from a lot of people that they don't understand why Hot Springs is a National Park. The park was created in 1832 as the Hot Springs Reservation to help protect the "healing springs".
The healing springs have been used for hundreds of years. In 1804 President Thomas Jefferson sent a scientific team to investigate the hot springs on the Washita that were already well known.
When you visit the park remember that the park was created to protect the water.
It feels really odd visiting a park that is in the middle of a city I know. Hot Springs National Park protects over 5,500 acres of lands to keep the "healing waters" available for all visitors.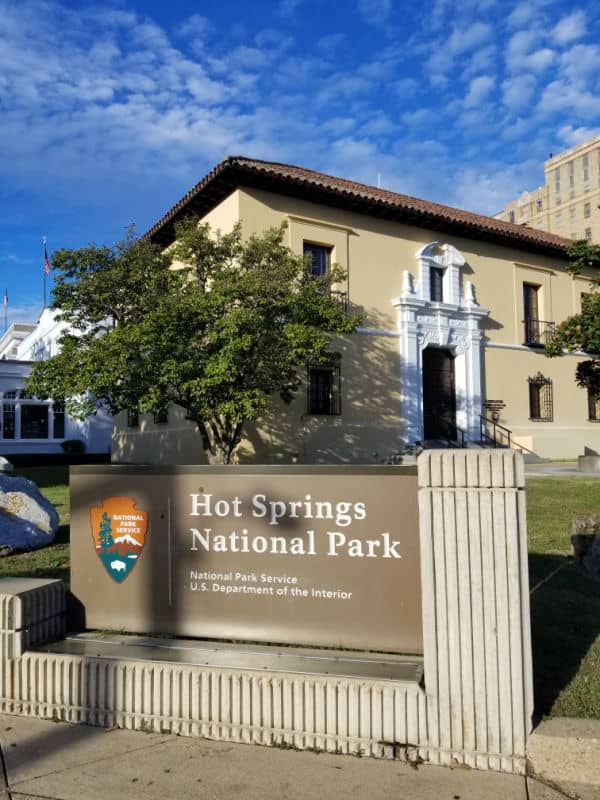 About Hot Springs National Park
The cultural history of Hot Springs National Park is extensive, and it has been considered the ultimate "American Spa" of the twentieth century.
Hot Springs National Park has been occupied by Native Americans for almost 3,000 years.
The location was primarily utilized by Native Americans to mine novaculite, a kind of stone used to produce tools. However, there is evidence that they also used the springs for their healing purposes.
A French explorer named Jean-Bernard Bossu visited the region in 1771 and noticed that the Quapaw Indians used to bathe in the springs because they believed the hot springs would strengthen them.
Hot Springs National Park is home to 47 hot springs, as the name suggests. The springs have an average temperature of 143 degrees Fahrenheit, and 850,000 gallons of hot, thermal water flow daily.
Parts of downtown Hot Springs are included in the park, making it one of the most accessible national parks. Numerous hiking paths and camping spots are available just a walking distance from the city center.
Bathing in spring water is provided at an additional cost in licensed facilities. The whole Bathhouse Row area is a National Historic Landmark District, and it features North America's largest collection of bathhouses, including several excellent specimens of Gilded Age architecture.
The Fordyce Bathhouse on the row serves as the park's visitor center; the Buckstaff and Quapaw are the other bathhouses remaining in service. Different structures in the row are undergoing restoration or are being utilized for other purposes.
The hot springs run from Hot Springs Mountain, which is part of the Ouachita Mountain range. The hot springs in the park have not been kept in their native condition as a natural surface phenomenon.
They have been controlled in such a way that the output of uncontaminated hot water for public usage was conserved. The park's mountains are also maintained by this conservation concept to protect the hydrological system that feeds the springs.
Is Hot Springs National Park worth visiting?
Yes! Did you know that Hot Springs was the first park to be set aside for protection, well before Yosemite and Yellowstone? It was set aside for the protection of water as a resource.
Today park visitors can still walk up to a fountain and get water for free. Visitors that are interested in finding out more about this park will be delighted to experience what all the park has to offer!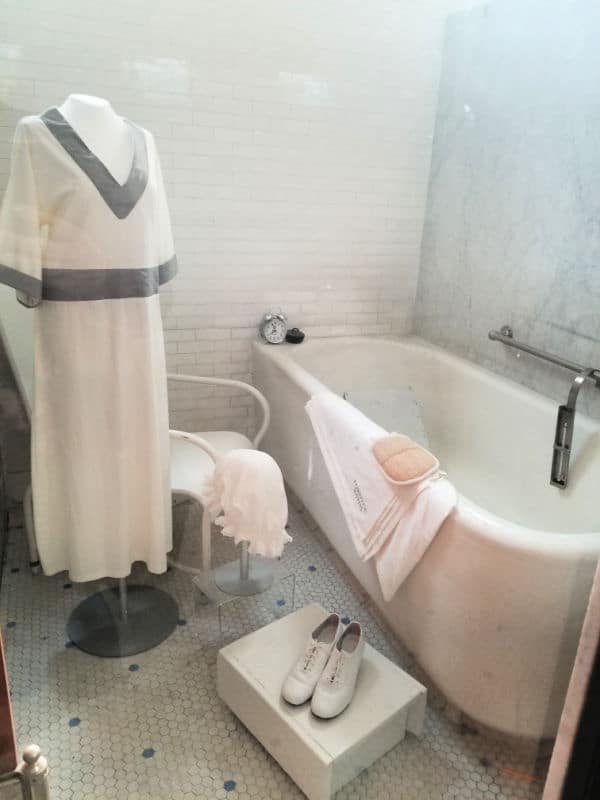 History of Hot Springs National Park
The area now known as Hot Springs National Park has become part of the US territory after the Louisiana Purchase in 1803.
In 1807, the Hot Springs area started gaining residents, who recognized the potential of the springs.
By the 1830s, log houses and a shop had been built to accommodate tourists arriving from the other parts of the US.
Hot Springs National Park is the oldest national park in the United States, having been established forty years before Yellowstone National Park. President Andrew Jackson signed legislation on April 20, 1832, creating the park and giving it protection of the United States.
The unfortunate event of the big fire in 1878 was seen as positive rather than a tragedy by many residents because it allowed them to change the architecture and modernize the city.
Built between 1880 and 1888, the new Victorian bathhouses were larger and more elegant than anybody could have imagined 10 years before.
Underground pipelines replaced the randomly placed wooden troughs that carried the thermal water down the slope. For the ease of tourists who want to take in the landscape, roads and trails were renovated.
When the Lamar Bathhouse opened for operation in 1923, Bathhouse Row had completed its transformation. The bathhouses, which are all still intact today, marked the beginning of a new era of spa grandeur.
The bathing industry in the park and the city had decreased significantly by the 1960s. The eight large bathhouses on Bathhouse Row, which had thrived since their construction in the first three decades of the century, were on the decline.
Bathhouse Row and its surrounds were added to the National Register of Historic Places in 1974. Hot Springs residents campaigned for adaptive uses of the derelict buildings as part of the effort to rehabilitate Bathhouse Row.
The most pressing priority was to conserve the Fordyce, the most magnificent bathhouse, which was converted into a tourist center and museum. Almost all of the bathhouses have been refurbished and modernized now.
Things to know before your visit to National Park
The emphasis of this park is on the water, and for a national park, there is very little to do in nature aside from the springs.
This might come as a surprise to you if you are used to huge parks with a lot of natural landmarks. Still, there are a few things you should know before visiting the park.
Thermal Springs
It is not possible to soak in the thermal springs outdoors. Only two of the bathhouses, the Buckstaff and the Quapaw, allow bathing in the springs.
In its natural condition, the thermal water of Hot Springs National Park is over 4,000 years old spring water.
The water's high temperature eliminates most hazardous germs, and it's tested to meet U.S. drinking water regulations.
Entrance fee
$0.00, There are no entrance fees to visit the park. There is a fee if you chose to visit the Quapaw or Buckstaff Bathhouse and experience a mineral bath.
Planning a National Park vacation? America the Beautiful/National Park Pass covers entrance fees for an entire year to all US National Park Sites and over 2,000 Federal Recreation Fee Sites.
The park pass covers everyone in the car for per vehicle sites and for up to 4 adults for per-person sites.
Buy on REI.com and REI will donate 10% of pass proceeds to the National Forest Foundation, National Park Foundation and the U.S. Endowment for Forestry & Communities.
Learn more about National Park Passes for parks that have an entrance fee.
Free Entrance Days -Mark your calendar for the five free entrance days the National Park Service offers annually.
Time Zone
CST - Central Time Zone
Pets
Pets are welcome on Hot Springs NP Trails as long as they are on a leash less than 6 feet long.
Pets are not permitted within buildings and must stay outside of the visitor center and other park buildings.
Cell Service
We had great cell service while visiting Hot Springs, Arkansas.
Wireless service is available in the entire Hot Springs area, and 5G reception covers up to 93.50%.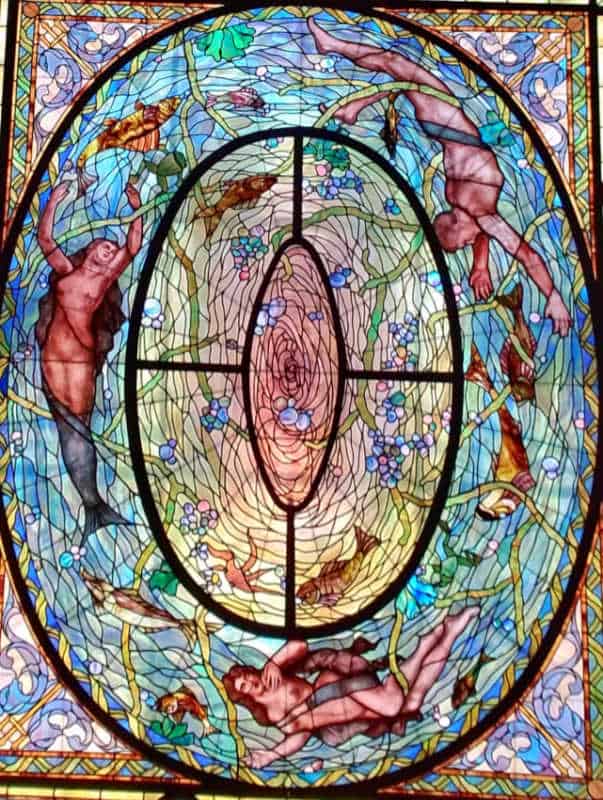 Park Hours
Arlington Lawn, Grand Promenade, sidewalks on Bathhouse Row, Reserve Street, and Fountain Street, except for walk through traffic, are open from to 5:00 am to 10:00 pm, daily.
Roads to Hot Springs Mountain, North Mountain and West Mountain Summit are open to vehicle traffic from 8:00 am to 10:00 pm.
Wi-Fi
There is no public Wi-Fi within the park. However, most hotels, restaurants, and cafes have Wi-Fi.
Insect Repellent
Insect repellent is always a great idea when outdoors, especially if you are around any body of water.
We use Permethrin Spray on our clothes before our park trips.
Water Bottle
Make sure to bring your own water bottle and plenty of water with you.
You can fill up your bottles at cold spring fountains like Happy Hollow and Whittington Spring, or at one of the thermal water fountains around the city and outside the park boundaries.
Parking
There are public pay parking lots located near the park. You will want to be prepared to pay for the daily parking fee.
Cars may park across the street from the Hot Springs National Park Visitor Center on the west side of Central Avenue, however, parking is metered, restricted, and monitored for just two hours.
At 128 Exchange Street, the city of Hot Springs offers a huge, free parking garage (one block west of the Hot Springs National Park visitor center).
The Hill Wheatley Plaza at 629 Central Ave., one block south of the Hot Springs National Park visitor center, has limited RV and bus parking.
Furthermore, there is limited RV/bus parking in Whittington Park, which is located to the east.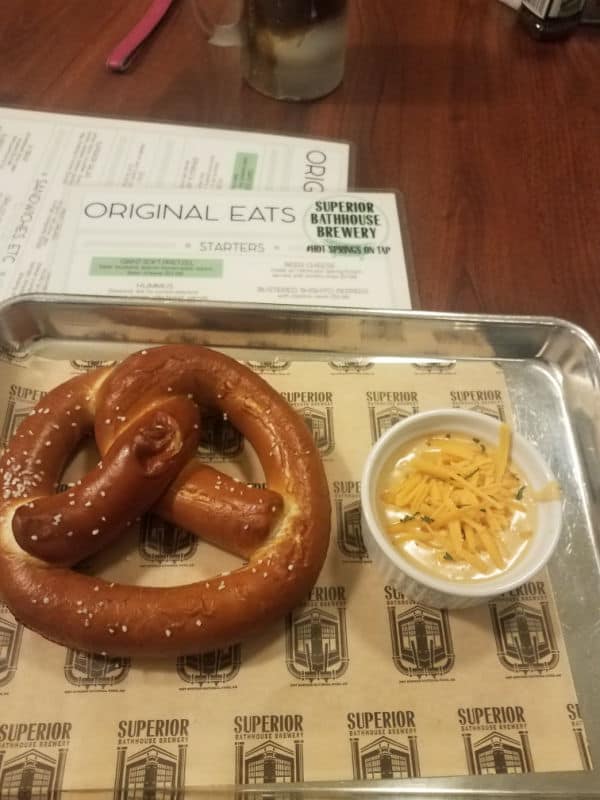 Food/Restaurants
For daily visitors that want a quick bite, Superior Bathhouse Brewery is located within the park and offers food. But there are quite a few dining options within Hot Springs, Arkansas including international cuisine and fast food.
Hot Springs is known for its world-class southern cuisines, such as McClard's barbeque, Fisherman's Wharf deep-fried catfish, and 501 Prime fresh oysters.
Mornings are reserved for the English muffin or The Pancake Shop for a diner-style breakfast. Or stop by Alexa's Creperie which serves delicious crepes.
For lunch, you can get a table at Café 1217, which is famed for its gourmet sandwiches and easygoing setting, for a delicate, imaginative lunch. Another great option is Colorado Grill which serves excellent southwest food and beverages.
If you want a tasty light meal, you'll get outstanding noodles and Vietnamese food at Pho Hoang My. On the other hand, Capo's Tacos serves street tacos and beverages, for those who like street food.
Dinner offers quite a few options. Make your reservation at 501 Prime for a fashionable fine-dining experience. Rolando's patio has a lovely ambiance, and the real Latin cuisine is delicious. At Vault, go on a gourmet adventure, or keep it simple with a steak at Bone's Chophouse.
Also, Hot Springs boasts the greatest pizza in Arkansas. DeLuca's Pizzeria stands out and is considered the best one in the city by many locals. Sam's Pizza Pub is another excellent choice for cheesy bread.
If you want to surprise your family with a picnic in the park, check out The Savory Pantry and fill your basket with all kinds of excellent local cuisine, like fresh bread soaked in Evilo's locally produced olive oil.
For dessert, you must try Fat Bottomed Girl's Cupcake Shoppe's cupcakes, Scoop's Ice Cream's hand-dipped ice cream, or anything sweet, fluffy, and scrumptious from the Ambrosia Bakery.
Hot Springs has a variety of distinctive cafés and coffee shops. The Red Light Roastery is a neighborhood hangout where you can get amazing coffee by the cup or the pound. Coffee Love is the ideal spot for unwinding, reading, and sipping excellent coffee.
Gas
The park does not have a gas station but there are many close by.
Drones
Drones are not permitted to be flown within the park.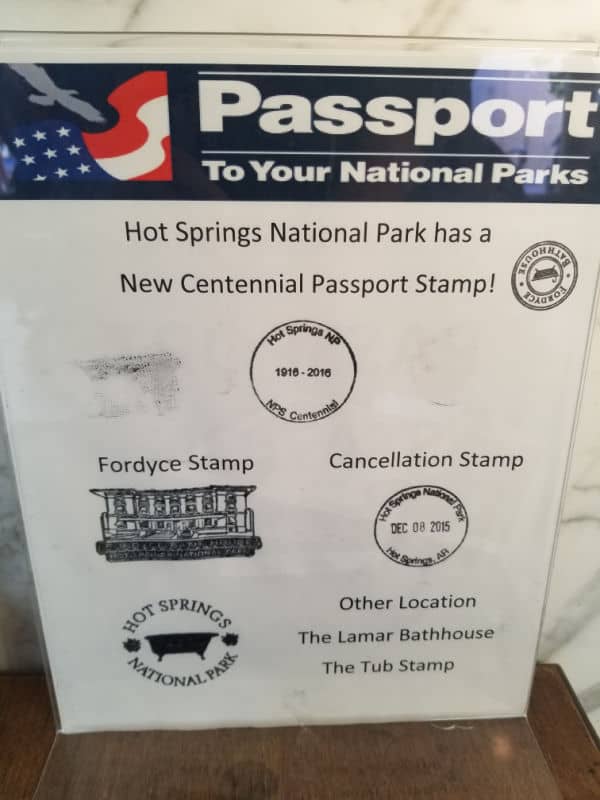 National Park Passport Stamps
National Park Passport stamps can be found in the visitor center.
We like to pack these circle stickers with us so we don't have to carry our entire passport book on every trip.
Learn more about the National Park Passport Book and why it is a great souvenir.
There are 2 cancellations stamps, one at the visitor center and one in the gift shop down the street.
Electric Vehicle Charging
There are 55 public charging stations within Hot Springs, Arkansas.
Details about National Park
Size - 5,554 Acres
Hot Springs NP is currently ranked at 62 out of 63 National Parks by Size.
Date Established
Hot Springs Reservation was initially created by an act of the United States Congress on April 20, 1832 to be preserved for future recreation.
In 1921, when Congress established the National Park Service Hot Springs Reservation became Hot Springs National Park.
Visitation
In 2021, Hot Springs NP had 2,162,884 park visitors.
In 2020, Hot Springs NP had 1,348,215 park visitors.
In 2019, Hot Springs NP had 1,467,153 park visitors.
Learn more about the most visited and least visited National Parks in the US
National Park Address
Fordyce Bathhouse Visitor Center
369 Central Avenue
Hot Springs, AR 71901
United States
National Park Map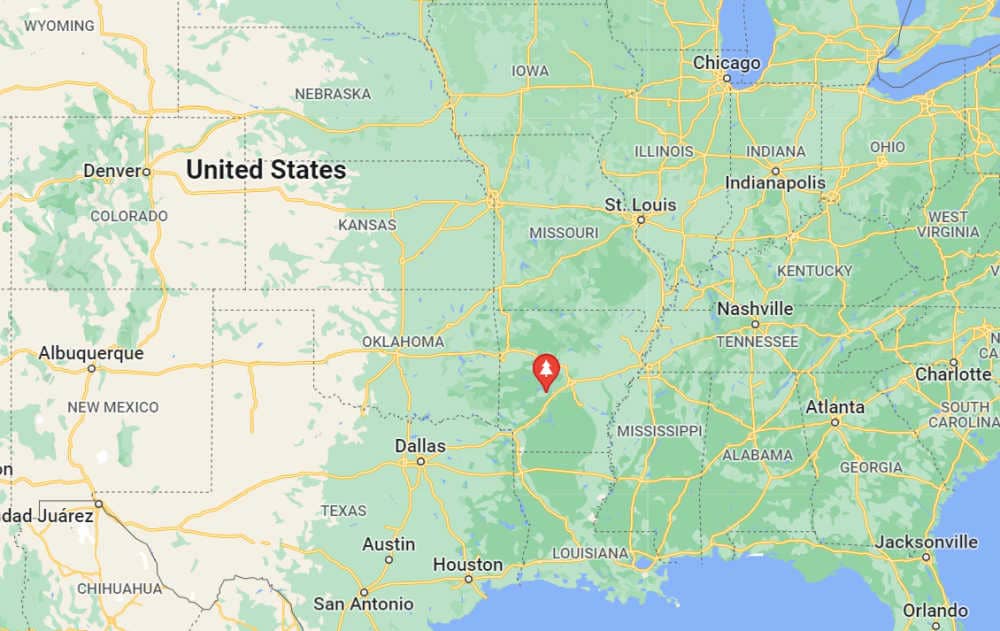 Where is Hot Springs National Park?
Hot Springs National Park is located in the heart of the city of Hot Springs, Arkansas, in the state's central west region.
Little Rock, Arkansas is the closest major airport, while Hot Springs, Arkansas has its own airport, Hot Springs Memorial Field.
Estimated distance from major cities nearby
Memphis, TN - 177 miles
Tulsa, OK - 202 miles
Dallas, TX - 244 miles
Oklahoma City, OK - 263 miles
Baton Rouge, LA - 300 miles
Wichita, KS - 328 miles
Estimated Distance from nearby National Park
Mammoth Cave National Park - 491 miles
Gateway Arch National Park - 399 miles
Indiana Dunes National Park - 708 miles
Guadalupe Mountains National Park - 794 miles
Big Bend National Park - 821 miles
Great Sand Dunes National Park - 883 miles
White Sands National Park - 884 miles
Where is the National Park Visitor Center?
The Visitor Center is located at 629 Central Avenue in the Fordyce Bathhouse.
Their phone number is 501-321-2277.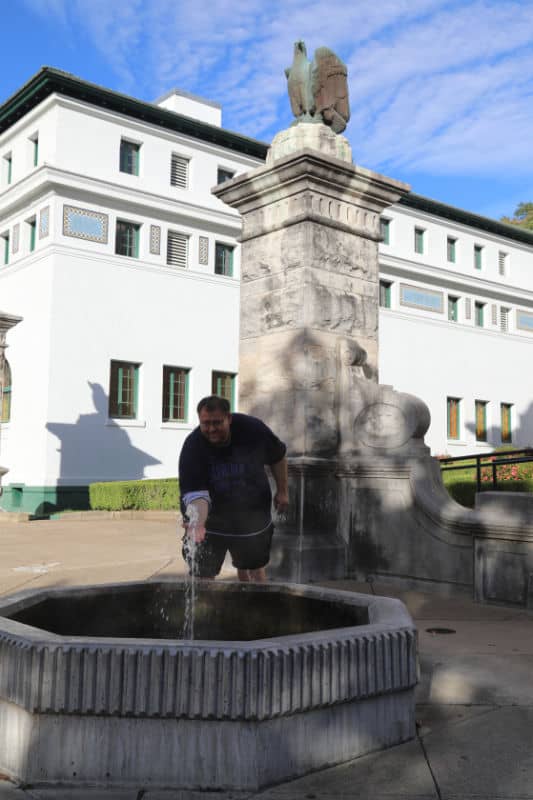 Getting to National Park
Closest Airports
Memorial Field (HOT) - 3 miles
International Airports
Bill & Hilary Clinton Little Rock National Airport (LIT) - 50 miles
If you want to travel to Hot Springs National Park, the Bill and Hillary Clinton National Airport (LIT) in Little Rock is the best option. They have nonstop flights from many bigger cities, including Denver, Houston, Las Vegas, Chicago, Phoenix, Atlanta, Charlotte, and more.
Regional Airports
South Arkansas Regional At Goodwin Field (ELD) - 90 miles
Texarkana Regional Webb Field (TXK) - 90 miles
Fort Smith Regional Airport (FSM) - 94 miles
Boone County Airport (HRO) - 122 miles
Greyhound Bus
Greyhound has a station in Hot Springs located at 1001 Central Ave, Suite D.
Train Service
Amtrak serves Little Rock with the Texas Eagle line.
Driving Directions
From Little Rock, Arkansas
Take Interstate 30 W toward Texarkana, Interstate 30 W to US 70 W - Hot Springs via Exit 111 (28.57 miles).
US 70-W (US 70 W becomes US 70 Business/East Grand Avenue) (18.65 miles), Turn right onto Spring Street (Spring Street becomes Reserve Street) (4.66 miles), Right turn onto Central Avenue (0.3 miles)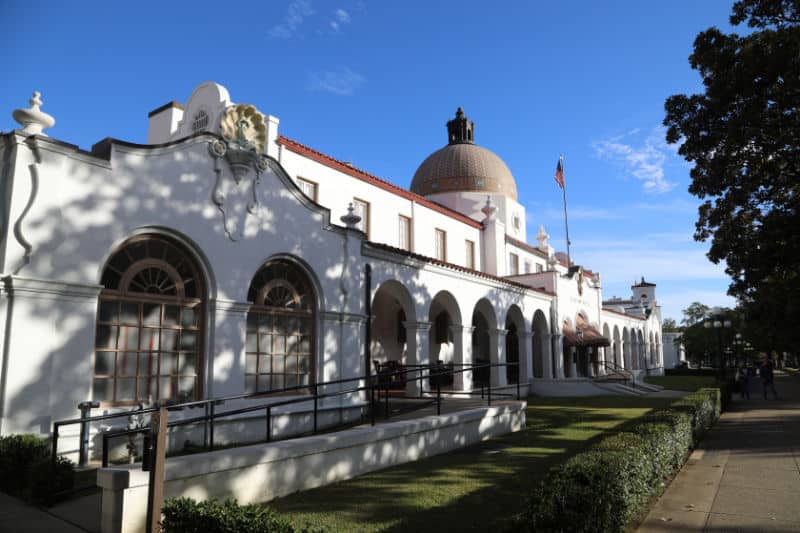 Best time to visit Hot Springs National Park.
Deciding what is the best time to visit Hot Springs National Park depends purely on your personal preferences. Winter and early spring are attractive to those who like fewer people, more affordable prices, and the idea of bathing in thermal springs while it is cold outside.
If you don't like shivering when you exit the pool, early summer and fall are better options. There will be more visitors, but the weather will be warmer and you have more opportunities for other activities aside from bathing.
The months of August through October are usually the driest months of the year, and the weather is usually pleasant. This is a perfect option for those who like hiking and exploring nature.
The weather in the Fall is warm, with the majority of days being sunny. Even if the weather prediction shows primarily sunny days, it's a good idea to carry a rain jacket just in case.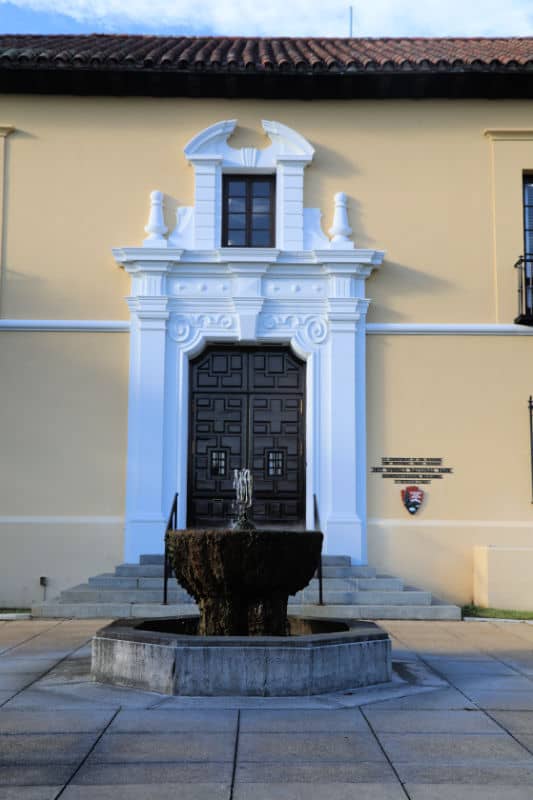 National Park Weather and Seasons
The average temperature of Hot Springs varies from 90°F (32°C) to less than 27°F (-2.7°C). Summer days may be hot and humid, while wind chills in the winter may make temperatures seem substantially colder, dropping to as low as 15°F (-9.4°C).
The rainiest seasons are usually spring and fall, and snow is on average only 2 inches per year. The weather at Hot Springs is generally pleasant throughout the year.
Spring
Because of the abundance of wildflowers and the migration of songbirds, spring is one of the most beautiful periods of the year in Arkansas. March, April, and May are the months of spring.
This is also the rainiest season of the year. During the spring, the temperature rises dramatically. They begin in March with a daily average of 65°F (18°C) and rise to roughly 81°F (27°C) by the end of May.
Summer
Summers at Hot Springs National Park may be oppressively hot. Bring lots of drinks and wear cool clothing to prepare for the heat. If you're camping or hiking, bring ice packs for your coolers.
Although extremely high temperatures are not normal, they can reach above 100°F or 40°C at times. Summer is dryer, but thunderstorms are still a possibility, so plan accordingly while packing.
Autumn/Fall
September, October, and November are the fall months. It starts to get significantly colder throughout these months, especially at night. The average temperature difference between day and night might be as much as 20°F in just 24 hours.
September's average temperature is still extremely warm, hovering about 86°F (30°C). There will be rainy days, but they will be few and far between during the Fall months.
The highs in October are closer to 76°F or 24°C. During November, the temperature drops to 63°F (17°C) during the day.
As the season draws to a conclusion, nighttime temperatures can drop to dangerously low levels, so be prepared. During these periods, a winter sleeping bag will be the most suited.
Winter
In the winter, there isn't as much snow and the temperatures aren't as cold as they are in other regions of the country. The park and its adjacent campgrounds can stay open all year because of the mild weather.
December, January, and February are the winter months. These are likely to be the greatest times to visit the park because there will be fewer people, but the hot springs will feel even better in comparison to the frigid weather outside.
The daytime and nighttime temperatures reach their lowest points of the year during these months, yet they remain rather constant throughout the winter. The average temperature is 53°F (12°C) during the day and just below freezing at night.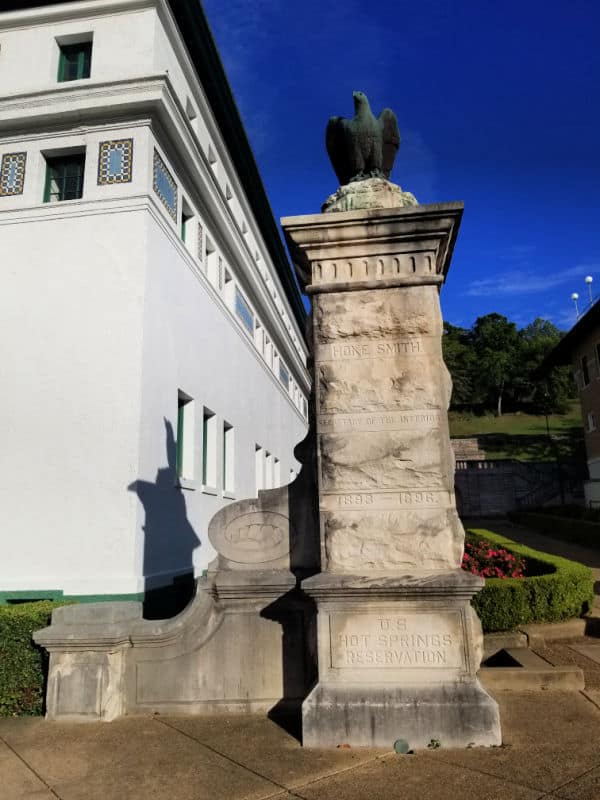 Hot Springs National Park is great for visitors of all ages and interests. You will find plenty of hiking and biking trails, nature observing areas, and city attractions here. Families with kids will find this place attractive because of its access to amenities and closeness to accommodation.
Fordyce Bathhouse Museum and Visitor Center
The Fordyce Bathhouse serves as the park's visitor center, located on Bathhouse Row, just off Central Avenue and just across from all of downtown's stores.
If you want to meet the rangers and ask them questions about the park you will find them between 9 am and 5 pm.
Visitors may take a tour of the enormous bathhouse and admire the stained glass ceilings, marble walls, and statues. You will appreciate the exhibits, tales about the bathhouse, and the park's history whether you take the narrated tour or the self-guided trip.
Bathhouse Row
Bathhouse Row is one of the most famous attractions in Hot Springs National Park. Bathhouse Row is a section of Central Avenue, the park's principal thoroughfare, lined with eight bathhouse structures built between 1892 and 1923
The bathhouses are extremely elaborate and gorgeous, with each one having its own distinct appearance, and looks like it was built somewhere in Europe.
All of them have their own purpose in Bathhouse Row. Hale is a motel, Fordyce is a visitor center, Ozark is a cultural center, Lamar is a bathhouse emporium with souvenirs, and Maurice is now unoccupied.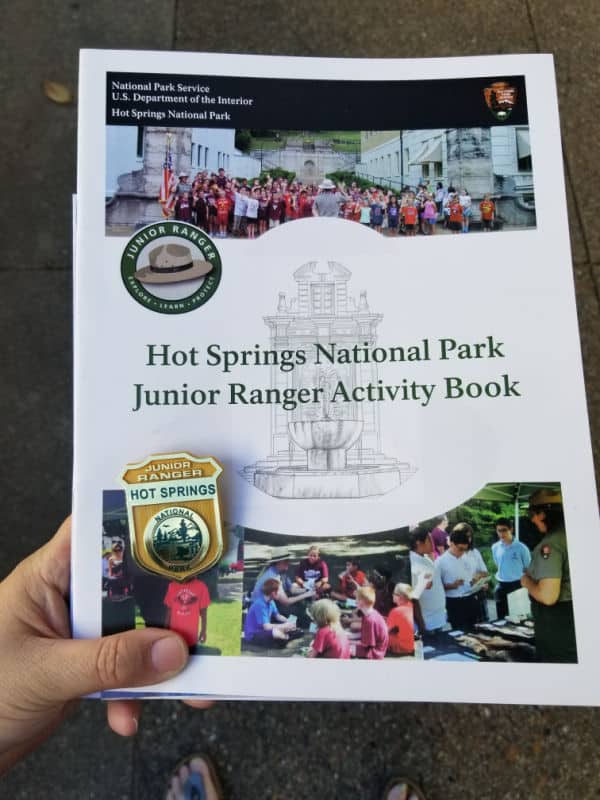 Hot Springs, like many other national parks, invites young visitors to become Junior Rangers and become part of the National Park Service's "family."
During a park visit, interested youngsters participate in a series of activities, discuss their responses with a park ranger, and get an official Junior Ranger badge. Junior Rangers are usually between the ages of 5 and 13, however, anybody of any age can join.
While exploring Hot Springs National Park, kids may earn a Junior Ranger badge by completing a variety of activities. The Fordyce Bathhouse Visitor Center is the place to pick up a Junior Ranger guidebook.
Drink the Water
The principal resource of Hot Springs National Park is water from the hot springs. The hot springs were initially protected by Congress in 1832, to use the water.
It is OK, indeed encouraged, to drink the water from the hot springs. Thousands of visitors vouch for the exceptional quality of the hot springs water, which they fill bottles with to take home.
Fountains may be found around the park where you can fill up your own water bottle, jug, or any other container you can think of.
Cold fountains are less common and are fed by cold springs rather than thermal springs, which run from either West Mountain or North Mountain, depending on which fountain you pick.
The Arkansas Department of Health requires that these springs be treated, and an ozone filtering system is employed since it is the least invasive. If you drink from the cold fountains, however, you will not be able to detect any therapy.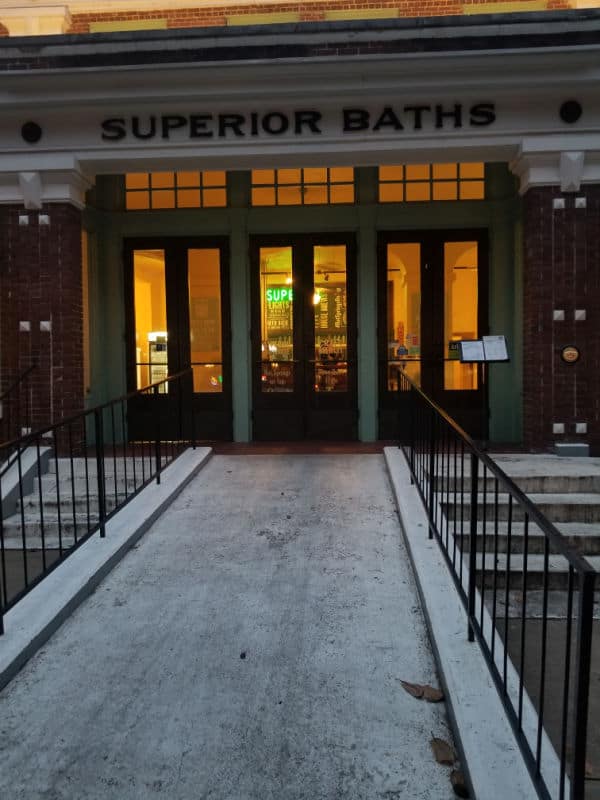 Make plans to visit the only brewery in a National Park, the Superior Bathhouse Brewery
Guided Tours
Speaking with a ranger is the best way to learn more about national parks. In addition, two distinct guided tours are available at Hot Springs National Park if you want to learn more about the park's history.
Reservations are not necessary, however, it is recommended that you check ahead to see if space is available.
Tours usually start at the Fordyce Bathhouse, where you can walk around the bathhouse with a guide and listen to its history. Afterward, you will walk along the Promenade, par outdoor area, and learn about the creation of thermal springs in nature.
You can also embark on trolley excursions to learn more about the park's history and view historic residences.
Soak in a Hot Springs
In Hot Springs National Park you are not able to soak in thermal pools outdoors, but there are two bathhouses where you can experience the full "American Spa" experience.
The Buckstaff Bathhouse
The Buckstaff Bathhouse has been a popular spa since it first opened its doors. It provides an exceptional bathing experience. You can sign up for a whirlpool mineral bath, Swedish massage, facial, or loofah mitt, among other treatments.
The Quapaw Bathhouse
The Quapaw Bathhouse features a lovely tiled dome and is probably the most picturesque place in the city. You can enjoy private baths, thermal pools, a steam cave, and many other spa services.
Wildlife viewing
Rodents, bats, and other tiny animals make up the majority of the park's wildlife, which is characteristic of the Ouachita Mountains region.
Bird species are diverse and prolific due to the region's warm environment. A variety of songbirds, wild turkey, raptors, and other birds may be seen at Hot Springs National Park. Birding may be done at any time of year.
The aquatic resources are restricted to a few tiny streams and are devoid of big game fish.
Hot Springs National Park, located in the center of the Ouachita Mountains, is home to a wide variety of mammalian residents, ranging from small chipmunks to 400-pound black bears.
Keep your eyes and ears alert for the 49 different kinds of animals that have been reported in the park during your stay.
Birding
Because the species typically vary with the spring and autumn migrations, birding is feasible all year.
The Grand Promenade is a fantastic site to watch a variety of birds. Early morning hikes on West Mountain's trails are another great area to observe and hear the birds.
There are over 113 different species of birds living here, including herons, swans, geese, ducks, eagles, hawks, falcons, and numerous other species.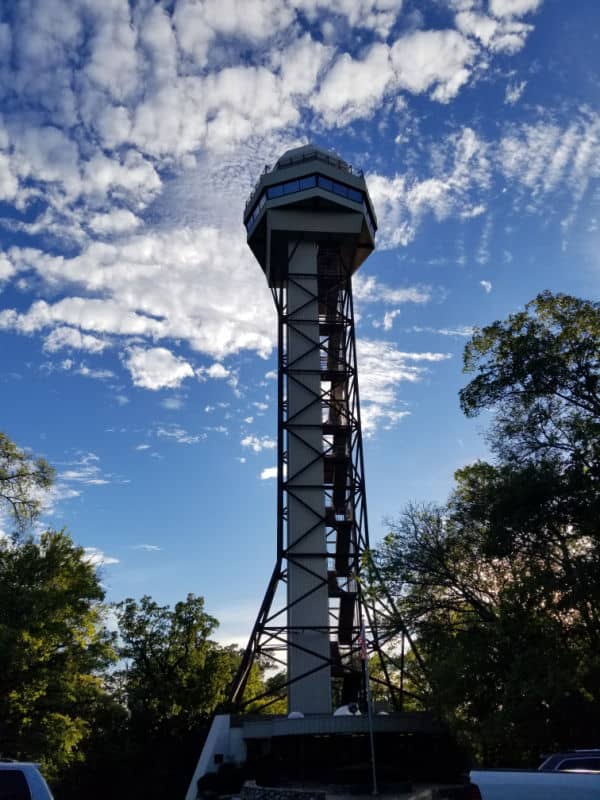 Hot Springs Mountain Tower is located in the mountains behind Bathhouse Row.
This tower first opened in 1877, and there have been several incarnations since then, with the most recent one, which opened in 1983.
The present tower is 216 feet tall and offers views of Hot Springs National Park, the Ouachita Mountains, and the Diamond Lakes region from up to 140 miles distant.
You may drive or trek to the base of the tower, and admission to the top is $8 for adults, $7 for seniors, $6 for military, and $4.50 for children aged 5-11.
Scenic Drives
By traveling to one of the beautiful viewpoints, you can take in the spectacular looks of Hot Springs National Park. At any of these spots, you can enjoy the sunrise, sunset, foliage, or just a regular sunny day.
Hot Springs Mountain Scenic Drive
The beginning of this lovely journey is at the end of Fountain Street. It leads to a picnic area, the Pagoda viewpoint, and the Hot Springs Mountain Tower at the summit.
You may also observe the surrounding mountain summits from Hot Springs Mountain Lookout Point or Goat Rock Overlook.
West Mountain Scenic Drive
West Mountain Drive is a two-way road that goes to the Summit Loop, where three viewpoints may be found. Bathhouse Row and the old Army-Navy Hospital may be seen from the first overlook.
The second overlook allows you to see all the way to the Trap Mountains. Here you will find a historic trail shelter and many picnic tables where you can have lunch.
Fishing
Fishing is permitted but controlled by Hot Springs National Park, to ensure that it is managed in a way that does not have undesirable consequences on park resources.
If you want to go fishing in the park, you will need a fishing license in compliance with Arkansas laws and regulations.
Some of the species you may be able to catch in the park are bass, crappie, bream, catfish, and walleye.
Always carry the 10 essentials for outdoor survival when exploring.
Although the hot springs and bathhouses are the most popular attractions in Hot Springs National Park, there are 26 miles of trails to explore.
Sunset Trail
Miles: 13 miles
Elevation: 2,372 feet
The Sunset Route is a circular trail that is also the park's longest. It travels through a variety of terrain and provides an excellent overview of the park's natural side. It may be divided into three distinct portions.
The West Mountain segment is 2.8 miles long and leads to Music Mountain, the park's highest peak at 1,405 feet.
The Sugarloaf Mountain segment is 2.6 miles long and runs along the side of Sugarloaf Mountain, providing some of the park's most beautiful vistas, particularly at Balanced Rock.
Finally, the 3.8-mile Stonebridge Road portion leads to Ricks Pond and other historic stone buildings.
Goat Rock Trail
Miles: 2.4 miles
Elevation: 380 feet
There is a small parking lot at the beginning of the trail where you can leave your vehicle. From the top of the trail, you will have breathtaking views, which make this hike worth your time.
West Mountain Trail
Miles: 1.9 miles
Elevation: 354 feet
The West Mountain Trail is a popular circular trek on the park's west side that offers spectacular views over the park and surrounding area.
Peak Trail
Miles: 1.3 miles
Elevation: 357 feet
The Peak Trail will lead you up to the foot of the Hot Springs Mountain Tower, which provides magnificent views of Hot Springs National Park and the surrounding region and may be paid to climb to the top of it.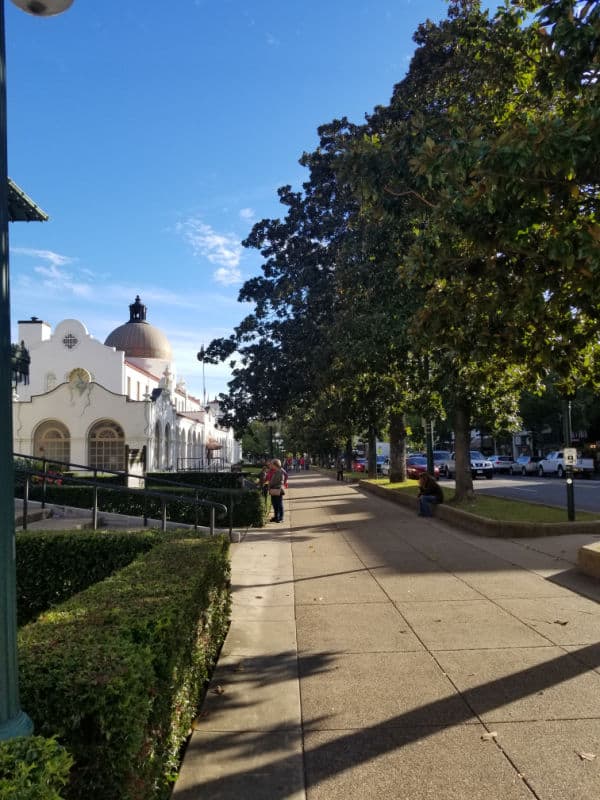 How to beat the crowds in Hot Springs NP?
Winter is the least crowded season to visit the park, so if you want some alone time and don't mind getting a little chilly in the morning, this is the time to go.
Most of the great activities to do in Hot Springs National Park will still be available to you, and you may even save some money.
Where to stay when visiting National Park
The north end of the city of Hot Springs is surrounded by Hot Springs National Park, which is located in an urban area.
There are no National Park Lodges within Hot Springs NP, but Gulpha Gorge Campground and Hotel Hale are both located within the park and offer overnight accommodations.
There is always a spot for you in Hot Springs, with over 50 hotels and resorts to select from. Hot Springs provides a room for every budget and itinerary, from affordable to luxury.
Hotel Hale
Hotel Hale offers lodgings with a bar and private parking in Hot Springs, 3.9 kilometers from Magic Springs & Crystal Falls. A restaurant, a 24-hour front desk, and room service, as well as free WiFi, are available at this accommodation.
A hot spring spa and a concierge service are available at the hotel. Breakfast is served to guests in the form of either an American or a vegetarian option.
Every room at the hotel has a desk. All guest rooms at Hotel Hale provide a flat-screen TV and air conditioning, as well as a private bathroom with a shower and bathrobes. Select rooms also include a lounge area. There is a closet in each room.
Embassy Suites by Hilton Hot Springs Hotel & Spa - Take advantage of free full breakfast, a grocery/convenience store, and a free daily manager's reception at Embassy Suites by Hilton Hot Springs Hotel & Spa. Treat yourself to spa services, such as a massage, a manicure/pedicure, or a body scrub. Stay connected with free Wi-Fi in public areas, and guests can find other amenities such as dry cleaning/laundry services and a bar.
The Hotel Hot Springs - A free breakfast buffet, a terrace, and a bar are just a few of the amenities provided at The Hotel Hot Springs. The onsite American cuisine restaurant, Inside Track Grill, features happy hour and light fare. Stay connected with free in-room Wi-Fi, and guests can find other amenities such as a 24-hour business center.
The Waters Hot Springs, Tapestry Collection by Hilton - Consider a stay at The Waters Hot Springs, Tapestry Collection by Hilton and take advantage of a grocery/convenience store, a terrace, and dry cleaning/laundry services. Free in-room Wi-Fi is available to all guests, along with a bar and a gym
TownePlace Suites by Marriott Hot Springs - A fitness center, a seasonal outdoor pool, and a business center are available at this smoke-free aparthotel. Free buffet breakfast, free Wi-Fi in public areas, and free self parking are also provided. Additionally, dry cleaning, laundry facilities, and a 24-hour front desk are onsite. Each apartment provides a kitchenette with a refrigerator, an oven, a stovetop, and a microwave. For a bit of entertainment, a flat-screen TV comes with satellite channels, and guests can also appreciate conveniences like a sitting area and a coffee/tea maker.
Click on the map below to see additional hotels and vacation rentals in Hot Springs, AR.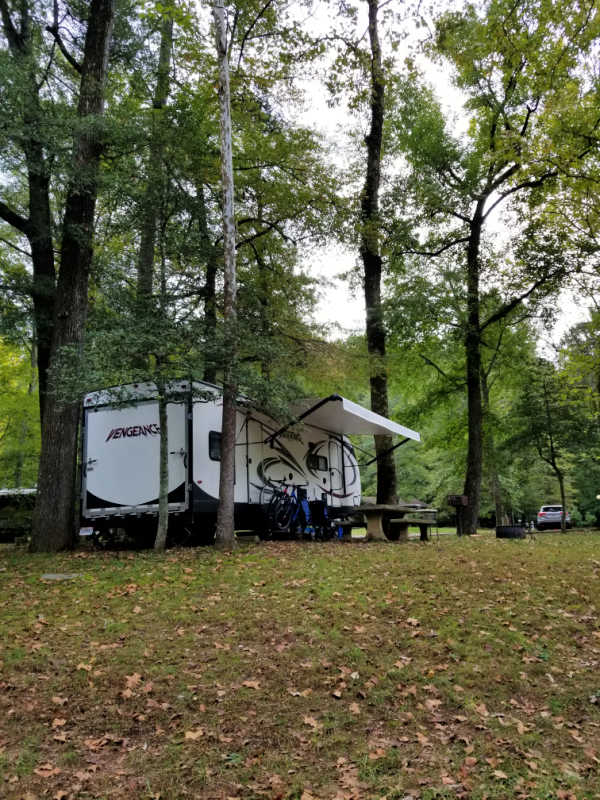 Many people consider camping to be part of the package when visiting a National Park. However, because it is so tiny and primarily populated, Hot Springs National Park is a little unusual in this aspect.
There are still lots of places to camp just outside the National Park and enjoy some time in the great outdoors.
The months of August, September, and October are ideal for camping at Hot Springs National Park. The weather prediction is more consistent during the fall months than it is for the rest of the year.
The temperature can become rather chilly at night during these months, but most people prefer it over camping during the hot summer months. With well-rated sleeping bags and camping blankets, you'll be ready for lower temps.
If you want to avoid the crowds, tent campsites in the region around Hot Springs National Park are usually accessible all year. Even though they don't receive much snow in the winter, bring additional insulation.
Only authorized campsites at Gulpha Gorge Campground are allowed to camp or stay overnight.
For a fun adventure check out Escape Campervans. These campervans have built in beds, kitchen area with refrigerators, and more. You can have them fully set up with kitchen supplies, bedding, and other fun extras. They are painted with epic designs you can't miss!
Escape Campervans has offices in Vancouver, Seattle, Portland, San Francisco, Las Vegas, Los Angeles, Phoenix, Salt Lake City, Denver, Chicago, New York, and Orlando
The park's single campsite, Gulpha Gorge Campground, is the essence of urban camping. There's just enough woodland to make you feel like you're out of town, but owing to its proximity to the city, you still have access to city services.
This campsite welcomes tent and RV campers, with each site featuring a picnic table, a pedestal grill, and water access. There are bathrooms on the premises, but no showers.
The Gulpha Gorge Campground is available all year and reservations are taken on a first-come, first-served basis. Reservations are not accepted, but there are 40 campsites and hopefully, you can catch one when you visit the area.
Even though all of the sites have power, you are only allowed to use a generator between the hours of 9 a.m. and 8 p.m.
Sleeping in the park's Gulpha Gorge Campground, barely two miles from the city yet protected from road noise by dense trees and a trickling creek, is the quintessential national park experience.
Campgrounds near Hot Springs, Arkansas
Hot Springs Off-Road Park - 5 miles from the park
This campground offers RV and tent sites, a playground, 1,250 acre trail system, ice cream, and more.
Willows at Watson RV Park - 87 miles from the park
This campground offers RV Sites, canoe and kayaking, fishing, and more.
Yogi Bear's Jellystone Park Eufaula - 92 miles from the park
This campground offers cabins, cottages, RV sites with hookups, a beach, water playground, mini-golf, and so much more.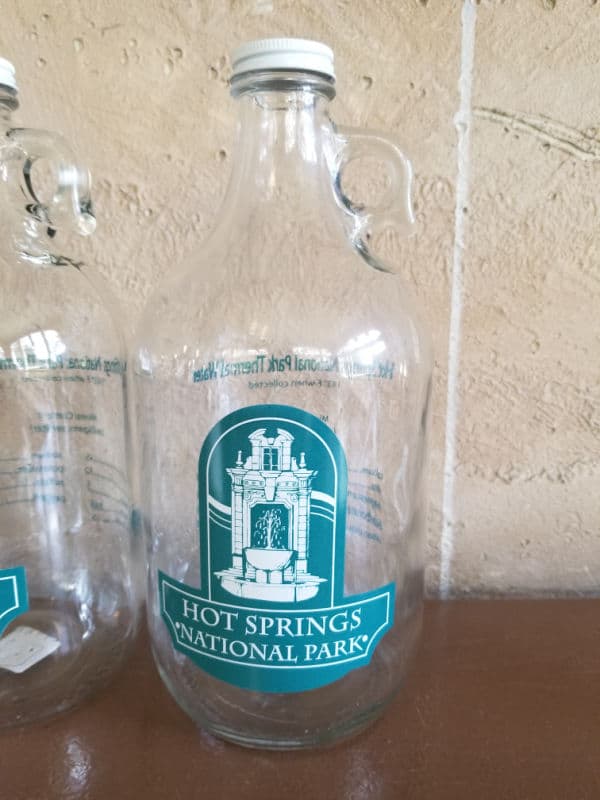 Travel Tips
The water coming out of the fountains is HOT! Be careful if you have kids with you that they don't blindly reach for it.
Parts of Hot Springs, Arkansas are honestly a bit rough and seedy. If you are traveling with kids it may not be a bad idea for them to have some tech to distract them as you drive into the park. Some of the neighborhoods have multiple cabaret bars and are just rough.
Make sure you know the health risks before taking a bath at a bathhouse. We heard that it is not uncommon for ambulances to be outside the bathhouses. Hot water can affect people with heart conditions and other health risks.
Bring a jug or 5 with you to fill up with mineral water. We saw people filling up giant water jugs and packing them into their cars.
Make sure and watch the park movie at the visitor center! It does a great job of explaining the history and importance of the park.
Watch your valuables and be aware of your surroundings. I don't want to scare you from visiting Hot Springs National Park but please be aware of your surroundings. The park is in the middle of town and there were individuals that we felt were scoping out easy prey for stealing things.
Additional Resources
Hot Springs: From Capone to Costello (Images of America)
Hot Springs Scrapbook Stickers
Arkansas Nature Lovers Guidebook
Arkansas Hiking Trails Guidebook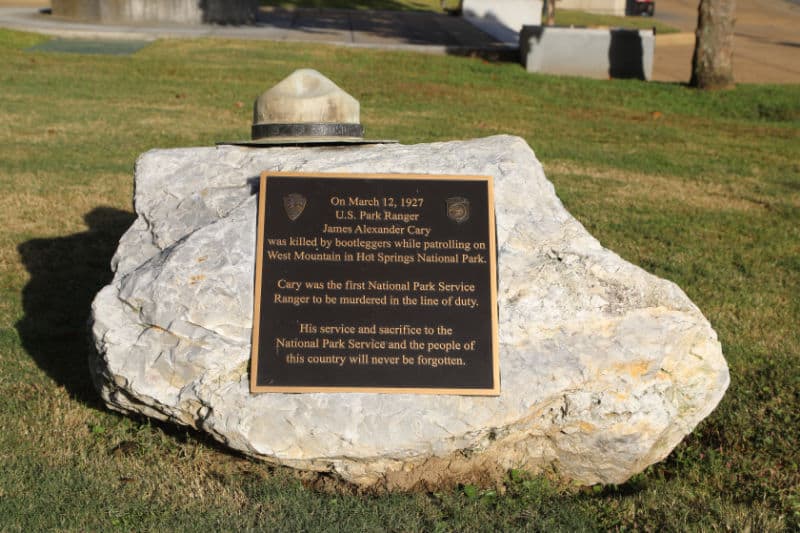 Parks near National Park
Little Rock Central High School National Historic Site
Arkansas Post National Memorial
President William Jefferson Clinton Birthplace Home National Historic Site
Fort Smith National Historic Site
Chickasaw National Recreation Area
Waco Mammoth National Monument
Check out all of the National Parks in Arkansas along with neighboring National Parks in Louisiana, National Parks in Mississippi, National Parks in Missouri, Oklahoma National Parks, Tennessee National Parks, and Texas National Parks
National Park Service Website