Waco Mammoth National Monument in Waco, Texas provides the opportunity to view the fossils of Columbian Mammoths.

Waco Mammoth National Monument
What makes Waco Mammoth National Monument so interesting?
There are a couple of things that will have you making your way to this Texas park.
First, Waco Mammoth National Monument gives you a rare opportunity to see Mammoths still in the ground as they were discovered years ago!
Second, the park protects the only recorded nursery herd of Columbian mammoths in the U.S.
The fossils were discovered in 1978 by Paul Barron and Eddie Bufkin while they were searching for arrowheads and fossils.
They noticed a large bone protruding from a ravine and brought it to Baylor University's Strecker Museum of paleontologists could identify the bone.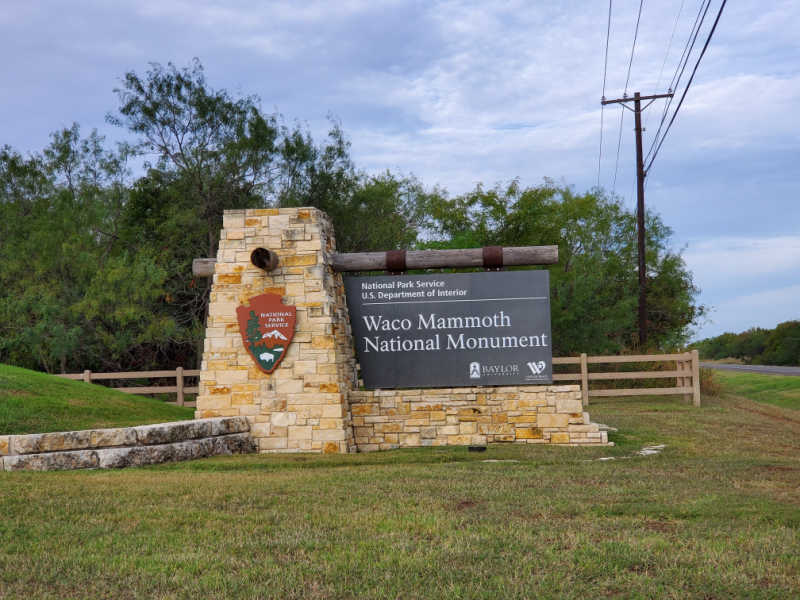 About Waco Mammoth National Monument
The only way to view the Columbian Mammoth fossils is on a guided tour.
Baylor University's Mayborn Museum Complex has become the official repository for the park.
Mayborn Museum Complex will store and make accessible to research all of the paleontological and archaeological objects that have been removed from the park, as well as their associated documentation.
If you are interested in seeing additional Mammoth paleontological sites check out Tule Springs Fossil Beds National Monument near Las Vegas NV. It is still a park in progress but really beautiful!
I also thought it was cool to know that Pygmy Mammoths were only found in Channel Islands National Park in California.
Is Waco Mammoth NM worth visiting?
Yes! This site is fascinating! I could have spent a few hours just staring at the Mammoth fossils.
We are planning a return trip to see what else has been found since we visited the park. They are constantly doing work to learn more about the Columbian Mammoths.
Plus it is the perfect reason to visit Waco, Texas and have breakfast at Magnolia Table along with visit the Magnolia Market.
If you are a fan of Fixer Upper with Chip and Joanna Gaines and a fan of history a trip to Waco, Texas is the perfect way to getaway.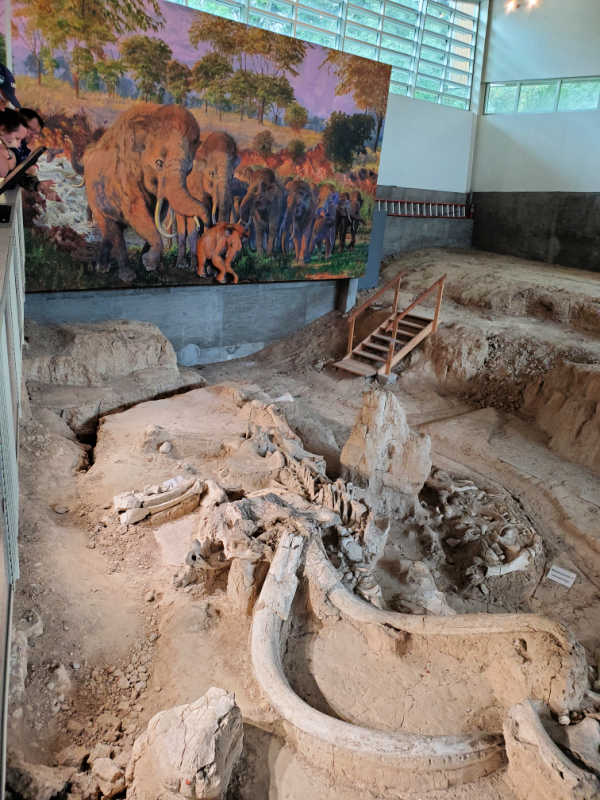 History of Waco Mammoth National Monument
Located on the outskirts of Waco, Texas, this unique monument contains the remains of 25 Columbian mammoths.
Visitors will witness the remains "in situ," fossil meaning the amazing artifacts are in the original spot in which they were discovered. The national monument's building was built around the remains.
Through recent research and extensive testing, experts have been able to speculate that there were actually two separate events where herds were gathered in the same spot and met a similar fate.
Scientists speculate one event occurred about 29,000 years ago. The herd was gathered near the area in what is now the Bosque River.
Back then, the area was a place where two rivers converged and the herd was standing in the wet sand.
It is believed that the mammoths and other animals came to the area during the ice age for all the water and food that was available.
As a sudden storm hit, the mammoths are thought to have been buried in a flash flood mudslide. After all, an eight ton creature wouldn't have been able to escape a fate like that quickly, caught between the deep river and the wall of a ravine.
Using impressive testing involving mineral samples, scientists were able to agree that the mass death event took place much earlier than 29,000 years ago. Try about 66,000 years ago!
During this time period, scientists know that this area of Texas was colder than it is today. This explains why some of the mammoth remains appear slightly undernourished than what typical Columbian mammoth remains do.
Columbian mammoths did not tolerate cooler weather as well as their relatives, the wooly mammoth.
Fast forward now thousands of years to 1978. Two teenage boys named Paul Barron and Eddie Bufkin were looking for arrowheads near the Bosque River.
Instead of arrowheads, they noticed what looked like a large ball joint from a hip. The boys determined they could also see a femur, a tusk and other bone fragments. Barron's experience in the Boy Scouts gave him the knowledge that what they were seeing around them was significant.
Barron was able to retrieve what turned out to be a knee joint from the dirt and take it to nearby Baylor University.
At that time, David Lintz was a technical assistant at the museum at Baylor University. He was intrigued and soon realized the site was something extraordinary.
After gaining rights from the landowner, Lintz and others worked on the site from 1978 to 1982. At this time, the excavating process was exhausting.
Without much funding or support it was hard to do the necessary work on the massive site, which the workers said just kept growing – bone after bone being found. After Calvin Smith became the new director of the museum in 1984, new interest was sparked and work was started again, mainly by volunteers.
By the end of 1984, sixteen mammoths had been found. This find was extraordinary as it was called a nursery herd – six adult female mammoths and ten juvenile mammoths.
A camel and the tooth from a saber tooth cat were also discovered. Just years earlier, in 1974, Columbian mammoths were found near Hot Springs, South Dakota.
To date, 58 Columbian mammoths and 3 wooly mammoths have been recovered at that location. There, the mammoths are believed to have died by plunging to their deaths over a period of consecutive years.
What happened in Texas is believed to be two catastrophic events. With no evidence of any arrowheads or other artifacts from our human ancestors, it is clear to experts that this was not an area of bone scraps – it was a mass grave.
After 1974, grants and private donations continued thereafter and more mammoths were found at the site in Texas.
In 2006, it was decided that the area would be made into a public park, built around the dig site. The Waco Mammoth Site was open to the public in December of 2009.
At that time, the park was funded by The City of Waco Parks and Recreation Department. In 2015, President Barack Obama signed an order creating the Waco Mammoth National Monument.
At present, only about 3 acres of the park has been developed. The building gives visitors the actual feeling of being at the site themselves – the bones not completely excavated, sitting before their eyes with a story to tell.
The park also does a wonderful job of not only showcasing how the mammoths died, but helping patrons learn how they lived.
A vision for the future of the park sees visitors actually being able to watch digs happen in rea life. It is speculated that there could be many more bones to find in the area.
Why not let real life archeology be seen by excited children and amazed adults in person? It could be an incredible, treasured experience!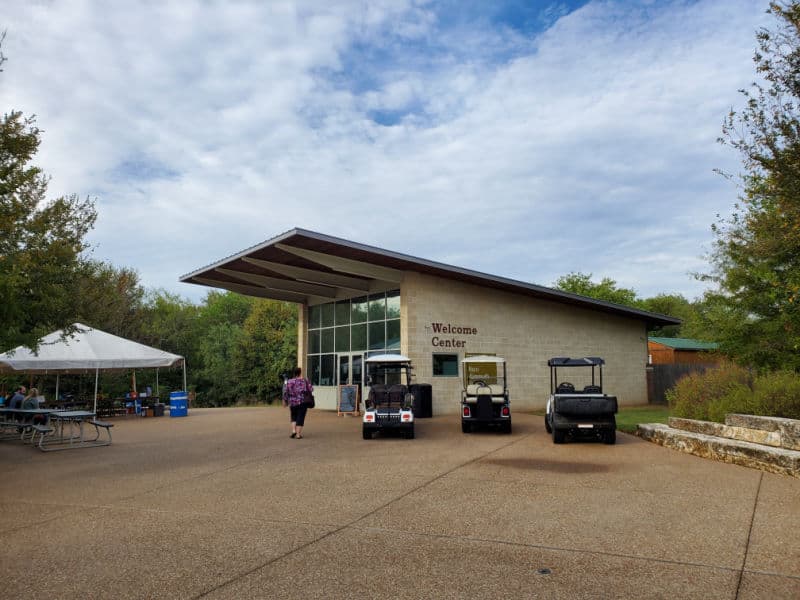 Things to know before your visit to Waco Mammoth National Monument
Entrance fee
There is no entrance fee to Waco Mammoth National Monument.
There are fees for guided tours. National Park passes do not apply to guided tour fees.
Planning a National Park vacation? America the Beautiful/National Park Pass covers entrance fees for an entire year to all US National Park Sites and over 2,000 Federal Recreation Fee Sites.
The park pass covers everyone in the car for per vehicle sites and for up to 4 adults for per-person sites.
Buy on REI.com and REI will donate 10% of pass proceeds to the National Forest Foundation, National Park Foundation and the U.S. Endowment for Forestry & Communities.
Learn more about National Park Passes for parks that have an entrance fee.
Free Entrance Days -Find the five free entrance days the National Park Service offers annually.
Guided Tour Fee
This fee is for a tour of the Dig Shelter where mammoth fossils are in situ (still in their original position within the bone bed).
The only access to the Dig Shelter is with a tour guide. Length of tour - 45 minutes to one hour.
Adult - $5.00
Military (with ID) - $4.00
Educators (with ID) - $4.00
Students (7th grade through college) - $4.00
Children (PreK through 6th grade) - $3.00
Infants (ages 3 and under) - $0.00
Time Zone
CST - Central Standard Time
Pets
Leashed pets are allowed on the grounds, but not on the tour.
Cell Service
We had great cell service in the park.
Park Hours
Sunday-Saturday: Open 9 am–5 pm
Closed on Thanksgiving Day, Christmas Day and New Year's Day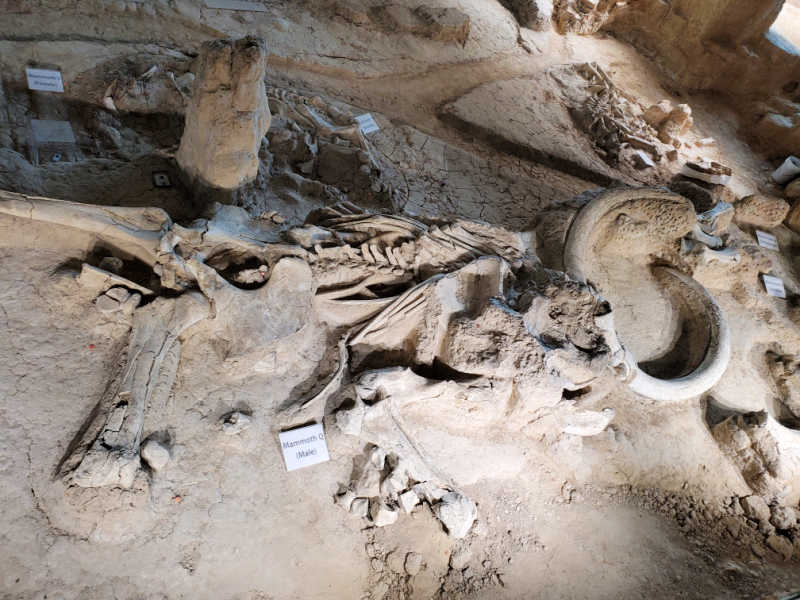 Insect Repellent
Insect repellent is always a great idea when outdoors, especially if you are around any body of water.
We use Permethrin Spray on our clothes before our park trips.
Water Bottle
Make sure to bring your own water bottle and plenty of water with you. Plastic water bottles are not sold in the park.
Parking
There is a large parking lot near the visitor/welcome center.
Food/Restaurants
There are no restaurants within the park.
There are quite a few restaurants in Waco, Texas.
We had breakfast at Magnolia Table and it was fantastic.
Gas
There are no gas stations within the park.
There are multiple gas stations within Waco, Texas
Drones
Launching, landing, or operating an unmanned aircraft from or on lands and waters administered by the National Park Service within the boundaries of Waco Mammoth National Monument is prohibited
National Park Passport Stamps
National Park Passport stamps can be found in the visitor center.
Make sure to bring your National Park Passport Book with you or we like to pack these circle stickers so we don't have to bring our entire book with us.
Waco Mammoth NM is part of the 2020 Passport Stamp Set.
Electric Vehicle Charging
There are 74 EV Charging stations in Waco, Texas.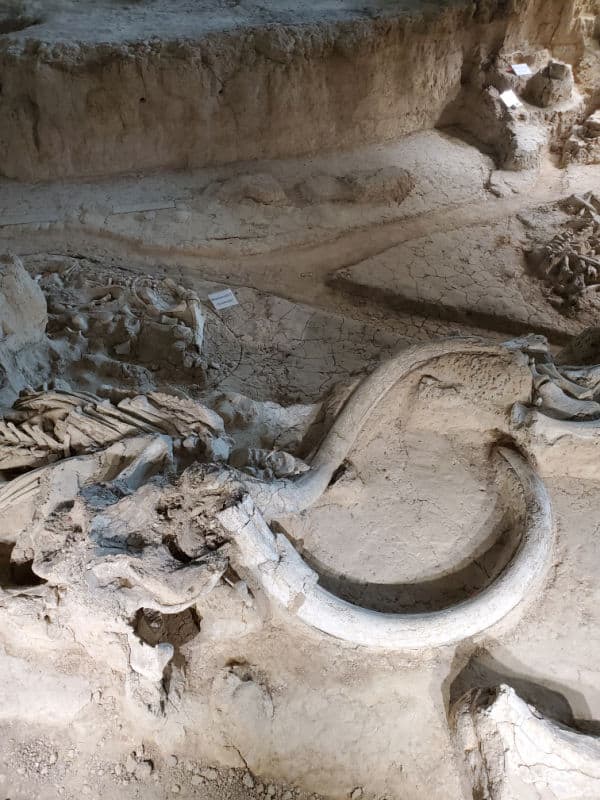 Details about Waco Mammoth NM
Size - 5 acres
Check out how the park compares to other National Parks by Size.
Date Established
The Waco Mammoth Site became a National Monument and a unit of the National Park Service on July 10, 2015, by executive order by President Barack Obama.
The park was developed in partnership with the Waco Mammoth Foundation, City of Waco, Baylor University.
Visitation
In 2020, Waco Mammoth NM had 46,457 park visitors.
In 2019, Waco Mammoth NM had 111,331 park visitors.
Learn more about the most visited and least visited National Parks in the US
Waco Mammoth National Monument Address
6220 Steinbeck Bend Drive
Waco, TX 76708
United States
Waco Mammoth National Monument Map
Where is Waco Mammoth National Monument?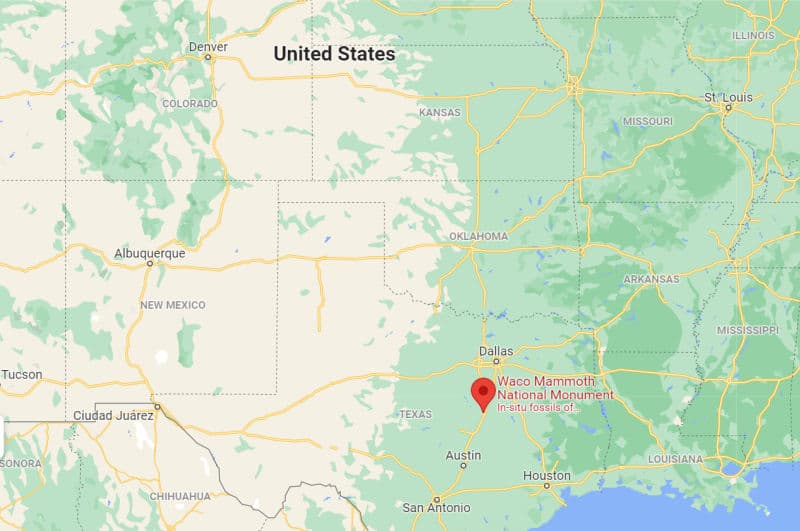 Waco Mammoth National Monument is located in Central Texas in Waco.
Estimated distance from major cities nearby
Dallas, Tx - 95 miles
Austin, Tx - 107 miles
Houston, Tx - 187 miles
New Orleans, La - 509 miles
Albuquerque, NM - 669 miles
Oklahoma City, OK - 288 miles
Estimated Distance from nearby National Park
Big Bend National Park - 480 miles
Hot Springs National Park - 381 miles
Mammoth Cave National Park - 849 miles
Gateway Arch National Park - 759 miles
White Sands National Park - 598 miles
Where is the National Park Visitor Center?
The visitor center is located near the main parking lot.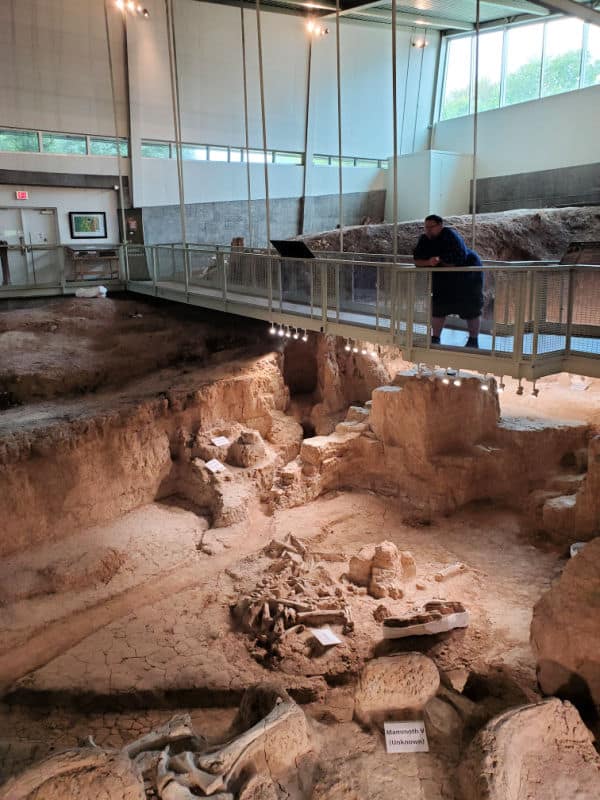 Getting to Waco Mammoth National Monument
Closest Airports
Waco Regional Airport (ACT) serviced by American Airlines
International Airports
Dallas Fort Worth International Airport (DFW)
Houston International Airport (IAH)
Austin Bergstrom International Airport (AUS)
Driving Directions
From I-35 North, take exit 339 and turn right on Lake Shore Drive. Turn right on Steinbeck Bend Drive and travel 1.5 miles to the Monument.
From I-35 South, take exit 335C and turn left on Martin Luther King, Jr. Boulevard. Continue straight onto Steinbeck Bend Drive and travel 1.5 miles to the Monument.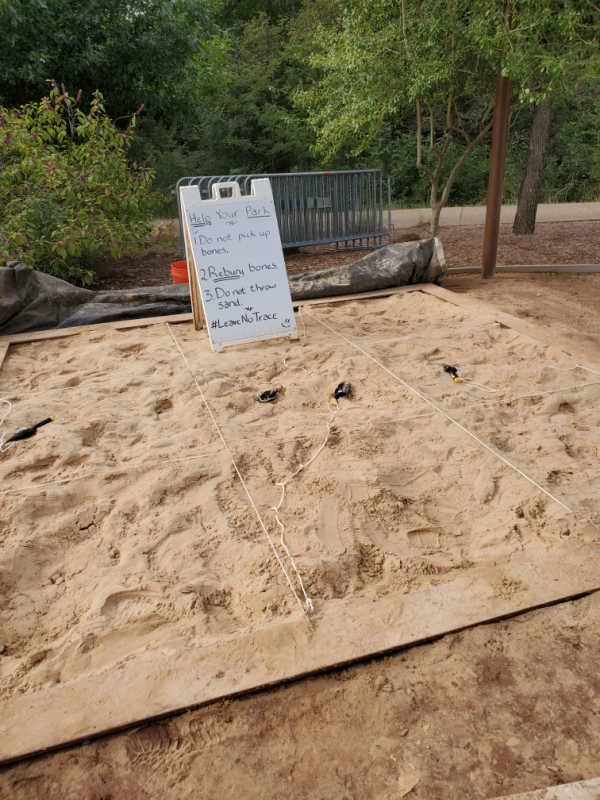 Best time to visit Waco Mammoth NM
The best time of year to visit Waco, Texas is from early April to early June and from mid-September to late October.
Waco Mammoth NM Weather and Seasons
Waco, Texas is hot and muggy in the summer! Winters are cold and windy.
The hottest temperatures are from June 2 to September 20 with an average high temp of 89 degrees Fahrenheit.
The coldest temperatures are from November 25 to February 25 with an average low temperature of 66 degrees Fahrenheit.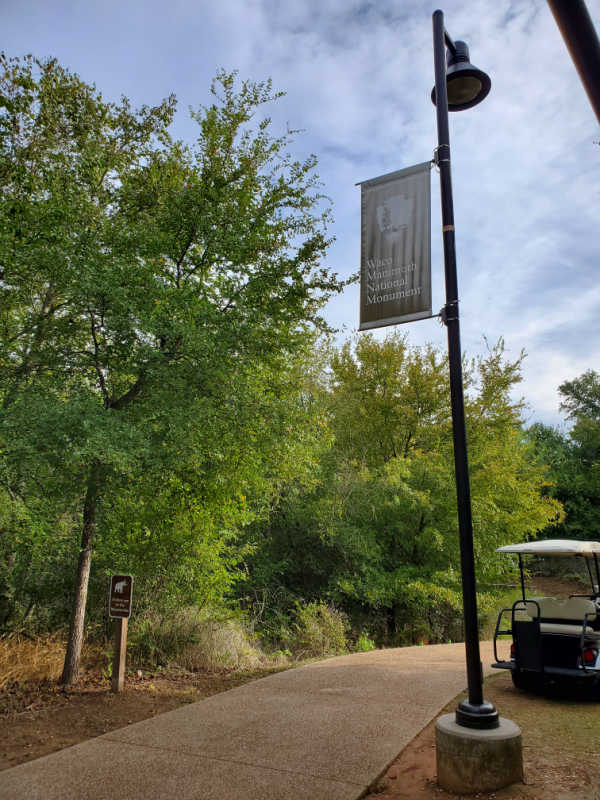 Best Things to do in Waco Mammoth National Monument
Visitor Center
Waco Mammoth National Monument is a paleontological site and museum. The welcome center is the perfect place to start your visit. You can pick up the park brochures, sign up for a guided tour, and pick up a junior ranger program.
The welcome center is not very big but it is still worth visiting. They have a great store and the only bathrooms available for the public.
Guided Tour
Guided tours are conducted every 30 minutes, no reservation is needed! Tours last from 45 minutes to one hour. You can join a tour at the welcome center.
The tours start at the welcome center then proceed down the 300-yard path to the dig site.
The mammoth fossils are in situ (still in their original position within the bone bed).
The tour is AMAZING!!! We were so impressed with the knowledge our guide had of the Mammoths and the work that is being done.
One cool thing is the site just hired a paleontologist so over the next few years they will be working on uncovering more of the mammoth bones.
The only way to visit the shelter is on a guided tour! Trust me when I say you are not going to want to miss the tour!
Our guide pointed out the different fossilized bones of the Columbian Mammoths, a camel, and a juvenile saber-toothed cat.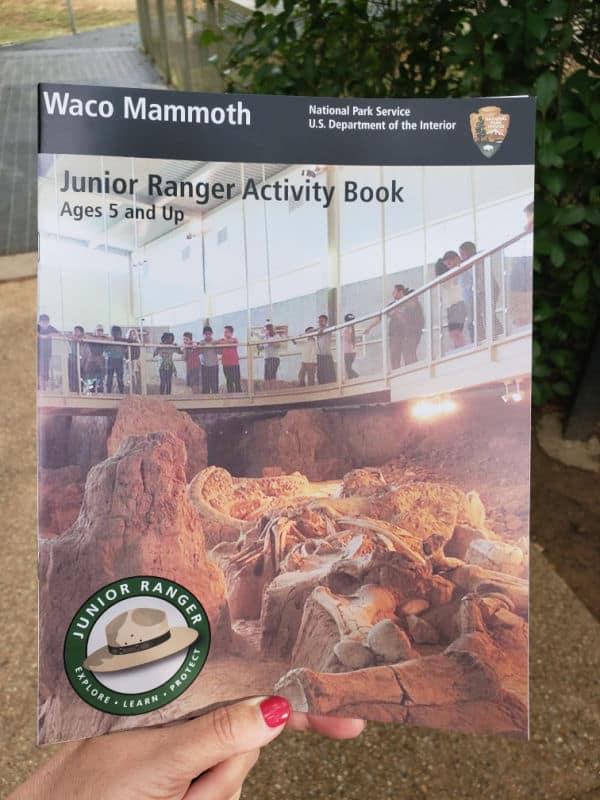 The Waco Mammoth Junior Ranger booklet has a variety of activities to complete during your visit. Activities range from taking a tour to doing a word search and crossword puzzles.
There is a great variety of activities for all ages to be able to complete the booklet.
This is a great way to learn more about archaeology and paleontology.
Fossils in the Dig Box
Make sure to bring the kids in a pair of clothes you don't care about them getting dirty.
There is a dig box just outside the welcome center that kids can go "discover" fossils while waiting for your tour to start. Where was these things when I was a kid?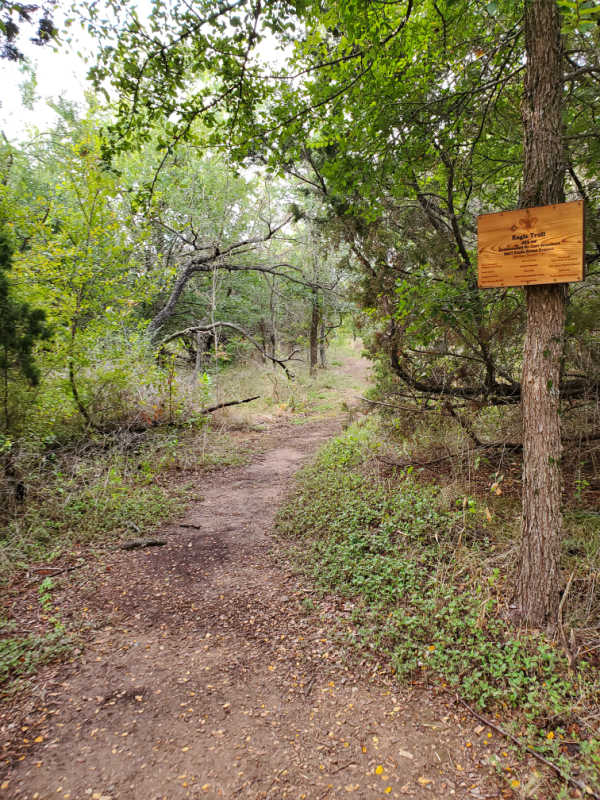 Hiking
The Eagle Scout Trail is a half mile trail built by a local Boy Scout Troop.
Always carry the 10 essentials for outdoor survival when exploring.
How to beat the crowds in Waco Mammoth NM?
The nice thing about the guided tours is there are limited numbers of people on each tour.
We do suggest arriving earlier in the day so you know there are tours available.
Where to stay when visiting Waco, Texas
There are no National Park Lodges within the park.
Three Little Pigs house as seen on Fixer Upper - Cozy 4 bedroom HGTV Fixer Upper house! This house has been renovated and can sleep up to 8 people. 10 minutes from the Silos and other shopping in Waco. Garage parking available.
Comfort Suites Waco North - free continental breakfast, a grocery/convenience store, and dry cleaning/laundry services. For some rest and relaxation, visit the hot tub. Stay connected with free in-room Wi-Fi, with speed of 100+ Mbps (good for 1–2 people or up to 6 devices), and guests can find other amenities such as a bar and a gym.
Quality Inn & Suites - free breakfast buffet, dry cleaning/laundry services, and a gym at Quality Inn & Suites. Stay connected with free in-room Wi-Fi, and guests can find other amenities such as a business center.
Days Inn by Wyndham Waco - free continental breakfast and a business center. Guests can connect to free in-room Wi-Fi.
Fairfield Inn & Suites by Marriott Waco North - free breakfast buffet, a free roundtrip airport shuttle, and a free manager's reception. Stay connected with free in-room Wi-Fi, and guests can find other amenities such as dry cleaning/laundry services and a 24-hour gym.
Click on the map below for current rates for hotel and vacation rentals in Waco, Texas
Camping near Waco
There are no designated National Park campgrounds within the park.
For a fun adventure check out Escape Campervans. These campervans have built in beds, kitchen area with refrigerators, and more. You can have them fully set up with kitchen supplies, bedding, and other fun extras. They are painted with epic designs you can't miss!
Escape Campervans has offices in Vancouver, Seattle, Portland, San Francisco, Las Vegas, Los Angeles, Phoenix, Salt Lake City, Denver, Chicago, New York, and Orlando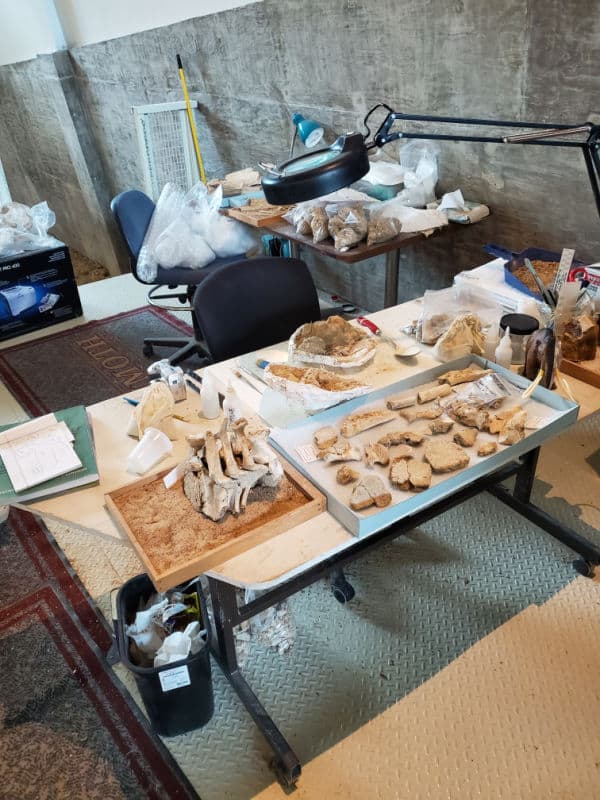 Additional Resources
Round WACO Mammoth National Monument Sticker
Tundra Woolly Mammoth Plush Stuffed Animal
Mammoth Dig Kit Fossil Excavation Kit for Kids
Parks near Waco Mammoth National Monument
Lyndon B Johnson National Historical Park - 158 miles
San Antonio Missions National Historical Park - 192 miles
Big Thicket National Preserve - 219 miles
President William Jefferson Clinton Birthplace Home National Historic Site (Arkansas) - 304 miles
Cane River Creole National Historical Park (Louisiana) - 280 miles
Chickasaw National Recreation Area - 226 miles
Padre Island National Seashore- 339 miles
Hot Springs National Park - 391 miles
Check out all of the National Parks in Texas along with neighboring National Parks in Arkansas, National Parks in Louisiana, New Mexico National Parks, and Oklahoma National Parks
Check out all of the National Monuments managed by the NPS
National Park Service Website