We absolutely love the National Park Passport Book program! Today we are excited to share how you can join the passport program, collect stamps, and chronicle your park trips.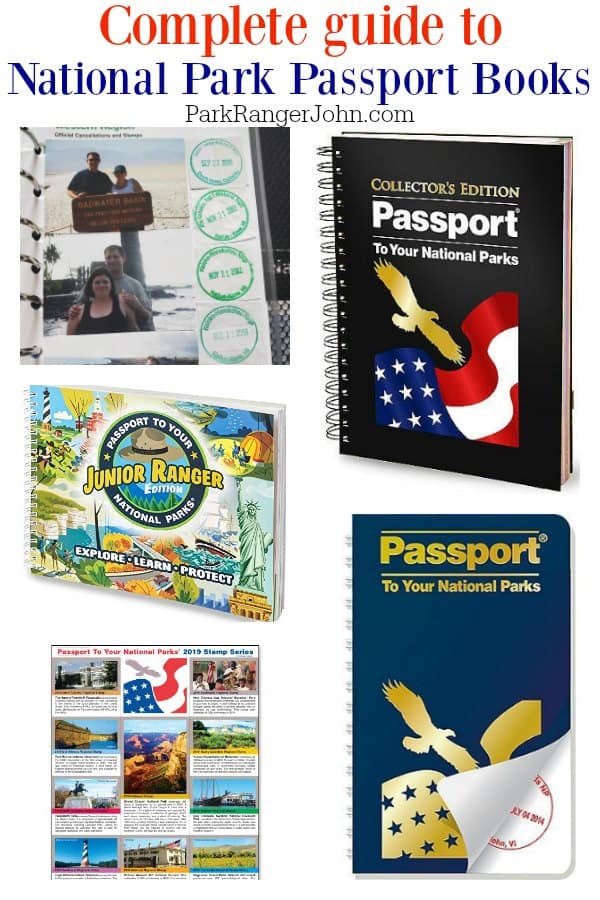 National Park Passport Book
Are you wondering what is a National Park Passport? Don't worry we have all the answers for you and are going to get you ready to get one set up.
It is super easy to collect the passport stamps while you are visiting parks. The National Park Service does an amazing job of having an area in park visitors centers that house the stamps.
One thing we love is once you buy a passport book you are ready to collect free cancellation stamps!
The stamps are 100% free in each park!
The park passport stamp program started back in 1986 by Eastern National Park & Monument Association. They run the bookstores in nearly 170 parks.
Types of National Park Passport Books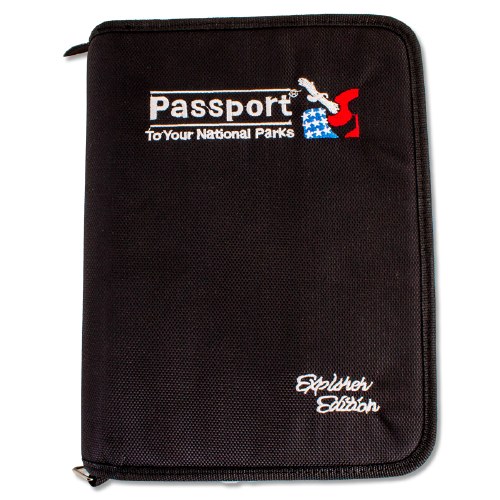 Explorers Edition - Passport to your National Parks
This is the passport book that we use for all of our park stamps. What we love about it is it has a zippered closure. Many times we are picking up stamps on the go and then taping them into the book. We rarely take it with us while traveling.
We like to keep our stamps in order so we will put them in the zippered binder and then every couple of months sit down and organize everything.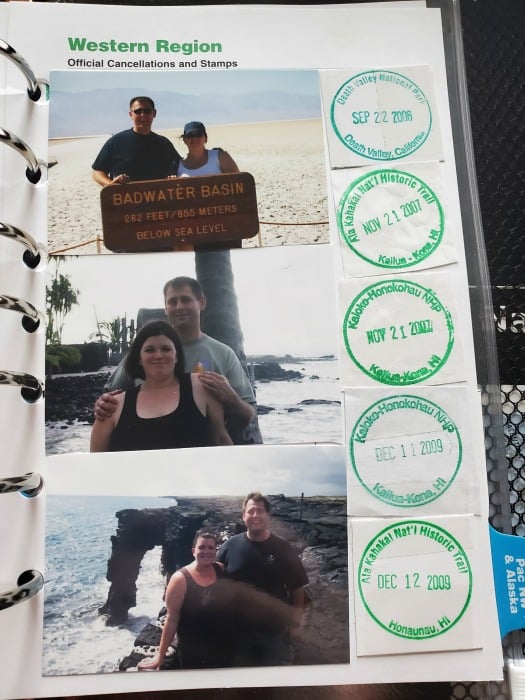 For a while, we were posting photos of us at each of the parks next to our passport stamps. It was a great way to see how long we have been together and how many parks we have visited together.
We also love that you can easily expand this binder with an expander pack. We try to get stamps each time we go to a park even if it is the 5th time we have been there. It is fun to look back and see when we were in each park.
Product Details
Ships with full-sized map
Portfolio binder with 5 rings approximately 9'' x 8.5''
Buy online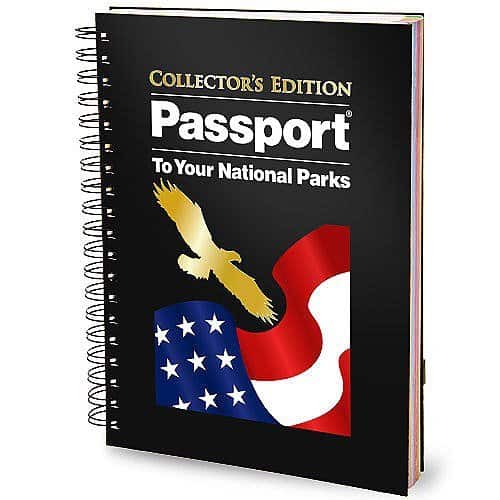 Collectors edition -Passport to your National Parks
The collector's edition is spiral bound and lies flat when opened.
Product Details
7½'' W x 10'' H
Hardcover, spiral-bound, 192 pages
Park sites color-coded by region
Features official NPS map of all park sites
Extra space for cancellations in each region
Buy online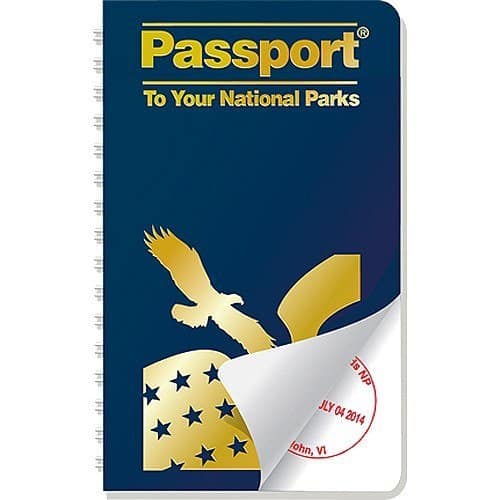 Spiral Bound - Passport to your National Parks
This is a great book to start with if you are not sure you want a big zippered pouch. My wife still has her spiral book from when she was a young kid.
We have a lot of friends who have spiral bound books for each of their kids. It is an amazing way to start kids off with historical tracking of all the parks they have visited.
Product Details
6'' x 4''
Softcover, spiral-bound, 112 pages
Park sites color-coded by region
Features official NPS map of all park sites
Buy online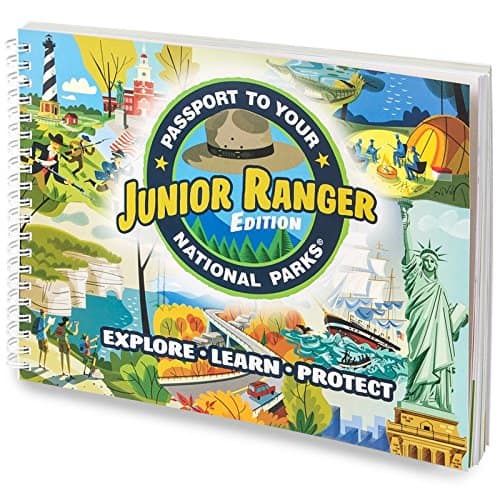 Junior Ranger Edition - Passport to your National Parks
This is a newer booklet that has come out specifically for kids! It is aimed to help kids learn more about the parks and start documenting which parks they have visited.
Product Details
9'' x 7''
Soft cover, spiral-bound, 100 pages
Includes sticker set
Buy online
Stampable Stickers
I have to share with you our favorite way to collect National Park stamps. My wife ordered 500 round 1.5-inch stickers on Amazon and they are the perfect size for park stamps.
We keep a stash of stickers in the car along within our travel bags so we always have them with us. I am pretty sure my wife even keeps some in her wallet so she is never without one.
These are so much nicer than trying to stamp on random receipts we dig out of a bag.
Plus you don't have to stress if your stamp gets smudged or doesn't look right. You can just stamp another sticker.
This way you don't have to stress that the stamp won't look good in your passport book. Some park stamps take a few test stamps to get the stamp to look amazing.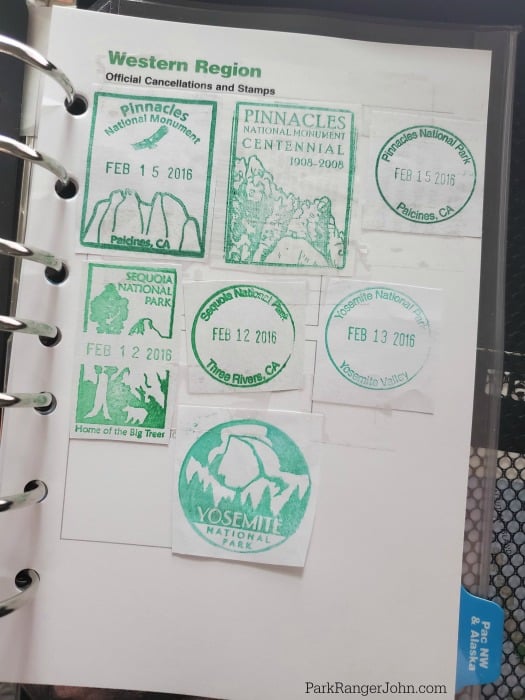 National Park Passport Stamps
One thing to know is many parks have multiple passport stamps. They may have them for each major destination in the park or park unit, each visitor center, or special ones commemorating events.
It is up to you if you want to just get one stamp in a park or try for every stamp they offer.
Example of parks with multiple stamps
Grand Canyon National Park—Tuweep, North Rim, Grand Canyon, Phantom Ranch, Tusayan Ruin, Kolb Studio, Indian Garden, Verkamp's, Yavapai Geology Museum, Visitor Center Plaza, Desert View Watchtower
Mount Rainier National Park —Ashford, Paradise, Longmire, Sunrise, Ohanapecosh, Wilkeson, Carbon River, White River, Tahoma Woods
Yosemite National Park—Arch Rock; Big Oak Flat; California; Hetch Hetchy; Tioga Pass; Tuolumne Meadows; Yosemite Valley; Wawona; Yosemite; Happy Isles Art and Nature Center; 125th Anniversary 1890 - 2015; Mariposa Grove
National Park Passport Stamp Locations
If you can't find the passport stamp in the National Park visitors center check in the park's book/gift store. Many parks have them set up in the bookstores.
You can also ask a ranger or in the gift shop for help locating the stamps.
Check out this list of stamp cancellation locations.
Virtual Cancellations
One really cool thing that has happened recently is the ability to do virtual visits and cancellations of parks.
If you can't travel to a park you can visit it virtually.
Complete a virtual experience.
Click the "Download" button next to the cancellation to view a saveable PDF, or click the image for a PNG file.
Print your cancellations at 150×150 pixels to get the right cancellation size
Follow Passport To Your National Parks® on Facebook, Twitter, and Instagram to keep up with your collection.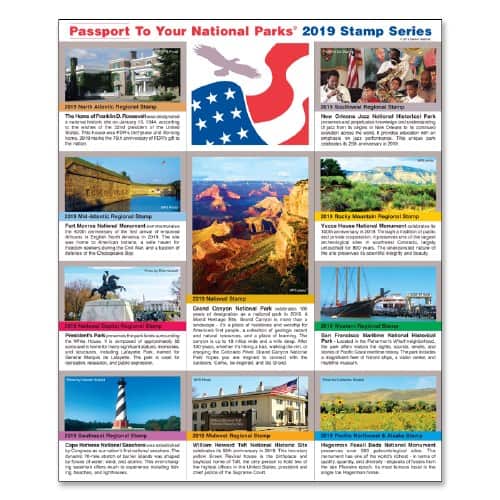 National Park Passport Stickers
Every year there is an annual regional stamp set that is actually stickers you can put in your book.
Passport To Your National Parks® regional stamp sets go all the way back to 1986! You can oftentimes find past years in the park bookstores or you can order them online?
They are a fun way to add photos and info for different parks to your booklet. Each sticker is cut to fit designated spaces in Passport To Your National Parks guidebooks.
The 2020 Regional stamps include:
The 2019 regional stamps include:
The 2018 regional stamps include:
Buy online
You can currently buy yearly stamps all the way back to 1986!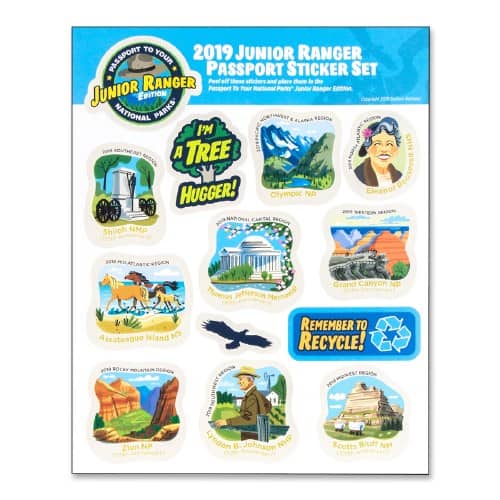 You can even get really cool new Junior Ranger Passport Stickers! Currently, I have only seen the 2018 and 2019 releases.
National Park Passport App
Passport to Your National Parks apps for iPhone and Android available for free download.
Where to buy a National Park Passport Book
eParks - You can buy a ton of National Park merchandise and 100% of your purchase helps to support education and preservation efforts at your national parks. ! They have donated over $156 million to the National Park Service!
Shop eParks and Support our National Parks! Save 15% Sitewide with code: SAVE15. Shop now!
You can also buy passport books at most national park gift shops and bookstores.
Amazon - You may be able to pick one up online from Amazon