Eleanor Roosevelt National Historic Site in New York was the first National Park Site dedicated to an American First Lady! Eleanor Roosevelt was the wife of Franklin D. Roosevelt the 32nd President of the United States.
Eleanor Roosevelt National Historic Site
Mrs. Roosevelt was an advocate for human rights, equality for women, and world peace.
The Roosevelts owned property near Hyde Park, New York called Val-Kill that was a favorite retreat and picnic spot for the couple.
In the 1920s, Eleanor and two associates set up a business at Val-Kill employing local residents in making furniture and other items.
This business ran until 1936. When the business closed Eleanor Roosevelt converted the factory building into a cottage that is now known as Val-Kill Cottage.
When Franklin D. Roosevelt passed away Eleanor made Val-Kill Cottage her main home and lived there until 1962. The Eleanor Roosevelt National Historic Site offers guided tours of Val-Kill Cottage and showcases the work of this amazing first lady.
There is also a second building on site that was used as a retreat and political think tank by Eleanor and her friends. This building now houses displays and exhibits.
I have to tell you that the Eleanor Roosevelt NHS blew me away! I wasn't expecting to like it as much as we did. The house feels like you walked into your grandmother's house and it was comforting. I could imagine myself sitting down for dinner and being right at home.
This is a site you definitely want to visit during a trip to Hyde Park, New York! We heard that a lot of people will skip this site thinking it is not worth visiting.
Trust me when I tell you this may be in my top 5 for National Historic Sites! My wife and I were both really inspired and actually ordered a few books on Eleanor Roosevelt off of Amazon right after the tour.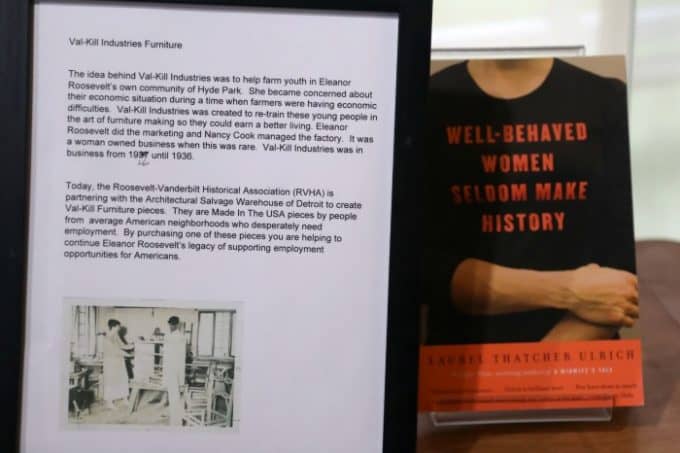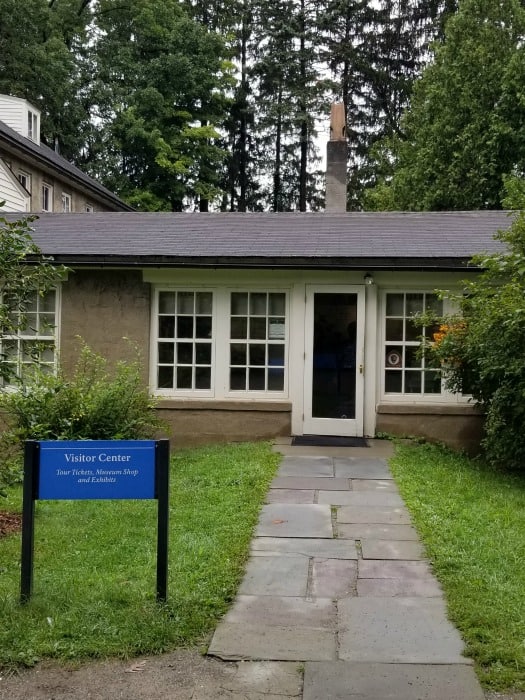 Visitor Center
The visitor center is a great place to start your tour! You can find out when the next Val-Kill tour is, pick up a junior ranger program, shop in the bookstore, and ask any questions you may have. The visitor center is not large but is a great starting point.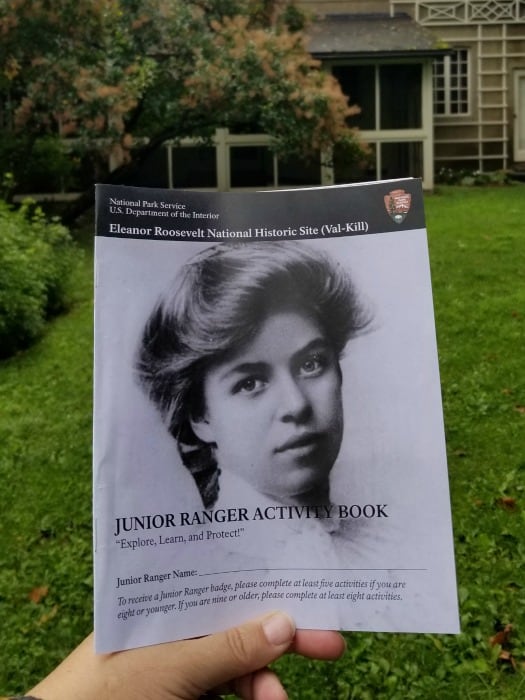 Become a Junior Ranger
You can download and print the Eleanor Roosevelt NHS Junior Ranger program at home to start learning more about this great park.
The Junior Ranger booklet will take between 30 and 90 minutes depending on the age of the participant. Many of the questions are answered during the home tour of Val-Kill.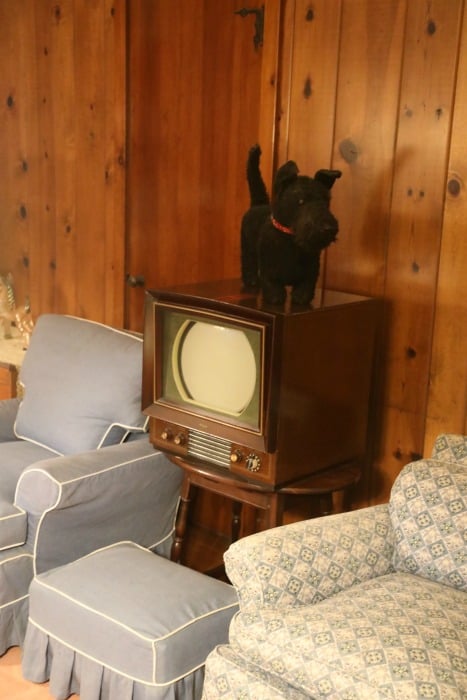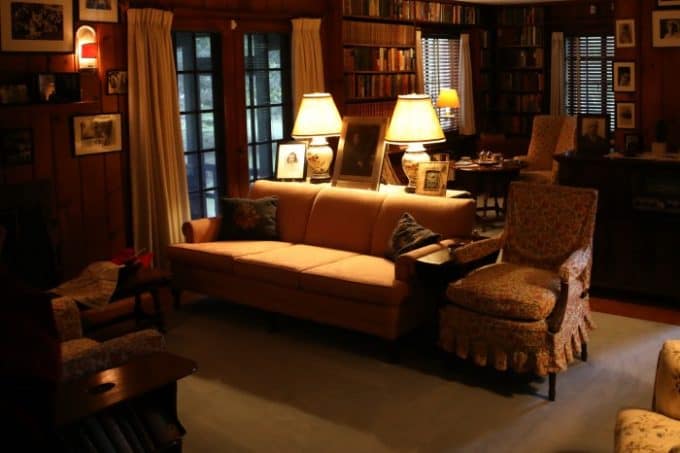 Tour of Val-Kill Cottage
Make sure and plan to take a tour of Val-Kill Cottage during your visit. This was one of the best national park site tours we have taken in over 125+ parks.
Our guide was Ranger Lexi and she was honestly fantastic. Her passion and excitement for Val-Kill Cottage and the Roosevelt's was contagious!
The tour lasts 45 minutes in the cottage! There is a 12-minute introductory film that plays at the beginning of the tour.
This is a great opportunity to learn more about Val-Kill and Eleanor Roosevelt.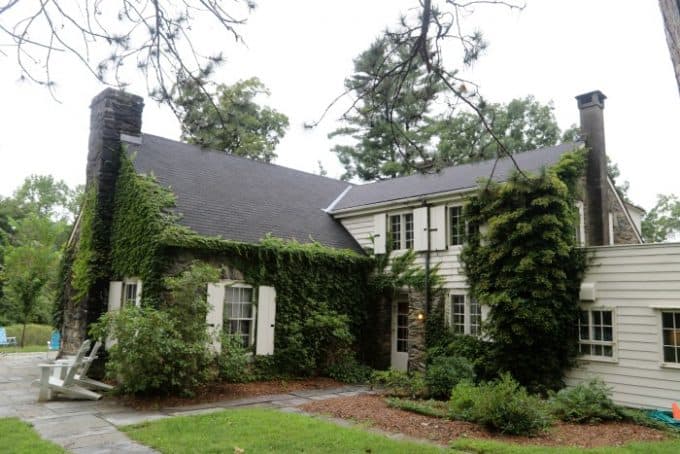 Roosevelt-Vanderbilt Geocaching
The following geocaches are located at Eleanor Roosevelt N.H.S, Home of Franklin D. Roosevelt N.H.S, and Vanderbilt Mansion N.H.S:
Hyde Park Explorer Cell Phone Tour
Access free audio files by calling 845-475-3819 and entering the stop number. This is a great way to explore the historic sites.

Eleanor Roosevelt National Historic Site Info and Things to Know
There is a short walk from the main parking lot to the visitor center and Val-Kill Cottage. ADA sites are available closer to the visitor center. The walk is on gravel and crosses a bridge with a beautiful view of the cottage.
Park Address
54 Val-Kill Park Road
Hyde Park, NY 12538
Located on Route 9G in the Town of Hyde Park, NY.
Park Hours
Val-Kill Visitor Center - 9 am to 5 pm daily
Park hours - Sunrise to Sunset
Closed Thanksgiving, Christmas, and New Year's Day
Entrance fees
Eleanor Roosevelt Entrance Fee - Per Person - $10.00
Your visit to Val-Kill includes a 45 minute guided tour of Val-Kill cottage, a twelve-minute orientation film on Eleanor Roosevelt called, "Close to Home," and exhibits.
Children 15 and under are free.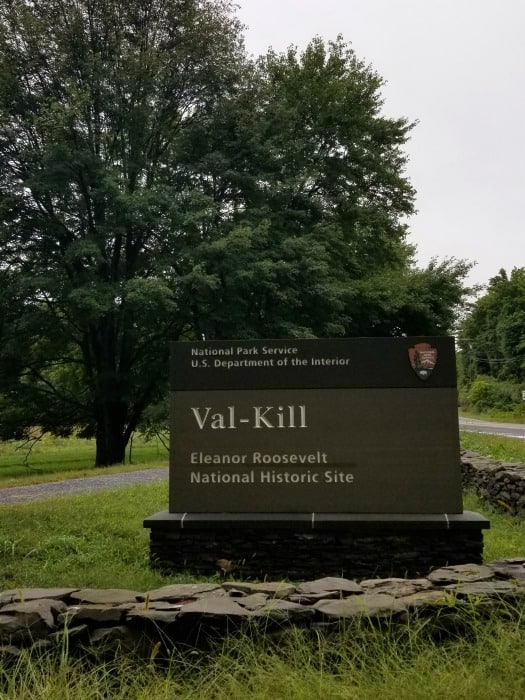 National Parks near Eleanor Roosevelt National Historic Site