Franklin D. Roosevelt was born in 1882 at Springwood, his family estate in Hyde Park, New York. The president grew up enjoying outdoor activities on property. President Roosevelt considered the estate his home even when the White House was his official residence. The Home Of Franklin D Roosevelt National Historic Site celebrates the life of Mr. Roosevelt.
President Roosevelt entertained many foreign dignitaries and visitors including King George VI and Winston Churchill. The President and his wife Eleanor are buried on the property along with their Scottish terrier named Fala.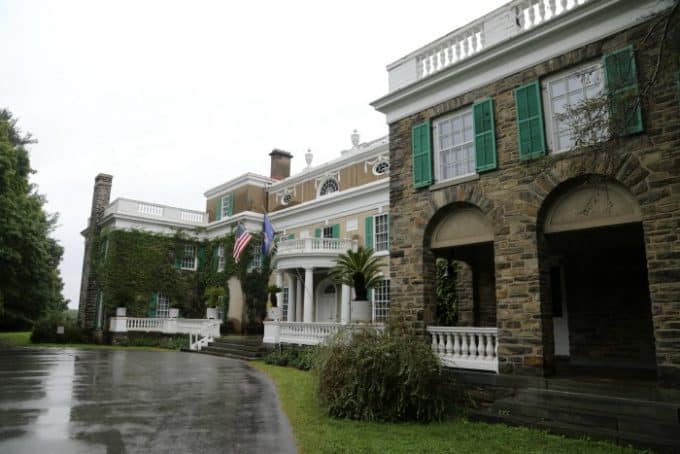 We visited Franklin Roosevelts home in Hyde Park on a rainy dreary September Day and even though the weather was not what we hoped for we still had a great time. We are definitely planning a return trip to hopefully get better photos and enjoy the park lands that surround the house.
Make sure and plan time to visit all three national park sites in Hyde Park! We heard that a lot of people only visit the Home of Franklin D Roosevelt and miss visiting Val-Kill Cottage at Eleanor Roosevelt National Historic Site and the Vanderbilt Mansion.
The three sites each tell a different story of life in Hyde Park!

Top things to do at Home Of Franklin D Roosevelt National Historic Site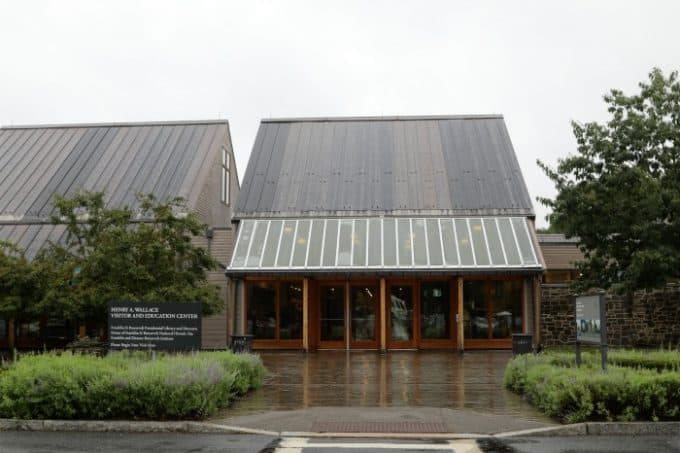 Henry A. Wallace Visitor Center
The visitor center is the best place to start your visit to the park. There is a large gift store where you can find everything FDR and more!
You can purchase your tour tickets in the visitor center, check out the cool cafe and watch the park video.
Watch the Park Film
22-minute film in the auditorium of the Wallace Center entitled A Rendezvous With History is a great way to learn more about FDR!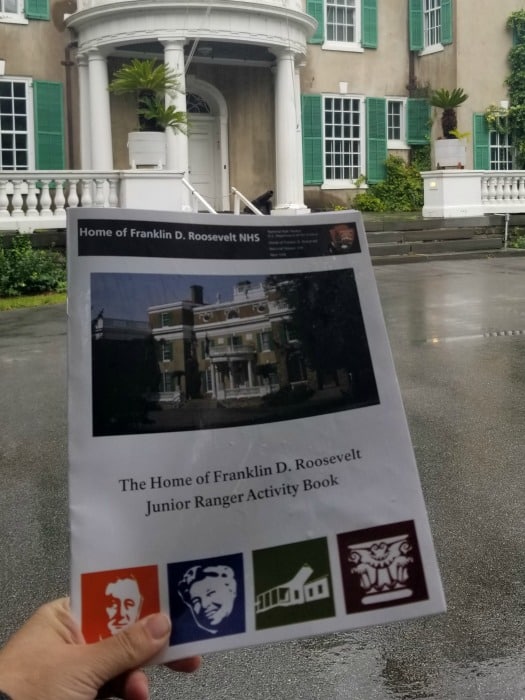 Become a Junior Ranger
The Home of Franklin D. Roosevelt Junior Ranger program will take a little while to fill out. Many of the answers are from within the house so you will need to go on a tour. This is a great way to learn more about the site and the life of Franklin D. Roosevelt.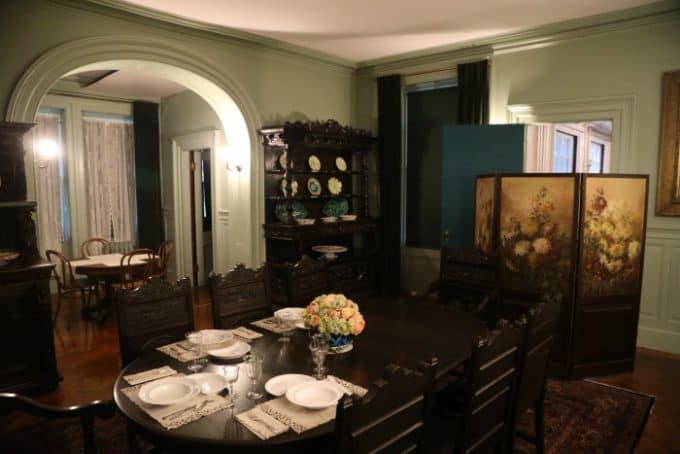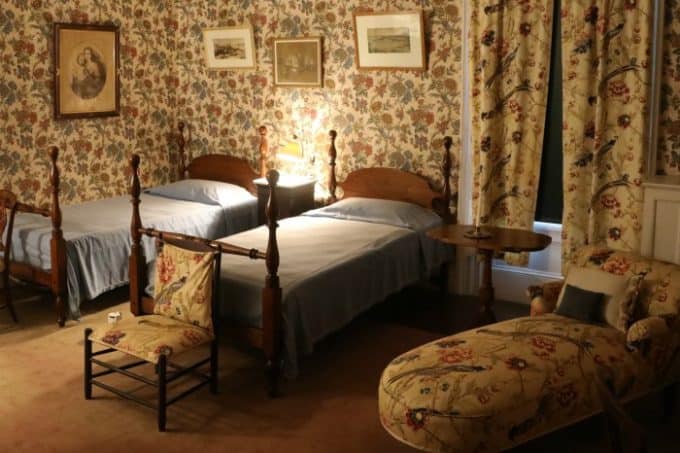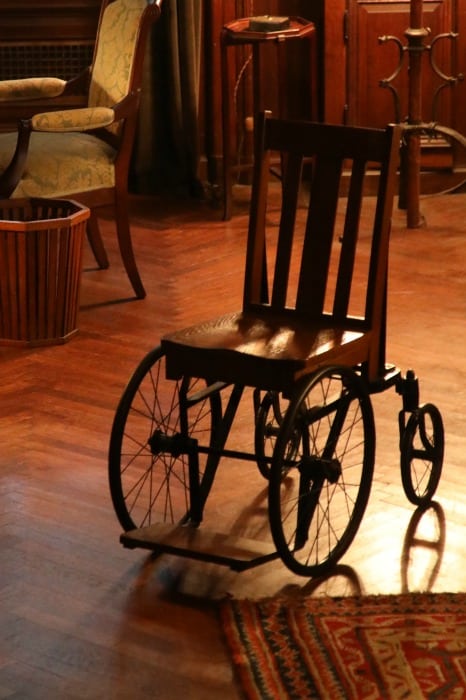 Tour of the Home of Franklin D. Roosevelt
The only way to see the home is by guided tour. All tours begin in the Henry A. Wallace Visitor Center. Depending on the time of year that you visit you may need to wait a bit for a tour. There is a cafe in the visitor center along with the movie mentioned above.
April 29, 2018 - October 27, 2018 - Tours are offered throughout the day, with the last tour at 4:00 PM.
October 28, 2018 - April 2019 -Entrance to the Home of FDR is available by guided tour only seven days a week. Public tours are offered at 9:30, 11:30, 1:30 and 4:00 pm.
The walk to the Home from the Visitor Center is 1/4 mile long in one direction - all on level ground. The walk is on a gravel trail so make sure if it is raining that you have shoes that you are ok with getting wet. Most of the trail is shaded and there are spots to relax along the way.
Explore the Franklin D. Roosevelt Presidential Library & Museum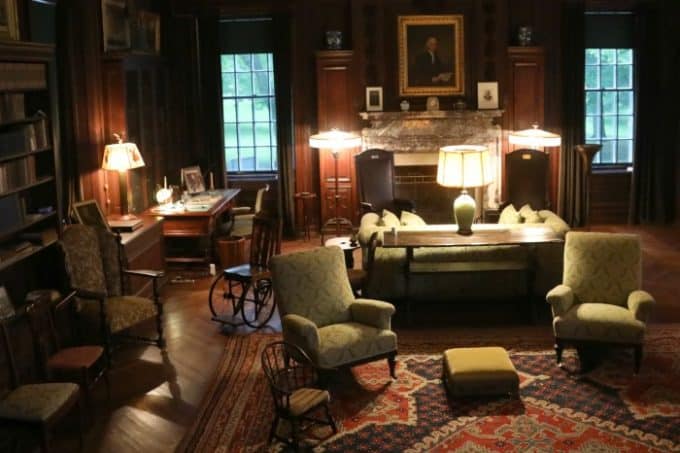 Roosevelt-Vanderbilt Geocaching
The following geocaches are located at Eleanor Roosevelt N.H.S, Home of Franklin D. Roosevelt N.H.S, and Vanderbilt Mansion N.H.S:
Hyde Park Explorer Cell Phone Tour
Access free audio files by calling 845-475-3819 and entering the stop number.
Visit Top Cottage
You will want to give yourself a minimum of 90 minutes to visit Top Cottage. Make sure and check with the visitor center to find out the hours that Top Cottage is open during your visit. The cottage was closed during our visit so we did not have a chance to get photos.
2018 - Open April 29th - October 27th.
Access by shuttle bus only. Tours depart from the Wallace Center at 11:10, 1:10 and 3:10.
Top Cottage Fee of $10 per person.
National Park Service Pass holders are entitled to a discounted $5 fee for themselves only.
Ranger-Guided Farm Lane Tram Tour
Tickets are available only on the day of the tour. You can call the National Park Service at 845-229-5320 to confirm that programs are running on Saturday's and Sunday's. Farm Lane tram tours are $10 per passenger and are wheelchair accessible.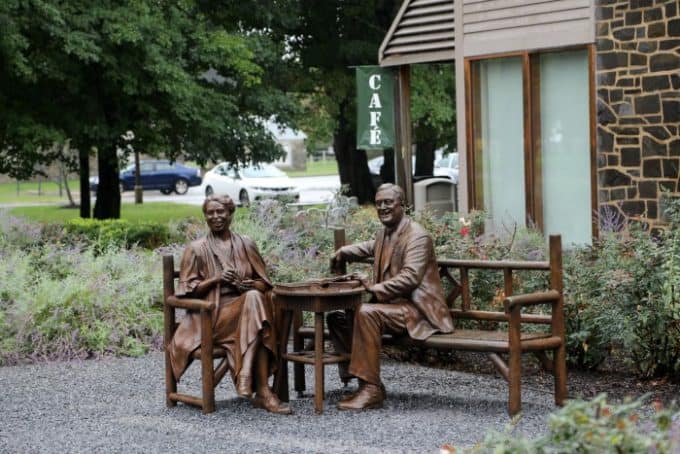 Visit Uncle Sam's Canteen
a WWII-era cafeteria that is ppen April 1 through October 31 from 10:00 am to 4:00 pm. The canteen is located inside the visitor center.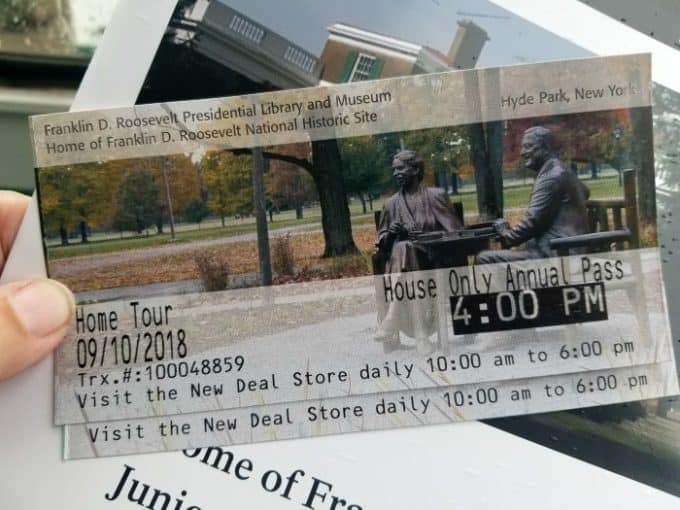 Home Of Franklin D Roosevelt National Historic Site Info and Things to Know
114 Estates Lane
Hyde Park, NY 12538
Henry A. Wallace Visitor and Education Center - 9 am to 5 pm daily
Park hours - Sunrise to Sunset
The Home of Franklin D. Roosevelt is open year-round, seven days a week by guided tour only.
Closed Thanksgiving, Christmas and New Year's Day
Entrance fees
The Home of Franklin D. Roosevelt only ticket- $10.00 per person, for people between the ages of 16-61.
$20.00 - The Home of Franklin D. Roosevelt (National Park Service) and the FDR Presidential Library and Museum (National Archives and Records Administration) offer a $20 joint admission ticket. These tickets are valid for 2 days at the FDR Library and Museum.
Children 15 years and under are free.
The grounds and the Rose Garden, where Franklin and Eleanor Roosevelt are buried are free and open every day from sunrise to sunset.
The preferred method of payment is a credit card.
Free Entrance Days in 2019
The National Park Service offers the following Entrance Fee Free Days this year:
January 21: Birthday of Martin Luther King, Jr.
April 20: First day of National Park Week
August 25: National Park Service Birthday
September 28: National Public Lands Day
November 11: Veterans Day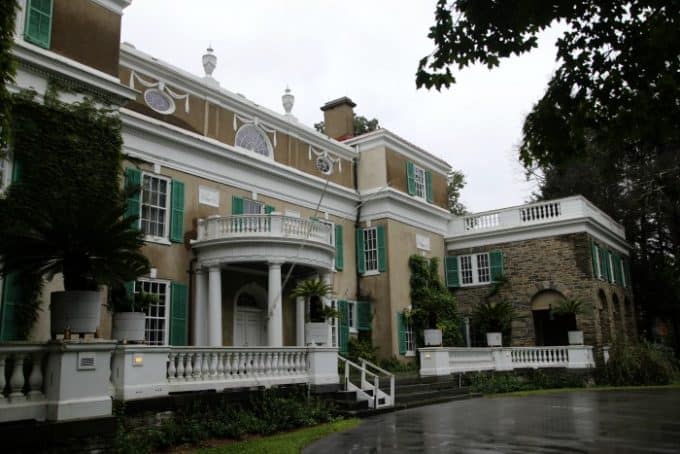 National Parks near Home Of Franklin D Roosevelt National Historic Site