Vanderbilt Mansion National Historic Site in Hyde Park, New York includes the 54-room mansion and the Vanderbilt estate.

Vanderbilt Mansion National Historic Site
Vanderbilt Mansion National Historic Site was built for the astonishing price of $2.5 million dollars between 1896 and 1899.
The mansion was the first house in Hyde Park to have electricity which was generated by a hydroelectric plant on site.
You may find it surprising that the Vanderbilt Mansion was turned into a National Historic Site in 1940.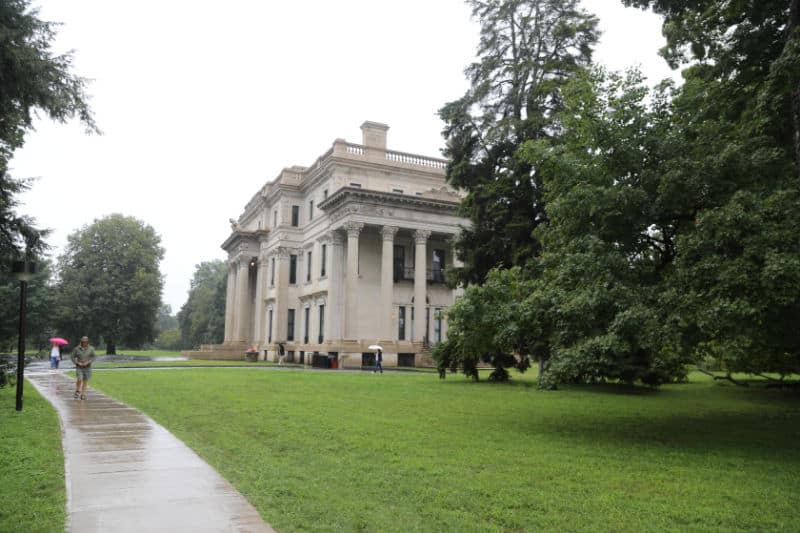 About Vanderbilt Mansion National Historic Site
The park was created to show the lives of the immensely wealthy during the Gilded Age and to provide insight into the philosophy of the American country house, the lives of the domestic staff, and the relationship with the surrounding community.
To visit the inside of the Vanderbilt Mansion you need to be on a guided tour. If you miss the tours you can tour the grounds and stroll along the estate's carriage roads and view the Italian Gardens.
Is Vanderbilt Mansion National Historic Site worth visiting?
Yes! The Vanderbilt Mansion tour is absolutely amazing. Being able to walk back in history and see how people lived during the Gilded Age.
Even on a grey rainy day, we had an amazing time visiting the park.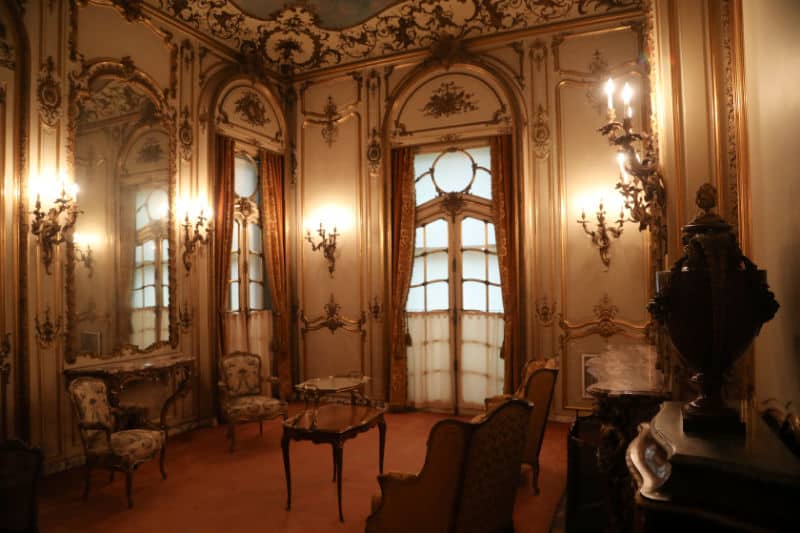 History of Vanderbilt Mansion National Historic Site
Vanderbilt Mansion National Historic Site is a historic home and now museum located in Hyde Park, New York.
The early history of this estate dates back to 1764 when John Bard, a leading physician from New Jersey, acquired through his wife, 3,600 acres and created "Hyde Park."
Bard named the estate after the English-born aristocrat Edward Hyde, who was governor of New York and New Jersey.
In 1772, Bard built a house on the east side of the property along with establishing a farm, a mill, and boat landings along the Hudson River. Two years before his death in 1801, Bard left his son Samuel the core 1,500 acres of the property on which he built his own mansion.
In 1828, a prominent New York physician named David Hosack purchased 700 acres of the estate. He brought in top landscapers and gardeners to create a typical English setting.
In 1840, the wealthiest New Yorker of the time, John Jacob Astor, bought the south end of the park for his daughter and her husband, Dorthea and Walter Langdon. Eventually portions of the park and the farm were bought by Dorthea and Walter's son Walter Jr.
It was in 1895, that Fredrick William Vanderbilt and his wife Louise Holmes Anthony bought the Langdon estate. After graduating from Yale, Frederick worked at the New York Central Railroad with his father, William Vanderbilt.
Over the course of his life, Frederick was director of 22 railroads. He married Louise in 1878 after she had been married to and divorced Fredrick's cousin in 1877. It was against the family's wishes that the two wed.
The Vanderbilt's estate included not only the Langdon mansion, but also the farm and nearly 450 additional acres. When the Langdon mansion proved structurally unsafe, Vanderbilt had a new mansion built by famed designer of the era, Charles F. McKim.
The interior was completed by top designer, Stanford White. Vanderbilt Mansion was created to emulate the homes of European nobility.
The 54 room mansion included a Great Hall, Living Room, and Dining Room all in line with each other at the front of the mansion, and all parallel to and gazing at the Hudson River.
The Vanderbilt Mansion had electric lighting before the surrounding towns did. In the first five years of estate ownership, Frederick and Louise added gate houses, a coach house, and tree plantations.
Frederick's wealth and fame were thanks to his grandfather Cornelius Vanderbilt. Cornelius was a self-made millionaire who became one of the richest men of the 19th century.
A determined entrepreneur, he was known as the nation's top steamship operator by the 1820s. He then turned his attention to the railroad where he invested and helped make the railroad empire more efficient.
By the time he died in 1877, he was worth over $100 million. Five years before his death he donated $1 million to build Vanderbilt University in Tennessee.
In honor of its founder, the sports teams call themselves the Commodores – Cornelius' nickname in his steamship captain years. Cornelius left the bulk of his fortune to his son William.
Unlike his father, William Vanderbilt was quiet and reserved. Also unlike the rough and tumble American wanderer Cornelius, William and eventually his son Frederick, were more refined.
Their lives more emulated the Western European style of the wealthy during this time. While Cornelius preferred to travel the country on a steamship and enhance the railroads all over the country, his grandson Frederick William Vanderbilt preferred to show his hard work and dedication on his farm, which he took great pride in. In 1904, 64 more acres were acquired by Frederick in Hyde Park.
Hyde Park was just one location in the United States built by Vanderbilt heirs. While these heirs often had a number of homes around the country, locations were only lived in for months out of the year.
Frederick had earned his horticulture degree from Yale, and later in life he enjoyed updating and perfecting the areas of the estate.
One of his most notable additions was a collection of nearly 2,000 vintage rose bushes to the gardens.
Louise died in 1926 and Frederick in 1938. Upon his death, Frederick had left large donations to the Sheffield Scientific School, Vanderbilt University, the Salvation Army, and the New York Association for Improving the Condition of the Poor.
The couple had no children, so upon Frederick's death, he left his estate to Louise's niece Mrs. Margaret Van Alen. Mrs. Van Alen was not interested in keeping the estate.
This caught the attention of President Franklin D. Roosevelt who felt the trees, mansion, history, and overall park and estate were worth preserving.
The National Park officials decided against taking control of the estate farm.
By July 1940, the site, under its current name, was open to the public by the National Park Service.
Franklin D. Roosevelt's estate, Springwood, and his presidential library and museum are located in Hyde Park as well, about 2 miles from Vanderbilt Mansion.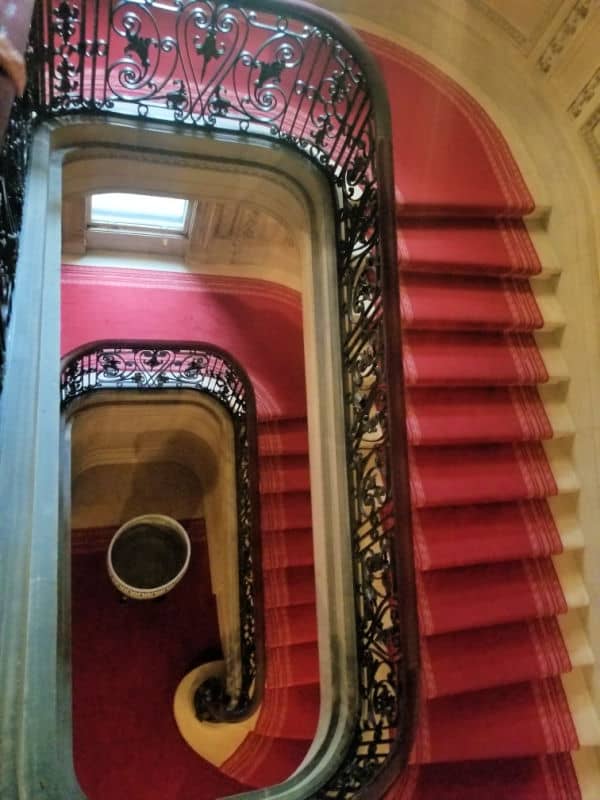 Things to know before your visit to Vanderbilt Mansion National Historic Site
Entrance fee
$10.00 - Provides the ticket holder a one hour guided tour of the Vanderbilt Mansion National Historic Site
Your museum ticket does give you a discount in the gift shop so make sure and show it if you plan to buy anything.
The preferred method of payment is by credit card.
Children 15 and under are Free.
Planning a National Park vacation? America the Beautiful/National Park Pass covers entrance fees for an entire year to all US National Park Sites and over 2,000 Federal Recreation Fee Sites.
The park pass covers everyone in the car for per vehicle sites and for up to 4 adults for per-person sites.
Buy on REI.com and REI will donate 10% of pass proceeds to the National Forest Foundation, National Park Foundation and the U.S. Endowment for Forestry & Communities.
The Grounds and Formal Gardens are free and open every day from sunrise to sunset.
Learn more about National Park Passes for parks that have an entrance fee.
Free Entrance Days -Mark your calendars with the five free entrance days the National Park Service offers annually.
Time Zone
EST - Eastern Standard Time
Pets
Pets are allowed in the developed areas, the waterfront, the gardens, and on trails.
Pets must be on a 6 foot or less leash at all times.
Cell Service
We had great cell service while visiting the park.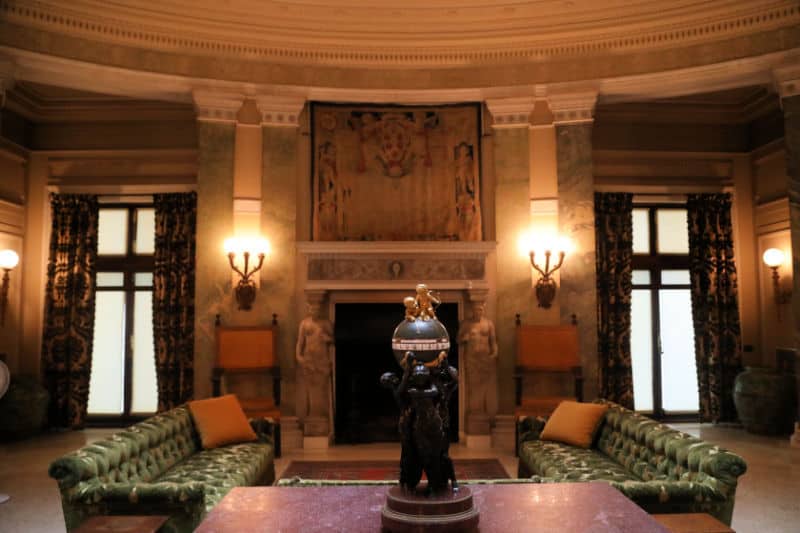 Park Hours
The Visitor Center is open daily from 9:00 to 5:00 Park grounds including the parking lot and trails are available from 7:00 AM to 7:00 PM.
Photography
You can take pictures while on tour. Flash photography is not allowed.
Insect Repellent
Insect repellent is always a great idea when outdoors, especially if you are around any body of water.
We use Permethrin Spray on our clothes before our park trips.
Water Bottle
Make sure to bring your own water bottle and plenty of water with you. Plastic water bottles are not sold in the park.
Parking
There is a large parking lot available for visitors.
Food/Restaurants
There are no restaurants within the park.
Gas
There are no gas stations within the park.
Drones
Drones are not permitted within National Park Sites.
National Park Passport Stamps
National Park Passport stamps can be found in the visitor center.
Make sure to bring your National Park Passport Book with you or we like to pack these circle stickers so we don't have to bring our entire book with us.
Vanderbilt Mansion NHS is part of the 2003 Passport Stamp Set.
Electric Vehicle Charging
The closest EV Charging Station is located on US 9, there are also charging stations in Staatsburg, New York.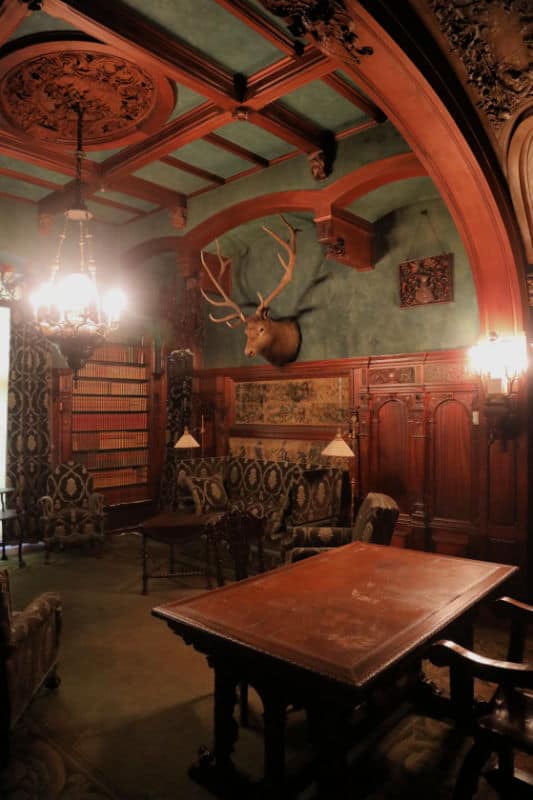 Details about Vanderbilt Mansion National Historic Site
Size - 211 acres
Check out how the park compares to other National Parks by Size.
Date Established
December 18, 1940.
Visitation
In 2021, Vanderbilt Mansion NHS had 333,029 park visitors.
In 2020, Vanderbilt Mansion NHS had 217,231 park visitors.
In 2019, Vanderbilt Mansion NHS had 326,822 park visitors.
Learn more about the most visited and least visited National Parks in the US
National Park Address
81 Vanderbilt Park Road
Hyde Park, NY 12538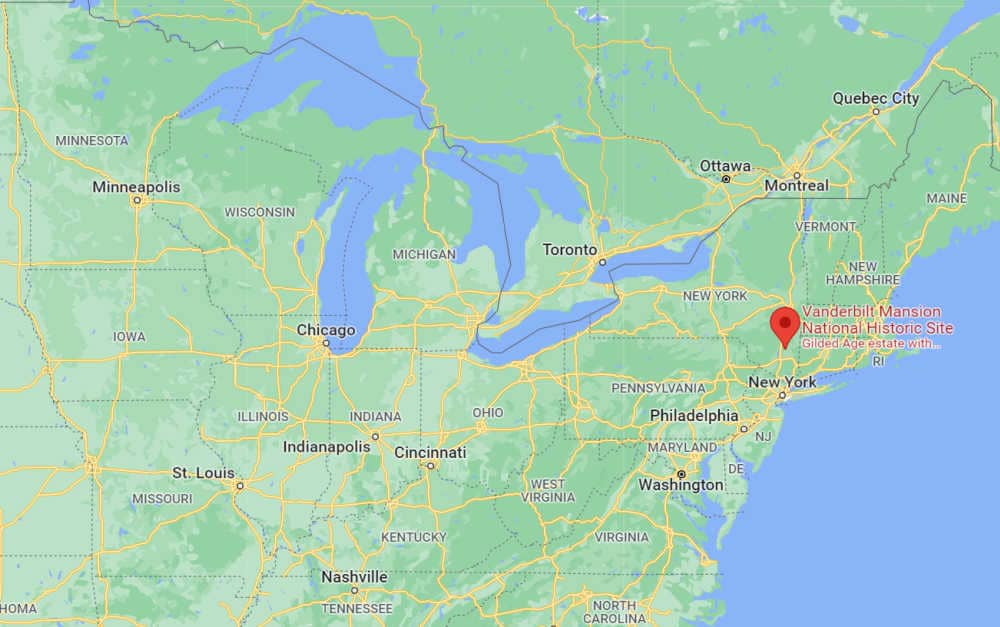 Where is Vanderbilt Mansion National Historic Site?
Vanderbilt Mansion NHS is located in Eastern New York State in Hyde Park.
Estimated distance from major cities nearby
Poughkeepsie, NY - 9.3 miles
Cornwall, NY - 31.3 miles
Newark, NJ - 91.1 miles
New York, NY - 97.2 miles
Philadelphia, PA - 175 miles
Boston, MA - 202 miles
Rochester, NY - 288 miles
Baltimore, MD - 268 miles
Washington DC - 307 miles
Estimated Distance from nearby National Park
Acadia National Park - 469 miles
Shenandoah National Park - 374 miles
Cuyahoga Valley National Park - 471 miles
Indiana Dunes National Park - 777 miles
New River Gorge National Park - 574 miles
Where is the National Park Visitor Center?
The visitor center is located near the main parking lot. There are signs guiding visitors to the entrance.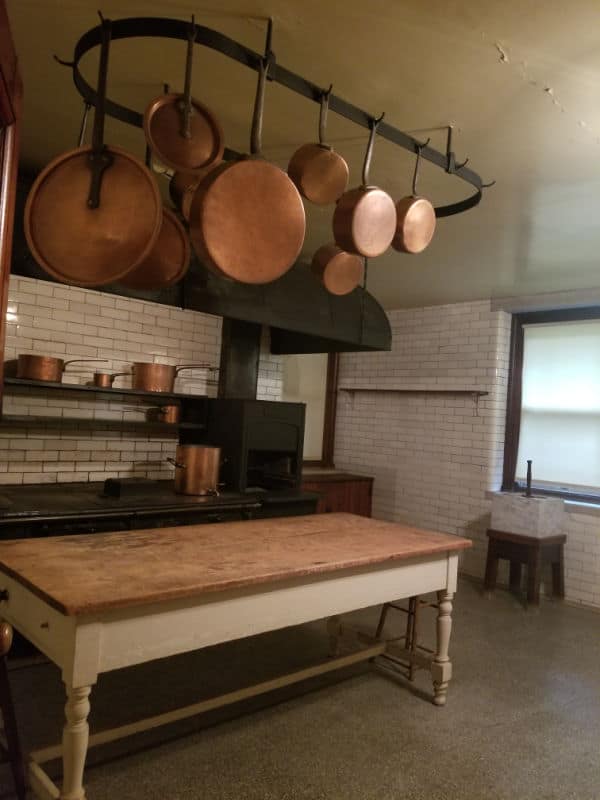 Getting to Vanderbilt Mansion National Historic Site
Closest Airports
Stewart International Airport (SWF)
Westchester County Airport (HPN)
International Airports
Bradley International Airport (BDL)
LaGuardia Airport (LGA)
Newark Liberty International Airport (EWR)
John F Kennedy International Airport (JFK)
Regional Airports
Teterboro Airport (TEB)
Morristown Municipal Airport (MMU)
Tweed New Haven Regional Airport (HVN)
Public Transportation
Hourly bus service is offered with Duchess County Transit all year long from the train stations.
The bus will bring you to the Henry A. Wallace Visitor Center at the Home of FDR.
Train Service
Amtrak can be ridden from Penn Station or the Metro-North Hudson Line can be ridden from Grand Central Terminal.
Driving Directions
Located on Route 9 in Hyde Park, NY about 90 miles north of New York City and 70 miles south of Albany.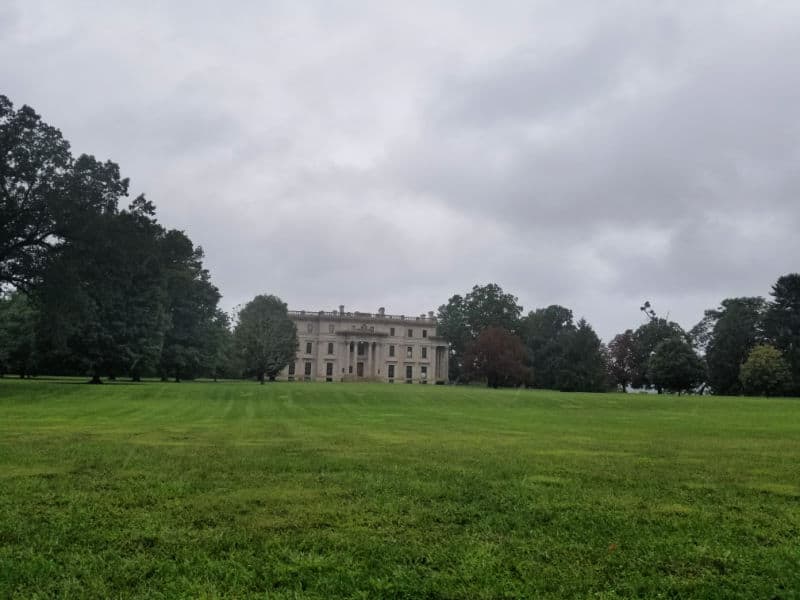 Best time to visit Vanderbilt Mansion National Historic Site
The best time to visit Vanderbilt Mansion NHS is from mid-June to mid-September.
The weather may be warm but it should be gorgeous.
Weather and Seasons
Hyde Park, New York experiences warm and wet summers along with cold and snowy winters.
The warmest weather is from May 29 to September 16th with an average daily high above 74 degrees Fahrenheit.
The coldest weather is from December 1 to March 10th with an average daily high below 44 degrees Fahrenheit.
Snow is common from November 2 to April 14th. The snowiest month is January with an average of 11 inches.
June is the rainiest month in Hyde Park with an average rainfall of 3.8 inches.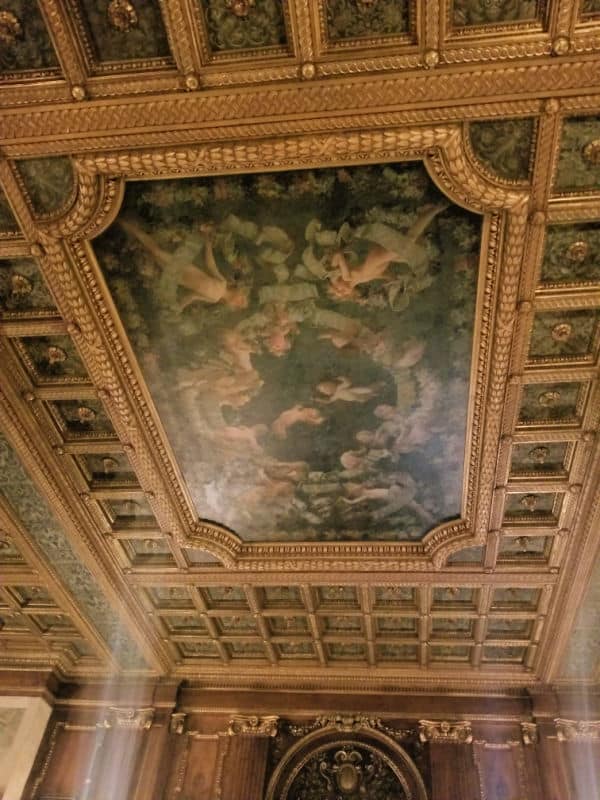 Best Things to do in Vanderbilt Mansion National Historic Site
We suggest planning at least a few hours minimum to visit the park. If you are visiting during the summer or holiday breaks you may want to plan additional time to make sure the tours are not busy.
Visitor Center
The visitor center has a few displays about the Vanderbilt's and information on the mansion. I have to warn you that the gift shop is amazing!
There is something for everyone and things you don't plan to buy but they are so great you end up buying them.
We almost bought multiple pieces of art for the house but realized they would not fit in our suitcases and we were only on day 1 of a 10-day trip.
The Vanderbilt Mansion Junior Ranger program is intense! My wife completed the junior ranger pamphlet and had to ask a ranger multiple times for more information and use her phone to look up answers.
The Junior Ranger program was just redone and is hopefully going to be adapted again soon so it works for all ages.
Be prepared if you are going to do the Junior Ranger program that you may not get all of the answers during the tour and may have to ask a ranger for help.
They were very helpful and worked through the book with us so we could complete the book.
Vanderbilt Mansion Tour
You definitely want to take a tour of the Vanderbilt Mansion if you can! The tour starts on the main floor of the house so you can see where the Vanderbilt's would have entertained guests.
You also get to see the 2nd-floor bedrooms along with the servant's workspace in the basement. There are stairs involved in the tour but the mansion does have a small elevator if you are not able to do the stairs.
Be prepared if you visit in the summer that the house can be quite warm. There is no air conditioning so the house has fans but it can be stuffy and warm. We visited on a rainy Fall day and the house was a bit warm but felt great after being in the rain.
Tours are limited to 50 people per tour.
Vanderbilt Mansion Tour Tickets
Tickets for all tour times can be purchased on-site or tickets for the 11 am or 2 pm may be purchased online before arrival on recreation.gov.
Visitors can not bring the following items on the tour:
Baby strollers, backpacks, selfie sticks, tripods, or bags that exceed 11" x 15" in either dimension.
Explore the grounds of the Vanderbilt Mansion
If you are visiting on a nice day the grounds of the Vanderbilt Mansion are stunning. You can wander through the formal gardens and explore the sprawling lawns.
The views of the Hudson River and the Hudson Valley are amazing. We visited on a rainy day and the views were still gorgeous.
Formal Gardens
The Formal Gardens are typical of the late Gilded Age garden design.
Heavily influenced by British and European gardens in the Italian Style. These gardens are characterized by geometric patterns, axial spatial organization, and reliance on proportion and interconnection of parts by sightlines.
Bard Rock
Bard Rock is a great picnic area that gives visitors the opportunity to relax next to the Hudson River.
The picnic area is a half-mile from the Visitor Center.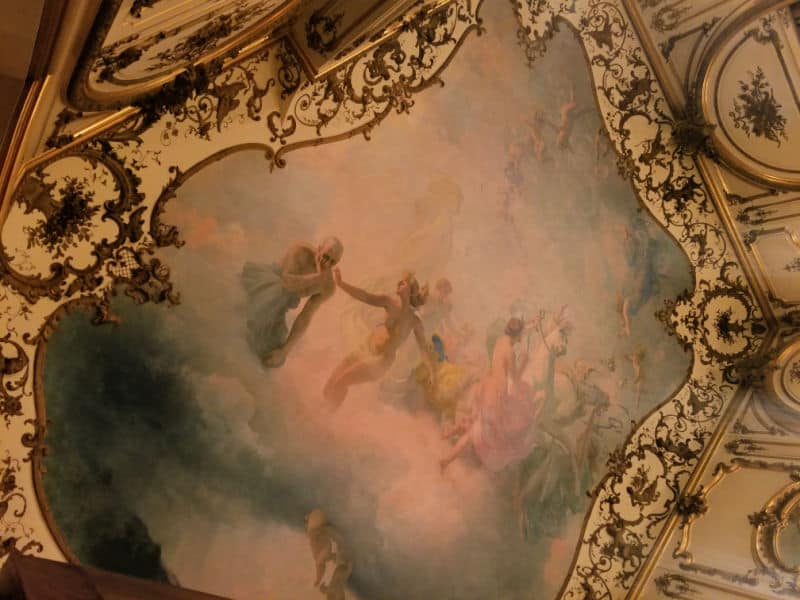 Hiking in Vanderbilt Mansion National Historic Site
Always carry the 10 essentials for outdoor survival when exploring.
Vanderbilt Riverfront Trail
Distance - 2.5-mile loop
Difficulty - Moderate
Trailhead - Park at the main parking lot.
The trail leads you through the woods and on park roads.
How to beat the crowds in Vanderbilt Mansion National Historic Site?
We did not encounter any crowds during our visit to the park. We always suggest arriving early in the day to make sure you can take a tour and have time to explore the park.
Where to stay when visiting National Park
There are no National Park Lodges within the park.
Journey Inn Bed & Breakfast - 4-star bed & breakfast located in Hyde Park, Journey Inn Bed & Breakfast is in the historical district a 3 minute walk from the Vanderbilt Mansion.
Quality Inn Hyde Park - Located in Hyde Park, Quality Inn Hyde Park Poughkeepsie North is in the historical district and near a train station. Quality Inn Hyde Park Poughkeepsie North provides amenities including a free breakfast buffet and a 24-hour gym. Guests can connect to free in-room Wi-Fi.
Courtyard by Marriott Poughkeepsie - Located in Poughkeepsie, Courtyard by Marriott Poughkeepsie is in a shopping district and near a metro station. A terrace, laundry facilities, and a fireplace in the lobby are just a few of the amenities provided at Courtyard by Marriott Poughkeepsie. Stay connected with free in-room Wi-Fi, and guests can find other amenities such as a 24-hour gym and a 24-hour business center.
Click on the map below to see current rates for vacation rentals and hotels in Hyde Park, New York.


Camping
There are no National Park Campgrounds in the park.
For a fun adventure check out Escape Campervans. These campervans have built in beds, kitchen area with refrigerators, and more. You can have them fully set up with kitchen supplies, bedding, and other fun extras. They are painted with epic designs you can't miss!
Check out some of the campgrounds available in the area.
Yogi Bear's Jellystone Park Camp Resort - Gardiner, NY
This campground offers lodging, RV and Tent Sites, a beach, waterfront, boating, and a waterpark.
Skyway Camping Resort - Greenfield Park, NY
This campground offers lodging, RV and Tent Sites, a pool, fishing, and a dog park.
Yogi Bear's Jellystone Park Resort Birchwood Acres - Greenfield Park, NY
This campground offers lodging, RV and Tent Sites, waterfront, waterpark, pool, fishing and more.
Check out additional campgrounds in the area on Campspot.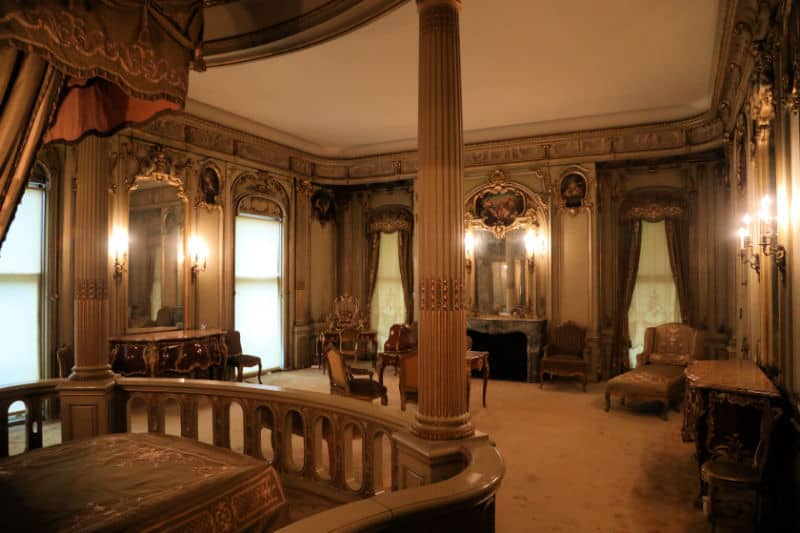 Parks Near Vanderbilt Mansion NHS
Eleanor Roosevelt National Historic Site - 2 miles
Home of Franklin D Roosevelt National Historic Site - 2 miles
Martin Van Buren National Historic Site - 50 miles
Weir Farm National Historic Site - 60 miles
Springfield Armory National Historic Site - 120 miles
Check out all of the National Parks in New York along with neighboring National Parks in Connecticut, National Parks in Massachusetts, National Parks in New Jersey, National Parks in Pennsylvania, Rhode Island National Parks, and Vermont National Parks