There are two Vermont National Parks including a portion of the Appalachian Trail and Marsh-Billings-Rockefeller National Historical Park. Vermont is the only landlocked New England State.
Known for Fall leaves, dairy farming, maple syrup, and scenic views. Even though the state is small there is a great number of state parks including Burton Island State Park. Another highlight is Green Mountain National Forest.
Vermont National Parks
The Appalachian National Scenic Trail is the other National Park Service unit in Vermont. The Trail passes through 14 states from Mount Katahdin in Maine to Springer Mountain in Georgia. It covers a total of 2,175 miles. The idea for the trail began in 1921, and it was completed in 1937.
The Vermont portion of the Trail totals 150 miles. The trail ranges from 400 feet to 4,010 feet in elevation across the state. April and May can be incredibly muddy!
You can hike for a few hours or plan an extended trip that covers multiple states along the Appalachian Trail. The trail is truly there for everyone to enjoy.
For more detailed information check out the Appalachian Trail Guide for Vermont and New Hampshire. There is also a Nat Geo Topographic Map of this area of the trail.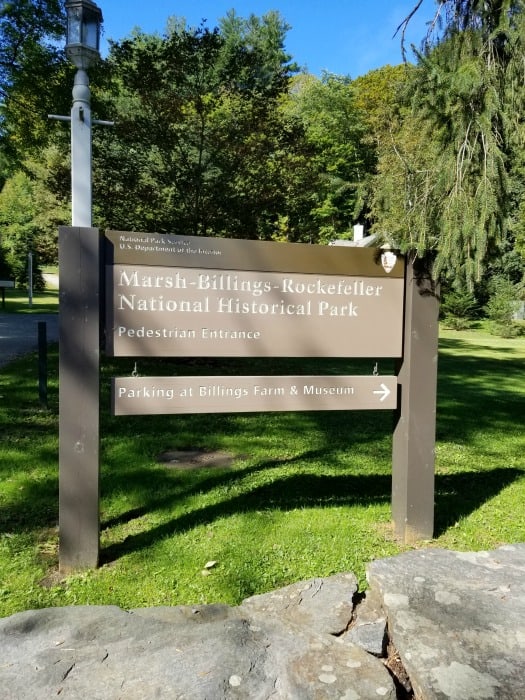 Marsh-Billings-Rockefeller National Historical Park is located in Woodstock, in east-central Vermont. It is billed by the National Park Service as "the only national park to tell the story of conservation history and the evolving nature of land stewardship in America."
The park is named for three different generations of native Vermonters who exhibit the social and conservation/environmental history of Vermont and America.
In colonial days, Vermont was 95% forested. By the time that George Perkins Marsh was born in 1801 in Woodstock, much of the forest of the area was gone. Marsh is considered to be the "Father of the American conservation movement."
His observations of the deterioration of his native Vermont, as well as his observations of the aftereffects of deforestation in Europe, where he served as an ambassador, encouraged him to become active in what became known as conservation.
He wrote an influential book, Man and Nature, that was first published in 1864. His writing, work, and speeches encouraged wise use of forest resources.
Frederick Billings was born in Royalton in 1823. By the time the Billings family moved to Woodstock (1835), Marsh no longer lived in Woodstock, but the family farm was a local beauty spot. Billings eventually went to school to study law, went to California during the Gold Rush of 1849, and became a successful lawyer in San Francisco.
He became involved in early efforts to establish national parks in the West. He married in 1861 and returned to Vermont. He, too, noticed that the agricultural practices in the area had not been good to Vermont's forests. He was influenced by Marsh's Man and Nature and bought and restored the Marsh family farm.
Mary French (grand-daughter of Billings) married Laurance Spelman Rockefeller (son of John D. Rockefeller, Jr.) The Rockefellers (Mary and Laurance) inherited their families' interests in conservation and philanthropy. They inherited the family farm in 1951 when Mary's mother died. In 1983, they opened the Billings Farm and Museum to the public. In 1992, the Rockefellers donated the property to the US National Park Service.
Marsh-Billings-Rockefeller National Historical Park was officially created on August 26, 1992, when George W. Bush signed an Act of Congress into law. The park opened to the public on June 5, 1998.
The park covers 643.07 acres and has had an average of about 32,000 visitors per year since opening in 1998 through 2009. Total visitation for those 12 years is 386,010.
You can enjoy gorgeous hikes through the park service managed forest.
List of Vermont National Parks
Appalachian National Scenic Trail
Marsh - Billings Rockefeller National Historical Park
There are 2 National Parks in Vermont with over 49,000 visitors each year. The Vermont National Parks produces over $3.3 million in economic benefits each year.
The National Parks in Vermont include 1 National Heritage Areas, 1 wild and scenic rivers managed by the National Park Service, 1 National Trails, and 840 National Register of Historic Places listings.
There are 18 National Historic Landmarks and 12 National Natural Landmarks in Connecticut National Parks. There are 150 places recorded by the Heritage Documentation Program and over 116K objects in the Vermont National Park museum collections. Along with 20 Archeological Sites.
For an entire list of US National Parks head over to our list of US National Parks in Alphabetical Order. We also have a printable checklist of all National Park sites in the United States available.
If you have dreamed of working in the National Parks make sure and check out our article on How to Become a Park Ranger. Working in the parks is one of the most amazing jobs you can find. There is just something special about waking up and knowing you are going to work in a beautiful park.
National Parks in neighboring states
National Parks in New Hampshire