Interested in learning all about West Virginia's newest national park? Below you'll find the ultimate guide to New River Gorge National Park, including the best things to do, the park's history, location, best times to visit, and more.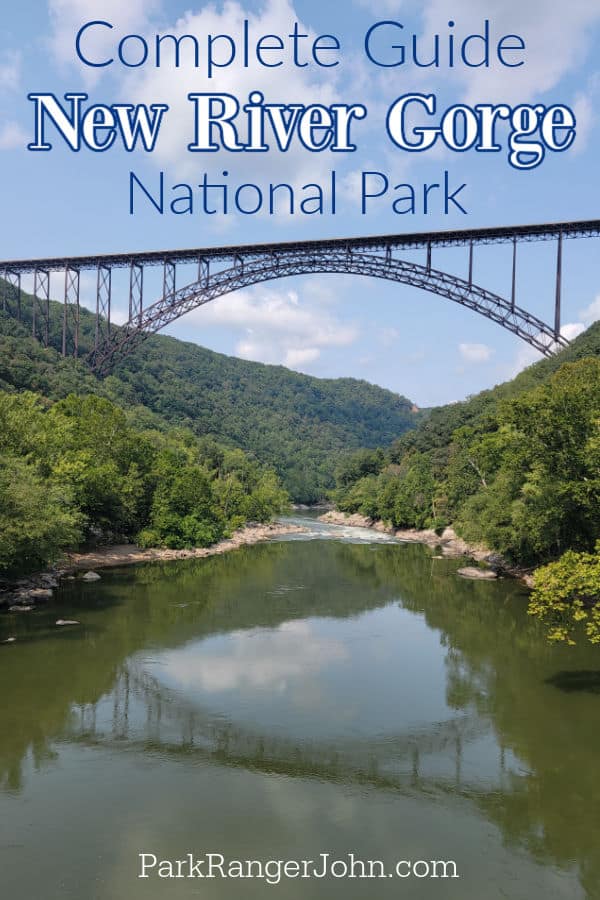 New River Gorge National Park
New River Gorge National Park and Preserve is the newest national park in America's system. Since its induction in 2020, the park has seen tons of visitors, even topping the million mark in its first few years.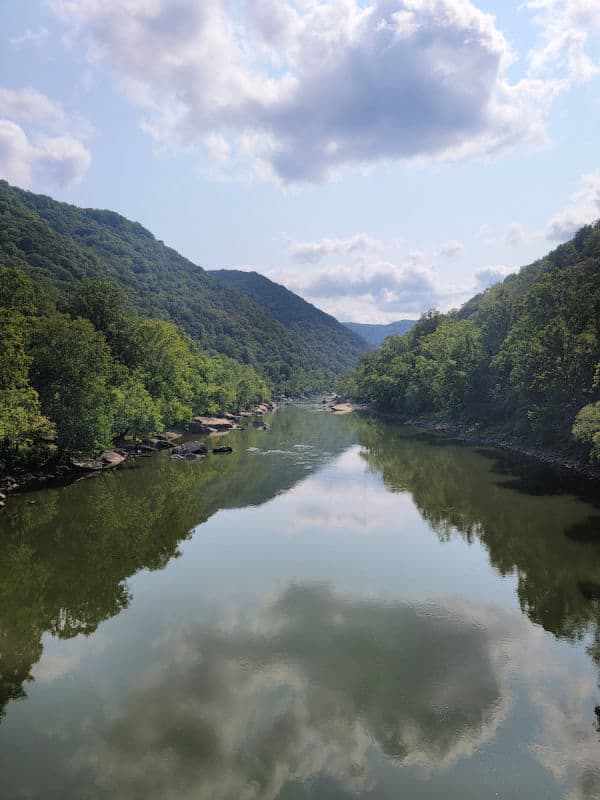 About New River Gorge National Park
The New, as it is affectionately nicknamed, is bound to see an even bigger spike in visitors in the coming years, and it's no surprise that this magnificent stretch of unspoiled nature is so popular.
The 53-mile long river is the highlight here, and adrenaline junkies flock here to partake in whitewater rafting, rock climbing, mountain biking, and hiking during the summer months.
History buffs will also find plenty here to spark their interest, specifically the federally protected mining towns of a bygone era. If all that weren't enough, there are also opportunities for wildlife watching, junior ranger programs, fishing, swimming, horseback riding, and so much more.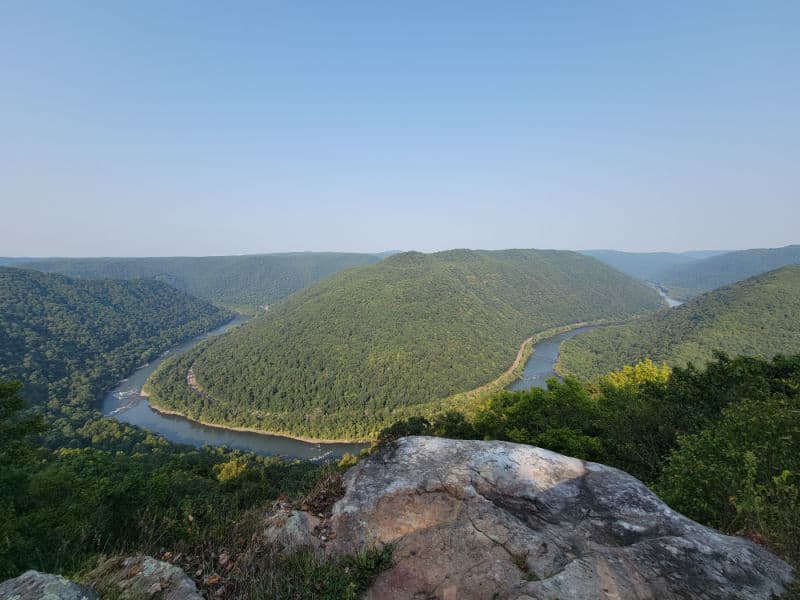 Is New River Gorge National Park worth visiting?
As millions of visitors have already discovered, New River Gorge National Park and Preserve is absolutely worth visiting. In fact, you may want to get here before more people realize the incredible offerings of this new West Virginian national park.
While you could spend endless amounts of time exploring every nook and cranny of this massive 72,808-acre park, short trips are also worth considering. That being said, it may be wise to focus on one specific area or activity during your time here if you don't plan on staying long.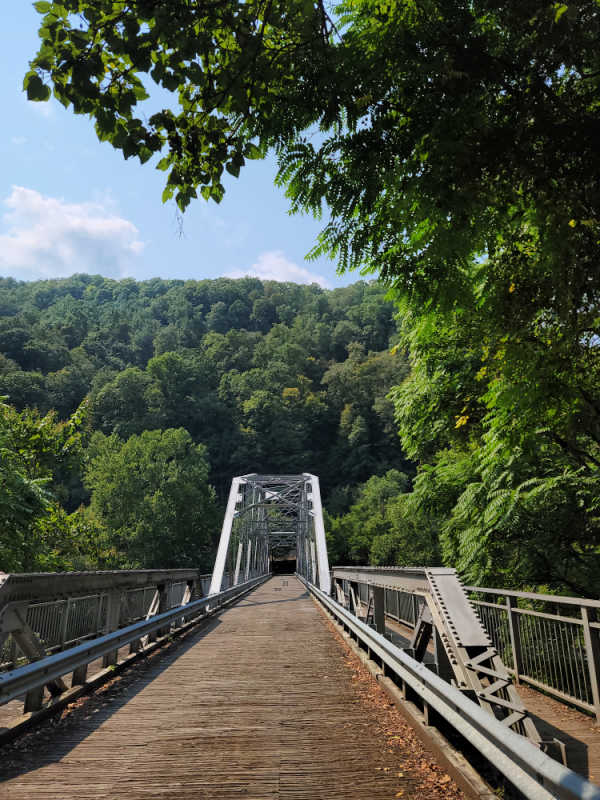 History of New River Gorge National Park
While the area wasn't designated a national park until 2020, the history of The New dates far back. First "discovered in 1671, the river and surrounding area is thought to be one of the oldest rivers in the United States and may have even been around before dinosaurs roamed the area.
More recent historical events center around the coal mining industry, which explains the park's vast network of roads, old railway tracks, and bridges.
There are plenty of ways to learn all about New River Gorge National Park's history more in-depth. Check out the former mining sites still standing within the park, learn all about the indigenous tribes that once called the area home at the Sandstone Visitor Center, or take a self-guided drive along the African American Heritage Auto Tour.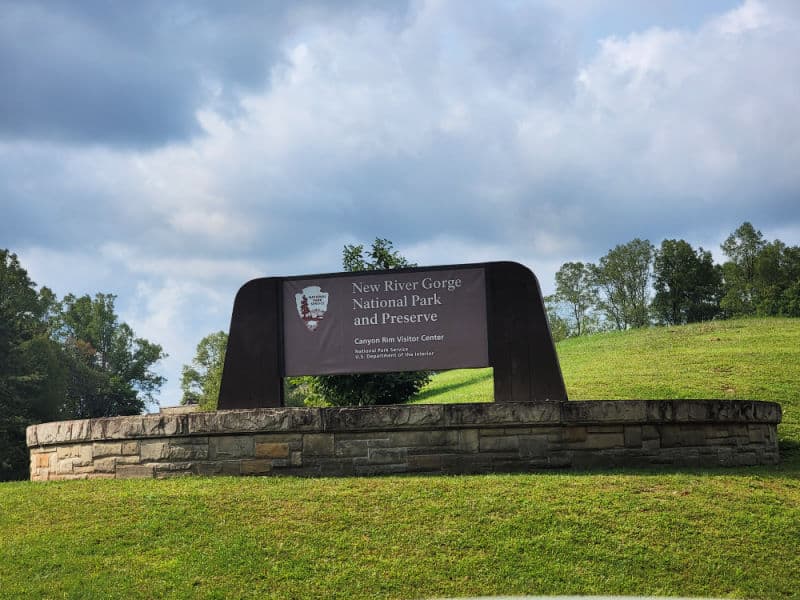 Things to know before your visit to New River Gorge National Park
Entrance fee
7-day single-vehicle park pass - $0.00
7-day individual park pass - $0.00
7-day motorcycle park pass - $0.00
Annual Park Pass - $0.00
Valid for one year through the month of purchase. Admits one private, non-commercial vehicle or its pass holder.
Learn more about National Park Passes for parks that have an entrance fee.
Free Entrance Days -Find the five free entrance days the National Park Service offers annually.
Time Zone
EST - Eastern Time Zone
Pets
Pets are allowed on all trails at New River Gorge National Park and Preserve.
Pets must be kept on a leash no longer than 6 feet at all times.
Cell Service
Cell service is available throughout most of the park, though some areas are better for obtaining signal than others. Note that how much service you may or may not receive in the park also depends on your carrier.
Park Hours
The park is open 24 hour a day, year round.
Wi-Fi
Public WIFI is provided at Canyon Rim and Sandstone Visitor Centers
Insect Repellent
Insect repellent is always a great idea when outdoors, especially if you are around any body of water.
Water Bottle
Make sure to bring your own water bottle and plenty of water with you. Plastic water bottles are not sold in the park.
Parking
There is a large parking lot next to the visitor center.
Food/Restaurants
There are no restaurants within the park. Restaurants are available in gateway communities near the park.
Gas
There is no gas available within the park. There is gas stations in the gateway communities near the park.
Drones
Drones are not permitted in National Parks.
National Park Passport Stamps
National Park Passport stamps can be found in the visitor center. Make sure to bring your National Park Passport Book with you or we like to pack these circle stickers so we don't have to carry our entire Passport Book on every trip.
Electric Vehicle Charging
EV Charging stations are available in Ansted, Pearisburg, and Mt. Hope, West Virginia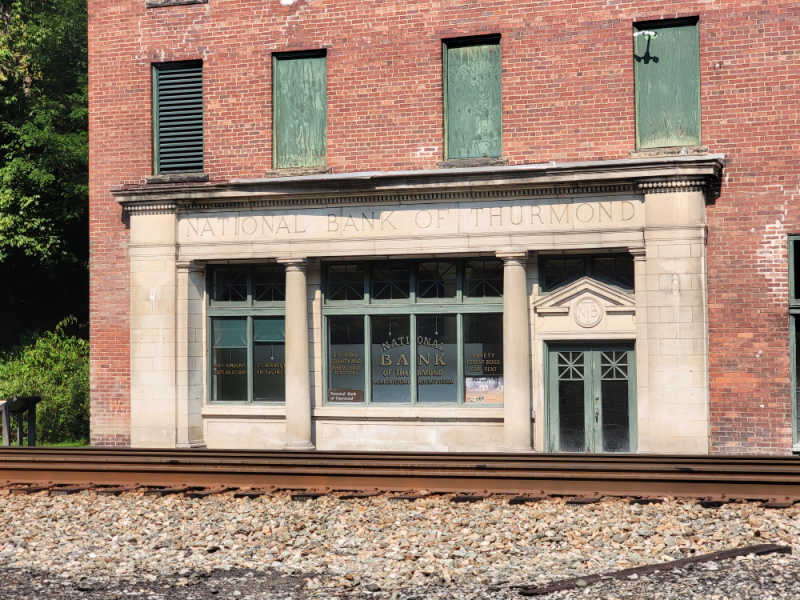 Details about New River Gorge National Park
Size - 72,165 acres
New River Gorge NP is currently ranked at 45 out of 63 National Parks by Size.

Date Established
President Jimmy Carter signed legislation establishing New River Gorge National River on November 10, 1978
The park was reclassified as a National Park on December 27, 2020
Visitation
In 2021, New River Gorge NP had 1,682,704 park visitors.
In 2020, New River Gorge NP had 1,054,374 park visitors.
In 2019, New River Gorge NP had 1,195,721 park visitors.
Learn more about the most visited and least visited National Parks in the US
New River Gorge National Park Address
104 Main Street
Glen Jean, WV 25846
New River Gorge National Park Map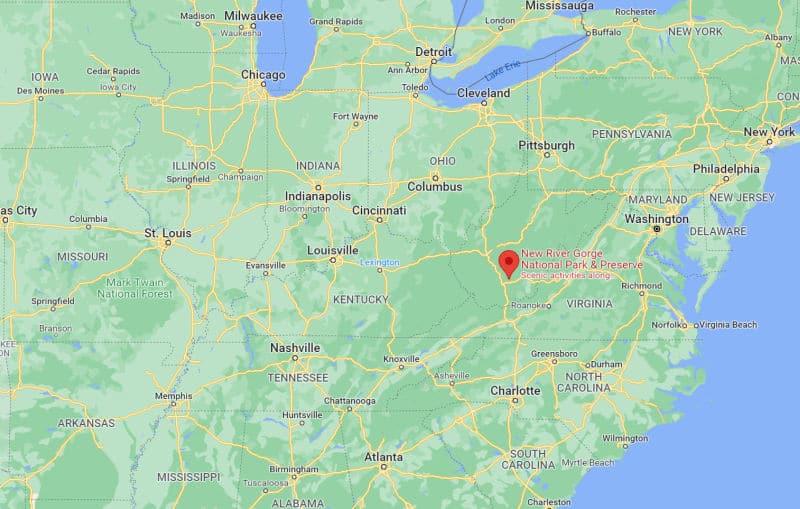 Where is New River Gorge National Park?
The New River Gorge National Park is tucked into the heart of southern West Virginia's Appalachian Mountains. Once you enter the park, you'll feel worlds away from the hustle and bustle of everyday life. However,
The New's location off of a few major interstates actually makes it surprisingly convenient to access from some of the major cities in the vicinity.
That being said, you will have to rely on your car once inside the park, as there is no public transportation available at this time.
This is mostly due to the fact that all the narrow two-lane roads were hammered out decades ago, so be careful as you navigate the hairpin twists and turns and leave the big RVs and trailers at home.
Estimated distance from major cities nearby
Greensboro, NC - 188 miles
Columbus, OH - 220 miles
Durham, NC - 239 miles
Roanoke, Virginia - 109 miles
Knoxville, Tennessee - 254 miles
Cincinnati, Ohio - 257 miles
Pittsburgh, PA - 217 miles
Charlotte, NC - 208 miles
Raleigh, NC - 262 miles
Washington DC - 289 miles
Estimated Distance from nearby National Park
Shenandoah National Park - 152 miles
Congaree National Park - 315 miles
Mammoth Cave National Park - 362 miles
Cuyahoga Valley National Park - 287 miles
Indiana Dunes National Park - 519 miles
Gateway Arch National Park - 562 miles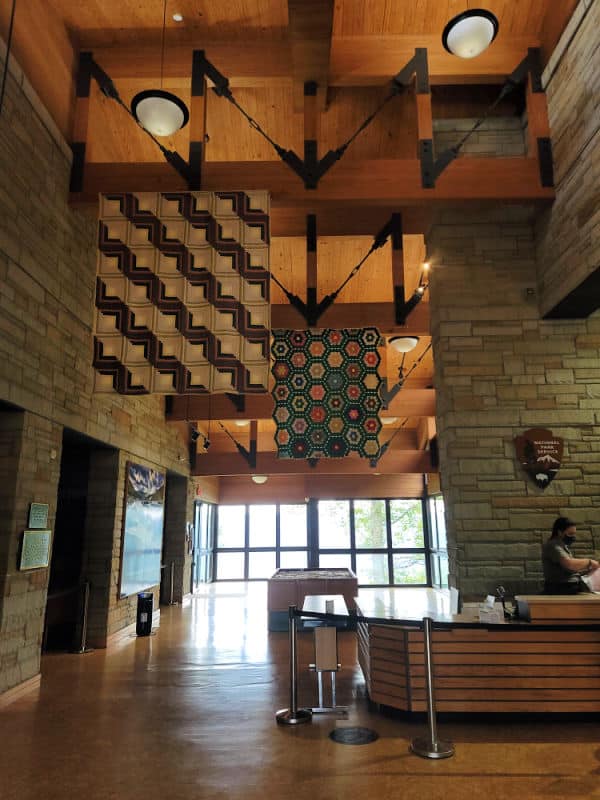 Where is the New River Gorge National Park Visitor Center?
Sandstone Visitor Center
GPS - 37.78320 N, 80.89778 W
Canyon Rim Visitor Center
GPS - 38.07003 N, 81.07583 W
Grandview Visitor Center
GPS - 37.83017 N, 81.06312 W
Thurmond Depot
GPS - 37.95712 N, 81.07879 W
Sandstone Falls
GPS - 37.71797 N, 80.89297 W
Nuttallburg
GPS - 38.05019 N, 81.03976 W
Park Headquarters in Glen Jean: 37.92775 N, 81.15587 W
Getting to New River Gorge National Park
Closest Airports
Charlotte Douglas International Airport (CLT)
Port Columbus International Airport (CMH)
Pittsburgh International Airport (PIT)
Raleigh-Durham International Airport (RDU)
Amtrak Train
Amtrak Train service is available to three locations in the park, three days a week.
The Cardinal, traveling between Chicago and New York, NY, makes scheduled stops at Hinton and Prince, with Thurmond as a flag stop for passengers with reservations.
Greyhound Bus Service
Greyhound has a bus terminal in Beckley, West Virginia
Driving Directions
Highway access is from Route 19, between Beckley and Hico, and from I-64, between Mossy and Sandstone.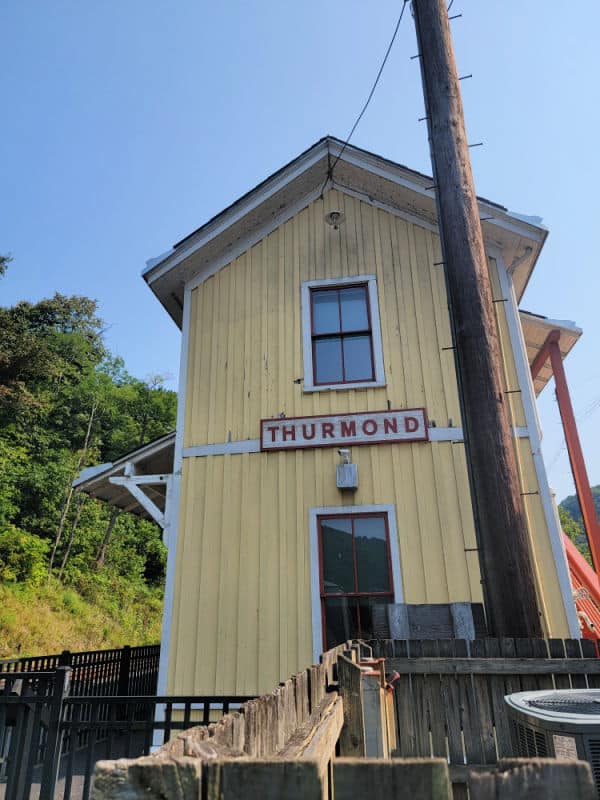 Best time to visit New River Gorge National Park.
Although New River Gorge National Park and Preserve is open year-round, there are definitely better times to visit than others.
This all depends on what you hope to get out of your time here, whether that be sunny weather, vibrant foliage, or some peace and quiet.
Summer is by far the busiest time of the year, but all four seasons provide ample opportunities for outdoor recreation.
New River Gorge National Park Weather and Seasons
Spring
With fewer crowds, wildflowers sprouting along the trails, and mild temperatures, spring is a great time to visit New River Gorge National Park.
Of all the river gorges in the Appalachians, The New has some of the most diverse flora, with over 1,4000 different species carpeting the park between April and May. If you visit in the spring, you'll see colorful bursts of flame azalea, trillium, Virginia bluebell, rhododendron, and more in full bloom.
Although both the water and the weather are still chilly in the spring, rafting tours start back up in April as the river begins to gain more volume. This is a great time to find affordable deals on guided tours, as the main rafting season is not yet in full swing.
Late spring is particularly agreeable when it comes to pleasant temperatures, but don't show up without a warm jacket, as cold snaps are not uncommon either.
Summer
Summer is by far the most popular time of year at The New, so you can expect crowds around every turn.
Rafting season is in full swing, and you may find tours fully booked and long lines at the put-ins. Rock climbing is also extremely popular in the summer, and the hiking and biking trails also see more traffic than the other months. For this reason, it's a great idea to have alternative routes mapped out.
While temperatures hover around 70-80 degrees Fahrenheit, the balmy humidity of West Virginia can make the heat feel much more intense. As a result, thunderstorms are not uncommon in the afternoons during the summer months, though luckily, they are usually brief.
Autumn/Fall
Autumn is one of the best times to visit New River Gorge National Park. The crowds thin out, and the fall foliage puts on a fantastic color show for visitors.
The red and orange hues are at their peak in late October, and the temperatures around this time are perfect for hiking, biking, and climbing.
While there are usually fewer visitors in autumn, the exception is Bridge Day - held every October. This event allows the most daring adventurers to legally BASE jump from the bridge and parachute into the gorge below. You may want to avoid this weekend if you're not planning on taking the leap.
Winter
New River Gorge National Park is open year-round, and those who are averse to crowds may find winter to be the best month to visit.
While most of the guided operations that the park is known for are unavailable during the winter, you can still meander the trails, climb cliffs, and take in the beautiful views of the snow-dusted scenery. The best part is that you'll likely have much of the park to yourself during this time!
While the park is chilly during the winter, temperatures rarely drop below 20 degrees Fahrenheit. So long as you plan for cold weather, there's no reason you can't enjoy The New in the winter.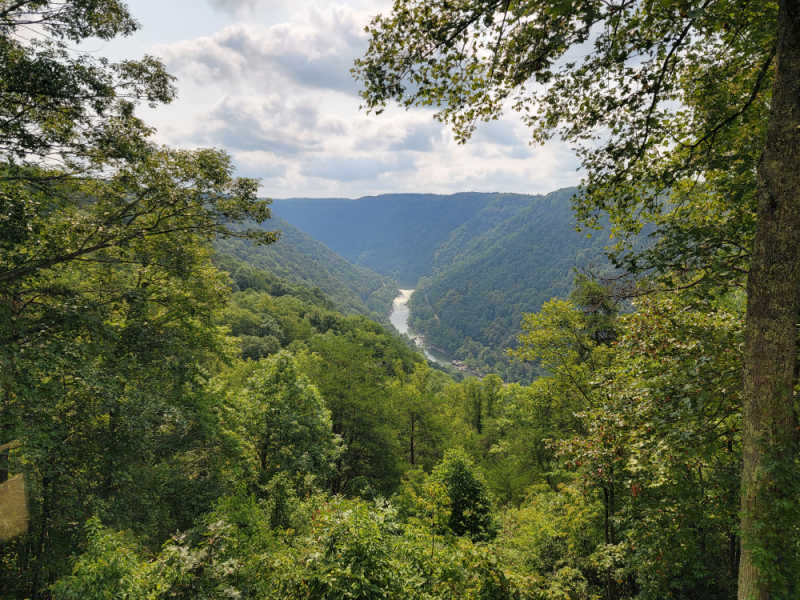 From epic mountain bike trails, to scenic drives, world class rafting adventures on the gorge, hidden gems, deep canyons, Fayette Station, and more make some of the top things to do in the 63rd National Park...New River Gorge.
New River Gorge Bridge
One of the most iconic structures inside the park is the New River Gorge Bridge. This is the second-longest arch bridge in the entire world, and at 876 feet tall, it offers up breathtaking views of the gorge below.
The best part about the bridge is that it's located just outside of the Canyon View Visitor Center, so you won't even need to work up a sweat for these incredible views!
The most daring BASE jumpers can legally leap from the New River Gorge Bridge and parachute down into the gorge below one day a year.
Bridge Day is held annually in October, and even if you don't jump, it's certainly one of the most amazing spectator sports you'll see in your lifetime.
Grandview
Grandview is another one of the best spots in the park for viewing the gorge. At 1,400 feet above the river, the scenery is hard to match. This is also a popular spot for picnicking, wildflower watching, and hiking.
Sandstone Falls
The stunning Sandstone Falls are one of the most underrated areas of the park. Divided by a series of islands, the massive falls mark a transition zone from the river to its bottomlands.
Aside from being an incredibly scenic area where you can view the river up close, Sandstone Falls is also a popular place for fishing, hiking, and picnicking. Additionally, there are several put-in spots along this stretch.
While you will need to drive quite a ways to access the falls, the route will lead you along two of the park's most scenic roads - Route 20 and River Road.
Nuttalburg
While the natural offerings of New River Gorge National Park and Preserve are more than enough to entice most visitors, the park's history is also worth exploring.
Nuttalburg was one of nearly 50 mining towns that sprang up during the coal mining boom of the late 19th and early 20th centuries. When production ceased in 1958, Nuttalburg, like so many other mining towns, began to clear out.
Today, the structures have all been stabilized, and visitors to the park can explore this protected historic site at their leisure.
Note that the roads leading to Nuttalburg are subject to flooding, so be sure to check for closures before heading out.
Wildlife viewing
New River Gorge National Park has long since served as a migration area for both flora and fauna. Some of the most noteworthy critters include white-tailed deer, fox squirrel, Allegheny woodrat, beaver, and river otter.
Birders will also have plenty to look for while visiting The New, including Bald Eagles, Peregrine Falcon, hummingbirds, and the elusive wood-warblers, among many others.
If you brought the kiddos along to explore New River Gorge National Park, be sure to have them participate in the Junior Ranger Program.
This fun and hands-on program is a great kid-friendly way to learn more about the park in-depth, and once they complete it, they'll be rewarded with a cool badge to add to their collection.
River Rafting
White water rafting along the New River is one of the most popular activities in the park. While the park designation may be new, rafting along the 53-mile long river has been the "it" thing to do in the area since the 1970s.
Tours include Family Rafting in the New River Gorge and white water rafting tours.
There is also a Lower New River Whitewater Rafting Trip that goes through a variety of rapids with the trip ending just past the New River Gorge Bridge.
Hunting
Because New River Gorge National Park is also designated as a preserve, hunting is allowed in certain areas of the park. Note that baiting game and trapping within the park is strictly prohibited.
Ensure you know which areas are off-limits and obtain a West Virginia hunting license before you set your eyes on any targets.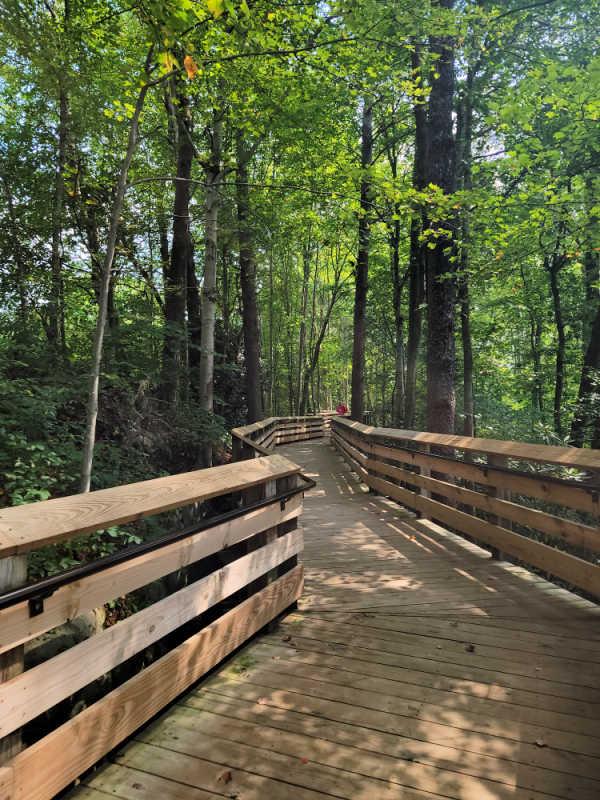 Hiking in New River Gorge National Park
Always carry the 10 essentials for outdoor survival when exploring.
Hiking is one of the best ways to explore The New, and there are over 100 miles of trails for both the most seasoned hikers and those who are complete novices.
Below we've ranked some of the best trails in the park by difficulty so you know exactly what you're getting into before you even step foot on the trail.
Easy:
Canyon Rim Overlook Boardwalk - .6 miles - Out & Back
Concho Overlook Trail - .6 miles - Out & Back
Sandstone Falls Boardwalk - .3 miles - Out & Back
Timber Ridge Trail - 1.7 miles - Out & Back
Tunnel Trail - .5 miles - Loop
Moderate:
Big Branch Trail - 2 miles - Loop
Endless Wall Trail - 2.3 miles - Point to Point
Grandview Rim Trail - 3.3 miles - Out & Back
Headhouse Trail - 1.3 miles - Out & Back
Long Point Trail - 2.9 miles - Out & Back
Hard:
Bridge Trail to Fayette Trail - 3.1 miles - Out & Back
Fayetteville Trail - 4 miles - Point to Point
Glade Creek Trail - 10 miles - Point to Point
Kaymoor Miners Trail - 1.6 miles - Out & Back
Little Laurel Trail - 2.7 miles - Point to Point
How to beat the crowds in New River Gorge National Park?
The best way to beat the crowds in New River Gorge National Park is by avoiding the peak summer season. If that's the only time you can swing a trip to The New, at least try to visit during the week rather than the busy weekends.
Another time that should be avoided if you're hoping for some isolation is Bridge Day, a popular festival held annually in October.
Spring and Fall are shoulder seasons and see relatively fewer visitors, specifically the months of April and September.
Winter is the quietest time of year at the gorge, and you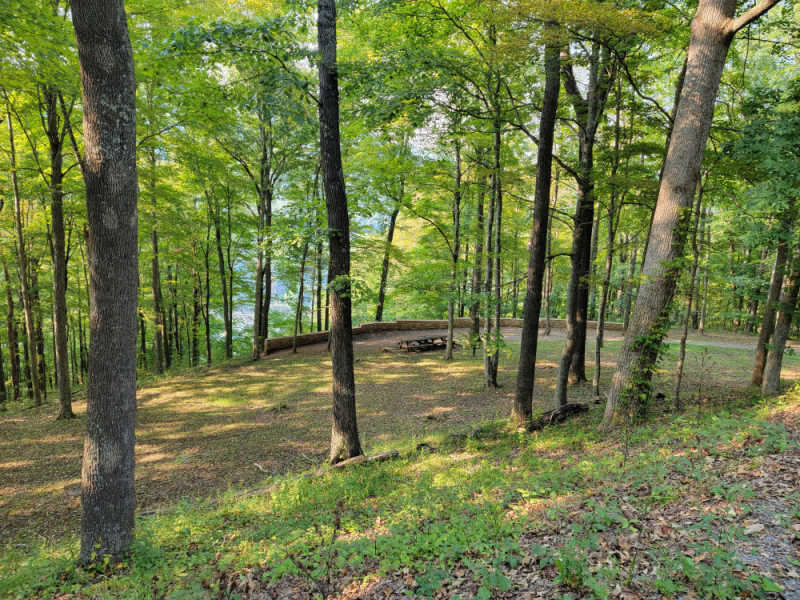 Where to stay when visiting New River Gorge National Park
There are no National Park Lodges within the park.
Click on the map below to see current hotel and vacation rental rates near the park.
New River Gorge National Park Camping
New River Gorge National Park and Preserve provides opportunities for primitive camping only.
Camping areas are located along the river. Primitive camping areas have no drinking water or hookups, and limited restroom facilities.
Additional Resources
New River Gorge National River (National Geographic Trails Illustrated Map
Best Easy Day Hikes New River Gorge (Best Easy Day Hikes Series)
Adventure!: A Kid's Guide to the New River Gorge
Animals of the New River Gorge: Color and Learn
West Virginia Waterfalls: The New River Gorge
Hiking and Biking in the New River Gorge: A Trail User's Guide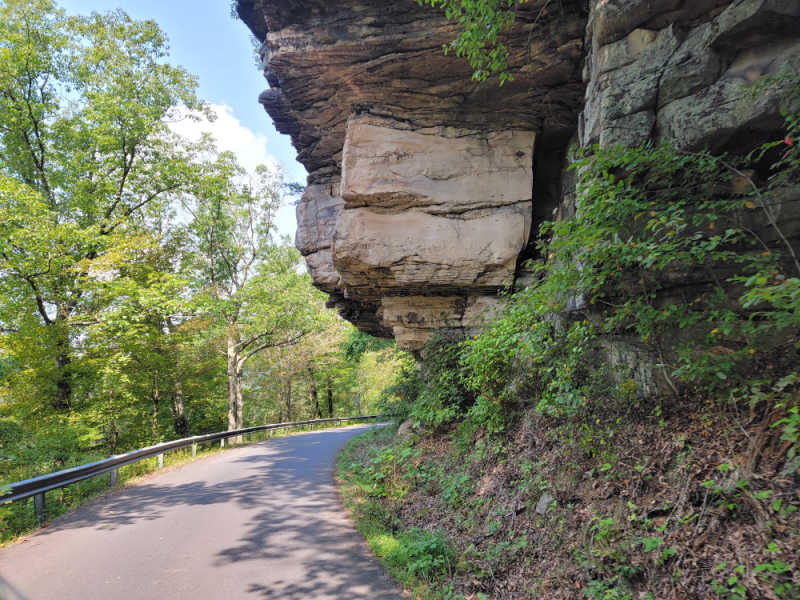 Parks near New River Gorge National Park
Gauley River National Recreation Area
Bluestone National Scenic River
Blue Ridge Parkway
Booker T Washington National Monument
Appomattox Courthouse National Historical Park
Cedar Creek & Belle Grove National Historical Park
Check out all of the National Parks in West Virginia along with neighboring National Parks in Kentucky, National Parks in Maryland, National Parks in Ohio, Pennsylvania National Parks, and Virginia National Parks
There are multiple West Virginia State Parks near the park including Hawks Nest State Park, Bluestone State Park, Pipestem Resort State Park, Camp Creek State Park, Little Beaver State Park, and Babcock State Park.
National Park Service Website