Complete Arches National Park Camping Guide within site photos and video. Devil's Garden Campground is located in Arches National Park and is the only developed campground in the park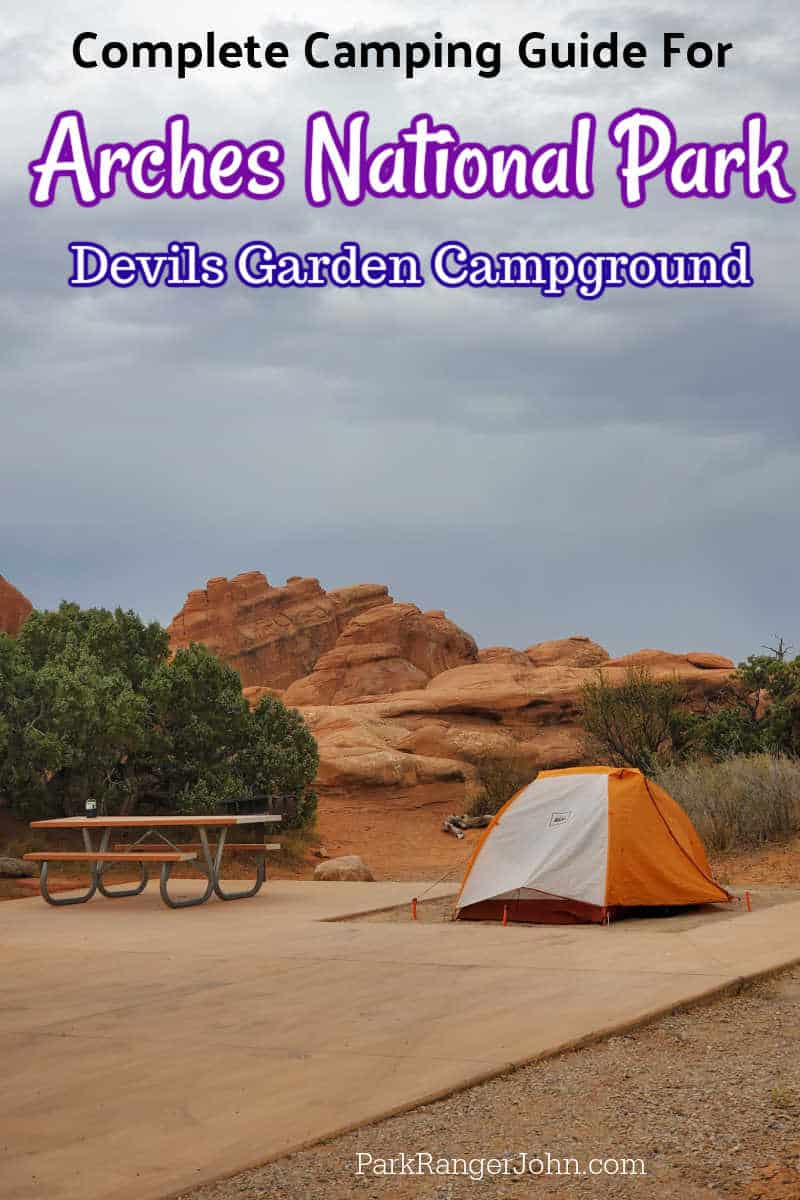 Devils Garden Campground - Arches National Park Camping
Camping is by far the easiest and best way to explore Arches National Park!
You simply start/end your day in the park without having to drive well over a half-hour drive from Moab plus waiting in the ridiculously long line just to get through the entrance station.
Another great benefit is that campers are not required to have a Timed Entry Reservation however you must show your campground reservation for entry into the park. Entrance fees still apply.
Perhaps the biggest benefit to camping in Arches National Park is that you are also close to several hiking trails including Devils Garden Trail and Broken Arch loop. This means that you can leave your vehicle at your campsite and not have to fight for one of the few precious parking spots.
There is an amphitheater where you can take in an evening Ranger Program or just hang out at your site with a campfire or stare out into the sky and enjoy all the stars.
Number of Sites: 51
Location in the park: The campground is located 18 miles from the park entrance. The road ends at the Devil's Garden Campground and Devil's Garden Trailhead.
Campsite cost: $ 25.00
Senior/Access Camping Fee: $ 12.50
Reservations: Yes
Campground Address:
Mailing address
2282 Resource Blvd
Moab, UT. 84532
Physical Address
18 Miles inside Park Entrance
Moab, UT. 84532
GPS Coordinates:
38.7804°N
109.5910°W
Accessible Sites:
2 Sites are ADA Accessible
Campsite 4H is first-come, first-served year-round and for people with disabilities only
Campsite 7 is reservable March-October and available first-come-first-served the rest of the year.
The majority of the sites are paved. Tent pads are dirt. ADA sites are paved around the picnic table, grill, and fire ring. The pathway to the park amphitheater is also paved (The amphitheater itself is gravel) and the flush restrooms are ADA Accessible.
Pets Allowed: Leashed pets are allowed in the campground and on the road. You are required to clean up after your pet.
Arches Campground Reservations
When planning your Arches National Park Camping trip make sure to mark your calendar to secure a campground reservation. They are incredibly popular and go quickly especially during the busy season.
Are campground Reservations Available?
Yes, reservations are available March 1 through October 31
Camping is first-come, first-served between November-February.
Phone Number? 1-877-444-6777
Online? Recreation.gov
How Far Ahead can you make a reservation?
Devils Garden Campground accepts reservations up to 6 months in advance between March 1 through October 31 every year and as little as 4 days in advance.
Make sure to make reservations as soon as possible as this campground fills up early during reservation season.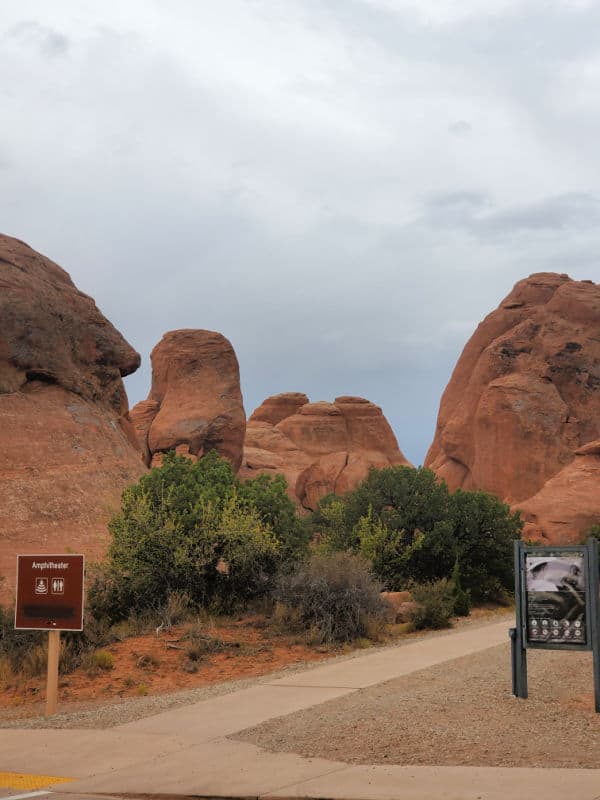 Campground Amenities
Dump Station: No
Food Storage/Bear Boxes: No
Flush Toilets: Yes, open year-round
Payphone: There is no pay phone at the campground. The closest pay phone is located at the park visitor center.
Is Wi-Fi available? Not in the campground. WIFI is available at the Visitor Center.
Is cellular Phone Service Available? No
Is camp host available on site? Seasonally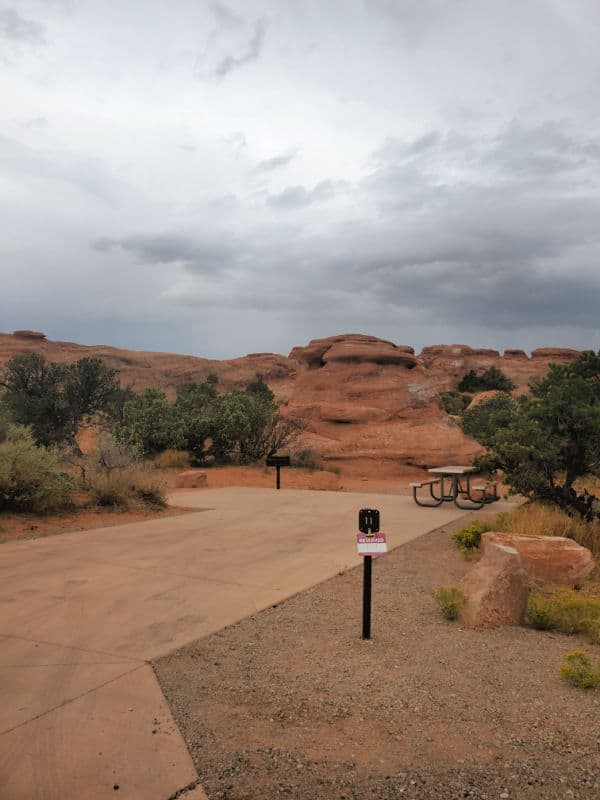 Is firewood available for purchase?
Yes. Between November-February, firewood must be purchased at the park bookstore at the entrance of the park (18 miles from the campground)
Between March-October you must purchase a firewood coupon for a bundle of firewood then present the coupon after you get to your site to get your firewood.
Amenities at each campsite:
Firepit available? Yes
Picnic Table in the site? Yes
Drinking-Water? Yes
Potable Water? No
RV Camping at Devils Garden Campground
RV Length: 20'-40'
Generators:
Generators are allowed between 8:00 am-10:00 am and 4:00 pm-8:00 pm
How to get to Devils Garden Campground
Enter the park off US 191, five miles north of Moab, Utah. Follow the park road 18 miles to the end at Devils Garden Campground
Important Dates for Arches National Park Camping
Reservations are available from March 1 through October 31. Reservations can be made up to six months in advance.
Campground Regulations
The maximum number of people in a campsite: 10 people maximum per campsite.
The number of cars per campsite: Two vehicles are allowed per site.
Checkout time: 10:00 am
Quiet Hours: 10:00 pm through 8:00 am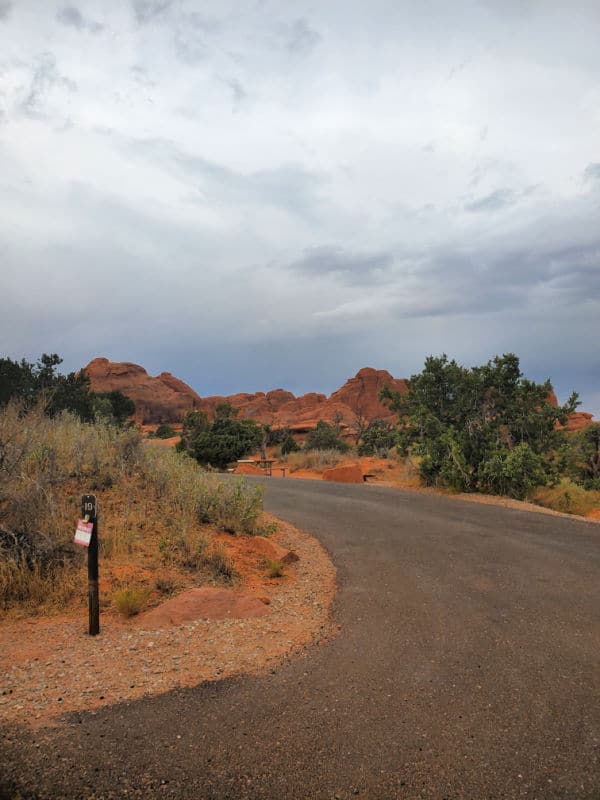 Group Camping at Devils Garden Campground
You can reserve group sites up to 12 months in advance. No RVs or trailers are permitted in the group sites.
Canyon Wren Group Site
Canyon Wren is a tent-only site with a maximum of 35 people.
11 - 16 people: $75
17 - 22 people: $100
23 - 28 people: $125
29 - 35 people: $160
Juniper Basin Group Site
Juniper Basin is a tent-only site with a maximum of 55 people.
Arches Campground Map
Are you heading to Utah? Check out all of the Utah National Parks for more information on great parks to visit.
You might also enjoy this article on Arches National Park Hikes.
Do you have a National Park Pass? Check out the types of US National Park Pass to pick up and use for your National Park Trip.
Visiting multiple parks? Check out this list of National Parks to check off all the parks you have visited.
Photos of Arches Campground
Campgrounds near Arches National Park
If you are unable to secure a reservation in Arches or want to stay at a campground with hook-ups and additional amenities here are a few options.
Portal RV Resort and Campground - Moab, Utah
This campground offers lodging, RV sites, a pool, hiking, dog park, and more.
Sun Outdoors Arches Gateway - Moab, Utah
This campground offers lodging, RV and Tent sites, a pool, hot tub, dog park, bike rentals and more.
Sun Outdoors North Moab - Moab, Utah
This campground offers lodging, RV and Tent sites, a pool, hot tub, dog park, and more.
Check out additional campgrounds in the area on Campspot.
Lodging Near Arches NP
There are no National Park Lodges within the park. For hotels check-in Moab, Utah for the closest hotels.
Click on the map below to see current rates for hotels and vacation rentals near Arches.


We hope this Arches National Park Camping Guide helps you plan an epic trip to Arches National Park!