Camping is by far the easiest and best way to explore Arches National Park! You simply start/end your day in the park! You don't have to drive the half hour plus back to Moab (from the campground) or wait in the ridiculously long line just to get through the entrance station.
You are also close to several hiking trails including Devils Garden and Broken Arch loop so you can leave your vehicle at your campsite and not have to fight for one of the few precious parking spots.
There is also an amphitheater where you can take in an evening Ranger Program or just hang out at your site with a campfire or stare out into the sky and enjoy all the stars. Now that you are excited about camping in Arches, here are the campgrounds details.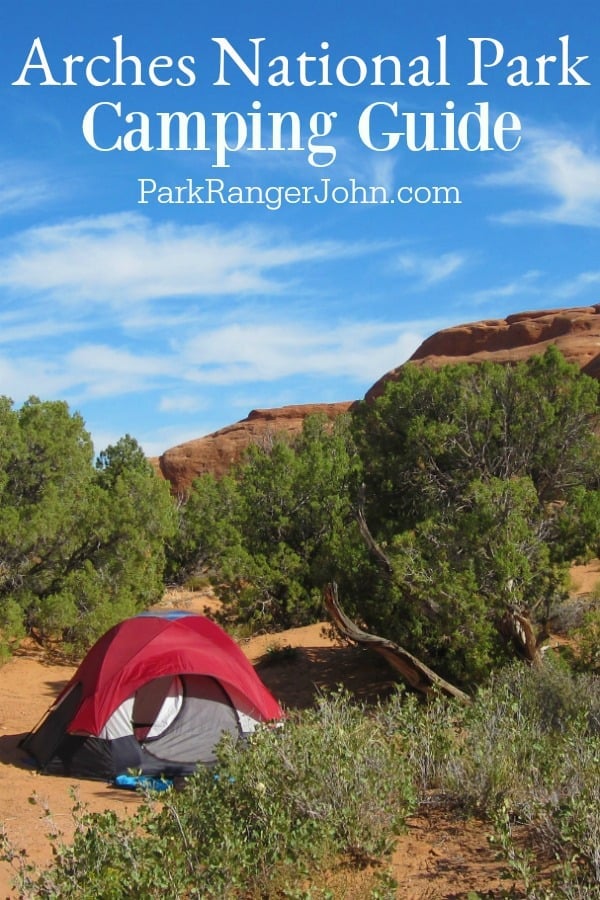 Arches National Park Camping
The campground is surrounded by red rock, sand, stands of Juniper and Pinyon Pine, Yucca, Prickly Pear Cacti, and wildflowers.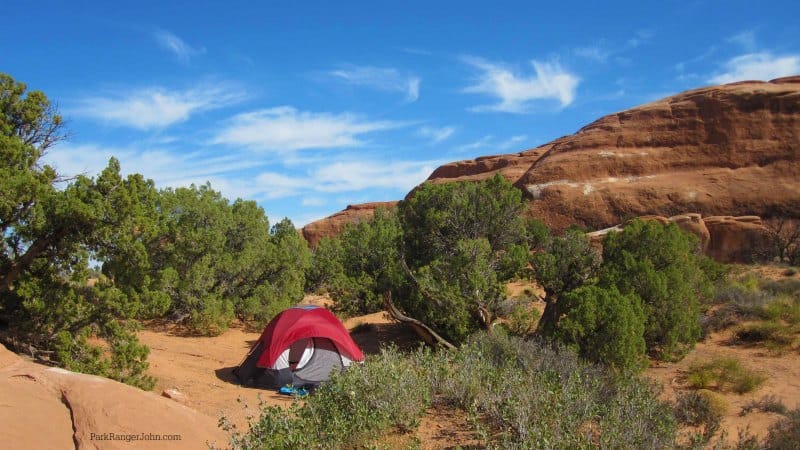 Number of Sites: There are 51 campsites available in the Devils Garden Campground with a paved road in the campground loop. Also 2 group sites and 2 ADA sites.
Location in the park: 18 miles from the park entrance and visitor center.
23 miles from Moab, Utah
Campsite Cost: $25.00
Reservations:
Reservations can be made between March 1 through October 31 and you can make a reservation anywhere between 4 days to six months prior to arrival.
You can make reservations by calling 1-877-444-6777 or go online at www.recreation.gov
If you miss making a reservation there are additional campgrounds in the Moab area.
Campground Address: Devils Garden Campground, Arches National Park PO Box 907, Moab, UT. 84532
Latitude/Longitude:
Latitude:
38.7769444
38° 46' 36.9998" N
Longitude:
-109.5891667
109° 35' 21.0001" W
Elevation: 5200'
Accessible Sites: Devils Garden Campground has two ADA accessible campsites.
The tent pad is dirt, but the rest of the area surrounding the picnic table, grill, and fire ring are paved. There is an accessible bathroom close to the campsites.
The path to the amphitheater is gravel which can be hard to maneuver in a wheelchair.
Pets Allowed: Leashed pets are allowed in campsites and on the road only.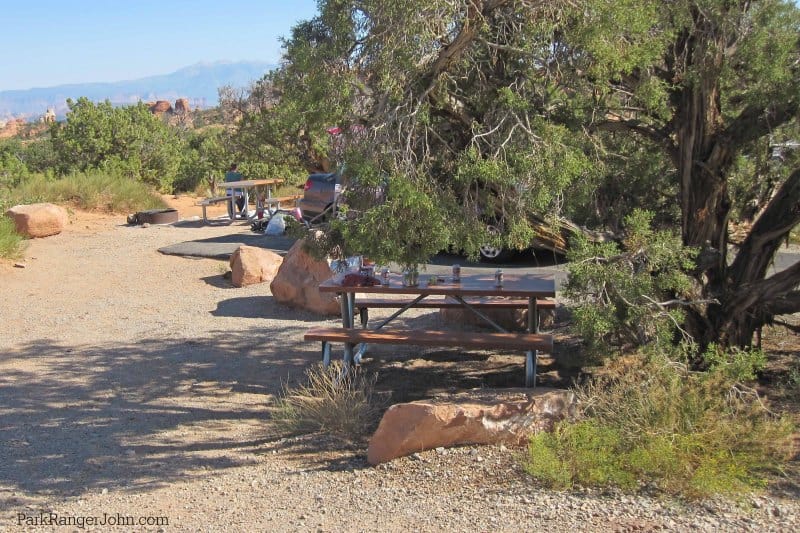 Campground Reservations
Are campground Reservations Available? Yes
Phone Number? 1-877-444-6777
Online? www.recreation.gov
How Far Ahead can you make a reservation? released on a 6-month rolling basis
First Come, First Served? November 01, 2019 - November 30, 2019 (Walk-Up)

Campground Amenities
Flush Toilets: Yes
Is wifi Available? No
Is cellular Phone Service Available? No
Is camp host available on site? Yes
Is firewood available for purchase? Firewood is also available for purchase.
Amenities at each campsite: Picnic table, fire ring
Fire pit in the site? Yes
Picnic Table in the site? Yes
Bear Box in site/area? No
Potable Water? Yes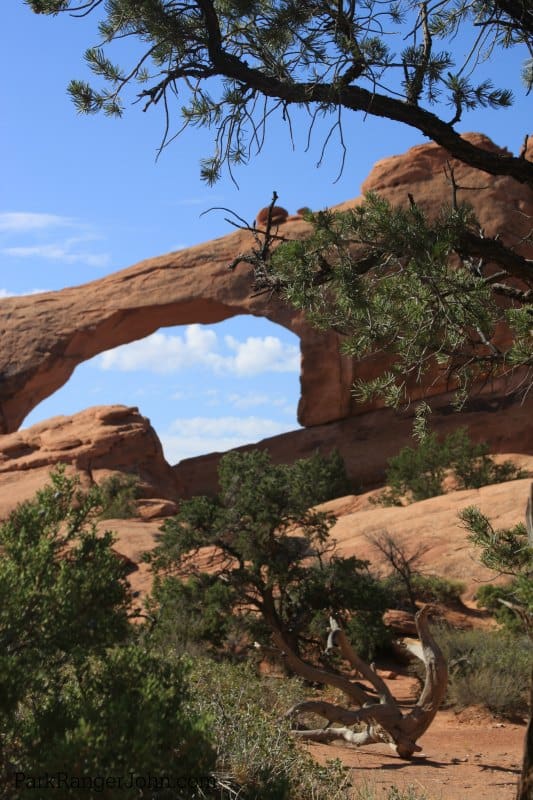 RV Camping at Devils Garden Campground
RV Length: There are only 15 are pull-through sites, most of which are only 25'-30' in length. Pull through sites include: 4, 6, 9, 10, 12, 19, 23, 25, 38, 39, 40, 49, 51 &, 53.
Keep an eye out for Site 23 as it is 40' long, Site 19 & 49 is 36' long and site 53 is 35' long.
There are some 40' long back in sites if you have a longer RV/Trailer: 11, 13, 15, 22, 23, 24, 27, 31, 33, 46, and 52.
Generators: You can use generators between 8 am-10 am and 4 pm-8 pm.
Dump Station: No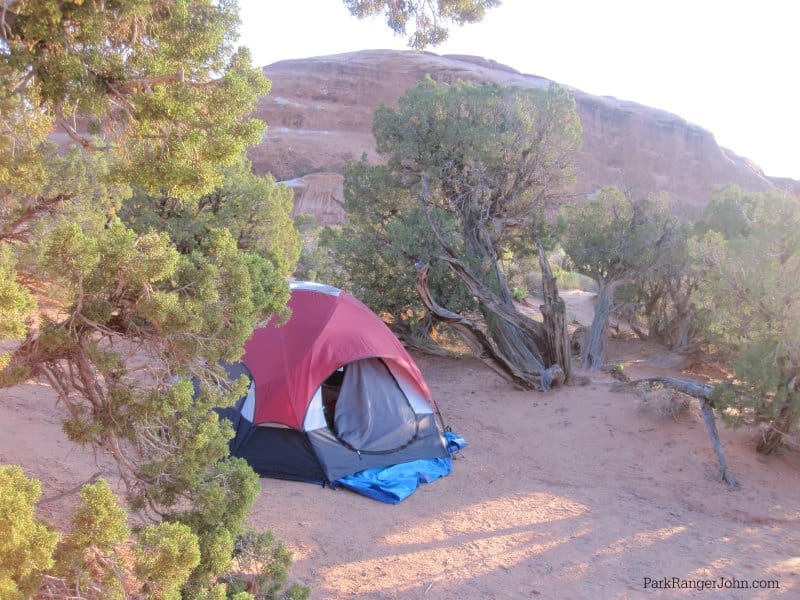 How to get to Campground
From I-70, take Exit 182. Travel south for 26 miles to the park entrance. Take the park road 18 miles to Devils Garden.
From Moab, take Highway 191 north for 4.5 miles to the park entrance. Take the park road 18 miles to Devils Garden.
Important Dates for Campground
March 01, 2019 - October 31, 2019 (Peak Season)
November 01, 2019 - November 30, 2019 (Walk-Up)
Campground Regulations
The maximum number of people in a campsite: 10-person limit
The number of cars per campsite:
Checkout time: 10 am
Quiet Hours: 8 pm to 8 am.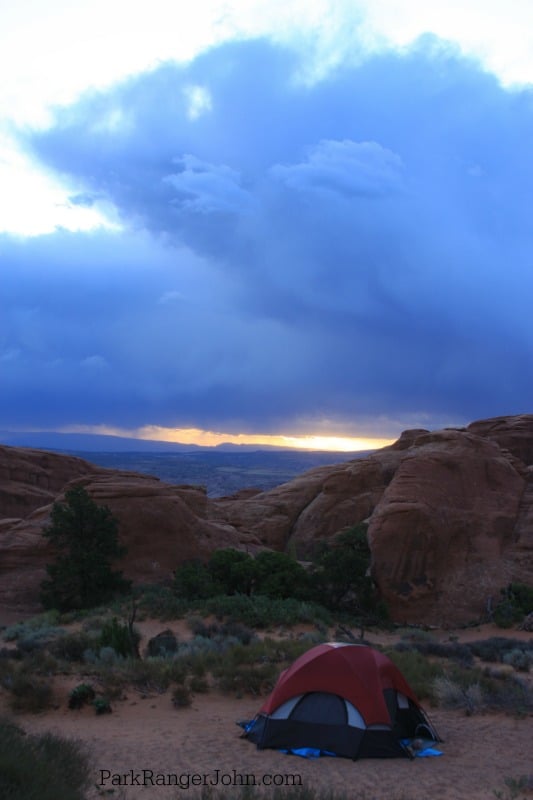 Group Campsites at Devils Garden Campground
You can reserve group sites up to 12 months in advance. No RVs or trailers are permitted in the group sites
Canyon Wren Group Site
Canyon Wren is a tent-only site with a maximum of 35 people.
11 - 16 people: $75
17 - 22 people: $100
23 - 28 people: $125
29 - 35 people: $160
Juniper Basin Group Site
Juniper Basin is a tent-only site with a maximum of 55 people.
11 - 22 people: $100
23 - 33 people: $150
34 - 44 people: $200
45 - 55 people: $250
Photos of Campground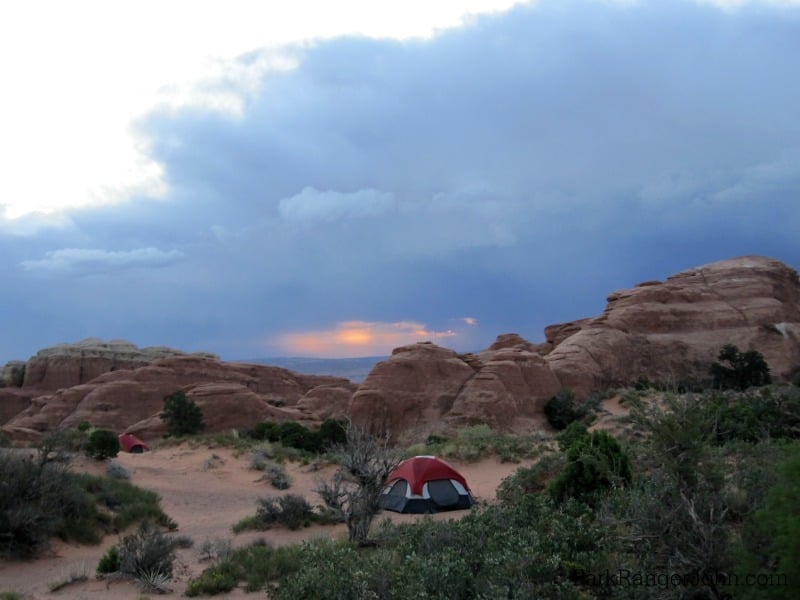 Are you heading to Utah? Check out all of the Utah National Parks for more information on great parks to visit.
You might also enjoy this article on Arches National Park Hikes.
Check out all of our Arches NP Travel Tips for our best tips for visiting the park.
Do you have a National Park Pass? Check out the types of US National Park Pass to pick up and use for your National Park Trip.
Visiting multiple parks? Check out this list of National Parks to check off all the parks you have visited.