Devils Garden Trail, located in Arches National Park, is one of the most memorable hikes I have done within the national parks system! I personally feel that Devils Garden Hike should be on any National Park lover's bucket list of hikes to complete.
This trail includes some of the most epic arches you can see in Arches including the famous Landscape Arch and the awe-inspiring Double O Arch.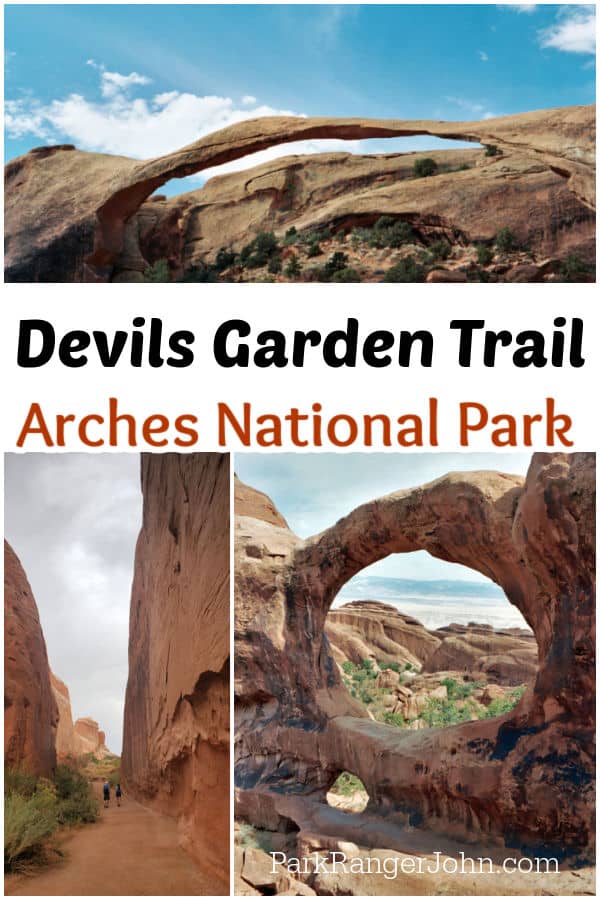 Devils Garden Trail
Distance: 7.9 Miles total distance if you do the entire trail.
Elevation Gain/Loss: 1085 Feet
Time: Four to Five Hours
Difficulty: Moderate to Difficult
Restrooms: Yes, Vault toilets at the beginning of the trailhead
Accessibility: This is not an ADA Accessible trail
Pets: Pets are not allowed on any hiking trails, or anywhere off-trail, even while in a carrier
Trailhead GPS coordinates: 38.782876, -109.594996
Entrance Fee: $30 for 1 vehicle
Planning a National Park vacation? America the Beautiful/National Park Pass covers entrance fees for an entire year to all US National Park Sites and over 2,000 Federal Recreation Fee Sites.
The park pass covers everyone in the car for per vehicle sites and for up to 4 adults for per-person sites.
Buy on REI.com and REI will donate 10% of pass proceeds to the National Forest Foundation, National Park Foundation and the U.S. Endowment for Forestry & Communities.
Timed Entry Tickets
From April 3 to October 3, 2022 Arches will implement a temporary, pilot timed entry system to help manage traffic and improve visitor experiences.
To enter the park from April 3 through October 3, 2022, visitors will need three things:
Photo ID
Park Entrance Fee OR valid Park Pass (includes Annual, Senior, Access, Military, 4th Grade, or Volunteer passes).
Ticketed entry will run from 6 am to 5 pm daily.
Timed Entry Tickets will not be required for those with camping, backcountry, Fiery Furnace, or special use permits
There are several ways to get a timed entry ticket
1- Download and use the Recreation.gov mobile app
2- Click this link to Recreation.gov to secure your ticket
3- Call the reservation line at (877)444-6777
4- Reservation International Line: (606)515-6777
5- Reservation Line (TDD) at (877)833-6777
HOW FAR IN ADVANCE CAN I GET A TIMED ENTRY TICKET TO ARCHES?
The park will release tickets on a first come-first served basis three months in advance in monthly blocks on dates listed below
Starting January 3 at 8 am MST, you can get timed entry tickets for (April 3-April 30)
Starting February 1 at 8 am MST, you can get timed entry tickets for (May 1- May 31)
Starting March 1 at 8 am MDT, you can get timed entry tickets for (June 1- June 30)
Starting April 1 at 8 am MDT, you can get timed entry tickets for (July 1 - July 31)
Starting May 1 at 8 am MDT, you can get timed entry tickets for (August 1 - August 31)
Starting June 1 at 8 am MDT, you can get timed entry tickets for (September 1- September 30)
Starting July 1 at 8 am MDT, you can get timed entry tickets for (October 1-October 3)
The Devils Garden Trail is located in Arches National Park on the eastern side of Utah, near the town of Moab and Canyonlands National Park.
The Devil's Garden Trail itself is located 18 miles (45 Minutes) North of Arches Visitor Center and the entrance of Arches National Park. Simply drive the main park road all the way up to the Devils Garden Campground and Devils Garden Trailhead parking lot. Camping at Arches gives campers the opportunity to walk right over to the trail from their campsite.
If you are not camping in Arches you will want to be prepared to show up early or be prepared to visit other trailheads or loop the parking lot a few times to try and get a parking spot. Devils Garden Trail and Delicate Arch Trail are the park's two most popular trails.
The trailhead has a couple of restrooms, trail guides, and benches for resting before heading out on the trail or when you get back. The cool thing about the Devil's Garden Trail is you get to decide how much of the trail you explore.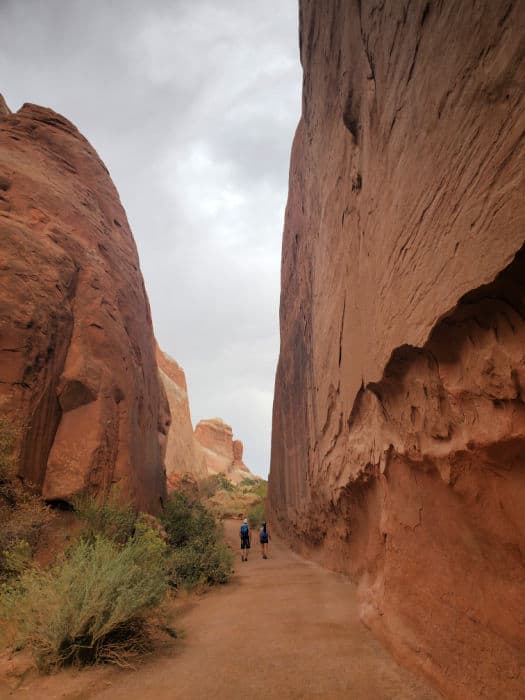 The Devil's Garden Trail affords park visitors the opportunity to get up close to 8 of the 2000+ arches located in Arches National Park on this hike.
The best part of this hike is you get to choose to make this hike what you want. You can choose to make this an easy .5 mile hike and see Tunnel Arch and Pine Tree Arch, a one-hour 1.8-mile roundtrip hike to Landscape Arch, a two to three-hour 4.2-mile difficult hike to Double O Arch, or hike all the trails in Devils Garden Making up four to five hours and 7.9 miles of adventure!
Tunnel Arch
Tunnel Arch is located in a large sandstone fin and appears to be a tunnel-like hole in the middle of the fin. It is also the first Arch you will come across on the Devils Garden Trail. I particularly like this arch as the blue skies really make the sandstone colors really stand out in photos!
You can Hike to Tunnel Arch and Pine Tree Arch and make it a .7 mile out and back hike. I would highly recommend continuing on towards Landscape Arch as it is truly incredible!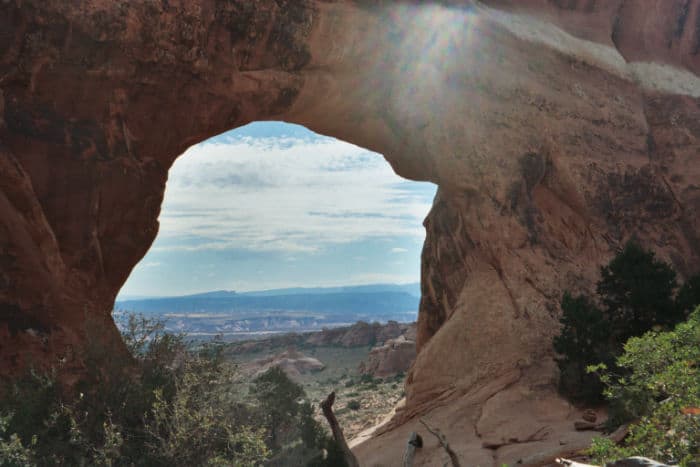 Pine Tree Arch
The hike out to Tunnel Arch and Pine Tree Arch is easy and starts off going through large sandstone fins, the same fins that the arches you see started off as! This is an arch you can get up close to!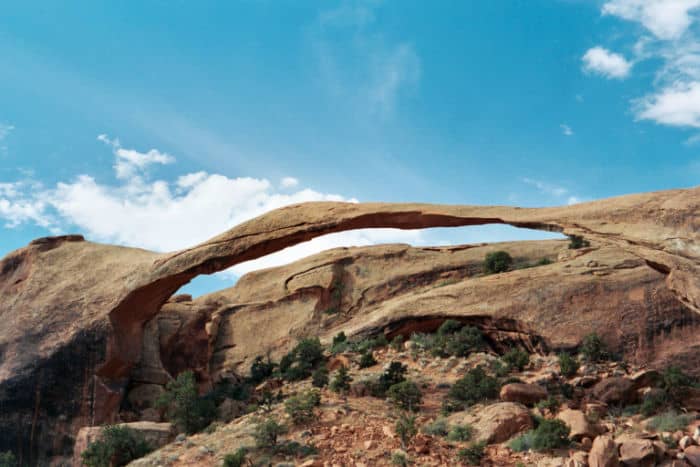 Landscape Arch
One of the highlights at Arches National Park is Landscape Arch! This arch is considered to be very mature in geologic time as it spans over 300 feet wide and in some places, the rock in the arch is only six feet thick!
Can you imagine the pressure being placed on that small section of rock? This means that it could fall any day or be there for the next 50 years we just don't know. I highly recommend any person who goes to Arches to make it to Landscape Arch.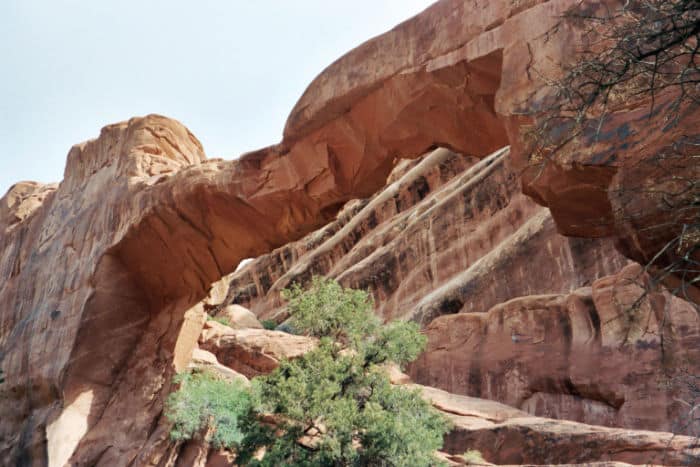 Wall Arch
I have been coming to Arches for over 20 years and absolutely love this place! This picture is a great reminder of just how delicate this park really is. This photo was taken on one of my earlier trips to Arches because it collapsed in the night on August 4, 2008.
It was the park's 12th largest Arch with a 71-foot span. The ironic part to me is that this arch was like a 3-minute hike from Landscape Arch which looks much more mature yet this was the one to collapse.
Partition Arch
The hike begins to get much more exciting once you are past Landscape Arch. From here you hike on Sandstone Fins, the trail becomes more rugged and there are considerably fewer visitors.
You can do Partition Arch or Navajo Arch in either order and both have great views. For Partition Arch, I really enjoy how you can see the park through the Arch!
Navajo Arch
Navajo Arch photographs beautifully! The colors are rich and the tree on the opposite side provides great depth for photos. It also provides a very welcoming shade on a hot day making a great rest stop.
This arch is in the base of a fin giving it a tunnel or cave-like feeling making for a great reason to keep hiking past Landscape Arch.
Black Arch Overlook
One of my favorite parts of hiking Devils Garden is hiking up and over a huge sandstone fin between Navajo and Partition Arches towards Double O Arch. The scenery here is some of the best in the park! you then arrive at the Black Arch Overlook.
The short detour to this overlook is worth the trip as you get to see Black Arch in the distance as well as more of the beautiful rock formations in this area.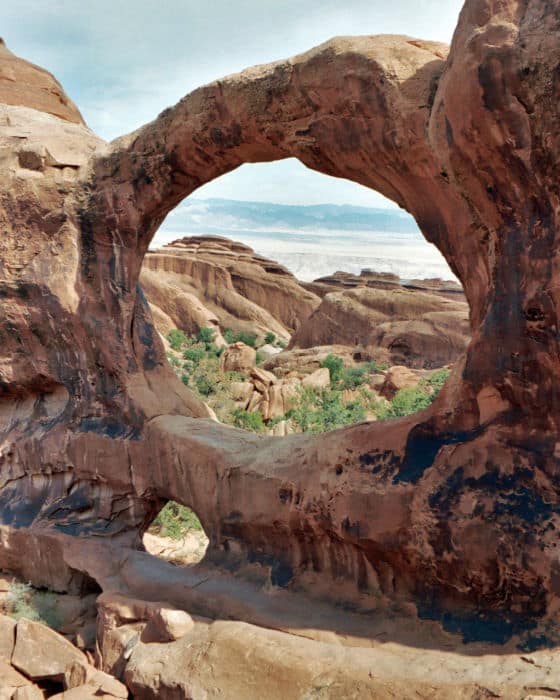 Double O Arch
This is one of my personal favorite arches in the park. The name comes from its small arch at the base with a much larger arch right above the first arch. It is towards the top of the Devils Garden Trail so it does take some work to get to it.
From here, you can walk back to the parking lot or take the off-shoot trail to the Dark Night or take the primitive trail that guides you by a few additional arches.
Dark Angel
For those who want to make their hike a little longer, you should check out the 150-foot tall sandstone column known as Dark Angel.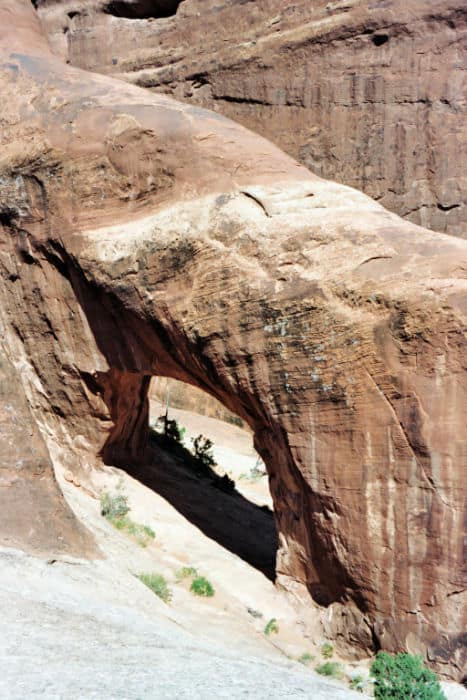 Private Arch
From Double O Arch, take the Primitive hiking trail. Private Arch is a nice arch to finish off a great hike and you could easily have it all to yourself!
Hiking the Primitive Trail
For those who like adventure, the primitive trail will be a highlight of the hike. Anyone taking this trail should come prepared with the 10 essentials and be good at navigation.
There are several social trails that you can easily take from previous hikers who also became lost and off the trail. The easiest way to navigate this section is with a GPS.
Experienced hikers know to keep looking for cairns (trail markers made from stacked rocks). Look for the next cairn before walking and assume that you are on the trail.
Travel Tips
Parking – I know I mentioned it earlier in this post but I have to say it again! Be prepared to wait for a parking space for a bit.
Water – Make sure to bring water with you! This trail does have areas of shade but it is still a hot desert area.
Sun – Be prepared with a hat, sunglasses, and sunscreen. While there is some shade other parts of the trail are out in the direct sun.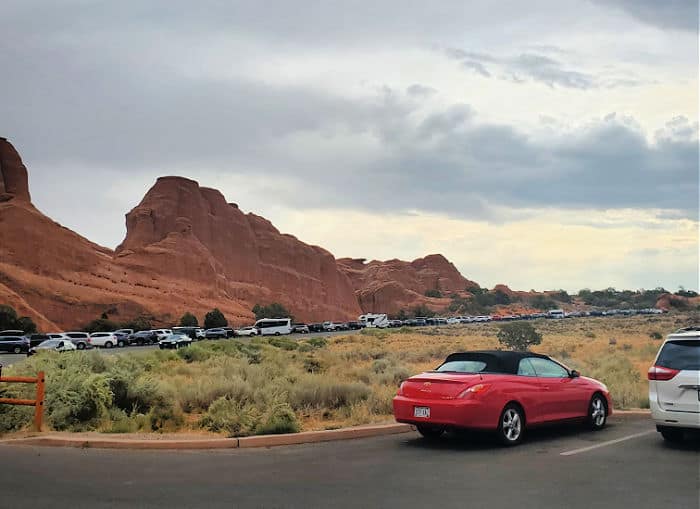 Guided Tours of Arches NP
Arches 4X4 adventure from Moab guided tour is a great option if you would like a guide to take you off road in the park.
There is also an epic Moab U-drive Slickrock Guided Tour that gives you the chance to off road with a guide.
Scenic Flight over Arches NP - Enjoy an epic scenic flight over the park with views of arches, rock formations, and so much more.
There is also a great introduction to mountain biking in Moab tour that gives you the chance to experience mountain biking in Moab.
Arches National Park Lodging
There are no National Park Lodges within the park.
The majority of lodging options can be found in and around Moab, Utah.
Fairfield Inn & Suites by Marriott Moab - We have stayed here many times and it has been great. There is easy access to the main road into Moab and to Arches. The pool area is amazing and the hotel has great amenities.
Under Canvas Moab - Stay in luxury safari tents under the stars. This is an amazing place to spend time soaking in the red rocks and epic views.
Moab Resort, WorldMark Associate - look forward to a firepit, a playground, and a 24-hour gym. Stay connected with in-room Wi-Fi (surcharge).
Hyatt Place Moab - free breakfast buffet, a terrace, and a coffee shop/café at Hyatt Place Moab. Free in-room Wi-Fi is available to all guests, along with a garden and a playground.
Comfort Suites Moab - free breakfast buffet, a grocery/convenience store, and laundry facilities. For some rest and relaxation, visit the hot tub. In addition to a gym and a business center, guests can connect to free in-room Wi-Fi.
Click on the map below to see additional lodging options near Arches NP


Additional Arches National Park Resources
Arches Hiking Guide - Make sure to check out all of the top trails in the park.
Arches Camping Guide – Find out what it is like to camp in the park.
Things to do in Arches – All of the epic things you do not want to miss in the park.
Utah National Parks – Check out the amazing national parks in Utah that you can visit.
Things to do Canyonlands National Park – Canyonlands National Park is only 30 minutes from the entrance to Arches.
For a fun adventure check out Escape Campervans. These campervans have built in beds, kitchen area with refrigerators, and more. You can have them fully set up with kitchen supplies, bedding, and other fun extras. They are painted with epic designs you can't miss!
Escape Campverans has offices in Vancouver, Seattle, Portland, San Francisco, Las Vegas, Los Angeles, Phoenix, Salt Lake City, Denver, Chicago, New York, and Orlando