Complete guide to Canyonlands National Park including things to do, history, camping, nearby lodging, and so much more.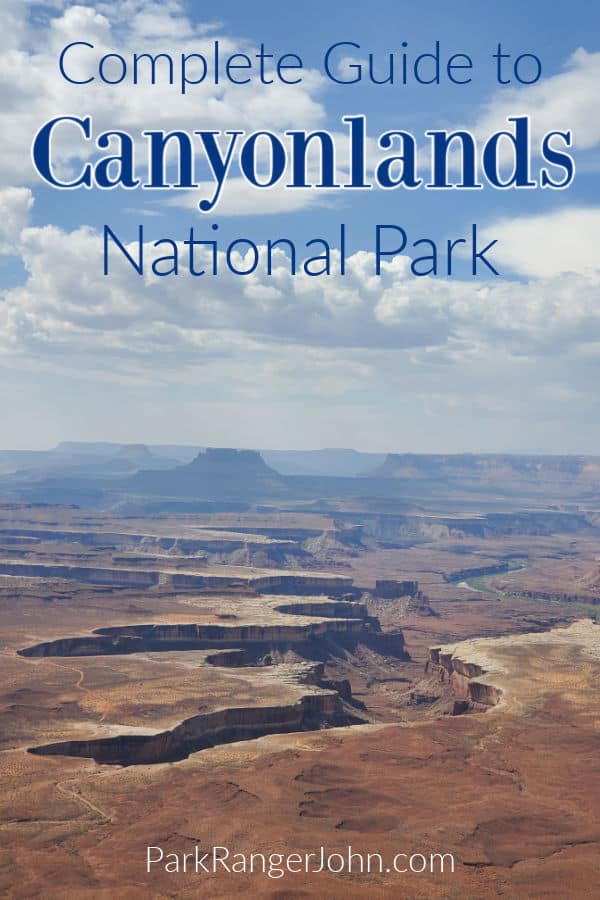 Canyonlands National Park
Canyonlands National Park is situated in southeast Utah, less than an hour from the popular gateway city of Moab.
The landscape, the terrain, and the weather are rugged, so visitors should be prepared for unforgiving conditions when they visit.
That being said, this is one of the most beautiful areas in the entire country and a renowned outdoor playground for the adventurous.
Complete with towering red rock formations, beautiful rivers, endless scenic views, and epic hiking trails, Canyonlands deserves a spot on every adventurer's bucket list.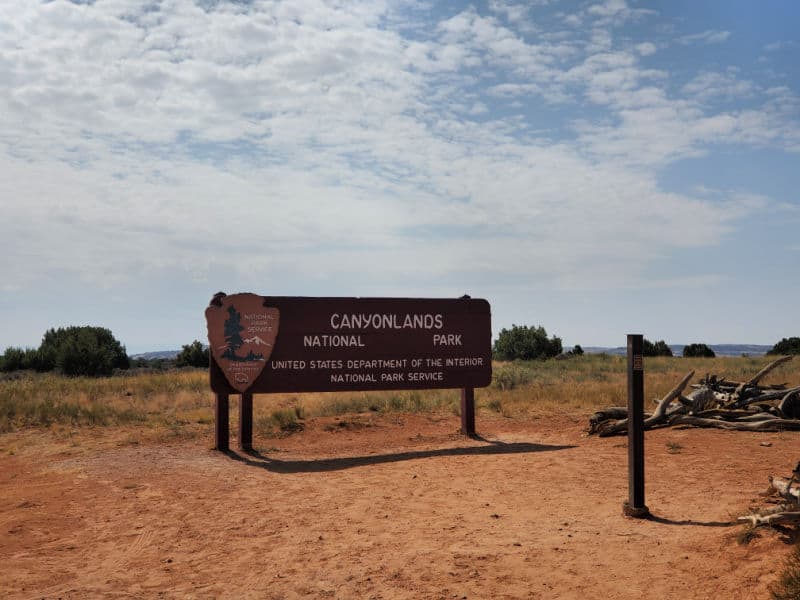 About Canyonlands National Park
The park is split into three unique districts: Islands in the Sky, The Needles, and The Maze.
Islands in the Sky
This is the most developed and most popular district in the park. It's easily accessible from Moab and features hiking trails, overlooks, and scenic drives.
The Needles
The Needles is a bit further out, but still accessible if you have time. This district is famed for its otherworldly sandstone rock formations and epic hiking trails that loop through them.
The Maze
The Maze is extremely challenging to navigate and, therefore, the least visited district in the park.
You will need four-wheel drive to get into the area, along with plenty of backcountry experience, as there are NO amenities or services in this area.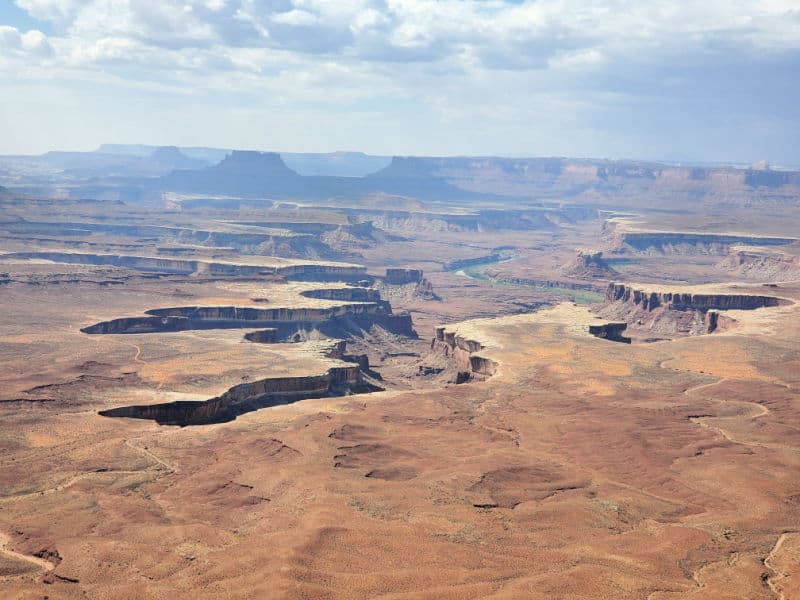 Is Canyonlands National Park worth visiting?
Canyonlands National Park is one of Utah's Mighty 5 national parks and absolutely worth visiting.
Its location less than an hour from Moab makes it extremely accessible, especially if you are already exploring the area.
While longer trips are recommended to see all there is to see in this massive park, you should still make it a point to visit even if you can only come for a day.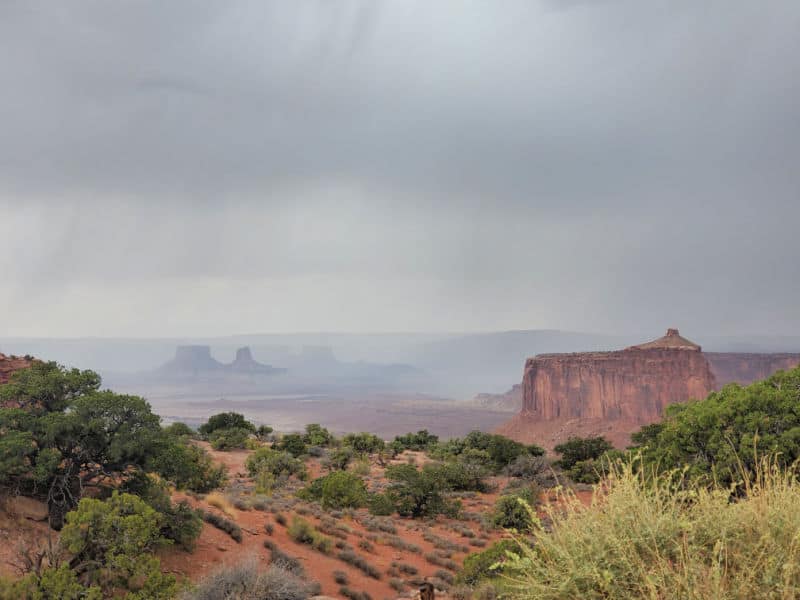 History of Canyonlands National Park
Canyonlands has played host to various peoples for the past 10,000 years.
There are dozens of native tribes associated with this region, and evidence of their existence can still be seen in the park today through ancient rock paintings and markings.
Cowboys, scientists, and eventually park rangers and visitors have all explored this area, adding to the history and culture of this incredible landscape.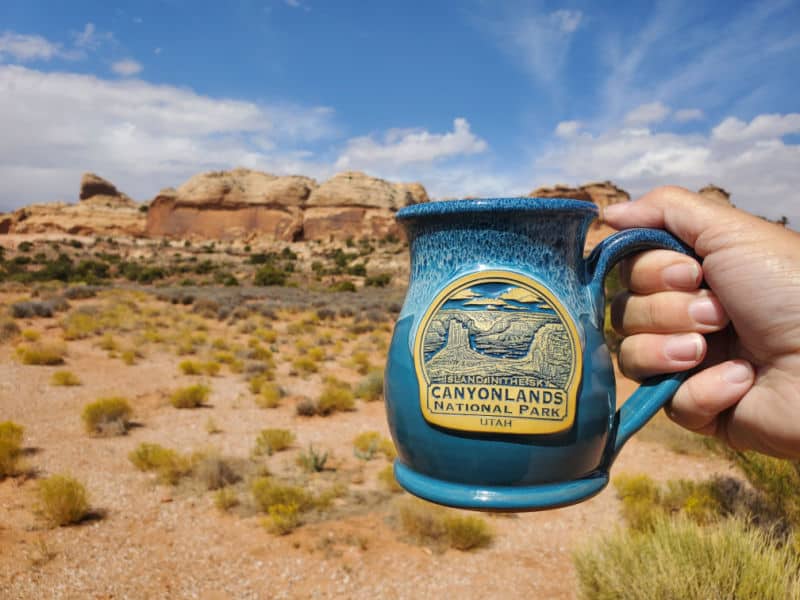 Things to know before your visit to Canyonlands National Park
Entrance fee
7-day single-vehicle park pass - $30
7-day individual park pass - $15
7-day motorcycle park pass - $25
Planning a National Park vacation? America the Beautiful/National Park Pass covers entrance fees for an entire year to all US National Park Sites and over 2,000 Federal Recreation Fee Sites.
The park pass covers everyone in the car for per vehicle sites and for up to 4 adults for per-person sites.
Buy on REI.com and REI will donate 10% of pass proceeds to the National Forest Foundation, National Park Foundation and the U.S. Endowment for Forestry & Communities
Learn more about National Park Passes for parks that have an entrance fee.
Free Entrance Days -Mark your calendars with the five free entrance days the National Park Service offers annually.
Time Zone
Mountain Time
Pets
Pets are allowed in the park in limited areas. Pets are not allowed on hiking trails, off trails, at overlooks, in the visitor center, or in the backcountry.
Pets are allowed on front country roads or parking areas and within front country campgrounds and picnic areas.
Cell Service
Cell service is limited within the park.
Park Hours
The park is open 24 hours a day. Visitor Services hours depend on the season.
Wi-Fi
Wi-Fi may be available at the Islands of the Sky and the Needles Visitor Center. There are times it does not work.
Insect Repellent
Insect repellent is always a great idea when outdoors, especially if you are around any body of water.
We use Permethrin Spray on our clothes before our park trips.
Water Bottle
Make sure to bring your own water bottle and plenty of water with you. Plastic water bottles are not sold in the park.
Parking
Limited parking is available at the visitor centers, campgrounds, various viewpoints and trailheads throughout the park.
The Island of the Sky district has the most convenient parking options, while the other districts often require hiking, boating, or four-wheel drive to access the attractions.
Parking lots fill up quickly during the summer months, so try to arrive early in the day if you hope to snag a spot.
Food/Restaurants
There are no restaurants or food services within the park.
Gas
There are no gas stations within the park.
Drones
Drones are not permitted within National Park Sites.
National Park Passport Stamps
National Park Passport stamps can be found in the visitor center.
Make sure to bring your National Park Passport Book with you or we like to pack these circle stickers so we don't have to bring our entire book with us.
Canyonlands NP is part of the 2001 Passport Stamp Set.
Electric Vehicle Charging
There are no EV Charging Stations within the park. There are charging stations available in Moab, Utah.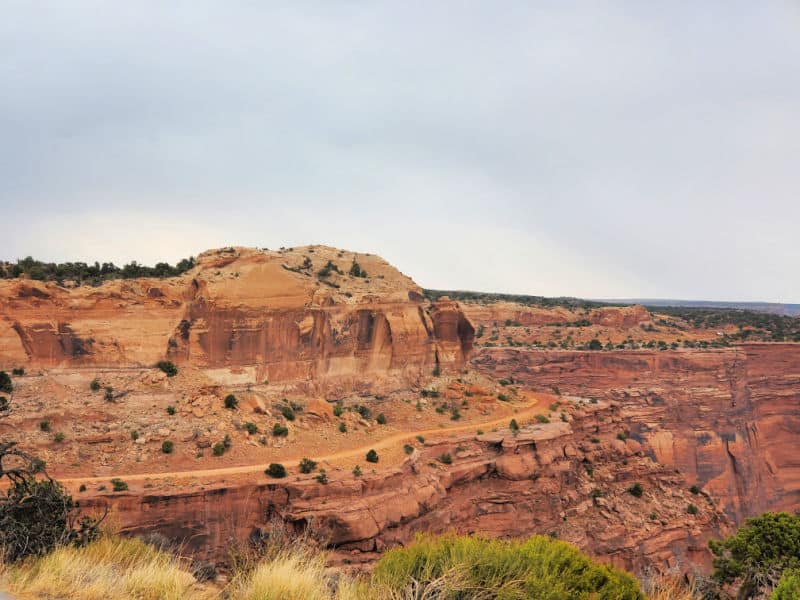 Details about Canyonlands National Park
Size - 337,598 acres
Canyonlands NP is currently ranked at 23 out of 63 National Parks by Size.
Date Established
September 12, 1964 - President Lyndon B. Johnson established the park.
Visitation
In 2021, Canyonlands NP had 911,594 park visitors.
In 2020, Canyonlands NP had 493,914 park visitors.
In 2019, Canyonlands NP had 733,996 park visitors.
Learn more about the most visited and least visited National Parks in the US
National Park Address
Islands in the Sky Visitor Center - Grand View Point Rd, Moab, UT 84532
Canyonlands National Park Map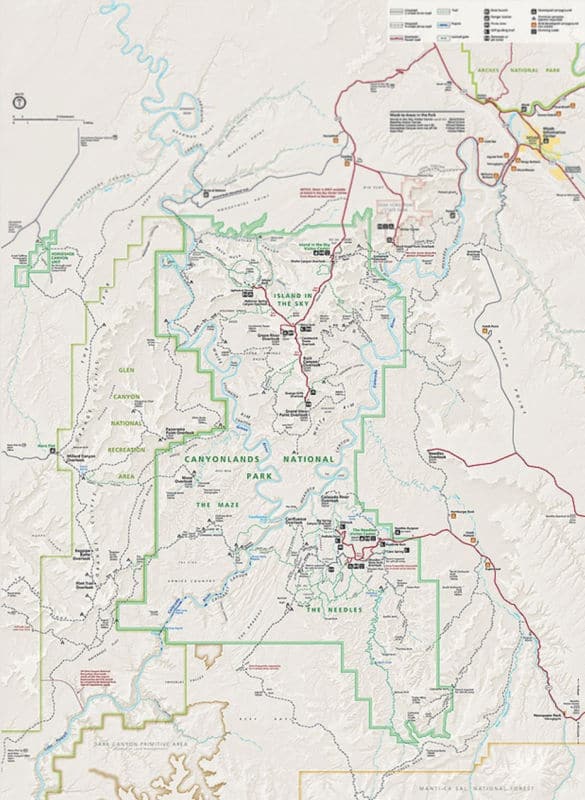 For a more detailed map of Canyonlands NP we really like the National Geographic Trails Illustrated Maps available on Amazon.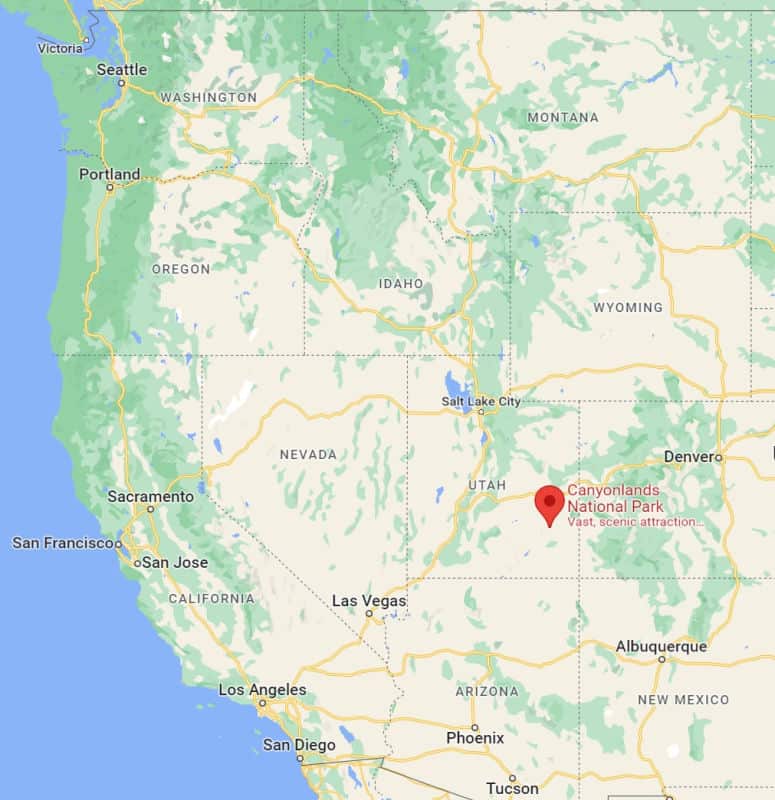 Where is Canyonlands National Park?
Canyonlands National Park is located in the desert of Southeastern Utah near Moab.
Estimated distance from major cities nearby
Distances calculated to the Islands in the Sky District.
Moab, Ut - 40 miles
Colorado Springs, CO - 440 miles
Denver, CO - 373 miles
Salt Lake City, UT - 252 miles
Las Vegas, NV - 475 miles
Scottsdale, AZ - 516 miles
Estimated Distance from nearby National Park
Arches National Park - 44 miles
Bryce Canyon National Park - 266 miles
Capitol Reef National Park - 154 miles
Zion National Park - 362 miles
Black Canyon of the Gunnison National Park - 202 miles
Mesa Verde National Park - 164 miles
Where is the National Park Visitor Center?
Island in the Sky Visitor Center
Off UT 313, approximately 22 miles southwest of US 191, Moab, UT 84532
The Needles Visitor Center
Grand View Point Rd, Moab, UT 84532 - At the end of UT 211, approximately 35 miles west of US 191
Hans Flat Ranger Station
Recreation Rd 777, Hanksville, UT 84734 - 46 miles off UT-24, east of Hanksville
Canyonlands Backcountry Office
2282 Resource Blvd, Moab, UT 84532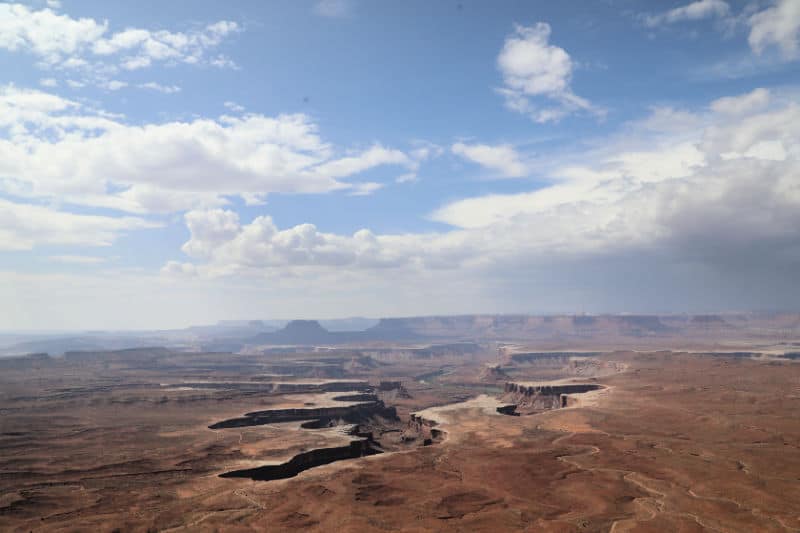 Getting to Canyonlands National Park
Closest Airports
Canyonlands Field (CNY)
Grand Junction Regional Airport (GJT)
Salt Lake City International Airport (SLC)
Public Transportation
There is no public transportation to Canyonlands.
Driving Directions
Because the different districts of the park are split by rivers, you'll need to drive on the outskirts of the park to reach the different areas.
The Island in the sky district is located off UT 313.
The Needles district is located off UT 211.
The Maze is accessible by a series of backcountry roads. It is extremely remote and difficult to access due to the isolated roads. Only vehicles with high clearance and four-wheel drive should attempt to explore this district. You can take a four-wheel drive route off of UT 90 near Hite, or take the turn off past Goblin Valley State Park (located off of UT 24).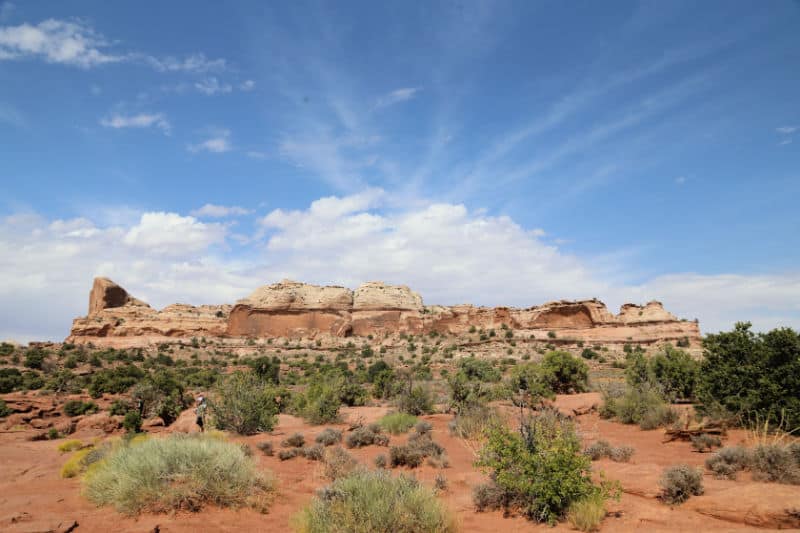 Best time to visit Canyonlands National Park
The best time to visit Canyonlands is during the shoulder seasons (spring and fall). The crowds are thinner, and the temperatures are more pleasant.
Weather and Seasons
Because of its location in the Colorado Plateau, the weather at Canyonlands National Park fluctuates frequently and is often unpredictable. Therefore, it's a good idea to wear plenty of layers no matter which season you are visiting the park.
Spring
Spring is one of the best times to visit Canyonlands. Late April and May are especially pleasant, with mild temperatures and slimmer crowds.
Summer
Summer is by far the most popular time at Canyonlands. You can expect big crowds and soaring temperatures - so plan on doing most of your activities early in the day if you visit during these months.
Note that parking can often be hard to find at the main attractions during the summer. In the later summer, monsoon season is in full swing, and flash flooding can sometimes occur.
Fall
Fall is another great time to check out Canyonlands National Park. During mid-September and October, the temperatures and crowds both decrease, making conditions just right for park activities.
Winter
The park is open year-round, so a winter visit to Canyonlands is entirely possible.
You will likely have some areas to park all to yourself, but the cost of solitude is freezing temperatures and often snow.
This shouldn't be a deal-breaker if you dress correctly, but some roads and hiking trails may be unavailable during your visit.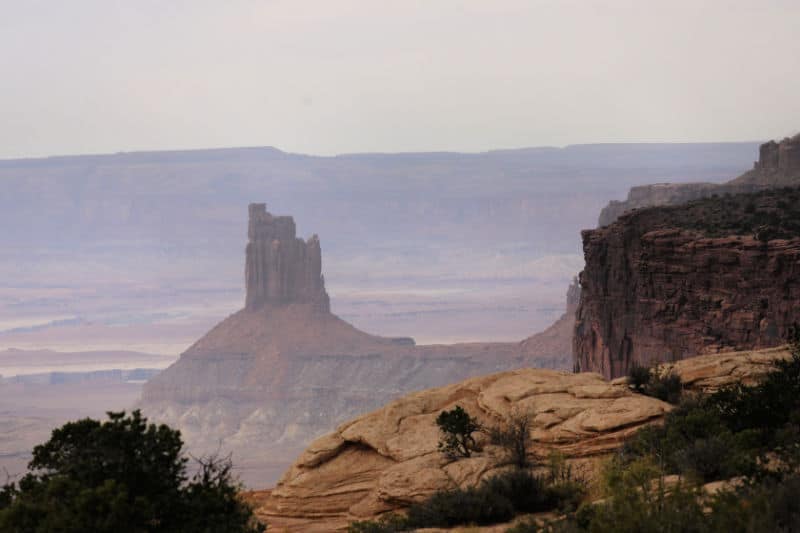 When planning how much time you will need in Canyonlands we suggest a minimum of a day but up to a few days depending on how much you want to explore each of the regions.
Auto Touring
While it's not possible to drive through the whole park, there are some seriously scenic sections of road that you can check out.
Most routes are rugged and require high clearance, four-wheel-drive vehicles. One of the most popular routes is the White Rim Road.
This 100+ mile stretch offers up scenic views and challenging terrain. Because of the rugged terrain, driving this road usually takes two to three days.
There are various backcountry campsites along the way, but be sure to secure a permit before setting out.
If you are traveling the White Rim Road during spring or fall, you will want to reserve your permit well in advance as they sell out quickly.
For a fun, in-depth look into the park, be sure to participate in a Junior Ranger Program.
This is a great way to learn about the park for both the young and the young at heart, and once you complete it, you'll receive a badge to commemorate your time at Canyonlands.
Biking
You could also choose to bike along the bumpy White Rim Road, though this is only recommended for seasoned cyclists.
The terrain is challenging, and inclement weather can add another layer of difficulty to the route. Be sure to check current conditions before setting out.
Biking the White Rim Road usually takes between three and four days, and there are dozens of backcountry campsites along the way.
Cyclists will need to secure an overnight permit for camping along the White Rime Road, and if you are traveling during spring or fall, you will want to reserve your permit well in advance.
Boating
While the desert landscape may not seem like the most obvious place for boating activities, the presence of the Colorado and Green rivers offers up tons of opportunities for water-based fun in the park.
You can whitewater raft along Cataract Canyon, paddle along flat water sections of the rivers, or take a guided trip from one of the local outfitters.
If you plan on exploring the rivers on your own, be sure to secure a permit and check current conditions in advance.
Guided Boat Tours
3 Hour Jet Boat Tour - Experience a jet boat tour on the Colorado River that passes through the bottom of Dead Horse State Park, the famous Thelma and Louise Point. Enjoy an awe-inspiring panorama.
Calm Water Cruise - Enjoy a half-day boat tour through Meander Canyon. See the incredible sights of the Canyonland, as you coast through calm waters. Enjoy a small group atmosphere, as you watch the scenery go by.
Guided Tours of Canyonlands and the surrounding area
From Moab - Half day Canyonlands Island in the Sky 4X4 Tour
Explore the backcountry of the Island in the Sky district of Canyonlands National Park in a 4x4 vehicle on this half-day tour from Moab. Enjoy the views from the river level all the way up to the top of the mesa, including the iconic Shafer Trail.
From Moab - Full day Canyonlands and Arches 4X4 Tour
Explore Arches National Park and Canyonlands National Park by 4x4 on this thrilling full-day combo tour. The tour includes the Island in the Sky area of Canyonlands, a drive along the famous Shafer Trail, views of Tower Arch, and dinosaur tracks.
From Moab - Guided Full Moon Hike
See satellites, planets, and constellations on a guided full moon hike through the unique landscapes of Moab. Admire the stars as your guide points out features of the night sky using a laser pointer.
From Moab - Edge of Canyonlands Helicopter Flight
The Edge Of Canyonlands Extended Helicopter Tour is a private flight around the majestic red rocks and arches of Moab, Utah. Your private helicopter flight includes extensive descriptions of the incredible canyons, arches, and towers in Moab.
From Moab - Canyonlands Airplane Tour
Explore all three districts of Canyonland's National Park: Upheaval Dome where mighty Colorado meets the Green River; Needles District of colorful spiral rock formations; and legendary Arches District tucked away in the backcountry.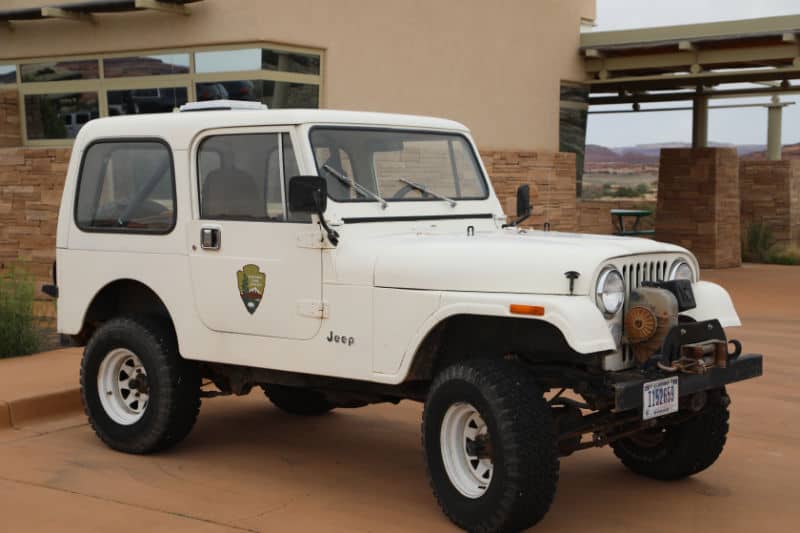 Hiking in Canyonlands National Park
Always carry the 10 essentials for outdoor survival when exploring.
Hiking is one of the best ways to explore Canyonlands National Park, and there are hundreds of miles of trails to traverse.
Below we've outlined a few of the best trails in the park, though the list is non-exhaustive. Most of the trails are located in the Island in the Sky district, though there are some great treks in the Needles district as well.
If you have experience backcountry hiking, some good options are available in the Maze district.
If you are hiking in the summer, try to avoid strenuous trails between 10 am and 5 pm as this is when the sun is at its hottest.
If you want to try to squeeze in a short trail during this time, be sure to bring plenty of water and sun protection - the heat here is no joke!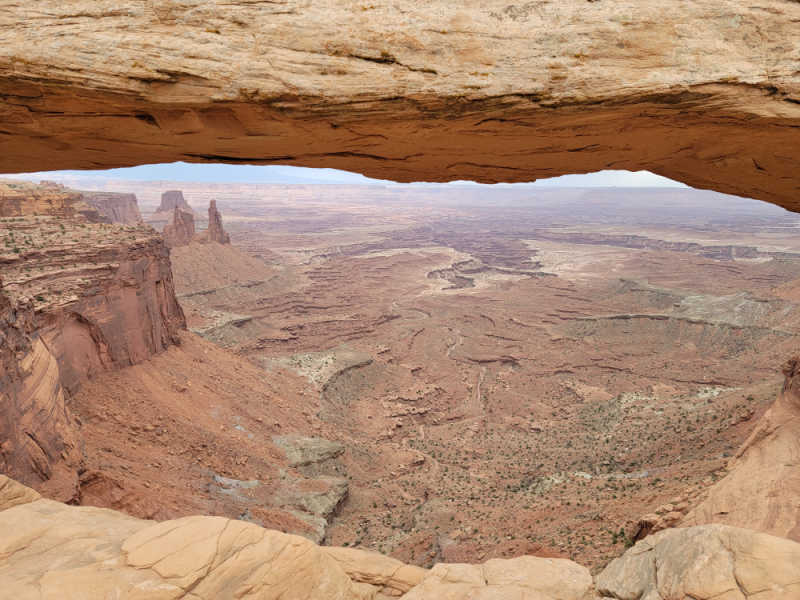 Distance - .7 miles
Trail Difficulty - Easy
Time Required - 20 Minutes
Trailhead - Island in the Sky District
This short and sweet trail leads to one of the most iconic vistas in the park - the Mesa Arch. Beyond this beautiful arch, sweeping views of the La Sal Mountains are visible. This hike and lookout point is especially popular around sunrise.
White Rim Overlook Trail
Distance - 1.8 miles
Trail Difficulty - Easy
Time Required - 1 hour
Trailhead - Island in the Sky District
The White Rim Overlook Trail offers some of the best views with the least amount of effort. The east-facing overlook offers up epic views of the Colorado River, Monument Basin, and the La Sal Mountains. This trail is popular, and parking is limited, so try to arrive early in the morning or later in the afternoon.
Neck Spring Trail
Distance - 5.8 miles
Trail Difficulty - Moderate
Time Required - 3 hours
Trailhead - Island in the Sky District
Trek back in time on this historic loop. The Neck Springs Trail passes by two springs that cowboys once used to water their cattle.
You'll also walk by a variety of plant life, scenic views, and lots of cairns. Note that the scramble at the 3.5-mile mark is difficult but doable. Hiking this loop counter-clockwise is recommended.
Chesler Park Loop Trail
Distance - 11 miles
Trail Difficulty - Moderate
Time Required - 6 hours
Trailhead - Needles District
If you have the time and the energy, do not miss this trail.
Often touted as one of the best hikes in the country, the Chesler Park Loop Trail winds through slot canyons and rewards hikers with breathtaking views of massive rock formations along the way. Hike the loop counter-clockwise for the best views.
This is a popular route without a lot of shade, so hike early and bring lots of water with you.
Gooseberry Trail
Distance - 5.4 miles
Trail Difficulty - Hard
Time Required - 4 hours
Trailhead - Island in the Sky District
This steep trail is a real leg burner, complete with sheer cliffs, rough switchbacks, and rugged slopes.
You'll need to step carefully along this trail, but don't forget to pause and take in the incredible views every once in a while. If you have a fear of heights, you may want to skip this route.
Syncline Loop
Distance - 8.6 miles
Trail Difficulty - Hard
Time Required - 4.5 hours
Trailhead - Island in the Sky District
This one is for experienced hikers only. If you don't know what you're doing, this trail can be downright dangerous, and the park states that most of its rescues occur along this challenging route.
However, those with lots of miles on their hiking boots will find this challenging trek quite rewarding, thanks to the beautiful views along the way.
If you decide to undertake this tricky trek, take the loop clockwise and be sure to bring plenty of water along.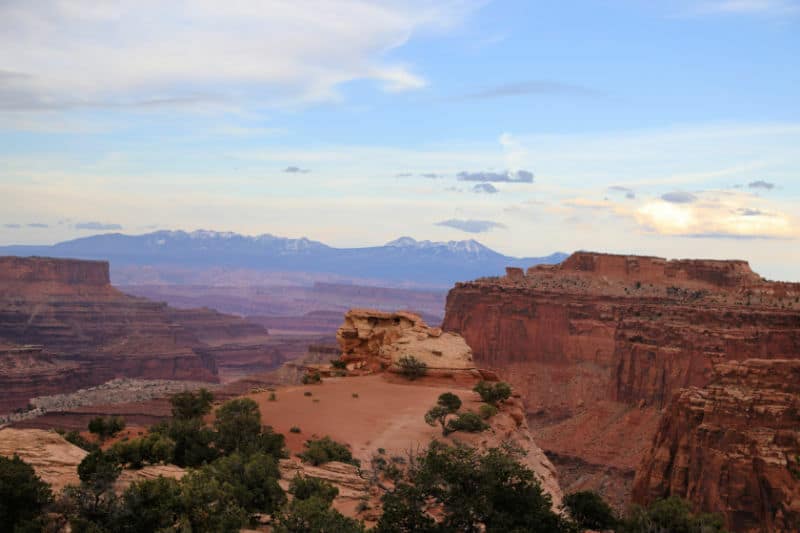 How to beat the crowds in Canyonlands National Park?
If you want to beat the crowds during your visit to Canyonlands, there are a few ways to do so.
The best way to avoid crowds is by visiting during the shoulder seasons (spring and fall). March through April and October through November are especially great for avoiding large swaths of visitors while still enjoying mild temps.
Summer is the busiest time of year, and you'll likely have a hard time finding a parking spot at some of the more popular attractions.
Many of the main attractions are the most crowded around mid-day, so get an early start and see the most popular sites right away.
It's almost impossible to avoid the crowds entirely at this popular park, but it's usually at its busiest between 10 am and 4 pm.
You could also venture out into the less frequented areas of the park, like The Needles and The Maze.
Just be sure you have a high clearance four-wheel drive vehicle and lots of backcountry experience if you check out The Maze - this area is as remote as they come!
Where to stay when visiting Canyonlands National Park
There are no National Park Lodges within the park.
The closest lodging is in Moab, Utah. Lodging and vacation rental options include:
Fairfield Inn & Suites by Marriott Moab - We have stayed here many times and it has been great. There is easy access to the main road into Moab and to Arches. The pool area is amazing and the hotel has great amenities.
Under Canvas Moab - Stay in luxury safari tents under the stars. This is an amazing place to spend time soaking in the red rocks and epic views.
Moab Resort, WorldMark Associate - look forward to a firepit, a playground, and a 24-hour gym. Stay connected with in-room Wi-Fi (surcharge).
Hyatt Place Moab - free breakfast buffet, a terrace, and a coffee shop/café at Hyatt Place Moab. Free in-room Wi-Fi is available to all guests, along with a garden and a playground.
Comfort Suites Moab - free breakfast buffet, a grocery/convenience store, and laundry facilities. For some rest and relaxation, visit the hot tub. In addition to a gym and a business center, guests can connect to free in-room Wi-Fi.
For additional lodging options click on the map below
Canyonlands Camping
For a fun adventure check out Escape Campervans. These campervans have built in beds, kitchen area with refrigerators, and more. You can have them fully set up with kitchen supplies, bedding, and other fun extras. They are painted with epic designs you can't miss!
Escape Campervans has offices in Vancouver, Seattle, Portland, San Francisco, Las Vegas, Los Angeles, Phoenix, Salt Lake City, Denver, Chicago, New York, and Orlando
This campground is open year-round and has 12 first-come-first-served sites. The campground is situated near the scenic Green River Overlook and has vault toilets and picnic tables for overnight guests.
Note that potable water is not available here. If you want to snag a spot at this popular campground, you'll need to arrive early and have a little bit of luck on your side!
The Needles Campground
This campground is open year-round with 26 individual campsites and 3 group campsites. Some sites are reservable from spring through fall, while others are available on a first-come-first-served basis.
Flush toilets are available seasonally, and pit toilets are available year-round. Potable water is also available seasonally.
Backcountry Camping
Backcountry camping is allowed in certain areas of Canyonlands, but you'll need to obtain a permit to access them. Reservations for backcountry camping are recommended but not required.
Campgrounds near Canyonlands NP
Check the links below for camping options in and around Moab, Utah.
Portal RV Resort and Campground - Moab, Utah
This campground offers lodging, RV sites, a pool, hiking, dog park, and more.
Sun Outdoors Arches Gateway - Moab, Utah
This campground offers lodging, RV and Tent sites, a pool, hot tub, dog park, bike rentals and more.
Sun Outdoors North Moab - Moab, Utah
This campground offers lodging, RV and Tent sites, a pool, hot tub, dog park, and more.
Check out additional campgrounds in the area on Campspot.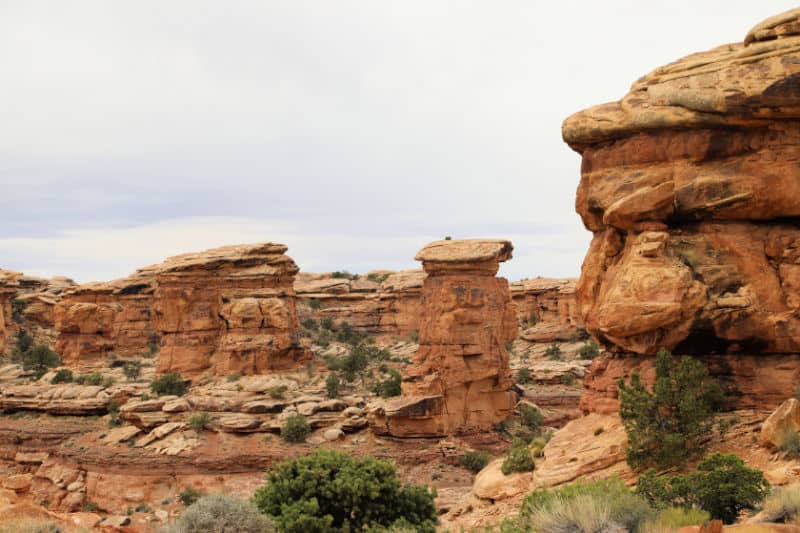 Parks Near Canyonlands National Park
Glen Canyon National Recreation Area
Rainbow Bridge National Monument
Timpanogos Cave National Monument
Check out all of the National Parks in Utah along with neighboring National Parks in Arizona, National Parks in Colorado, National Parks in Idaho, Nevada National Parks, New Mexico National Parks, and Wyoming National Parks