Island in the Sky Campground in Canyonlands National Park is also known as the Willow Flat Campground.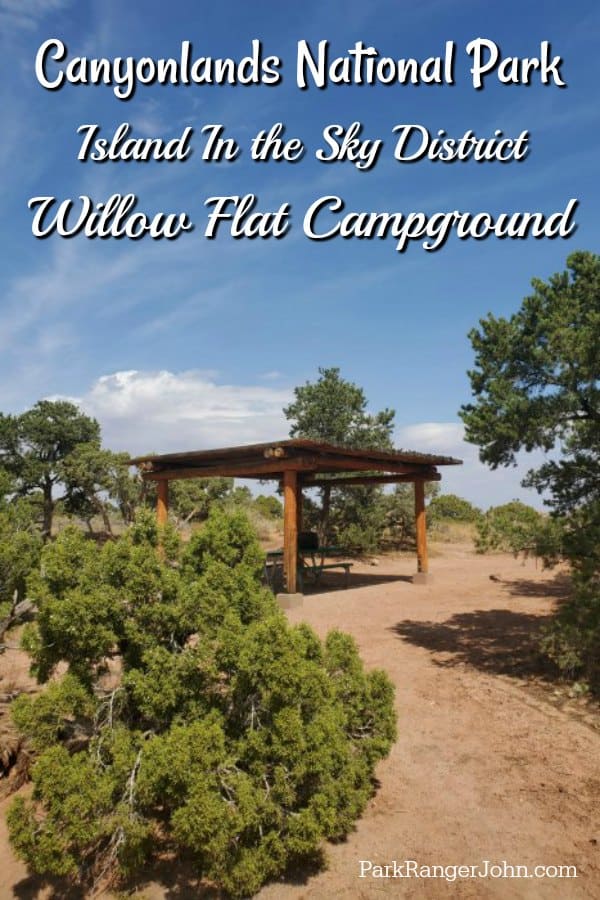 Island in the Sky Willow Flat Campground - Canyonlands National Park
This Island in the Sky Campground Willow Flat is open year-round and is located on the scenic drive within Island in the Sky District.
There are 12 sites within the campground located in a loop. The campground is close to the Green River overlook that offers amazing views of the surrounding area.
From the campground, you can easily access the Mesa Arch Trail, White Rim Trail Road, and more of the stunning Island of the Sky Section.
Sites do fill quickly from Spring through Fall! You will want to plan to arrive early to get a site, especially during the busy season.
The nearest place to get food, firewood, and supplies is Moab, Utah, approximately 45-60 minutes from Island in the Sky. You will want to come prepared with everything you need for your stay.
Number of Sites
: 12
Location in the park: Near the Green River Overlook
Campsite Cost: $15 per site
Senior/Access Camping Fee: $
Payments accepted:
Reservations: No, all sites are first come first served.
Latitude/Longitude:
Latitude
38° 23' 0.1705" N
Longitude
109° 53' 17.2655" W
Accessible Sites: Island in the Sky Campground has one accessible campsite and a nearby pit toilet. The campsite is reserved at all times for people with disabilities only.
The campsite is paved with the exception of the tent pad, which is dirt. Paths to the toilet and campsite payment station are paved.
Pets Allowed: Yes, they must be leashed at all times.
Campground Reservations
Are campground Reservations Available? No, All sites are first come first serve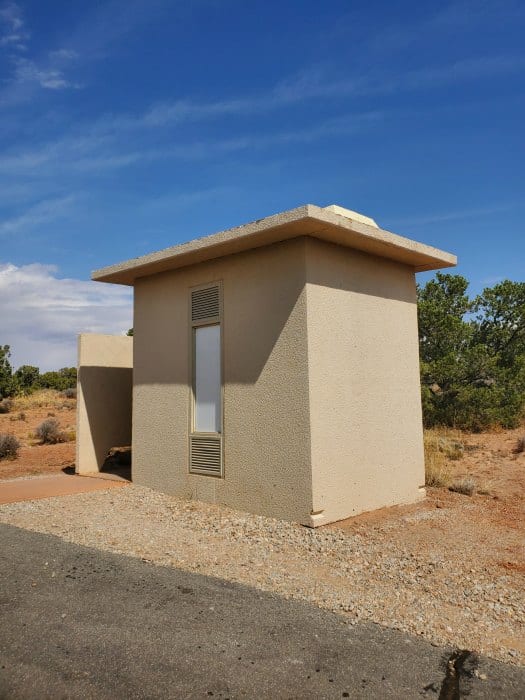 Campground Amenities
Dump Station: No
Flush Toilets: No, Vault Toilets
Payphone: No
Is wifi available? No
Is cellular Phone Service Available? No, You may be able to get service in other portions of the Island in the Sky Section.
Is a camp host available on site? We did not see a camp host during our visit.
Is firewood available for purchase? No, Fire is available in town
Amenities at each campsite:
Each campsite has a picnic table and fire ring.
Fire pit in the site? Yes
Picnic Table in the site? Yes
Bear Box in site/area?
Potable Water? No, there is no water at the campground. You can get drinking water outside the visitor center spring through fall. Make sure to bring multiple camping water jugs so you have more than enough water with you.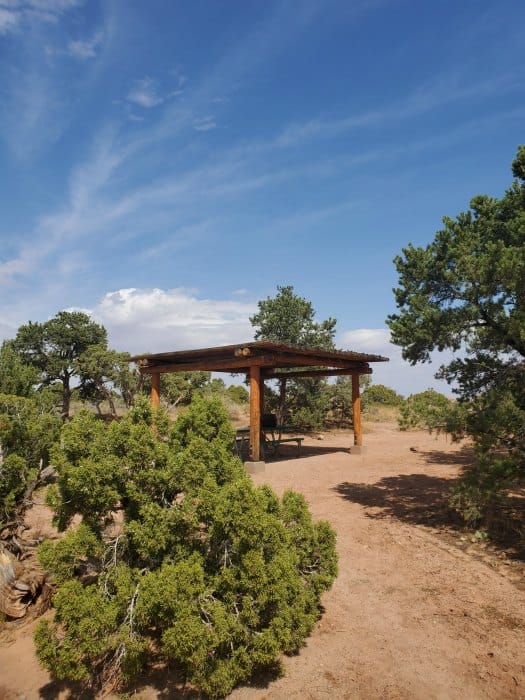 RV Camping at Willow Flat Campground
RV Length: RVs and trailers are permitted, but campsite length is limited to 28 feet in most sites.
Generators: Generators may only be used between 8 am and 10 am, or from 4 pm to 8 pm.
How to get to Campground
Turn on UT 313, approximately 10 miles north of Moab or 22 miles south of I-70. Follow the road 22 miles to the entrance to Canyonlands National Park - Island in the Sky district.
Continue on the park road for approximately 7 miles. Make a right turn toward Upheaval Dome, and follow signs to the campground.
Campground Regulations
The maximum number of people in a campsite: 10
The number of cars per campsite: 2
Checkout time: 10 am
Quiet Hours: 8 pm to 8 am
Maximum stay: 7 consecutive nights.
If the campground is full there are additional camping opportunities at Dead Horse Point State Park, nearby BLM lands, and within Arches National Park.
Islands in the Sky Campground Map
Photos of Islands in the Sky Campground
Additional Utah National Park Articles
Glen Canyon National Recreation Area
Most Visited US National Parks
Check out all of the National Parks in Utah along with neighboring Colorado National Parks, Idaho National Parks, Wyoming National Parks, Nevada National Parks, Arizona National Parks, and New Mexico National Parks.