Mesa Arch is an amazing stone arch that is perched on the edge of a cliff offering amazing views of the La Sal Mountains in the distance, rock spires, and Canyonlands National Park.
While many considered this an easy hike I want to make sure you are fully prepared for walking up to this epic view.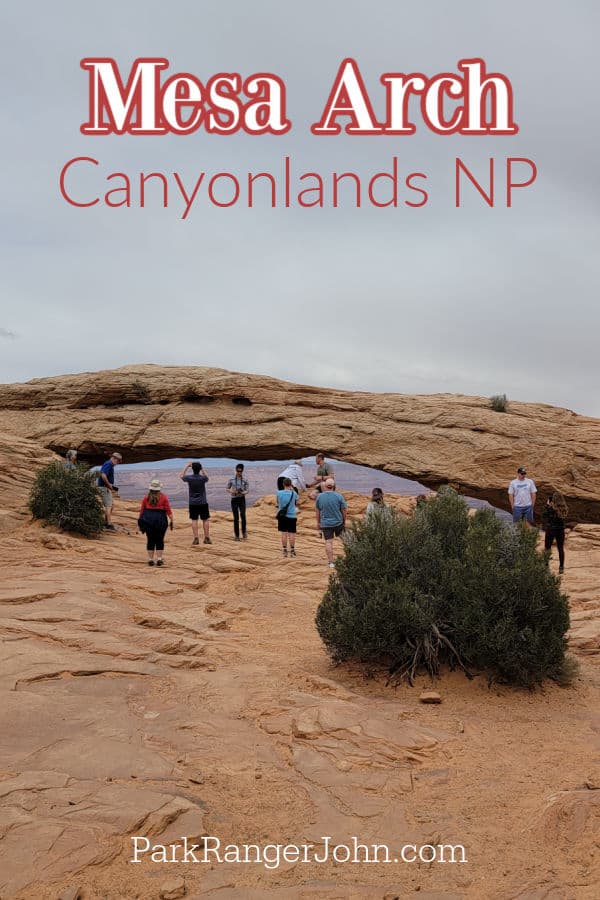 Mesa Arch - Canyonlands National Park
While sunset is the most popular time to visit Mesa Arch the arch is gorgeous all day long. Every visit may look just a little different depending on the weather and where the sun is compared to the arch.
The one thing I can say is to plan to spend at least a few minutes enjoying this grand viewpoint and savoring the landscape in front of you.
If you look really closely you can see Washer Woman Arch and Buck Canyon in the distance behind Mesa Arch. Many of the geologic features you can see from this vantage point can only be accessed from the 4 wheel drive White Rim Road.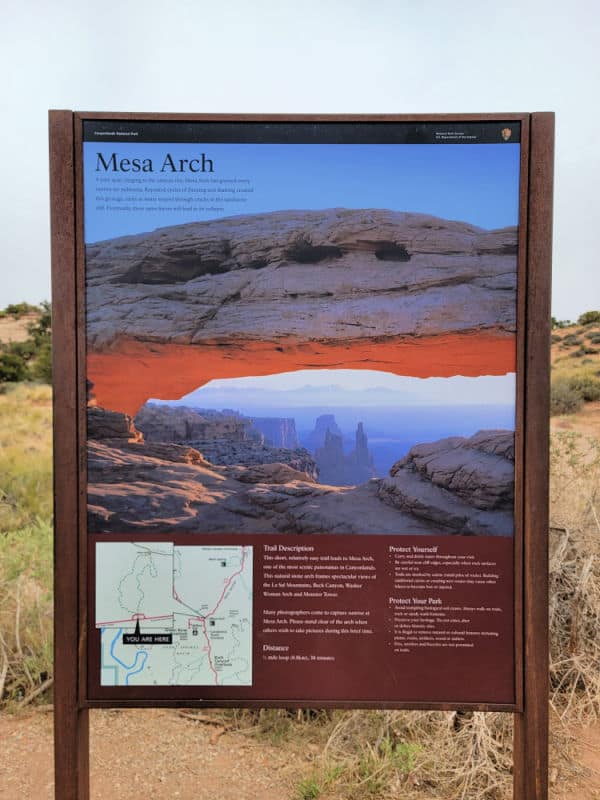 Mesa Arch Trail
Trail Distance - .5 mile loop trail
Difficulty - Easy but the trail is rugged.
Location - Islands in the Sky District
The trail is on slick rock so you will want to be prepared with good shoes.
While it is safe to walk up and look at the arch please do not walk on top of the arch. It is worth noting that there is a sheer drop behind the arch.
I do want to talk about what to be prepared for while hiking up to Mesa Arch. The NPS Sign says that Mesa Arch is a relatively easy short hike of about half a mile.
This may be true if you are in great shape, are used to hiking at 6,000 feet elevation, and are prepared for walking on slick rock, sand, and uneven surfaces.
If you are not used to hiking at 6,000 feet please plan time to do this hike. Take your time, bring water with you and be ready for an epic view at the end.
The trail starts directly from the parking lot. The first adventure you will have is finding a parking spot because this trail has become one of the most popular things to do in Canyonlands.
There is an outhouse near the parking lot that I would suggest using before heading out on the hike. There are no services once you leave the parking lot.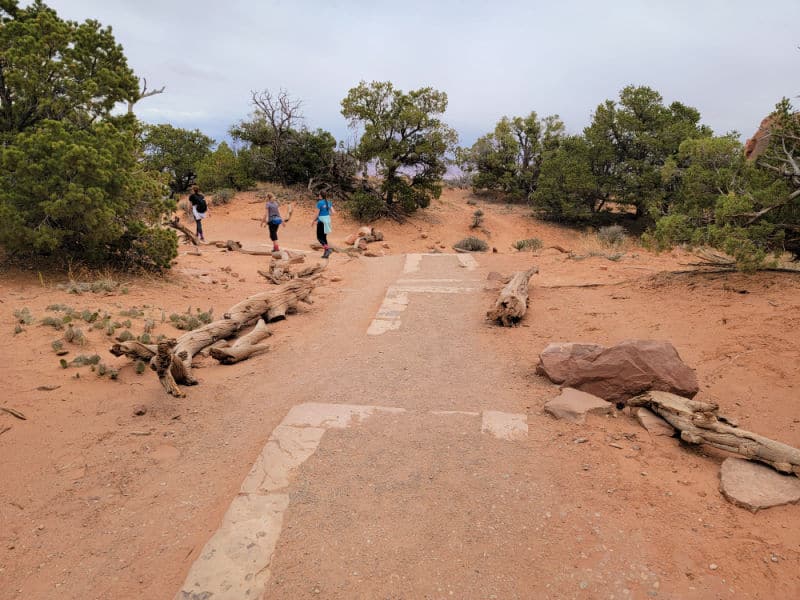 The trail starts with an uphill walk on dirt and stairs. This portion of the trail is pretty even with good food placements.
Once you reach the top of the stairs you will start to get into an area that is all sandstone rock and sand. There are natural sandstone stairs that are not even and you will want to have hiking poles if you have any mobility restrictions.
If you have had any knee, back, hip, ankle, and so on issues, you will want to be prepared for very uneven ground.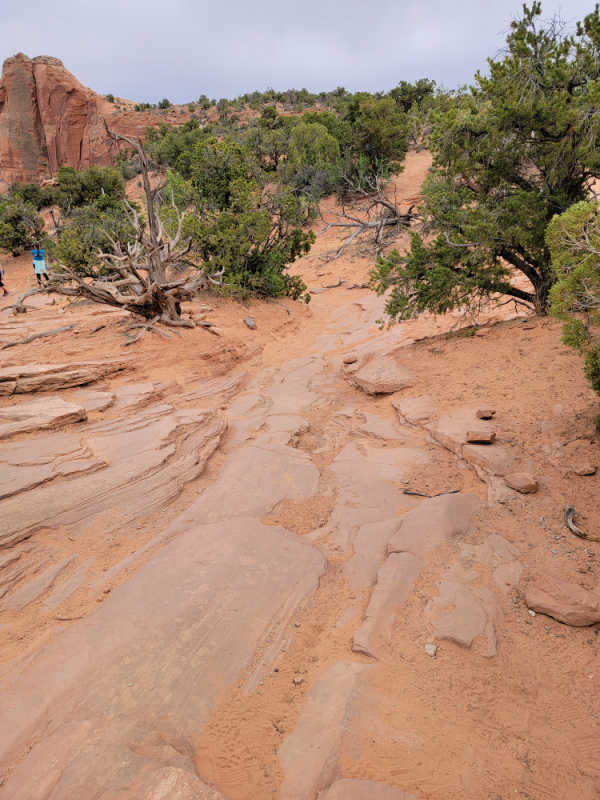 There are a few areas along the trail where you can decide to go down slick rock or maneuver through a patchwork of sand and slick rock stairs depending on what you are comfortable with.
I will tell you that there is not a ton of flat even walking along this trail. You are actively maneuvering along the slick rock and sand to get the best footing.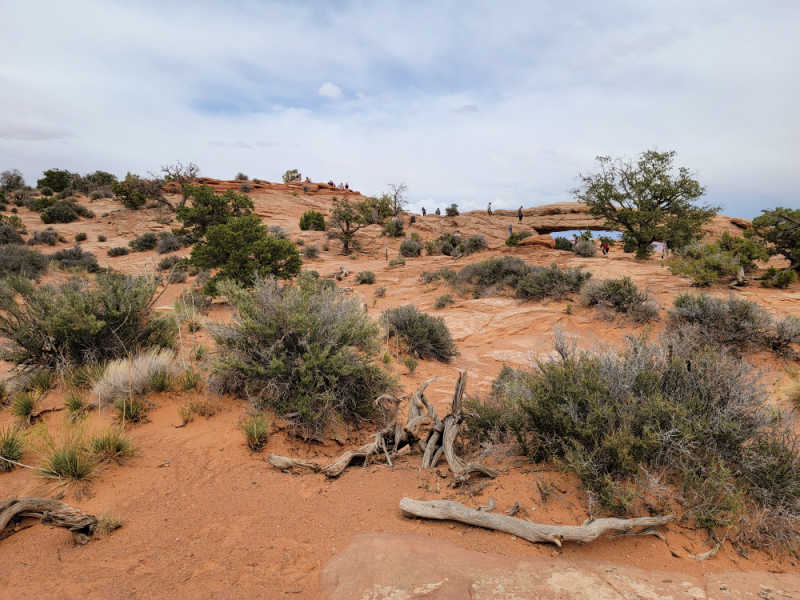 Once you reach the first view of Mesa Arch take a second to just soak it in from a distance. It is amazing to get the full view of the arch and how many people have hiked out to see it.
When you get closer you will most likely need to get into a short line to get a close-up photo. If you want a photo in front of Mesa Arch I would ask the person behind you in line to take it.
While I was there people were really friendly and helpful making sure everyone had a great photo.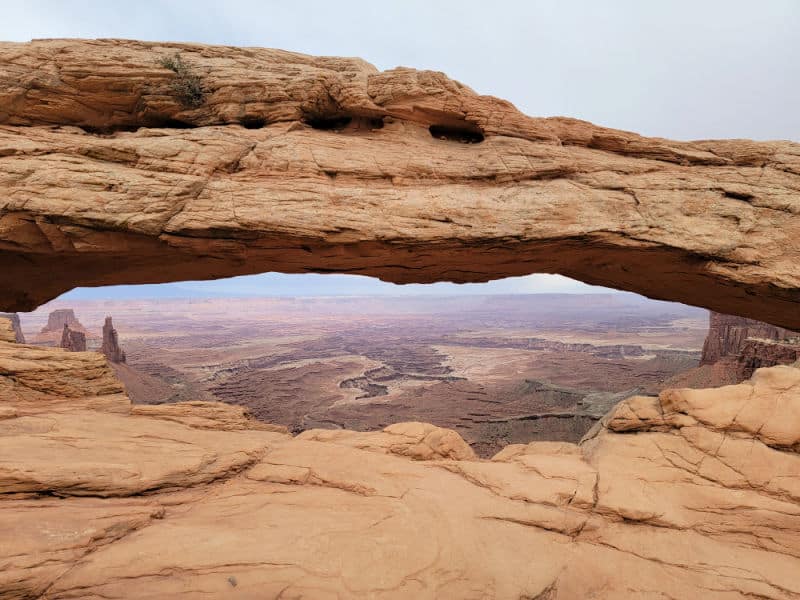 If you just want scenic pictures you may need to mention it to the world in general that you are going to take a few pics without people in it so you don't get a mad rush of people trying to get around you.
I say this from experience because as I went to take these pictures I had multiple families trying to get in for a photo because they saw empty rock and no one sitting there.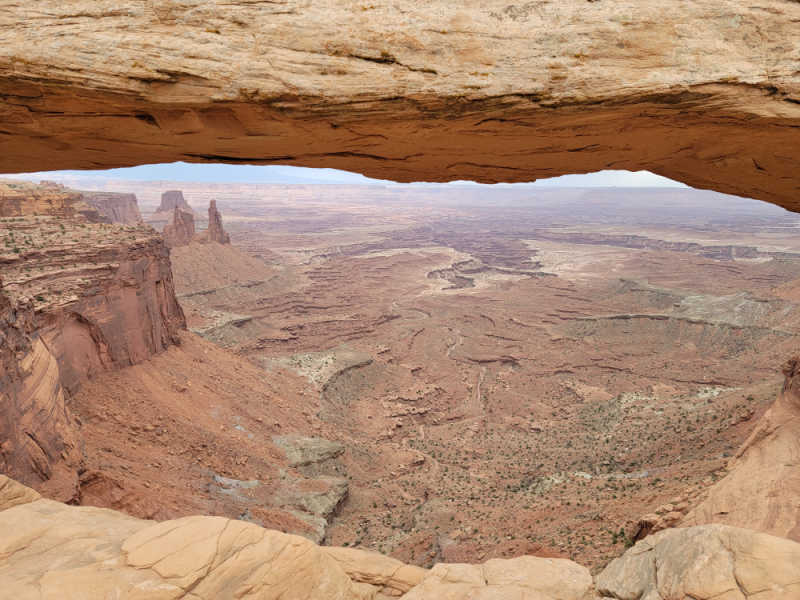 PLEASE BE CAREFUL!!!! It is hard to describe just how sheer of a drop-off it is a couple of inches/feet from where people sit for photos.
I heard an older gentleman walk up and say Hell No and walk away from the photo spot once he realized how far the drop-off really was.
If you are hiking with kids PLEASE make sure they are aware of the drop-off and do not try to play George of the Jungle climbing on rocks or sliding off of things.
I had a few moments of panic watching a few kids run around and try to get as high as they could while visiting Mesa Arch this last time.
The view is spectacular so make sure you plan some time to enjoy it! You hiked up here and made it so take the time to enjoy the view.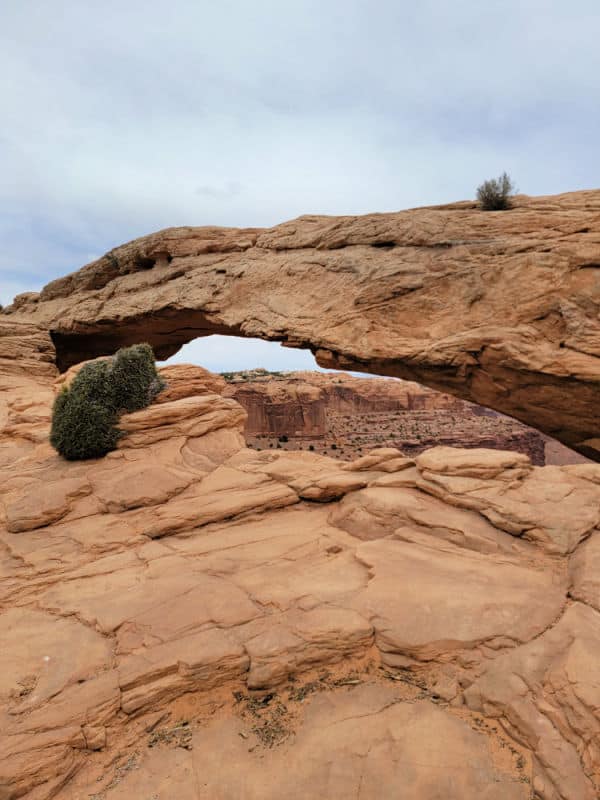 Mesa Arch Sunrise
When we asked the park ranger at the contact station what time we should arrive in the park if we wanted to view sunrise at Mesa Arch she told us early and be ready for a huge crowd.
The iconic sunrise photo we have all seen is bringing in hundreds of people every morning vying to get that photo.
If you decide to hike out to Mesa Arch for Sunrise you will want to be prepared! I highly suggest walking the trail the day before so you are prepared and know what to expect on the walk.
Bring a headlamp, hiking poles, and be prepared for a chilly morning and crowds. You will want to get up to the arch early enough to find a safe spot to take photos.
If you are planning to photograph sunrise at Mesa Arch you will want to make sure to bring with you a tripod, a star filter for a fun look, and a bit of patience.
You will be in a large crowd all vying for the same epic photo in a small space.
Another tip is to look on Pinterest and Instagram to see photos of the sun rises at Mesa Arch so you know what the photo options are. This will help you plan ahead for your trip visiting Canyonlands.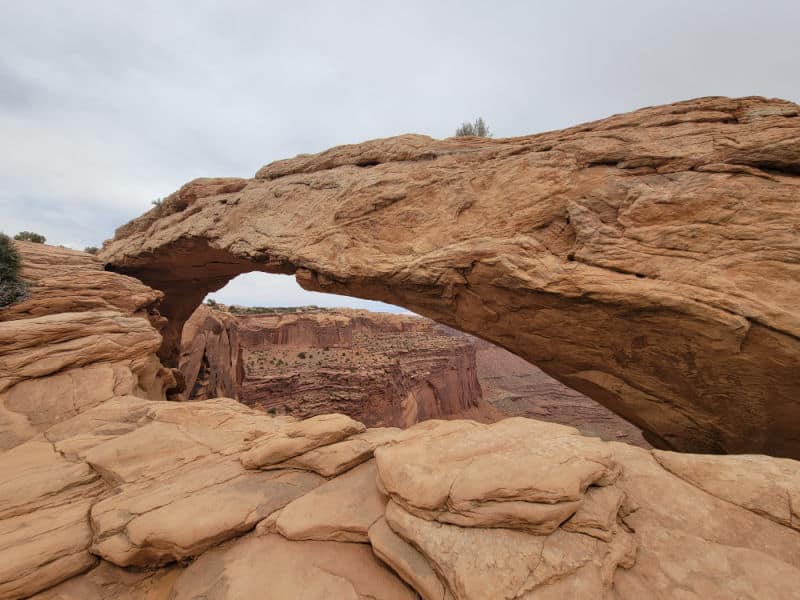 Things to know when planning a visit to Mesa Arch
The trail is not accessible to wheelchairs. If you have any mobility restrictions you will want to make sure you are comfortable and able to walk on very uneven grown and rocks.
The parking lot for Mesa Arch can fill quickly. Be prepared to arrive early if you want to watch the sunset at Mesa Arch.
Pets are not allowed on the trail.
Where is Mesa Arch - Drive 6.3 miles south of the Island in the Sky Visitor Center and turn left (east) into the Mesa Arch Parking Area.
Longitude/Latitude - 38.389174, -109.868150
Bathrooms - There are bathrooms at the trailhead and also at the visitor center 6 miles away.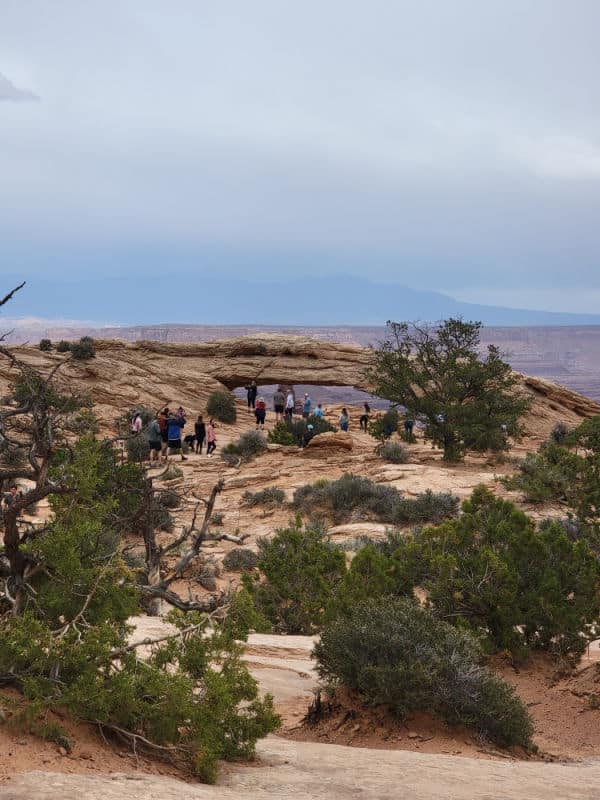 Additional travel guides
Islands in the Sky Campground - If you want to camp in the park so you are close to Mesa Arch in the morning this is the only campground in the area.
Things to do in Arches - If you are heading to Arches National Park during your Southwest adventure make sure to check out all of the top things to do.
Dead Horse Point State Park - This great Utah state park is located just down the road from Canyonlands.
Top things to do in Canyonlands
Check out all of the Utah State Parks
Check out all of the National Parks in Utah along with neighboring Colorado National Parks, Idaho National Parks, Wyoming National Parks, Nevada National Parks, Arizona National Parks, and New Mexico National Parks.