Gateway Arch National Park in St. Louis, Missouri is a monument dedicated to the westward expansion of the United States. At 630 feet, it's the tallest memorial in the country. Gateway Arch National Park was formerly known as the Jefferson National Expansion Memorial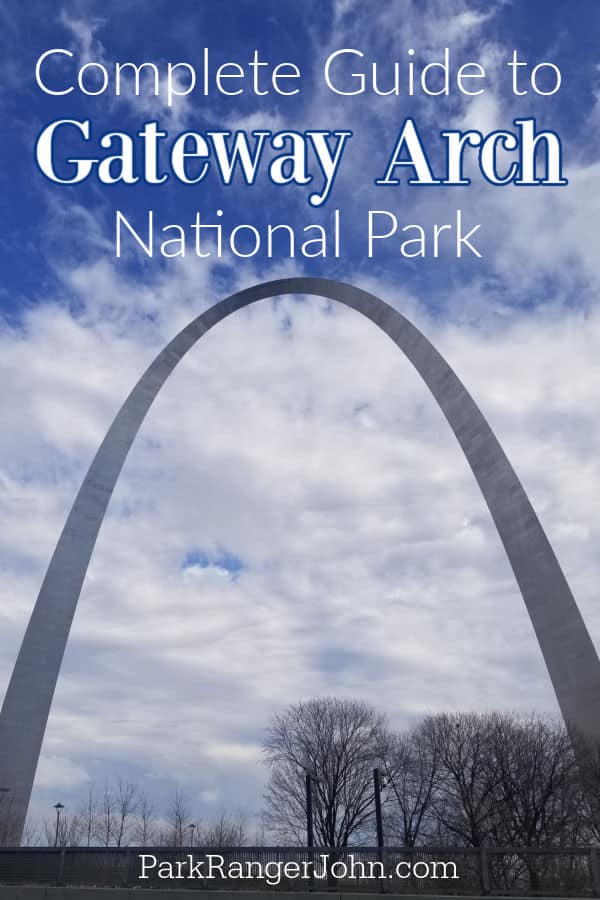 Gateway Arch National Park
If you're in search of a hefty dose of history in the center of one of America's oldest cities, look no further than Gateway Arch National Park. This tiny park may be less than 200 acres, but don't let the size fool you.
The park packs a serious punch with epic views of the St. Louis skyline and Mississippi River, in addition to a new American history museum, a historic courthouse, some lovely riverside walking trails, and so much more.
Below you'll find the ultimate guide to Gateway Arch National Park, including an overview of the park's history, the best things to see and do, and more. Enjoy!
About Gateway Arch National Park
The United State's 60th national park is probably not what comes to mind when you think of a classic national park. There are no soaring mountain peaks, no backwoods campsites, and no leg-burning hiking trails.
However, what Gateway Arch National Park lacks in traditional aspects, it more than makes up for in its incredible offerings.
The Gateway Arch is obviously one of the main attractions here, but there's a lot more to this massive structure than what you see at first glance. You can do more than just crane your neck to get a good look at the top. You can actually GO to the top of the arch via the tram, and once you're up there you'll get some of the best views in the city.
There is also a state-of-the-art American history museum that highlights the significance of the arch, its construction, and what this area signified to the people that once inhabited it.
The park also encompasses the historic Old Courthouse, which was the setting for some of the country's most important cases, including Dred Scott v Sandford and Virginia Minor v Happersett.
There are even a few riverside walking trails that will lead you to and from downtown St. Louis, so getting to the park is an easy shot whether you're on foot, on public transportation, or in your own private vehicle.
There is much more to Gateway Arch National Park than meets the eye, so don't hesitate to visit this small yet incredible national park.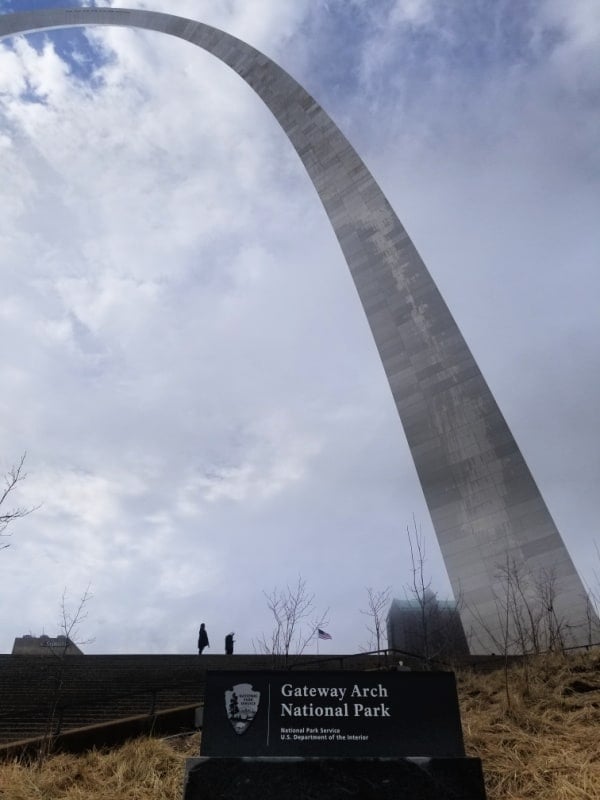 Is Gateway Arch National Park worth visiting?
While it may be a far cry from the conventional national parks, Gateway Arch National Park is absolutely worth visiting.
Its small size means that you can see the whole park in just a single afternoon, and there is plenty to keep you busy for hours on end. In addition, the park has recently gone through a $380 million restoration, so there's truly no better time to visit!
Feel free to visit during all four seasons, as the park is open year-round.
History of Gateway Arch National Park
The St. Louis Gateway Arch has been an iconic monument since its completion in the 1960s. However, it has recently joined the ranks as a national park, making it one of the newest additions in the system when it gained official park status in February of 2018.
In addition to being one of the latest national parks, it is also the smallest, covering just 193 acres along the mighty Mississippi River.
Construction of the arch was no easy feat, and workers had to deal with the wind, rain, and (probably) an intrinsic fear of the staggering heights from 1963 until 1965. The structure is the tallest artificial arch in the world, but there's so much more to this historic area than this legendary monument.
Long before the arch's construction began, this site held importance for a variety of reasons. It was a memorial for Thomas Jefferson's westward expansion, a commemoration for the epic Lewis and Clark expedition, and the setting for a few monumental court proceedings.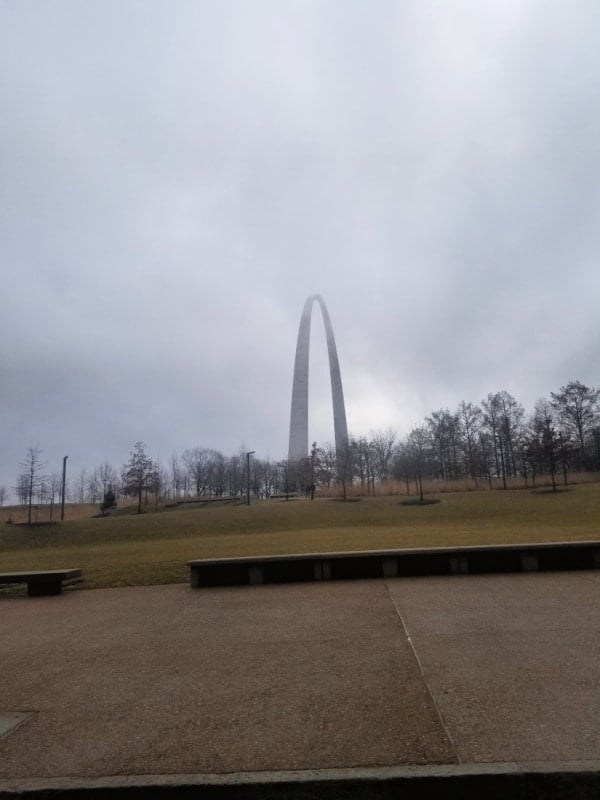 Things to know before your visit to Gateway Arch National Park
Entrance fee
$3.00 - Entrance fee per person over the age of 16.
16 and under are free.
The tram ride, movie, and riverboat cruises are an additional fee for adults and children.
Planning a National Park vacation? America the Beautiful/National Park Pass covers entrance fees for an entire year to all US National Park Sites and over 2,000 Federal Recreation Fee Sites.
The park pass covers everyone in the car for per vehicle sites and for up to 4 adults for per-person sites.
Buy on REI.com and REI will donate 10% of pass proceeds to the National Forest Foundation, National Park Foundation and the U.S. Endowment for Forestry & Communities.
Learn more about National Park Passes for parks that have an entrance fee.
Free Entrance Days -Mark your calendars with the five free entrance days the National Park Service offers annually.
Time Zone
CST - Central Standard Time
Pets
Feel free to bring your pets to Gateway Arch National Park - just be sure to keep them leashed! Pets are allowed around most of the park with the exception of Gateway Arch Visitor Center and The Historic Old Courthouse.
Cell Service
Cell service can be spotty in the visitor center. Outside on the grounds we had great cell service.
Park Hours
Open year-round, closed only on Thanksgiving, Christmas, and New Year's Day.
Hours changed based on the season. Summer hours run from the Saturday before Memorial Day through Labor Day weekend.
Wi-Fi
Free Wi-Fi is provided on the Arch grounds and in the Visitor Center
Insect Repellent
Insect repellent is always a great idea when outdoors, especially if you are around any body of water.
We use Permethrin Spray on our clothes before our park trips.
Water Bottle
Make sure to bring your own water bottle and plenty of water with you. Plastic water bottles are not sold in the park.
Parking
Parking can be interesting. There are paid lots near the park. Make sure you do not leave anything valuable in your car.
Use this map of downtown parking facilities to find parking downtown.
Food/Restaurants
The Arch Café is located at the base of Gateway Arch.
The Café features farm to table food including St. Louis ribs, hamburgers, and paninis.
Snacks are also available at The Arch Store.
Gas
There are no gas stations located within the park.
Drones
Drones are not permitted within National Park Sites.
National Park Passport Stamps
National Park Passport stamps can be found in the visitor center.
Make sure to bring your National Park Passport Book with you or we like to pack these circle stickers so we don't have to bring our entire book with us.
The park also has the Lewis and Clark National Historic Trail Stamp, Underground Railroad Freedom Network Stamp, and multiple Gateway Arch/Jefferson National Expansion Memorial stamps.
Electric Vehicle Charging
St. Louis is actively working to add electric vehicle charging stations to the city.
The mayor recently signed a bill mandating more EV charging stations.
Currently there are 104 public charging station ports level 2 and 3 within the city.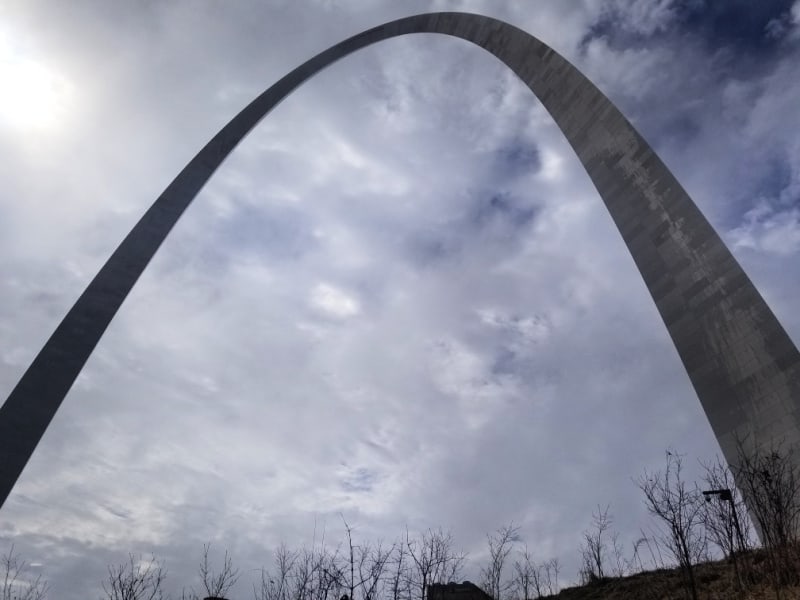 Details about Gateway Arch National Park
Size - 192 acres
Gateway Arch NP is currently ranked at 63 out of 63 National Parks by Size.
Date Established
February 22, 2018,
Visitation
In 2021, Gateway Arch NP had 1,145,081 park visitors.
In 2020, Gateway Arch NP had 486,021 park visitors.
In 2019, Gateway Arch NP had 2,055,309 park visitors.
Learn more about the most visited and least visited National Parks in the US
National Park Address
Fourth Street between Market and Chestnut streets
St. Louis, MO 63102
Gateway Arch National Park Map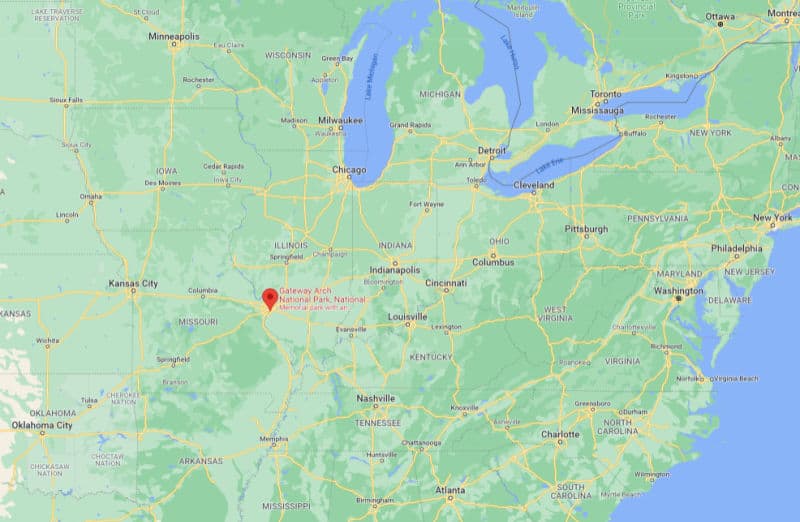 Where is Gateway Arch National Park?
Gateway Arch National Park is located in the heart of downtown St. Louis, Missouri, making it incredibly easy and convenient to visit.
There are even a few walking trails that lead right from the city center into the park, along with public transportation options and a large parking lot if you are driving your own vehicle.
Estimated distance from major cities nearby
Indianapolis, IN - 241 miles
Kansas City, MO - 248 miles
Memphis, TN - 284 miles
Louisville, KY - 259 miles
Nashville, TN - 308 miles
Chicago, IL - 295 miles
Cincinnati, OH - 349 miles
Madison, WI - 358 miles
Estimated Distance from nearby National Park
Mammoth Cave National Park - 289 miles
Indiana Dunes National Park - 304 miles
Hot Springs National Park - 401 miles
Cuyahoga Valley National Park - 545 miles
Great Smoky Mountains National Park - 499 miles
Where is the National Park Visitor Center?
The Gateway Arch Visitor Center is conveniently located right under the Gateway Arch. Other attractions in this area include the tram, the Arch Museum, the Arch Store and café, and the Monument to the Dream film.
You can enter the Visitor Center from the west of the arch across from the Old Courthouse via Smith Square.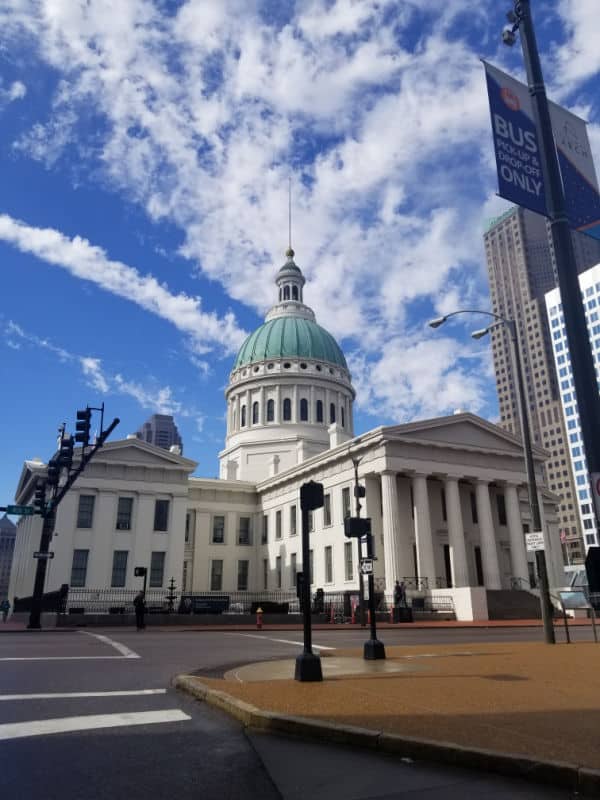 Getting to Gateway Arch National Park
Closest Airports
Lambert St. Louis International Airport (STL)
International Airports
Indianapolis International Airport (IND)
Kansas City International Airport (MCI)
Louisville International Airport (SDF)
Memphis International Airport (MEM)
Regional Airports
Mid-America St Louis Airport (BLV)
Abraham Lincoln Capital Airport (SPI)
Williamson County Regional Airport (MWA)
Driving Directions
Thanks to its central location, there are tons of major interstates around the park. On the Missouri side, interstates 55, 44, 64/40, and 70 all lead to the park.
On the Illinois side, interstates 55,64, and 70 lead to the park via Poplar Street Bridge, Martin Luther King Bridge, Eads Bridge, and Sta Musial Veterans Memorial Bridge.
Best time to visit Gateway Arch National Park
The park grounds are open year-round, though hours for certain attractions like the museum, courthouse, and cafe are shortened during the winter months.
There's no bad time to visit the park, though most people tend to do so in the Spring and Summer months. If you want to avoid the crowds, plan a visit for the Autumn or Winter.
St. Louis Weather and Seasons
Spring
Spring in St. Louis is usually quite pleasant, with average highs ranging from 55-75 degrees Fahrenheit. However, while this season is lovely, it is also unpredictable.
Rainy days are not uncommon during these months, though luckily short bursts of precipitation are usually the norm. While the rain may not be ideal for visiting the park, it does make the flora here incredibly vibrant.
You'll likely see daffodils, dogwoods, and other species starting to bloom if you visit during these months.
Unfortunately, spring also brings thunderstorms, hail, and even tornadoes, so be sure to check the forecast before heading out.
Summer
Hot sunny days abound in the summer months in St. Louis, with multiple days reaching over 100 degrees Fahrenheit.
The balmy humidity makes the heat even more oppressive, but this is by far the busiest time of year at the park despite the warmth. Luckily, most of the buildings and indoor attractions have air conditioning pumping during the summer.
June and July can be rainy, though bright sunny days are far more common than the gray rainy ones.
Autumn/Fall
The onset of autumn in St. Louis signals crisper days with cooler temperatures. There are nearly as many rainy days as the spring during these months, though warm sunny days are not uncommon either.
The fall foliage reaches its peak in mid-autumn, and the vibrant red, orange, and yellow hues are a spectacular sight to see.
Like most seasons in St. Louis, the weather is quite unpredictable, and it's not unheard of for snow to fall as early as October. It's not a bad idea to dress in layers if you visit during the fall.
Winter
Winter is the least popular time at Gateway Arch National Park, mostly due to the chilly temperatures and lack of sunny days. Daily highs range from the high 30s to the mid-40s, and lows can drop down to the 20s.
So long as you prepare for the weather, there's no reason you can't enjoy a nice winter trip to the park. The best part about visiting during these months is that the crowds and wait times are basically non-existent!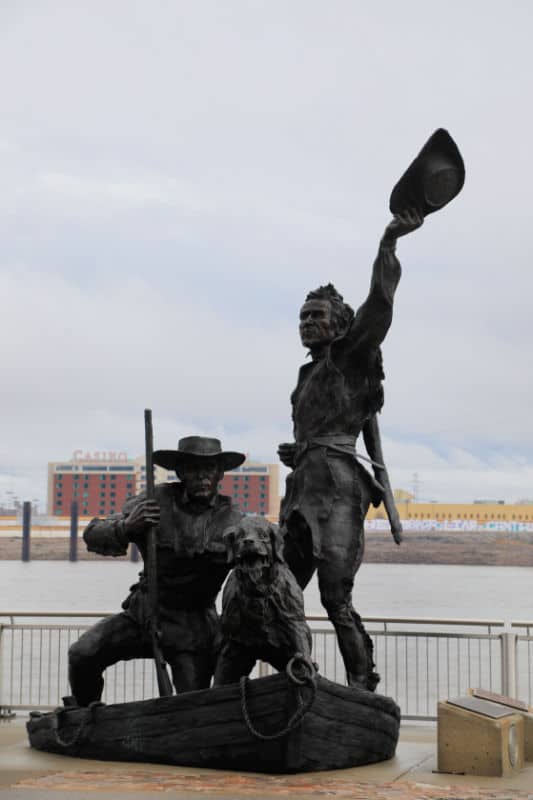 Tram ride to the top
Riding the tram to the top of the Gateway Arch is one of the very best ways to appreciate the park.
This massive, 630-foot stainless steel monument is the largest man-made arch in the world, and from the viewing booth up top, you can see up to 30 miles across St. Louis and the Mississippi River.
While visitors are not allowed to climb the thousand and some steps to the top, the four-minute ride to the top is much more enjoyable, anyhow. Trams run about every 10 minutes from both legs of the arch.
The trams are made up of individual pods that can each hold five people. Note that these pods are pretty snug, and if you suffer from claustrophobia, you may want to skip the tram ride.
Make your reservation for the tram ride in advance to save yourself some time.
The Junior Ranger Program is the perfect way for young visitors to learn about the complex history of the Gateway Arch and St. Louis's role in westward expansion.
Not only is it a fun way to learn more about the park and surrounding area, but once your kiddos complete the program, they'll receive a cool badge to commemorate their visit.
Museum at the Gateway Arch
While the arch is understandably the main attraction at Gateway Arch National Park, the newly renovated American History Museum is not to be missed. Entrance to the museum is included in the tram ride, so it's definitely worth checking out if you have the time.
The museum is located inside the visitor center, directly under the arch.
It is one of the best of its kind in the entire country and depicts Thomas Jefferson's quest to expand further west. While this desire was a dream for some, it was a nightmare for others.
The museum does not skip over the challenging parts of this country's history, including the displacement of Native peoples and African American inequality.
Monument to the Dream Film
The Monument to Dream Film is screened in the Visitor Center.
This 35-minute film shows footage of the incredible construction of the arch in the 1960s, including scenes of the men who built the structure working in the wind and rain hundreds of feet above the ground.
There is also some more information about western expansion in the film as well.
Reservations are required, in addition to a small fee. However, the film is well worth the time and money.
Old Courthouse
Aside from the arch, the Old Courthouse is one of the main draws to Gateway Arch National Park. Not only is it one of St. Louis's oldest standing buildings, but it was also the setting for one of the most monumental trials in American History.
The Dread Scott Case was held at the Old Courthouse between 1847 and 1850. This trial was a pivotal moment in the anti-slavery movement and African American equality, and it also had a major impact on the start of the Civil War.
In addition to the Dred Scott Case, the Old Courthouse also saw the famous women's rights case -Virginia Minor v Happersett. Incredibly, both the Dread Scott Case and the Virginia Minor Case lost.
You can wander through the area at your own pace and learn a bit more about both cases in depth. While there, be sure to marvel at the ornate rotunda, listen to a park ranger talk, and tour the renovated courtrooms.
Guided Tours
75 Minute St. Louis Trolley Tour - See all of the popular sights and local favorites that St Louis has to offer on this guided trolley tour with commentary.
St. Louis Scavenger Hunt Adventure - Get to know St Louis on this Urban Scavenger hunt! Play whenever you like and with whoever you like.
Arch and Old Courthouse Photoshoot - Capture your appreciation for the Gateway Arch and Old Court House in St. Louis with a photoshoot. Learn about the area from your photographer and remember the day with a set of professional photos.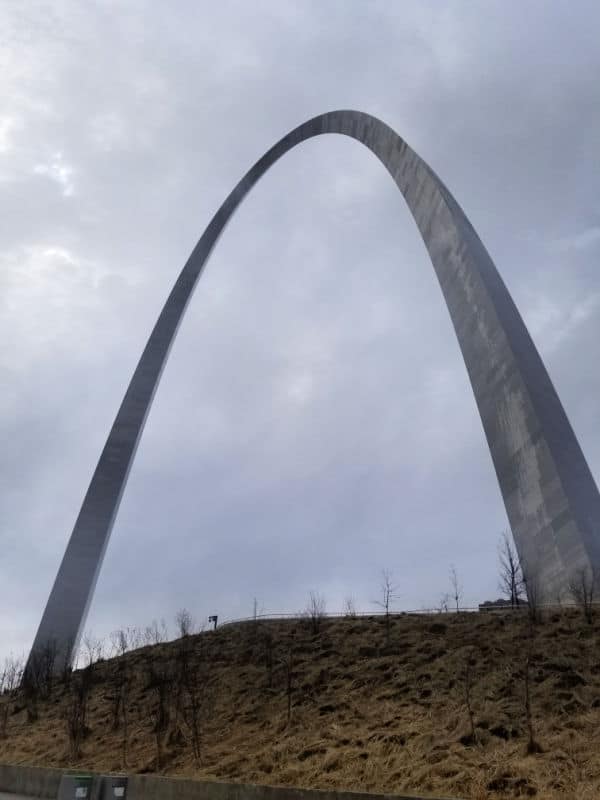 Hiking in Gateway Arch National Park
Always carry the 10 essentials for outdoor survival when exploring.
While there are technically no hiking trails inside of Gateway Arch National Park, there are a few ways to get your steps in during your visit.
The park hosts a number of outdoor programs where park rangers lead visitors around the area while giving an in-depth view of the park's history and the city's role in westward expansion. The daily walking tour begins at the West Entrance Plaza and passes by Eads Bridge, the Mississippi River and riverfront, and Paw Paw Trees. You could also stroll the paved riverfront walking trails alone and take in the endless views of the great Mississippi.
How to beat the crowds in Gateway Arch National Park?
Spring and summer at Gateway Arch National Park are by far the busiest months of the year. So, if you're hoping to beat the crowds, be sure to plan your visit for the Fall or Winter. Those yearning for some solitude and short lines should also avoid weekends and holidays.
Where to stay when visiting Gateway Arch National Park
There are no National Park Lodges within the park.
Hyatt Regency St. Louis - We stayed at this hotel during our last visit to the park and had the most amazing views of the Arch. Hyatt Regency St. Louis at The Arch, which provides a rooftop terrace, a coffee shop/café, and dry cleaning/laundry services. Be sure to enjoy a meal at any of the 3 onsite restaurants. Stay connected with free in-room Wi-Fi, and guests can find other amenities such as 2 bars and a health club.
Drury Plaza Hotel St. Louis - Drury Plaza Hotel St. Louis at the Arch provides a free breakfast buffet, a free manager's reception, and a terrace. For some rest and relaxation, visit the hot tub. In addition to dry cleaning/laundry services and a gym, guests can connect to free in-room Wi-Fi.
Marriott St. Louis Grand - Marriott St. Louis Grand provides a grocery/convenience store, a coffee shop/café, and dry cleaning/laundry services. Be sure to enjoy a meal at Zenia Bar & Grill, the onsite restaurant. Free Wi-Fi in public areas is available to all guests, along with a bar and a 24-hour gym.
Embassy Suites by Hilton St. Louis Downtown - provides free cooked-to-order breakfast, a free daily manager's reception, and dry cleaning/laundry services. For some rest and relaxation, visit the hot tub. The onsite restaurant, Atrium Restaurant, features American cuisine and happy hour. In addition to a fireplace in the lobby and a bar, guests can connect to free Wi-Fi in public areas.
Hilton St. Louis
at the Ballpark - provides a grocery/convenience store, a rooftop terrace, and shopping on site. For some rest and relaxation, visit the sauna. Be sure to enjoy a meal at any of the 3 onsite restaurants, which feature American cuisine and more. Stay connected with free Wi-Fi in public areas, and guests can find other amenities such as a coffee shop/café and dry cleaning/laundry services.
Click on the map below to see current rates for vacation rentals and hotels in St. Louis near Gateway Arch.
Camping
There are National Park designated campgrounds.
For a fun adventure check out Escape Campervans. These campervans have built in beds, kitchen area with refrigerators, and more. You can have them fully set up with kitchen supplies, bedding, and other fun extras. They are painted with epic designs you can't miss!
Escape Campervans has offices in Vancouver, Seattle, Portland, San Francisco, Las Vegas, Los Angeles, Phoenix, Salt Lake City, Denver, Chicago, New York, and Orlando
Here are a few campgrounds in the area
Cahokia RV Parque - 3 miles from the park
This campground offers RV and Tent Sites, waterfront, a pool, a restaurant, and a playground.
Country Bend Campground - 53 miles from the park
This campground offers Lodging, RV and Tent Sites, Pool, Fishing, Mini-golf, and Paddle Boats.
Meramec River Resort -76 miles from the park
This campground offers RV and Tent Sites, Waterfront with Canoeing and Kayaking, and fishing.
Check out additional campgrounds in the area on Campspot.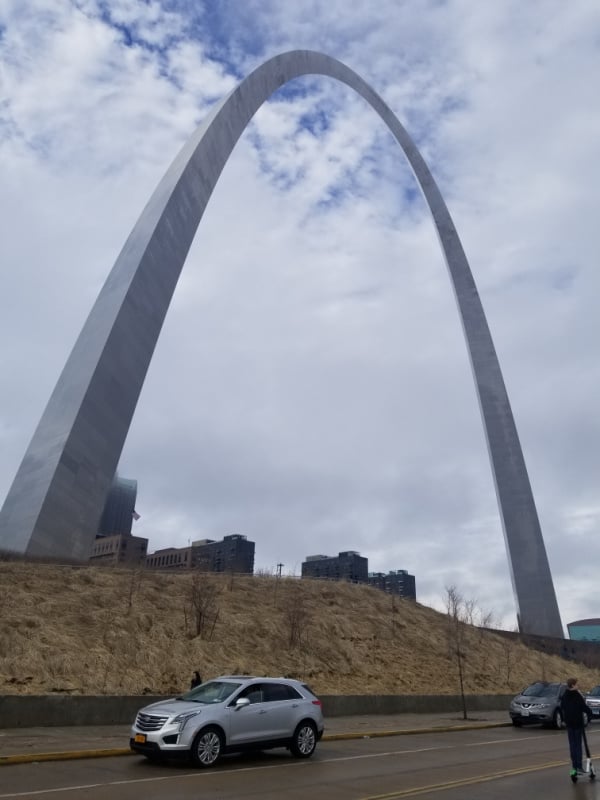 Gateway Arch Facts
How tall is the Gateway Arch?
630 feet (192 meters) tall; 630 feet is also the distance from leg to leg at ground level.
This is equal to a 63 story building.
When was the Gateway Arch built?
Construction began on February 12, 1963
Construction was completed on October 28, 1965
Parks Near Gateway Arch National Park
Ste. Genevieve National Historical Park
George Rogers Clark National Historical Park
Lincoln Home National Historic Site
Lincoln Boyhood National Memorial
Harry S Truman National Historic Site
Fort Donelson National Battlefield
Check out all of the National Parks in Mississippi along with neighboring National Parks in Alabama, National Parks in Arkansas, Louisiana National Parks, and Tennessee National Parks.