Louisiana National Parks include multiple National Heritage Areas and National Historic Parks. If you are in New Orleans the New Orleans Jazz National Historical Park is a must-visit! We recently learned that the majority of the Park Rangers that work at this park are also jazz musicians. They are truly living and working with their musical passions.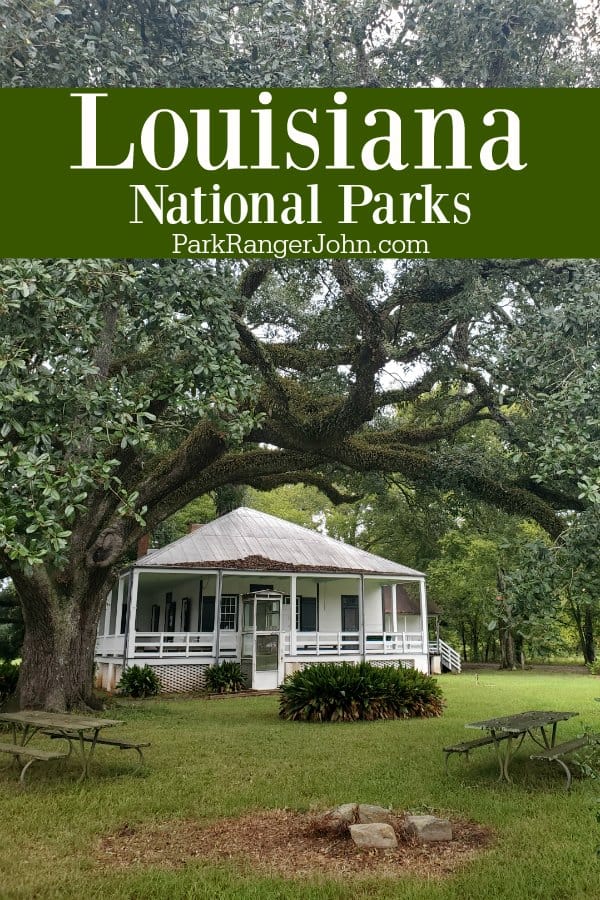 National Parks in Louisiana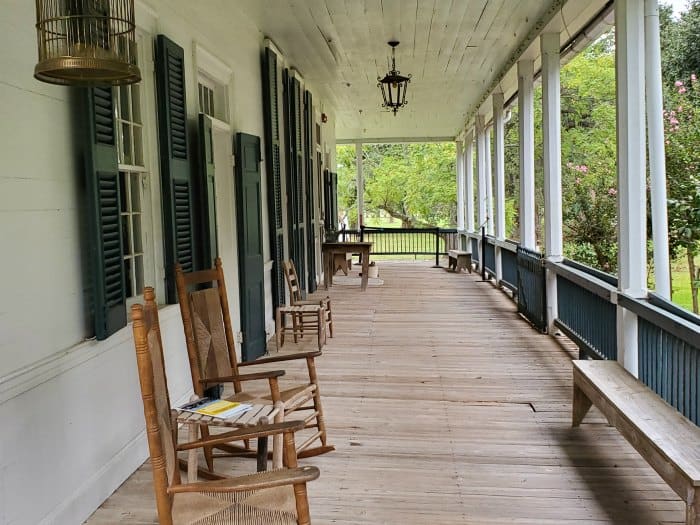 Cane River Creole National Historical Park is located 50 miles northwest of Alexandria in Northwestern Louisiana. The park encompasses 62-acres and is open year-round.
You have the opportunity to tour historic antebellum agricultural buildings. The park encompasses the grounds of Oakland and Magnolia plantations from the 18th century.
You can take a tour that explains the workings and legacy of the creole cotton plantations system. These plantations grew tobacco, cotton, and indigo. You have the chance to visit slave and tenant cabins, overseers houses, doctor offices, plantation stores, a blacksmith shop, a carpentry shop, and farm buildings.
Tours at this site give an overview of the entire plantation community including their enslaved workforces, landowners, and paid workers. The park lies within the Cane River National Heritage Area which is affiliated with the National Park Service.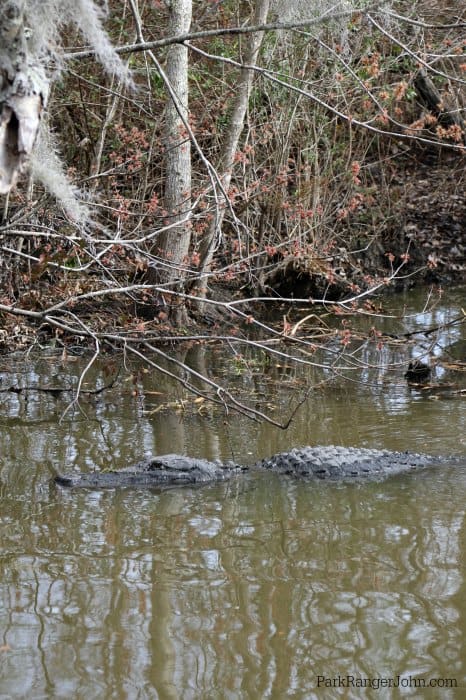 Jean Lafitte National Historical Park and Preserve have six locations in Southern Louisiana encompassing 20,000-acres.
If you are looking to see alligators and experience the swamps of Louisiana you can take a boat tour within the park.
Other sites include a historic battlefield, beautiful wetland forests, history of New Orleans French Quarter, and more. The Acadian Cultural Center is located in Lafayette and tells the story of the Acadian People.
The Prairie Acadian Cultural Center is located in Eunice and interprets the Prairie Canuns.
The Wetlands Acadian Cultural Center is located in Thibodaux and focuses on Cajun life in the Bayous.
Barataria Preserve is located in Mattero and has a visitor center along with miles of trails to explore.
The Chalmette Battlefield and National Cemetary is located in Chalmette near New Orleans and commemorates the 1815 battle of New Orleans which General Andrew Jacksons' army defeated the British Troops.
New Orleans Jazz National Historical Park is located in the French Quarter of New Orleans. The park offers interpretive programs and live jazz concerts.
The park was created by congress in 1994 to recognize the rich cultural influence of jazz and the role of New Orleans in the birth of jazz in North America.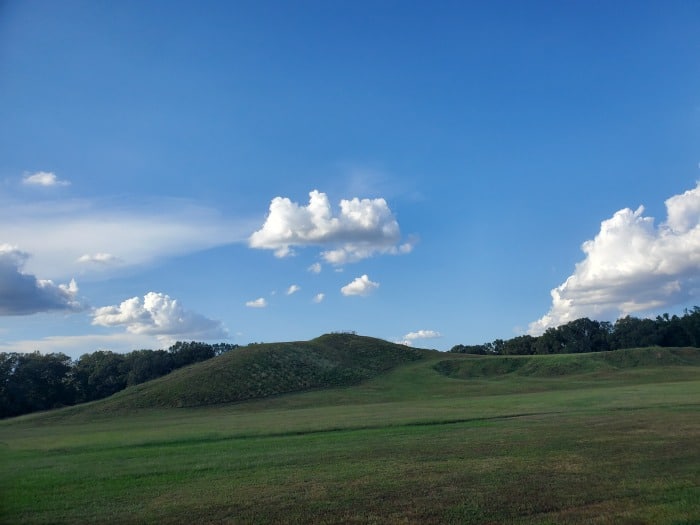 Poverty Point National Monument is located 40 miles east of Monroe, Louisiana. The park is also a World Heritage Site.
The park is open year-round and offers walking and tram tours of earthworks built around 1500 bc.
There is a lot that archaeologists don't know about Poverty Point and the community that created it. They have concluded that the earthworks were built by a hunter-gatherer society of people. It is believed that the earthworks were originally 6-feet high but are now gentle slopes in a field that was once planted with cotton.
The hunter-gatherers at Poverty Point were part of a trading network that was at its peak more than 3,000 years ago.
The largest mound measures 700 feet by 640 feet at its base and rises 70 feet tall.
Ranger-guided tram tours are offered or you can walk the 2.6 miles of hiking trails that wind through the earthworks. The park is administered as a Louisiana state historic site.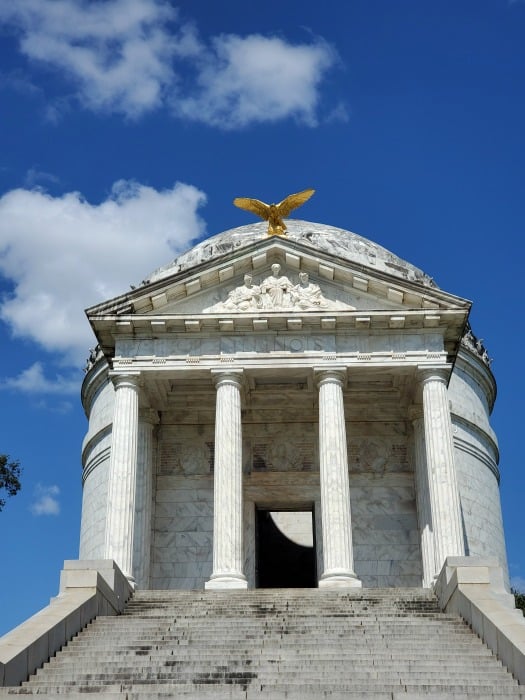 Vicksburg National Military Park is located in West Central Mississippi and also in Louisiana. The park is 1,850 acres and open year-round.
You can enjoy a driving tour, visitor center, and guided tours.
President Abrahan Lincoln called Vicksburg the "key" to the Confederate South during the civil war and stated, "the war can never be brought to a close until that key is in our pocket".
The park includes a 16-mile driving route that winds through the battlefield and includes 1,330 monuments and markers.
Vicksburg ranks as one of the most accurately laid out battlefield memorial sites in the nation. Veterans of the actual battle helped mark locations of the tranches and campaign actions.
Don't miss the Union ironclad gunboat U.S.S. Cairo that was sunk in the Yazoo River in 1862. The gunboat was located in 1956 and recovered in 1964.
List of National Parks in Louisiana
Affiliated Sites
Atchafalaya National Heritage Area
Cane River Creole National Heritage Area
El Camino Real de Los Tejas National Historic Trail ( Also in Texas)
Louisiana National Parks receive an estimated 576K visitors a year producing over $47 million in economic benefits. The National Parks in Louisiana include 2 National Heritage Areas, 1 national trail managed by the park service, 1,443 national registers of historic place listings, and 54 National historic landmarks.
There is 1 World Heritage Site in Louisiana, Poverty Point! 713 places recorded by the heritage documentation Program and over 1.7 million objects in the Louisiana National Park museum collections.
If you have dreamed of working in the National Parks make sure and check out our article on How to Become a Park Ranger. Working in the parks is one of the most amazing jobs you can find. There is just something special about waking up and knowing you are going to work in a beautiful park
National Parks in the Neighboring States
For an entire list of US National Parks head over to our list of US National Parks in Alphabetical Order. We also have a printable checklist of all 417 National Park properties in the United States available.