Ste. Geneviève National Historical Park is located in Eastern Missouri south of St. Louis. The park is one of the newest National Park Service. The park was created to protect French colonial architecture and tell the story of early French settlement in North America.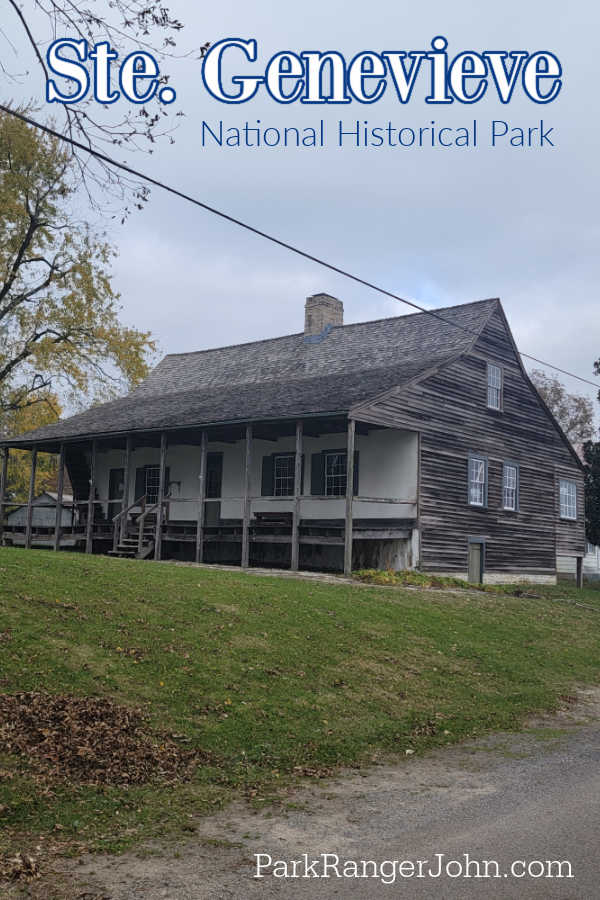 Ste. Geneviève National Historical Park
The park is dedicated to preserving the history of the oldest European settlement in Missouri.
About Ste. Geneviève National Historical Park
Ste. Genevieve is located in the Mid-Mississippi River Valley and was established in 1750. Today visitors can learn about 3 of the 5 remaining vertical log construction buildings left in the United States.
The park also shares the history of the area including American Indian and French Settlements.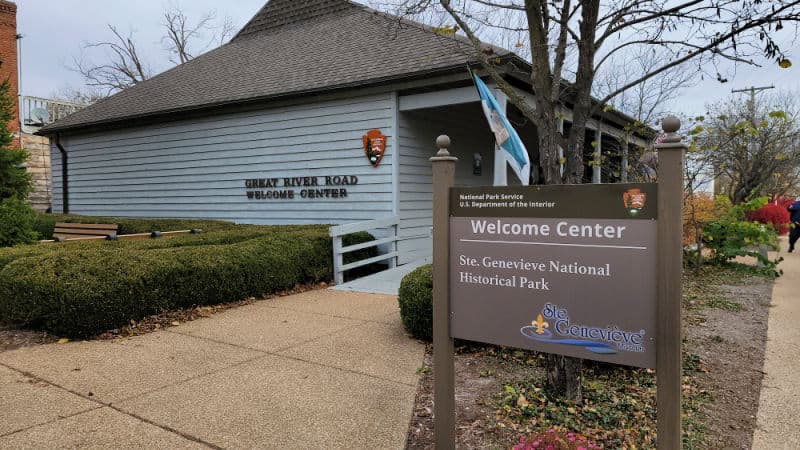 Is Ste. Geneviève National Historical Park worth visiting?
Yes! The park is really unique and provides the opportunity to visit one of the first permanent settlements in Missouri.
One of the really unique things is the park is located in the heart of Sainte Genevieve offering visitors the opportunity to explore the town while visiting the park.
History of Ste. Geneviève National Historical Park
Ste. Genevieve National Historic Park is located in Ste. Genevieve, Missouri. The town is one hour south of St. Louis and sits along the Mississippi River.
One of the newest National Historic Parks, President Donald Trump signed into law the establishment of the park in March of 2018.
Ste. Genevieve is located on the west bank of the Mississippi River and today has a population of about 5,000.
It is disputed when exactly this town was established but the fact of history remains that it was the first permanent settlement in Missouri.
It was established sometime between 1735 and 1750. The land in the vicinity of this territory was held by France at the time.
The village's name of Ste. Genevieve is in honor of France's patron saint – Saint Genevieve – who lived during the 5th century AD. It is said that the patroness saved Paris by creating a "prayer marathon" in the year 451, which diverted Attila the Hun's army away from the city.
The first settlers in Ste. Genevieve were known to be French-Canadians who arrived to take advantage of the rich farmland and to mine for lead and salt.
Lead and salt were high in demand at the time; salt for preservation of foods and curing of animal hides and lead was needed for making pewter, pipes, paint and ammunition.
In 1762, France gave its holdings on land west of the Mississippi to Spain due to the conclusion of the French and Indian War.
In 1785, disastrous floods hit the area. The present day site of the town was gradually moved to a higher elevation from the river bottoms.
Beginning around 1794, many colonists began migrating into the Ste. Genevieve area from Pennsylvania, Virginia, Kentucky and Tennessee.
The first commercial ferry at Ste. Genevieve was established around 1800. Around 1840, German Catholics and German Lutherans began settling in the area.
In 1800, France gained control of the area once again from Spain. In 1803, Napoleon Bonaparte sold it to the United States as included in the Louisiana Purchase.
Ste. Genevieve residents were now citizens of America.
A flood of Americans rushed to inhabit the new territory that was the Louisiana Purchase and that meant merchants, entrepreneurs, and families arrived, building businesses and homes.
The French inspired architecture coupled with the new cultural influences is the unique mix of history we see today. Many German immigrants built quint brick homes and businesses in the village.
The oldest surviving buildings in the city are of French inspiration and were all built during the period of Spanish rule in the 18th century.
One of the oldest structures included in the St. Genevieve National Historic Park is the Louis Bolduc House, also known as Maison Bolduc. Louis Bolduc was a successful merchant, trader and planter who owned lead mines to the west.
It is believed by researchers, that his home was built in the late 1780s. It seems that the southern half was likely built a few years later.
It was lived in by generation after generation of the Bolduc family until 1949 when it was bought by the National Society of Colonial Dames of America.
It was restored and opened as a house museum in 1958. The house was designated as a National Historic Landmark in 1970.
Louis Bolduc's granddaughter's home sits next door. Built by her husband in 1820, the home in an interesting combination of French and American architecture.
The plan and exterior mark French influence, while the inside details are quite American. Like the Bolduc home, the home has also been restored.
Many of the colonial homes still present in Ste. Genevieve are studied by historians and architects to this day. There are intriguing influences from Quebec and Normandy present. It is fascinating to link these structures to our French colonial past.
In 1993 and 1995, quickly built levees saved this historical area from floodwaters. Construction of a permanent levee was finished in 2002.
Today, the town is a trade center for grain and livestock. Lime is also quarried and processed.
Ste. Genevieve National Historic Park is a captivating look into America's colonial past and the influences from different cultures, religions, and architectural designs.
Things to know before your visit to Ste. Geneviève National Historical Park
Entrance fee
$0.00, There is no fee to visit this park.
Planning a National Park vacation? America the Beautiful/National Park Pass covers entrance fees for an entire year to all US National Park Sites and over 2,000 Federal Recreation Fee Sites.
The park pass covers everyone in the car for per vehicle sites and for up to 4 adults for per-person sites.
Buy on REI.com and REI will donate 10% of pass proceeds to the National Forest Foundation, National Park Foundation and the U.S. Endowment for Forestry & Communities.
Learn more about National Park Passes for parks that have an entrance fee.
Free Entrance Days -Mark your calendars with the five free entrance days the National Park Service offers annually.
Time Zone
Central Time
Pets
Pets are allowed on park grounds but not allowed within buildings.
Cell Service
We had fairly good cell service while visiting the park.
Park Hours
The park is open from 9 AM to 5 PM daily
Closed on Thanksgiving, Christmas, and New Year's Day.
Wi-Fi
There is Wi-Fi available in the visitor center.
Insect Repellent
Insect repellent is always a great idea when outdoors, especially if you are around any body of water.
We use Permethrin Spray on our clothes before our park trips.
Water Bottle
Make sure to bring your own water bottle and plenty of water with you. Plastic water bottles are not sold in the park.
Parking
There is a small parking lot next to the visitor center. There is also street parking available.
Food/Restaurants
There are no restaurants within the park but there are multiple restaurants in town.
Gas
There are no gas stations within the park but there are multiple in town.
Drones
Drones are not permitted within National Park Sites.
National Park Passport Stamps
National Park Passport stamps can be found in the visitor center.
Make sure to bring your National Park Passport Book with you or we like to pack these circle stickers so we don't have to bring our entire book with us.
Electric Vehicle Charging
There are currently no EV charging stations within town.
Details about Ste. Geneviève National Historical Park
Size - 1,200 acres
Check out how the park compares to other National Parks by Size.
Date Established
Ste. Geneviève National Historical Park became the 422nd NPS unit on October 30, 2020.
Visitation
The park has not shared visitation statistics.
Learn more about the most visited and least visited National Parks in the US
National Park Address
99 South Main Street
Ste. Genevieve, MO 63670
National Park Map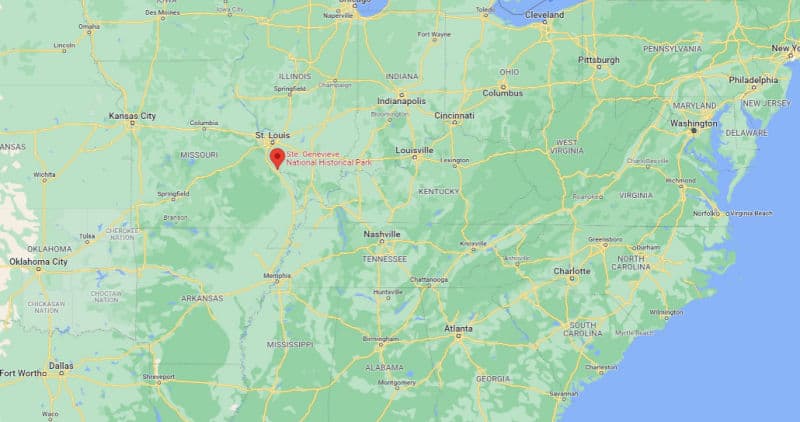 Where is Ste. Geneviève National Historical Park?
Ste. Genevieve NHP is located in Missouri south of St. Louis.
Estimated distance from major cities nearby
St. Louis, MO - 63 miles
Memphis, TN - 226 miles
Nashville, TN - 262 miles
Louisville, KY - 278 miles
Indianapolis, IN - 305 miles
Kansas City, MO - 297 miles
Chicago, IL - 359 miles
Lexington - Fayette, KY - 355 miles
Atlanta, GA - 508 miles
Estimated Distance from nearby National Park
Gateway Arch National Park - 64 miles
Mammoth Cave National Park - 274 miles
Hot Springs National Park - 354 miles
Indiana Dunes National Park - 369 miles
Great Smoky Mountains National Park - 453 miles
Cuyahoga Valley National Park - 609 miles
Congaree National Park - 721 miles
Where is the National Park Visitor Center?
The visitor center is located in the Ste. Genevieve Welcome Center across the street from the Jean=Baptiste Valle House
Jean-Baptiste Vallé, 99 S. Main Street, Ste. Geneviève, MO 63670.
Getting to Ste. Geneviève National Historical Park
Closest Airports
MidAmerica St. Louis Airport (BLV)
International Airports
Lambert - St. Louis International Airport (STL)
Memphis International Airport (MEM)
Nashville International Airport (BNA)
Indianapolis International Airport (IND)
Louisville International Airport (SDF)
Driving Directions
From St. Louis and points north, take Interstate 55 S to exit 154, follow US-61 S for about 7 miles, make a left on Market Street.
From Cape Girardeau and points south, take Interstate 55 N to exit 150, follow state route 32 until it ends at US-61, continue straight.
From southern Illinois, you can also take the Ste. Genevieve - Modoc Ferry across the Mississippi. Please visit http://stegenmodocferry.com/ for hours and rates.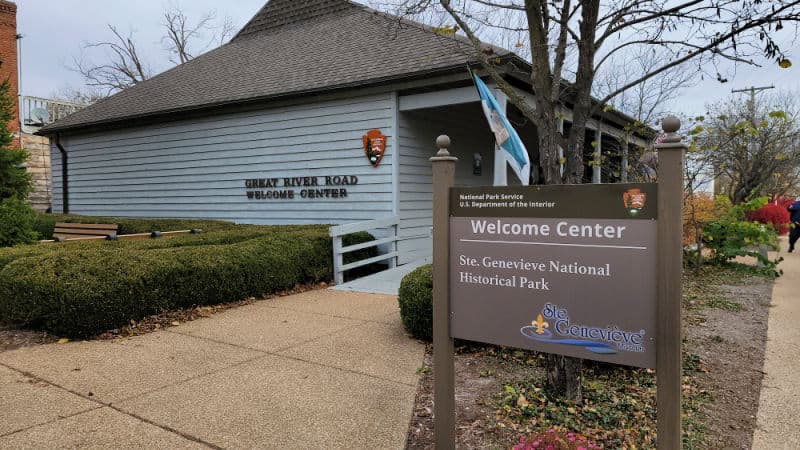 Best time to visit Ste. Geneviève National Historical Park
The best time to visit the park is spring and fall when the weather should be the nicest.
Weather and Seasons
Summers are hot and muggy in Sainte Genevieve, Missouri while winters are cold and snowy.
The hottest weather is from May 28 to September 18th with an average daily temperature above 80 degrees.
The coldest weather is from November 28 to February 28 when then average daily temperature is below 52 degrees.
The rainiest season is from March 16 to August 22 with May receiving the most days of rain.
Snow occurs normally from December 1st to March 15th with February receiving the most snow.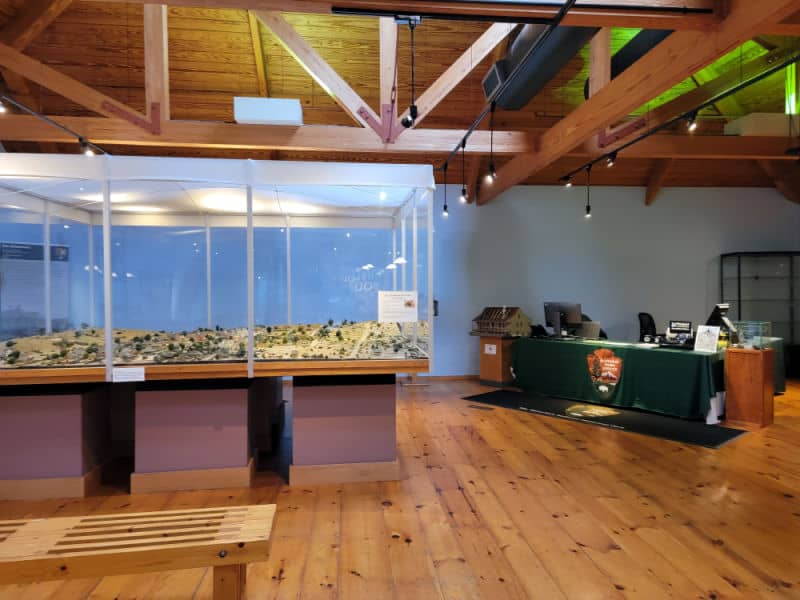 Best Things to do in Ste. Geneviève National Historical Park
The park is still considered a park in progress so there is a limited number of things to do currently.
Visitor Center
The Visitor Center is located with the Ste Genevieve town visitor center. They are working on developing the park and the displays.
The park does not currently have a park film but the town does. The film is fantastic and definitely worth spending time watching.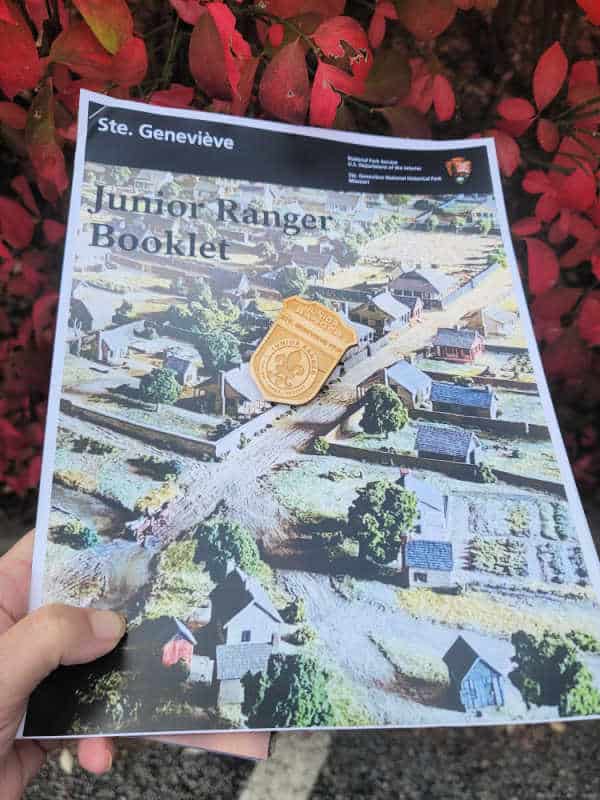 The park has a great Junior Ranger program. It really helps to understand the town and the impact of the French Indian War.
The Junior Ranger Program can be filled out while in the visitor center.
Jean Baptiste Valle House
The Jean Baptiste Valle House is located across the street from the visitor center.
The gardens are open to visitors from sunrise to sunset.
Ste. Genevieve was established as a French Community. France ceded land west of the Mississippi River to Spain from 1763-2900.
Instead of sending officials from Spain to Ste. Genevieve they appointed a local resident as a "commandant" who oversaw the administration of the colonized area.
Brothers Francois II and Jean Baptiste Valle served as Commandment for Ste. Genevieve.
The estate originally included housing for enslaved people, a summer kitchen, barn, and other outbuildings. These buildings no long exist.
Formal rose gardens were established to display wealth and mimicked aristocratic properties in France.
Jean-Baptiste Valle House address - 99 S. Main Street.
Bauvais-Amoureux House
The Bauvais-Amoureux House is located a few blocks outside of the main town of Ste. Genevieve. It is really easy to find with GPS or the park map.
The Bauvais were wealthy merchants and leading citizens of nearby Kaskaskia, Illinois.
This house is one of only three known surviving poteaux-en-terre post in ground houses in Ste. Genevieve.
These houses are one of the reasons the park was established. There are only 5 post in ground houses remaining in the United States and 3 of them are in Ste. Genevieve.
Bauvais-Amoureux House address - 327 St. Mary Road
Hiking in Ste. Geneviève National Historical Park
Always carry the 10 essentials for outdoor survival when exploring.
Levee Trail
The 3.5 mile Levee Trail follows the Mississippi River proving a great opportunity for bird watching.
The trail is a packed gravel surface that can be uneven in places.
How to beat the crowds in Ste. Geneviève National Historical Park?
We did not experience any crowds during our visit. You may want to make sure there are no events happening in Ste. Genevieve before heading to town.
Where to stay when visiting Ste. Geneviève National Historical Park
There is no National Park lodging within the park. The town is known for having amazing Bed and Breakfasts.
Click on the map below to see current rates for hotels and vacation rentals.


Camping
There is no camping available within the park. Nearby camping is available.
Perryville Campground - 19 miles from the park
This campground offers lodging, rv and tent sites, a pool, dog park, and more.
Cahokia RV Parque - 41 miles from the park
This campground offers RV and Tent sites, a pool, waterfront, restaurant, and more.
Black River Wine House & RV retreat - 54 miles from the park
This campground offers RV and Tent sites, canoeing/kayaking, and more.
Check out additional campgrounds in the area on CampSpot.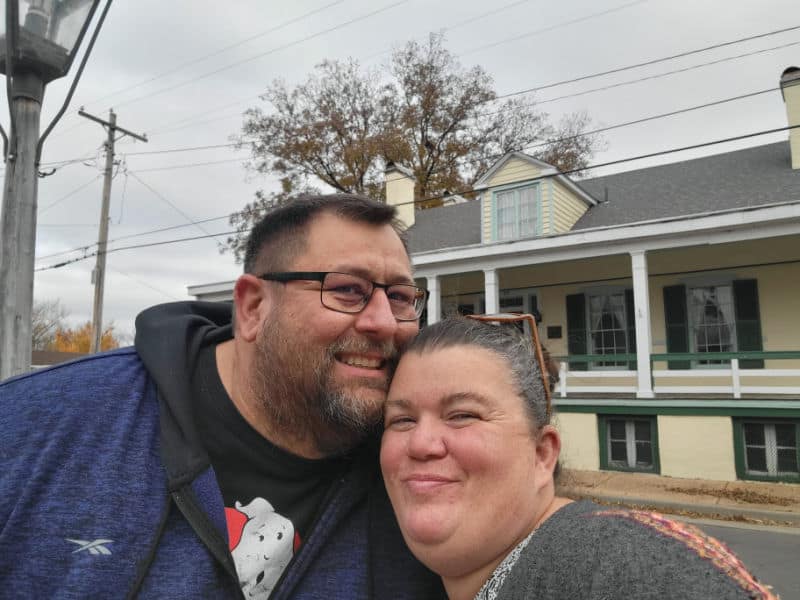 Parks Near Ste. Geneviève National Historical Park
Ozark National Scenic Riverways
Ulysses S Grant National Historic Site
Fort Donelson National Battlefield
Lincoln Boyhood National Memorial
George Rogers Clark National Historical Park
Lincoln Home National Historic Site
Check out all of the Missouri National Parks along with neighboring National Parks in Tennessee, National Parks in Oklahoma, National Parks in Nebraska, Kentucky National Parks, Kansas National Parks, Iowa National Parks, Illinois National Parks, and Arkansas National Parks
National Park Service website: https://www.nps.gov/stge