Have you visited one of the Iowa National Parks? You can visit Effigy Mounds National Monument and Herbert Hoover National Historic Site during a trip to Iowa.
Parts of the Lewis and Clark National Historic Trail and Mormon Pioneer Trail also pass through Iowa.

National Parks in Iowa
Effigy Mounds NM is located in northeastern Iowa approximately 65 miles north of Dubuque and 222 miles from Des Moines, Iowa. The park is open year-round offering the opportunity to walk trails near Indian Mounds.
You can see the 200+ American Indian mounds that are located in the gorgeous Upper Mississippi River Valley near Harpers Ferry, Iowa. From around 1,400 to 850 years ago Native Americans living in this area built hundreds of effigy mounds in the shape of birds, lizards, bison and commonly of bears.
Mounds were built in other places across the United States but only in the upper Midwest did they build these effigy mounds. The park is located along a gorgeous stretch of the Upper Mississippi River. There are more than 200 burial and ceremonial mounds within the park including conical and linear mounds.
31 of the mounds are effigy mounds which is one of the largest concentrations of such earthworks in existence. The monument is recognized as a Native American Sacred Site.
Don't miss the park video which helps describe the people who built the earth mounds. If you are visiting in the summer check out the ranger programs for guided walks and information.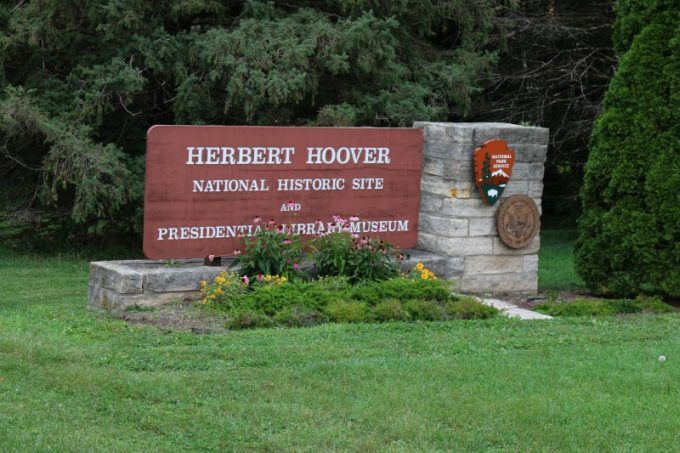 Herbert Hoover was the first US President born west of the Mississippi River. President Hoover and his wife Lou Henry helped plan what is now the Herbert Hoover National Historic Site. They were intent on providing an understanding of the life and work of our 31st president. He was inaugurated in 1929.
The Herbert Hoover National Historic Site includes a visitor center, short film about President Hoover's childhood in West Branch, Iowa, the restored two-room cottage where President Hoover was born, A blacksmith shop that represents the work that President Hoover's father did and an 1853 one-room schoolhouse. Herbert and Lou Henry Hoover's gravesites are also located at this site.
You can enjoy a self-guided tour of the grounds and an 81-acre tallgrass prairie. The Herbert Hoover Presidential Library and Museum are located nearby and have additional exhibits about his life and work. You can learn more about the work that was completed during his presidency of the United States along with what life was life growing up in Iowa and moving to Oregon.
Lewis and Clark NHT is approximately 4,900 miles long crosses sixteen states following the Lewis and Clark Expedition.
The Lewis & Clark National Historic Trail includes the following locations in Iowa:
Lake Manawa State Park - Site of Lewis & Clark's White Catfish camp at the Western Historic Trails Center.
Onawa, Iowa - Lewis & Clark Visitors Center – Keelboat display and re-enactment area.
Sioux City, Iowa - Lewis & Clark Interpretive Center
List of National Parks in Iowa
Affiliated Sites
Lewis and Clark National Historic Trail (ID, IL, IA, KS, MO, MT, NE, ND, OR, SD, WA)
Mormon Pioneer National Historic Trail (IL, IA, NE, UT, WY)
There are 2 National Parks in Iowa that receive an estimated 196K visitors each year. These visitors produce over $15 million dollars in economic benefits from tourism.
Iowa National Parks include 1 National Heritage Area, 2 National Trails managed by the National Park Service, 2,372 National Register of Historic Places Listing and 26 National Historic Landmarks.
National Parks in Iowa also includes 7 National Natural Landmarks, 487 places recorded by the Heritage documentation program and 179,225 objects in the Iowa National Park Museum collections.
If you have dreamed of working in the National Parks make sure and check out our article on How to Become a Park Ranger. Working in the parks is one of the most amazing jobs you can find. There is just something special about waking up and knowing you are going to work in a beautiful park.
National Parks in the Neighboring States
National Parks in South Dakota
For an entire list of US National Parks head over to our list of US National Parks in Alphabetical Order. We also have a National Park Checklist of all of the sites in the United States available.