Epic Guide to Effigy Mounds National Monument in Iowa includes things to do, hiking trails, history, how to reach the park, and more.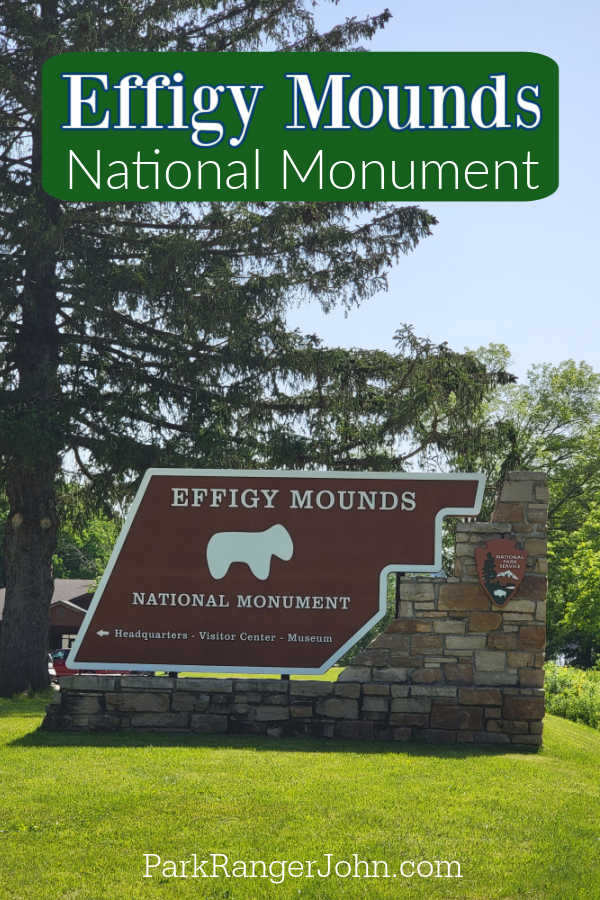 Effigy Mounds National Monument
Effigy Mounds National Monument is located in northeast Iowa near the city of Harper's Ferry, Iowa. It is near the banks of the Mississippi River, the border between Iowa and Wisconsin.
About Effigy Mounds National Monument
The park protects one of the largest remaining examples of ancient Native American earthworks in the United States.
Please remember this is a sacred site and respect the prehistoric American Indian Burial Mounds.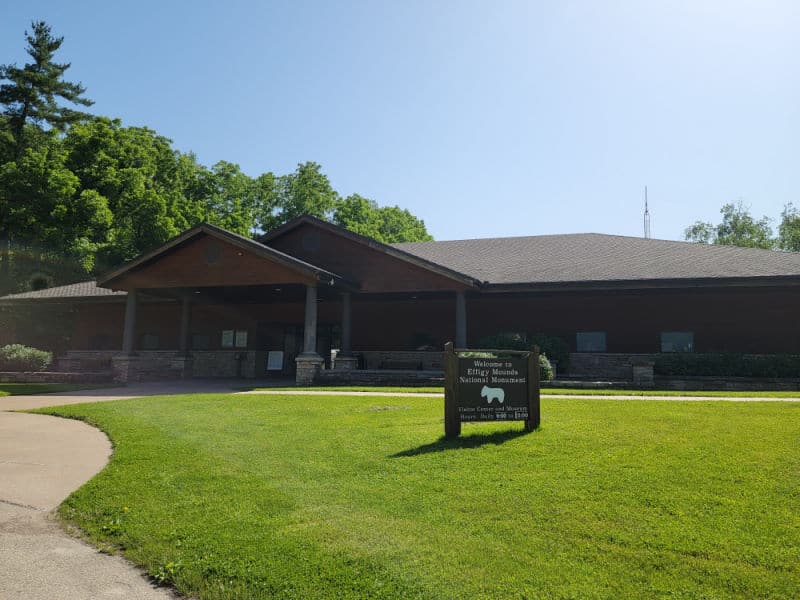 Is Effigy Mounds National Monument worth visiting?
Yes, BUT it is worth knowing that you have to walk/hike up a steep hill in order to see any of the shaped Effigy Mounds.
There are a couple of circular mounds near the visitor center that can be reached pretty easily. The shaped mounds can only be reached by climbing a hill.
History of Effigy Mounds National Monument
The Moundbuilders were a culture of people that lived mainly in the Late Woodland Period (1400-750 B.P). This culture of Native Americans included over 20 different tribes in the Midwest region.
This large area characterized by moundbuilders stretches from Dubuque, IA, along the Mississippi River, north to Minnesota, across the entire southern half of Wisconsin and down towards the Wisconsin-Illinois border.
Effigy Mounds is located in northeastern Iowa but is directly across the river from Southern Wisconsin in a picturesque section of the Upper Mississippi River Valley.
The prehistoric mounds at Effigy provide clues to the way of life of these tribes.
Native Americans whose ancestors built the mounds say they were used as ceremonial and sacred sites.
American Indian tribes would build mounds of soil, clay, or rocks, they carried themselves in baskets to the site.
Archeologists believe there were two different types of ceremonial mounds – mounds in the shape of animals and mounds that were more linear and rectangular.
Studies have never been able to prove the exact meanings of the mounds.
Historians believe the animal mounds could have been meant to tell the stories of their culture or worship their gods and spirits. Common mounds built by the Eastern Woodland Indians tribes included bear, birds, deer, bison, and turtle.
Conical mounds were built for burial purposes, which was common in many tribes throughout the country.
It is believed that the longer, rectangular mounds could have been used for ceremonial purposes or as boundary markers between tribe groups.
The monument area itself includes forests, tallgrass prairies, wetlands, and the Mississippi River.
Northeast Iowa was a border between eastern hardwood forests and central prairies, the tribes in this area would have had an abundance of resources available to them because of this location.
Tribes associated with the history of Effigy Mounds are thought to be numerous, some of them include: Iowa, Ho-Chunk, Winnebago, Sioux, Sac, Fox, Crow, Omaha, Santee, and Ponca.
Effigy Mounds preserves 206 mounds, 31 of them are specifically called effigies – mounds in the shape of bears or birds.
The largest earthen mounds located here is called Great Bear Mound. It measures 137 feet long, 70 feet wide, and 3.5 feet high.
Effigy Mounds was established in 1949. Before laws were put in place in the 1970s, excavations at the park uncovered numerous artifacts and human remains.
In all, 41 sets of remains were recorded as having been excavated from the park. Sometime around 1990, the remains mysteriously vanished, and their whereabouts were not discovered until more than two decades later.
It was revealed that a man who worked as superintendent at the park for more than twenty years had stolen the boxes of remains sometime in 1990 and hid them at his home.
In 2011, the then current superintendent of the park along with law enforcement and eventually the FBI, dug deep into the mystery and subsequently found that the previous, retired superintendent had stolen the remains and had had the boxes of bones in his garage for 21 years.
The man was sentenced to one year probation, 10 weekends in jail and 100 hours of community service in addition to $108,905 in restitution to repair the remains and a fine of $3,000. The remains were repaired and given back to their respective tribe's representatives for a proper reburial.
Today, there are no longer any excavations allowed at the park. In 1990, Congress passed the Native American Graves Protection and Repatriation Act, which gives claims to Native American tribes over the remains of their ancestors.
The park engages in relationships with tribal partners and works regularly with affiliated ancestral tribes to ensure respect to the land and its history.
In 2017, the park was featured as part of the America the Beautiful Quarter collection.
Things to know before your visit to Effigy Mounds National Monument
Entrance fee
$0.00 - There is no entrance fee to visit the park.
Learn more about National Park Passes for parks that have an entrance fee.
Free Entrance Days -Mark your calendars with the five free entrance days the National Park Service offers annually.
Time Zone
Central Time Zone
Pets
Pets are allowed in the park as long as they are on leashes. Pets are not permitted in park buildings.
Cell Service
We had fairly good cell service while at the park.
Park Hours
The park is open from sunrise to sunset.
Visitors center hours are from 9 am to 5 pm. The visitor center is closed on New Years Day, Thanksgiving, and Christmas.
The park is open for Labor Day and Memorial Day along with other major holidays.
Wi-Fi
Free WiFi is available at the visitor center.
Insect Repellent
Insect repellent is always a great idea when outdoors, especially if you are around any body of water.
We use Permethrin Spray on our clothes before our park trips.
Water Bottle
Make sure to bring your own water bottle and plenty of water with you. Plastic water bottles are not sold in the park.
Parking
There is a nice size parking lot area in front of the visitor center. RVs may need to park over a few parking spaces to have space.
Food/Restaurants
There are no restaurants available within the park.
Gas
There are no gas stations available within the park.
Drones
Drones are not permitted within National Park Sites.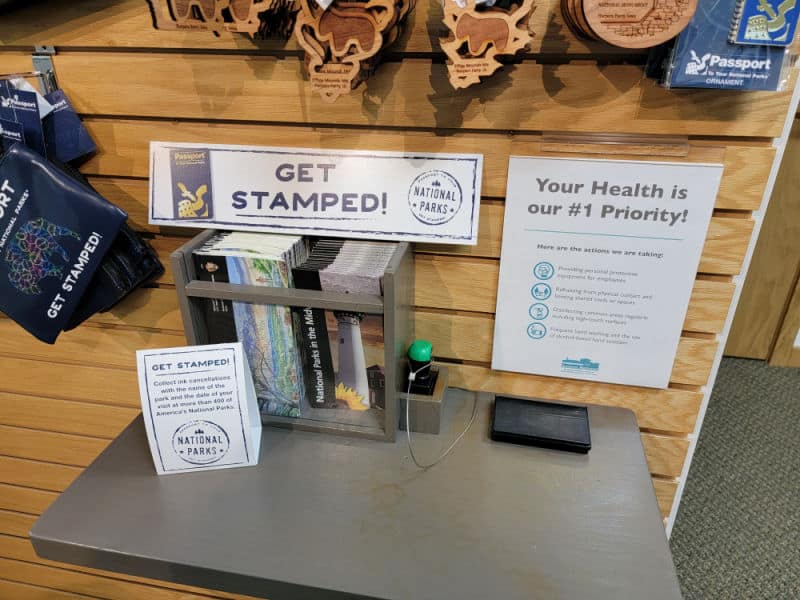 National Park Passport Stamps
National Park Passport stamps can be found in the visitor center on the back wall.
Make sure to bring your National Park Passport Book with you or we like to pack these circle stickers so we don't have to bring our entire book with us.
Effigy Mounds NM is part of the 1996 Passport Stamp Set.
Electric Vehicle Charging
There are NO EV Charging stations at the park. There is 1 charging station within 10 miles of the park.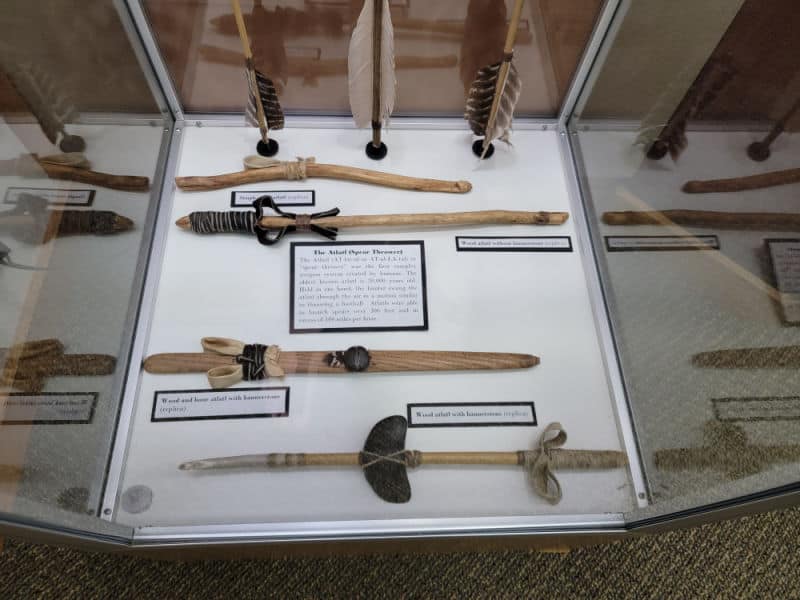 Details about Effigy Mounds National Monument
Size - 2,526 acres
Check out how the park compares to other National Parks by Size.
Date Established
October 25, 1949 - The park was established by President Harry Truman
Visitation
In 2021, Effigy Mounds NM had 66,734 park visitors.
In 2020, Effigy Mounds NM had 18,225 park visitors.
In 2019, Effigy Mounds NM had 65,581 park visitors.
Learn more about the most visited and least visited National Parks in the US National Park System
National Park Address
151 Hwy 76
Harpers Ferry , IA 52146
National Park Map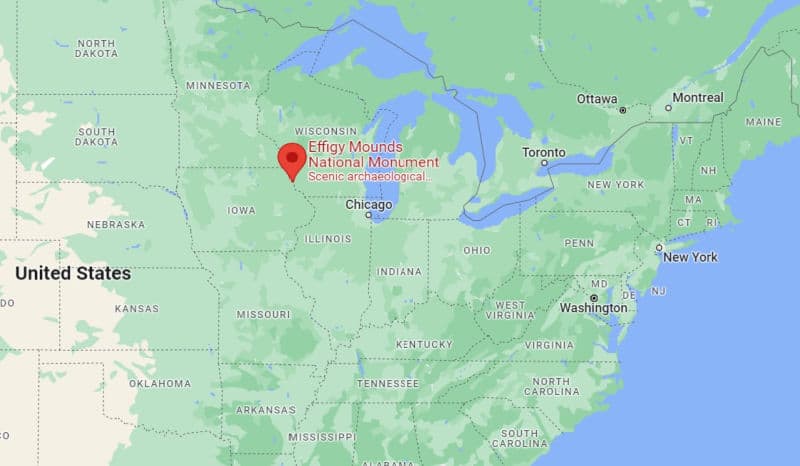 Where is Effigy Mounds National Monument?
Effigy Mounds NM is located in north eastern Iowa near the Mississippi River and the border with Wisconsin.
The park is part of the Midwest National Parks
Estimated distance from major cities nearby
Dubuque, IA - 60 miles
Cedar Falls, IA - 103 miles
Madison, WI - 105 miles
Minneapolis, MN - 194 miles
Milwaukee, WI - 185 miles
Chicago, IL - 249 miles
Omaha, NE - 354 miles
St. Louis, MO - 382 miles
Lincoln, NE - 408 miles
Kansas City, MO - 397 miles
Fort Wayne, IN - 434 miles
Estimated Distance from nearby National Park
Indiana Dunes National Park - 283 miles
Voyageurs National Park - 455 miles
Isle Royale National Park - 432 miles
Cuyahoga Valley National Park - 596 miles
Gateway Arch National Park - 395 miles
Where is the National Park Visitor Center?
The visitor center is the first thing you see when you enter the park near the parking area.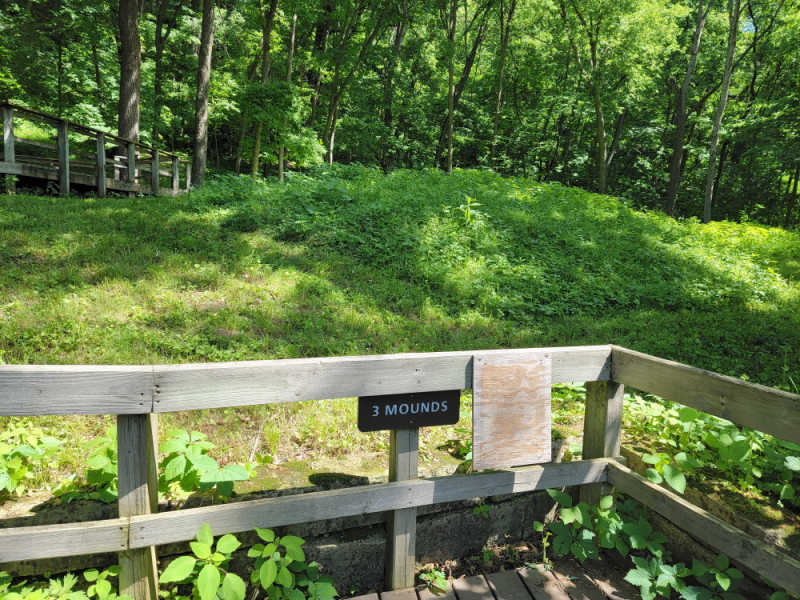 Getting to Effigy Mounds National Monument
Closest Airports
La Crosse Municipal Airport
Dane County Regional Airport
Dubuque Regional Airport
Eastern Iowa Airport
International Airports
Minneapolis St Paul International Airport (MSP)
General Mitchell International Airport - Milwaukee (MKE)
Des Moines International Airport (DSM)
Driving Directions
Effigy Mounds NM is located on the Great River Road between Harpers Ferry, Iowa and Marquette, Iowa
From Marquette, Iowa, drive north 3 miles on highway 76.
From Harpers Ferry, Iowa, drive 7 miles south on highway X52 then turn left and travel 3 miles on highway 76.
From Waukon, Iowa, drive 22 miles southeast on highway 76.
Best time to visit Effigy Mounds National Monument
The best time to visit is spring through fall. The weather may be warm but it should be beautiful.
We visited in June and the weather was definitely warm/hot! If you plan to hike up to the Effigy Mounds we suggest arriving in the park early in the morning.
Weather and Seasons
This area experiences long warm summers and snowy windy winters.
The warmest weather is from May 19th to September 19th with an average daily high above 71 degrees. July is the hottest month with an average high above 82 degrees.
The coldest weather is from November 29th to March 3rd with an average daily temperature below 37 degrees.
The coldest month is in January.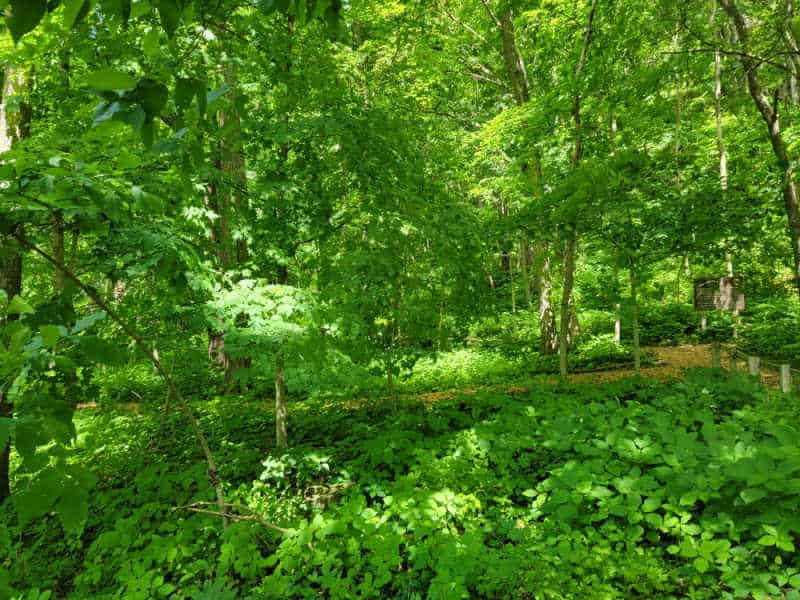 Best Things to do in Effigy Mounds National Monument
The amount of time needed to visit Effigy Mounds really depends on if you plan to hike up to the Effigy Mounds.
If you are only planning on visiting the visitor center and looking at the accessible areas we would plan maybe an hour or 2.
If you are planning on hiking up to the mounds you will want to plan for a few hours at minimum.
We did hear that there is a nice population of Bald Eagles in the area so keep an eye out for them while visiting the park.
Visitor Center
The visitor center has a great display of artifacts that have been found within the park. It is not a large visitor center so we suggest planning between 20-60 minutes for your visit depending on how many displays you want to read.
The park movie is currently being redone so they did not have it available while we were there.
Restroom facilities are available at the visitor center.
The Junior Ranger program can be picked up at the visitor center. It includes information that can be found in the visitor center and out on the trails.
Hiking in Effigy Mounds National Monument
Always carry the 10 essentials for outdoor survival when exploring.
In order to reach the Effigy Mounds you will need to walk up a semi-steep hill to the top of the ridge and walk along the trail.
Visitor Center to Fire Point and Return - 2 miles
Little Bear to Great Bear Mound Group - 650 feet.
Visitor Center to Twin Views and return - 3 miles
Visitor Center to Third Scenic View and Return - 4 milees
Visitor Center to Hanging Rock and Return - 7 miles
Day use area to Nezekaw Point overlook and return - 2 miles
Day use area to Compound Mounds Group and Return - 4 miles
Day use are to Marching Bear Group and return - 4 miles
Make sure to pick up a trail map at the visitor center.
How to beat the crowds in Effigy Mounds National Monument?
We did not experience any large crowds during our visit.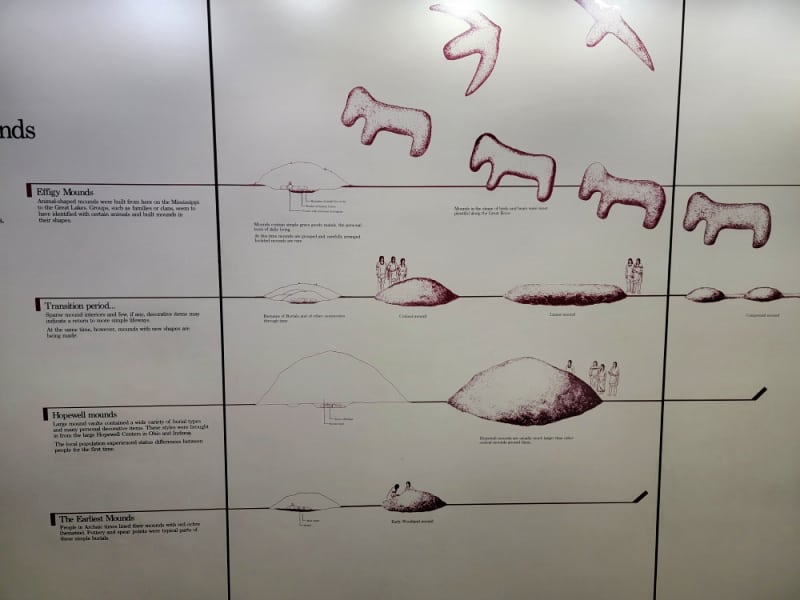 Where to stay when visiting Effigy Mounds National Monument
There are no National Park Lodges within the park.
Click on the map below to see vacation rentals and hotels near the park.
Camping
There are no National Park Campgrounds within the park.
Nearby campgrounds include:
Red Barn Campground & Restaurant - Lansing, Iowa
This campground has lodging, RV and Tent Sites, fishing, mini golf, and more.
Sidie Hollow County Park Campground - Viroqua, WI
This campground has RV and Tent Sites, fishing, a boat launch, a playground, and more.
Rustic Barn Campground and RV Park - Kieler, WI
This campground has Lodging and RV sites, a dog park, playground, and more.
Check out additional campgrounds in the area on CampSpot.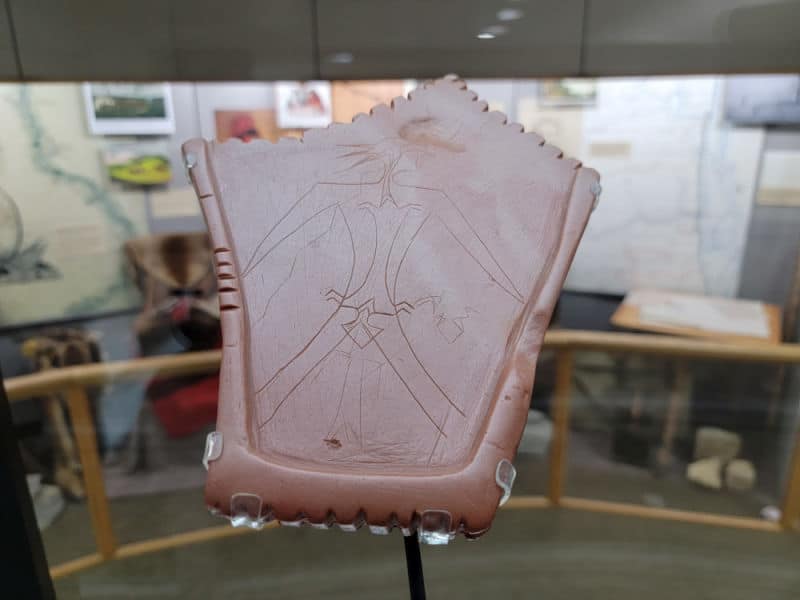 Parks Near Effigy Mounds National Monument
Herbert Hoover National Historic Site
Missouri NRR
Mississippi NRRA
Pullman National Monument
Lincoln Home National Historic Site
Check out all of the National Parks in Iowa along with neighboring National Parks in Illinois, Minnesota National Parks, National Parks in Missouri, Nebraska National Parks, South Dakota National Parks, and neighboring National Parks in Wisconsin.
Check out nearby Iowa State Parks including Pikes Peak State Park.
Nearby Wisconsin State Parks include Wyalusing State Park.