Epic Guide to Pipestone National Monument in Minnesota including history, things to do, and so much more.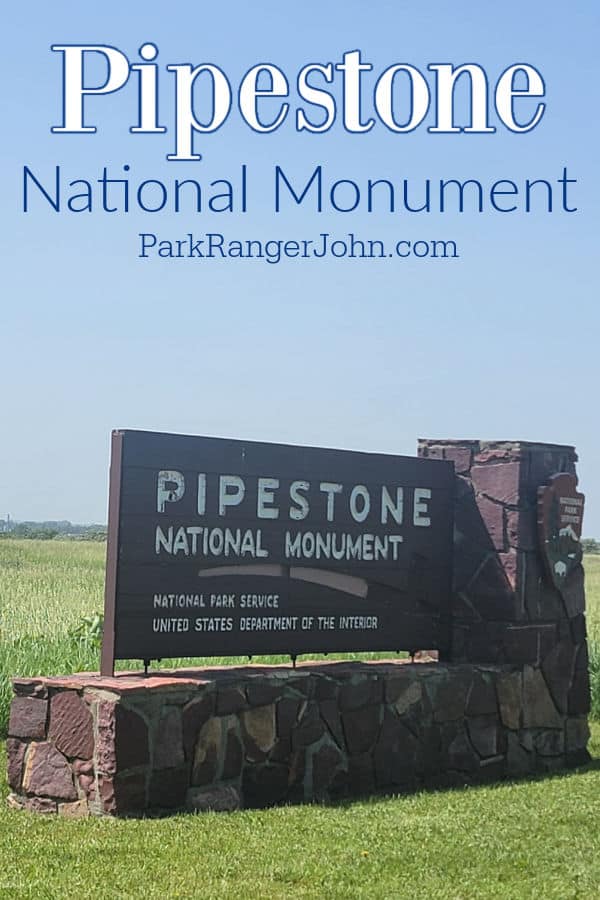 Pipestone National Monument
About Pipestone National Monument
Pipestone National Monument is located in southwest Minnesota just north of the city of Pipestone, Minnesota. The location, comprised of 282 acres, is a sacred place to many Native American tribes, and the red pipestone found here is a central aspect of their culture.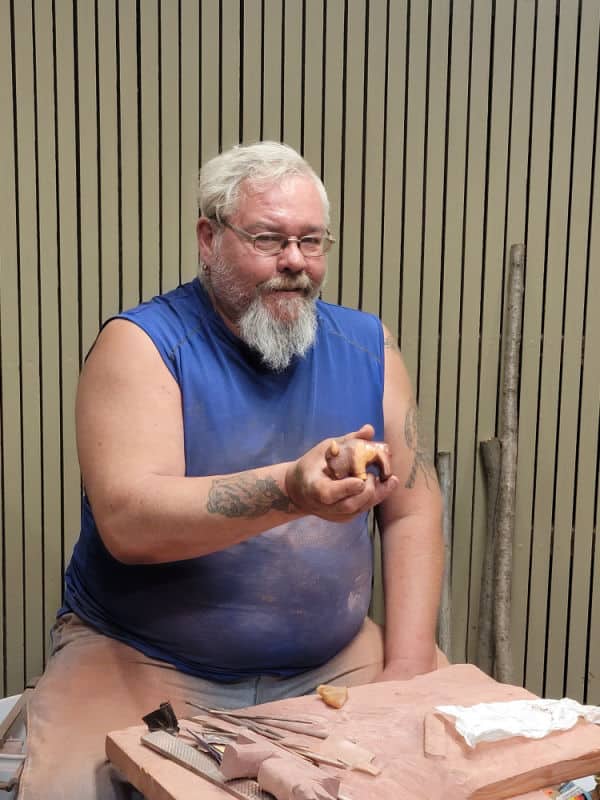 Is Pipestone National Monument worth visiting?
Yes! We found this US National Monument fascinating and truly enjoyed our time in the park.
Pipestone Carver Travis Erickson was one of the highlights of our visit to the park. He spent time showing us how he carves pipestone and explaining how he started carving.
Being able to hear how there are now only three pipestone carvers left in Pipestone was a bit heart-breaking. Right now they are struggling to find family members who want to learn the craft.
Mr. Erickson shared with us how he started working in the quarries as a young boy and learned from the elder generations the importance of the pipestone and carving with it.
Our time with Mr. Erickson was truly an unexpected surprise and moment we will not forget.
We visited the park during a Midwest National Park road trip and can't wait to share more of the parks we visited.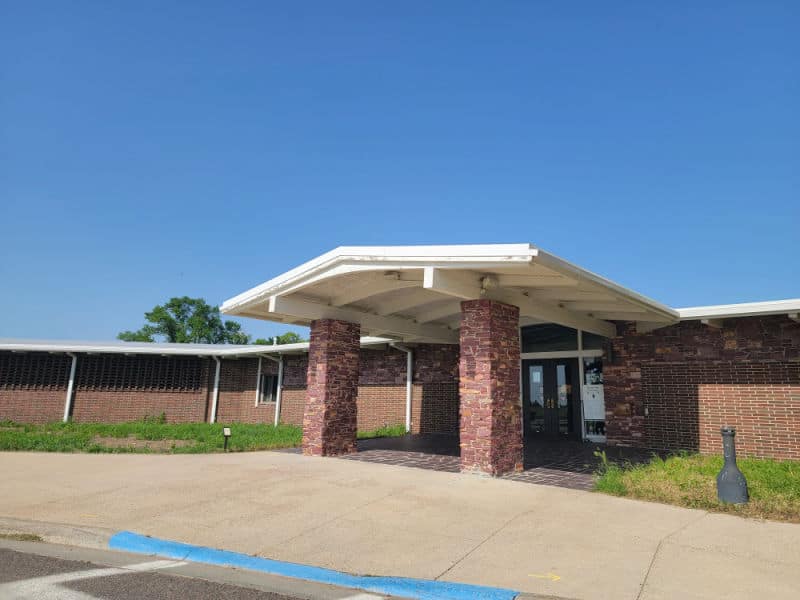 History of Pipestone National Monument
A type of red stone clay, known as catlinite to Europeans, clay was named after artist George Catlin when he visited the area and took samples of the rock to be studied.
The red stone clay has also been known for centuries as "pipestone" to Plains Native Americans. The durability and relative softness makes pipestone a perfect mode of carving and is used to create the native's sacred pipes for ceremonial purposes.
Although quartzite in the surrounding area is extremely hard, the pipestone is very soft. Pipestone formed when layers of clay were buried by layers of sand thousands of feet thick.
The pipestone at the monument contains little to no quartz, so the hardness is comparable to a human fingernail, making it easy to carve.
While pipestone is rare, there are other locations in North America where it can be found. However, the location at Pipestone National Monument has long been the preferred site to the Plains natives because of its quantity and quality of the stone which ranges in color from pink to dark red.
Stone pipes have been used by North American Indians since at least 1500 B.C. Tribes in the Northern United States traveled long distances to mine and utilize the pipestone here.
By the 1700s, the site was still being used by numerous different tribes, but the Dakota Sioux were the central people visiting the quarry. The Sioux called the location iyansha K'pai, or "the place where one digs the red rock."
So important and sacred was this clay it is said that even during war, opposing tribes would lay down arms and work side by side to obtain the pipestone. Whatever was quarried from the site was expected to be used, otherwise it had to respectfully be returned to the site.
The pipes created by tribes were one of the most important artifacts used in tribal prayer ceremonies. The style of the pipe, the materials smoked, and the ceremonies themselves varied between tribes, but the central tool, the peace pipe, was a vital object in each tribe's ceremonies, trade deals and political decision-making.
Tribes believed that the smoke from the pipes carried prayers to the Great Spirit.
Expeditions to the area in the 1830s yielded maps of the area and by the late 1800s, settlers began arriving.
In 1858, the Treaty of Washington D.C. allowed tribes to keep the quarry and 430,000 areas in the surrounding area, but they were required to give up nearly 11 million acres of land.
Over a century later, Arvol Looking Horse, a Lakota leader and the 19th Keeper of the Sacred Calf Pipe wrote: "Since time immemorial, Lakota people have been making pilgrimages to the red pipestone quarry to obtain the sacred substance to make pipes.
Long ago there were no boundaries or ownership of the site. Since the arrival of 'immigrants,' native people have been subjected to imaginary boundaries and the concept of ownership of sacred sites."
As early as 1890, the idea of turning the site into a national park was being discussed. In 1937, President Franklin D. Roosevelt signed the bill which created the 116-acre Pipestone National Monument.
The ceremonies and cultural rituals that were important to tribal groups thousands of years ago are still that way today.
In 1937, provisions in the designation stated that Native American groups would have exclusive quarrying rights.
The National Park Service regularly meets with representatives from many tribal nations to discuss historic preservation of the park. The natives who still travel to the site still rely only on handheld tools. The park offers daily pipestone carving presentations.
It is a special location that preserves an important aspect of Native American culture and has a variety of exhibits that educate the public about their centuries-old sacred practices.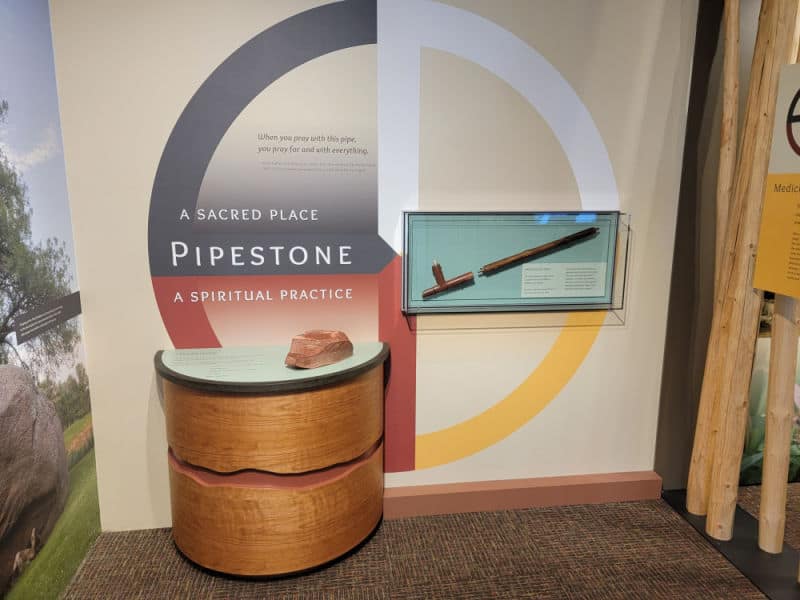 Things to know before your visit to Pipestone National Monument
Entrance fee
$0.00 - There is currently no entrance fee to visit the park.
Planning a National Park vacation? America the Beautiful/National Park Pass covers entrance fees for an entire year to all US National Park Sites and over 2,000 Federal Recreation Fee Sites.
The park pass covers everyone in the car for per vehicle sites and for up to 4 adults for per-person sites.
Buy on REI.com and REI will donate 10% of pass proceeds to the National Forest Foundation, National Park Foundation and the U.S. Endowment for Forestry & Communities.
Learn more about National Park Passes for parks that have an entrance fee.
Free Entrance Days -Mark your calendars with the five free entrance days the National Park Service offers annually.
Time Zone
Central Time Zone
Pets
Pets must be on a leash less than 6 feet in length while in the park. Pets are not allowed in the visitor center.
Cell Service
We had great cell service while visiting the park.
Park Hours
The park grounds are open 24 hours a day year-round. Visitor services hours are from 8:30 am to 4:30 pm.
Wi-Fi
There is no Wi-Fi available at the park.
Insect Repellent
Insect repellent is always a great idea when outdoors, especially if you are around any body of water.
We use Permethrin Spray on our clothes before our park trips.
Water Bottle
Make sure to bring your own water bottle and plenty of water with you. Plastic water bottles are not sold in the park.
Parking
There is a nice size parking lot in front of the visitor center.
Food/Restaurants
There are no restaurants available within the park.
Gas
There are no gas stations within the park.
Drones
Drones are not permitted within National Park Sites.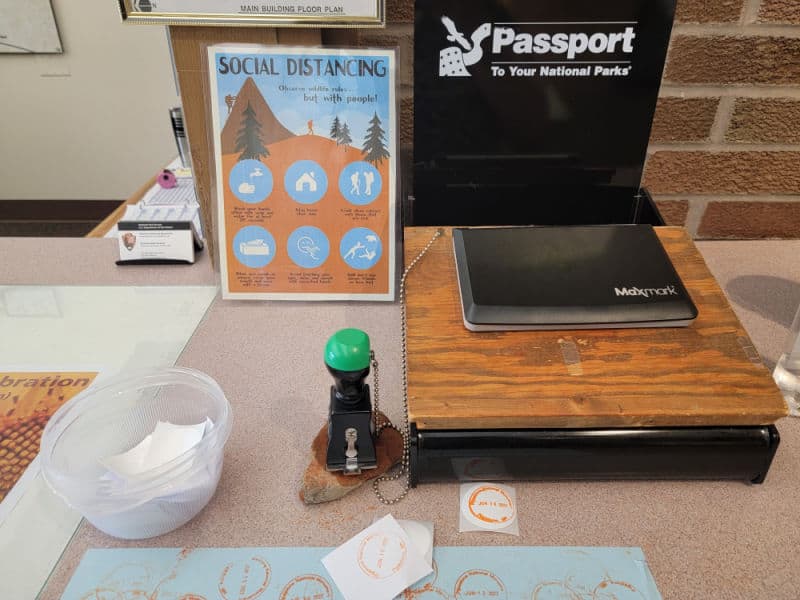 National Park Passport Stamps
National Park Passport stamps can be found in the visitor center.
Make sure to bring your National Park Passport Book with you or we like to pack these circle stickers so we don't have to bring our entire book with us.
Pipestone NM is part of the 2012 Passport Stamp Set
Electric Vehicle Charging
There is 1 public EV Charging station available in Pipestone County, Minnesota.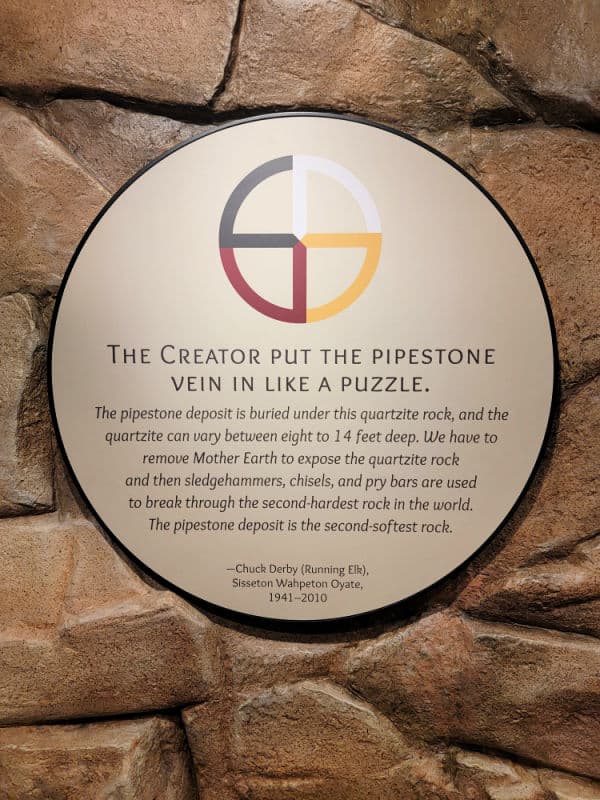 Details about Pipestone National Monument
Size - 281.79 acres
Check out how this US National Monument compares to other National Parks by Size.
Date Established
August 25, 1937 - Pipestone NM was established by an act of Congress.
Visitation
In 2021, Pipestone NM had 82,344 park visitors.
In 2020, Pipestone NM had 38,229 park visitors.
In 2019, Pipestone NM had 77,508 park visitors.
Learn more about the most visited and least visited National Parks in the US
National Park Address
36 Reservation Ave
Pipestone, MN 56164
National Park Map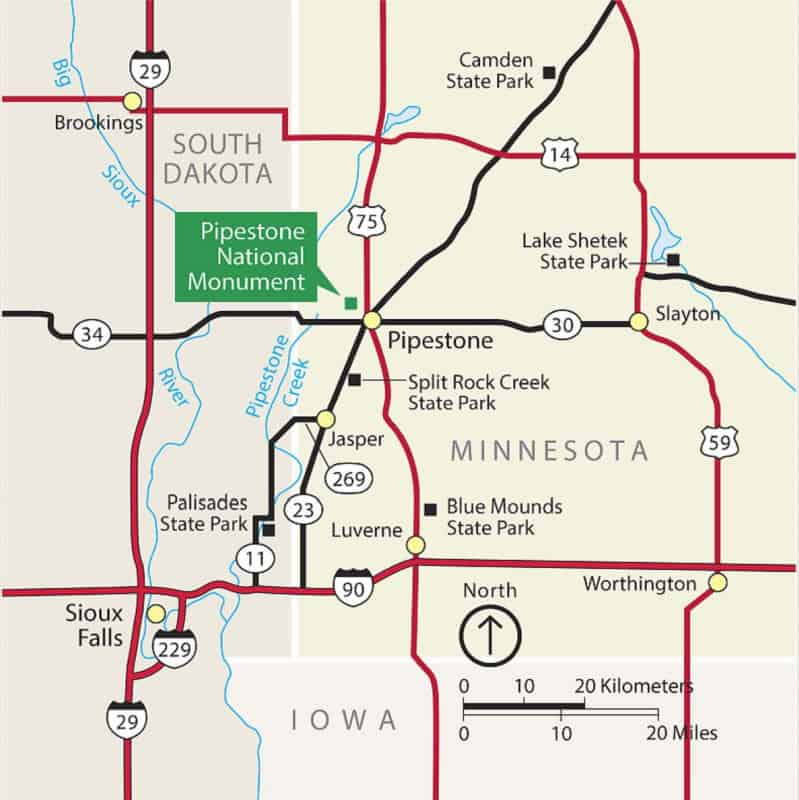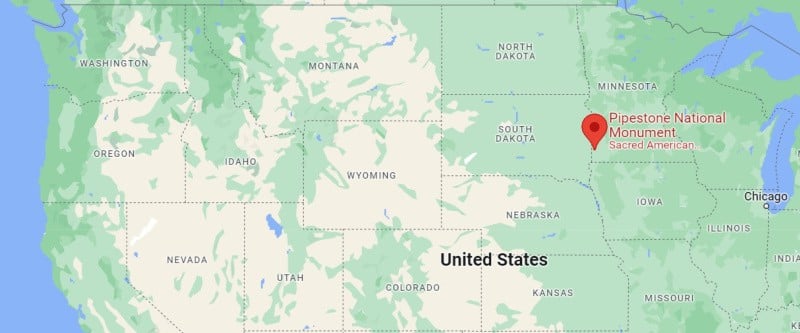 Where is Pipestone National Monument?
Pipestone NM is located in southwestern Minnesota just north of Pipestone, Minnesota.
Estimated distance from major cities nearby
Sioux Falls, SD - 48.8 miles
Madison, SD - 43.3 miles
Spencer, IA - 116 miles
Mitchell, SD - 112 miles
Minneapolis, MN - 197 miles
Omaha, NE - 230 miles
Lincoln, NE - 284 miles
Kansas City, MO - 408 miles
Madison, WI - 431 miles
Milwaukee, WI - 499 miles
Wichita, KS - 529 miles
Chicago, IL - 571 miles
Estimated Distance from nearby National Park
Badlands National Park - 315 miles
Theodore Roosevelt National Park - 551 miles
Isle Royale National Park - 606 miles
Voyageurs National Park - 412 miles
Indiana Dunes National Park - 605 miles
Wind Cave National Park - 424 miles
Where is the National Park Visitor Center?
The visitor center is located in the main area of the park. There are easy to follow signs to the parking area.
Getting to Pipestone National Monument
Closest Airports
Sioux Falls Regional Airport (FSD)
Pipestone Municipal Airport
International Airports
Minneapolis St Paul International Airport (MSP)
Hector International Airport (FAR)
Des Moines International Airport (DSM)
Driving Directions
I-90 Luverne, MN Exit north on US Highway 75 to Pipestone, MN - 25 miles
I-90 north on MN Highway 23 to Pipestone, MN - 27 miles.
Marshall, MN, southwest on MN Highway 23 to Pipestone, MN - 45 miles.
Slayton, MN, west on MN Highway 30 to Pipestone, MN - 29 miles.
Lake Benton, MN, south on US Highway 75 to Pipestone, MN - 19 miles.
I-29 north of Sioux Falls, SD to Exit 109 (Madison/Colman exit) go east on SD Hwy 34 which becomes MN Hwy 30 to Pipestone, MN - 55 miles
I-29 Brookings, SD exit, go east on Hwy 14 to Lake Benton, MN, south on US Highway 75 to Pipestone, MN.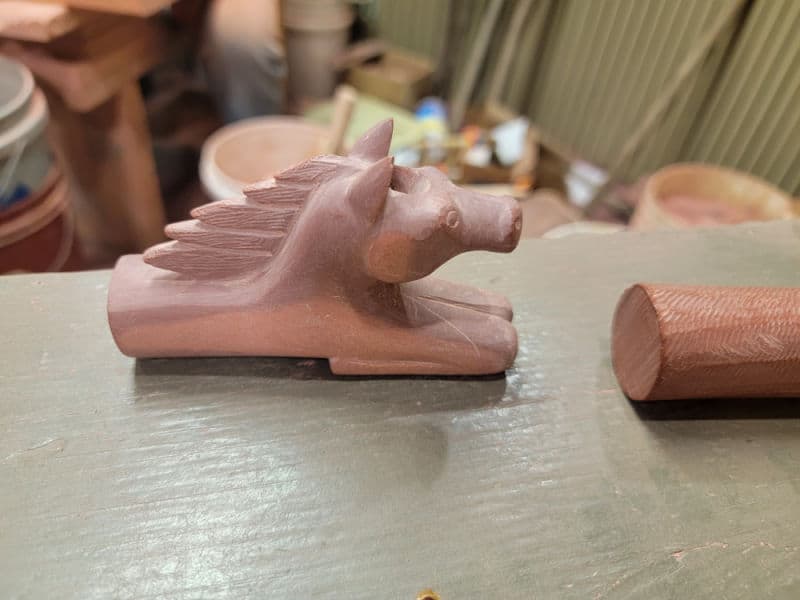 Best time to visit Pipestone National Monument
The best time to visit the park is spring through fall when there is no snow.
Weather and Seasons
Pipestone NM experiences warm summers and snowy winters. The warmest weather is from May 22 to September 20th with an average daily high above 71 degrees.
The hottest month is July with an average high of 83 degrees.
The coldest weather is from November 25th to March 5th with an average daily temperature below 37 degrees.
The coldest month is January with an average low of 9 degrees.
Snow occurs from October 26th to April 30th with December receiving the most snow.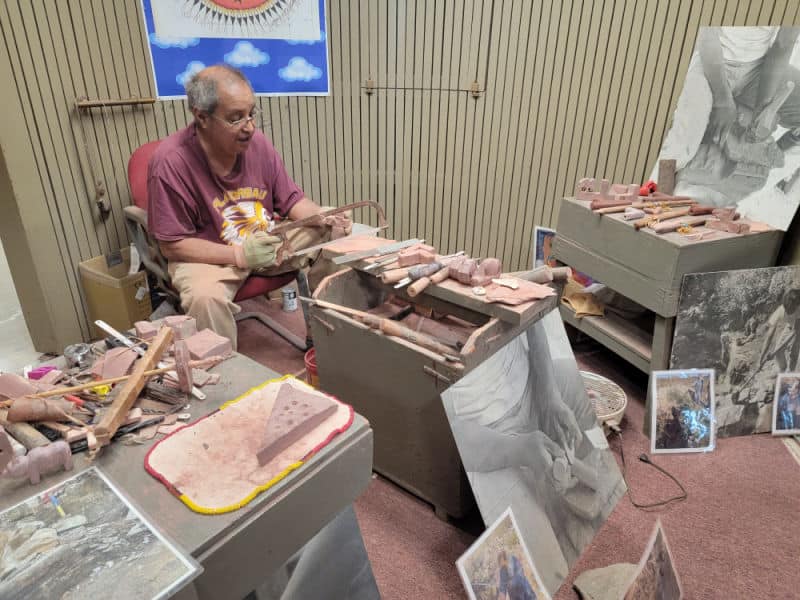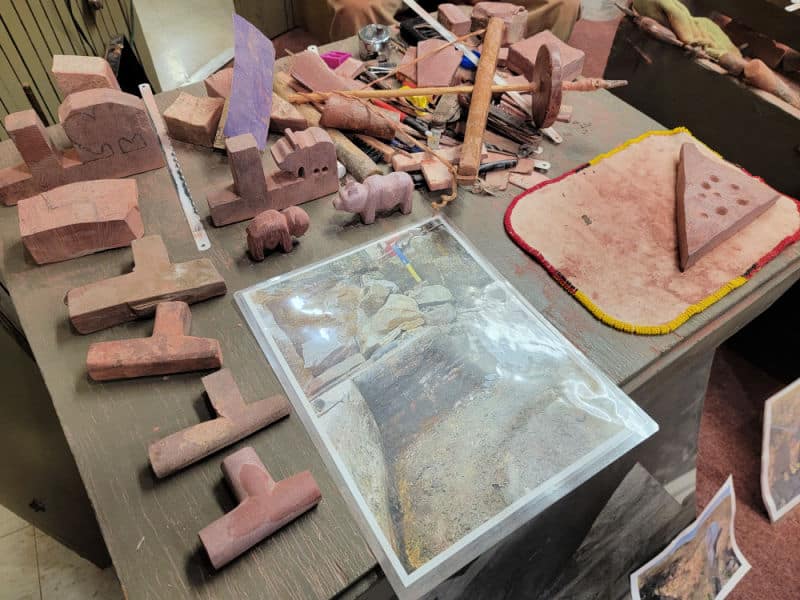 Best Things to do in Pipestone National Monument
We suggest planning a couple of hours to visit Pipestone NM. The visitor center is fantastic and we could have spent hours talking with the pipestone carvers.
Park Movie
The park has a 22-minute film that provides visitors the opportunity to learn more about the cultural and spiritual significance of the site.
The Junior Ranger program is a fantastic way for visitors of all ages to learn more about the park.
The majority of the Junior Ranger program can be completed while in the visitor center and museum.
Picnic
Pipestone NM has a picnic area with picnic tables and restrooms available near the Three Maidens.
Quarry Permits
Members of Federally-recognized Tribes may apply for quarry permits at Pipestone NM.
The National Monument does not provide tools for quarrying. It is suggested that individuals bring the following items:
- 16-20 lb. sledgehammer
- 3-5 lb. hammer
- 4-5 heavy-duty wedges (toughest you can find)
- Pry bar
- Spade/Shovel
- 5-gallon bucket
- Safety glasses (strongly suggested)
- Safety-toe boot (strongly suggested)
- Gloves (suggested)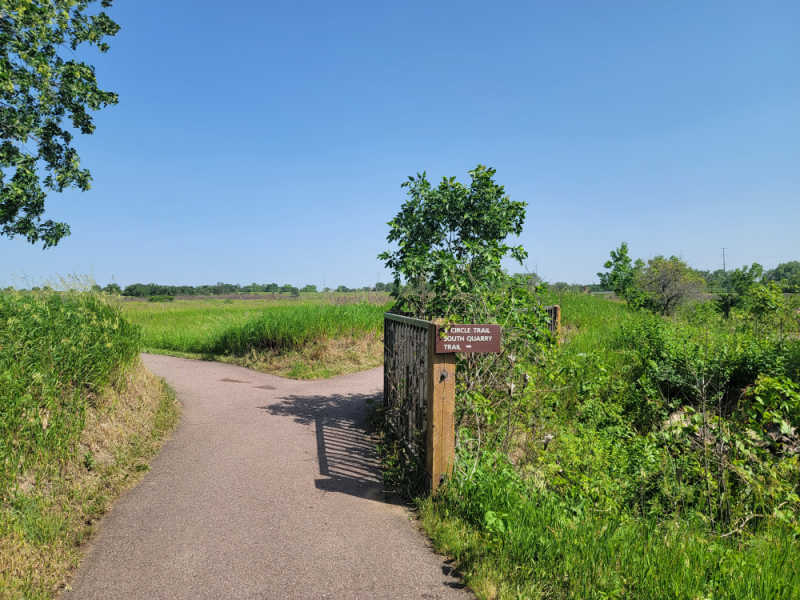 Hiking in Pipestone National Monument
Always carry the 10 essentials for outdoor survival when exploring.
Circle Trail
Distance - .75 mile paved path
The circle trail travels through a Tallgrass Prairie, past an endangered Topeka Shiner, near a waterfall, and past ancient quarries.
During the winter visitors can snowshoe on the circle trail.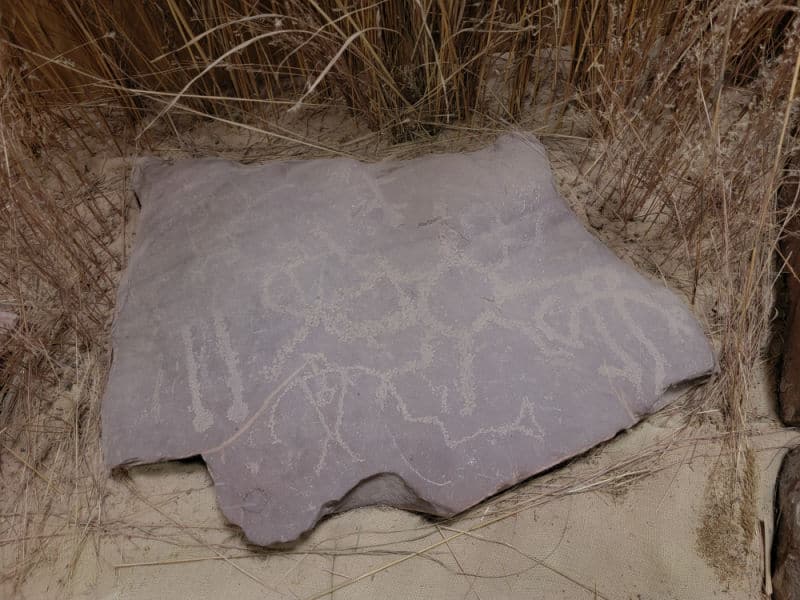 How to beat the crowds in Pipestone National Monument?
We did not experience any crowds while visiting the park. If there are crowds you can easily wander the walking trail.
Where to stay when visiting Pipestone National Monument
There are no National Park Lodges within the park.
OYO Hotel Pipestone - OYO Hotel Pipestone MN, Canterbury Park provides amenities like free self-serve breakfast and laundry facilities. Stay connected with free in-room Wi-Fi.
Royal River Hotel - Transformed 3-star hotel, All guestrooms at Royal River Hotel include thoughtful touches such as laptop-friendly workspaces and air conditioning, as well as amenities like free Wi-Fi and safes.
Grandstay Hotel And Suites Luverne - A free breakfast buffet, a garden, and laundry facilities are just a few of the amenities provided at Grandstay Hotel And Suites Luverne. For some rest and relaxation, visit the hot tub. In addition to a business center, guests can connect to free in-room Wi-Fi.
Holiday Inn Express & Suites Brookings - Take advantage of free continental breakfast, dry cleaning/laundry services, and a gym at Holiday Inn Express & Suites Brookings, an IHG Hotel. For some rest and relaxation, visit the hot tub. Free in-room Wi-Fi and a business center are available to all guests.
Hampton Inn & Suites Brookings - You can look forward to free breakfast, dry cleaning/laundry services, and a bar at Hampton Inn & Suites Brookings. For some rest and relaxation, visit the hot tub. Free in-room Wi-Fi is available to all guests, along with a gym and a 24-hour business center.
Click on the map be low to see current vacation rentals and lodging options near Pipestone NM.
Camping near Pipestone NM
There are no National Park Campground within the park.
For a fun adventure check out Escape Campervans. These campervans have built in beds, kitchen area with refrigerators, and more. You can have them fully set up with kitchen supplies, bedding, and other fun extras. They are painted with epic designs you can't miss!
Escape Campervans has offices in Vancouver, Seattle, Portland, San Francisco, Las Vegas, Los Angeles, Phoenix, Salt Lake City, Denver, Chicago, New York, and Orlando
Campgrounds nearby include:
Olson Park Campground - Worthington, MN
This campground offers RV and Tent sites, a waterfront, hiking, dog park, and more.
Talking Waters Campground - Gary, SD
This campground offers Lodging, RV and Tent Sites, a beach, fishing, and more.
Kuhar Park Campground - Lamberton, MN
This campground offers RV and Tent Sites, a waterfront, playground and more.
Check out additional campgrounds on CampSpot.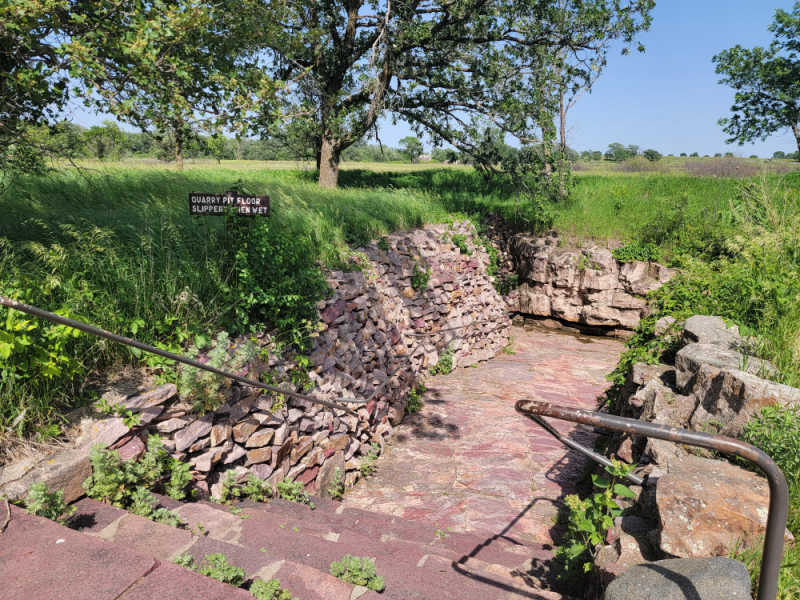 Parks Near Pipestone National Monument
Missouri National River
Niobrara National Scenic River
Effigy Mounds National Monument
Herbert Hoover National Historic Site
Homestead National Historical Park
Check out all of the National Parks in Minnesota along with neighboring Iowa National Parks, Michigan National Parks, North Dakota National Parks, National Parks in South Dakota, and Wisconsin National Parks
Check out nearby Minnesota State Parks including Split Rock Creek State Park, Blue Mounds State Park, and the Jeffers Petroglyphs Historic Site.