Homestead National Historical Park is located in southeastern Nebraska. This park interprets the impacts of the Homestead Act of 1862.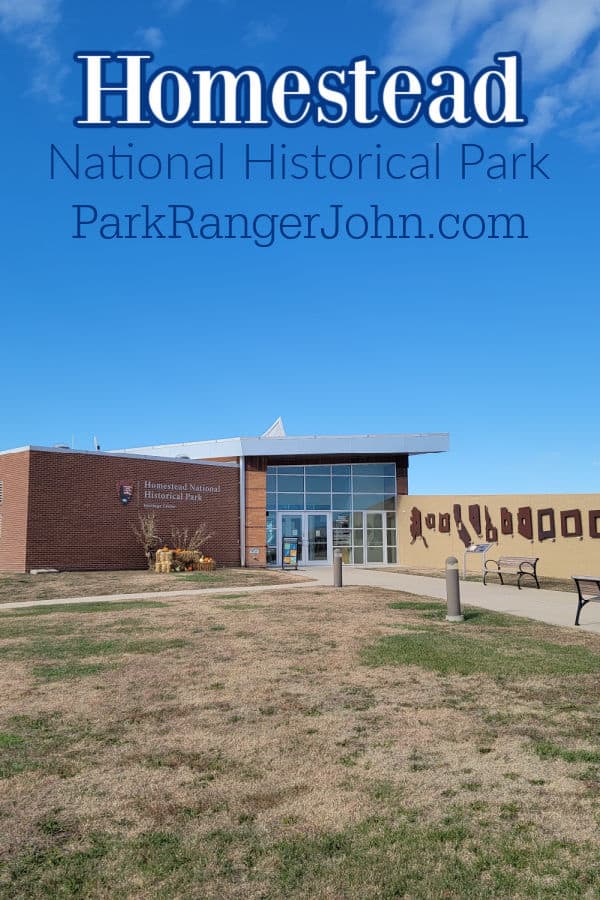 Homestead National Historical Park
The Homestead Act of 1862 was passed by Congress and signed into law by President Abraham Lincoln. This act had huge impacts on the western expansion of the United States.
The Homestead Act transferred vast areas of land from the public domain to private ownership. During the 10 ten years, the Homestead Act was in effect approximately 10% of the United States was legally claimed and settled.
The opportunity to acquire land was open to newly arrived immigrants, single women, and freed slaves.
It is hard to believe women were granted the right to homestead land 58 years before being granted the right to vote.
In order to claim land settlers had to choose a 160 acre plot, apply and pay a fee at a land office.
Once the land was chosen they had to build a home and begin farming a minimum of 10 acres within 5 years. This was called proving up the land.
Homestead National Historical Park was previously known as Homestead National Monument of America.
The park was established in 1936 to commemorate the Homestead Act and pioneer settlers.
The park is located on land west of Beatrice, Nebraska that was claimed by Daniel Freeman early on January 1, 1863.
Daniel Freeman's homestead claim in Gage County, Nebraska was likely the very first to be made and successfully "proved up" under the Homestead Act of 1862.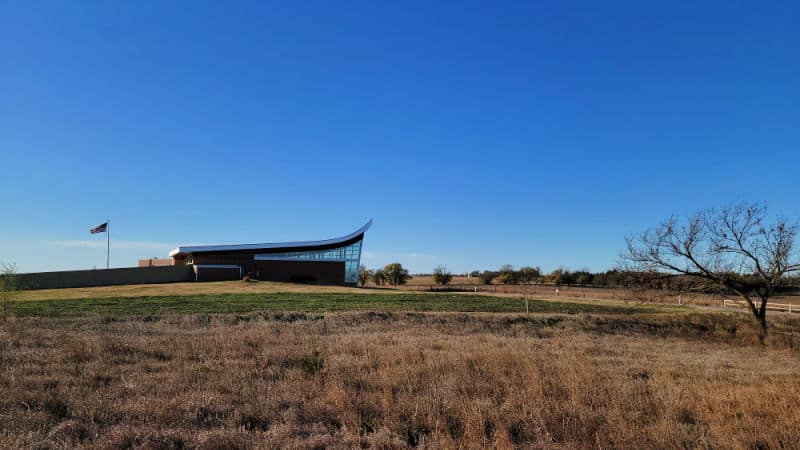 Homestead Heritage Center
The Homestead Heritage Center has exhibits on immigration, agriculture, industrial advancement, American Indian cultures, and the Tallgrass Prairie ecosystem.
Make sure to check out the roof which was designed to represent a single-bottom plow moving through the sod.
The parking lot is 1 acre in area giving visitors the opportunity to visualize how much free land homesteaders were required to plant with crops.
We were really impressed with the Homestead Heritage Center! Make sure to plan time to watch the park movie. It does an amazing job of explaining the westward expansion from not only the perspective of a settler but also from the native tribes.
You can easily spend an hour to multiple hours in the Heritage Center. The lower level is filled with interpretive displays and information on homesteading.
We learned a lot about the history of homesteading during our visit.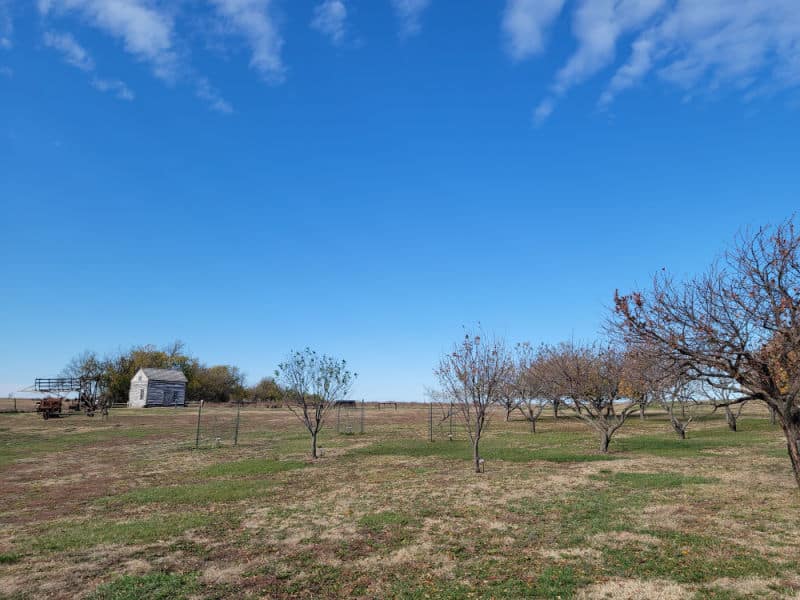 Palmer Epard Cabin
The Palmer Epard cabin was built in 1867. There is a small trail from the Heritage Center to the cabin.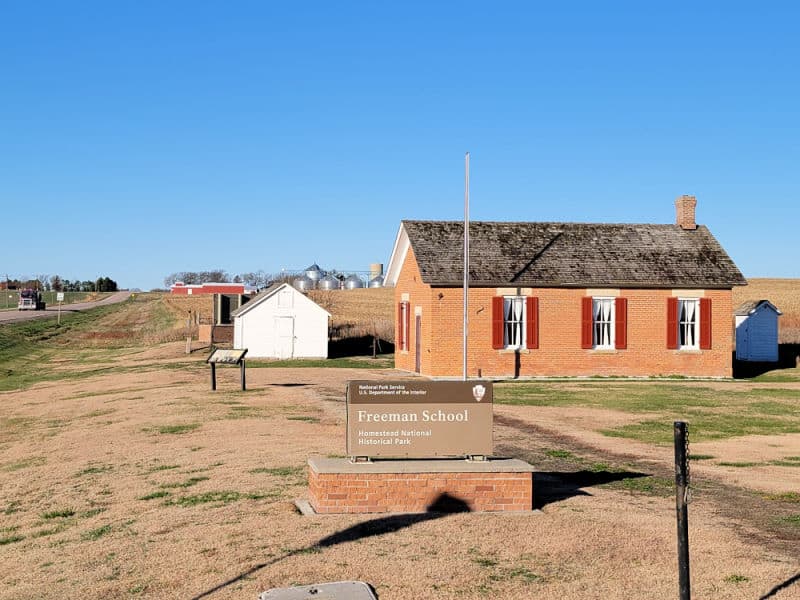 Freeman School
The Freeman School is a one-room school from 1872.
It is located down the street from the heritage center. There are interpretive panels near the Freeman School explaining its history.
Junior Ranger Program
You can pick up a National Park Service Junior Ranger program at the visitor center
The park has a Junior Ranger Program and a Not So Junior Ranger Program.
The Not So Junior Ranger program receives a lapel pin and the Junior Ranger receives the normal badge.
Both books are really well done!
President Franklin D. Roosevelt signed legislation creating Homestead NHP on March 19, 1936.

The National Park Passport Stamps are located in the Heritage Center.
We found the following stamps during our visit:
Homestead National Historical Park, Beatrice, NE
Pony Express NHT
Oregon National Historic Trail
California National Historic Trail
Junior Ranger Stamp
We use the Explorer Edition Passport Book that can be expanded and updated. This is a great way to track all of the parks you have visited over time.
We like to use these circle stickers for park stamps so we don't have to bring our passport book with us on every trip.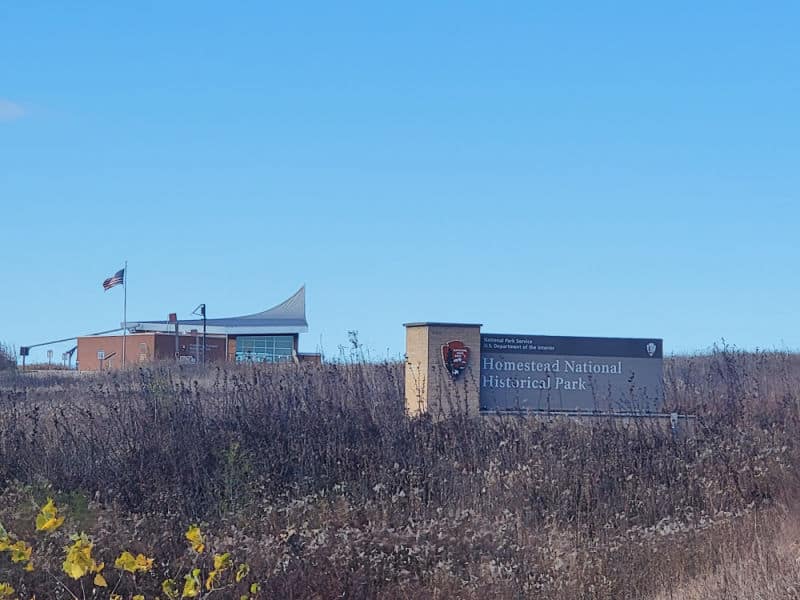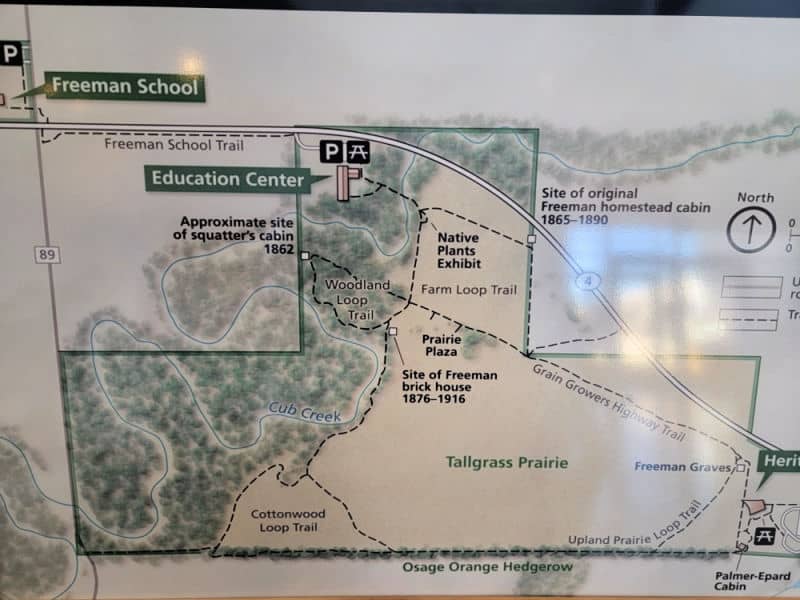 Things to know when planning a visit
Park Address - 8523 West State Highway 4
Beatrice, NE 68310
Homestead National Historical Park is located west of the town of Beatrice in southeast Nebraska, about 40 miles south of the state capital of Lincoln.
Beatrice is approximately 100 miles south of Omaha, Nebraska, and 180 miles northwest of Kansas City, Missouri.
Closest Airports - Lincoln or Omaha, Nebraska
Park Hours - Trails and park grounds are open from sunrise to sunset.
Entrance Fees - $0.00, There is no fee to visit this park.
WiFi - Public Wi-Fi is available at both the Homestead National Historical Park Heritage and Education Centers.
Pets - Pets are only allowed in parking lots and mowed lawn areas adjacent to the Education Center and Heritage Center. All pets must be leashed. Pets are prohibited in the prairie and woodland areas, all hiking/walking trails, all buildings, and in the community garden.

National Park Sites near Homestead NHP
Nicodemus National Historic Site
Tallgrass Prairie National Preserve
Harry S Truman National Historic Site
Fort Larned National Historic Site
Brown vs. Board of Education National Historic Site
Check out all of the National Parks in Nebraska and neighboring Wyoming National Parks, South Dakota National Parks, Iowa National Parks, Missouri National Parks, Kansas National Parks, and Colorado National Parks
Check out all of the National Historical Parks in the US.