Homestead National Historical Park is located in southeastern Nebraska. This park interprets the impacts of the Homestead Act of 1862.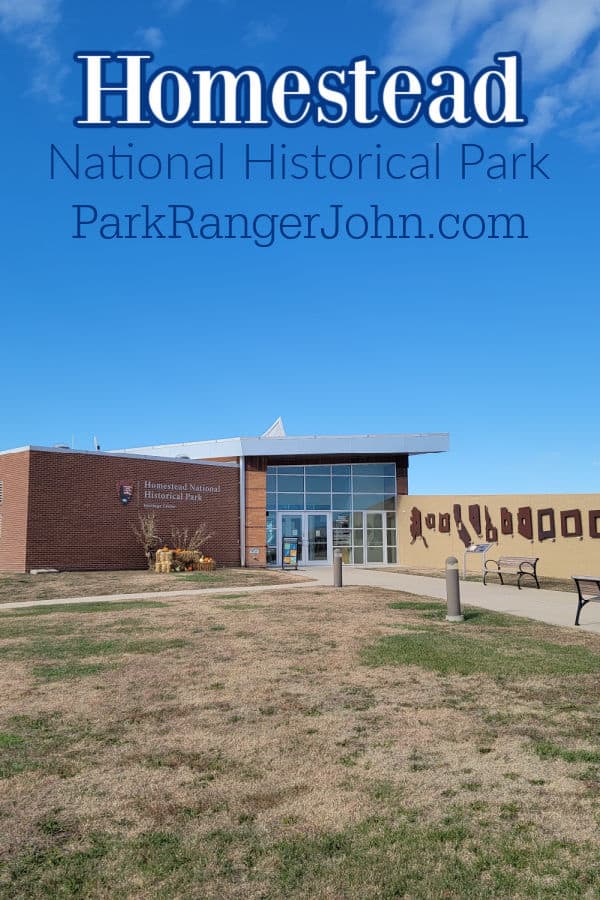 Homestead National Historical Park
The Homestead Act of 1862 was passed by Congress and signed into law by President Abraham Lincoln. This act had huge impacts on the western expansion of the United States.
About Homestead National Historical Park
The Homestead Act transferred vast areas of land from the public domain to private ownership. During the 10 ten years, the Homestead Act was in effect approximately 10% of the United States was legally claimed and settled.
The opportunity to acquire land was open to newly arrived immigrants, single women, and freed slaves.
It is hard to believe women were granted the right to homestead land 58 years before being granted the right to vote.
In order to claim land settlers had to choose a 160-acre plot, apply and pay a fee at a land office.
Once the land was chosen they had to build a home and begin farming a minimum of 10 acres within 5 years. This was called proving up the land.
Homestead National Historical Park was previously known as Homestead National Monument of America.
The park was established in 1936 to commemorate the Homestead Act and pioneer settlers.
The park is located on land west of Beatrice, Nebraska that was claimed by Daniel Freeman early on January 1, 1863.
Daniel Freeman's homestead claim in Gage County, Nebraska was likely the very first to be made and successfully "proved up" under the Homestead Act of 1862.
Is Homestead NHP worth visiting?
Yes! This park does an amazing job of sharing stories of homesteading through the years.
The museum displays are some of the best we have seen and truly tell the story of what homesteaders worked through.
History of Homestead National Historical Park
Homestead National Historical Park is located five miles west of Beatrice, Nebraska. This National Historical Park was created in 1936.
It was created to memorialize the settlers moving to and inhabiting the Great West after the creation of the Homestead Act in 1862.
The Homestead Act of 1862 was one of the most pivotal events in the era of the Great Westward Expansion.
Signed into law by President Lincoln during the Civil War, the Act stated that any adult citizen of the United States, who had never borne arms against the government, could claim 160 acres of federal land for free as long as the citizen agreed to farm it.
After five years on the land, the original settler was entitled to the property free and clear. The title could also be acquired six months after settlement if $1.25 per acre was paid.
The Homestead Act was active for 123 years; it gave away ten percent of the land in the United States.
In total, the Act transferred 270,000,000 acres of land from federal to private ownership. The 211-acre preserved park in Beatrice includes some of the first acres successfully claimed under the Homestead Act.
There are many different ways the park memorializes this monumental time in American history. The Homestead Heritage Center offers visitors the chance to explore the interactive Museum of American Homesteading. Visitors can even research their own homesteading genealogy.
A special point of interest in the park is the Palmer-Epard Cabin.
This home was built by George W. Palmer in 1867 about 14 miles from the park; it was moved to the park in 1950.
The cabin is a true representation of a somewhat luxury home at the time. (In many areas inhabited by new homesteaders, trees were not available to build log cabins so homesteaders lived in dugouts and sod houses.)
Made of various hardwoods, the Palmer-Epard Cabin was 14x16 feet in size.
This size home would have been typical for a family of 10 or more. Sometime around 1880, a 10x12 foot lean-to was added to the back of the cabin.
The Palmers lived in the home until 1895 when they sold it to their nephews.
A few years later the land was sold to Lawrence and Ida Mumford Epard. They lived in the cabin for almost 40 years.
Another notable and very interesting piece of history from the site is that of the life of Daniel Freeman.
Shortly after midnight on January 1, 1863, Freeman persuaded an official to open the land office located in Brownsville, Nebraska.
January 1st was the day the Homestead Act came into effect. Mr. Freeman was the man historically credited with filing the very first claim under the Homestead Act.
Freeman was on a leave of absence from the Union army when he walked into the land office that night.
After settling on his claim, he proposed marriage in a written letter to Agnes Suiter of Iowa.
Agnes had been engaged to his brother James, who died during the Civil War when he acquired measles while fighting in Tennessee.
In 1865, Freeman brought his new wife to his homestead where they had eight children. Their eighth child, Danny, died of diphtheria as a toddler and was buried near the brick house; his father would be buried near him after he passed years later.
A number of the Freeman children stayed on the land and built homes of their own.
Later in their marriage, the couple was able to build a two-story brick home on the property. The Freeman family and other tenant farmers grew corn, wheat, oats, and apple and peach orchards.
Daniel Freeman died in 1908 and the brick house burned down in 1916.
Agnes lived in another small house near the center of the claim until her death in 1931.
At age 81, Agnes gave an interview and shared that the biggest threats and hardships for the settlers in the Nebraska prairie were prairie fires, illness, and Native Americans. None of the Freeman homes exist on the property today.
All seven Freeman children attended school at the Freeman Schoolhouse, otherwise officially known as District Number 21.
It is not known if the school was named after Daniel Freeman or Thomas Freeman, a local bricklayer.
The school was the longest-running one-room schoolhouse in Nebraska, in operation from 1872 to 1967.
The school also served as a meeting place for the First Trinity Lutheran Church as well as a polling place and a site for debates and clubs.
Previously mentioned Homestead Act pioneer, Mr. Freeman, gained national attention when he argued for the separation of church and state.
Daniel Freeman was unhappy with the fact that the headteacher at the Freeman School, Edith Beecher, was reading from the Bible daily and singing hymns with the students.
The school board agreed that Beecher was doing it to benefit the children but this did not satisfy Freeman. His case went all the way to the Nebraska Supreme Court.
The case was ruled in favor of Freeman in 1902 stating that the separation of church and state must be respected in Nebraska.
As you can see, the stories of the land, buildings, and families that once made up this county in Nebraska have their stories etched in history.
The Homestead Act was a monumental juncture in which the whole course of America was shaped. History changed for the settlers, the Native Americans, the land, and the generations of American families to come.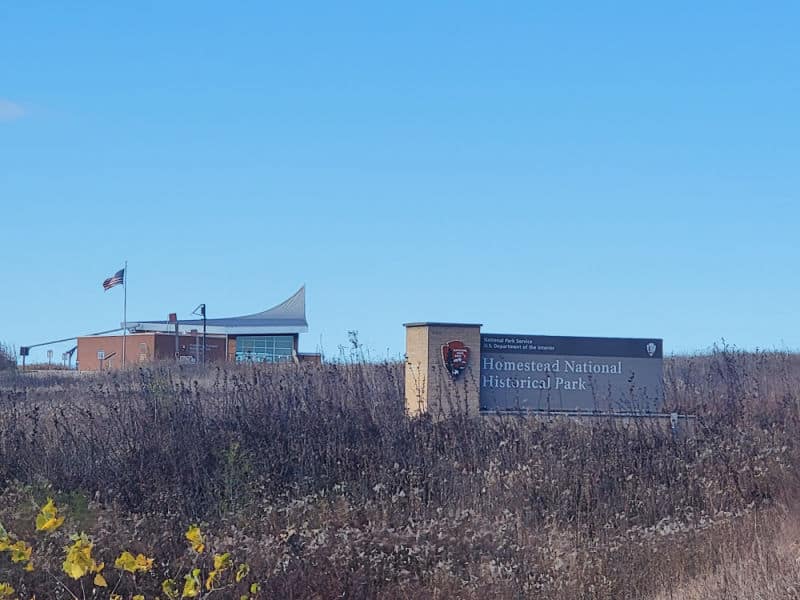 Things to know before your visit to Homestead NHP
Entrance fee
$0.00, There is no fee to visit this park.
Planning a National Park vacation? America the Beautiful/National Park Pass covers entrance fees for an entire year to all US National Park Sites and over 2,000 Federal Recreation Fee Sites.
The park pass covers everyone in the car for per vehicle sites and for up to 4 adults for per-person sites.
Buy on REI.com and REI will donate 10% of pass proceeds to the National Forest Foundation, National Park Foundation and the U.S. Endowment for Forestry & Communities.
Learn more about National Park Passes for parks that have an entrance fee.
Free Entrance Days -Mark your calendars with the five free entrance days the National Park Service offers annually.
Time Zone
Central Time
Pets
Pets are only allowed in parking lots and mowed lawn areas adjacent to the Education Center and Heritage Center.
All pets must be leashed. Pets are prohibited in the prairie and woodland areas, all hiking/walking trails, all buildings, and in the community garden.
Cell Service
Cell service was pretty good while visiting the park.
Park Hours
Trails and park grounds are open from sunrise to sunset.
Wi-Fi
Public Wi-Fi is available at both the Homestead National Historical Park Heritage and Education Centers.
Insect Repellent
Insect repellent is always a great idea when outdoors, especially if you are around any body of water.
We use Permethrin Spray on our clothes before our park trips.
Water Bottle
Make sure to bring your own water bottle and plenty of water with you. Plastic water bottles are not sold in the park.
Parking
There is a large parking lot next to the Heritage Center.
Food/Restaurants
There are no restaurants within the park.
Gas
There are no gas stations within the park.
Drones
Drones are not permitted within National Park Sites.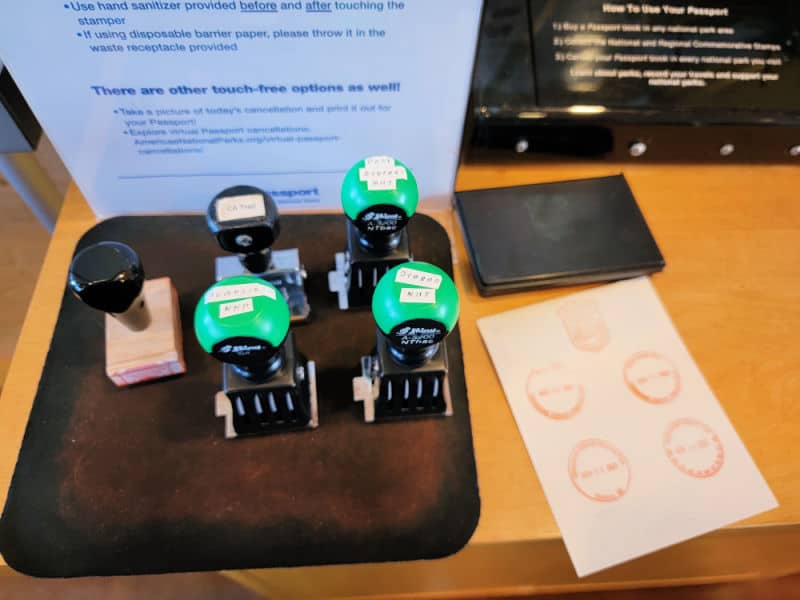 National Park Passport Stamps
The National Park Passport Stamps are located in the Heritage Center.
We found the following stamps during our visit:
Homestead National Historical Park, Beatrice, NE
Pony Express NHT
Oregon National Historic Trail
California National Historic Trail
Junior Ranger Stamp
We use the Explorer Edition Passport Book that can be expanded and updated. This is a great way to track all of the parks you have visited over time.
Make sure to bring your National Park Passport Book with you or we like to pack these circle stickers so we don't have to bring our entire book with us.
Homestead NHP is part of the 2007 Passport Stamp Set.
Electric Vehicle Charging
There is an EV Charging Station in the Homestead Heritage Center parking lot that visitors can use.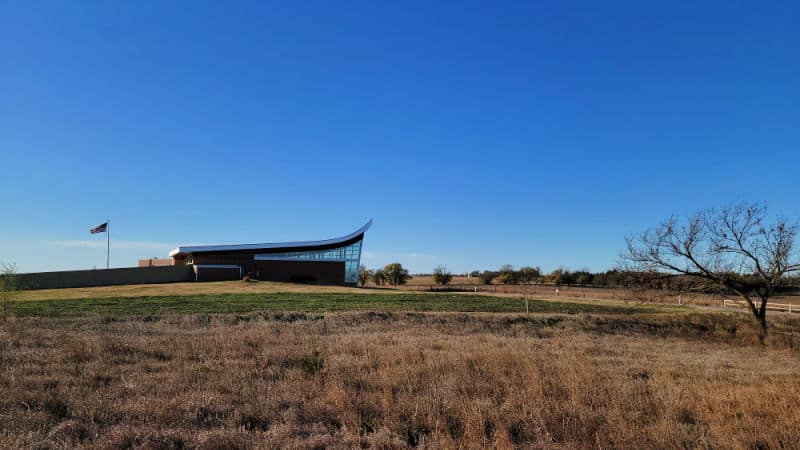 Details about Homestead National Historical Park
Size - 211 acres acres
Check out how Homestead NHP compares to other National Parks by Size.
Date Established
President Franklin D. Roosevelt signed legislation creating the Homestead National Monument of America on March 19, 1936.
Visitation
In 2021, Homestead NHP had 54,113 park visitors.
In 2020, Homestead NHP had 40,897 park visitors.
In 2019, Homestead NHP had 61,636 park visitors.
Learn more about the most visited and least visited National Parks in the US
National Park Address
8523 West State Highway 4
Beatrice, NE 68310
National Park Map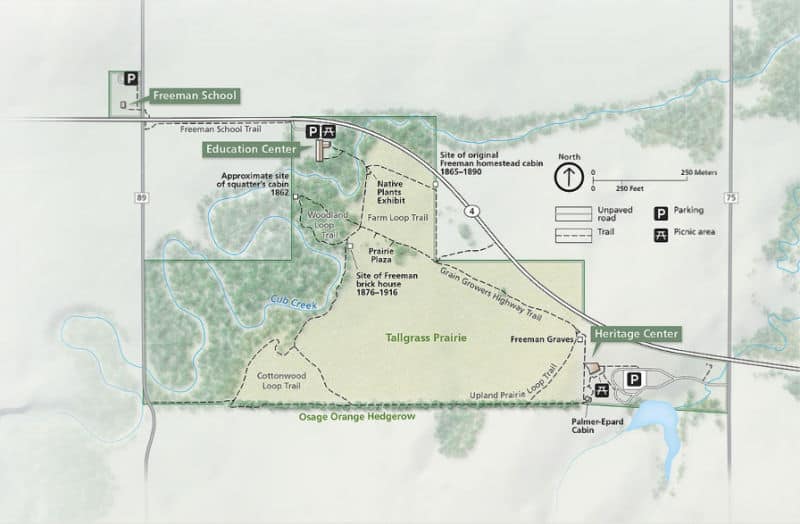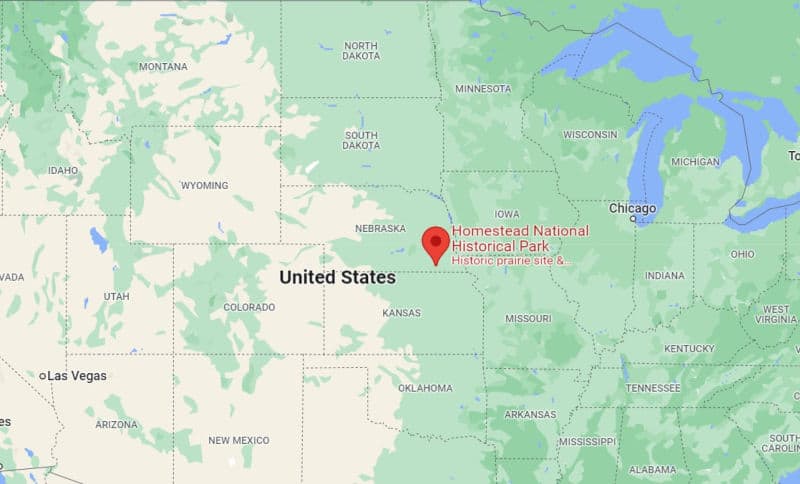 Where is Homestead National Historical Park?
Homestead National Historical Park is located west of the town of Beatrice in southeast Nebraska, about 40 miles south of the state capital of Lincoln.
Beatrice is approximately 100 miles south of Omaha, Nebraska, and 180 miles northwest of Kansas City, Missouri.
Estimated distance from major cities nearby
Lincoln, NE - 45 miles
Manhattan, KS - 94 miles
Omaha, NE - 103 miles
Kansas City, KS - 186 miles
Tulsa, OK - 401 miles
Oklahoma City, OK - 387 miles
St. Louis, MO - 432 miles
Minneapolis, MN - 476 miles
Aurora, CO - 510 miles
Estimated Distance from nearby National Park
Gateway Arch National Park - 433 miles
Hot Springs National Park - 608 miles
Mammoth Cave National Park - 722 miles
Indiana Dunes National Park - 588 miles
Great Sand Dunes National Park - 617 miles
Black Canyon of the Gunnison National Park - 791 miles
Cuyahoga Valley National Park - 899 miles
Where is the National Park Visitor Center?
The Heritage Center is the park's main visitor center. There is also the Homestead Education Center.
Getting to Homestead NHP
Closest Airports
Lincoln Airport (LNK)
International Airports
Kansas City International Airport (MCI)
Des Moines International Airport (DSM)
Regional Airports
Manhattan Regional Airport (MHK)
Central Nebraska Regional Airport (GRI)
Driving Directions
The park is 4 miles west of Beatrice on State Highway 4.
From the U.S. 77 and U.S. 136 intersection in downtown Beatrice take U.S. 136 approximately 1.2 miles west.
Turn right onto Nebraska Highway 4 and follow the signs. After the road has curved west and you have traveled 4 miles, you will enter Homestead National Historical Park and see signs for the different buildings at the park.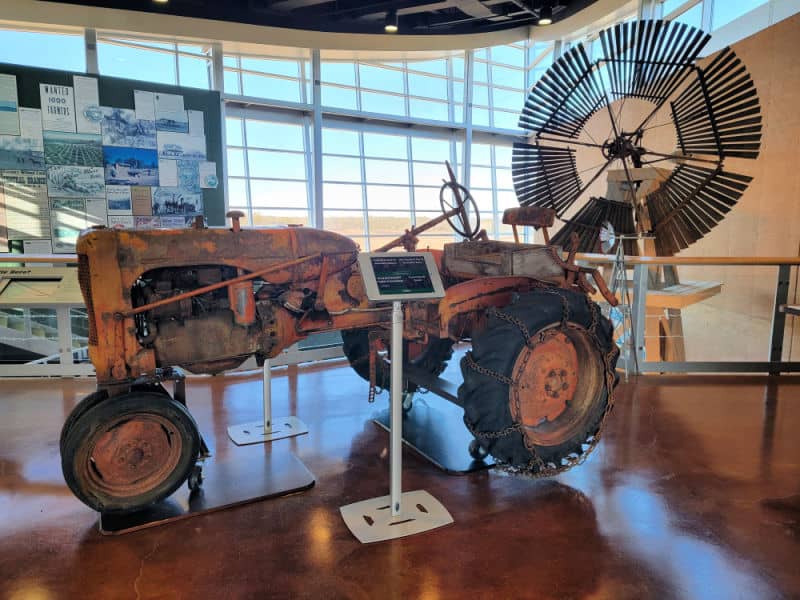 Best time to visit Homestead National Historical Park
The best time to visit the park is spring, summer, and fall. The weather should be nice during these times.
Weather and Seasons
The park experiences hot humid summers and snowy windy winters.
The hottest weather is from May 30th to September 17th with an average daily high above 79 degrees.
The coldest weather is from November 26th to February 27th with an average daily temperature below 47 degrees.
June receives the most rain on average. Snow occurs on average from November 10th to March 29th with the most snow in December.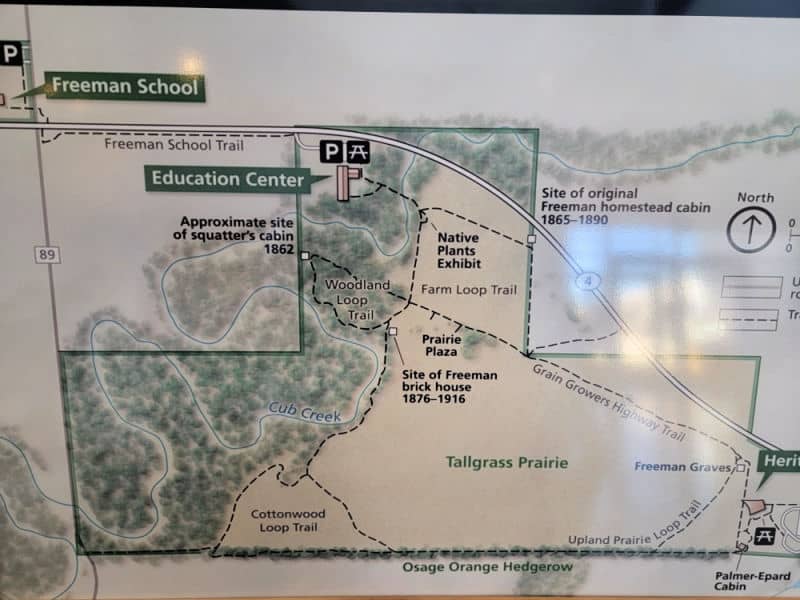 Best Things to do in Homestead National Historical Park
We suggest planning a minimum of a few hours to visit the park but you could easily spend all day exploring.
Homestead Heritage Center
The Homestead Heritage Center has exhibits on immigration, agriculture, industrial advancement, American Indian cultures, and the Tallgrass Prairie ecosystem.
Make sure to check out the roof which was designed to represent a single-bottom plow moving through the sod.
The parking lot is 1 acre in area giving visitors the opportunity to visualize how much free land homesteaders were required to plant with crops.
We were really impressed with the Homestead Heritage Center! Make sure to plan enough time to watch the park movie. It does an amazing job of explaining the westward expansion from not only the perspective of a settler but also from the native tribes.
You can easily spend an hour to multiple hours in the Heritage Center. The lower level is filled with interpretive displays and information on homesteading.
We learned a lot about the history of homesteading during our visit.
Palmer Epard Cabin
The Palmer Epard cabin was built in 1867. There is a small trail from the Heritage Center to the cabin.
The cabin was moved to the park in June 1950 where it was rehabilitated by park employees.
Freeman School
The Freeman School is a one-room school that was in use from 1872 to 1967.
It is located down the street from the heritage center. There are interpretive panels near the Freeman School explaining its history.
The National Park Service has restored the Freeman School to look like it did in the 1870s.
You can pick up a National Park Service Junior Ranger program at the visitor center
The park has a Junior Ranger Program and a Not So Junior Ranger Program.
The Not So Junior Ranger program receives a lapel pin and the Junior Ranger receives the normal badge.
Both books are really well done!
Homestead Education Center
The Homestead Education Center provides visitors the opportunity to learn more about homesteading through hands-on arts and crafts, living history demonstrations, science experiments, and more.
There are also displays of farm machinery and tools.
Research Family History
Visitors have the opportunity to research homestead land records and genealogy records at the Homestead Visitor Center.
Visitors can access the Bureau of Land Management's General Land Office Records, Fold3, Ancestry, and Family Search.
Homesteading records for Alaska, Arizona, Indiana, Illinois, Iowa, Nebraska, Nevada, Ohio, Wyoming, and Utah can be searched up to 1908 for free.
Daughters of the American Revolution Monument
This memorial was the first one to mark the location of the 1st registered homestead in the United States.
Quilt Discovery Experience
The Quilt Discovery Experience provides visitors the opportunity to learn how women used quilts and quilt blocks to convey family history.
The trail explores the art of quilt making and the history of guilts.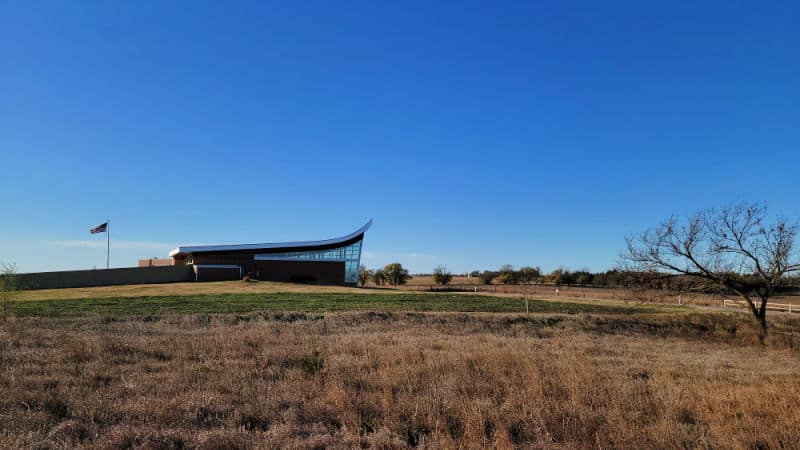 Hiking in Homestead NHP
Always carry the 10 essentials for outdoor survival when exploring.
There are three miles of trails that travel through the tallgrass prairie and oak woodlands.
Most of the trails are not paved. The visitor center has an all-terrain wheelchair available.
Pets are not allowed on the trails within the park. Make sure to keep an eye out for snakes, poison ivy, and animals.
Freeman School Trail - .3 miles
Woodlands Loop Trail - .3 miles
Grain Growers Highway Trail - .4 mile
Cottonwood Loop Trail - .5 miles
Farm Loop Trail - .6 miles
Upland Prairie Loop Trail - 1.3 miles
Heritage Center to the Education Center along the Grain Growers Highway - .75 miles
How to beat the crowds in Homestead NHP?
We did not experience any crowds while in the park. The visitor center has a lot of space to move around.
We always suggest visiting during the week if you want to skip any crowds.
Where to stay when visiting Homestead National Historical Park
There are no National Park Lodges within the park.
Holiday Inn Express Hotel & Suites Beatrice - A free breakfast buffet, dry cleaning/laundry services, and a 24-hour gym are just a few of the amenities provided at Holiday Inn Express Hotel & Suites Beatrice, an IHG Hotel. In addition to a business center, guests can connect to free in-room Wi-Fi.
My Place Hotel -Beatrice - look forward to a grocery/convenience store, laundry facilities, and a business center at My Place Hotel-Beatrice NE. Guests can connect to free in-room Wi-Fi.
Americas Best Value Inn Beatrice - provides free breakfast and more. Stay connected with free in-room Wi-Fi.
Edgewood Hotel & Suites - Free full breakfast, laundry facilities, and a gym are just a few of the amenities provided at Edgewood Hotel & Suites. Stay connected with free Wi-Fi in public areas, and guests can find other amenities such as a 24-hour business center and a restaurant.
Fairfield Inn & Suites by Marriott Lincoln - Take advantage of free continental breakfast, a free grocery shopping service, and a hair salon at Fairfield Inn & Suites by Marriott Lincoln Crete. Free in-room Wi-Fi is available to all guests, along with dry cleaning/laundry services and a gym.
Click on the map below to see additional hotels and vacation rentals near the park.


Camping
There are no campgrounds within the park.
For a fun adventure check out Escape Campervans. These campervans have built in beds, kitchen area with refrigerators, and more. You can have them fully set up with kitchen supplies, bedding, and other fun extras. They are painted with epic designs you can't miss!
Escape Campervans has offices in Vancouver, Seattle, Portland, San Francisco, Las Vegas, Los Angeles, Phoenix, Salt Lake City, Denver, Chicago, New York, and Orlando
Here are a few of the campgrounds in the area:
All American Campground & RV park - 62 miles from the park in Rock Port, MO
This campground offers RV sites
The Ridge RV Park - 76 miles from the park in St. George, Kansas
This campground offers RV sites
Fisher's Cove RV Park - 86 miles from the park in Silver Creek, NE
This campground offers RV sites
Check out additional campgrounds on CampSpot.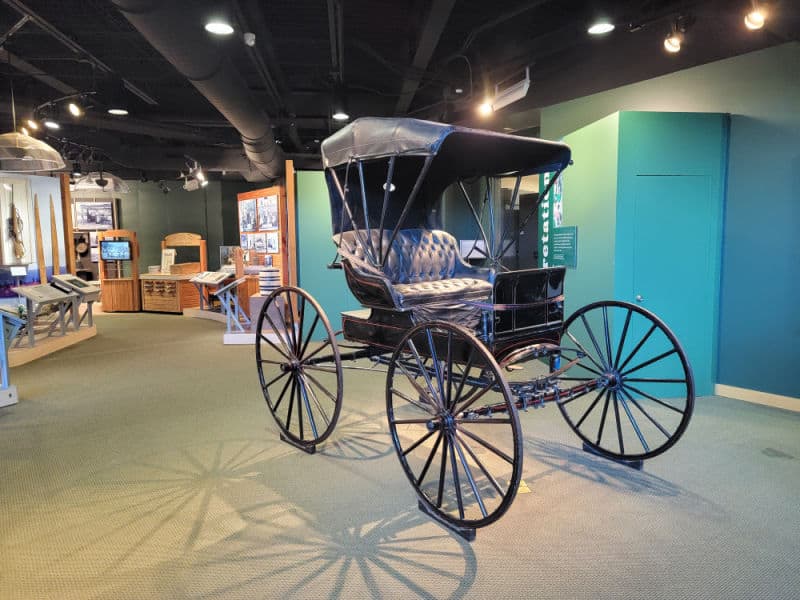 Parks Near Homestead National Historical Park
Nicodemus National Historic Site
Tallgrass Prairie National Preserve
Harry S Truman National Historic Site
Fort Larned National Historic Site
Brown vs. Board of Education National Historic Site
Check out all of the National Parks in Nebraska along with neighboring National Parks in Colorado, National Parks in Iowa, National Parks in Kansas, Missouri National Parks, South Dakota National Parks, and Wyoming National Parks