Brown v. Board of Education National Historic Site in Topeka, Kansas honors the Supreme Court civil rights decision from 1954.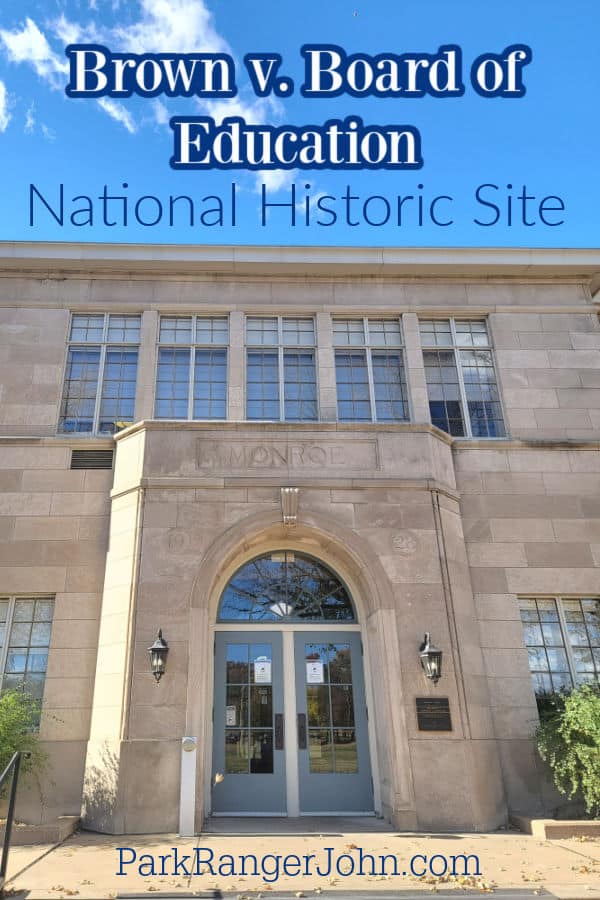 Brown v. Board of Education National Historic Site
The Supreme Court issued a unanimous decision in Oliver Brown et al v the Board of Education of Topeka et al in 1954.
This case included 150 plaintiffs from multiple states. The Supreme Court ruled that schools segregated by race violated the principle of "equal protection" as established by the 14th Amendment.
This case started the process of dismantling educational segreagation in the United States. This was a huge landmark decision in the struggle for equality and justice by African Americans.
The case was a combination of five cases from Virginia, Delaware, South Carolina, Kansas, and Washington DC. The case looks like as single case for an African American girl who was barred from attending an all-white school in Topeka, Kanasa but it was combined with cases from the other states.
The legal team was headed by Thurgood Marshall who would later become a Supreme Court justice in 1967.
President George Bush signed the Brown v. Board of Education National Historic Site Act of 1992, establishing a national park at the former Monroe Elementary School site. The site opened on May 17, 2004, in celebration of the 50th Anniversary of the historic U.S. Supreme Court decision that ended segregation, Brown v. Board of Education.
Monroe Elementary School was a school for African American students in Topeka, Kansas.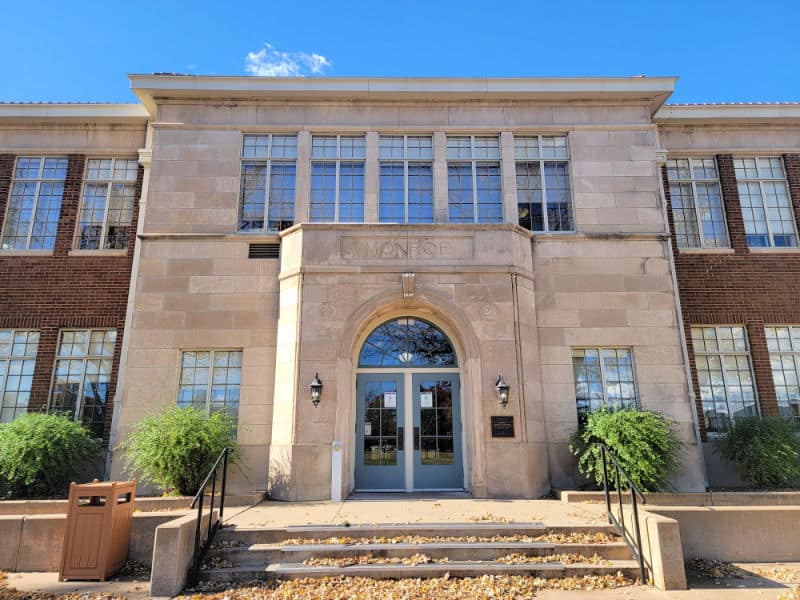 Visitor Center
The visitor center is the park in many ways. When you enter the building there is a small park store and a ranger sitting at a table available to answer any questions you may have.
The park is inside of an old school so exhibits are in different classroom areas. Each classroom has a different focus but they all tie together with a focus on equality.
While at the park you can watch the 30-minute film Race and the American Creed. One thing to know about the video is it is broken into segments and short stories. You can watch one segment or sit through all of them.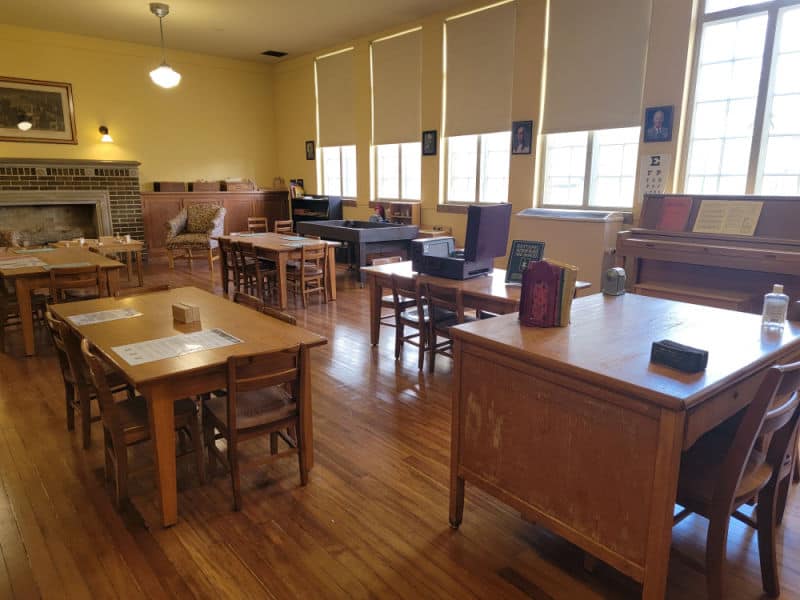 This is a park that you can spend an hour at or spend half a day watching each of the different videos in each classroom and reading all of the interpretive panels.
There is a ton of information available within the park.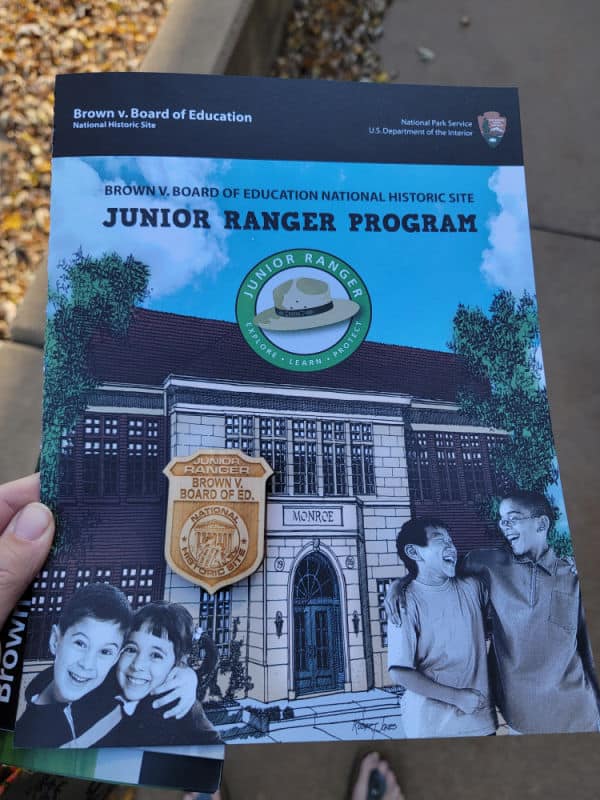 Junior Ranger Program
The Junior Ranger Program can be completed while in the park. It guides you through the different areas of the park.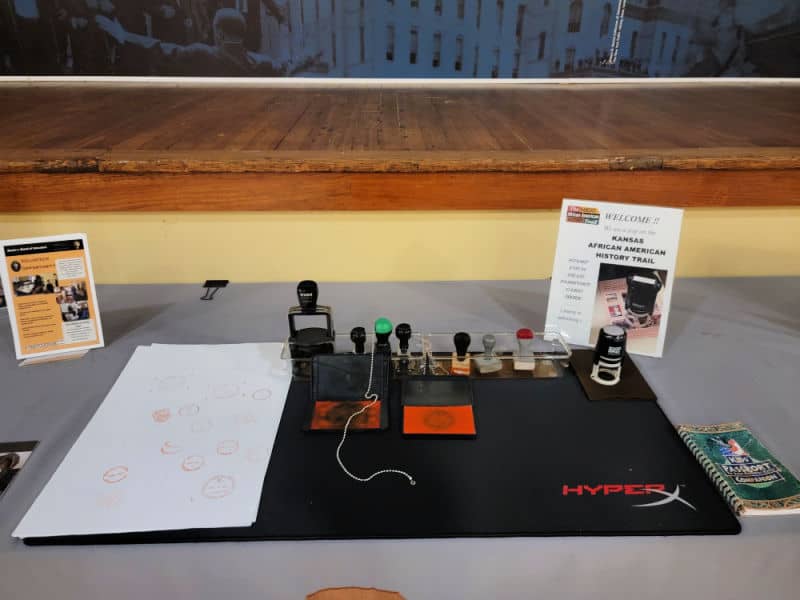 National Park Passport Stamps
The passport stamps were in the large auditorium during our visit instead of in the bookstore.
The park has a couple of different stamps available.
Brown v. Board of Education National Historic Site, Topeka KS
Brown v. Board of Education National Historic Site, American Solar Challenge
Freedom's Frontier NHA, Topeka KS
Passport 25th Anniversary 1986-2011
NPS Centennial 1916-2016
Junior Ranger Stamp
National Underground Railroad Network to Freedom - Constitution Hill
We like to use these circle stickers for park stamps so we don't have to bring our passport book with us on every trip.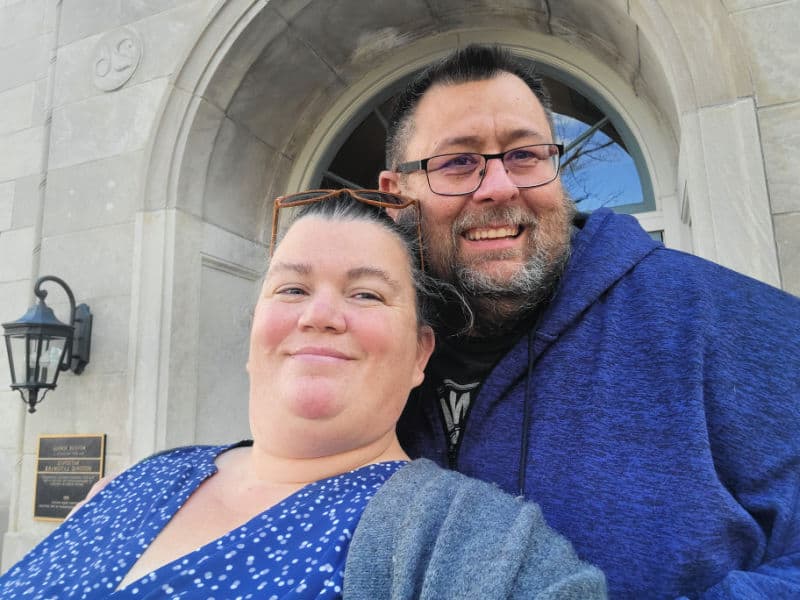 Things to know when planning a visit
Park Address - 1515 SE Monroe Street
Topeka, KS 66612-1143
Park Hours - open Tuesday through Saturday.
The visitor center and gift shop are open from 9:00 a.m-5:00p.m
Closed for Thanksgiving, Christmas, and New Year's Day.
Entrance Fee - $0.00, There is no fee to visit the park
Parking - The visitor parking lot is across the street from the park. It is a short walk to the school entrance.
There is accessible parking available behind the building.
Time Zone - Central time zone
WiFi - Free Wi-Fi is available in the visitor center
Pets - Only service animals are allowed
No food, drinks, or gum are allowed.
Smoking is not allowed within 25 feet of the site.
National Park Service Website - https://www.nps.gov/brvb/

National Park Sites near Brown vs. Board of Education NHS
Harry S Truman National Historic Site
Tallgrass Prairie National Preserve
Homestead National Historical Park
Fort Scott National Historic Site
Nicodemus National Historic Site
Check out all of the Kansas National Parks along with neighboring Nebraska National Parks, Missouri National Parks, Oklahoma National Parks, and National Parks in Colorado.
Check out all of the US National Historic Sites