Fort Scott National Historic Site is located in eastern Kansas. The park protects a US Army Post that was the center of Western expansion.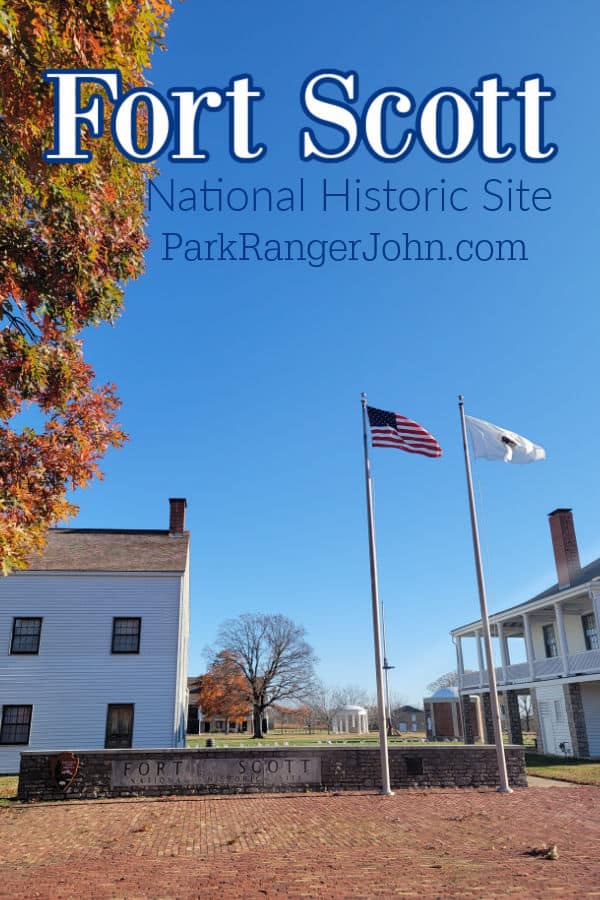 Fort Scott National Historic Site
Fort Scott was established in 1842 during the time when many Native American tribes were being relocated from their lands (Trail of Tears). The fort was built to prevent conflict between Native tribes and white settlers.
Soldiers from the fort protected immigrants headed west on the Sante Fe and other trails.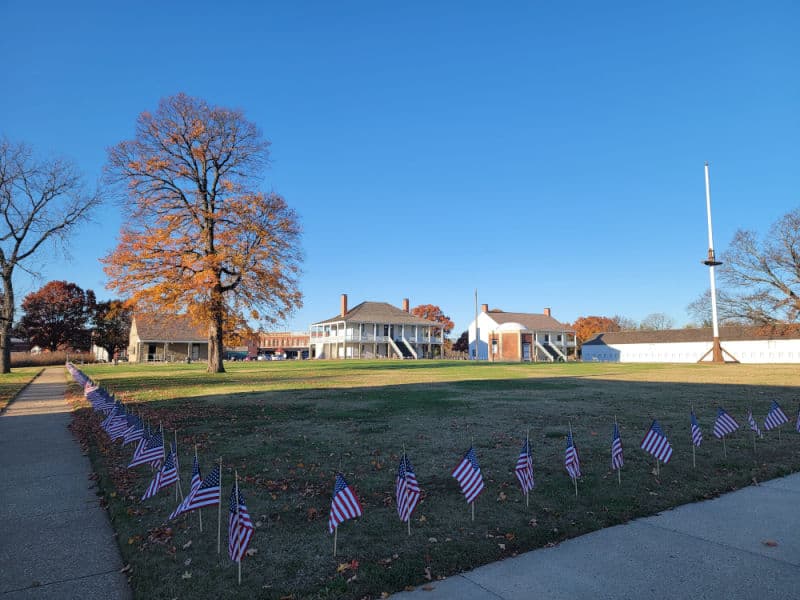 Fort Scott never came under attack while it was used as a US Army Post. The fort was abandoned in 1853.
During the Civil War, the fort went back to being a military holding with the Union Army occupying multiple buildings starting in 1861.
During the Civil War, the fort served as a vital supply depot for Union forces along with being a military hospital and a prison.
It was once again abandoned in 1865 only to return to service again in 1870 when soldiers were assigned to protect railroad workers laying track in the region.
This was one of the few times in US history when the US Army used its weapons against American citizens.
The fort was again abandoned in 1873.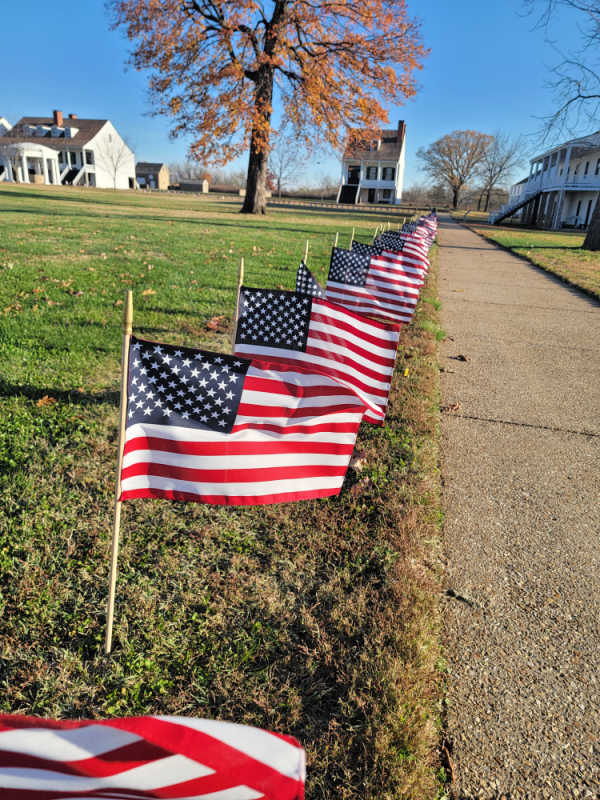 Visitors today can tour the grounds and see 11 buildings that are considered original including the hospital, officer's quarters, quartermaster's storehouse, bakehouse, and carriage houses. The buildings surround the parade grounds.
It is a fairly easy walk around the parade grounds to see each of the historic buildings. There are stairs to go into some of the buildings.
A few areas had uneven rock pathways that may be difficult if you have any knee problems. These areas were small and easy to move around.
Make sure to prepare for the sun, wind, and weather. There is no real shade while walking the parade grounds. It was super windy the morning we visited the park and it was chilly!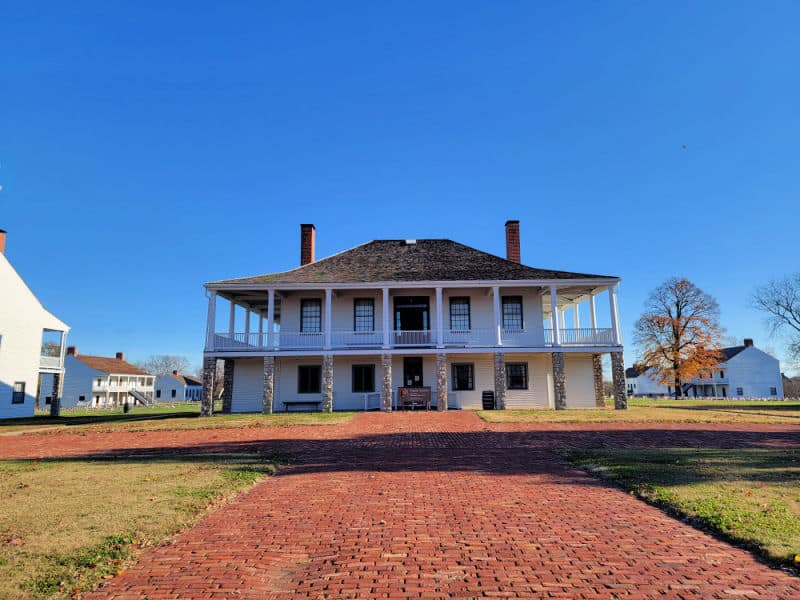 Visitor center
The visitor center is located in the historic Post Hotel on the fort.
There is an information desk, small store, and an area with the National Park Passport stamps.
You can also pick up and turn in your Junior Ranger program at the visitor center.
Visitor Center hours: April 1 to October 31, 8:00 a.m.-5:00 p.m.
November 1 to March 31 8:30 a.m.-4:30 p.m.
Park Movie
Fort Scott's movie Dreams and Dilemmas: Fort Scott and the Growth of a Nation can be viewed online prior to your visit.
You can find the park video here.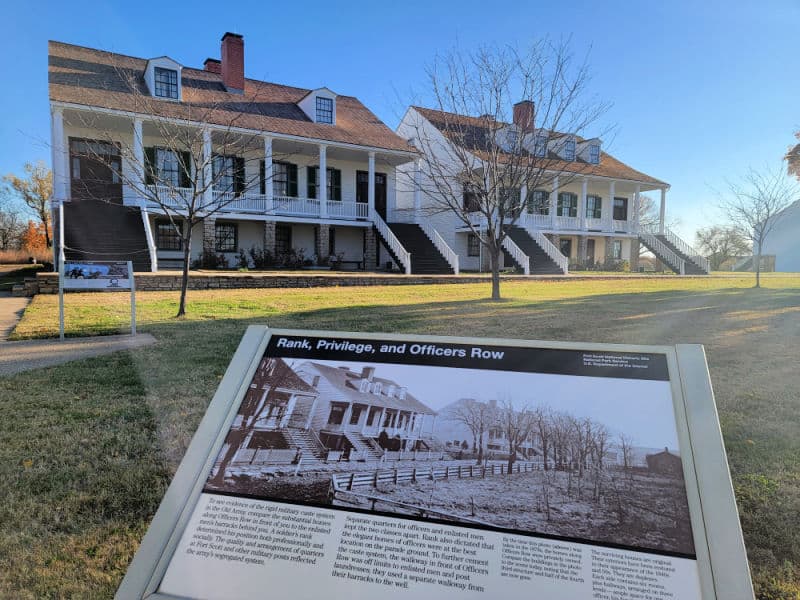 Historic Buildings
Eleven historic buildings containing 30 historically furnished rooms are open to the public.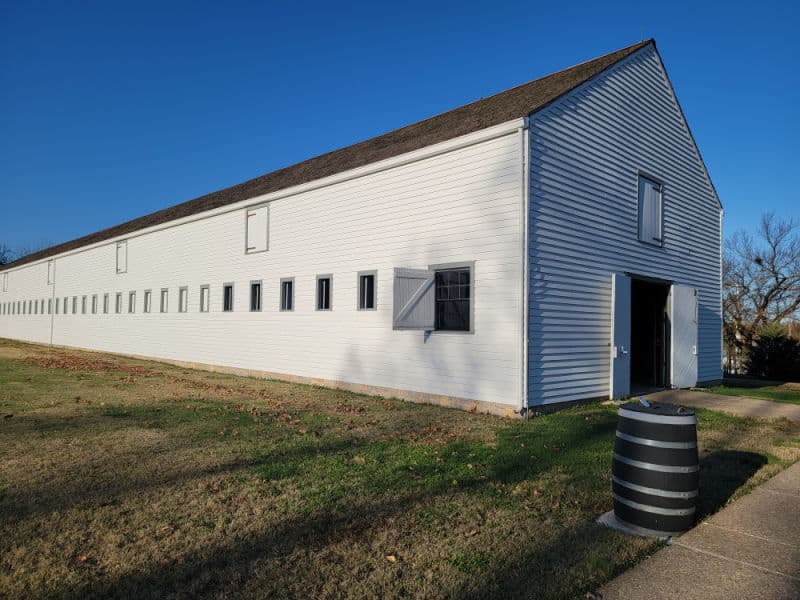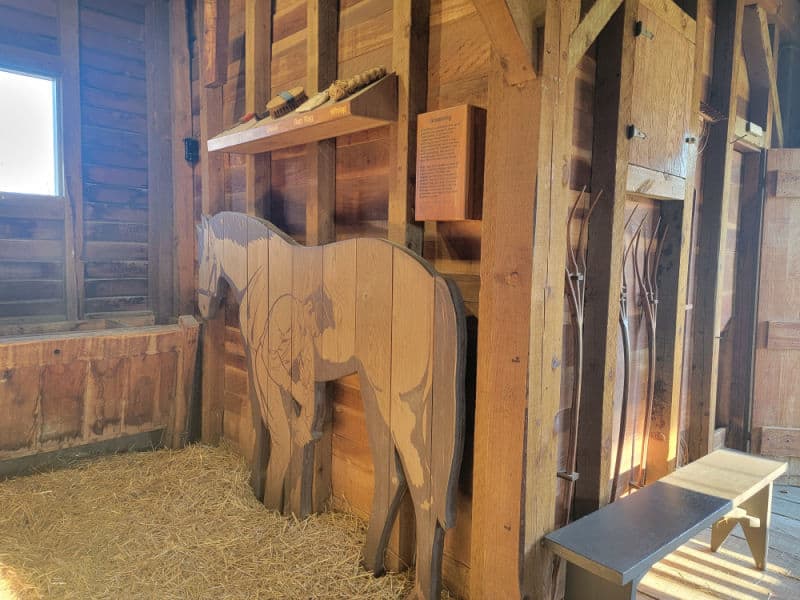 Guided Tours
Daily guided tours leave from the Visitor Center at 10 am and 1 pm from May through September.
Other times of the year the guided tours depend on staffing.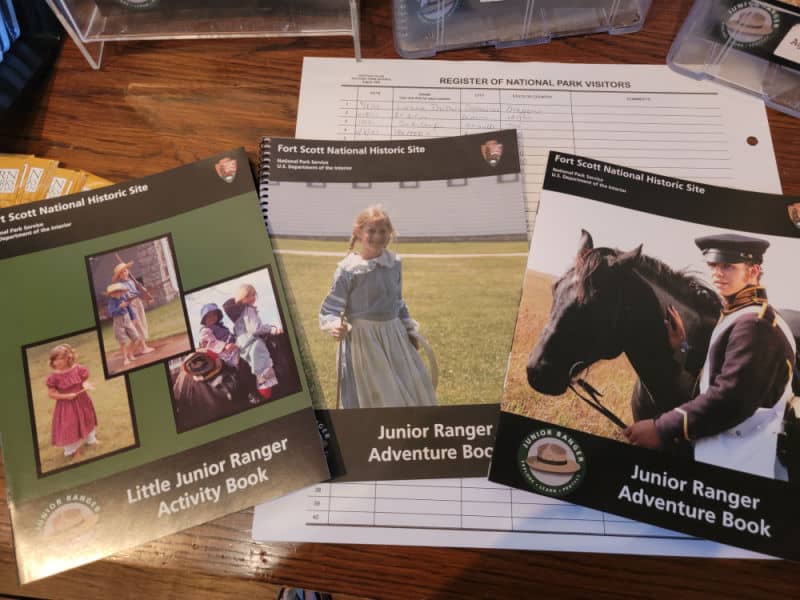 Junior Ranger Program
Fort Scott has three different Junior Ranger booklets. One for preschool children (ages 3-5), one for younger elementary age children (ages 5-7), and one for older children (ages 8 and above).
Make sure to pick up the Junior Ranger programs before you tour the grounds. Most of the questions need to be answered in specific buildings.
If you pick it up after visiting the grounds you may need to go back and re-visit buildings to find the answers.
We walked around the park before the visitor center opened and then had to revisit a few buildings to fill out the junior ranger program.
The visitor center will check your answers and make sure that you found all of the information you needed.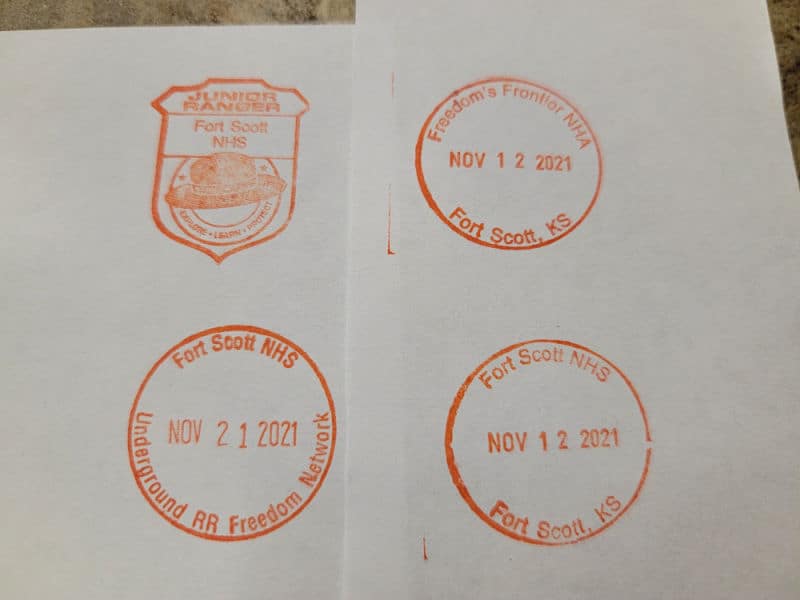 National Park Passport Stamps
Fort Scott NHS, Fort Scott, KS
Underground RR Freedom Network
Freedom's Frontier NHA
Junior Ranger Stamp
We like to use these circle stickers for park stamps so we don't have to bring our passport book with us on every trip.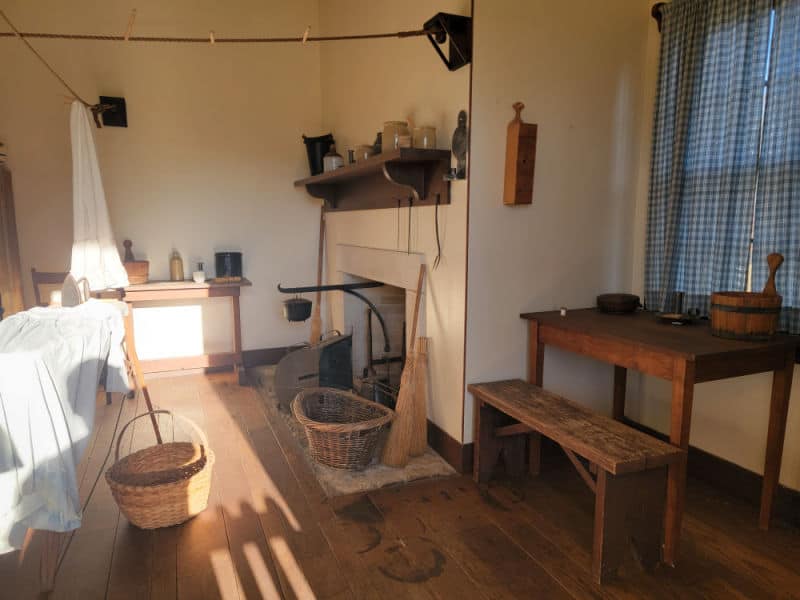 Things to know when planning a visit
Park Address:
1 Old Fort Blvd.
Fort Scott, KS 66701
United States
Fort Scott is about 90 miles south of Kansas City and 60 miles northwest of Joplin, Missouri.
4 miles from the Kansas-Missouri border.
Park Hours:
Visitors may walk the park grounds, walkways, and parking lot from ½ hour before sunrise until ½ hour after sunset, except during periods of snow, ice or other inclement weather conditions that make the grounds unsafe.
Closed Thanksgiving, Christmas, and New Year's Day.
Entrance Fee: $0.00, There is no fee to visit the park.
Planning a National Park vacation? America the Beautiful/National Park Pass covers entrance fees for an entire year to all US National Park Sites and over 2,000 Federal Recreation Fee Sites.
The park pass covers everyone in the car for per vehicle sites and for up to 4 adults for per-person sites.
Buy on REI.com and REI will donate 10% of pass proceeds to the National Forest Foundation, National Park Foundation and the U.S. Endowment for Forestry & Communities.
Camping: There is no overnight camping or parking on the grounds
Lodging: There is no lodging in the park but there are motels and bed and breakfast establishments in and around the town of Fort Scott.
Pets: Pets are allowed on site, providing they are on a leash. However, except for dogs who are service animals, pets are not allowed inside the buildings.
National Park Service Website - https://www.nps.gov/fosc/index.htm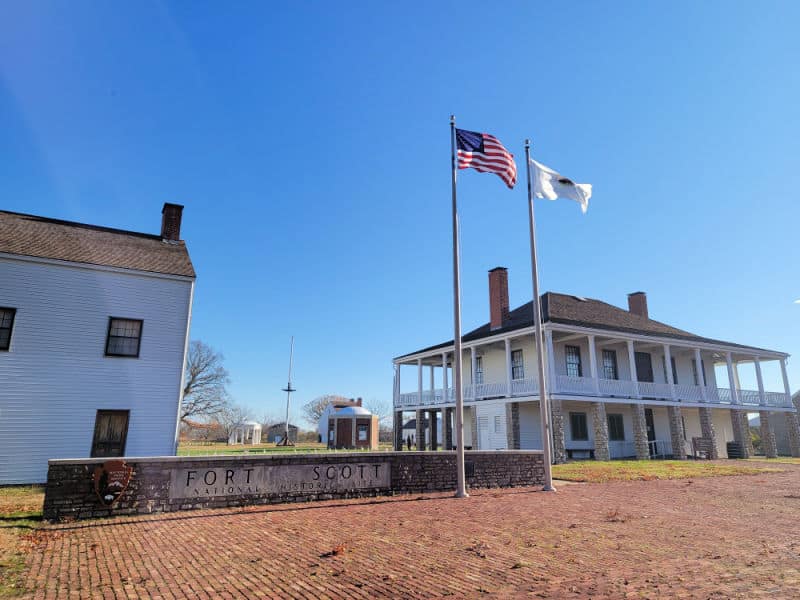 National Park Sites near Fort Scott NHS
George Washington Carver National Monument - 84 miles
Wilson's Creek National Battlefield - 133 miles
Harry S Truman National Historic Site - 100 miles
Brown V Board Of Education National Historic Site - 143 miles
Tallgrass Prairie National Preserve - 147 miles
Pea Ridge National Military Park - 133 miles
Check out all of the Kansas National Parks along with neighboring Nebraska National Parks, Missouri National Parks, Oklahoma National Parks, and National Parks in Colorado.
Check out all of the US National Historic Sites