Nicodemus National Historic Site is located in northwestern Kansas. The park includes five historic buildings that were part of the original town of Nicodemus.

Nicodemus National Historic Site
Nicodemus NHS offers the opportunity to visit a historic African American Community and learn more about the communities history.
The community lives by the pillars of church, self-government, education, home, and business.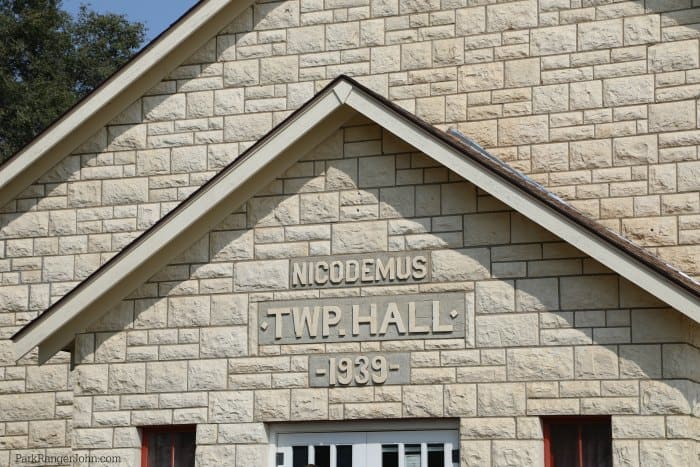 About Nicodemus National Historic Site
Formerly Enslaved African Americans moved from Kentucky at the end of the post Civil War reconstruction era.
They were looking to experience freedom in the "promised land" of Kansas.
Nicodemus is part of the story of westward expansion representing the involvement of African Americans and the settlement of the great plains.
Nicodemus is the oldest and only remaining Black settlement west of the Mississippi River.
Is Nicodemus NHS worth visiting?
Nicodemus NHS is an interesting site to visit. We missed out on visiting the visitor center due to it being closed when we were there.
The park has an important history to tell. That being said it is in the middle of nowhere. If you are driving through Kansas it is a great park to visit. If you are a park geek like we are and trying to visit all 423 parks it is worth visiting.
If you are a casual park person and have no reason to be in the middle of Kansas you may want to wait a year or two until there is more development of the park.
History of Nicodemus National Historic Site
The Nicodemus National Historic Site is located in Nicodemus, Kansas. It is the only remaining town inhabited by African Americans during the Reconstruction Period following the Civil War.
Today, this location stands for strength and resiliency, as was shown by the people who settled there after the Civil War.
Following the Union victory of the Civil War, President Lincoln had grand visions of what was to be called the Reconstruction Era (1865-1877).
Before he was assassinated, Lincoln's goal for Reconstruction was to integrate the southern states and also millions of newly freed slaves into union with the north.
After President Lincoln was assassinated on April 15, 1865, Andrew Johnson stepped up into the presidency.
In Johnson's Reconstruction, he believed southern states reserved the rights to create their own laws regarding African Americans and slavery. He held that even though it was viewed that the south lost the war, they had never given up their rights to govern themselves.
Under Johnson, all land that had been taken by the Union army during the war and given to freed black slaves, was to be returned to their prewar owners.
Many southern states enacted what were known as "black codes" which limited African American's powers to gain jobs or vote. This enraged many in the north.
Consequently, many newly freed African American slaves were finding it difficult to locate land to buy, farm or live on.
Many families knew they needed to find a way to leave the south. A man named Benjamin Singleton helped families do just that.
A former slave who had escaped to the north during the war, Singleton had returned back to his home of Tennessee. He wanted to help former slaves like himself find land and homes to start a free life.
He convinced many that the Kansas Territory was a good place to begin that new life. Singleton led many groups there and many more arrived on their own.
To put it in perspective, there were around 17,000 African Americans living in the Kansas Territory in 1855. By 1880, there were around 43,000.
Nicodemus, Kansas was named for the man in the book of John in the Bible. It was established as a town in 1887 by the first "exodusters" from the southeast.
Exodusters was a term which referenced the Bible and the people who fled slavery in Egypt.
In 1879, Kansas Governor John St. John designed the "Freedman's Bureau." Its goal was to aid destitute freedman and refugees that were migrating to Kansas.
It aimed to provide food, clothing and healthcare to these people. It was a difficult road for these men and women who had next to nothing. They survived that first winter in Nicodemus by selling buffalo bones and working for the railroad 30 miles away.
By the date of establishment, the town had general stores, livery stables, a bank and a post office. The Solomon River was just south of Nicodemus and the land in that area was plentiful with rich soil.
Farming was and still is an ideal profession in the area.
One of the town's first settlers, Zachary Fletcher, become the first postmaster and opened the St. Francis Hotel and livery stable in 1880. He was the town's first business owner.
His wife Jenny, become the first schoolteacher and helped create the African Methodist Episcopal Church. The area in which the post office, school, hotel, and stable became known as the Fletcher-Switzer House. This building still stands in Nicodemus today.
While Nicodemus was not the only western town in America to be created by determined black men and women, it is indeed the only town that is still in existence.
The residents first lived in dugouts, but as the town slowly grew more successful, residents build sod houses, then frame houses. As the size of the town increased, so did its power in the state.
Nicodemus was credited with helping to elect mixed-race individuals into county positions and black politicians into county and state offices.
The town suffered greatly in 1887 when the Missouri Pacific and Union Pacific railroads decided to reroute plans, and built rails north and south of the town. That hurt business and job prospects for many residents of Nicodemus.
The population of the town declined, but the people still pressed on and carved their way into history of the newly formed western town. The town continued to growly slowly until its population of 400 in 1910.
Today, Nicodemus is an unincorporated community in Kansas which had a population of 25 in 2020.
A few people are still the descendants of the first settlers to settle during the great era of westward migration for African Americans.
Every year in the town there is an Emancipation Celebration which is named the Homecoming Celebration (this symbolizes descendants coming "home" to celebrate their roots). This same event has been taking place every year since 1878 when the first settlers arrived.
Nicodemus today still boasts the original "pillars" of the community that were important to inhabitants.
These pillars are religion, commerce, education, community and family.
Nicodemus was designated as a National Historic Site on November 12, 1996.
This allows the National Park Service to assist the town in preserving the historic stories and structures of the town. There is a historical museum located in Nicodemus where visitors can learn about its rich history.
Things to know before your visit to Nicodemus NHS
Entrance fee
$0.00, There is no fee to visit the park.
Planning a National Park vacation? America the Beautiful/National Park Pass covers entrance fees for an entire year to all US National Park Sites and over 2,000 Federal Recreation Fee Sites.
The park pass covers everyone in the car for per vehicle sites and for up to 4 adults for per-person sites.
Buy on REI.com and REI will donate 10% of pass proceeds to the National Forest Foundation, National Park Foundation and the U.S. Endowment for Forestry & Communities.
Learn more about National Park Passes for parks that have an entrance fee.
Free Entrance Days -Find the five free entrance days the National Park Service offers annually.
Time Zone
CST - Central Standard Time
Pets
Leashed pets are allowed in the townsite but not in the visitor center.
Cell Service
We had one tiny bar of cell service in one corner of the parking lot by the visitor center.
If you are heading to another park or need your GPS for directions you will want to make sure it is set up before you lose service.
Park Hours
The Nicodemus Township Hall and visitor center is open year-round for five days of the week, closed Tuesdays and Wednesdays.
Hours for the visitor center are 9:00 am to 5:00 pm CST.
The grounds are open 24 hours a day.
The visitor center will be closed on Thanksgiving Day, Christmas Day, and New Year Day.
Wi-Fi
There is no Wi-Fi available.
Insect Repellent
Insect repellent is always a great idea when outdoors, especially if you are around any body of water.
We use Permethrin Spray on our clothes before our park trips.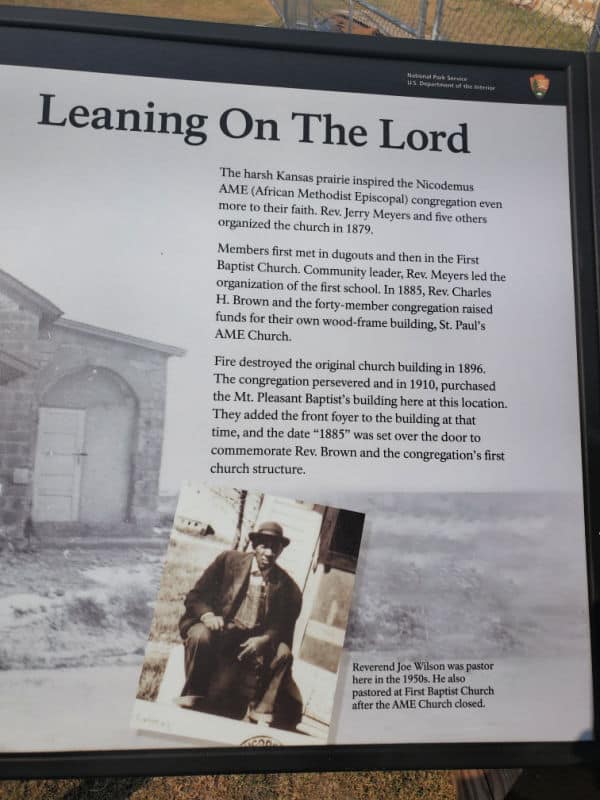 Water Bottle
Make sure to bring your own water bottle and plenty of water with you. Plastic water bottles are not sold in the park.
Parking
There is street parking available near each of the historic buildings.
Food/Restaurants
There are no restaurants within the park. We highly suggest packing snacks and water to bring with you.
Gas
There is no gas available within the park.
Drones
Drones are not allowed to be flown within National Park Service Sites.
National Park Passport Stamps
National Park Passport stamps can be found in the visitor center.
Make sure to bring your National Park Passport Book with you.
We like to bring these 1.5-inch circle stickers with us to the park so we don't have to carry our large Passport Book.
Electric Vehicle Charging
The closest EV Charging Stations are located in Hays, Kansas
Details about National Park
Size - 161 acres
Check out how the park compares to other National Parks by Size.
Date Established
Nicodemus was designated a National Historic Site in 1996
Visitation
In 2021, Nicodemus NHS had 4,629 visitors
In 2020, Nicodemus NHS had 262 park visitors.
In 2019, Nicodemus NHS had 3,540 park visitors.
Learn more about the most visited and least visited National Parks in the US
National Park Address
304 Washington Ave, Nicodemus, Kansas, United States
Nicodemus National Historic Site Map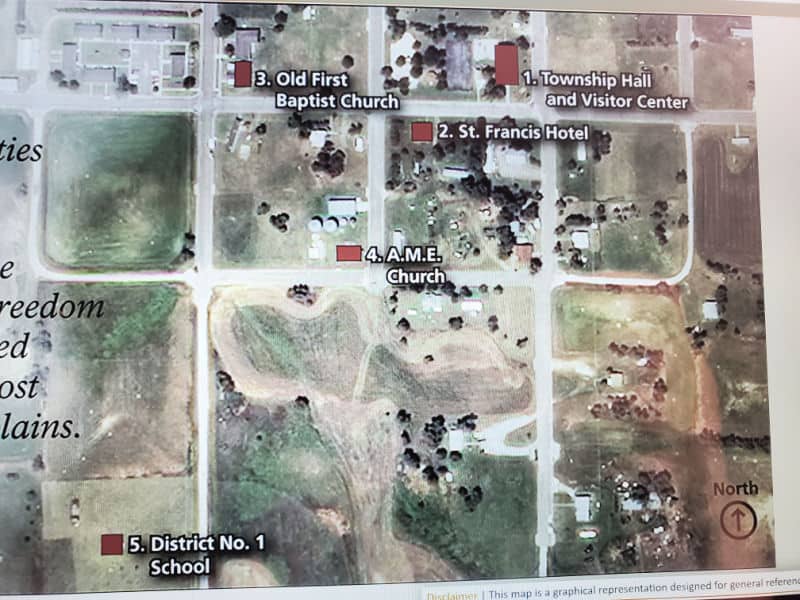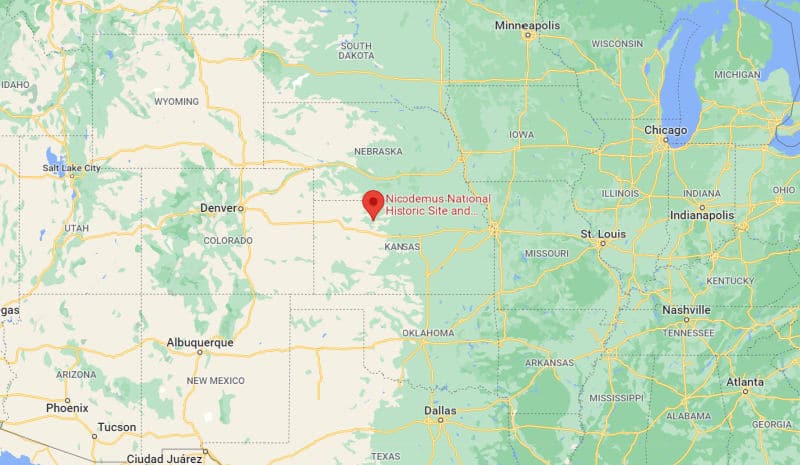 Where is Nicodemus National Historic Site?
Nicodemus National Historic Site is located in northwestern Kansas on Highway 24 between Hill City and Stockton.
Estimated distance from major cities nearby
Wichita, KS - 170 miles
Lincoln, NE - 184 miles
Omaha, NE - 235 miles
Kansas City, MO - 270 miles
Colorado Springs, CO - 281 miles
Denver, CO - 288 miles
Oklahoma City, OK - 294 miles
Estimated Distance from nearby National Park
Great Sand Dunes National Park - 426 miles
Black Canyon of the Gunnison National Park - 552 miles
Badlands National Park - 422 miles
Gateway Arch National Park - 555 miles
Guadalupe Mountains National Park - 706 miles
White Sands National Park - 672 miles
Where is the National Park Visitor Center?
The Nicodemus Visitor Center is located in the Township Hall.
Getting to Nicodemus NHS
Closest Airports
McCook Ben Nelson Regional Airport (MCK) - 111 miles
International Airports
Denver International Airport (DEN) - 308 miles
Kansas City International Airport (MCI) - 332 miles
Des Moines International Airport (DSM) - 437 miles
Lambert-St. Louis International Airport (STL) - 556 miles
Dallas/Fort Worth International Airport (DFW) - 588 miles
Regional Airports
Kearney Regional Airport (EAR) - 132 miles
Driving Directions
From Denver
Take Interstate 70 east to Colby, Kansas (approximately 4 hours), then exit on Highway 24 (east) to Nicodemus (approximately 1.5 hours).
From Kansas City
Take Interstate 70 west to Hays (approximately 4.5 hours), and exit at Highway 183 north to Stockton, then west on Highway 24 to Nicodemus (approximately 1 hour).
From Omaha
Take Interstate 80 toward Kearney to exit 257. Nicodemus is approximately 2 hours from Kearney. Take exit 257 toward Holdrege Highway 183 S toward Stockton, KS. From Stockton take Highway 24 W to Nicodemus (approximately 19 minutes).
The Visitor Center (Township Hall) is south of the Roadside Park off Highway 24.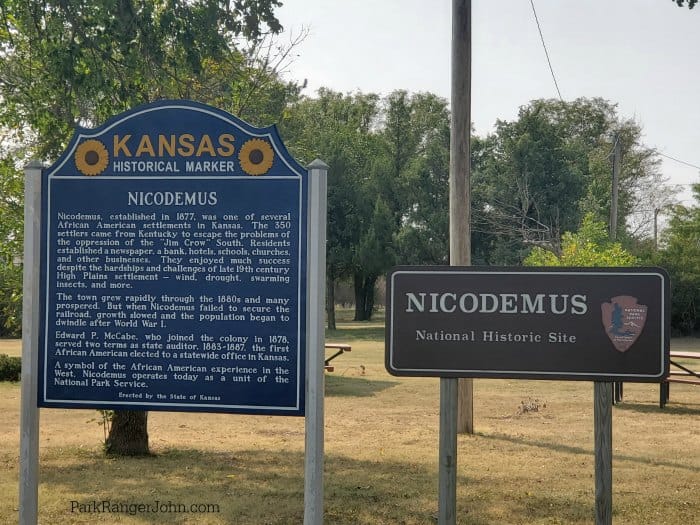 Best time to visit Nicodemus
The best time to visit is when you can easily reach the park. Being in the middle of Kansas the park may take a bit to plan a trip too.
The park does experience all four seasons so you want to be prepared when you plan your visit.
Weather and Seasons
Nicodemus is located in Northwest Kansas. This area of Kansas experiences all four seasons including long hot summers and cold winters.
Fall and Spring are short and pass by way to quickly. Thankfully humidity is lower in this part of Kansas than other areas.
If you plan to visit during spring and summer you will want to be prepared for afternoon thunderstorms that can include hail and gusty winds.
Make sure to keep an eye out for tornado warnings and know where a shelter is.
Best Things to do in Nicodemus NHS
The best thing to do in Nicodemus NHS is to take the self-guided tour of the park. The historic buildings are really amazing to see.
Township Hall - Visitor Center
The Township Hall is next to the roadside park. The visitor center is inside the historic Township Hall.
The Township Hall was built in 1939 with support from the depression-era Works Progress Administration program. The hall served the needs of the local government along with hosting socials, Friday night dances, and performances.
The hall brought the community together. They celebrated their freedom and the self-determination of the brave pioneers who built the town.
St. Francis Hotel - Switzer Residence
Just down the street from Township Hall is the St. Francis Hotel. You can easily walk from the township hall to this hotel.
This building had multiple uses! It was not only a hotel but also the home of X.T. and Jenny Fletcher, along with being a stagecoach station, the first town post office, and the first schoolhouse.
The stagecoaches and U.S. Mail helped residents keep in touch with family and loved ones who were far away.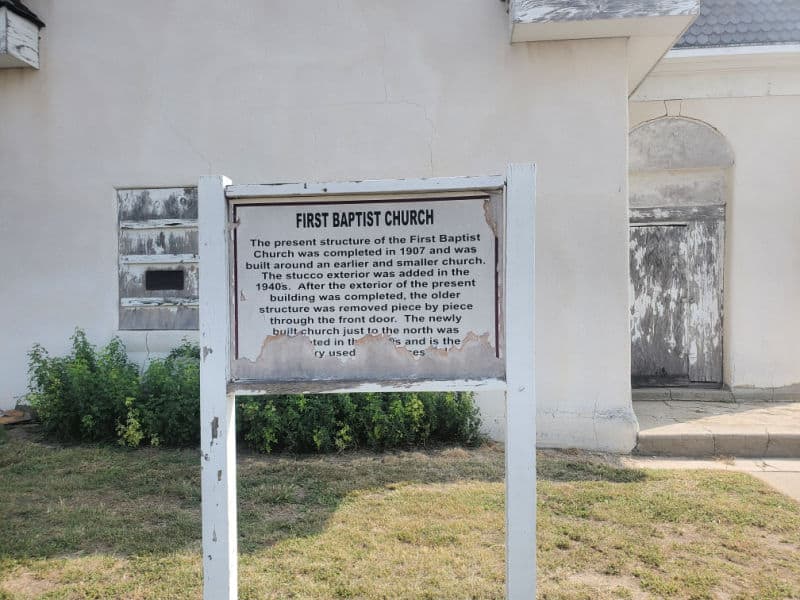 The First Baptist Church
Religion was really important to the African American community. The church represented the freedom to worship and was a cornerstone of the community faith.
The churches of Georgetown, Kentucky was where the first residents of Nicodemus the pioneers who would become the first settlers.
The First Baptist Church was established in 1878. The first meeting was held in a member's dugouts.
It is believed that the church that was built in 1907 was built around a previous structure. By building around the prior church services could still be held during construction.
In the early 1950s, the First Baptist Church was the 1st building in Nicodemus to receive electricity.
A.M.E. Church – African Methodist Episcopal Church
This building is currently being restored by the National Park Service. When we visited the building was surrounded by construction fences and actively being worked on.
The A.M.E. Church is one of the oldest surviving buildings in Nicodemus.
It is believed the church was built around 1885 and the first services were held as the Mount Pleasant Church in 1897.
The A.M.E Church congregation used the building from 1910-12 through 1947 when services were moved due to the building structure.
District 1 Nicodemus School House
The School District 1 building is the farthest building from the visitor center.
The school building was built in 1879 to establish the first organized school in the county. The pioneer settlers of Nicodemus made education a huge priority after having generations denied an education.
The current School District 1 building was built in 1918 and used until the 1960s.
Junior Ranger programs can be picked up at the visitor center.
How to beat the crowds
We were the only people visiting the park on the day we were there.
We didn't see another person or car during our visit.
Where to stay when visiting National Park
There are no National Park Lodges within the park.
Super 8 by Wyndham Wakeeney - 29 miles from the park. Free continental breakfast, laundry facilities, and a bar at Super 8 by Wyndham Wakeeney. Stay connected with free in-room Wi-Fi.
Econo Lodge - 29 miles from the park. Free continental breakfast and a rooftop terrace. Guests can connect to free in-room Wi-Fi.
Best Western Plus Wakeeney Inn & Suites - 29 miles from the park. Free full breakfast, a grocery/convenience store, and laundry facilities at Best Western Plus Wakeeney Inn & Suites. For some rest and relaxation, visit the hot tub. In addition to a gym and a 24-hour business center, guests can connect to free in-room Wi-Fi.
Days Inn by Wyndham Ellis - 30 miles from the park. Free to-go breakfast, laundry facilities, and a gym at Days Inn by Wyndham Ellis. For some rest and relaxation, visit the hot tub. In addition to a business center, guests can connect to free in-room Wi-Fi.
Click on the map below to see the current hotel and vacation rental rates near
Camping
There is no camping within the park.
For a fun adventure check out Escape Campervans. These campervans have built in beds, kitchen area with refrigerators, and more. You can have them fully set up with kitchen supplies, bedding, and other fun extras. They are painted with epic designs you can't miss!
Escape Campervans has offices in Vancouver, Seattle, Portland, San Francisco, Las Vegas, Los Angeles, Phoenix, Salt Lake City, Denver, Chicago, New York, and Orlando
Travel Tips
Time needed – If you are doing the full walking tour you will want to plan 30-60 minutes to walk around the town. If you are driving through town it will not take you very long.
Make sure to stop at the visitor center if it is open to learning more about the history of Nicodemus.
Nicodemus NHS is in the middle of farmland with no real services nearby. You will want to make sure you have a full tank of gas, snacks, and water with you.
If you are on a Midwest National Park road trip you can expect to drive through a lot of cornfields and small towns to reach this park.
We drove in from Agate Fossil Beds and Scotts Bluff NM and stayed at a Marriott in North Platte, Nebraska before dropping into Kansas. From Nicodemus, we headed to Fort Larned National Historic Site and then onto Colorado.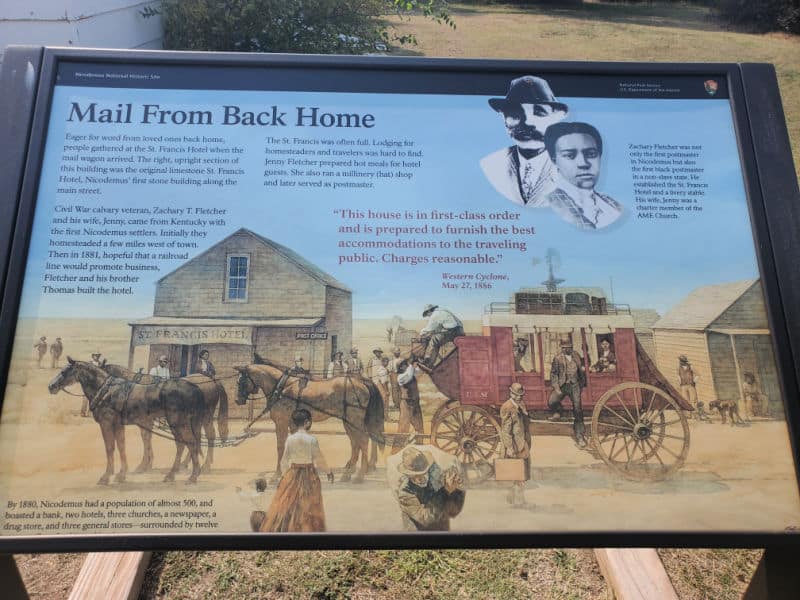 Additional Resources
Follow Me Down to Nicodemus Town: Based on the History of the African American Pioneer Settlement
Nicodemus: Post-Reconstruction Politics and Racial Justice in Western Kansas (Volume 11) (Race and Culture in the American West Series)
Going Home to Nicodemus: The Story of an African American Frontier Town and the Pioneers Who Settled It
Parks near National Park
Fort Larned National Historic Site
Tallgrass Prairie National Preserve
Sand Creek Massacre National Historic Site
Homestead National Historical Park
Bents Old Fort National Historic Site
Scotts Bluff National Monument
Check out all of the Kansas National Parks along with neighboring Oklahoma National Parks, National Parks in Nebraska, National Parks in Missouri, and Colorado National Parks
National Park Service Website