Complete Guide to Bent's Old Fort National Historic Site including things to do, history, and so much more.

Bent's Old Fort National Historic Site
Bent's Old Fort National Historic Site features living historians that recreate what it was like when the fort was part of a trading empire.
Is Bent's Old Fort National Historic Site worth visiting?
Yes! We really enjoyed this National Historic Site.
History of Bent's Old Fort National Historic Site
Bent's Old Fort National Historic Site, known as the castle of the Plains, protects and interprets the site of an 1840s adobe fur trading post.
The adobe fort on the land today is a reconstruction of the original. Bent's Old Fort, originally called Fort William, was situated on the mountain route of the historic Santa Fe Trail. The fort was one of the most important trading posts in the West.
The fort was built in 1833 by the brothers William and Charles Bent with their partner Ceran St.Vrain. The trio constructed the adobe fortification to trade buffalo robes with the Plains tribes.
The fort evolved and soon it became a hub for settlers, traders, and soldiers, making use of the Santa Fe Trail.
Bent's Old Fort formed the center of the vast Bent -St. Vrain trading empire. In addition to Bent's Old Fort, the trio owned Fort St. Vrain to the north of the fort and Fort Adobe to the south. The company's empire did not end there. It incorporated sites in Texas, New Mexico, Kansas, Nebraska, Arizona, Utah, Wyoming, and Missouri.
The Sante Fe Trail and Bent's Old Fort
In 1821 the Mexican nation won its independence from Spain, opening up a world of opportunity for trade with the United States. The Sante Fe Trail was the commercial highway that connected Independence, Missouri with Mexico.
In 1833, three enterprising fur traders saw an opportunity in the Rocky Mountain region of the Santa Fe Trail. The three men initially built the fort to trade fur with the Plains tribes and trappers in the area. Trade was conducted mostly with the Arapaho and Southern Cheyenne tribes.
As more settlers began making use of the Santa Fe Trail, Bent's Old Fort became much more than a fur trading post. The fort became the first permanent white settlement on the Santa Fe Trail.
The fort became a place where travelers could rest and restock their supplies. Not only that, but the fort was the only stop along the Santa Fe Trail where people could fix their wagons.
The fort was operated by William Bent. Under his management Bent's Old Fort became a cultural melting pot where people from all nations were welcome.
Bent's Old Fort was operational for sixteen years during which time soldiers, explorers, settlers, members of Native Nation tribes, traders, trappers, and slaves visited the fort.
William Bent was highly respected by many of the Plains tribes and became known for his peacekeeping skills.
It was because of this, traders from Bent's Old Fort in particular were always welcome to trade in Indian territory. The fort became the headquarters for the Upper Platte and Arkansas Indian Agency.
Bent's Old Fort and the Mexican-American War
In 1846, tensions that had been brewing between Mexico and America reached a boiling point with the outbreak of the Mexican-American War. During the conflict Bent's Old Fort took on another role to that of trade post and rest stop.
Regardless of Bent's Old Fort being a hub of trade with Mexico, it was used by the Army of The West under the command of Colonel Stephen Watts Kearny as a staging ground.
At the end of the conflict, any trade the Bent-St. Vrain Company had established with Mexico, disappeared.
Bent's Old Fort is Abandoned
As the Mexican-American War ended, tensions between settlers and the Native Nation tribes who inhabited the Plains led to increased violence.
The westward expansion of white settlers and those looking for gold during the gold rush of 1848 meant hundreds of thousands of people trekking across Native Nation's homelands and hunting grounds.
The increase in people and animals in the areas of the major Emigrant Trails put immense pressure on the resources and soon conflict broke out along the Trails and throughout the Great Plains.
Trade opportunities at Bent's Old Fort began to decline as relations with the Plains tribes became increasingly strained.
The final straw for William Bent and Ceran St. Vrain, who had continued the trading company after Charles' death, was a cholera outbreak. In 1849 a cholera epidemic spread rapidly among the Plains tribes.
Bent and St. Vrain tried to sell the fort to the U.S Army but the army refused to buy the site. Instead, William attempted to burn the adobe fort, which was equally unsuccessful. In 1849, faced with no other option, William abandoned the fort.
What was once one of the most culturally diverse trading posts in the Southwest was left to decay. Bent built a new fort, which he named Bent's New Fort, 40 miles south of the original site in 1853.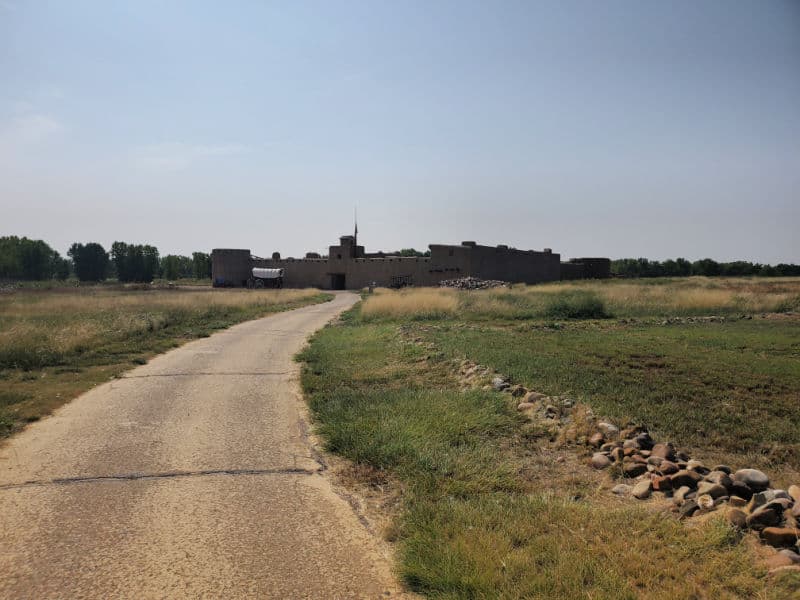 Things to know before your visit to Bent's Old Fort NHS
Entrance fee
$10.00 - Entrance fee
All park visitors must pay an entrance fee or have a park pass. Entrance fees can only be paid by Credit Card.
Planning a National Park vacation? America the Beautiful/National Park Pass covers entrance fees for an entire year to all US National Park Sites and over 2,000 Federal Recreation Fee Sites.
The park pass covers everyone in the car for per vehicle sites and for up to 4 adults for per-person sites.
Buy on REI.com and REI will donate 10% of pass proceeds to the National Forest Foundation, National Park Foundation and the U.S. Endowment for Forestry & Communities.
Learn more about National Park Passes for parks that have an entrance fee.
Free Entrance Days -Mark your calendars with the five free entrance days the National Park Service offers annually.
Time Zone
Mountain Time Zone
Pets
Pets are permitted on trails but they need to be leashed at all times.
Pets are not allowed within the fort.
Cell Service
We had fairly good cell service at the park.
Park Hours
8 am to 5:30 pm daily - Summer Hours
9 am to 4 pm daily - Winter hours.
The park is closed on Thanksgiving, Christmas, and New Year's Day.
Wi-Fi
No public Wi-Fi is available at the park.
Insect Repellent
Insect repellent is always a great idea when outdoors, especially if you are around any body of water.
We use Permethrin Spray on our clothes before our park trips.
Water Bottle
Make sure to bring your own water bottle and plenty of water with you. Plastic water bottles are not sold in the park.
Parking
There is a large parking lot for the park. It is a walk to get to the fort.
Food/Restaurants
There are no restaurants within the park.
Gas
There are no gas stations within the park.
Drones
Drones are not permitted within National Park Sites.
National Park Passport Stamps
National Park Passport stamps can be found in the visitor center.
Make sure to bring your National Park Passport Book with you or we like to pack these circle stickers so we don't have to bring our entire book with us.
Bent's Old Fort NHS is part of the 2005 Passport Stamp Set.
Electric Vehicle Charging
There are at least 6 charging stations within 10 miles of La Junta, Colorado.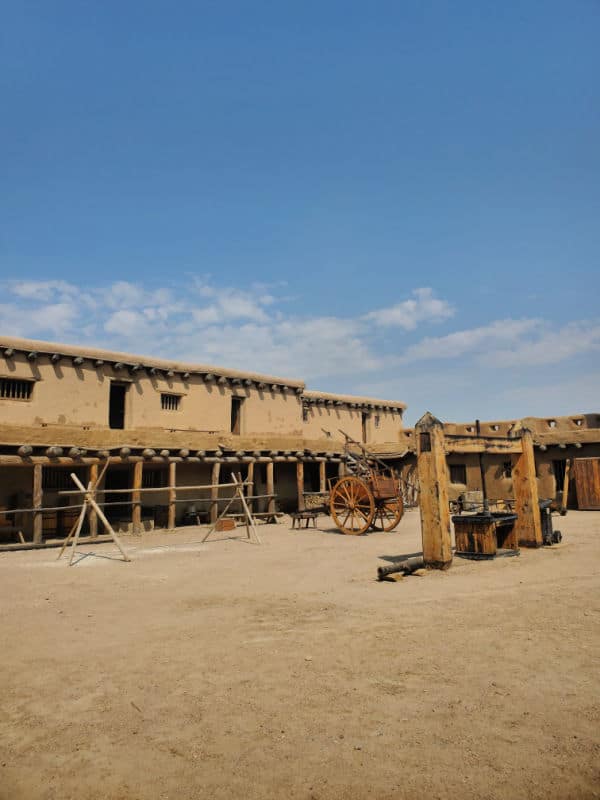 Details about Bent's Old Fort National Historic Site
Size - 799 acres
Check out how the park compares to other National Parks by Size.
Date Established
June 3, 1960
Visitation
In 2021, Bent's Old Fort NHS had 21,585 park visitors.
In 2020, Bent's Old Fort NHS had 12,438 park visitors.
In 2019, Bent's Old Fort NHS had 21,674 park visitors.
Learn more about the most visited and least visited National Parks in the US
National Park Address
35110 State Highway 194
La Junta, CO 81050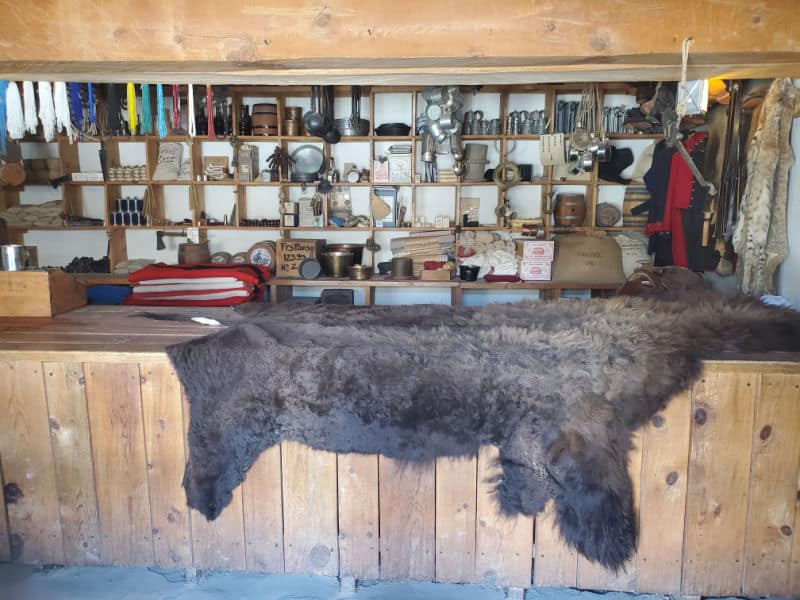 Where is Bent's Old Fort National Historic Site?
Bent's Old Fort NHS is located in Colorado
Estimated distance from major cities nearby
Colorado Springs, CO - 115 miles
Aurora, CO - 182 miles
Denver, CO - 184 miles
Albuquerque, NM - 340 miles
Lubbock, TX - 385 miles
Wichita, KS - 356 miles
Oklahoma City, OK - 458 miles
Lincoln, NE - 499 miles
Tulsa, OK - 525 miles
El Paso, TX - 528 miles
Estimated Distance from nearby National Park
Rocky Mountain National Park - 251 miles
Great Sand Dunes National Park - 156 miles
Black Canyon of the Gunnison National Park - 316 miles
Arches, National Park - 474 miles
Mesa Verde National Park - 359 miles
Where is the National Park Visitor Center?
The visitor center is inside the fort.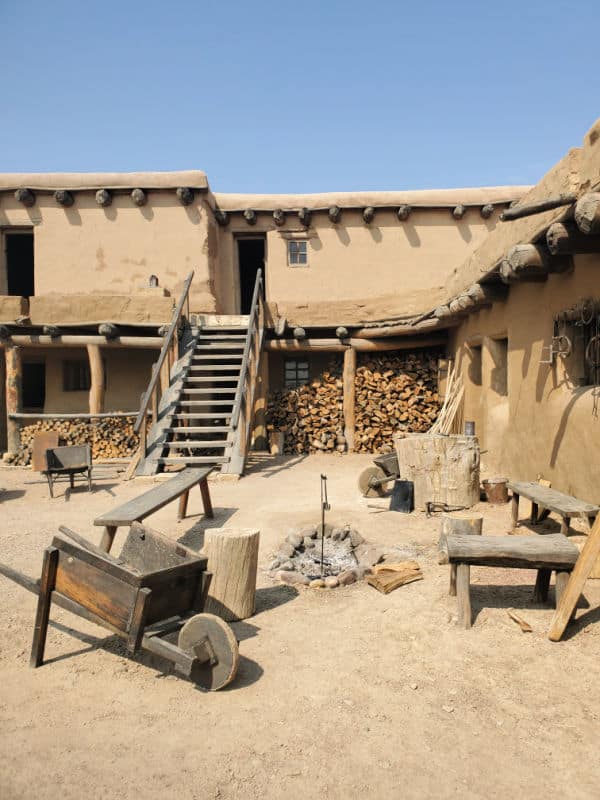 Getting to Bent's Old Fort National Historic Site
Closest Airports
Pueblo Memorial Airport (PUB)
Colorado Springs Airport (COS)
International Airports
Denver International Airport (DEN)
Regional Airports
San Luis Valley Regional Airport (ALS)
Driving Directions
From La Junta, Colorado on U.S. Highway 50, take Highway 109 north 1 mile to Highway 194, then east on Highway 194 six miles to the fort.
From Las Animas, Colorado, on U.S. Highway 50, take Highway 194 west 13 miles.
Set your GPS to 35110 State Highway 194 E., La Junta, CO.
Train Service
Amtrak trains have a stop in La Junta. Bent's Old Fort National Historic Site is located eight miles east of La Junta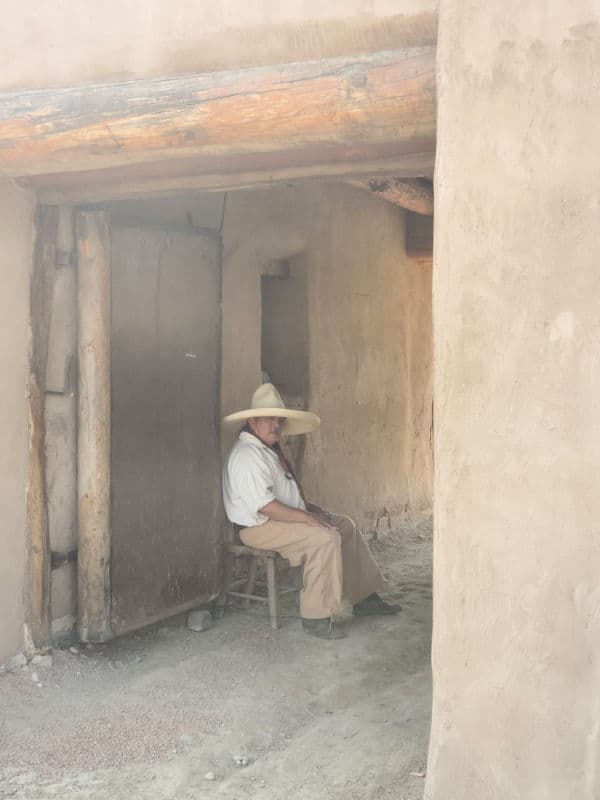 Best time to visit Bent's Old Fort NHS
The best time to visit the park is spring through fall. Winters are cold and snowy but still beautiful.
Weather and Seasons
La Junta, Colorado experiences hot clear summers and cold snowy winters.
The hottest weather is from June 1 to September 16th with an average daily high temperature above 85 degrees.
The coldest weather is from November 23rd to February 22nd with an average daily temperature below 55 degrees.
The coldest month is January with an average low of 20 degrees and a high of 47 degrees.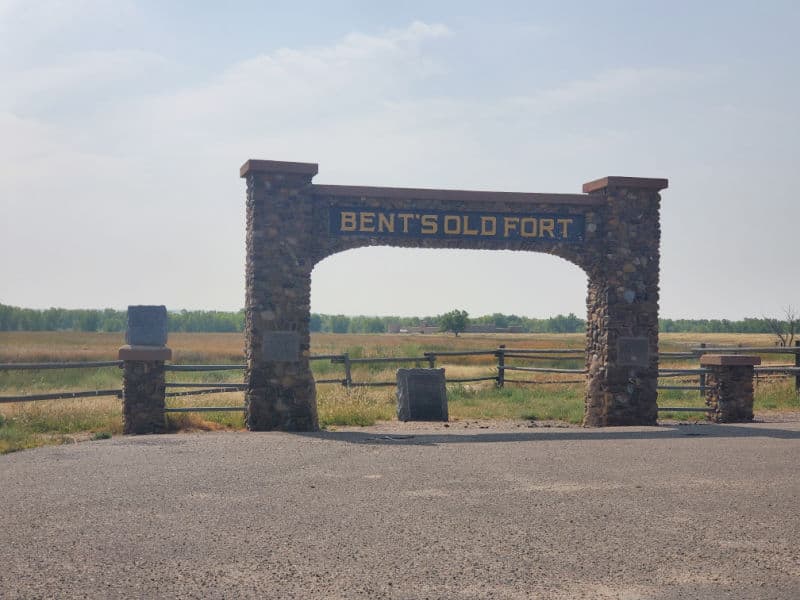 Best Things to do in Bent's Old Fort National Historic Site
From the moment you leave the car you are taking a step back in time. The 1/4-mile trail to the fort follows the original Sante Fe Trail.
Explore the Fort
When you reach the fort a Trapper or another fort inhabitant will greet you. Depending on the day you will encounter living history interpreters in the kitchen, trade room, and carpentry or blacksmith shop.
You truly get the opportunity to experience what the fort may have been like in the 1830s and 1840s when Bent's Fort was called the "Castle of the Plains".
The fort was originally built in 1933 by William and Charles Bent, along with Ceran St. Vrain. The fort was built to trade with plains Indians and trappers.
The fort quickly became the business center of the Bent, St. Vrain's & Company's trade empire which also included Fort St. Vrain and Fort Adobe along with company stores in Taos and Sante Fe.
The fort was the only major permanent white settlement on the Sante Fe Trail between Missouri and the Mexican settlement for most of its 16-year history.
Explorers, adventurers and the US Army used the fort as a place to get supplies, wagon repairs, livestock, good food and water, rest, and protection.
The fort was abandoned in 1849 due to disasters and disease.
The fort you visit today was reconstructed in 1976 based on archeological excavations, original sketches, paintings, and diaries.
The Junior Ranger is available at the visitor center. It is a great way to learn more about the park for all ages.
Ranger Programs
Ranger programs are offered daily at 10 am and 2 pm from Memorial Day through Labor Day.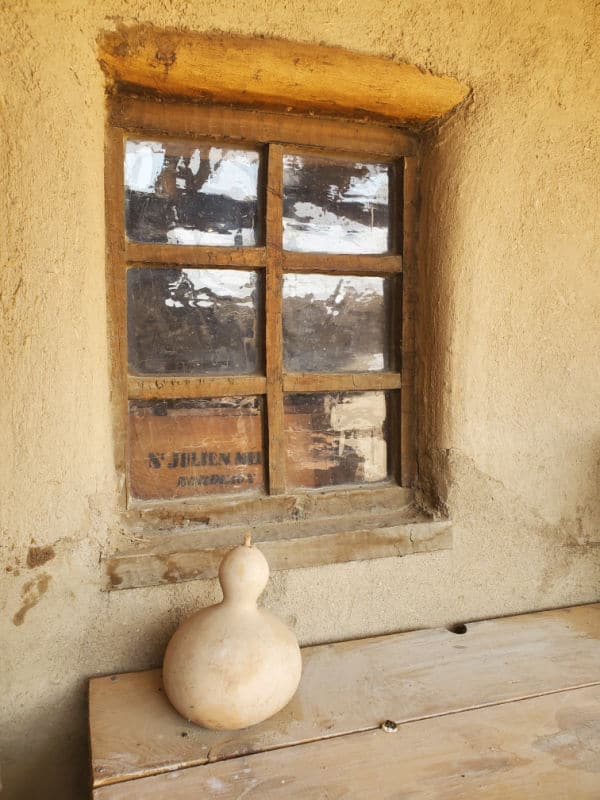 Hiking in Bent's Old Fort NHS
Always carry the 10 essentials for outdoor survival when exploring.
Bent's Old Fort Hiking Trail
There is a 1.5-mile trail that winds through the cottonwood trees alongside the Arkansas River.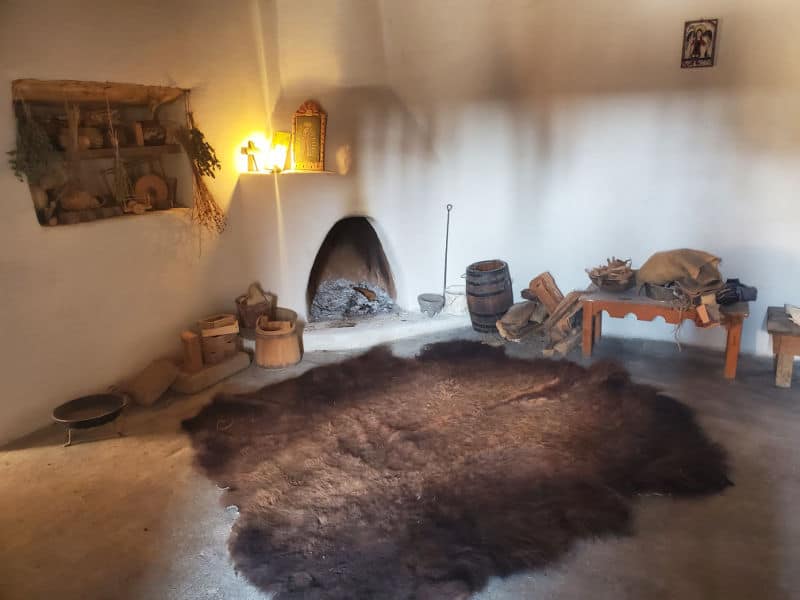 Travel Tips
It is a ¼ mile walk from the parking lot to the fort. There is one tree with a down log in front of it about halfway for shade.
I highly suggest being prepared for the hot sun. Sunscreen, a hat, and water in a bottle with a lid.
If you are unable to walk the ¼ mile to the fort you can use the phone in the parking area to call and request a ride to the entrance.
Don't be afraid to talk with the interpretive rangers dressed in period costumes. They are honestly one of the highlights of a visit to this great park.
They are a wealth of knowledge about the fort and can tell you what life was like when the fort was active.
Keep an eye out for the cats and chickens that are wandering around the fort. This is the first park we have been to that chickens wander about along with a couple of cute cats.
Time Needed – 1 to 2 hours. This really depends on how much time you spend walking through each room, watching the park video, and how quickly you walk the ¼ mile trail to the park.
Restrooms – There is a great clean restroom in the main parking lot of the park.
How to beat the crowds in Bent's Old Fort NHS?
We did not experience a large crowd while visiting the park. It is easy to maneuver around people while exploring the fort.
Where to stay when visiting
There are no National Park Lodges within the park.
Nearby lodging includes:
Holiday Inn Express - At Holiday Inn Express, an IHG Hotel, you can look forward to free full breakfast, laundry facilities, and a 24-hour gym. For some rest and relaxation, visit the hot tub. Stay connected with free in-room Wi-Fi, and guests can find other amenities such as a 24-hour business center.
Hampton Inn La Junta - You can look forward to free breakfast, dry cleaning/laundry services, and a bar at Hampton Inn La Junta. For some rest and relaxation, visit the hot tub. Stay connected with free in-room Wi-Fi, and guests can find other amenities such as a gym and a business center.
La Junta Colorado Cabins - Along with a seasonal outdoor pool, this cabin has laundry facilities and multilingual staff. Free Wi-Fi in public areas and free self parking are also provided. Additionally, a convenience store, barbecue grills, and a picnic area are onsite. All cabins are individually decorated and offer free Wi-Fi and free bottled water. Guests will also find microwaves, along with Smart TVs with digital channels for a bit of entertainment.
Click on the map below to see additional lodging and vacation rentals near the park.


Camping
There are no National Park Campgrounds.
For a fun adventure check out Escape Campervans. These campervans have built in beds, kitchen area with refrigerators, and more.
You can have them fully set up with kitchen supplies, bedding, and other fun extras. They are painted with epic designs you can't miss!
Escape Campervans has offices in Vancouver, Seattle, Portland, San Francisco, Las Vegas, Los Angeles, Phoenix, Salt Lake City, Denver, Chicago, New York, and Orlando
Parks Near Bent's Old Fort NHS
Sand Creek Massacre National Historic Site
Florissant Fossil Beds National Monument
Nicodemus National Historic Site
Capulin Volcano National Monument
Check out all of the National Parks in Colorado along with neighboring National Parks in Arizona, National Parks in Kansas, Nebraska National Parks, New Mexico National Park, National Parks in Oklahoma, National Parks in Utah, and Wyoming National Parks.