Florissant Fossil Beds National Monument is located near Colorado Springs, Colorado. The park offers not only the opportunity to see petrified trees but also amazing hiking trails.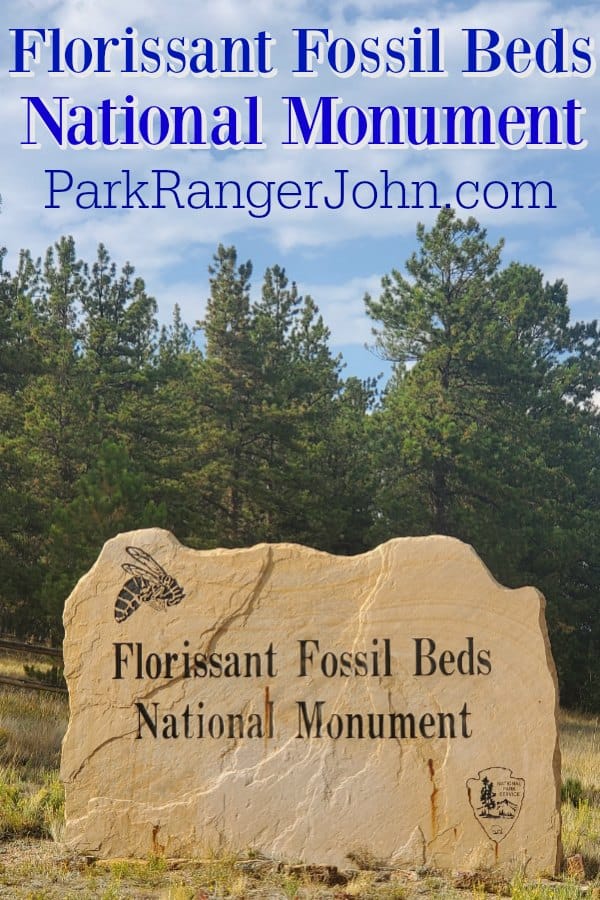 Florissant Fossil Beds National Monument
One of the great things about Florrisant Fossil Beds NM is you get to decide how far you want to hike and how many petrified Redwood stumps you want to see.
I will warn you that the park is at 8500 feet in elevation so you will want to be prepared for the altitude.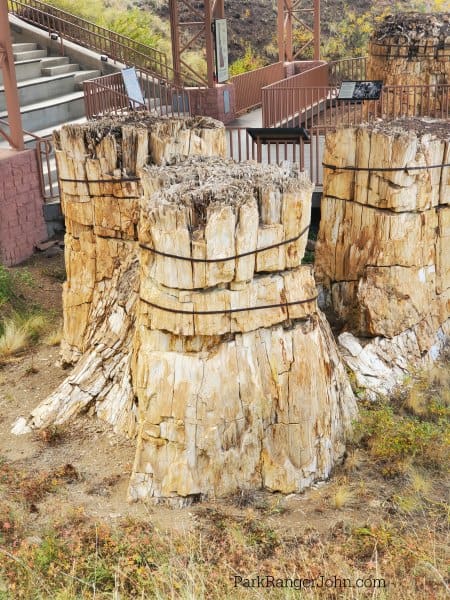 If you are not excited to do a hike don't worry you can see great examples of petrified trees directly behind the National Park Service visitor center. There are a couple of examples of petrified redwood trees that are easily accessible.
You can also check out the programs held in the park's amazing amphitheater.
There are multiple short hikes that lead through the Ponderosa forest and other Colorado landscapes along with longer trails.
It is hard to believe that some of the Petrified Redwood stumps are 14 feet wide and thousands of years old.
The park preserves some of the richest and most diverse fossil deposits in the world. Thousands of detailed fossils of insects and plants reveal the story beneath a very different prehistoric colorado landscape.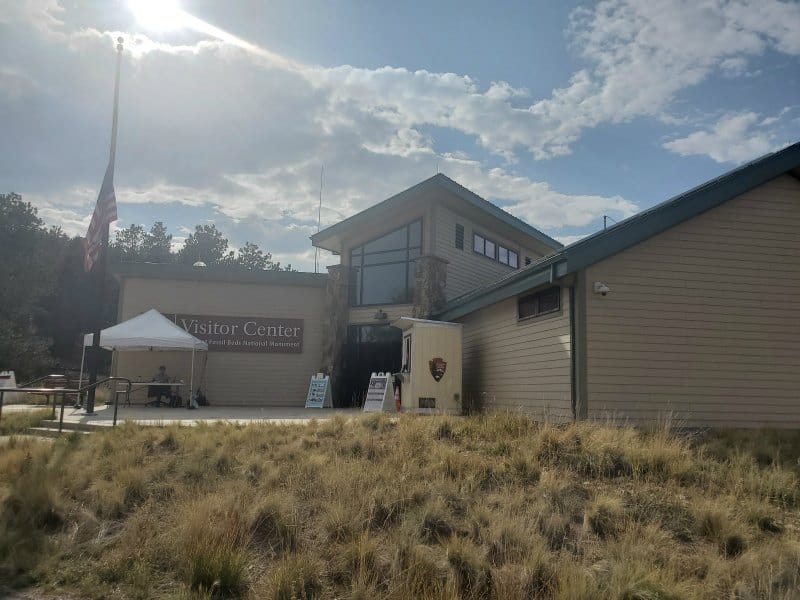 Visitor Center
The visitor center is next to the parking lot. You will want to have your National Parks Pass or payment ready when you reach the front entrance.
The visitor center has amazing displays of detailed fossils of insects and leaf fossils. These fossils can only be seen within the visitor center.
There is also a 14-minute orientation film called "Shadows of the Past".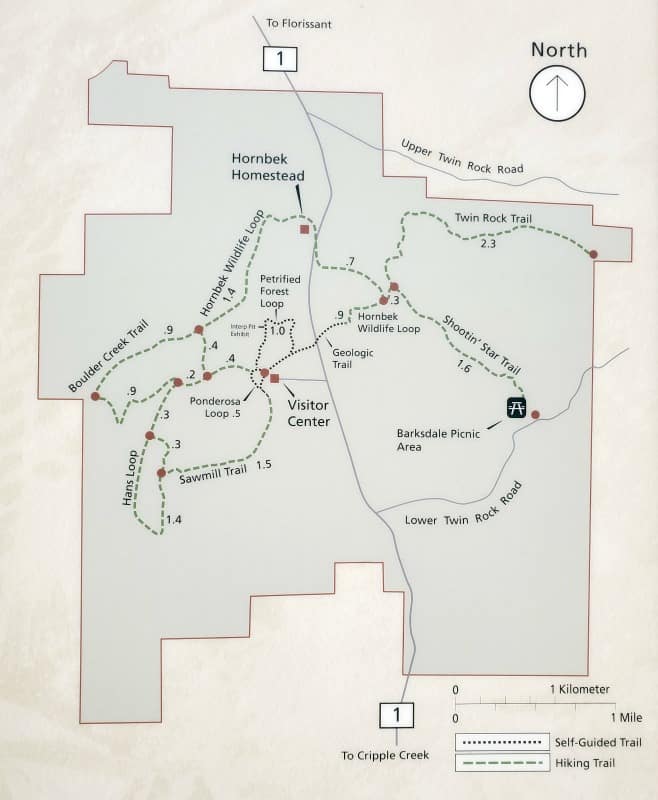 Hiking Trails
There are quite a few hiking trails in Florissant Fossil Beds. The majority of the trails lead from the area around the visitor center.
The terrain includes a beautiful grassy mountain valley in central Colorado.
Albert's Squirrels
If you are looking to see super cute wildlife keep an eye out for Albert's Squirrels! These squirrels have super cute tufts on their ears which makes them unique.
We heard that they are fairly common on the Ponderosa Trail.
Barksdale Picnic Area
Just down the road from the visitor center is the Barksdale Picnic Area. This is a great place to enjoy a picnic and soak in the gorgeous Colorado scenery.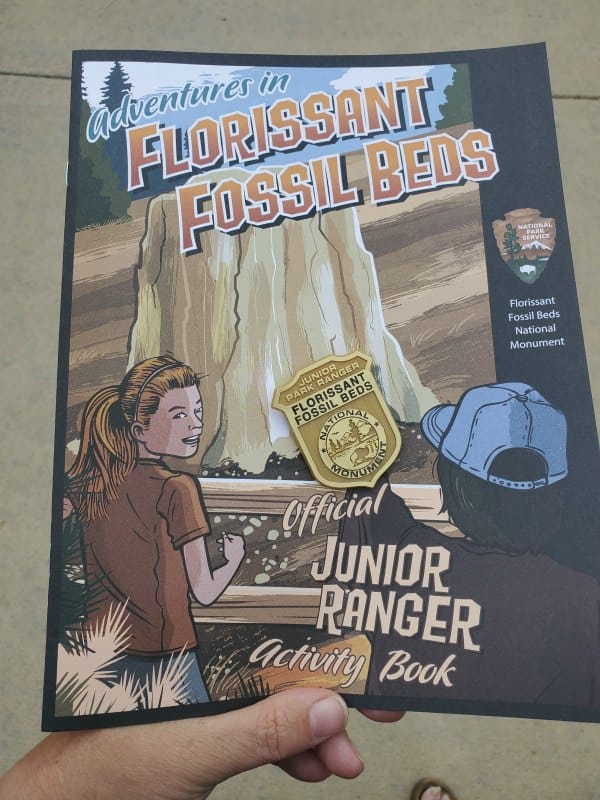 Junior Ranger Program
You can pick up the junior ranger program at the visitor center.
You can also download the Junior Ranger book ahead of your visit. This is a great way to learn about the park before you get there.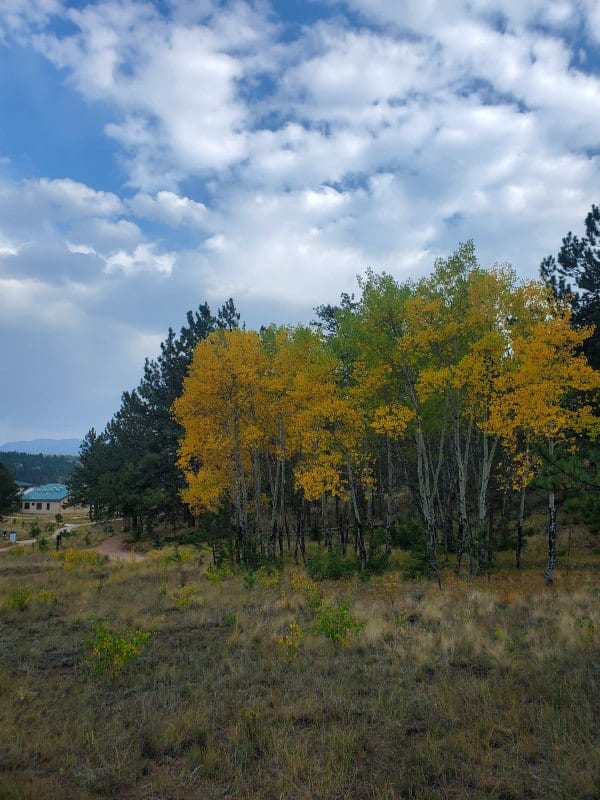 Travel Tips
The road leading to the park is a curvy mountain road. If you or someone with you experiences car sickness you will want to be prepared for the many curves.
I have to mention again that the park is at 8500 feet! Please remember to drink water and not rush on the hiking trails especially if you live at sea level and are not used to high elevation.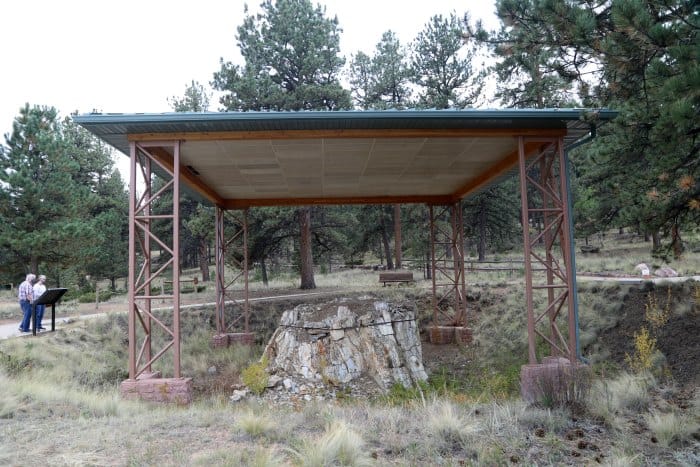 Things to know when planning a trip to Florissant Fossil Beds NM
Camping – There is no camping within the park
Lodging – There is no lodging within the park.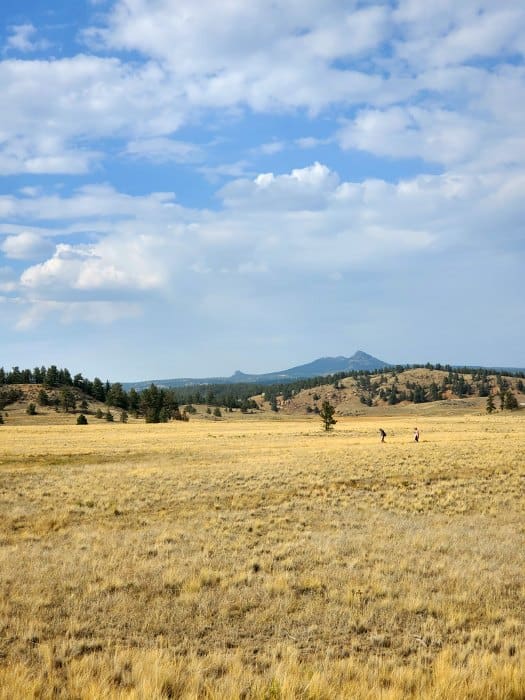 National Park Sites Near Florissant Fossil Beds National Monument
Garden of the Gods Park
Great Sand Dunes National Park
Bent's Old Fort National Historic Site
Sand Creek Massacre National Historic Site
Curecanti National Recreation Area
Check out all of the National Parks in Colorado and neighboring Utah National Parks, Wyoming National Parks, Nebraska National Parks, Arizona National Parks, Kansas National Parks, Oklahoma National Parks, and National Parks in New Mexico.
Check out all of the best things to do in Breckenridge while you are exploring Colorado.
Don't miss all the epic things to do in Colorado Springs!