Complete Guide to Fort Union National Monument in New Mexico, including things to do, history, nearby lodging and camping, directions, and so much more.
Fort Union National Monument
Fort Union National Monument was established in 1851 as a post and supply depot. It was located in Northeastern New Mexico at a strategic intersection of the Sante Fe Trail in the American Southwest.
About Fort Union National Monument
In the early years of Fort Union, mounted troops would patrol the Sante Fe trail. Later they would serve as escorts for the mail stagecoaches.
Fort Union troops faced Confederate troops from Texas during the Civil War. Over a span of forty years, three different forts were built.
At the height of Fort Union, there were 1,666 soldiers in residence.
Today you can explore Fort Union National Monument along a self-guided interpretive trail. You can also see ruts from the Sante Fe trail near the park.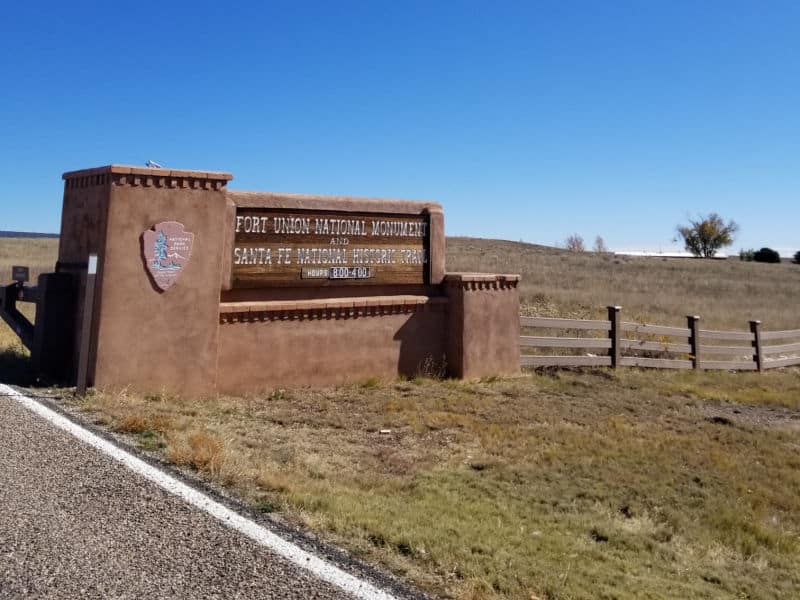 Is Fort Union National Monument worth visiting?
Fort Union National Monument is a treasure trove of history and natural beauty, it is a great place for history buffs and those who enjoy the outdoors.
We really enjoyed our visit to the park.
History of Fort Union National Monument
Fort Union National Monument is located in northern New Mexico in Mora County. The site preserves one of three forts that were built on the land through history. There are also impressive ruins of the third Fort Union.
Fort Union was the largest U.S. military frontier posts in the region during its time. All three forts built were located along the Santa Fe Trail which was a vital route in terms of trade, mail, military supplies, and wagon travelers.
The Santa Fe Trail ran from Missouri to Santa Fe, New Mexico and served many purposes. The route was established by a Missouri trader in the early 1820s and was an important trade route. During the Gold Rushes of California and Colorado, the trail was widely used.
It was also used as a stagecoach route for settlers headed west and part of the famous Pony Express, the mail system that was used briefly in the 1860s, before the telegraph and railroad made communication much most accessible.
The decision to build a military fort in this area stemmed from many needs. The fort served as protection for the Santa Fe Trail, it was the Army supply spot for the Southwest, served as a stopping point for wagon stages, and provided a meeting point to discuss movements involving the native tribes in the area.
The first fort was completed in 1851. It was an unimpressive project of log cabins along the Coyote River. This site did not last long. In 1861, a new fort was built as the nation was beginning its Civil War.
The fort, built in the strategic star-shaped form, included ditches, parapets and a large arsenal. In 1863, the addition to the fort was built at the location of the first. This included multiple adobe structures and the site was completed in 1869.
The location of the fort did not lend to convenience in food and provisions for those at the fort. Most supplies had to be transported by way of the Santa Fe Trail from Fort Leavenworth in Kansas.
As the nation began settling the west in droves, Fort Union became as highly settled and traveled through as the town of Santa Fe itself.
After the completion of the Transcontinental Railroad, and subsequent railways eventually led to the Santa Fe Railway crossing through the Mora Valley and ended military movement across the trail.
After the United States acquired the Southwest in the Mexican-American War in the 1840s, the nation also acquired the long standing conflicts with the natives who had lived on the land for centuries.
These tribes had previously fought tirelessly again the Mexicans, and now were ready to fight the Americans. The Americans who were hunting off their game, and ravishing through their lands with their new railroad, western settlers, and Gold Rush prospectors.
One of the most significant attacks on the fort happened during the Civil War when Confederate forces were already targeting the New Mexico area and the natives saw their chance to also attack a vulnerable target.
Famous Colonel Kit Carson was called to fight in the U.S. Army stationed at the fort and led attacks against Apache, Navajo, Kiowa and Comanche tribes in the 1860s.
Battles against the Native Americans in the area seemed to be the final purpose of Fort Union. After the Red River War of 1874, the fort's involvement of the Indian Wars ended and the site served little use, although it was not officially abandoned until 1891.
What is accessible and visible to visitors today are many sites that are still distinguishable for their purpose in the history of Fort Union.
The officer quarters were in a row of nine homes, the center home reserved for the post's commander. These homes were assigned by rank with senior officers getting first choice.
The post commander's house had eight rooms with its own cellar; it was one of the finest residences at Fort Union. One of the last buildings constructed was the military prison. What's left of the original buildings now is the cell block itself, but in the 1800s, an adobe walls structure would have surrounded the prisoners which would have included murderers, deserters, and other criminals as well.
The Depot at Fort Union housed the hustle and bustle of visitors needing supplies or a stopping point. The site had storehouses for supplies which were locked up and guarded by soldiers at night.
A large Corral was central to the depot and housed the many livestock and horses needed for the Army. The site also housed a hospital with six wards and a capacity of 60 patients. It had a staff of eight and was actually one of the best hospitals in the West at the time.
An impressive site for the eventful time period of the American West, Fort Union served many important purposes along the famed Santa Fe Trail during its forty years of service.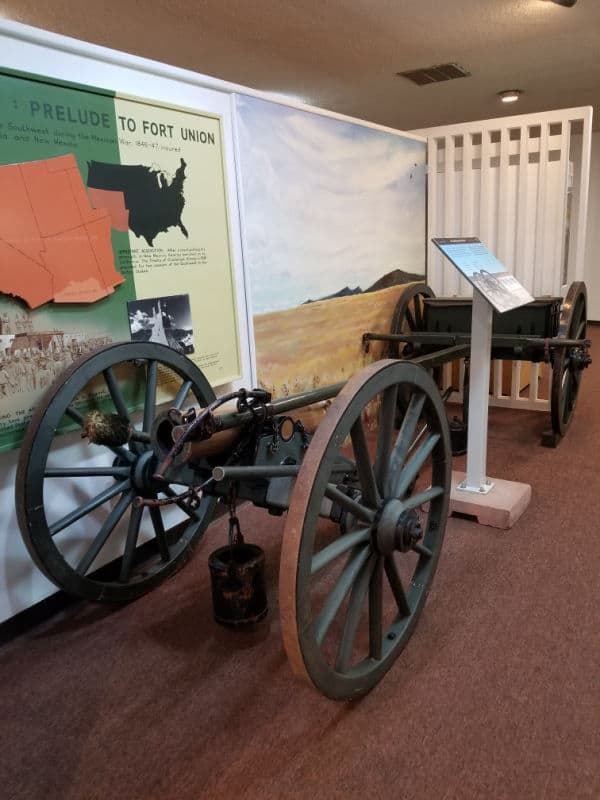 Things to know before your visit to Fort Union National Monument
Entrance fee
$0.00 - There is no entrance fee to visit the park.
Planning a National Park vacation? America the Beautiful/National Park Pass covers entrance fees for an entire year to all US National Park Sites and over 2,000 Federal Recreation Fee Sites.
The park pass covers everyone in the car for per vehicle sites and for up to 4 adults for per-person sites.
Free Entrance Days -Mark your calendars with the five free entrance days the National Park Service offers annually.
Time Zone
Mountain Time Zone
Pets
Leashed pets (6 ft. maximum) are allowed on the trails and within the picnic areas but not permitted inside public buildings, such as the Visitor Center, offices, museums, and public restrooms, with the exception of service animals on a leash.
Cell Service
Cell service at this National Monument is hit or miss.
Park Hours
Summer Hours: Memorial Day to Labor Day 8:00 AM to 5:00 PM.
Winter Hours: Labor Day to Memorial Day 8:00 AM to 4:00 PM.
The monument is closed on Thanksgiving Day, Christmas Day, and New Year's Day.
Wi-Fi
There is no public Wi-Fi available.
Insect Repellent
Insect repellent is always a great idea when outdoors, especially if you are around any body of water.
We use Permethrin Spray on our clothes before our park trips.
Water Bottle
Make sure to bring your own water bottle and plenty of water with you. Plastic water bottles are not sold in the park.
Parking
There is a nice size parking area in front of the visitor center.
Food/Restaurants
There are no restaurants within the park.
Gas
There are no gas stations within the park.
Drones
Drones are not permitted within National Park Sites.
National Park Passport Stamps
National Park Passport stamps can be found in the visitor center.
Make sure to bring your National Park Passport Book with you or we like to pack these circle stickers so we don't have to bring our entire book with us.
Fort Union is part of the 2004 Passport Stamp Set.
Electric Vehicle Charging
There are no EV Charging stations at the park.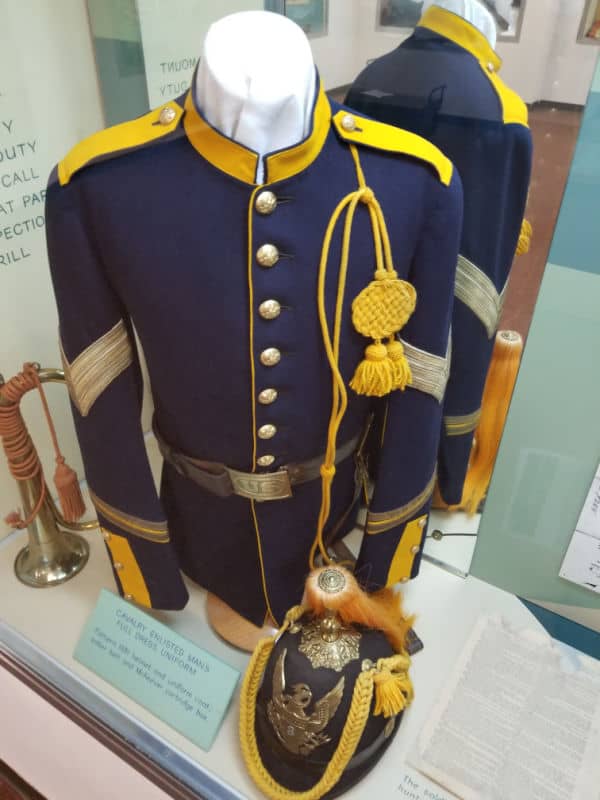 Details about Fort Union National Monument
Size - 721 acres
Check out how the park compares to other National Parks by Size.
Date Established
Founded on June 28, 1954.
Visitation
In 2021, Fort Union NM had 12,618 park visitors.
In 2020, Fort Union NM had 5,334 park visitors.
In 2019, Fort Union NM had 11,063 park visitors.
Learn more about the most visited and least visited National Parks in the US
National Park Address
3115 NM Highway 161
Watrous, NM 87753
Park phone numbers - (505) 425-8025
National Park Map
Where is Fort Union National Monument?
Fort Union National Monument is located in the Northeastern portion of the state of New Mexico. 8 miles off of Interstate I-25 on State Highway NM 161. Take exit 366 off the interstate.
Estimated distance from major cities nearby
Albuquerque, NM - 150 miles
Colorado Springs, CO - 244 miles
Lubbock, TX - 300 miles
Aurora, CO - 311 miles
Denver, CO - 315 miles
El Paso, TX - 340 miles
Ciudad Juarez, Mexico - 345 miles
Tucson, AZ - 600 miles
Mesa, AZ - 555 miles
Estimated Distance from nearby National Park
Petrified Forest National Park - 370 miles
White Sands National Park - 266 miles
Great Sand Dunes National Park - 225 miles
Mesa Verde National Park - 360 miles
Black Canyon of the Gunnison National Park - 385 miles
Guadalupe Mountains National Park - 340 miles
Where is the National Park Visitor Center?
The visitor center is located at the park's main entrance.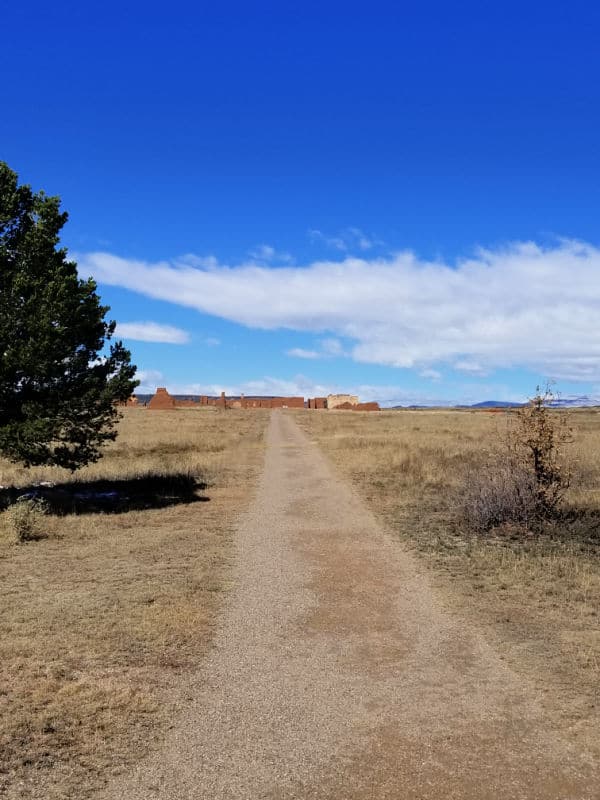 Getting to Fort Union National Monument
Closest Airports
Las Vegas Municipal Airport (LVS) - New Mexico
International Airports
Albuquerque International Sunport (ABQ)
Regional Airports
San Luis Valley Regional Airport (ALS)
Driving Directions
From Albuquerque (156 miles), Santa Fe (94 miles) or Las Vegas, NM (28 miles) take I-25 north, exit 366 at Watrous, 8 miles on NM 161.
From Denver (313 miles), Colorado Springs (243 miles) or Raton (95 miles) take I-25 south, exit 366 at Watrous, 8 miles on NM 161.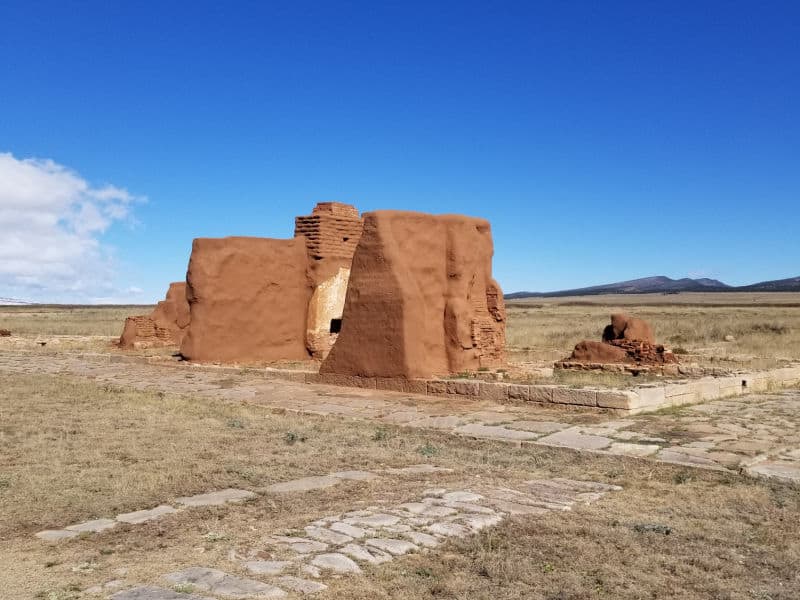 Best time to visit Fort Union National Monument
It is best to visit Fort Union National Monument during the fall season, when the temperatures are milder, and the leaves are changing colors, providing a beautiful scenery.
It is also a great time to experience the history of the fort and take part in ranger-led programs without the heat of the summer. This season also offers great weather for hiking, photography, and enjoying the outdoors.
Weather and Seasons
The hottest weather is from June 3rd to September 16th, when the average daily high temperature is above 95 degrees.
The coldest weather is from November 19th to February 24th, when the average daily high temperature is below 66 degrees.
The coldest month is December, with an average low of 39 degrees and high of 58 degrees.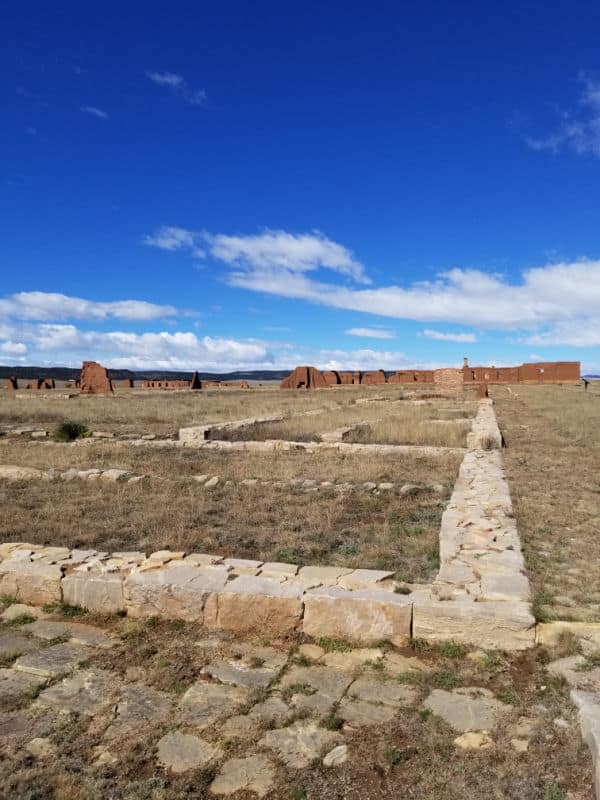 Best Things to do in Fort Union National Monument
We suggest planning a few hours to visit historic Fort Union National Monument.
Visitor Center
The visitor center has a nice size bookstore, museum exhibits, the park movie, and access to the park grounds.
Park Video
The park movie is a great way to learn more about the park. There is a lovely couch and seating area to watch the movie.
Pre-warning the couch is super comfy and if you have been on the road for a while you may find yourself nodding off during the movie. It is warm in the visitor center and these things just happen.
The Fort Union NM Junior Ranger program can be picked up at the visitor center. The program includes walking through the fort and learning about the different buildings.
You will want to give yourself at least an hour maybe two to explore the fort area. It is a lot larger than it looks when you first leave the visitor center.
You can also work on the Sante Fe Trail Junior Ranger program!
Explore the Fort
There is a 1.25-mile self-guided interpretive trail that leads you through Fort Union. If you do not have time to explore the entire fort you can take the shorter half-mile trail.
Be prepared the fort is a lot larger than it looks from the visitor center. It is also super windy at times. Make sure you are dressed in layers and have water with you.
The visitor center has umbrellas to help provide protection from the sun or rain.
Ranger Programs
Almost daily depending on staffing Fort Union NM offers some type of ranger program. Ranging from cannon demonstrations to interpretive talks of the history of Fort Union.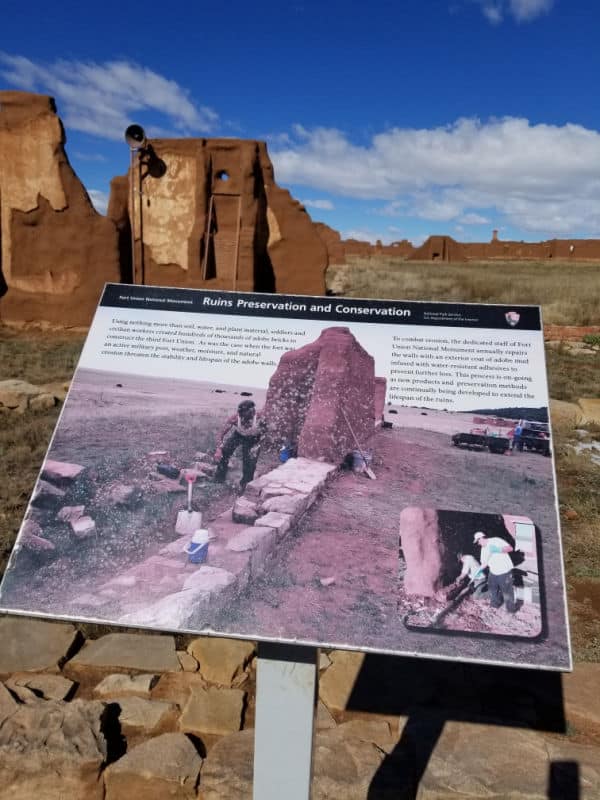 Hiking in Fort Union National Monument
Always carry the 10 essentials for outdoor survival when exploring.
The 1.25 mile self-guided walk leaves from the visitor center and takes you through the historic fort ruins.
Be prepared for the wind and sun! During our visit the wind was howling and it felt like we were in a battle to hold on to our park map.
How to beat the crowds
We did not experience any crowds during our visit to the park.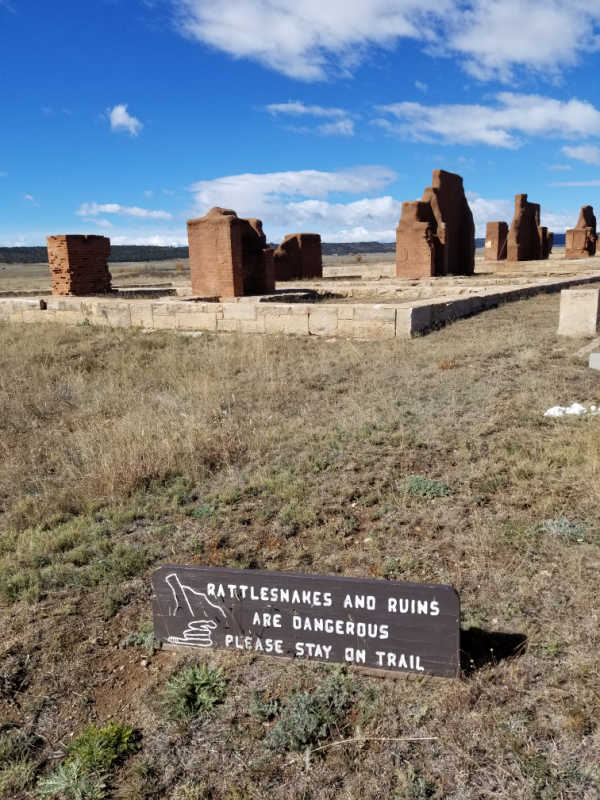 Where to stay when visiting
There are no National Park Lodges within the park.
Nearby Lodging can be found in Las Vegas, New Mexico and includes:
Best Western Plus Montezuma Inn & Suites - look forward to free full breakfast, dry cleaning/laundry services, and a 24-hour gym. Free in-room Wi-Fi and a business center are available to all guests.
Super 8 by Wyndham - free to-go breakfast, a terrace, and laundry facilities at Super 8 by Wyndham Las Vegas. Stay connected with free in-room Wi-Fi, and guests can find other amenities such as a business center.
Comfort Inn Las Vegas New Mexico - free breakfast buffet, a grocery/convenience store, and a fireplace in the lobby at Comfort Inn Las Vegas New Mexico. For some rest and relaxation, visit the hot tub. In addition to a gym and a business center, guests can connect to free in-room Wi-Fi.
Days Inn by Wyndham - free to-go breakfast, a grocery/convenience store, and shopping on site. Free in-room Wi-Fi is available to all guests, along with dry cleaning/laundry services and a fireplace in the lobby.
Click on the map below to see current vacation rentals and lodges near the park.


Camping
There are no National Park Campgrounds within the park.
For a fun adventure check out Escape Campervans. These campervans have built in beds, kitchen area with refrigerators, and more. You can have them fully set up with kitchen supplies, bedding, and other fun extras. They are painted with epic designs you can't miss!
Escape Campervans has offices in Vancouver, Seattle, Portland, San Francisco, Las Vegas, Los Angeles, Phoenix, Salt Lake City, Denver, Chicago, New York, and Orlando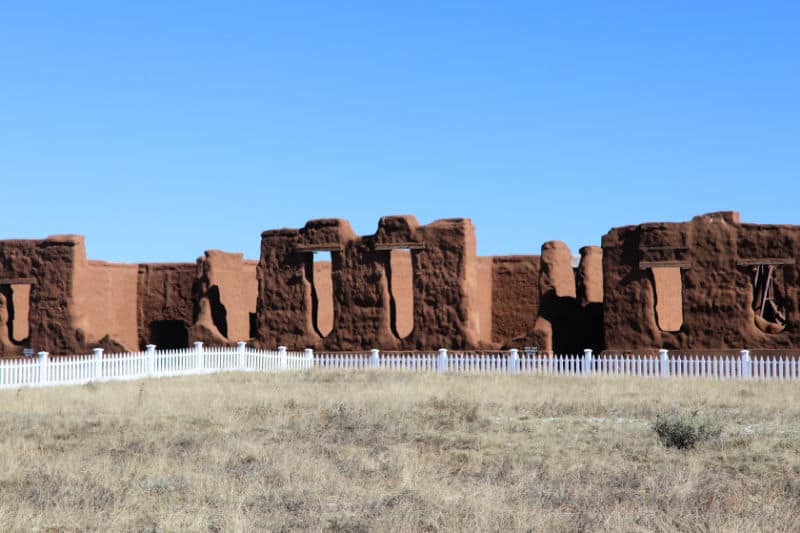 Parks Near Fort Union National Monument
Capulin Volcano National Monument
Valles Caldera National Preserve
Chaco Culture National Historical Park
Check out all of the National Parks in New Mexico and neighboring Arizona National Parks, Colorado National Parks, Oklahoma National Parks, and National Parks in Texas.