Crater Lake National Park Camping Guide created to help you plan your perfect camping experience at Crater Lake National Park!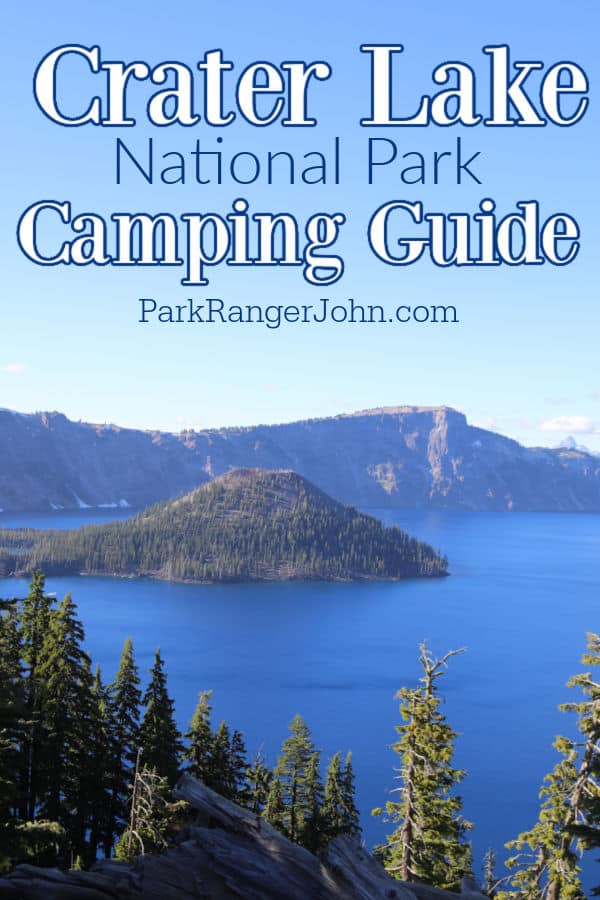 Crater Lake Camping Guide
There are 2 developed campgrounds in Crater Lake National Park; Mazama Village Campground and Lost Creek Campground.
Crater Lake NP is open year round but both campgrounds are open seasonally as both campgrounds are located at 6000 feet in elevation.
This means that both campgrounds get a considerable amount of snow each year! You may ask how much snow does Crater Lake get each year? The average snowfall at Crater Lake is 533 inches!
That's almost a whopping 45 feet of snow!
Mazama Village Campground is considered the main campground at Crater Lake National Park with 214 campsites and has most of the amenities that you would expect while camping in the front country (car camping).
The Lost Creek Campground has only 16 tent-only campsites that are available first-come, first-served basis.
The Mazama campground is located 7 miles south of Rim Village and Crater Lake.
Crater Lake's iconic deep blue waters and snow-covered mountains have captured the imagination of people worldwide.
Crater Lake is the deepest lake in the United States and the 7th deepest lake in the world.
Showing up in the evening hoping to find a campsite can easily lead you to disappointment. This article will assist you in planning the vacation of a lifetime at Crater Lake National Park.
Mazama Campground
Season - Open mid-June through Late September.
These dates are approximate depending on the weather.
Sites - 214 Sites
Reservations - See below
Camping Fees
Tent Sites - $21
RV sites without hook ups - $31
RV sites with electricity - $36
RV sites with full hook up - $42
PCT Hiker and Bicyclist Walk In Sites - $5
How to make Crater Lake Camping Reservations
Crater Lake camping reservations can be made online or by calling (866) 292-6720.
Reservations can be made for June-September depending on the amount of snow in the park.
Full payment is due at the time of reservation.
It is always a great idea to have a campsite reservation. Having a campsite reservation guarantees you a spot in some of the best camping locations in the National Parks!
Mazama Campground address
Mazama Campground
Crater Lake HWY
Crater Lake, Or. 97604
Mazama Campground GPS Coordinates
42.8684N 122.1685W
Mazama Campground Amenities
The campsites are very nice! Most sites are very level, has a beautiful forest setting and only 7 miles from the Rim of Crater Lake.
Each campsite has a picnic table, fire ring, and a metal food locker (you are in bear country & yes they frequent the area).
Most campsites are tent camping only and do not have any RV hookups. The F Loop has 15 electrical hookup only sites (F15-F29) that are 1st. come, 1st. served and two are ADA (F17 and F21).
Guests wanting more information on the electrical hookup sites or requiring an ADA RV site should call the park directly at (541)594-2255 ext. 3610 or 3601
The campground has showers, public laundry and a dump station.
There is a gas station that also sells propane. There is also a camp store that is well stocked and a restaurant.
There is a pay phone outside the Camp Store.
The Cabins at Mazama Village
They are called cabins but in reality, it is a 4-plex with hotel-style rooms.
There are 40 rooms with very limited services. You can expect to have a room with 2 Queen beds and a private bath.
There are no TV's, phones, A/C. There is WIFI but don't expect super fast speeds.
The Cabins at Mazama Village are close to the amphitheater, café and Campstore.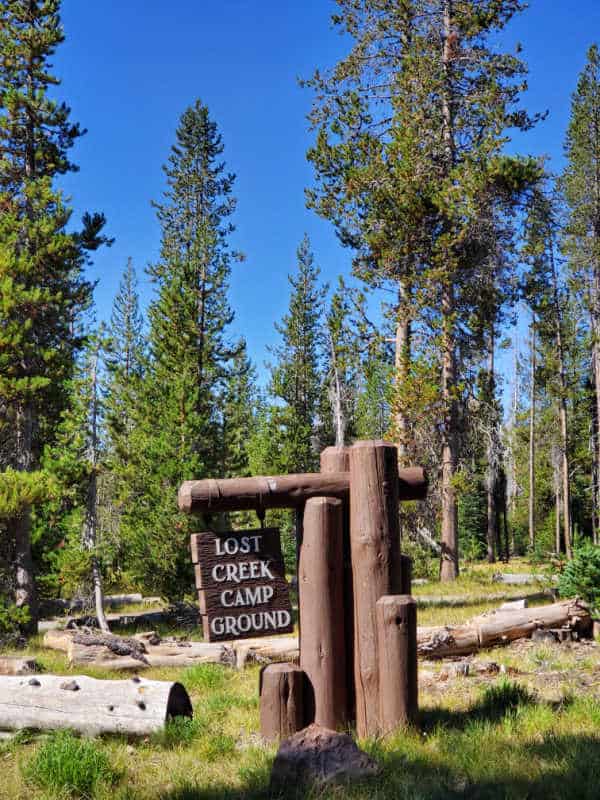 The Lost Creek Campground has 16 sites that are tent only at Crater Lake National Park.
It is open seasonally between early July and Mid-October, depending on the weather.
I would call ahead to see if this campground was open as I have seen it closed in mid-July due to snow.
The good news is that there are flush toilets and is only $5/night for camping. Remember that generators are prohibited at the Lost Creek Campground.
Backcountry Camping
A backcountry camping permit is required year-round for all overnight trips in the park. Permits must be obtained in person, during business hours, from the Ranger Station at Park Headquarters.
One thing to know is there is no backcountry camping in the summer with a view of the lake.
The National Park Service ranger station is located 100 yards from the Steel Visitor Center. The ranger station is open:
June–September: Open daily, 8:00 am–4:30 pm
October–May: Open daily, 8:00 am–4:00 pm
Backcountry permits are free. They are only valid for the dates, location and number of campers designated.
The maximum group size for backcountry camping in Crater Lake National Park is 8 people.
Campers need to be prepared with bear resistant containers or ways to hang their food properly.
Backcountry camping is not allowed in the Research Natural Areas or within 1/4 mile of Boundary Springs, Sphagnum Bog, and Thousand Springs. Camping is also prohibited inside the caldera.
There are five designated backcountry campsites including Bybee Creek, Dutton Creek, Grouse Hill, Lightning Springs, and Red Cone Springs.
National Geographic trails illustrated maps are a great help while planning your trip to the park.
Campgrounds near Crater Lake National Park
If you are unable to find a Crater Lake Campground that suites your needs here are some of the other campgrounds available in the area.
Diamond Lake RV Park - Diamond Lake, Oregon, approximately 15 miles from the park
This campground offers RV Sites, laundry, full hook ups, and more.
Ashland's Creekside Campground and RV Park - Ashland, OR, approximately 58 miles from the park.
This campground offers RV and Tent Sites, a pool, dog park, playground, and more.
Blue Heron RV Park - Hornbrook, CA, Approximately 71 miles from the par
This campground offers RV Sites, waterfront, dog park, and more.
Check out additional campgrounds in the area on CampSpot
Lodging near Crater Lake
There are no lodges or campgrounds open in the park between mid-October and late May.
The closest towns with lodging include Fort Klamath, Union Creek, Diamond Lake, Prospect, Chiloquin, Chemult, Shady Cove, Klamath Falls, and farther out.
Click on the map below to see current rates for hotels and vacation rentals near the park.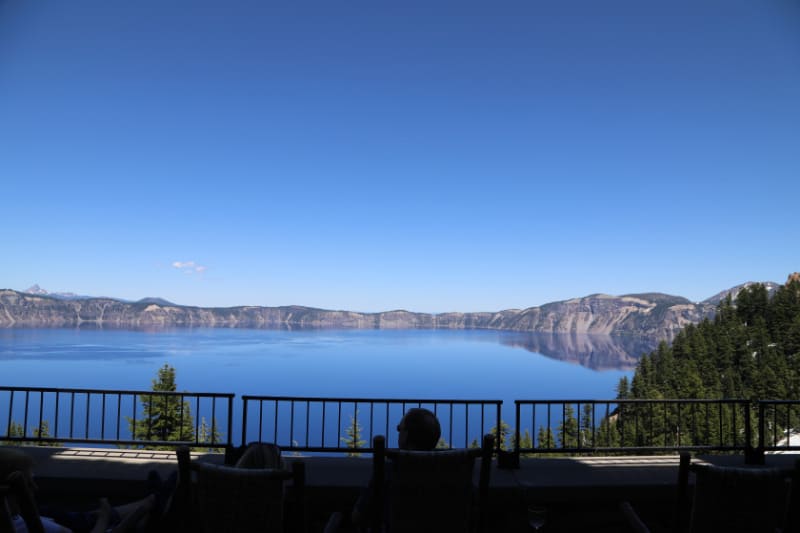 Additional Crater Lake Resources
Make sure to click the links below to find out more information on Crater Lake National Park & Camping Tips from a Park Ranger
Things to do Crater Lake National Park
Camping Tips From A Park Ranger
Camping Games - Check out all of the great games you can bring camping
National Parks Sites near Crater Lake NP
Lewis and Clark National Historical Park
Whiskeytown National Recreation Area
Oregon Caves National Monument
John Day Fossil Beds National Monument
Hagerman Fossil Beds National Monument
Check out all of the National Parks in Oregon along with neighboring Washington National Parks, National Parks in California, and Idaho National Parks