Complete Guide to Lewis and Clark National Historical Park in Oregon including things to do, history, directions, nearby lodging, and so much more.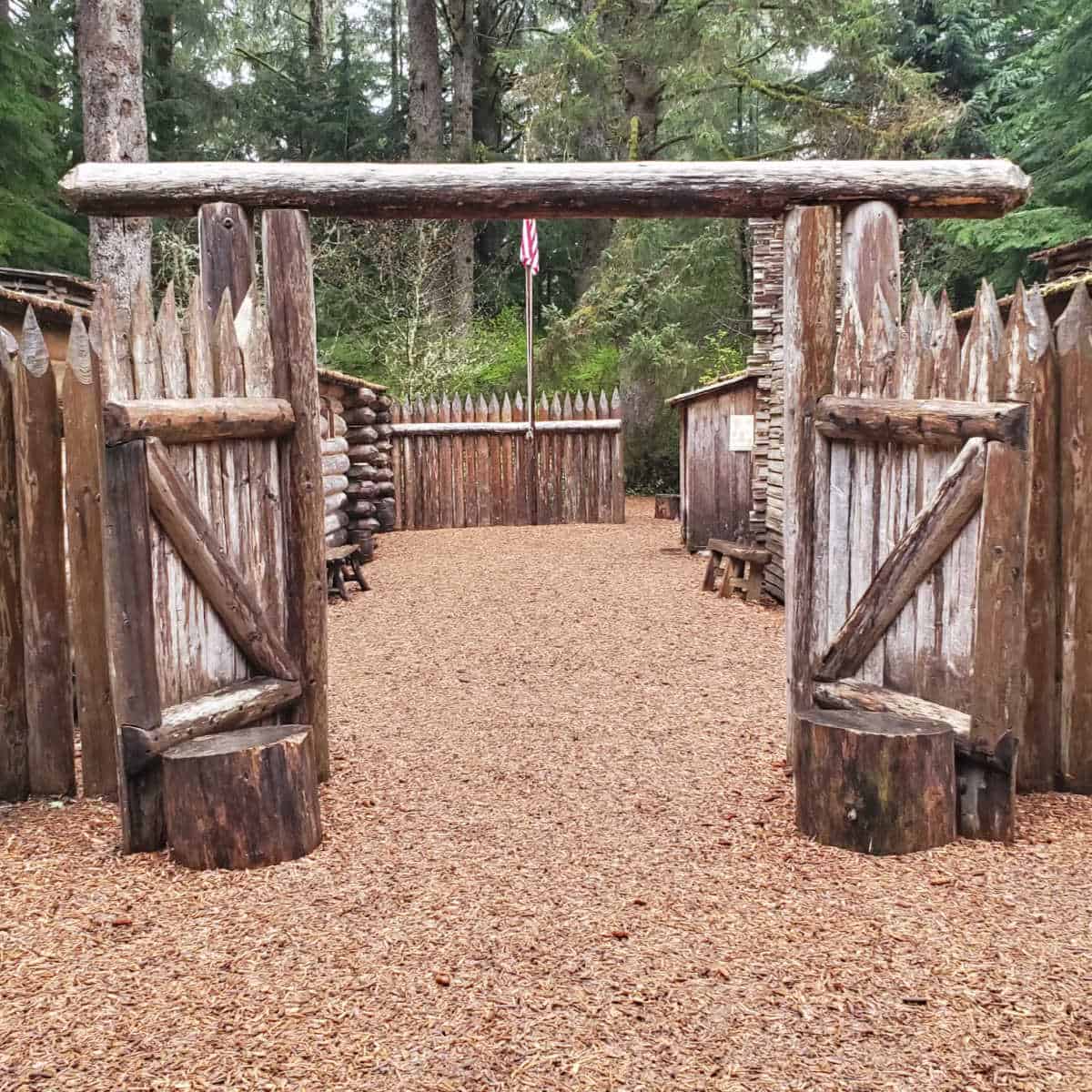 Lewis and Clark National Historical Park
Lewis and Clark National Historical Park is located near Astoria, Oregon. The park includes a recreation of Fort Clatsop which the Corp of Discovery stayed in from 1805-1806. Starting in May 1804 a group called the Corps of Discovery ventured across the United States to learn more about the land.
About Lewis and Clark National Historical Park
Named by President Thomas Jefferson this group was led by Meriwether Lewis and William Clark. The group included Meriwether Lewis's dog named Seaman. They crossed from the east and traveled up the Missouri River, across the Rocky Mountains, and down the Columbia River. You can follow more of their travels on the Lewis and Clark Historical Trail.
The Corp spent two weeks on the north side of the Columbia River before moving to the South Bank. The new site they called Fort Clatsop after a local Indian tribe. The new site was located in a forested area providing trees for construction, there was elk for hunting, a freshwater source, and access to the Columbia River.
One thing to know about the Lewis and Clark NHP is it can be super confusing to figure out where to go when you start researching this park. The park includes sites in both Washington and Oregon.
When we started diving into this park we honestly were a bit confused on where all the sites were and what there really was to visit. Our hope is that this article will make it easier for you to plan your visit!
The park includes 12 park sites spread along a 40-mile stretch of the Pacific Coast from Long Beach, Washington to Cannon Beach, Oregon.
These sites include both Washington State Parks and Oregon State Park sites. Two of the sites offer the most information and guest services, Fort Clatsop and Cape Disappointment State Park in Washington.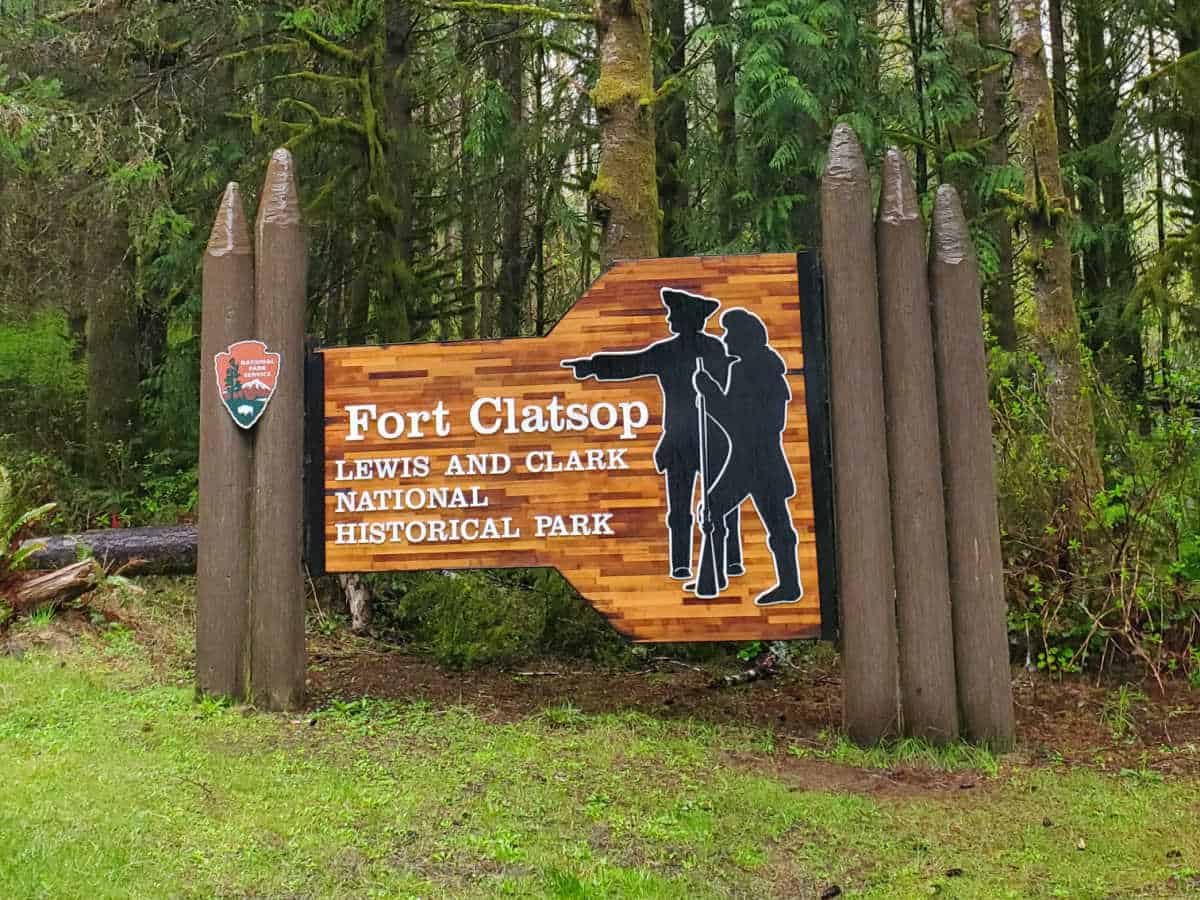 Is Lewis and Clark National Historical Park worth visiting?
There are many reasons to visit Lewis and Clark National Historical Park since it provides a unique opportunity to explore the history and natural beauty of the Pacific Northwest region of the United States.
There are multiple activities for visitors, including hiking, birdwatching, fishing, and boating, which allow them to learn about Lewis and Clark's journey.
The park's location on the Pacific Ocean also provides opportunities for beachcombing, tide pooling, and whale watching. Any visitor interested in history, nature, or outdoor recreation will definitely enjoy Lewis and Clark National Historical Park.
We really enjoyed our visit to the park. It provided us with an up close look at the history we learned in school.
History of Lewis and Clark National Historical Park
Lewis and Clark National Historical Park consists of multiple sites within the states of Washington and Oregon, along a 40-mile stretch of the Pacific Coast, all located in proximity to the mouth of the Columbia River.
The park commemorates the important locations the men reached in the Pacific Northwest, which was the culmination of their expedition, and the location they stayed during 1805-1806.
The history of the United States and Westward Expansion would not have been complete without the Lewis and Clark Expedition.
In 1803, President Thomas Jefferson asked Congress to approve the funding of an expedition to explore the west.
In May of that year, the Louisiana Purchase further fueled the fire to explore uncharted lands. Jefferson asked his personal secretary, Meriwether Lewis, to lead the expedition with set goals in mind: explore the Missouri River, initiate civil contact with Native Americans, advance fur trading, and locate a water route to the Pacific Ocean.
Jefferson sent Meriwether to Philadelphia to train in the knowledge of botany, zoology, celestial navigation and medicine.
Meriwether selected military leader William Clark to be his partner on the expedition. Clark would serve as the chief waterman as well as cartographer.
He secured the men who would become known as the Corps of Discovery and oversaw their training in Illinois the winter before the expedition.
The expedition left St. Louis on May 14, 1804. They traveled to the Pacific Ocean and back, nearly 8,000 miles in total, and completed the expedition on September 23, 1806.
The park includes the ancestral homelands of the Chinook tribe and a small group of Chinook called the Clatsop.
As far back as 4000 BCE, the Chinook have inhabited the area of the middle and lower Columbia River. Many early white explorers called this group "Flathead Indians," referring to their practice of head binding.
A common practice in America, tribe members would use head flattening to mark social status within the tribe.
Starting as infants, the tribe would bind the child's head under pressure between boards. This would continue for months until the child's head was permanently reshaped.
Historians have surmised that the word Chinook may mean "fish eaters" or "strong fighters." Salmon from the cold waters of the Columbia River has long been a staple of the tribe's diet.
One site within the historical park is aptly named Dismal Niche. Along the Columbia River, the little cove on the north shore provided as much shelter as possible when a winter storm forced the Corps off the river in November of 1805.
In his journal, Clark named the spot "that dismal little niche." Wet, cold, out of food, and wearing clothes that were rotting away, the group was stuck in the cove for six stormy and frightening days. Clark wrote in his journal that he was seriously concerned about the group's fate for those long six days.
A short present day drive from Dismal Niche is the site where the Corps arrived next. Just across the river from the place where they established Fort Clatsop, the group rested and discussed their winter strategy.
Originally named Station Camp, this spot was a summer village of the Chinook people, but that natives were away at their winter village before the Corps arrived. The name was later changed to Middle Camp.
To reach the site that would become Fort Clatsop, the Corps had to paddle up the Netul River. Today, this area is part of a river trail that follows the route of the group on the lower Columbia River.
The river is now named after the explorers, but present day visitors can stop at Netul Landing and see where the expedition victoriously landed and established Fort Clatsop.
At this location there is a bronze, life-sized statue of Sacagawea, the Shoshone woman from Idaho who met Lewis and Clark in North Dakota during their expedition.
At the time, she was six months pregnant, and gave birth to her child on the expedition. Sacagawea was an important part of the expedition, educating the men on the flora and fauna during their travels, and communicating with natives that they met along the way.
The bronze statue depicts the woman walking with a baby attached to her back.
Journals show that the Corps of Discovery arrived at the spot of Fort Clatsop in December of 1805 and were there until March of 1806.
The establishment of Fort Clatsop became a vital part of the U.S claims to land in the Pacific Northwest, and consequently, to the United States' move towards Westward Expansion.
Lewis and Clark used the time at Fort Clatsop to update their journals. Jefferson had ordered extensive notes to be taken during the expedition of the area's trees, plants, wildlife, and fish.
A replica of this fort was built in 1955, but that building burned down in 2005. The fort that stands today is the second replica of the 1805 fort.
The adaptations that natives made to the geography of the Columbia River and Pacific Ocean area ensured survival for their cultures for thousands of years.
These adaptations greatly helped the survival of Lewis and Clark during their time there and shaped the lives of generations of settlers to come.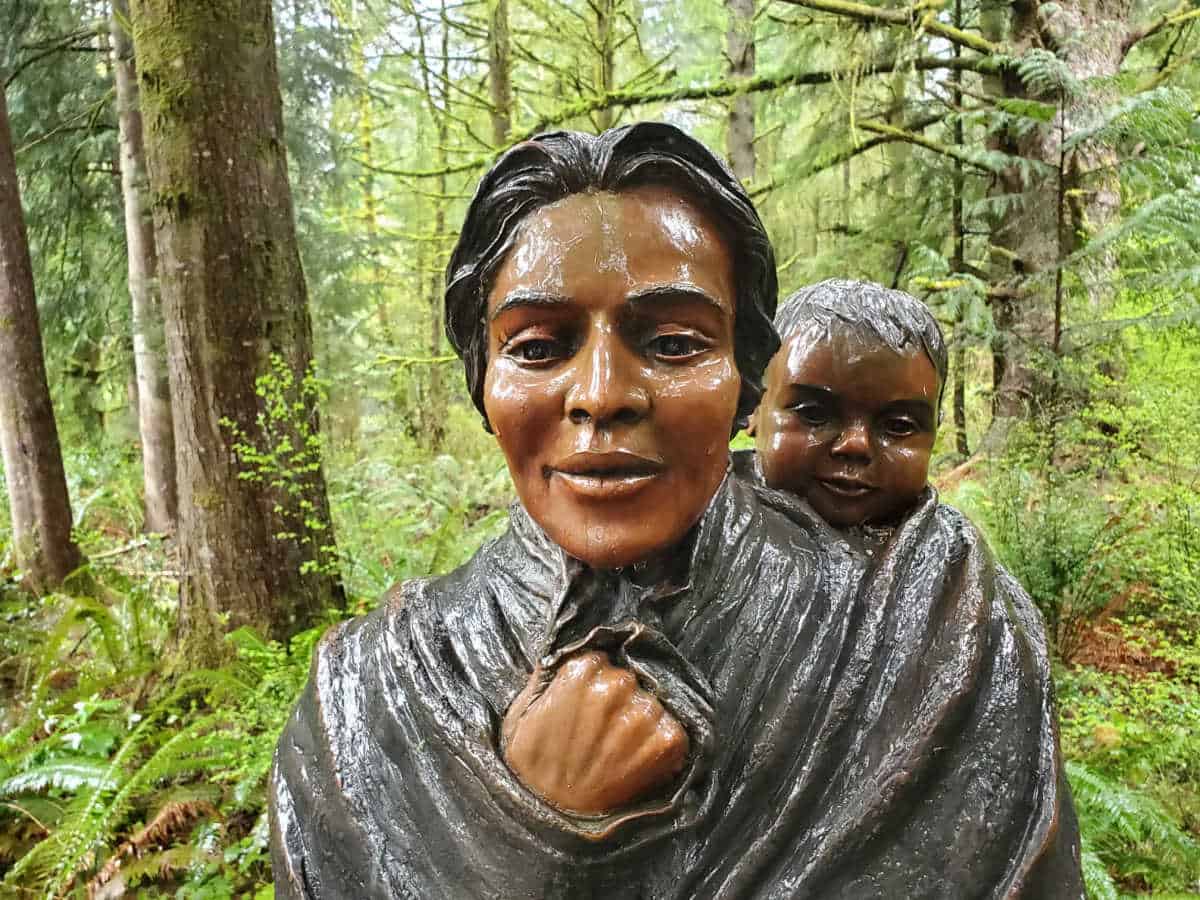 Things to know before your visit to Lewis and Clark National Historical Park
Entrance fee
$10 per person - 16 years old and older (good for 7 days)
Free - 15 years old and younger
Planning a National Park vacation? America the Beautiful/National Park Pass covers entrance fees for an entire year to all US National Park Sites and over 2,000 Federal Recreation Fee Sites.
The park pass covers everyone in the car for per vehicle sites and for up to 4 adults for per-person sites.
Buy on REI.com and REI will donate 10% of pass proceeds to the National Forest Foundation, National Park Foundation and the U.S. Endowment for Forestry & Communities.
Learn more about National Park Passes for parks that have an entrance fee.
Free Entrance Days - Mark your calendars with the five free entrance days the National Park Service offers annually.
Time Zone
Pacific Time Zone
Pets
Leashed pets (no longer than 6ft) are allowed on trails and in the parade grounds of the fort but not inside all public buildings, including the fort replica rooms and the Visitor Center (carpeted areas beyond the restroom foyer). Service dogs and dogs who are working as volunteers to the NPS are allowed in the park and all park buildings.
Cell Service
Cell service depends on cell carrier and location in the park.
Park Hours
The park is open daily from 9 AM to 5 PM during winter and 9 AM to 6 PM during summer. Closed on Christmas Eve and Christmas Day.
Wi-Fi
There is a public Wi-Fi available in the Fort Clatsop Visitor Center; search for and connect to LCNHP.
Insect Repellent
Insect repellent is always a great idea when outdoors, especially if you are around any body of water.
We use Permethrin Spray on our clothes before our park trips.
Water Bottle
Make sure to bring your own water bottle and plenty of water with you. Plastic water bottles are not sold in the park.
Parking
There are plenty of parking spaces in the park.
Food/Restaurants
There are no restaurants within the park.
Gas
There are no gas stations within the park.
Drones
Drones are not permitted within National Park Sites.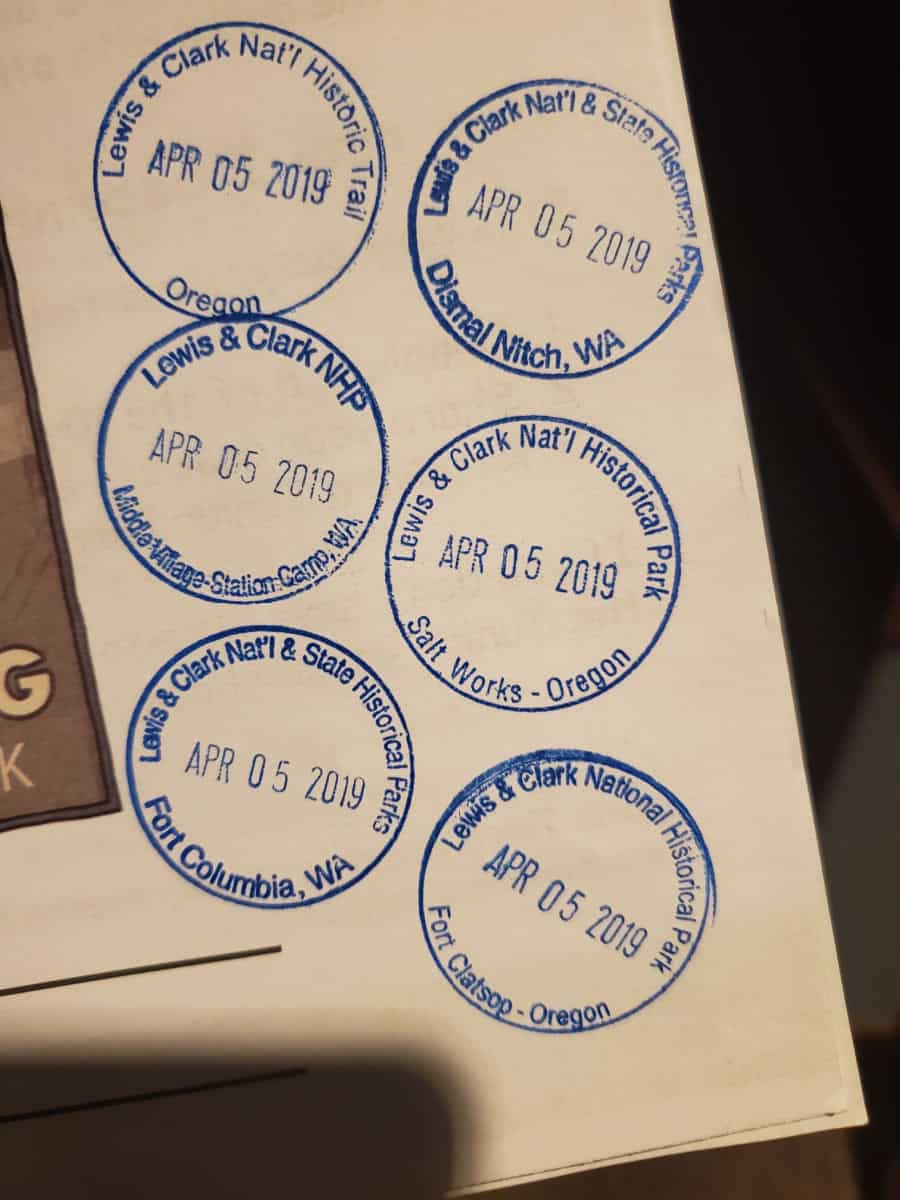 National Park Passport Stamps
National Park Passport stamps can be found in the visitor center.
Make sure to bring your National Park Passport Book with you or we like to pack these circle stickers so we don't have to bring our entire book with us.
Lewis and Clark NHP is part of the 2010 Passport Stamp Set.
Electric Vehicle Charging
A total of 53 public charging stations are available in Astoria, Oregon, including two that are free.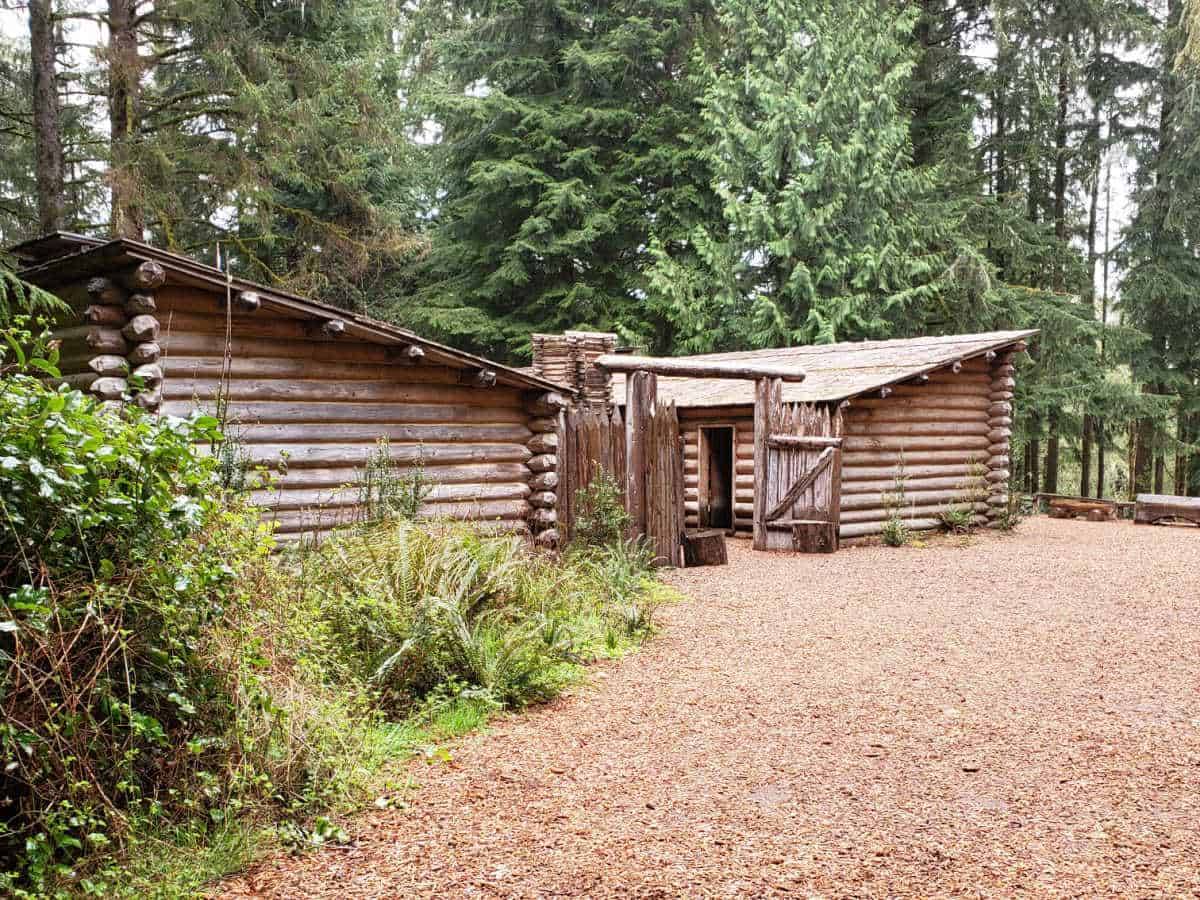 Details about Lewis and Clark National Historical Park
Size - 1,421 acres
Check out how the park compares to other National Parks by Size.
Date Established
The park was originally known and initially established as Fort Clatsop National Memorial on May 29, 1958, until it was renamed Lewis and Clark National Historical Park on October 30, 2004.
Visitation
In 2022, Lewis and Clark NHP had 279,924 park visitors.
In 2021, Lewis and Clark NHP had 274,230 park visitors.
In 2020, Lewis and Clark NHP had 161,230 park visitors.
In 2019, Lewis and Clark NHP had 270,993 park visitors.
Learn more about the most visited and least visited National Parks in the US
National Park Address
92343 Fort Clatsop Road, Astoria, OR 97103
Park phone number: (503) 861-2471
National Park Map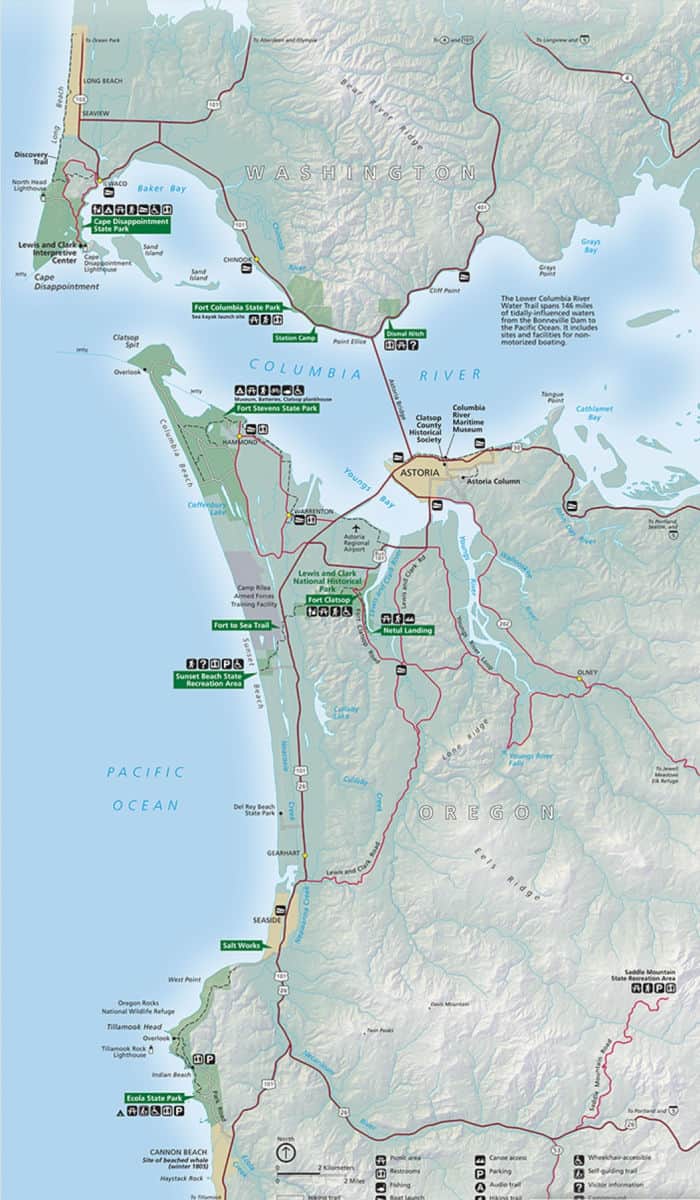 Where is Lewis and Clark National Historical Park?
The main site of Fort Clatsop is located south of Astoria just over Youngs Bay, east of the town of Warrenton, and approximately 14 miles north of Seaside.
Satellite sites include: Netul Landing, located 1.25 miles south of the main Fort Clatsop site. Middle Village, located on the 101 left off the Astoria-Megler Bridge.
Dismal Nitch, located on the 401 right off the Astoria-Megler Bridge.
The Salt Works, located off the Lewis and Clark Way in Seaside, Oregon. Keep an eye out for brown signs.
Estimated distance from major cities nearby
Portland, OR - 93 miles
Seattle, WA - 187 miles
Boise, ID - 523 miles
Reno, NV - 616 miles
Sacramento, CA - 664 miles
Estimated Distance from nearby National Park
Mount Rainier National Park - 152 miles
Crater Lake National Park - 317 miles
Olympic National Park - 132 miles
North Cascade National Park - 294 miles
Redwood National Park - 405 miles
Where is the National Park Visitor Center?
The Lewis and Clark National Historical Park Visitor Center is located at 92343 Fort Clatsop Road, Astoria, OR 97103, United States. The park is located near the mouth of the Columbia River in both Oregon and Washington, and the Visitor Center is situated on the Oregon side of the river.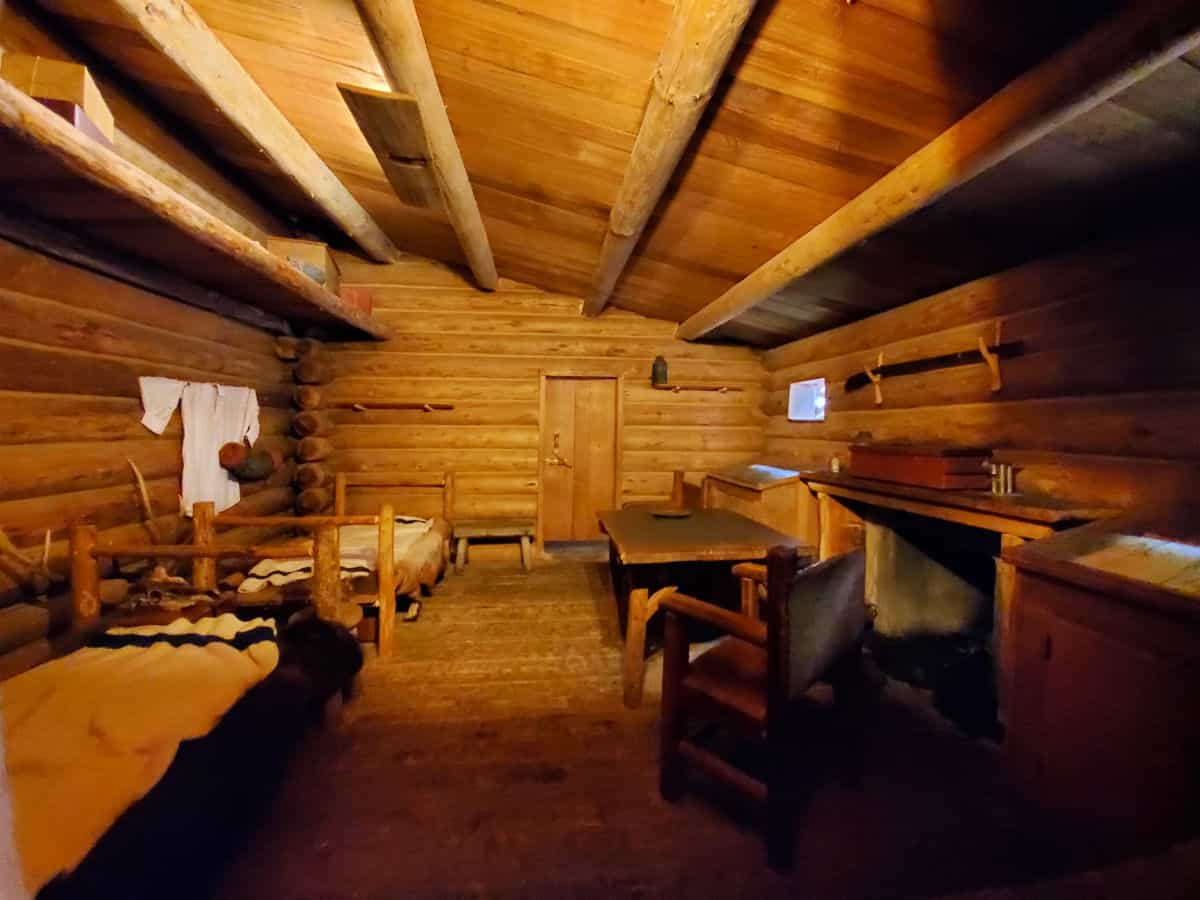 Getting to Lewis and Clark National Historical Park
Closest Airports
Astoria Regional Airport (AST / KAST)
Portland International Airport (PDX / KPDX)
International Airports
Seattle-Tacoma International Airport (SEA / KSEA)
Kenmore Air Harbor Seaplane Base (LKE / W55)
Friday Harbor Seaplane Base (FBS / W33)
Regional Airports
Southwest Washington Regional Airport (KLS / KKLS)
Driving Directions
From Portland South:
Take Highway 26 West to Seaside. Go North on Highway 101 through Seaside to Warrenton. Turn right at the stop light on SE Ensign Lane. Continue to drive about three miles, then turn right onto Fort Clatsop road. The entrance will be on your left.
From Portland North:
Take I-5 or Highway 205 North to Longview. Take the first exit to Longview (Highway 432 or the truck route) and follow truck route signs to Highway 433. Then turn left and take the BIG bridge over the Columbia River. Turn right onto Highway 30 West to Astoria.
From Astoria:
Go south on Highway 101 over the Youngs Bay Bridge.
After you have crossed the Youngs Bay Bridge you will come to a stop light just south of Fred Meyer on Marlin Ave. Take a left on Marlin Ave.
Go 0.3 miles to Alternate (Business) 101, and turn left
Continue 0.7 miles then take another left at Alternate (Business) 101.
Go 1.3 miles then turn right onto Fort Clatsop Road.
The park entrance will be on your left.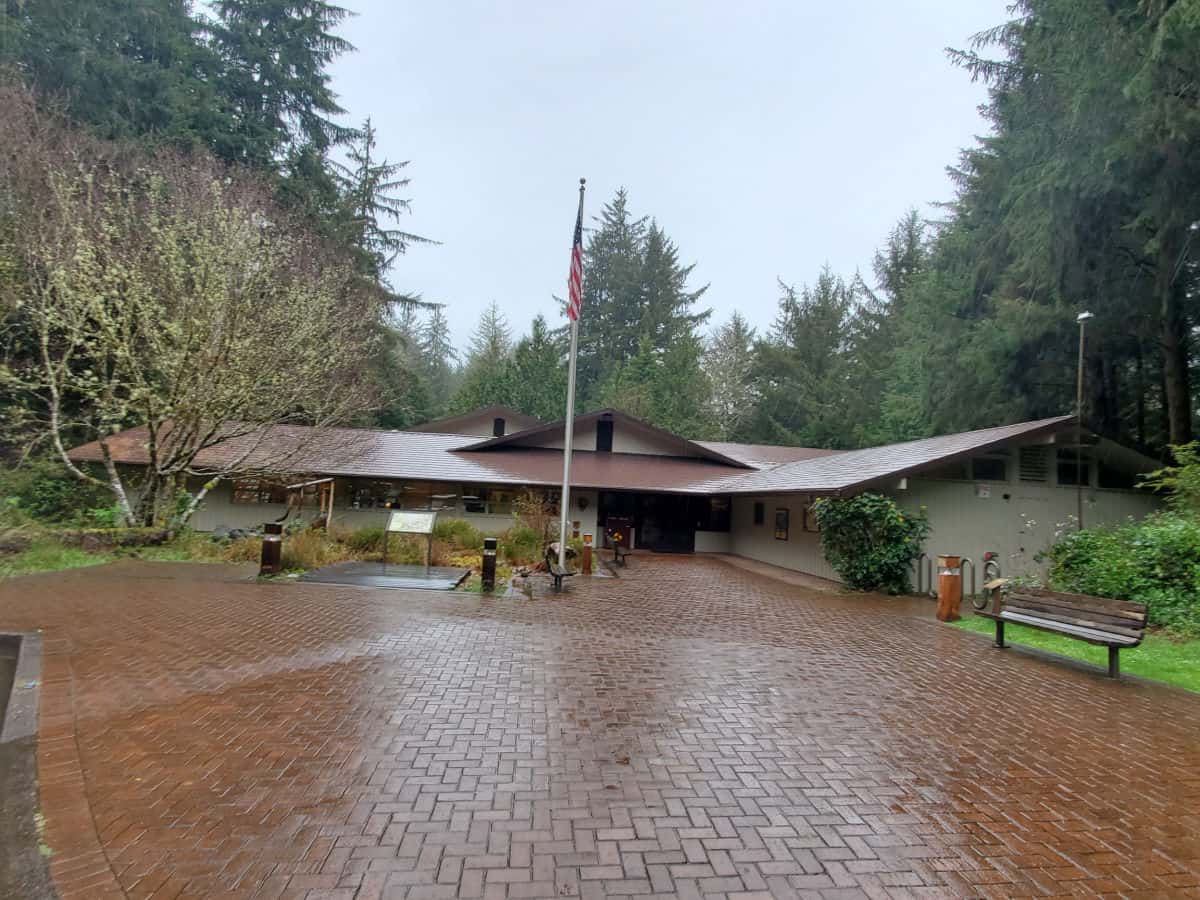 Best time to visit Lewis and Clark National Historical Park
The best time to visit Lewis and Clark National Historical Park is during the summer months of June, July, and August for outdoor activities like hiking, fishing, kayaking, and wildlife watching. The weather is generally warm and dry, and the park's trails and waterways are easily accessible.
Alternatively, visitors interested in history and cultural events should plan their visit during the fall and winter months when the park hosts a variety of programs related to the Lewis and Clark Expedition and Native American culture. The park's Interpretive Center is open year-round and offers exhibits and educational programs.
Weather and Seasons
The warmest weather is from June 19th to October 1st, with an average daily high temperature above 65 degrees.
The coldest weather is from November 21st to February 22nd, with an average daily high temperature below 52 degrees.
The coldest month is December, with an average low of 39 degrees and a high of 48 degrees.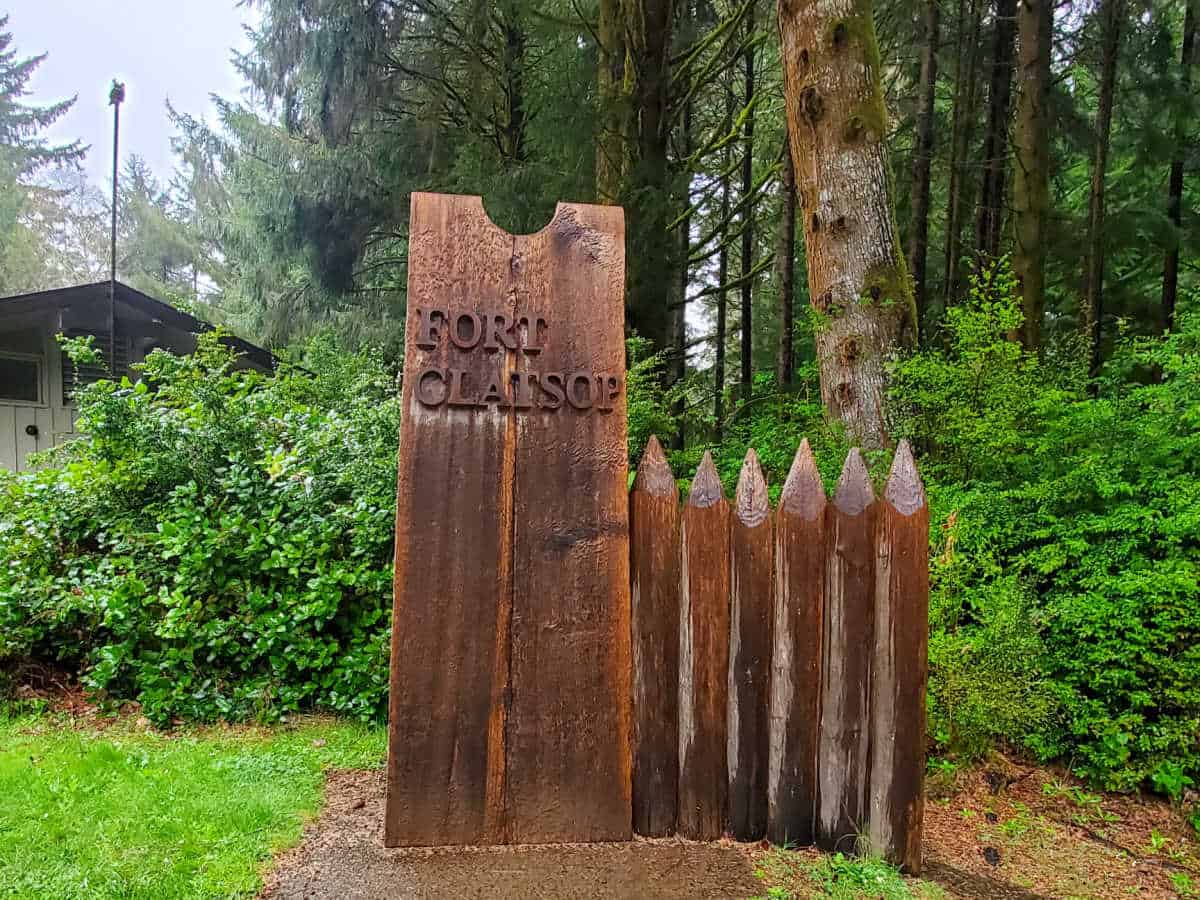 Top Things to do in Lewis and Clark NHP
Visitor Center
The park visitor center is filled with great information and displays. It is also the perfect place to hang out if you get stuck in a Northwest rain storm. Which happens frequently.
The park movies are really good. They do a nice job of explaining the expedition and life along the way
The Junior Ranger Program can be completed while visiting the visitor center and museum along with touring the fort.
Make sure your answers are fully completed because the Park Rangers will check every page. They are incredibly passionate about the junior ranger program which was so cool to see!
Fort Clatsop
Fort Clatsop features a re-creation of the wooden fort built by Lewis and Clark. The recreation was based on plans that were found in Clark's journals.
This is one of our favorite things to do in Astoria, Oregon!
Cell Phone Audio Tour
Dial (503)207-2240
Tour stops
Stop 1: Clatsop homelands
Stop 2: Winter encampment
Stop 3: Choosing a site
Stop 4: Guarding the fort
Stop 5: Parade ground
Stop 6: Enlisted men
Stop 7: Captains' quarters
Stop 8: Forest and freshwater
Stop 9: Canoe landing
Stop 10: Chinook canoe
Stop 11: Traveling through these lands
Ranger Program
During summer and winter breaks Fort Clatsop offers amazing ranger programs to help visitors learn more about Lewis and Clark and Fort Clatsop.
The park also offers ranger-guided canoe and kayak programs.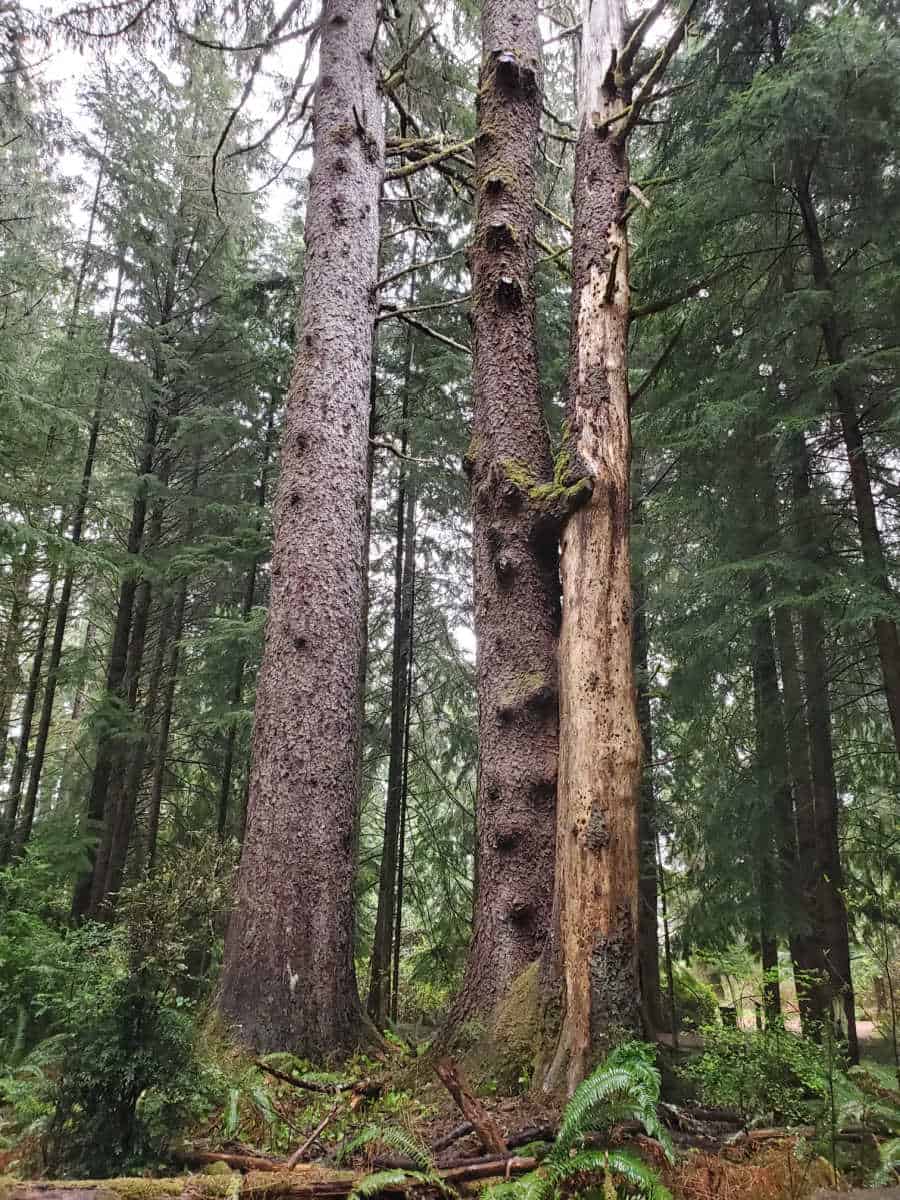 Hiking in Lewis and Clark National Historical Park
Always carry the 10 essentials for outdoor survival when exploring.
The park offers 14.5 miles of trails that are ready for you to explore.
How to beat the crowds in Lewis and Clark National Historical Park?
We did not experience any crowds while visiting the park.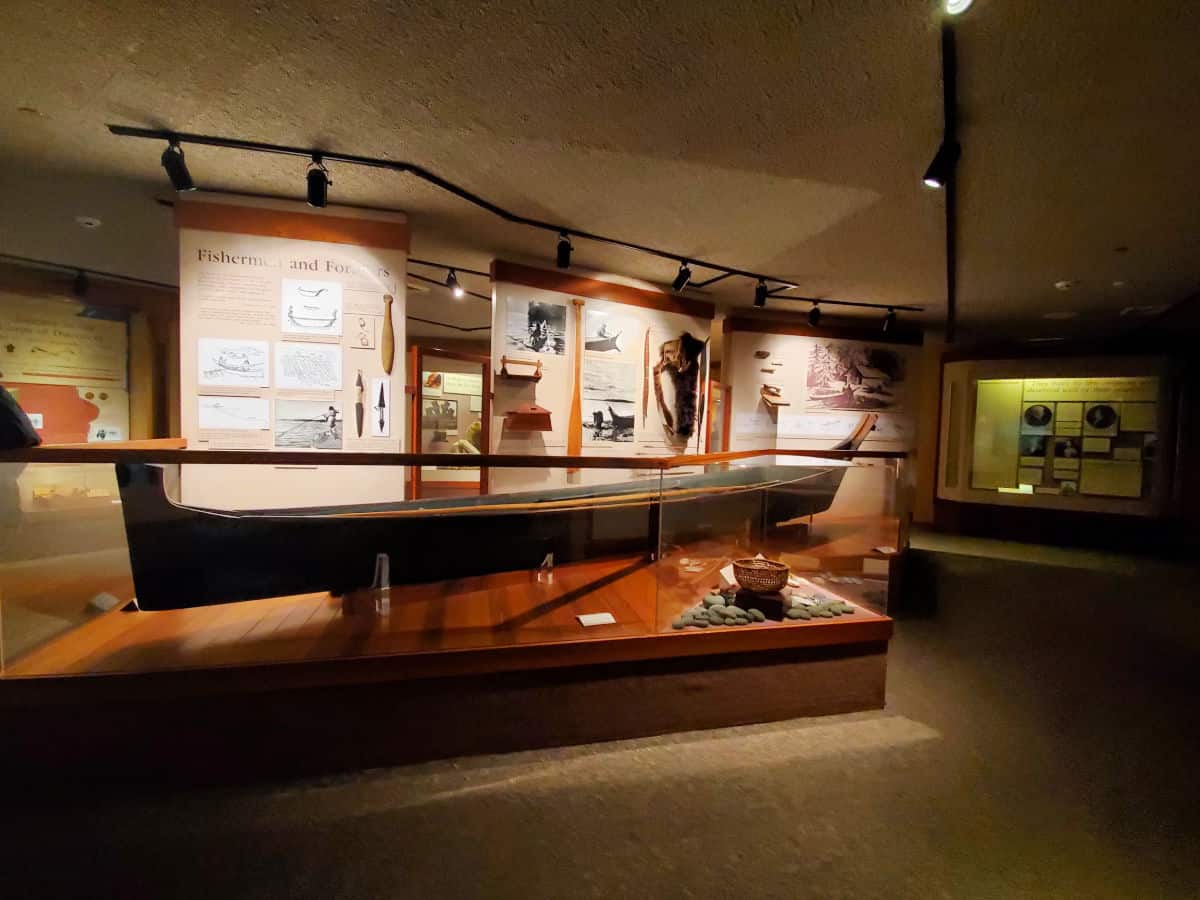 Where to stay when visiting Lewis and Clark National Historical Park
There are no National Park Lodges within the park.
Nearby lodging includes:
Shilo Inn Suites Hotel - Warrenton - 6 min drive from the park. At Shilo Inn Suites Hotel - Warrenton, you can look forward to a bar, a sauna, and a restaurant. Stay connected with free in-room Wi-Fi.
Lloyd Hotel Astoria Bayfront - At Lloyd Hotel Astoria Bayfront, Ascend Hotel Collection, you can look forward to free breakfast (local cuisine), a library, and laundry facilities. For some rest and relaxation, visit the sauna or the hot tub. In addition to a fireplace in the lobby and a 24-hour gym, guests can connect to free in-room Wi-Fi.
Astoria Riverwalk Inn - Hotel by the river. Consider a stay at Astoria Riverwalk Inn and take advantage of free self-serve breakfast, a marina, and a fireplace in the lobby. Guests can connect to free in-room Wi-Fi.
Click on the map below to check out additional lodging and vacation rentals near the park.


Camping
There are no National Park Campgrounds within the park.
For a fun adventure check out Escape Campervans. These campervans have built in beds, kitchen area with refrigerators, and more. You can have them fully set up with kitchen supplies, bedding, and other fun extras. They are painted with epic designs you can't miss!
Escape Campervans has offices in Vancouver, Seattle, Portland, San Francisco, Las Vegas, Los Angeles, Phoenix, Salt Lake City, Denver, Chicago, New York, and Orlando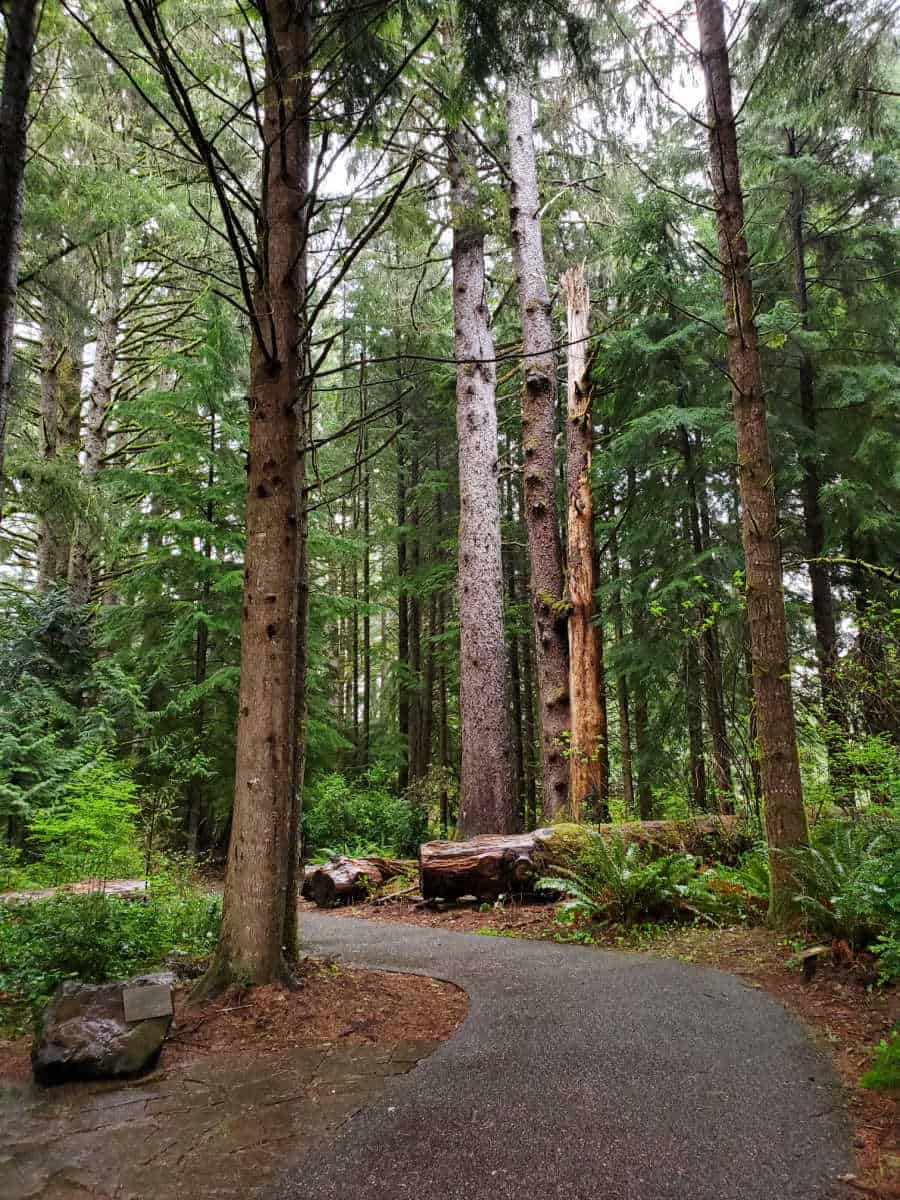 Parks Near Lewis & Clark National Historical Park
Lewis & Clark National Historic Trail
Fort Vancouver National Historic Site
Oregon National Historic Trail
San Juan Island National Historical Park
Whitman Mission National Historic Site
Ecola State Park
Fort Stevens State Park
Check out all of the National Parks in Oregon along with neighboring National Parks in California, Idaho National Parks, Nevada National Parks, and National Parks in Washington
Check out all of the National Historical Parks managed by the NPS