Everywhere among the redwoods there is overwhelming immensity, a gigantism that leaves mere mortals slack-jawed and unbelieving. Kings of their race, the redwoods are mighty titans whose straight, massive trunks soar 300 feet toward the sky, higher than any other tree on earth.
Accentuating the redwoods' unparalleled height is the fact that their furrowed, auburn trunks are often bare of branches for the first 100 or 200 feet. High overhead, the branches seem to sweep the clouds, their delicate, feathery foliage forming a celestial canopy far above the forest floor.
Although each tree is wondrous in itself, these giants derive their full power from being part of a pure redwood forest where their massed beauty becomes awesome, inspirational, and a bit intimidating. Such redwood forests are found only along California's northern coast, in a strip bounded on one side by mountains and on the other by the Pacific Ocean.
Dependent on warm, moist air, the redwood empire stretches nearly 500 miles in length, from Big Sur, south of San Francisco, to host over the Oregon border, and varies in width from 5 to 20 miles, depending on how far the ocean's wet fog fingers creep inland.
Height is not the coast redwoods' only impressive characteristic. In the redwood realm, as in the world of people, there is no correlation between an individual's age and its height and girth. Even when trees receive the same amount of sun, moisture, and nutrients, the tallest is not necessarily the oldest; the oldest; the oldest is not always the bulkiest; the shortest or slimmest is not inevitably the youngest. Why this should be so for the redwoods, and not other types of trees, remains a mystery locked deep inside these stately monarchs.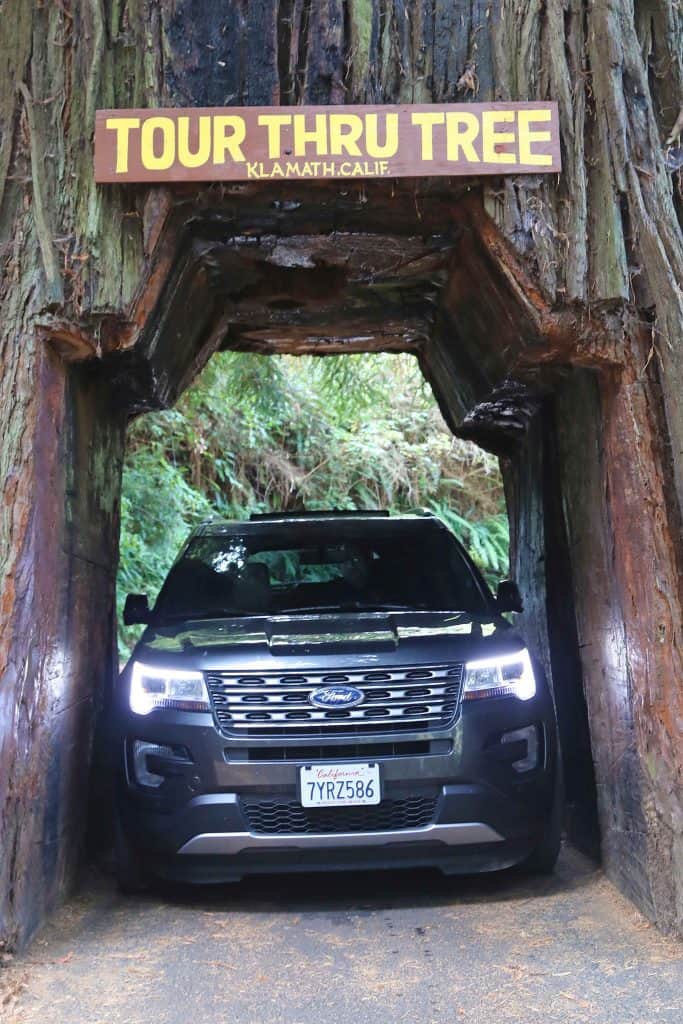 A breath away from immortality, the redwoods have an astonishingly long life span, a millennium or two is not unusual, earning them the nickname "the everlasting." They have few natural enemies and are stubbornly persistent in the face of adversity, triumphing over all but the most radical assaults on their wellbeing. Even when all upper growth is destroyed, the tenacious trees have a backup plan: they clone themselves. Coast redwoods have a regenerative ability rare in conifers, enabling them to produce sprouts from the many knobby burls that form along the bases of mature trees. When a parent tree is cut or damaged, the clones vigorously spring to life. In just a few weeks, the whole stump is awash with hundreds of hopeful new shoots; those receiving the best light and moisture will form a ring or "family circle" around the parent. Although redwoods can also reproduce by seed, sprouts grow faster and have a greater chance of survival, for sprouts are not new lives, like seedlings, but the same life in continuation, fed by established roots.
Despite the tree's gargantuan proportions, its cones are surprisingly small, hardly bigger than a human thumbnail. The seeds contained in these cones are minute; an astounding 125,000 of them are needed to make a pound. Each season, a tree releases millions of seeds, but anywhere from one-half to three-quarters are nonviable, and the remainder face terrible odds. Although winds sometimes carry the lucky ones far afield, most seeds fall within 200 to 400 feet of the parent, not a favorable place to be. To grow, a seed requires open soil, some sunshine, and adequate moisture, all difficult to obtain beneath the dense canopy of an already established redwood forest. Even the seeds that land in desirable places must survive still other perils, hungry wildlife, root rot, insufficient rain, sudden cold spells, drying hot winds. The mortality rate is astronomical. Only about one seedling out of a million lives to become a mature tree.
Once a redwood is tall enough to add its feathery boughs to the celestial canopy, it is almost indestructible, a formidable fortress that is able to protect itself against the ravages of fire and disease. Remarkably fire-resistant, a redwood will be killed only by the most savage inferno. It is saved by three things: its heavy layer of insulating bark, often more than a foot thick on a mature tree; the considerable water in the wood itself; and the absence of pitch, the flammable substance that ignites readily in other conifers. When flames do damage a coast redwood, leaving a hollowed-out or blackened trunk, the tree's cambium, or growth layer, will cover up the wound so completely that all evidence or the fire is gone. If just a fraction of a tree remains intact after a fire, the redwood will not die; instead it will heal and rejuvenate itself, eventually becoming the flourishing Olympian it once was.
While most other trees are vulnerable to fungus attacks and insect invasions, the coast redwood is not. Its bark and heartwood are well endowed with tannin, an astringent substance that not only gives the tree its rich, red color but also inhibits decay and repels insects: most dislike tannin's bitter taste.
Floods are a more formidable enemy: they can and do contribute to a redwood's demise by attacking its most vulnerable spot, the roots. One might imagine these forest skyscrapers to have taproots stretching almost to the center of the earth, but in fact the world's tallest trees have no taproots at all. Instead, they have shallow root systems that reach only 6 to 10 feet down, though they spread as much as 50 feet across. Because the whole network lies so close to the surface, floods can erode the soil from beneath the giant's base, leaving the hulking tower precariously perched atop a gaping hole. In such instances the verdict is nearly always the same, death by windfall.
Most frequently, though, floods have just the opposite effect: instead of washing away soil, they bring new layers, burying the roots under deep mounds. In these cases, the redwoods must adjust or smother. So with typical redwood panache, the trees simply grow new roots at higher level and carry on with their lives. One coast redwood is known to have survived as many as seven major floods and several minor ones, each time sprouting a new root layer. Not only had this patriarch's life begun 1,200 years earlier; it had started more than 11 feet deeper.
There are redwoods alive today that grew at the time of Christ; the species itself dates back some 20 million years; but the family from which it springs goes back even further, to a time when clumsy-footed dinosaurs dominated the animal kingdom. Cone-bearing evergreens that covered vast areas of the earth with what must have been an infinitude of green. Exactly when the first redwoods became a part of this scene is uncertain, although fossil leaves and cones embedded in ancient rock indicate that the ancestors of today's giant conifers existed at least 160 million years ago. They began in what may seem to us a very strange place, Greenland. Far too cold for redwoods today, this frigid frontier was, in eons past, a subtropical Eden of river deltas and floodplains.
The family proliferated, and at its zenith stretched across much of what is now Europe, Asia, and North America. But then geological forces reshaped the face of the earth and its climate. Mountains pushing skyward blocked humid sea winds, causing a drying trend across the Northern Hemisphere. The Arctic froze, and glaciers moved southward like bulldozers, crunching and flattening everything in their path. When the destruction ended, after the glaciers had melted, most of the giant trees were gone.
But not all; three kinds of redwoods survived. Two are native to California, the coast redwood and the sierra redwood (better known as the giant sequoia), which grows along the Sierra Nevada's western slopes. The third species, the dawn redwood, is native to the other side of the world, flourishing in China's remote interior provinces.
Because the two Californians look alike, they are often taken for the same tree. But the differences are many: the coast redwoods are taller; the giant sequoias are wider, with more wood relative to their height, and they are older, outliving their coast relatives by almost 1,000 years. Compared with its colossal cousins, the dawn redwood is a midget, seldom exceeding a height of 140 feet. Unlike the Californian trees, it is deciduous, scattering its needle like leaves in amber drifts each fall.
Check out all of these great Things to do in Redwood National Park!