The World War 2 Memorial honors the 16 million men who served in uniform, of whom over 400,000 gave their lives.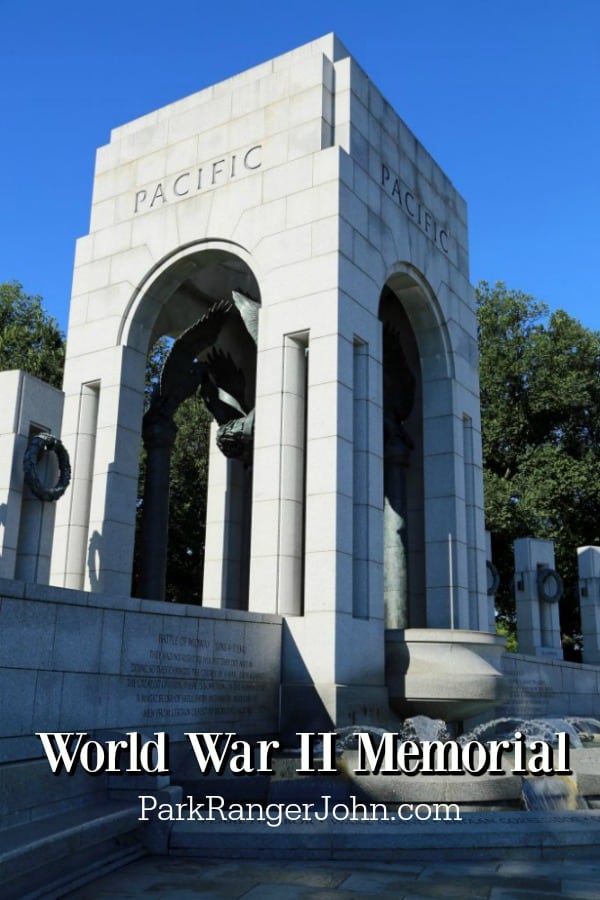 World War II Memorial
Today I am sharing photos of the World War II Memorial in Washington DC. The World War II Memorial was dedicated on May 29, 2004.
Over the span of four days, a Grand Reunion of Veterans dedicated the World War 2 Memorial in Washington DC. The memorial is a dedication of tribute to the legacy of the Greatest Generation.
The Memorial honors the service of members of the Armed Forces, the support of the home front, and the ultimate sacrifice of 405,399 Americans.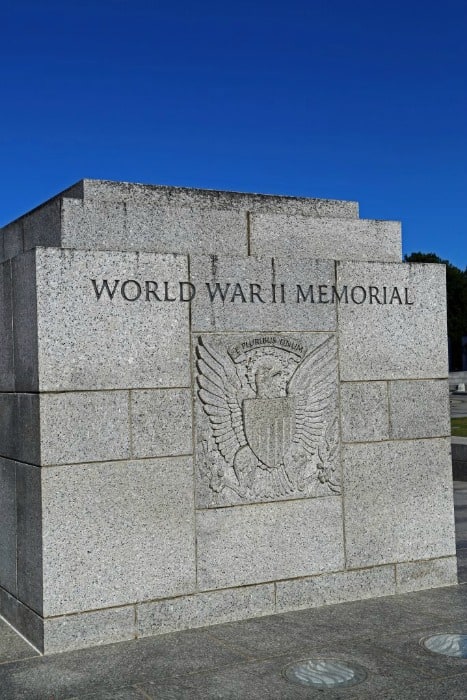 The World War II Memorial is a unit of National Mall and Memorial Parks. Construction of the World War 2 Memorial started in September 2001.
The memorial opened to the public on April 29, 2004, and was dedicated 1 month later.
Wreaths of oak and wheat on each of the pillars symbolize the nation's industrial and agricultural strengths. Both of which were essential to the success of the global war front.
The Freedom Wall's 4,000 gold stars commemorate the more than 400,000 Americans who gave their lives in the war. All those who served received the WWII Victory Medal that also adorns the pavilion floors.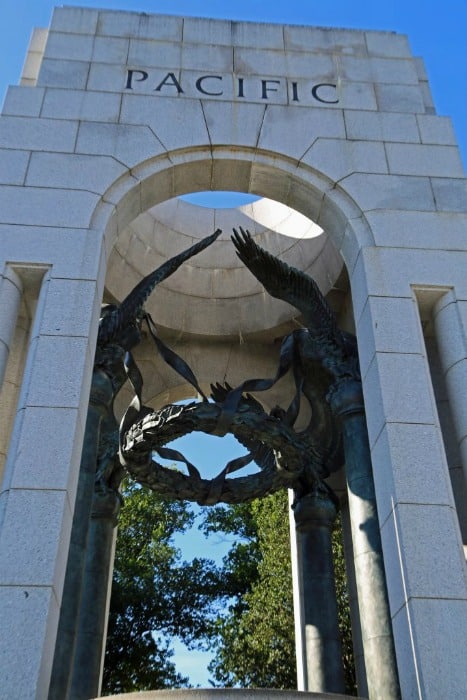 Twin Atlantic and Pacific pavilions symbolize a war fought across two oceans.
Granite columns represent each of the U.S. States and Territories that were in existence at the time of World War 2. These columns ring a pool that has water shooting high into the air. Along with the memorial, there are also quotes, referencing battles, campaigns, and theaters from World War 2.
There is a registry of names, facts, and photos from World War 2 available at the World War 2 registry.
My wife Tammilee was able to look up her Grandfather Glendon Lakes who served in World War 2 and find him in the registry.
You can search the registry for your family information if you do not find your loved one mentioned you can ask to have them added to the registry.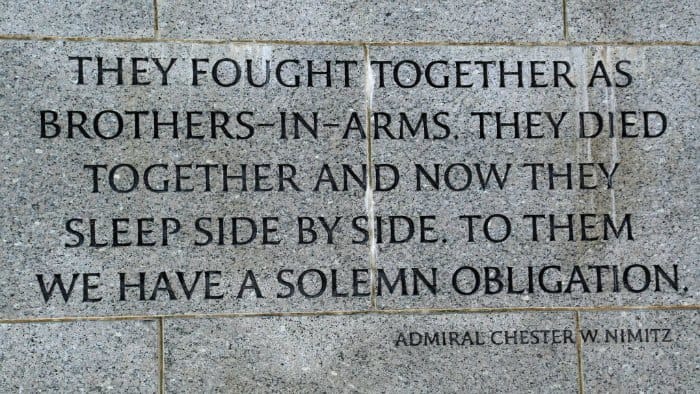 Plan your visit to the World War 2 Memorial!
Hours - National Mall and Memorial Parks is open 24 hours a day. The early evening and morning hours are beautiful and tranquil times to visit.
Rangers are on duty to answer questions from 9:30 a.m. to 10:00 p.m. daily and to provide interpretive programs throughout the day and upon request.
The World War II Memorial fountains are winterized from approximately December through March.
Address - The World War 2 memorial is located on 17th street, between Constitution and Independence Avenues.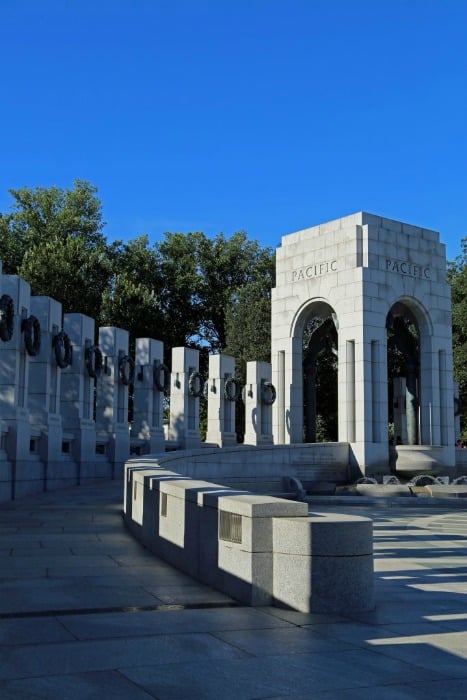 National Park Service Sites Related To World War II
Edward R. Murrow Park, National Mall and Memorial Parks, DC
Japanese American Memorial to Patriotism During World War II, National Mall and Memorial Parks, DC
First Division Monument, President's Park, Washington, DC
Second Division Memorial, President's Park, DC
Tuskegee Airmen National Historic Site, AL
Aleutian World War II National Historical Park, Aleutian Islands
Golden Gate National Recreation Area, CA
Manzanar National Historic Site, CA
Port Chicago Naval Magazine National Memorial, CA
Rosie the Riveter/World War II Home Front National Historical Park, CA
War in the Pacific National Historical Park, Guam
USS Arizona Memorial, HI
World War II Valor in the Pacific National Monument, HI, AK, & CA
Harry S Truman National Historic Site, MO
American Memorial Park, Northern Mariana Islands
Eisenhower National Historic Site, PA
Fort Hunt NHS, George Washington Memorial Parkway, VA
U.S. Marine Corps War Memorial, George Washington Memorial Parkway, VA
Minidoka National Historic Site, WA & ID
National Park Sites near World War II Memorial
Belmont-Paul Women's Equality National Monument
Carter G. Woodson Home National Historic Site
Chesapeake and Ohio Canal National Historical Park
Constitution Gardens
Ford's Theatre National Historic Site
Frederick Douglass National Historic Site
George Washington Memorial Parkway
Lyndon Baines Johnson Memorial Grove on the Potomac
Mary McLeod Bethune Council House National Historic Site
National Capital Parks
National Mall
Pennsylvania Avenue National Historic Site
Rock Creek Park
Theodore Roosevelt Island
Thomas Jefferson Memorial
Washington Monument
White House
World War I Memorial
Check out all of the National Parks in Washington DC