The World War 2 Memorial honors the 16 million who served in uniform, of whom over 400,000 gave their lives.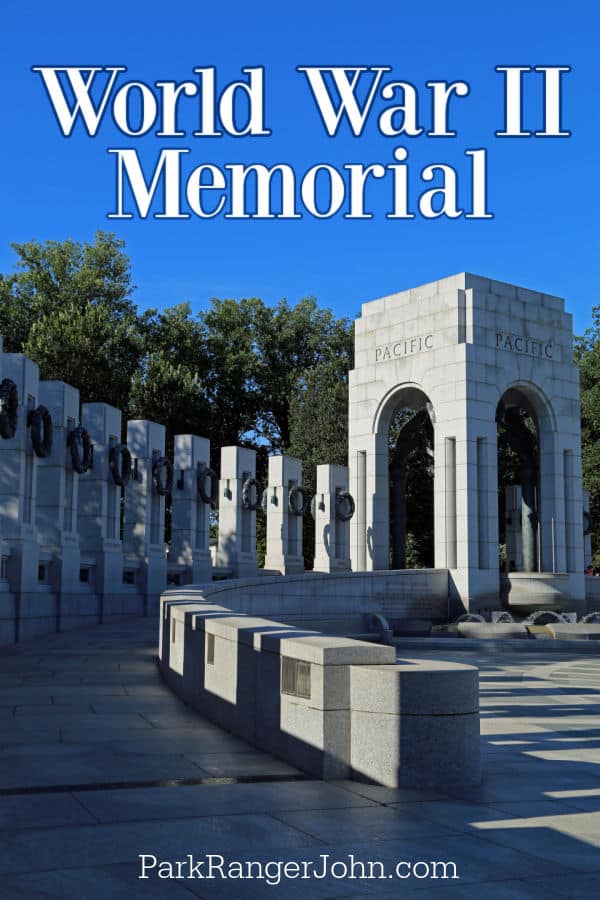 World War II Memorial
The World War II Memorial was dedicated on May 29, 2004.
Over the span of four days, a Grand Reunion of Veterans dedicated the World War 2 Memorial in Washington DC. The memorial is a dedication of tribute to the legacy of the Greatest Generation.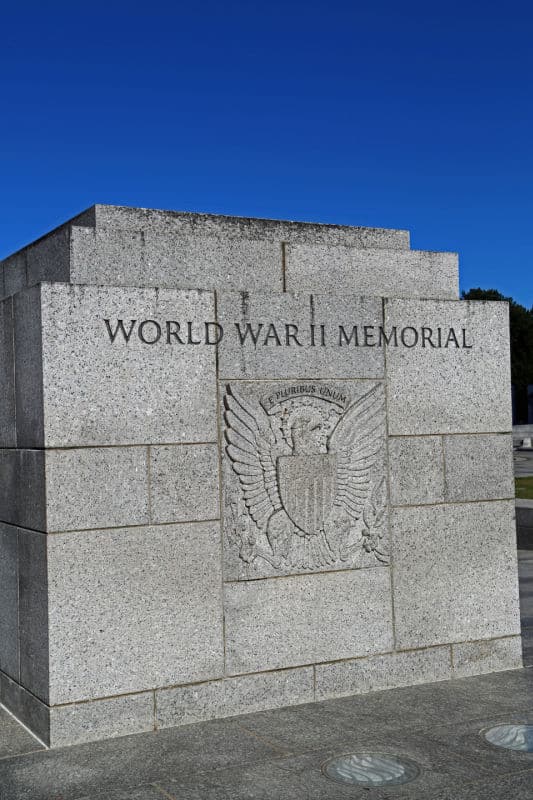 About World War II Memorial
The Memorial honors the service of members of the Armed Forces, the support of the home front, and the ultimate sacrifice of 405,399 Americans.
The World War II Memorial is a unit of National Mall and Memorial Parks. Construction of the World War 2 Memorial started in September 2001.
The memorial opened to the public on April 29, 2004, and was dedicated 1 month later.
Wreaths of oak and wheat on each of the pillars symbolize the nation's industrial and agricultural strengths. Both of which were essential to the success of the global war front.
The Freedom Wall's 4,000 gold stars commemorate the more than 400,000 Americans who gave their lives in the war. All those who served received the WWII Victory Medal that also adorns the pavilion floors.
Twin Atlantic and Pacific pavilions symbolize a war fought across two oceans.
Granite columns represent each of the U.S. States and Territories that were in existence at the time of World War 2. These columns ring a pool that has water shooting high into the air. Along with the memorial, there are also quotes, referencing battles, campaigns, and theaters from World War 2.
Learn more about all of the World War II National Park Sites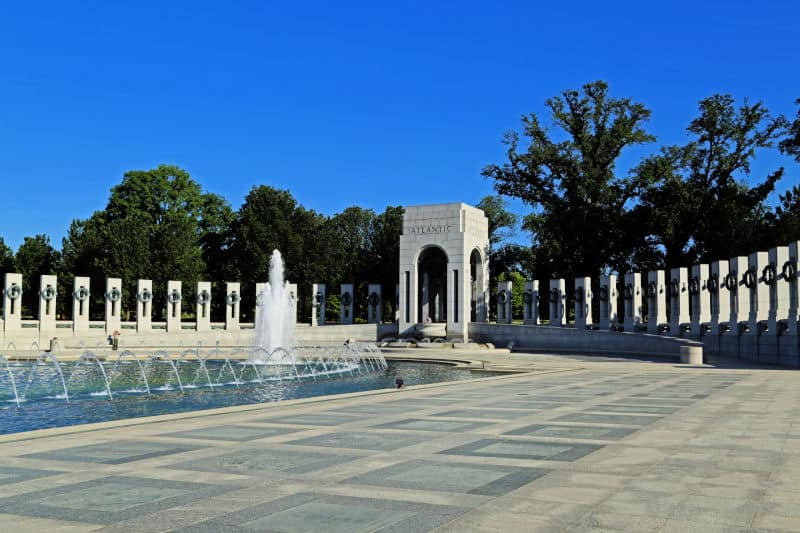 Is World War II Memorial worth visiting?
Yes! The World War II Memorial gives visitors the opportunity to reflect on the second World War and what transpired.
History of World War II Memorial
The wwii Memorial Veterans Memorial remembers the Americans who served during the Second World War. The Second World War is the deadliest conflict in human history. The global death toll is estimated to be between 70-80 Million, over 400 000 of which were American citizens.
World War II began in Europe in September 1939 when the German Dictator, Aldoph Hitler, invaded Poland. Europe was plunged into another devastating war just two decades after the First World War when Britain and France declared war on Germany.
America initially believed Hitler to be Europe's problem and did not offer military assistance. This was their stance until Japan attacked the U.S Pacific Naval fleet at Pearl Harbor, Hawaii on the 7th of December 1941. Beginning the war in the Pacific. The atrocities of World War II are unlike any the world had and has ever seen again.
The Rise of the Third Reich
The Second World War has its origins in the conclusion of the First World War or the Great War. When the Great War ended, a peace treaty was signed called the Treaty of Versaille. The terms of the treaty concerning Germany, who was the aggressor during the war, were extremely harsh.
The economic and political repercussions of the treaty, further impacted by the Great Depression, created the perfect breeding ground for Nationalism to rise within the country. One party, in particular, the National Socialist German Workers Party, or the Nazi Party, rose to prominence with a charismatic leader at the helm, Adolph Hitler.
Hitler broke the terms of the treaty of Versailles and began rearming the German army. Hilter believed that the German people were superior to all others. Because of this, the German people needed space to expand their "Aryan race". The Rhineland, Austria, and Czechoslovakia were the first to be occupied.
War in Europe
Hitler invaded Poland on the 1st of September 1939. World War II officially began two days later, on the 3rd of September. The war escalated in April 1940, when Hitler invaded Norway and Denmark. Belgium and the Netherlands were next, with parts of France occupied by June.
By the end of June, Hitler had invaded the U.S.S.R, despite having made a non-aggression pact with Joseph Stalin. Hitler's invasion and occupation of Europe was quick and deadly.
His attention turned to the United Kingdom, beginning a bombing campaign of industrial centers in Britain to help his plan to cross the English Channel with hopes of occupying the Island.
Not only was Hitler occupying Europe, but he was also trying to eradicate the European Jewish population, implementing his "Final Solution". The mass murder of the European Jewish community and others deemed unfit to co-exist with the Aryan race were systematically murdered in concentration camps and mass shootings.
American Involvement
In September 1940, Hitler signed a pact with his allies, Japan and Italy. The three would become known as the Axis powers. Italy joined the German front in Europe, and Japan brought World War II to the Pacific.
From 1939 to 1941, the U.S involvement in the war was minimal, that of volunteers and aid sent to Europe. Up until December 7th, 1941, when the Imperial Empire of Japan attacked the U.S Pacific Naval Fleet and the bases of Pearl Harbor.
Killing over 2 300 American servicemen, women, and civilians.
Before attacking the U.S, Japan had invaded several territories in the Pacific, including China. The Japanese attack on America was not out of the blue as tensions between the two nations were mounting.
Tensions heightened when the U.S placed economic sanctions on Japan in response to its aggressive global expansion strategy.
War in the Pacific
The attack on Pearl Harbor dragged a reluctant U.S into World War II. Germany and Italy declared war on the U.S on the 8th of December, 1941, and the first U.S troops landed in Europe in January 1942.
Japan had carried out concurrent attacks on territories throughout the Pacific at the time of Pearl Harbor. The Japanese attack at Pearl Harbor was supposed to prevent the U.S from being able to interfere with its operations in the Pacific by destroying the U.S Pacific Naval Fleet. This was not the case.
The War in the Pacific was exceptionally fierce. The war crimes committed on all sides were horrific, and over 27 thousand American personnel were imprisoned in Japanese internment camps. Prisoners of war were treated terribly, with more than 40% of prisoners dying.
The End of WWII
The fighting raged on all fronts from 1941, but by 1943 Mussolini was defeated by the Allies. At the same time, the Germans were being forced out of Soviet Russia and North Africa.
The Allied forces landed on the beach at Normandy in 1944 to begin the re-occupation of Europe. British, American, and Canadian troops stormed the beach at Normandy on June 6th.
A day forever remembered as D-Day, may have signaled the end of the War in Europe, but the Pacific War continued.
After suffering heavy losses at Iowa Jima and Okinawa, American President Truman decided to use the deadly new weapon in America's arsenal to force Japan to surrender.
On the 6th and 9th of August, atomic bombs fell on the cities of Hiroshima and Nagasaki. Japan surrendered on August 15th, which effectively ended the deadliest conflict in history.
The World War II Veterans Memorial serves to remember all those who gave their lives for freedom and serves as a reminder of humanity's darkest hour.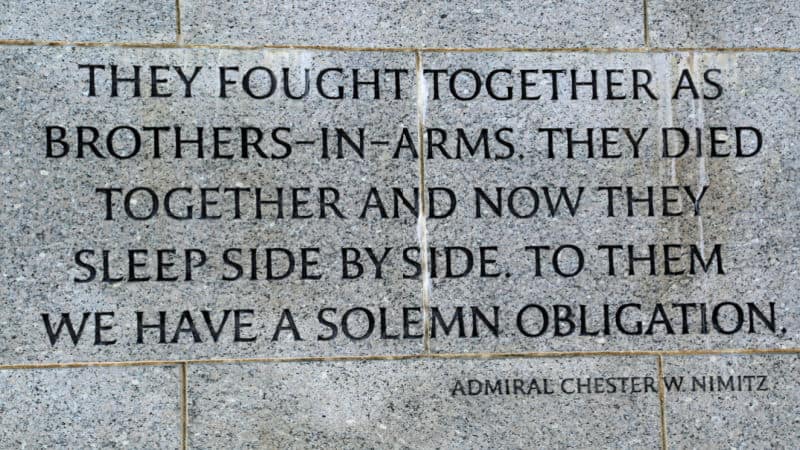 Things to know before your visit to World War II Memorial
Entrance fee
$0.00 - There is no entrance fee to visit the park
Planning a National Park vacation? America the Beautiful/National Park Pass covers entrance fees for an entire year to all US National Park Sites and over 2,000 Federal Recreation Fee Sites.
The park pass covers everyone in the car for per vehicle sites and for up to 4 adults for per-person sites.
Buy on REI.com and REI will donate 10% of pass proceeds to the National Forest Foundation, National Park Foundation and the U.S. Endowment for Forestry & Communities.
Learn more about National Park Passes for parks that have an entrance fee.
Free Entrance Days -Mark your calendars with the five free entrance days the National Park Service offers annually.
Time Zone
Eastern Time Zone
Pets
Leashed pets are allowed on the National Mall. They are not allowed in buildings, the National Sculpture Garden, or in most memorials.
Cell Service
We had great cell service while in Washington DC
Park Hours
National Mall and Memorial Parks are open 24 hours a day.
Rangers are on duty to answer questions from 9:30 a.m. to 10:00 p.m. daily and to provide interpretive programs throughout the day and upon request.
The World War II Memorial fountains are winterized from approximately December through March.
Wi-Fi
There may be free public Wi-Fi in different areas of the National Mall
Insect Repellent
Insect repellent is always a great idea when outdoors, especially if you are around any body of water.
We use Permethrin Spray on our clothes before our park trips.
Water Bottle
Make sure to bring your own water bottle and plenty of water with you. Plastic water bottles are not sold in the park.
Parking
Parking can be difficult to find. Parking is available along Ohio Drive, SW between the Lincoln and Thomas Jefferson Memorials.
There are 1,200 metered parking spaces through the National Mall area provided by the National Park Service.
These parking pay stations accept debit and credit cards. They do not accept cash or coins.
Payment can also be made via the Parkmobile app or website.
Metered parking can be found:
Constitution Avenue NW between 15th Street NW and 23rd Street NW
Parkway Drive SW
Ohio Drive SW in West Potomac Park (between Independence Ave and Inlet Bridge)
West Basin Drive SW (entire length, between Ohio Drive and Independence Avenue)
Tidal Basin parking lot (paddle boats)
Madison Drive NW
Jefferson Drive SW
Lots A, B, and C on Ohio Drive SW (East Potomac Park)
Lot on Buckeye Drive (adjacent to tennis courts)
There are 300 free parking spaces at Hains Point within East Potomac Park.
Accessible parking spaces are available for vehicles displaying disability parking permits, placards, and vehicle tags. In the areas where a parking fee is being charged visitors will need to pay for the accessible parking spaces.
Motorcycles can park in lots A, B, C areas off of Ohio Drive.
Food/Restaurants
There are no restaurants within the park.
Gas
There are no gas stations within the park.
Drones
Drones are not permitted within National Park Sites.
National Park Passport Stamps
National Park Passport stamps can be found in the visitor center.
Make sure to bring your National Park Passport Book with you or we like to pack these circle stickers so we don't have to bring our entire book with us.
The World War II Memorial is part of the 2005 Passport Stamp Set
Electric Vehicle Charging
There are 500 public EV Charging Stations in Washington DC (Level 2 and Level 3)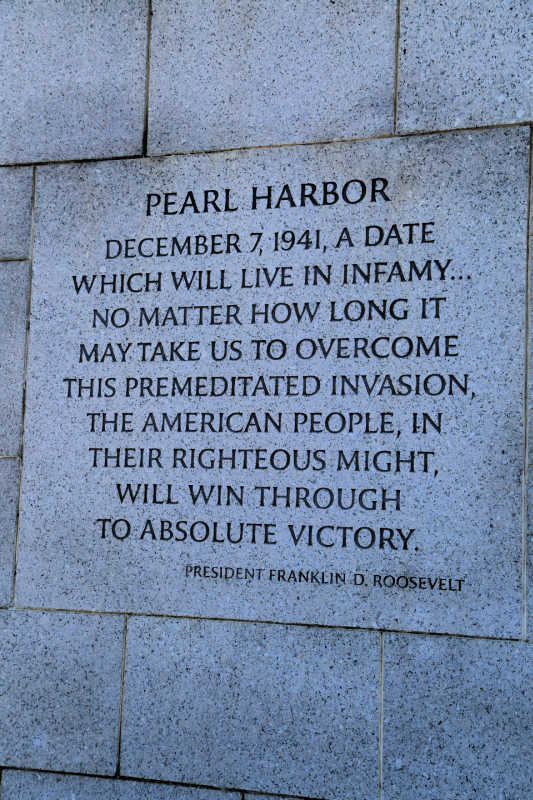 Details about World War II Memorial
Size - 7.4 acres
Check out how the park compares to other National Parks by Size.
Date Established
Created - May 25, 1993, President Clinton authorized the American Battle Monuments Commission (ABMC) to establish the World War II Memorial in Washington DC.
Dedicated May 29, 2004
November 1, 2004, the memorial became part of the National Park Service
Visitation
In 2021, World War II had 3,727,167 park visitors.
In 2020, World War II had 1,924,128 park visitors.
In 2019, World War II had 4,831,327 park visitors.
Learn more about the most visited and least visited National Parks in the US
World War II Memorial Address
The World War 2 memorial is located on 17th street, between Constitution and Independence Avenues.
World War II Memorial Map

There are great walking maps for Washington DC that offers information on a street and site-by-site basis.
We have used these popout maps before. They are small and easy to carry with you.
There is also a National Geographic Destination City Map available on Amazon.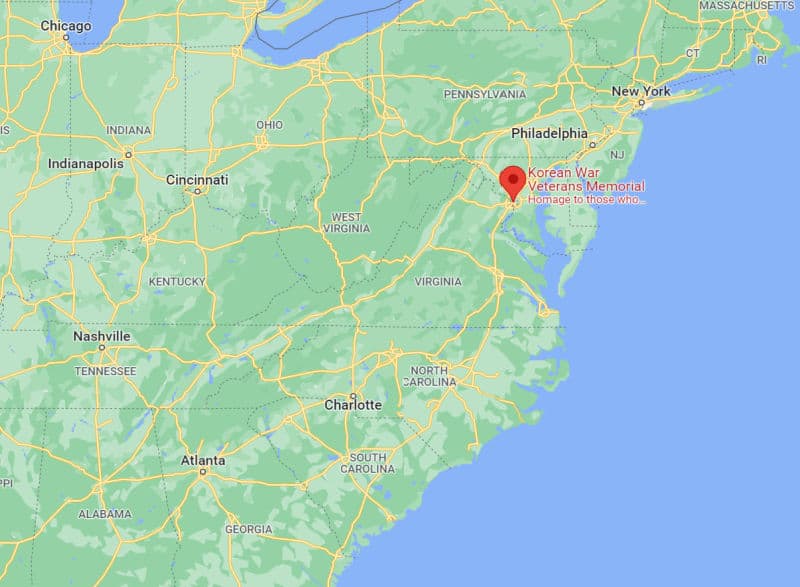 Where is the World War II Memorial?
Located on the National Mall in Washington DC
Estimated distance from major cities nearby
Baltimore, MD - 41 miles
Philadelphia, PA - 142 miles
Norfolk, VA - 199 miles
Virginia Beach, VA - 206 miles
Pittsburgh, PA - 245 miles
Newark, NJ - 220 miles
Jersey City, NJ - 226 miles
New York, NY - 229 miles
Estimated Distance from nearby National Park
Shenandoah National Park - 69 miles
New River Gorge National Park - 293 miles
Mammoth Cave National Park - 674 miles
Congaree National Park - 481 miles
Acadia National Park - 710 miles
Cuyahoga Valley National Park - 349 miles
Indiana Dunes National Park - 656 miles
Where is the National Park Visitor Center?
Rangers are on duty to answer questions from 9:30 am to 10:00 pm daily. They provide interpretive programs throughout the day and upon request.
The only day Park Rangers are not present is on Christmas.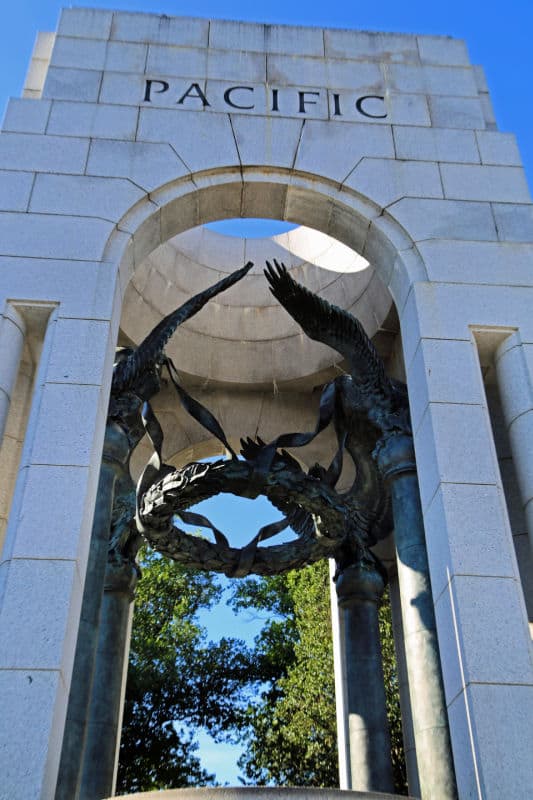 Getting to World War II Memorial
Closest Airports
Ronald Reagan Washington National Airport
Washington Dulles International Airport
International Airports
Baltimore Washington International Thurgood Marshall Airport
Driving Directions
From the South - Interstate 395 provides access to the National Mall and Memorial Parks.
From the North - Interstate 495, New York Avenue, Rock Creek, and the Potomac Parkway, George Washington Memorial Parkway, and the Cabin John Parkway provide access.
From the West - Interstate 66, US Route 50, and US Route 29 provide access.
From the East - US Route 50, 1, and 4 provide access.
Public Transportation
Public Transportation is a great way to visit the parks. There are multiple options including the DC Subway System (Metro), or the DC Circulator Bus.
The closest Metro stops are Foggy Bottom or Federal Triangle on the Orange, Blue, and Silver lines.
On Off Bus Tour
One of our favorite ways to explore Washington DC is on an On Off Bus Tour.
This is the perfect way to let someone else do the driving. Plus, you can sit on the top deck and get epic pictures while riding around the city.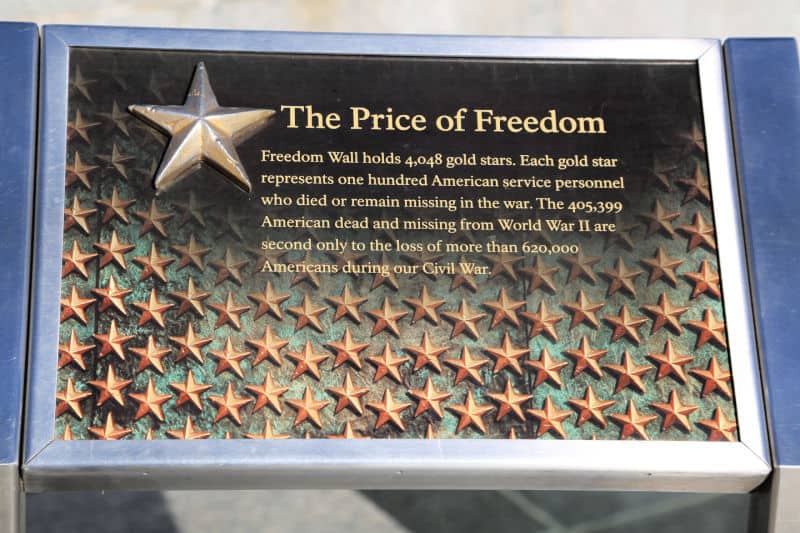 Best time to visit World War II Memorial
The best time to visit Washington DC is June and then Mid August to early October. The weather should be nice without being crazy muggy or hot.
Weather and Seasons
Summers are warm and muggy in Washington DC while winters are super cold and snowy.
The hottest weather is from May 30 to September 16th when the average daily temperature is above 79 degrees.
The coldest weather is from December 1st to March 4th with an average temperature below 52 degrees.
The coldest month is January. May gets the most rain with an average of 3.5 inches.
February gets the most snow with an average of 5.4 inches.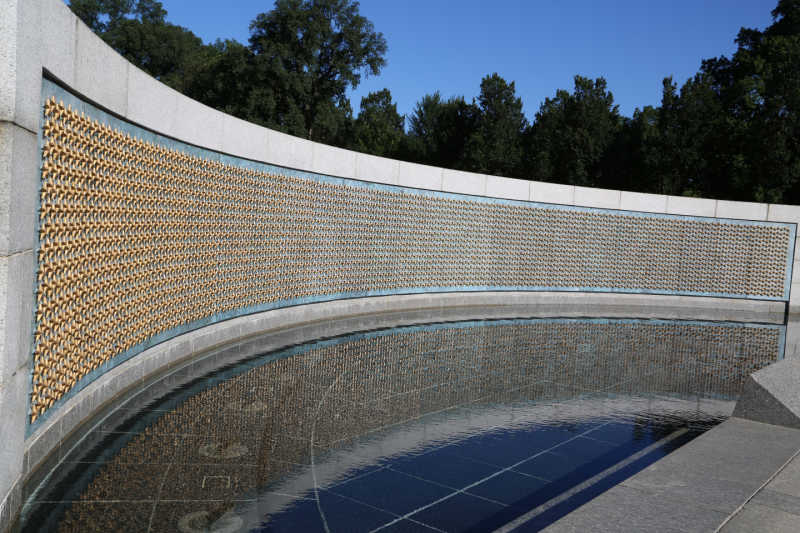 Best Things to do in World War II Memorial
The best thing to do at the Memorial is to view the twenty-four bronze bas-relief panels that flank the ceremonial entrance.
Granite columns represent each US State and Territory at the time of World War II.
Surrounding the area are two massive victory pavilions that chronicle the efforts it took to win the war.
4,048 gold stars represent the sacrifice made by over 400,000 Americans during the war.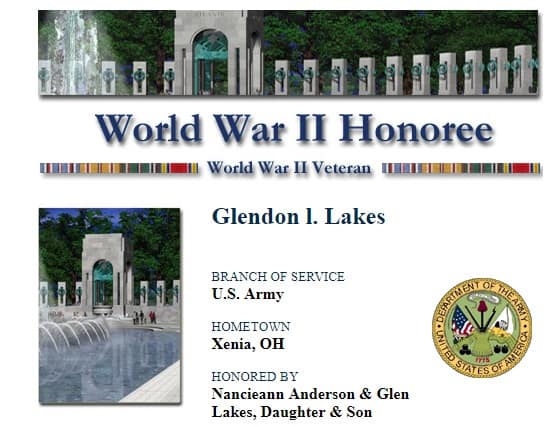 World War II registry
There is a registry of names, facts, and photos from World War 2 available at the World War 2 registry.
My wife Tammilee was able to look up her Grandfather Glendon Lakes who served in World War 2 and find him in the registry.
You can search the registry for your family information if you do not find your loved one mentioned you can ask to have them added to the registry.
The National Mall Parks are all part of the same Junior Ranger Program.
Guided Tours
A great way to visit the Memorial and other park sites is on a guided tour.
This is the perfect way to learn more about the sites without having to worry about driving and parking in town.
DC Monuments and Memorial Tour - This tour visits the Capitol Building, White House, Lincoln Memorial, World War II Memorial, and more.
National Mall and Memorials Guided Walking Tour - This 2.5 hour tour guides you through the top sites on the National Mall.
Monuments by Moonlight Nighttime Trolley Tour - Experience the sights of Washington D.C. by night on a guided trolley tour of the city's most popular monuments. Along the way, learn about the fascinating history of the nation's capital.
African American History Tour - Go back in time to some of the most iconic moments of the civil rights movement, with a fascinating African American history tour of Washington, DC.
Big Bus Hop On Hop Off Tour - Explore Washington, DC's famous and historic landmarks with a 24-, 48-, or 72-hour ticket. See the city at your own pace with unlimited access to two hop-on hop-off sightseeing tours
Sightseeing Segway Tour - See the major hot spots in Washington, D.C. on a Segway adventure. Take a ride by the National Mall, Capitol Hill, White House, and Pennsylvania Avenue. Roll by some off-the-beaten-path spots.
There are a ton of tours available in Washington DC! From food tours to ghost tours you can find an amazing tour to enhance your visit.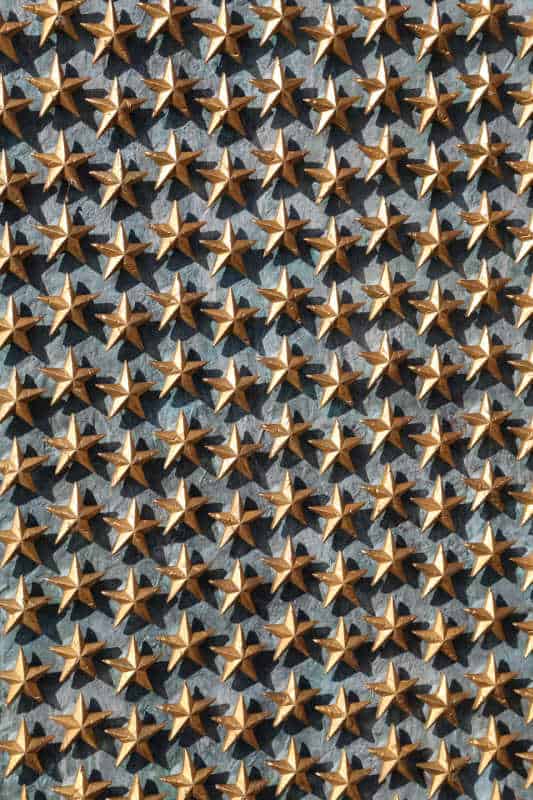 How to beat the crowds in the World War II Memorial?
The best way to beat the crowds is to arrive early in the morning and later in the evening.
Where to stay when visiting World War II Memorial
There are no National Park Lodges in Washington DC.
Lodging near the WW2Memorial includes:
Fairmont Washington, D.C - This aparthotel features an indoor pool, a restaurant, and a health club. Other amenities include a bar/lounge, a sauna, and Wi-Fi in public areas. Each apartment offers WiFi, an iPod dock, and an LCD TV with cable channels. Added amenities include 24-hour room service, wired Internet, and premium bedding.
Hilton Washington DC Capitol Hill - 4-star hotel near National Mall. Hilton Washington DC Capitol Hill is located close to Union Station Shopping Center and United States Capitol, and provides dry cleaning/laundry services, a bar, and a gym. Stay connected with free in-room Wi-Fi, and guests can find other amenities such as a conference center and a restaurant.
Riggs Washington DC - 5-star luxury hotel. Close to Walter E. Washington Convention Center and National Museum of African American History and Culture, Riggs Washington DC provides a terrace, a garden, and dry cleaning/laundry services. The onsite American cuisine brasserie, Café Riggs, features brunch and light fare. Stay connected with free in-room Wi-Fi, and guests can find other amenities such as a bar and a 24-hour health club.
Courtyard by Marriott Washington, DC - Located in Washington (Foggy Bottom), Courtyard by Marriott Washington, DC/Foggy Bottom is within a 15-minute walk of George Washington University and Vietnam Veterans Memorial. This hotel is 0.6 mi (1 km) from White House and 0.7 mi (1.1 km) from Lincoln Memorial.
Holiday Inn Washington-Central/White House - Close to Walter E. Washington Convention Center and George Washington University, Holiday Inn Washington-Central/White House, an IHG Hotel provides shopping on site, an arcade/game room, and dry cleaning/laundry services. Be sure to enjoy a meal at Johnny Rockets Restaurant, the onsite restaurant. In addition to a bar and a gym, guests can connect to free in-room Wi-Fi.
Click on the map below to see current rates for vacation rentals and hotels in Washington DC and surrounding area.
Camping
National Park Service Sites related to World War II
Edward R. Murrow Park, National Mall and Memorial Parks, DC
Japanese American Memorial to Patriotism During World War II, National Mall and Memorial Parks, DC
First Division Monument, President's Park, Washington, DC
Second Division Memorial, President's Park, DC
Tuskegee Airmen National Historic Site, AL
Aleutian World War II National Historical Park, Aleutian Islands
Golden Gate National Recreation Area, CA
Manzanar National Historic Site, CA
Port Chicago Naval Magazine National Memorial, CA
Rosie the Riveter/World War II Home Front National Historical Park, CA
War in the Pacific National Historical Park, Guam
USS Arizona Memorial, HI
World War II Valor in the Pacific National Monument, HI, AK, & CA
Harry S Truman National Historic Site, MO
American Memorial Park, Northern Mariana Islands
Eisenhower National Historic Site, PA
Fort Hunt NHS, George Washington Memorial Parkway, VA
U.S. Marine Corps War Memorial, George Washington Memorial Parkway, VA
Minidoka National Historic Site, WA & ID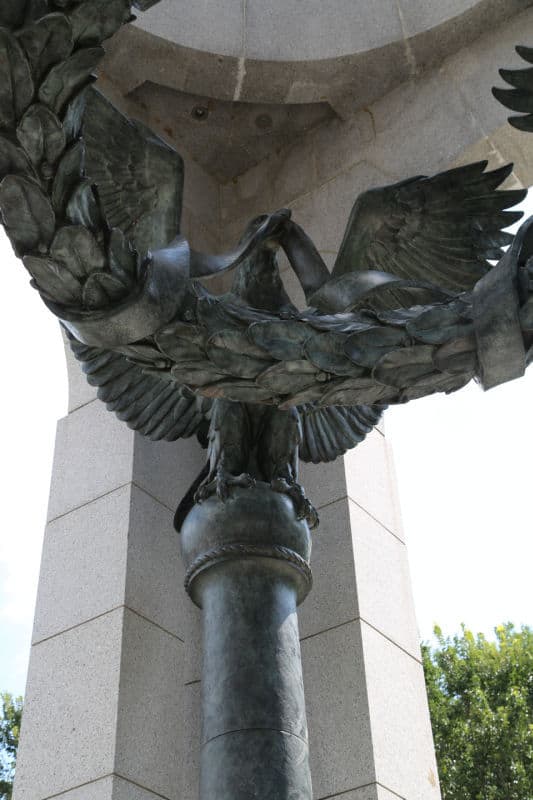 Parks Near World War II Memorial
Ford's Theatre National Historic Site
Franklin D. Roosevelt Memorial
Martin Luther King, Jr. Memorial
Thomas Jefferson Memorial
Washington Monument
Print off this list of all National Park Sites to count how many you have visited. Plus you can print this List of National Parks to see how many of the 63 National Parks you have visited.
Check out these great Washington DC Apps to help you plan a great vacation.
Check out all of the World War I National Park Sites