Epic Guide to the Lincoln Memorial in Washington DC including things to see, history, how to get to the park, and so much more.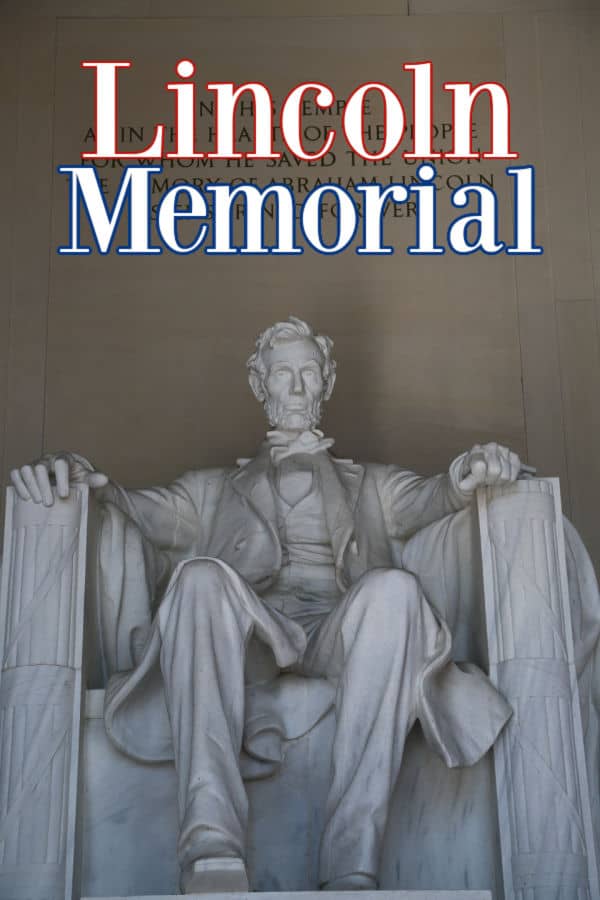 Lincoln Memorial
The Lincoln Memorial is a must-visit during a trip to the nation's capital Washington D.C.! Located at the western end of the National Mall the Lincoln Memorial is not to be missed.
You will want to be prepared for crowds if you are visiting during the middle of the day or honestly really anytime during the day. The memorial is visited by over six million people a year.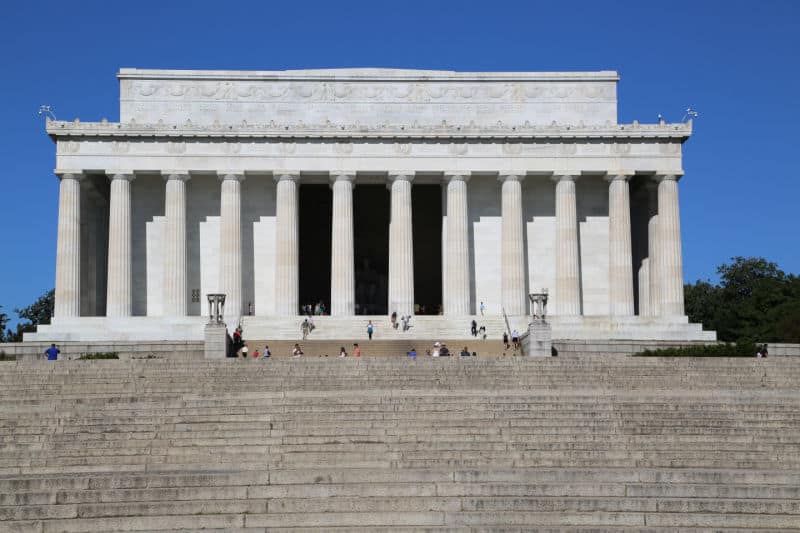 About Lincoln Memorial
The Lincoln Memorial honors Abraham Lincoln the 16th President of the United States. President Lincoln served during the Civil War, emancipated enslaved people in the South, preserved the Union and was then assassinated in 1865.
It is hard to believe that the construction of the Lincoln Memorial was started in February of 1914. Over 100 years ago and it is massive.
There are 36 columns around the memorial representing the states in the union at the time of Lincoln's death. The names of the 48 states that were in the Union at the date of completion in 1922 are carved in the exterior attic walls.
It is interesting to know that Robert Todd Lincoln, Presidents Lincolns only surviving son attended the dedication ceremony in 1922. Can you imagine the feeling of seeing this massive structure created in remembrance of your father? Just incredible.
The Lincoln Memorial was dedicated in 1922. The building was inspired by Greek temples and includes 36 Doric columns that represent the 36 states that were in the Union was President Lincoln was assassinated.
The Statue of Abraham Lincoln was created by artist Daniel Chester French. There are also two large murals entitled "Unity" and "Emancipation" by artist Jules Guerin.
What Quote is above President Lincoln at the Lincoln Memorial?
In this temple as in the hearts o the people for whom he saved the Union the memory of Abraham Lincoln is enshrined forever.
When was the Lincoln Memorial Built?
The construction of the memorial took eight years to complete, from 1914-1922.
How tall is the Lincoln Memorial?
The height of the memorial is 99 feet
The sculpture of the sitting Abraham Lincoln is 19 feet.
What is the Lincoln Memorial Made of?
The marble used for the building portion of the memorial was from Colorado.
The marble used for Abraham Lincoln's statue was from Georgia.
The exterior is Colorado white marble, interior walls and columns Indiana limestone, sculpture Georgia white marble, chamber floor Tennessee pink marble, and skylights Alabama marble.
How much did the Lincoln Memorial Cost?
Cost of building--$2,957,000
Cost of statue - $88,400
Total cost - $3,045,400
Why are there 58 steps at the Lincoln Memorial?
There are 58 steps from the chamber to the plaza level, and 87 steps from the chamber to the reflecting pool.
There is no significance to the number of steps of the Lincoln Memorial.
Which Bill has the Lincoln Memorial?
The $5 bill features the Lincoln Memorial on the back and Abraham Lincoln on the front. This bill is often referred to as the Lincoln Memorial Bill
Lincoln Memorial Facts
The sculpture of President Abraham Lincoln was designed by sculptor Daniel Chester French.
There were 36 states of the Union when President Lincoln was assassinated. This is the reason that there were 36 columns designed into the Lincoln Memorial.
Martin Luther King gave his 'I Have a Dream' speech on the steps of the memorial on August 28th, 1963.
The memorial is pictured on the back of the U.S. $5 bill and on one side of the U.S. penny.
Lincoln Memorial was added to the National Register of Historic Places on October 15th, 1966.
Is Lincoln Memorial worth visiting?
Yes! This is an iconic Bucket List National Park Site to visit and so worth it.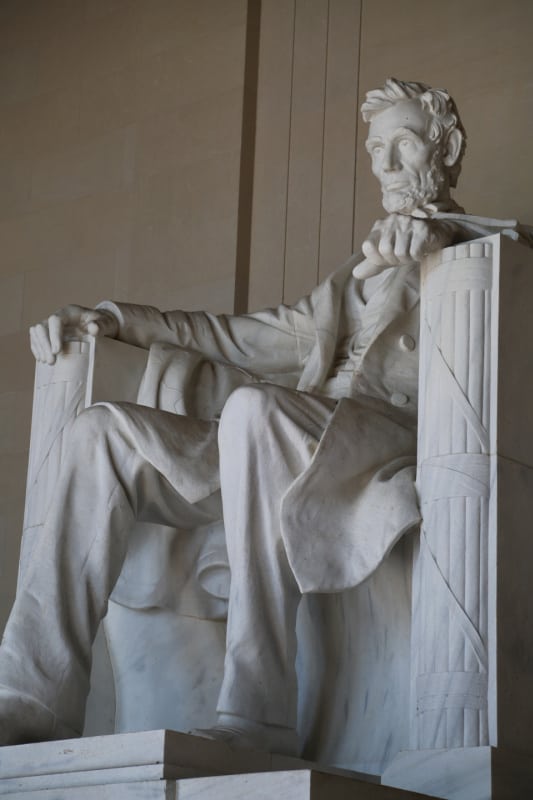 History of Lincoln Memorial
The Lincoln Memorial is located in Washington, D.C. on the west side of the National Mall. It sits across from the Washington Memorial.
Born in a small Kentucky cabin in 1809, young Abraham Lincoln's parents, Tom and Nancy, instilled in him hard work, education, and kindness towards others.
At an early age, others recognized the constant determination of Lincoln to work hard and succeed at whatever he did. Nicknamed the "rail-splitter" it was said he could split 400 rails a day.
Lincoln's interest in politics stemmed from a respect of the founding fathers and he was elected to the Illinois legislature in the 1830s.
Additionally, Lincoln taught himself law and was admitted to the Illinois bar in 1837. Lincoln's life began modest and poor, but in 1842, one more change – he married socially prominent Mary Todd.
The couple had four sons together. A member of the House of Representatives and then a Senate race all led to Lincoln's national notoriety and his election as the 16th president of the United States in 1860.
The Confederate States of America formed in 1861; Lincoln realized the problems between the north and the south would not be resolved without great action.
As the Civil War broke out between the Union and the Confederacy, Lincoln issued the Emancipation Proclamation in January 1863. This held that all slaves being held in the Confederate slaves were thereby considered free.
Lincoln was reelected in 1864, vowing that the Union's goal was to create unity among the nation. The April 1865 victory of the Union placed the literal United States of America down a new path and one that would test Lincoln in his new role as Reconstructionist.
Tragically, just five days after the Confederacy surrendered, Lincoln was assassinated at Ford's Theater in Washington, D.C. on April 14, 1856. The Confederate sympathizer assassin long worked as a suave actor in the D.C. theater scene.
The "rail-splitter's" legacy of hope, freedom for all, and unification for the country has never been forgotten, and in the wake of the tragedy, the Lincoln Monument Association was created.
The first public memorial was placed in D.C.'s City Hall and was built by Lot Flannery in 1868. The Lincoln Monument Association was at work planning a much larger monument although this project took much planning and years to come to fruition.
Official authorization for the monument was given in 1911, and in 1914, American architect Henry Bacon was chosen to serve as designer, as his grand plan was to somewhat mimic the Parthenon in Athens. Ground was broken to begin the project in February of 1914.
The site for the memorial was a low, flat land surrounded by three waterways. Great care had to be taken in constructing such a massive structure at this location.
The sub-foundation was created using 122 concrete piers with steel rods placed into the bedrock. The upper foundation is a series of more piers resting on columns.
The top piers were joined together by concrete arches and later covered with a casing of marble. Construction continued steadily until 1917 when America entered World War I. Construction never ceased but was slowed down considerably.
By the time the Parthenon-type exterior was complete, it was clear that the initial vision for the statue of Lincoln would need to be scaled much larger. Additional steel was added under the floor of the memorial to prepare for the statue of Lincoln to be placed.
Truly a labor of American love that Lincoln himself would've appreciated, materials for the construction of the spectacular structure were collected from unique locations across the country.
The upper steps and columns contain marble from Colorado. The lower steps are made of granite blocks from Massachusetts. The interior walls are made from Indiana limestone. Georgia, Tennessee, and Alabama marble are found in floor and ceiling tiles, and the Lincoln statue itself.
Henry Bacon's vision in all of these materials were not by random, it was a symbol of national unification to create a moving tribute to a truly remarkable leader.
The Gettysburg Address and Second Inaugural were carved into stone under murals painted at the tops of the north and south walls.
The north wall mural is entitled Unity. It represents the Angel of Truth placing together the hands of two people – representing the north and south. Her wings are enclosing seven figures which represent Painting, Philosophy, Music, Architecture, Chemistry, Literature, and Sculpture.
The memorial architect himself, Henry Bacon is located on the left of the mural as well. The south wall mural is entitled Emancipation. It depicts the Angel of Truth releasing slaves from their shackles. On the left side, Justice and Law are represented and on the right, Faith, Hope, and Charity.
In January 1920, the statue of Lincoln himself was completed. The exquisitely carved Lincoln was created by six skilled immigrant brothers.
They created their masterpiece in the Bronx of New York city, and the piece was then transported as large blocks to D.C. and put back together with nearly invisible seams. Details of Lincoln's sculpture subtly hide deep meaning.
Lincoln's hands were sculpted to include one hand clenched into a fist and one open wide.
The clenched hand represents Lincoln's determination to see the Civil War through to its end, and the open hand symbolizes Lincoln's openness to welcome back the Confederacy into the Union.
The Lincoln Memorial was dedicated on May 30, 1922. Surely what would have saddened the deceased President was the fact that the dedication ceremony was racial segregated.
Black citizens in attendance were placed far from the memorial and had to stand behind a rope barrier. The lone African American speaker at the ceremony was famed Tuskegee Institute president Dr. Robert Russa Moton. Moton was not allowed to sit on the stage with fellow speakers during the ceremony.
What President Lincoln stood for and what the memorial represents was an ongoing battle in the United States for years to come.
On August 8, 1963 famed civil rights leader Dr. Martin Luther King, Jr. delivered his iconic "I Have a Dream" speech in front of the Lincoln Memorial.
To begin his speech he alludes to one of Lincoln's most famous speeches by stating "Five score years ago…" In reference to the Emancipation Proclamation, King stated "It came as a joyous daybreak to end the long night of their captivity."
As he sits stoic, staring through the columns and into the grandeur that is America's capital, President Lincoln lives on through his National Memorial.
The site reminds citizens of American's history and the fact that poor, humble, hardworking rail-splitters have the freedom to become one of the world's most influential leaders.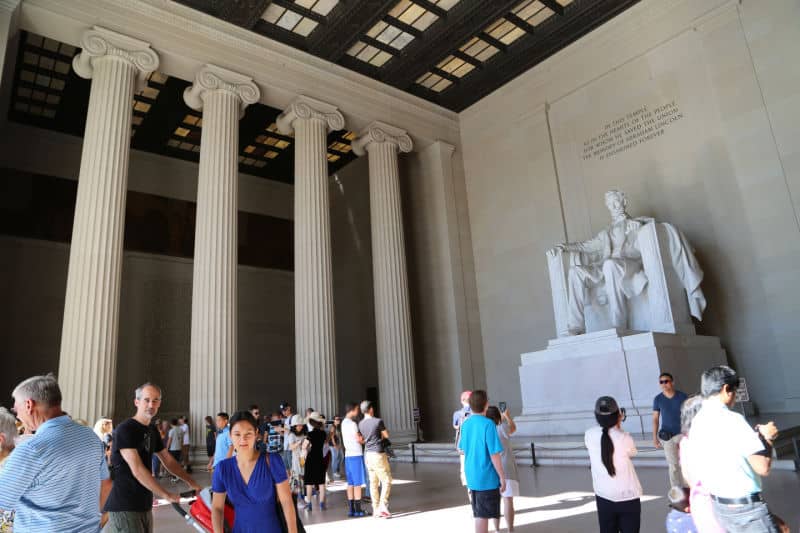 Things to know before your visit to Lincoln Memorial
Entrance fee
$0.00 - There is no fee to visit the Lincoln Memorial
Planning a National Park vacation? America the Beautiful/National Park Pass covers entrance fees for an entire year to all US National Park Sites and over 2,000 Federal Recreation Fee Sites.
The park pass covers everyone in the car for per vehicle sites and for up to 4 adults for per-person sites.
Buy on REI.com and REI will donate 10% of pass proceeds to the National Forest Foundation, National Park Foundation and the U.S. Endowment for Forestry & Communities.
Free Entrance Days -Mark your calendars with the five free entrance days the National Park Service offers annually.
Time Zone
Eastern Time Zone
Pets
Leashed pets are allowed on the National Mall. They are not allowed in buildings, the National Sculpture Garden or in most memorials.
Cell Service
We had great cell service while visiting the park.
Park Hours
The park is open 24 hours a day
Restrooms, museums, and elevators close in the evenings
The Lincoln Memorial is open 364 days a year. The memorial is closed on December 25th.
Wi-Fi
Wi-Fi is not available in the park. It is available at nearby coffee shops and hotels.
Insect Repellent
Insect repellent is always a great idea when outdoors, especially if you are around any body of water.
We use Permethrin Spray on our clothes before our park trips.
Water Bottle
Make sure to bring your own water bottle and plenty of water with you. Plastic water bottles are not sold in the park.
Parking
If you are wondering where to park for Lincoln Memorial it is good to know that parking can be difficult to find. Parking is available along Ohio Drive, SW between the Lincoln and Thomas Jefferson Memorials.
There are 1,200 metered parking spaces through the National Mall area provided by the National Park Service.
These parking pay stations accept debit and credit cards. They do not accept cash or coins.
Payment can also be made via the Parkmobile app or website.
Metered parking can be found:
Constitution Avenue NW between 15th Street NW and 23rd Street NW
Parkway Drive SW
Ohio Drive SW in West Potomac Park (between Independence Ave and Inlet Bridge)
West Basin Drive SW (entire length, between Ohio Drive and Independence Avenue)
Tidal Basin parking lot (paddle boats)
Madison Drive NW
Jefferson Drive SW
Lots A, B, and C on Ohio Drive SW (East Potomac
There are 300 free parking spaces at Hains Point within East Potomac Park.
Accessible parking spaces are available for vehicles displaying disability parking permits, placards, and vehicle tags. In the areas where a parking fee is being charged visitors will need to pay for the accessible parking spaces.
Motorcycles can park in lots A, B, C areas off of Ohio Drive.
Food/Restaurants
There are no restaurants within the park.
Gas
There are no gas stations within the park.
Drones
Drones are not permitted within National Park Sites.
National Park Passport Stamps
National Park Passport stamps can be found in the visitor center.
Make sure to bring your National Park Passport Book with you or we like to pack these circle stickers so we don't have to bring our entire book with us.
The Lincoln Memorial is part of the 1995 Passport Stamp Set
Electric Vehicle Charging
There are 500 public EV Charging Stations in Washington DC (Level 2 and Level 3)
Accessibility
Is the Lincoln Memorial Wheelchair Accessible?
There is a wheelchair accessible elevator in the basement of the Lincoln Memorial that will take you up to the memorial chamber area.
There is an accessible restroom in the basement of the memorial.
Braille brochures are available on site for visitors or you can or call 202-426-6841 to provide advance notice of your visit.
Accessible parking spaces are available on David Chester French Drive.
Closed captioning is available for the films in the Lincoln and Thomas Jefferson Memorials and the Washington Monument.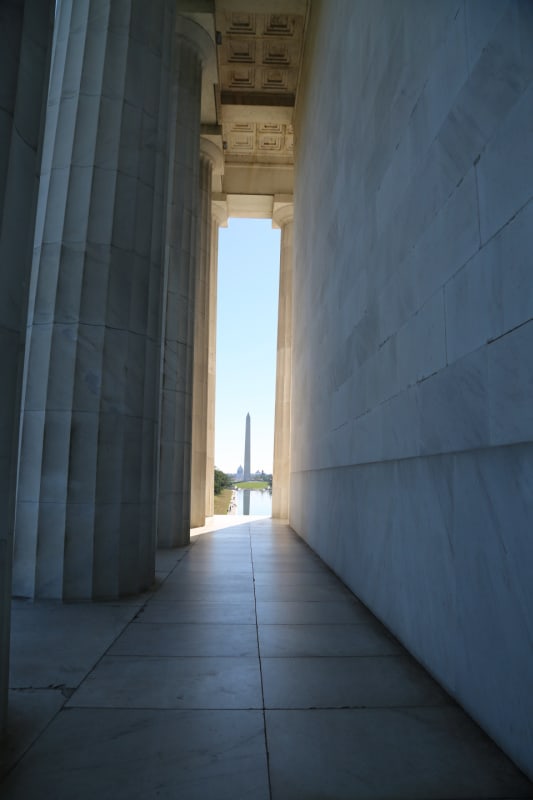 Details about Lincoln Memorial
Size - 109.63 acres
Check out all of the National Parks by Size.
Date Established
Groundbreaking ceremony—February 12, 1914
Cornerstone laying ceremony—February 12, 1915
Dedication of the Lincoln Memorial Ceremony—May 30, 1922
Visitation
In 2021, Lincoln Memorial had 5,792,331 park visitors.
In 2020, Lincoln Memorial had 2,980,075 park visitors.
In 2019, Lincoln Memorial had 7,808,182 park visitors.
Learn more about the most visited and least visited National Parks in the US
National Park Address
2 Lincoln Memorial Circle, NW
Washington, DC 20002
GPS Coordinates: 38.889321, -77.050166
National Park Map

There are great walking maps for Washington DC that offers information on a street and site by site basis.
We have used these popout maps before. They are small and easy to carry with you.
There is also a National Geographic Destination City Map available on Amazon.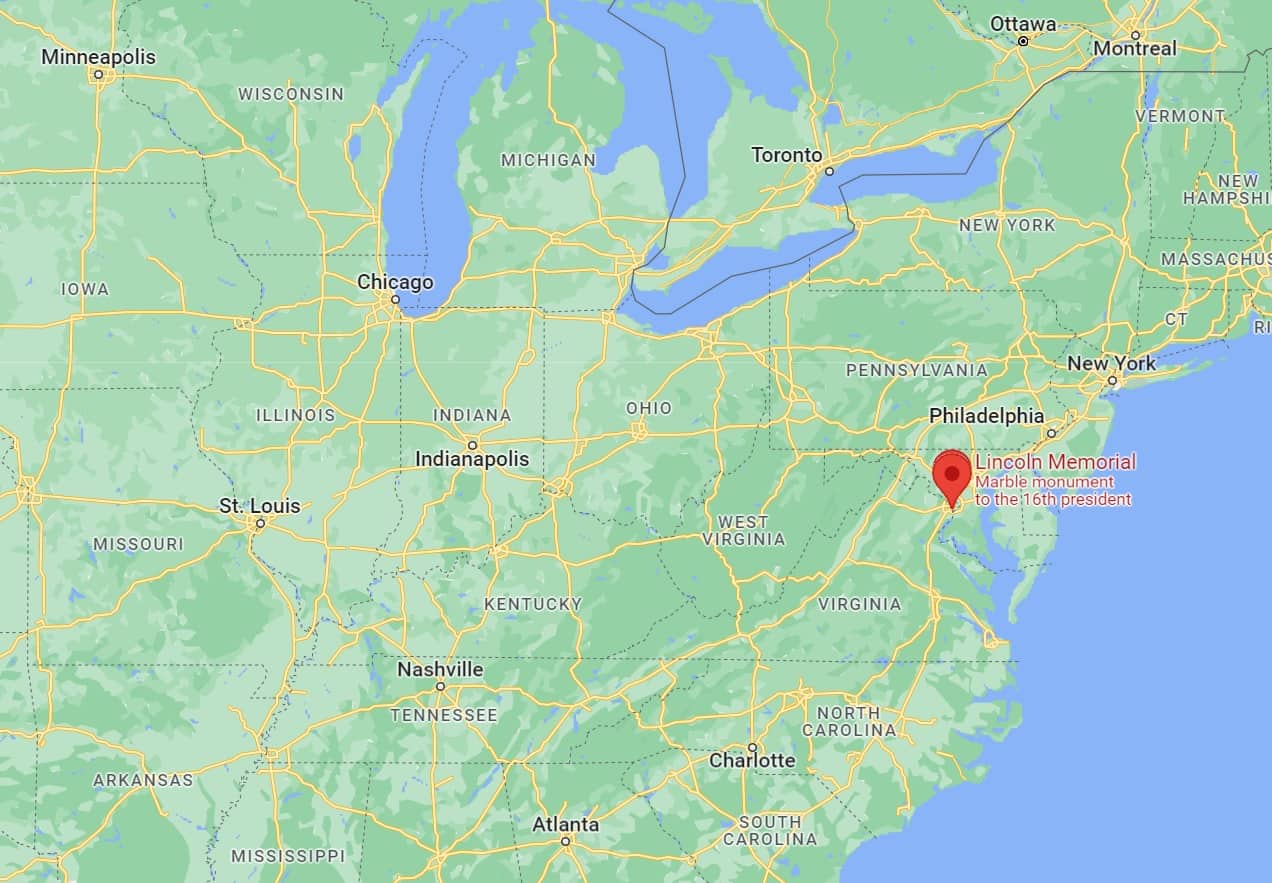 Where is Lincoln Memorial?
The Lincoln Memorial is located on the National Mall in Washington DC.
Washington DC is one of the best East Coast family vacation destinations! There is so much history and an epic number of parks in the area.
Estimated distance from major cities nearby
Baltimore, MD - 41 miles
Philadelphia, PA - 142 miles
Norfolk, VA - 199 miles
Virginia Beach, VA - 206 miles
Pittsburgh, PA - 245 miles
Newark, NJ - 220 miles
Jersey City, NJ - 226 miles
New York, NY - 229 miles
Estimated Distance from nearby National Park
Shenandoah National Park - 69 miles
New River Gorge National Park - 293 miles
Mammoth Cave National Park - 674 miles
Congaree National Park - 481 miles
Acadia National Park - 710 miles
Cuyahoga Valley National Park - 349 miles
Indiana Dunes National Park - 656 miles
Where is the National Park Visitor Center?
Rangers are on duty to answer questions from 9:30 am to 10:00 pm daily. They provide interpretive programs throughout the day and upon request.
The only day Park Rangers are not present is on Christmas.
Getting to Lincoln Memorial
Closest Airports
Ronald Reagan Washington National Airport
Washington Dulles International Airport
Baltimore Washington International Thurgood Marshall Airport
Driving Directions
From the South - Interstate 395 provides access to the National Mall and Memorial Parks.
From the North - Interstate 495, New York Avenue, Rock Creek, and the Potomac Parkway, George Washington Memorial Parkway, and the Cabin John Parkway provide access.
From the West - Interstate 66, US Route 50, and US Route 29 provide access.
From the East - US Route 50, 1, and 4 provide access.
Public Transportation
Public Transportation is a great way to visit the parks. There are multiple options including the DC Subway System (Metro), or the DC Circulator Bus.
The nearest metro stations are Foggy Bottom or Federal Triangle on the Orange, Blue, and Silver lines.
On Off Bus Tour
One of our favorite ways to explore Washington DC is on an On Off Bus Tour.
This is the perfect way to let someone else do the driving. Plus, you can sit on the top deck and get epic pictures while riding around the city.
How far is the Lincoln Memorial from the White House?
It is a 1.5 mile drive from the memorial to the White House.
It is about a 1.3 mile walk between the White House and the Memorial. You will want to plan on at least 25 minutes.
Best time to visit Lincoln Memorial
The best time to visit Washington DC is June and then Mid August to early October. The weather should be nice without being crazy muggy or hot.
Weather and Seasons
Summers are warm and muggy in Washington DC while winters are super cold and snowy.
The hottest weather is from May 30 to September 16th when the average daily temperature is above 79 degrees.
The coldest weather is from December 1st to March 4th with an average temperature below 52 degrees.
The coldest month is January. May gets the most rain with an average of 3.5 inches.
February gets the most snow with an average of 5.4 inches.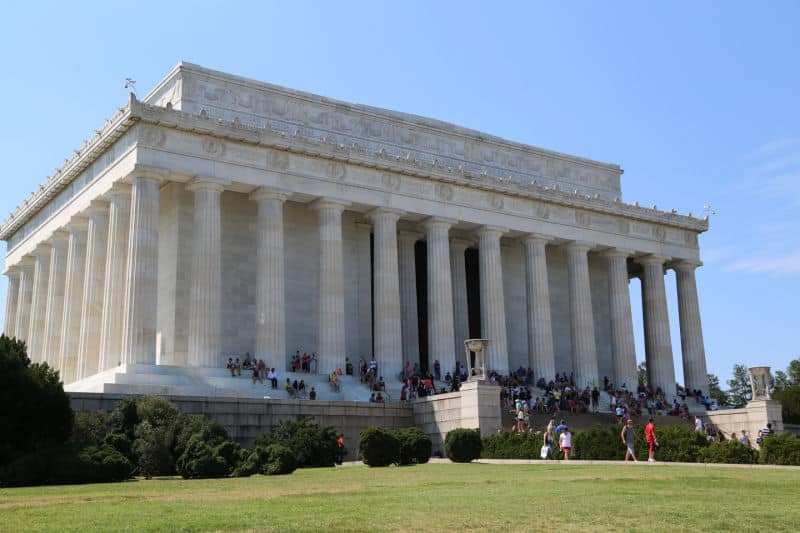 Best Things to do in Lincoln Memorial
The best thing to do at the Lincoln Memorial is plan time to wander around the entire memorial.
Make sure to walk around the outside and see just how big the memorial is and get a photo looking down the reflecting pool.
This is one of the most popular monuments in the country so you want to give yourself enough time to get your best photos and enjoy the experience.
The Lincoln Memorial Junior Ranger program is part of the National Mall and Memorial Parks Junior Ranger Program.
Guided Tours
A great way to visit the Memorial and other park sites is on a guided tour.
This is the perfect way to learn more about the sites without having to worry about driving and parking in town.
DC Monuments and Memorial Tour - This tour visits the Capitol Building, White House, Lincoln Memorial, World War II Memorial, and more.
National Mall and Memorials Guided Walking Tour - This 2.5 hour tour guides you through the top sites on the National Mall.
Monuments by Moonlight Nighttime Trolley Tour - Experience the sights of Washington D.C. by night on a guided trolley tour of the city's most popular monuments. Along the way, learn about the fascinating history of the nation's capital.
African American History Tour - Go back in time to some of the most iconic moments of the civil rights movement, with a fascinating African American history tour of Washington, DC.
Big Bus Hop On Hop Off Tour - Explore Washington, DC's famous and historic landmarks with a 24-, 48-, or 72-hour ticket. See the city at your own pace with unlimited access to two hop-on hop-off sightseeing tours
Sightseeing Segway Tour - See the major hot spots in Washington, D.C. on a Segway adventure. Take a ride by the National Mall, Capitol Hill, White House, and Pennsylvania Avenue. Roll by some off-the-beaten-path spots.
There are a ton of tours available in Washington DC! From food tours to ghost tours you can find an amazing tour to enhance your visit.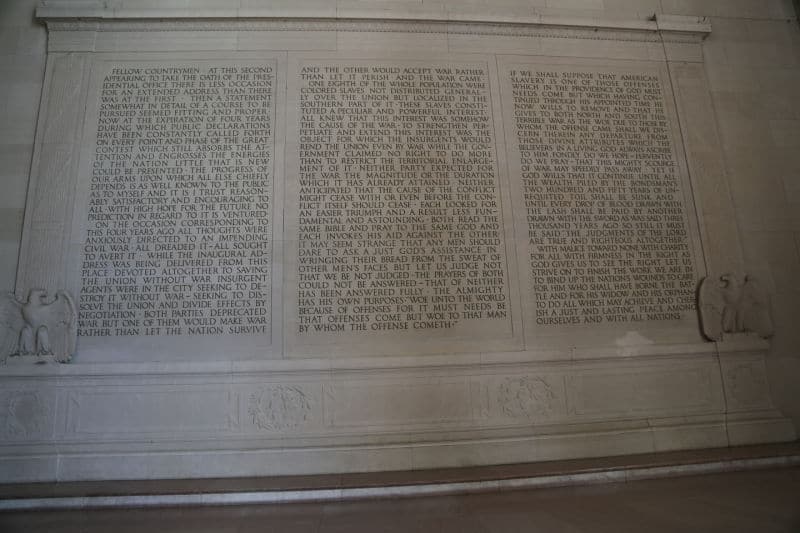 Hiking in Lincoln Memorial
Always carry the 10 essentials for outdoor survival when exploring.
There are no hiking trails at the memorial but you will want to be prepared for walking a lot while exploring Washington DC.
How to beat the crowds in Lincoln Memorial?
The best way to beat the crowds is to arrive early in the morning and later in the evening.
Where to stay when visiting Lincoln Memorial
There are no National Park Lodges in Washington DC.
Lodging near the Lincoln Memorial includes:
Fairmont Washington, D.C - This aparthotel features an indoor pool, a restaurant, and a health club. Other amenities include a bar/lounge, a sauna, and WiFi in public areas. Each apartment offers WiFi, an iPod dock, and an LCD TV with cable channels. Added amenities include 24-hour room service, wired Internet, and premium bedding.
Hilton Washington DC Capitol Hill - 4-star hotel near National Mall. Hilton Washington DC Capitol Hill is located close to Union Station Shopping Center and United States Capitol, and provides dry cleaning/laundry services, a bar, and a gym. Stay connected with free in-room Wi-Fi, and guests can find other amenities such as a conference center and a restaurant.
Riggs Washington DC - 5-star luxury hotel. Close to Walter E. Washington Convention Center and National Museum of African American History and Culture, Riggs Washington DC provides a terrace, a garden, and dry cleaning/laundry services. The onsite American cuisine brasserie, Cafe Riggs, features brunch and light fare. Stay connected with free in-room Wi-Fi, and guests can find other amenities such as a bar and a 24-hour health club.
Courtyard by Marriott Washington, DC - Located in Washington (Foggy Bottom), Courtyard by Marriott Washington, DC/Foggy Bottom is within a 15-minute walk of George Washington University and Vietnam Veterans Memorial. This hotel is 0.6 mi (1 km) from White House and 0.7 mi (1.1 km) from Lincoln Memorial.
Holiday Inn Washington-Central/White House - Close to Walter E. Washington Convention Center and George Washington University, Holiday Inn Washington-Central/White House, an IHG Hotel provides shopping on site, an arcade/game room, and dry cleaning/laundry services. Be sure to enjoy a meal at Johnny Rockets Restaurant, the onsite restaurant. In addition to a bar and a gym, guests can connect to free in-room Wi-Fi.
Click on the map below to see current rates for vacation rentals and hotels in Washington DC and surrounding area.
Camping
There are no National Park Campgrounds near the memorial.
For a fun adventure check out Escape Campervans. These campervans have built in beds, kitchen area with refrigerators, and more. You can have them fully set up with kitchen supplies, bedding, and other fun extras. They are painted with epic designs you can't miss!
Escape Campervans has offices in Vancouver, Seattle, Portland, San Francisco, Las Vegas, Los Angeles, Phoenix, Salt Lake City, Denver, Chicago, New York, and Orlando
Here are some of the campgrounds that can be found near Washington DC.
Rappahannock River Campground - Richardsville, VA
This campground offers tent sites, waterfront, canoeing and kayaking.
Merry Meadows Recreation Farm - Freeland, Maryland
This campground offers RV and Tent Sites, waterpark, pool, a dog park, and more.
Duck Neck Campground - Chestertown, MD
This campground offers RV and Tent Sites, a beach, pool, dog park, and more.
Check out additional campgrounds in the area on Campspot.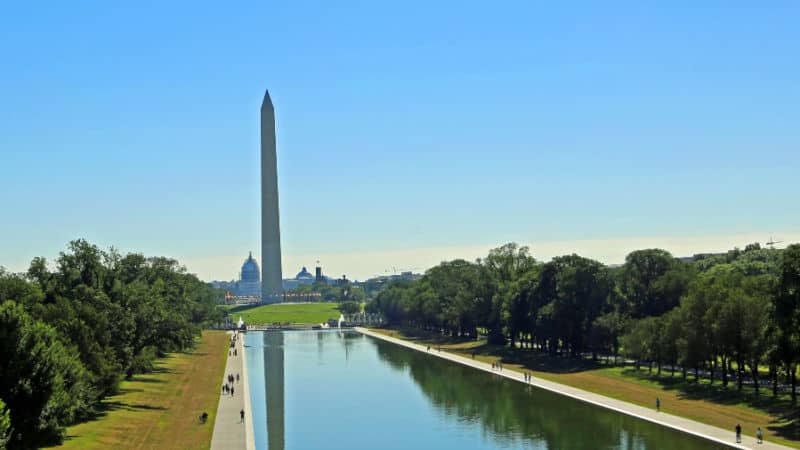 Parks Near Lincoln Memorial
Martin Luther King Jr. Memorial
Franklin Delano Roosevelt Memorial
Washington Monument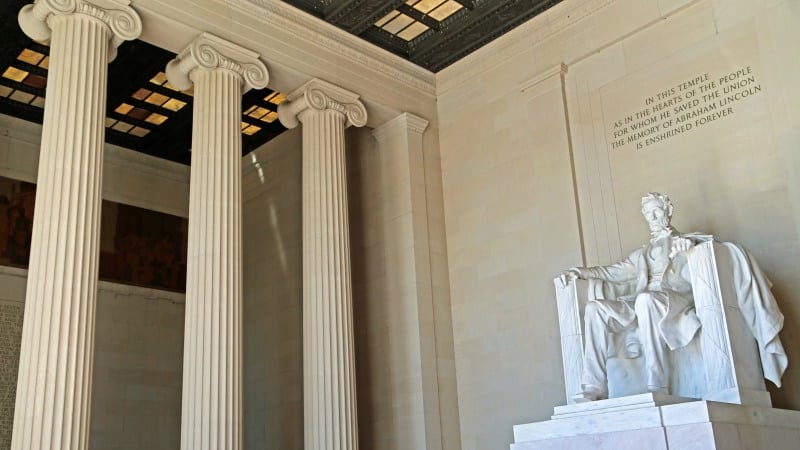 National Park Service Sites associated with Abraham Lincoln
Civil War Defenses of Washington, Washington, DC
Ford's Theatre National Historic Site, Washington, DC
Fort Stevens, Rock Creek Park, Washington, DC
Lincoln Park, Capitol Hill Parks, National Capital Parks-East, Washington, DC
White House (President's Park), DC
Abraham Lincoln Birthplace National Historic Site, KY
Antietam National Battlefield, MD
Gettysburg National Cemetery, PA
Independence National Historical Park, PA
Lincoln Boyhood National Memorial, IN
Lincoln Home National Historic Site, IL
Mount Rushmore National Memorial, SD
Petersburg National Battlefield, VA
Richmond National Battlefield Park, VA
Check out all of the National Parks in Virginia along with National Parks in Kentucky, National Parks in Maryland, National Parks in North Carolina, Tennessee National Parks, and West Virginia National Parks
National Park Service Website - https://www.nps.gov/linc/index.htm