Epic Guide to the Franklin Delano Roosevelt Memorial in Washington DC including history, things to see, and how to reach the park.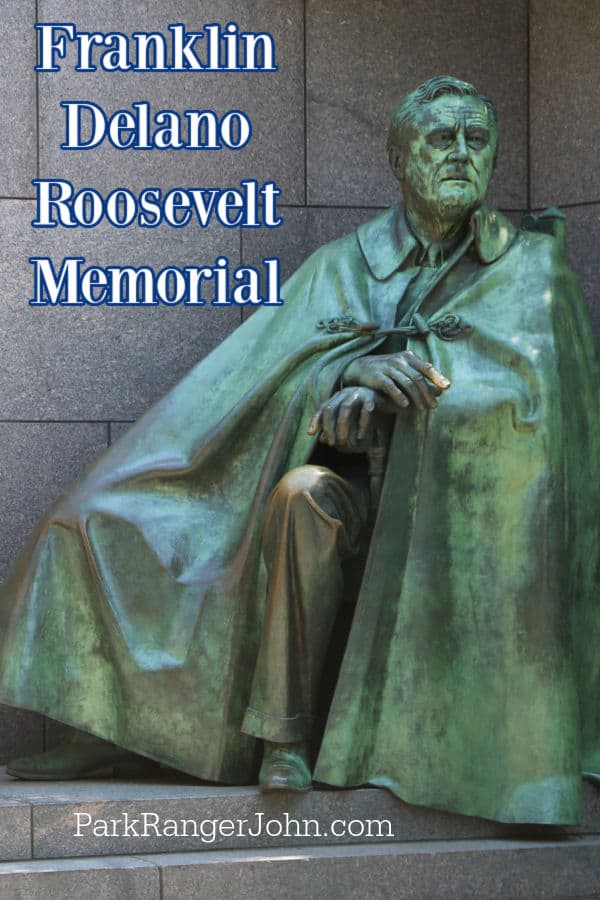 Franklin Delano Roosevelt Memorial
The Franklin Delano Roosevelt Memorial is in Washington D.C. on the Southwestern side of Washington D.C.'s Tidal basin.
The memorial covers more than 7 acres and includes four open air galleries, one for each of FRD's terms. You can also find waterfalls and other water features at the memorial.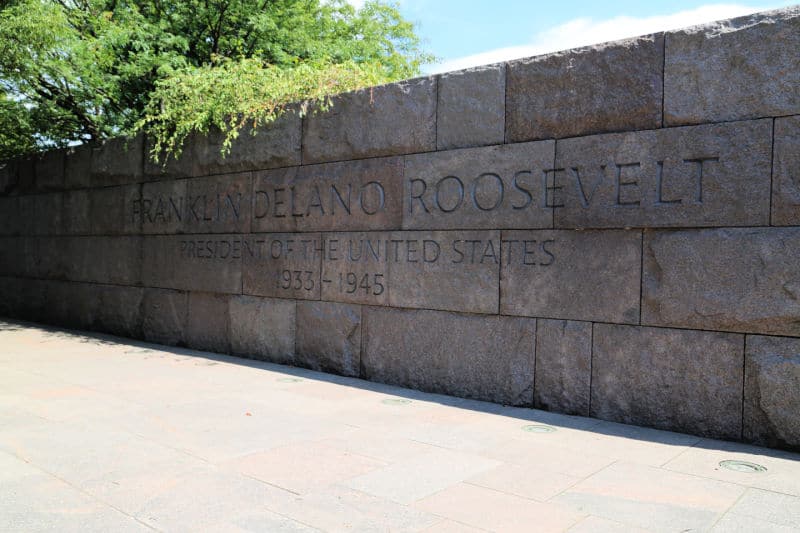 About Franklin Delano Roosevelt Memorial
The water features reflect the importance of water in Franklin D. Roosevelt's life. He served as assistant secretary of the Navy during World War I. You will also find amazing quotes from Roosevelt.
Franklin D. Roosevelt is the only American president to serve four terms. He was elected president in 1932 during the Great Depression.
President Roosevelt passed away in office in 1945. As president he led the nation during the depression and served as the commander in chief during World War II.
The galleries of the Franklin D. Roosevelt Memorial are dedicated to FDR's era as well as to the president himself.
One of the statues is of President Roosevelt with his beloved Scottish Terrier named Fala. The President is buried with his wife Eleanor and their beloved dog at the Home of Franklin D. Roosevelt National Historic Site in New York.
There is also a statue of Eleanor Roosevelt standing in front of the seal of the United Nations in recognition of her service as a delegate.
Is Franklin Delano Roosevelt Memorial worth visiting?
Yes, The site does an amazing job of showcasing FDR through sculpture and art.
Plus the views from the memorial are simply amazing.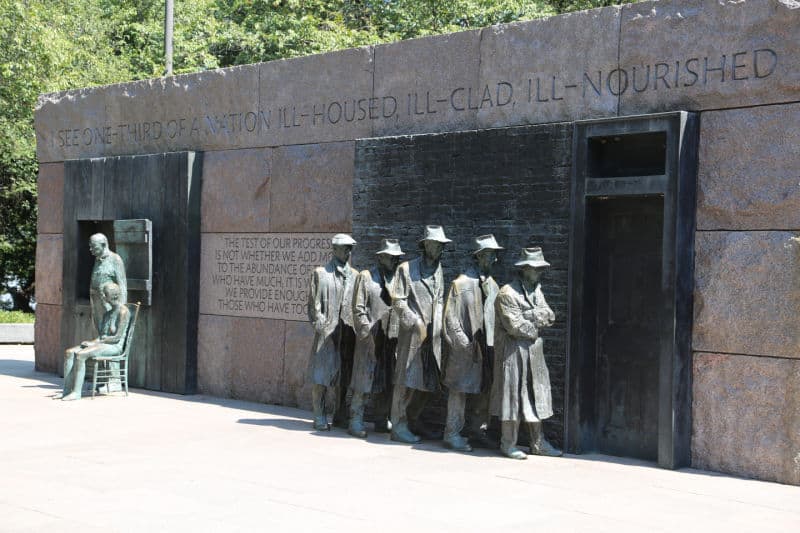 History of Franklin Delano Roosevelt Memorial
Franklin Delano Roosevelt Memorial is located just south of the National Mall, off the Potomac River along Cherry Tree Walk in Washington, D.C.
Roosevelt, historically referred to as FDR, was president during most of the Great Depression and World War II.
The original FDR Memorial was a modest monument that was constructed in 1965, dedicated on April 12th, the 20th anniversary of his death.
This original memorial was a 3-feet tall by 7-feet long white marble memorial near the National Archives Building.
It reads simply: "In memory of Franklin Delano Roosevelt 1882-1945." A bronze plaque in front of the memorial quotes FDR expressing that a memorial built upon his death should be a modest monument, only about the size of his desk.
Years later, a new memorial was proposed and in 1969, a site covering approximately 7.5 acres was dedicated as the Franklin Delano Roosevelt Memorial.
The memorial was put into motion by Congress in 1982, but was not fully completed until 1997 at which point it was dedicated by President Bill Clinton.
Franklin Delano Roosevelt was born in Hyde Park, New York in 1882.
Born to two parents from wealthy New York families, his ancestors had migrated to New Amsterdam, the Dutch settlement in Manhattan. The family took many vacations to Europe as Roosevelt grew, in which he learned German and French.
Franklin was homeschooled until the age of 14. Roosevelt attended Harvard and in 1901 his fifth cousin, Theodore Roosevelt, was elected president. Franklin greatly admired and looked up to Theodore.
Franklin married his cousin, Eleanor Roosevelt in 1903. Because her father was deceased, her uncle, Theodore Roosevelt, gave her away at the wedding, to the chagrin of Franklin's mother who did not approve of the marriage.
The couple had six children but the marriage was not the epitome of a loving union. FDR eventually served as New York State Senator and Assistant Secretary of the Navy. FDR ran for the presidential office in 1920 but lost to Warren G. Harding.
In 1921, Roosevelt fell ill and was diagnosed with polio. He was paralyzed from the waist down. In today's research it is believed that Roosevelt actually suffered from Guillain-Barre Syndrome.
Roosevelt fought his illness and continued to stay in politics, careful to never been seen in his wheelchair in public. He served as New York Governor from 1929-1932. He was elected to his first presidential term in 1932.
FDR is the only U.S. President in history to serve more than two terms. FDR served from 1933 to 1945. His memorial park takes visitors through a representation of the history of those 12 years in the United States.
The area is separated into four outdoor rooms, each representing FDR's time in office. Monuments, sculptures and water displays portray symbolism of FDR's contribution to America through his presidency.
In 1974, a competition was held to name a designer for the memorial. Landscape architect Lawrence Halprin and architect Robert Marquis collaborated after winning the competition.
Each outdoor room has a waterfall and as visitors walk from room to room, the waterfalls grow in size and intensity as a symbol of the rising complexity FDR faced during a presidency of the Great Depression and war.
The water feature comprised of one large drop represents the stock market crash that led to the Great Depression. The stair shaped drops represent the Tennessee Valley Authority dam project. Roosevelt created the TVA as a federal corporation in 1933.
There are a number of chaotic falls which all represent the stress and toil of World War II. And finally there is a still pool which represents Roosevelt's death.
The park area is filled with specific and symbolic sculptures as well. One large sculpture depicts Roosevelt with his beloved dog Fala.
Other sculptures show aspects of the Great Depression. One bronze sculpture created by George Segal shows a scene of citizens in a "bread line" during the Great Depression.
The bread lines were prevalent in large cities for poverty stricken citizens to receive food when unemployment and hunger was at an all-time high. Another sculpture displays Roosevelt giving one of his famous fireside chats.
Between 1933 and 1944, Roosevelt delivered a series of evening radio talks on the subject of recovery from the Great Depression, the 1936 recession, New Deal, and updates during World War II. These famous talks led Roosevelt to be looked as the most effective radio communicator of all time.
One statue has a bronze sculpture of Eleanor Roosevelt standing next to the United Nations emblem.
This piece of art symbolizes Eleanor's immense success apart from her husband's presidency and her impressive legacy. This memorial is the only presidential memorial to include a depiction of a First Lady.
One statue in the memorial created controversy. Designers decided not to sculpt Roosevelt sitting in a wheelchair as during his lifetime he worked to obscure the fact that he depended a wheelchair.
At that period of time, a disability was seen as a great weakness. The sculpture was created with a large cloak obscuring the wheelchair of a seated Roosevelt. Many strongly disagreed with hiding this part of Roosevelt's life.
A number of famous FDR quotes dot the structures throughout the memorial. One such lasting quote from FDR showcases one of his most famous: "The only limit to our realization of tomorrow will be our doubts of today. Let us move forward with strong and active faith."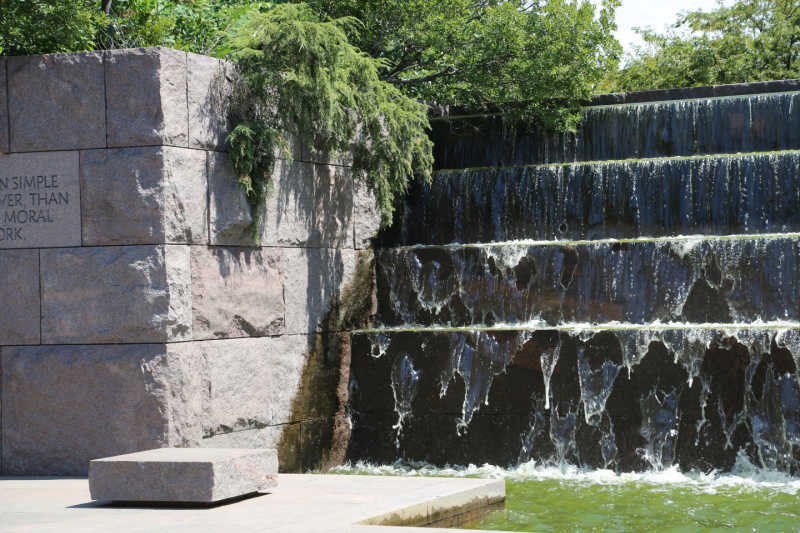 Things to know before your visit to Franklin Delano Roosevelt Memorial
Entrance fee
$0.00 - There is no fee to visit this park
Planning a National Park vacation? America the Beautiful/National Park Pass covers entrance fees for an entire year to all US National Park Sites and over 2,000 Federal Recreation Fee Sites.
The park pass covers everyone in the car for per vehicle sites and for up to 4 adults for per-person sites.
Buy on REI.com and REI will donate 10% of pass proceeds to the National Forest Foundation, National Park Foundation and the U.S. Endowment for Forestry & Communities.
Free Entrance Days -Mark your calendars with the five free entrance days the National Park Service offers annually.
Time Zone
Eastern Time Zone
Pets
Leashed pets are allowed on the National Mall. They are not allowed in buildings, the National Sculpture Garden, or in most memorials.
Cell Service
We had great cell service while in Washington DC
Park Hours
National Mall and Memorial Parks are open 24 hours a day.
Rangers are on duty to answer questions from 9:30 a.m. to 10:00 p.m. daily and to provide interpretive programs throughout the day and upon request.
Wi-Fi
There may be free public Wi-Fi in different areas of the National Mall
Insect Repellent
Insect repellent is always a great idea when outdoors, especially if you are around any body of water.
We use Permethrin Spray on our clothes before our park trips.
Water Bottle
Make sure to bring your own water bottle and plenty of water with you. Plastic water bottles are not sold in the park.
Parking
Parking can be difficult to find. Parking is available along Ohio Drive, SW between the Lincoln and Thomas Jefferson Memorials.
There are 1,200 metered parking spaces through the National Mall area provided by the National Park Service.
These parking pay stations accept debit and credit cards. They do not accept cash or coins.
Payment can also be made via the Parkmobile app or website.
Metered parking can be found:
Constitution Avenue NW between 15th Street NW and 23rd Street NW
Parkway Drive SW
Ohio Drive SW in West Potomac Park (between Independence Ave and Inlet Bridge)
West Basin Drive SW (entire length, between Ohio Drive and Independence Avenue)
Tidal Basin parking lot (paddle boats)
Madison Drive NW
Jefferson Drive SW
Lots A, B, and C on Ohio Drive SW (East Potomac Park)
Lot on Buckeye Drive (adjacent to tennis courts)
There are 300 free parking spaces at Hains Point within East Potomac Park.
Accessible parking spaces are available for vehicles displaying disability parking permits, placards, and vehicle tags. In the areas where a parking fee is being charged visitors will need to pay for the accessible parking spaces.
Motorcycles can park in lots A, B, C areas off of Ohio Drive.
Food/Restaurants
There are no restaurants within the park.
Gas
There are no gas stations within the park.
Drones
Drones are not permitted within National Park Sites.
National Park Passport Stamps
National Park Passport stamps can be found in the visitor center.
Make sure to bring your National Park Passport Book with you or we like to pack these circle stickers so we don't have to bring our entire book with us.
The FDR Memorial is part of the 1998 Passport Stamp Set.
Electric Vehicle Charging
There are 500 public EV Charging Stations in Washington DC (Level 2 and Level 3)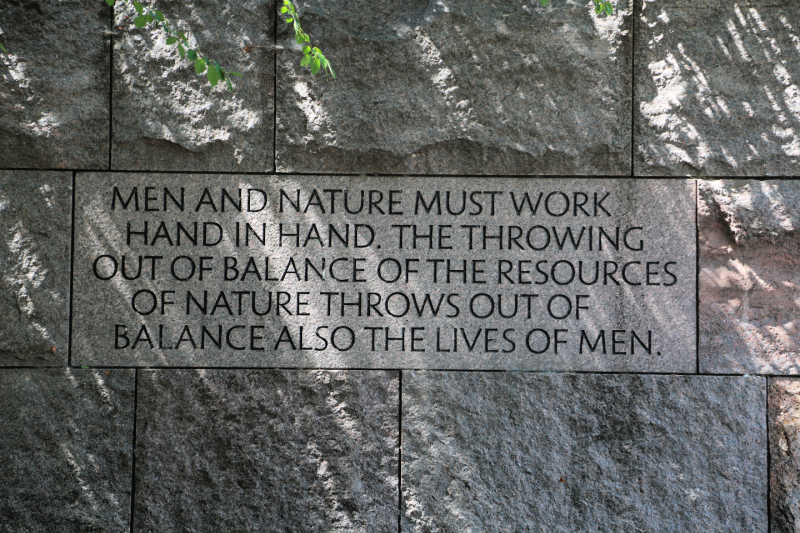 Details about Franklin Delano Roosevelt Memorial
Size - 7.5 acres
Check out how the park compares to other National Parks by Size.
Date Established
May 2, 1997
Visitation
In 2021, FDR Memorial had 2,022,050 park visitors.
In 2020, FDR Memorial had 1,010,986 park visitors.
In 2019, FDR Memorial had 3,303,573 park visitors.
Learn more about the most visited and least visited National Parks in the US
National Park Address
400 West Basin Drive SW
Washington, DC 20002
GPS Coordinates: 38.883625, -77.043868
National Park Map

There are great walking maps for Washington DC that offers information on a street and site-by-site basis.
We have used these popout maps before. They are small and easy to carry with you.
There is also a National Geographic Destination City Map available on Amazon.
Where is Franklin Delano Roosevelt Memorial?
Located on the National Mall in Washington DC
Estimated distance from major cities nearby
Baltimore, MD - 41 miles
Philadelphia, PA - 142 miles
Norfolk, VA - 199 miles
Virginia Beach, VA - 206 miles
Pittsburgh, PA - 245 miles
Newark, NJ - 220 miles
Jersey City, NJ - 226 miles
New York, NY - 229 miles
Estimated Distance from nearby National Park
Shenandoah National Park - 69 miles
New River Gorge National Park - 293 miles
Mammoth Cave National Park - 674 miles
Congaree National Park - 481 miles
Acadia National Park - 710 miles
Cuyahoga Valley National Park - 349 miles
Indiana Dunes National Park - 656 miles
Where is the National Park Visitor Center?
This park does not have a visitor center.
Park Rangers are available in the area to answer questions about the park.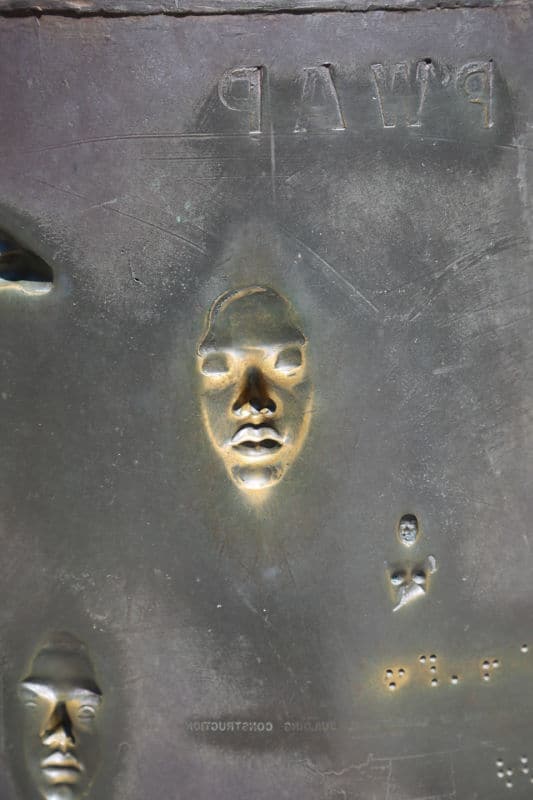 Getting to Franklin Delano Roosevelt Memorial
Closest Airports
Ronald Reagan Washington National Airport
Washington Dulles International Airport
International Airports
Baltimore Washington International Thurgood Marshall Airport
Driving Directions
From the South - Interstate 395 provides access to the National Mall and Memorial Parks.
From the North - Interstate 495, New York Avenue, Rock Creek, and the Potomac Parkway, George Washington Memorial Parkway, and the Cabin John Parkway provide access.
From the West - Interstate 66, US Route 50, and US Route 29 provide access.
From the East - US Route 50, 1, and 4 provide access.
Public Transportation
Public Transportation is a great way to visit the parks. There are multiple options including the DC Subway System (Metro), or the DC Circulator Bus.
The closest Metro stops are Foggy Bottom or Federal Triangle on the Orange, Blue, and Silver lines.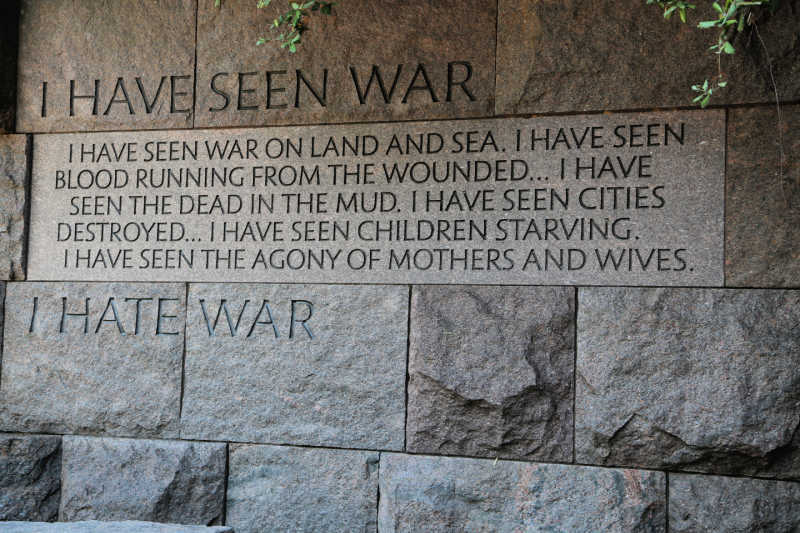 Best time to visit Franklin Delano Roosevelt Memorial
The best time to visit Washington DC is June and then Mid August to early October. The weather should be nice without being crazy muggy or hot.
Weather and Seasons
Summers are warm and muggy in Washington DC while winters are super cold and snowy.
The hottest weather is from May 30 to September 16th when the average daily temperature is above 79 degrees.
The coldest weather is from December 1st to March 4th with an average temperature below 52 degrees.
The coldest month is January. May gets the most rain with an average of 3.5 inches.
February gets the most snow with an average of 5.4 inches.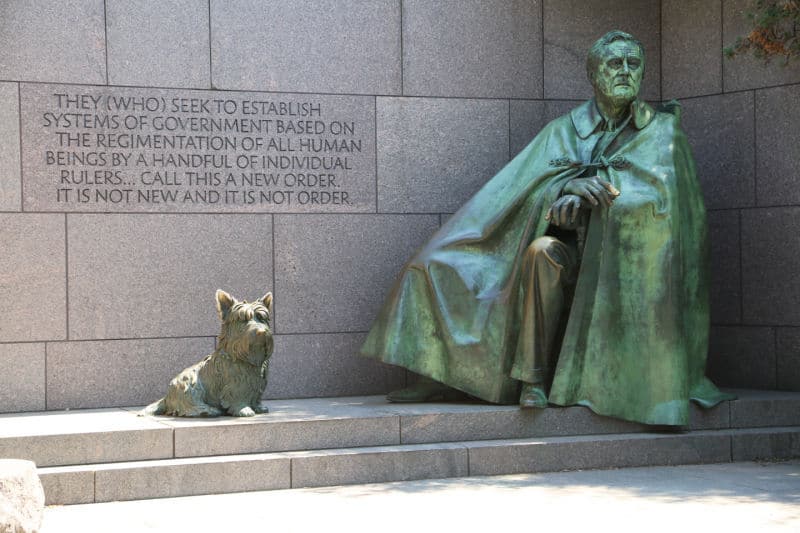 Best Things to do in Franklin Delano Roosevelt Memorial
The best things to do at the FDR Memorial is wander through the sculptures and take in all of the things that FDR fought through during his presidency.
The Franklin Delano Roosevelt Memorial Junior Ranger program is part of the National Mall and Memorial Parks booklet.
Guided Tours
A great way to visit the Memorial and other park sites is on a guided tour.
This is the perfect way to learn more about the sites without having to worry about driving and parking in town.
DC Monuments and Memorial Tour - This tour visits the Capitol Building, White House, Lincoln Memorial, World War II Memorial, and more.
National Mall and Memorials Guided Walking Tour - This 2.5 hour tour guides you through the top sites on the National Mall.
Monuments by Moonlight Nighttime Trolley Tour - Experience the sights of Washington D.C. by night on a guided trolley tour of the city's most popular monuments. Along the way, learn about the fascinating history of the nation's capital.
African American History Tour - Go back in time to some of the most iconic moments of the civil rights movement, with a fascinating African American history tour of Washington, DC.
Big Bus Hop On Hop Off Tour - Explore Washington, DC's famous and historic landmarks with a 24-, 48-, or 72-hour ticket. See the city at your own pace with unlimited access to two hop-on hop-off sightseeing tours
Sightseeing Segway Tour - See the major hot spots in Washington, D.C. on a Segway adventure. Take a ride by the National Mall, Capitol Hill, White House, and Pennsylvania Avenue. Roll by some off-the-beaten-path spots.
There are a ton of tours available in Washington DC! From food tours to ghost tours you can find an amazing tour to enhance your visit.
Hiking in Franklin Delano Roosevelt Memorial
Always carry the 10 essentials for outdoor survival when exploring.
There are no specific hiking trails through the memorial but we still suggest making sure you have water, sunscreen, comfortable shoes, and are prepared for the weather.
Walking to all of the monuments and the National Mall can be a lot of steps in one day.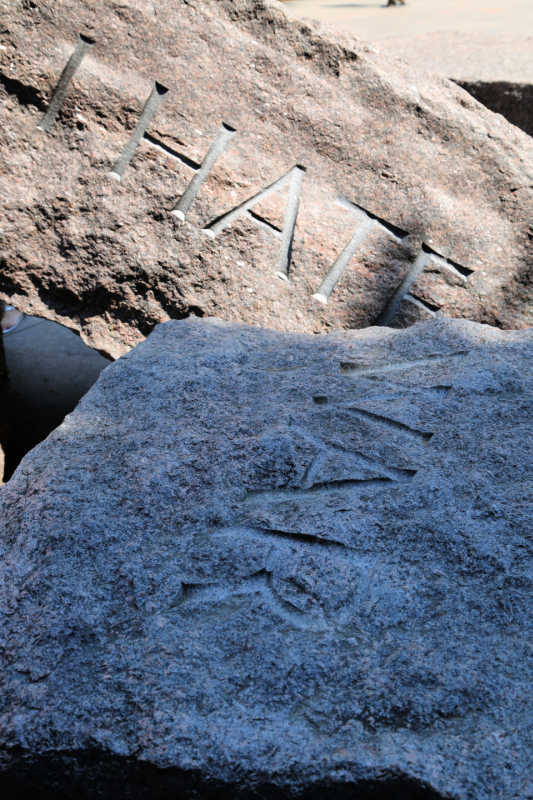 How to beat the crowds in Franklin Delano Roosevelt Memorial?
The best way to beat the crowds is to arrive early in the morning and later in the evening.
Where to stay when visiting Franklin Delano Roosevelt Memorial
There are no National Park Lodges in Washington DC.
Lodging near the Lincoln Memorial includes:
Fairmont Washington, D.C - This aparthotel features an indoor pool, a restaurant, and a health club. Other amenities include a bar/lounge, a sauna, and WiFi in public areas. Each apartment offers WiFi, an iPod dock, and an LCD TV with cable channels. Added amenities include 24-hour room service, wired Internet, and premium bedding.
Hilton Washington DC Capitol Hill - 4-star hotel near National Mall. Hilton Washington DC Capitol Hill is located close to Union Station Shopping Center and United States Capitol, and provides dry cleaning/laundry services, a bar, and a gym. Stay connected with free in-room Wi-Fi, and guests can find other amenities such as a conference center and a restaurant.
Riggs Washington DC - 5-star luxury hotel. Close to Walter E. Washington Convention Center and National Museum of African American History and Culture, Riggs Washington DC provides a terrace, a garden, and dry cleaning/laundry services. The onsite American cuisine brasserie, Cafe Riggs, features brunch and light fare. Stay connected with free in-room Wi-Fi, and guests can find other amenities such as a bar and a 24-hour health club.
Courtyard by Marriott Washington, DC - Located in Washington (Foggy Bottom), Courtyard by Marriott Washington, DC/Foggy Bottom is within a 15-minute walk of George Washington University and Vietnam Veterans Memorial. This hotel is 0.6 mi (1 km) from White House and 0.7 mi (1.1 km) from Lincoln Memorial.
Holiday Inn Washington-Central/White House - Close to Walter E. Washington Convention Center and George Washington University, Holiday Inn Washington-Central/White House, an IHG Hotel provides shopping on site, an arcade/game room, and dry cleaning/laundry services. Be sure to enjoy a meal at Johnny Rockets Restaurant, the onsite restaurant. In addition to a bar and a gym, guests can connect to free in-room Wi-Fi.
Click on the map below to see current rates for vacation rentals and hotels in Washington DC and surrounding area.
Camping
There are no National Park Campgrounds near the memorial.
For a fun adventure check out Escape Campervans. These campervans have built in beds, kitchen area with refrigerators, and more. You can have them fully set up with kitchen supplies, bedding, and other fun extras. They are painted with epic designs you can't miss!
Escape Campervans has offices in Vancouver, Seattle, Portland, San Francisco, Las Vegas, Los Angeles, Phoenix, Salt Lake City, Denver, Chicago, New York, and Orlando
Here are some of the campgrounds that can be found near Washington DC.
Rappahannock River Campground - Richardsville, VA
This campground offers tent sites, waterfront, canoeing and kayaking.
Merry Meadows Recreation Farm - Freeland, Maryland
This campground offers RV and Tent Sites, waterpark, pool, a dog park, and more.
Duck Neck Campground - Chestertown, MD
This campground offers RV and Tent Sites, a beach, pool, dog park, and more.
Check out additional campgrounds in the area on Campspot.
National Park Service Sites related to Franklin D. Roosevelt
Home of Franklin D. Roosevelt National Historic Site, Hyde Park, NY
Eleanor Roosevelt National Historic Site, Hyde Park, NY
Roosevelt Campobello International Park, Lubec, ME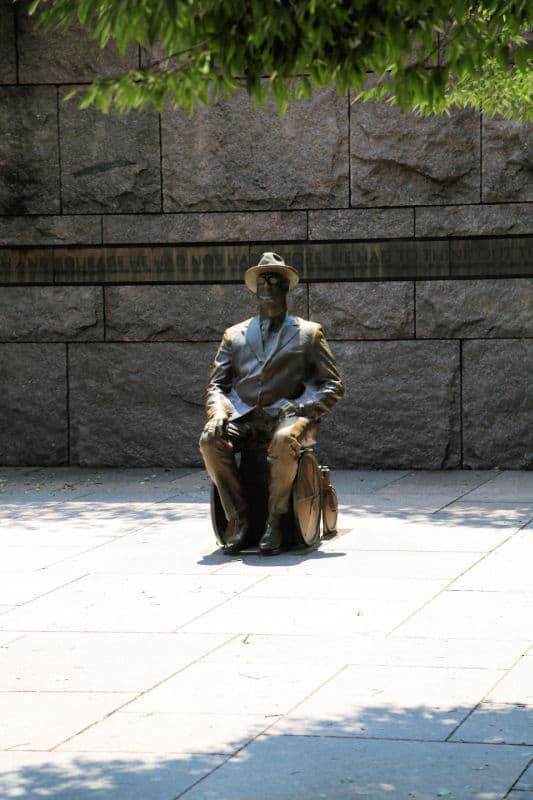 Parks Near Franklin Delano Roosevelt Memorial
Ford's Theatre National Historic Site
Thomas Jefferson Memorial
Washington Monument
World War I Memorial
Check out all of the National Parks in Virginia along with National Parks in Kentucky, National Parks in Maryland, National Parks in North Carolina, Tennessee National Parks, and West Virginia National Parks