North Carolina stretches 500 miles east to west from the Atlantic Coast to the Appalachian Mountains. The National Parks in North Carolina include the most popular National Park in the country, the Wright Brothers and the most visited parkway!
From the Great Smoky Mountains to the wonder of flight you can stand in awe of the beauty and innovation within North Carolina National Parks.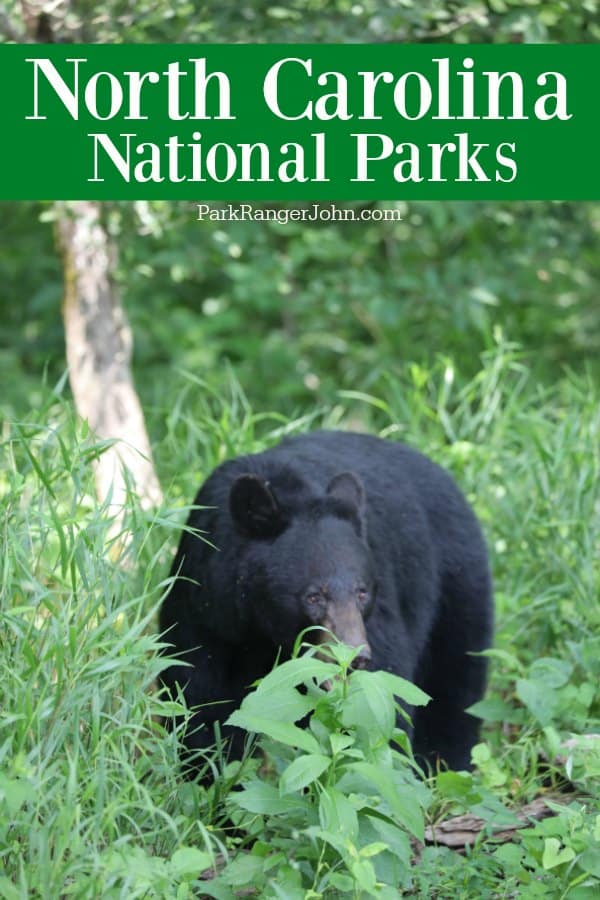 North Carolina National Parks
95.7 miles of the Appalachian NST runs through North Carolina. The elevation ranges from 1,725 feet to 5,498 feet. The trail runs along the border of Tennessee and North Carolina for 224.7 miles.
If you plan to hike the portion of the trail that passes through Great Smoky Mountains NP you will need to get an advance permit and Smoky Mountains National Park Camping reservations ahead of time.
For additional information check out the Appalachian Trail Guide to North Carolina and Tennessee.
Blue Ridge Parkway
The Blue Ridge Parkway is located in Western North Carolina and western Virginia. The parkway runs for 469 miles between the Great Smoky Mountains National Park to Shenandoah National Park along the Blue Ridge Mountains.
Blue Ridge Parkway is one of the most visited National Parks in the country! The parkway has a top speed limit of 45mph so you can enjoy the ride through the mountains of the eastern Appalachians.
There are a ton of short hiking trails off of the parkway if you want to get out of the car and explore more.
The National Park Service has a visitor center in Asheville, North Carolina that offers interpretive programs and exhibits. There are nine campgrounds open seasonally along the parkway.
Cape Hatteras National Seashore is located in Eastern North Carolina approximately 85 miles south of Norfolk. The park is open year-round and offers the opportunity to enjoy swimming, camping, bird-watching, windsurfing and more.
Cape Hatteras NS was established in 1953 as the first national seashore in the United States. The seashore stretches for 70-miles along the Outer Banks. The National Seashore was created to protect and preserve parts of three barrier islands - Bodie, Hatteras, and Ocracoke islands.
The Cape Hatteras Lighthouse was built in 1870 and is the tallest brick lighthouse in the country at 208 feet. The lighthouse was moved 2,900 feet inland in 1999 to protect it. Today you can climb the 248 stairs to the top. There is a visitor center next to the lighthouse.
Cape Lookout National Seashore is located in Eastern North Carolina approximately 160 miles southeast of Raleigh. The park offers the opportunity to explore the beach, primitive camping and tour a historic lighthouse.
Cape Lookout NS is located south of Cape Hatteras NS and offers a similar beach experience. Cape Lookout can only be reached via commercial ferry or private boats. Except for a small area near the ferry landings the islands are undeveloped with no paved roads.
Cape Lookout Lighthouse was built in 1859. Park Rangers provide seasonal interpretive programs in the summer about the lighthouse and outer banks.
Carl Sandburg Home National Historic Site
Carl Sandburg Home NHS is located in Southwestern North Carolina approximately 25 miles southeast of Asheville in the town of Flat Rock. The park is open year-round and offers the opportunity to tour Sanburg's home.
Carl Sandburg was born in 1878 in Illinois. He dedicated his life to writing and celebrating American History and life. Mr. Sandburg won Pulitzer Prizes for both poetry and his biography of Abraham Lincoln.
Carl Sandburg and his wife Paula purchased this home and property in 1945. Paula Sandburg wanted a space to raise her prize-winning dairy goats.
Today visitors can take a guided tour of Sandburg's home including seeing his extensive library and personal items.
The National Park Service has a small herd of goats on the property. They have interpretive demonstrations of milking and cheese making seasonally.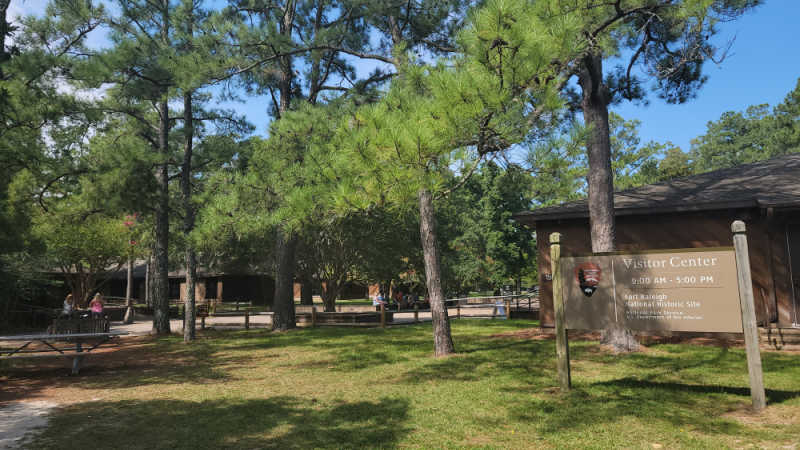 Fort Raleigh NHS is located in Eastern North Carolina approximately 90 miles south of Norfolk. The park is open year-round and offers the opportunity to tour an early English colony.
During the late 16th century the first two English attempts to colonize North America occurred on Roanoke Island. Both of these attempts were led by Sir Walter Raleigh.
In 1585 the first colony encountered difficulties and returned to England. A 2nd attempt was undertaken in 1587. This attempt again met with immediate problems.
Sir Walter Raleigh returned to England for help. 117 colonists stayed on Roanoke Island including Sir Walter Raleigh's granddaughter Virginia Dare. She was the first child of English parents born in the New World.
Sir Walter Raleigh was delayed from returning for three years due to the war with Spain. When he did return to the island in 1590 he found the settlement abandoned. There was a pole with the word "Croatoan" carved into it.
The fate of the colony is still a mystery. The colony is now called the Lost colony.
Great Smoky Mountains National Park is located in western North Carolina and eastern Tennessee. The park is open year-round and offers amazing wildlife viewing, hiking, camping, scenic driving and so much more.
The park has an unbelievable amount of biodiversity within its 814 square miles. From watching black bears in Cade Cove to being lucky in the annual lottery and getting to see the Synchronous Fireflies.
You can spend weeks exploring the park and still find something new during your next visit.
Guilford Courthouse National Military Park
Guilford Courthouse NMP is located in North-central North Carolina in the city of Greensboro. The park is open Spring through Fall and offers the opportunity to explore a Revolutionary War battlefield.
British troops were sent south in 1778 with the goal of moving northward from Georgia. Their goal was to take back control of the colonies. In March 1781 there was a battle in Guilford Courthouse, North Carolina.
The 1,900 British troops led by General Lord Cornwallis battled against 4,500 Patriot troops led by Major General Nathanael Greene. There was a brief but intense battle that ended with the Patriot troops retreating.
The British troops continued north to Virginia until they were forced to surrender to George Washington at Yorktown.
Visitors can take a battlefield road tour with eight interpretive stops including a stop with an equestrian statue of Nathanael Greene. There are also 2.5 miles of battlefield walking trails.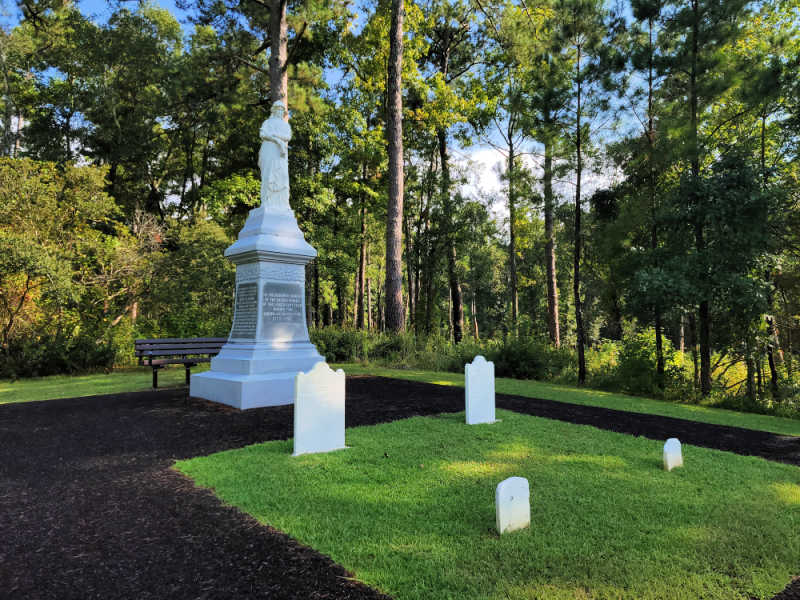 Moores Creek NB is located in southeastern North Carolina approximately 20 miles from Wilmington. The park is open year-round and offers the opportunity to visit a historic battlefield.
During the American Revolution, the residents of North Carolina were divided in their loyalties. February 2, 1776, a group of Loyalists on their way to meet British troops on the Atlantic coast tried to cross a bridge at "Widow Moore's Creek". The Patriot force was waiting and had removed the bridge planks and greased the support girders.
When the Loyalists tried to cross the bridge they were met with artillery fire and musket fire from the Patriot troops. The Loyalists suffered devastating losses and quickly retreated. This victory discouraged Loyalists throughout the colonies and inspired a more revolutionary spirit.
Today visitors can check out the visitor center with interpretive exhibits and a park film, explore the .7 mile history trail that follows part of the road used by Loyalist and patriot troops.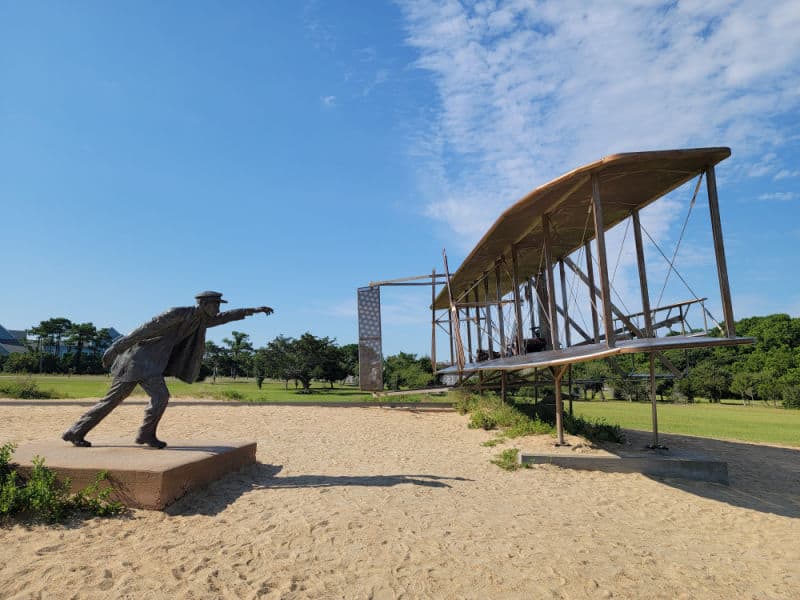 Wright Brothers National Memorial is located in Northeastern North Carolina approximately 90 miles south of Norfolk. The park is open year-round and offers the opportunity to visit a museum and learn about the paths of the first flights.
Wilbur and Orville Wright were bicycle mechanics from Dayton, Ohio in 1900. They owned a company that manufactured and repaired bikes. They had a dream of trying to fly and began looking for a place to experiment with flying.
They chose a location on North Carolina's Outer Banks due to the steady winds and little vegetation that could get in the way. The tall dunes provided a location to launch a glider and sand promised a soft landing.
In 1903 the Wright brothers succeeded in their first sustained powered flight in a heavier than air machine. This started the age of flight.
The Wright Brothers National Memorial celebrates this achievement including a 60-foot pylon standing on Big Kill Devil Hill which is the hill in which the Wright brothers launched their glider.
The park visitor center has interpretive exhibits including a functional reproduction of the 1903 Flyer. There are also reconstructions of the hangar and living quarters the Wright Brothers lived in during their time in North Carolina.
List of North Carolina National Parks
Affiliated Areas
Blue Ridge National Heritage Area
Gullah/Geechee Cultural Heritage Corridor (FL, GA, NC, SC)
Overmountain Victory National Historic Trail (NC, SC, TN, VA)
Trail of Tears National Historic Trail (AL, AR, GA, IL, KY, MO, NC, OK, TN)
There are 10 National Parks in North Carolina with over 18 million visitors a year. These visitors produce over 1.2 billion in economic benefits through tourism.
North Carolina National Parks include 2 National Heritage Areas, 2 Wild and Scenic Rivers managed by the National Park Service, 3 National Trails and 2,944 National Register of Historic Place listings.
National Parks in North Carolina also include 1 World Heritage Site (check out this list of all of the UNESCO World Heritage Sites in the United States), 569 places recorded by the Heritage Documentation Program and there are over 2.6 million pieces in the North Carolina National Park Museum Collection along with 600 archeological sites.
National Parks in neighboring states
National Parks in South Carolina
Check out this list of US National Parks in Alphabetical Order to check out how many you have visited.