Complete Guide to Wright Brothers National Memorial in North Carolina, including things to do, history, nearby lodging and camping, directions, and so much more.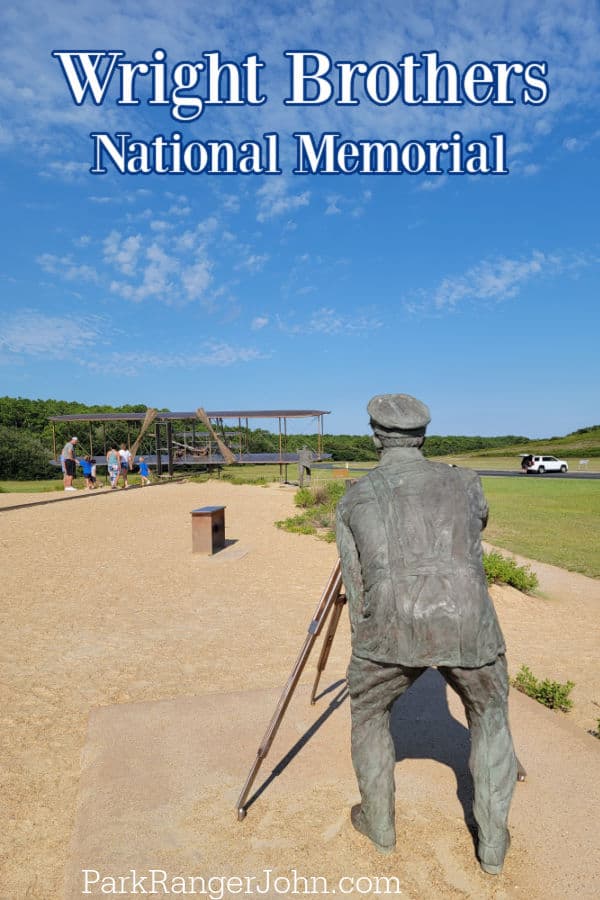 Wright Brothers National Memorial
Wright Brothers National Memorial in North Carolina preserves the site of the first powered flight. Wilbur and Orville Wright were two bicycle mechanics from Dayton, Ohio who owned a company manufacturing and repairing bikes.
The park celebrates the first successful airplane flights and Orville and Wilbur Wright's dream of flight.
About Wright Brothers National Memorial
The Wright Brothers both had a dream of trying to fly. They choose a site on North Carolina's Outer Banks to experiment with their ideas for a flying machine.
The winds are steady in the Outer Banks, and there was little vegetation obstructing the area, plus the sand promised a hopefully soft landing.
The Wright Brothers succeeded in the first sustained powered flight three years after arriving in the Outer Banks. This was the first successful sustained powered flight in a heavier-than-air machine.
This historic moment began the age of flight. The longest flight the Wright Brothers achieved was on December 17, 1903, when they traveled 852 feet in 59 seconds.
We were so excited to visit Wright Brothers National Memorial. It has been on our National Park bucket list for so long and we finally made it happen.
We have an epic photo of the Wright Brothers at Kitty Hawk in December 1903 in our office that reminds us every day to push for our dreams.
While planning this trip we realized the photo on our wall is the same one that the National Park Service has on their website.
One really cool thing we learned is pilots are allowed to land small planes at the park on the 3,000-foot First Flight Airstrip.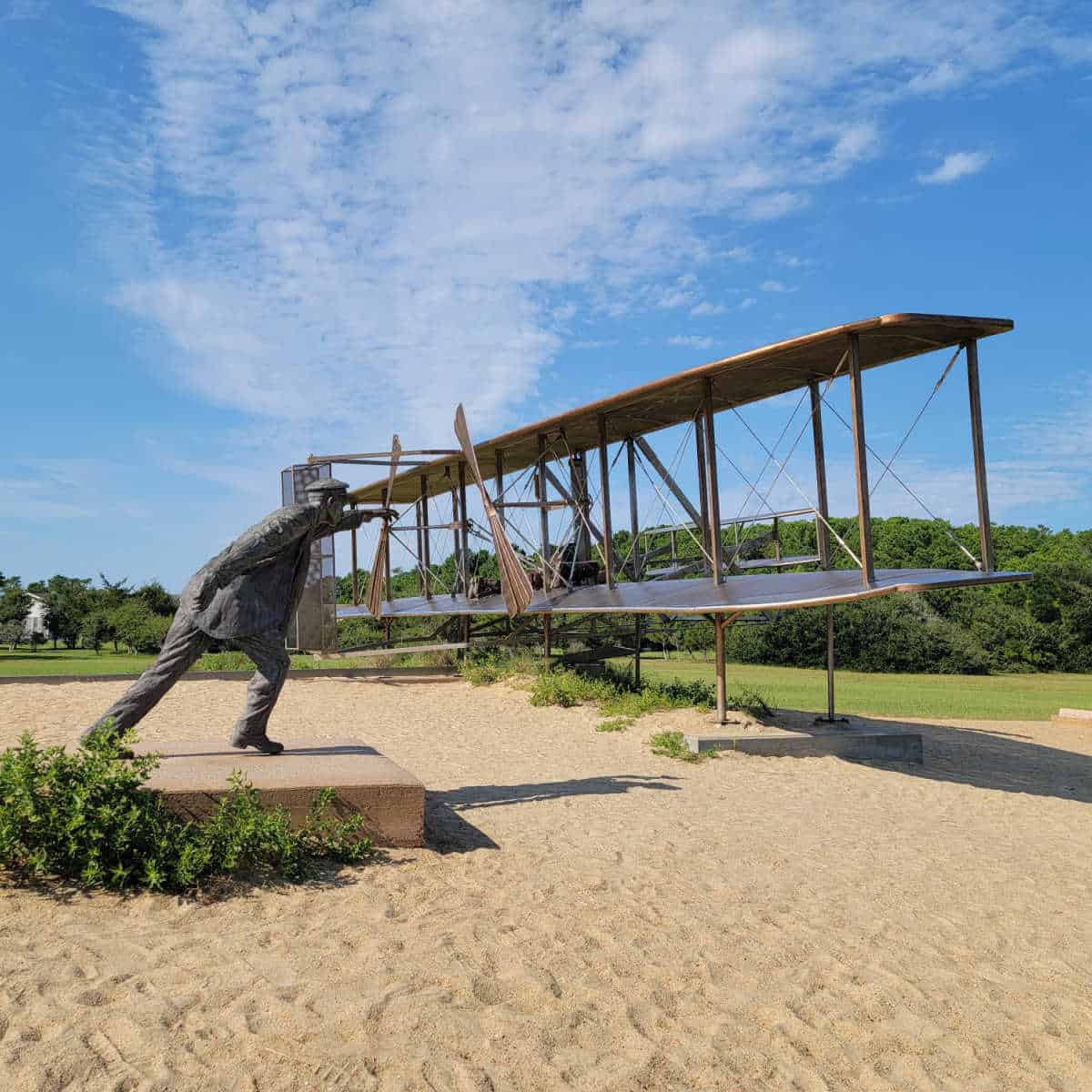 Is Wright Brothers National Memorial worth visiting?
YES! We truly enjoyed our time in the park and were amazed at how much there was to do.
If you are an aviation geek, history fan, or love flying you will find this park so inspirational and fun. We would happily return to the park and spend time enjoying the area.
It is fun knowing that many famous people have visited the memorial including John Travolta, President George W. Bush, Neil Armstrong, Buzz Aldrin, Chuck Yeager, Ruth Nichols, and Amelia Earhart.
History of Wright Brothers National Memorial
The Wright Brothers National Memorial is where on December 17th, 1903, Orville and Wilbur Wright performed the first successful, manned, sustained larger-than-air flight in the Wright Flyer.
The flight was the result of three years of hard work and would change the world forever.
The Wright Brothers National Memorial commemorates the time the self-taught aviation engineers Orville and Wilbur Wright spent in the Outer Banks of North Carolina. A monument to the Wright brothers sits on top of Big Kill Devil Hill.
Who Were the Wright Brothers?
Wilbur Wright, born April 16th, 1867, and Orville Wright, born August 19th, 1871 were two brothers from Dayton, Ohio. The Wright brothers were aviation pioneers, credited with the invention of the airplane. The Wright brothers invented and flew the world's the first motor-powered airplane at Kitty Hawk in 1903.
Although they invented the first motorized airplane, the Wright brothers did not receive high school diplomas or attend university. The brothers opened a bicycle shop called the Wright Cycle Company in 1892.
The brothers initially repaired and sold bicycles, but soon they designed and manufactured their own bicycles. They used the money they made selling bicycles to fund their growing interest in flight.
The late 1890s saw major accomplishments in aviation, with the successful flight of different types of gliders and the flight of a fixed-wing steam-powered model airplane. The death of Otto Lilienthal, a German aviation pioneer in one of his gliders in 1896, propelled the Wright brother's interest.
After conducting months of research, the Wright brothers believed they had the answer to achieving human flight. They drew upon their experience as bicycle engineers, transferring the concept of the rider balancing the bicycle to the pilot controlling the airplane.
Why Did the Wright Brothers Choose Kitty Hawk?
The Wright brothers chose Kitty Hawk in the Outer Banks because of the privacy it offered. In 1900, Kitty Hawke and the Outer Banks were sparsely populated.
The Wright brothers had specific requirements based on previous aviation research and experiments, such as the weather, topography of the land, and vegetation.
The Wright brothers chose Kitty Hawk, specifically Kill Devil Hill, because it matched their criteria.
Kitty Hawk experienced constant northeasterly winds and had large areas of non-vegetated land and dune hills, which were all perfect for the brother's aviation experiments.
Trial and Error
In 1900 the Wright brothers designed and built a 17-foot glider, with the ability to warp the wings, which they experimented with. Despite being designed to be controlled by the glider's occupant, the wind was not powerful enough to allow this.
The Wright brothers conducted countless experiential flights with the 17-foot glider, flying it as a kite from the ground. In the years leading up to the first successful flight, the Wright brothers changed their initial design, lengthening wing spans and increasing the weight of the gliders that followed the 1900 model.
In 1902 alone, the brothers conducted 600 glides and added a movable tail to the glider.
Once the addition of the moveable tail had been added, the Wright brothers added the ability to move the nose of the aircraft up and down for further control. It was these additions that convinced the brothers they had successfully built a usable aircraft.
Building the Wright Flyer
By 1903, the Wright brothers had conducted more than 1000 glides from Big Kill Devil Hill. The brothers altered their 1902 design for their new Flyer to include a custom-built gasoline-powered engine to power their aircraft, as well as lightweight propellers.
The new design additions meant that the brothers had to create a way to help their Flyer lift off of the ground.
The brothers built a 60-foot wooden monorail for their new Flyer to ride down to reach the speed needed for it to be successfully propelled off the ground.
While the brothers were building their new Flyer, which would become known as the Wright Flyer, they experimented with their 1902 glider.
There were several issues with the new Flyers propellor shaft and rudder which they worked on during December 1903.
After making several repairs, the Flyer was ready for its first flight on December 14th. The Wright brothers tossed a coin to see who would perform the first flight.
Wilbur won the coin toss but made an error while leaving the launching trail. The Flyer stalled and plummeted into the sand because of Wilbur's miscalculation with the Elevator.
Wilbur's accident further delayed the Flyer's first flight. After repairing the damage, they finally decided their aircraft was ready on December 17th, 1903.
The First Flight
The brothers dressed smartly on December 17th, both wearing coats and ties. Orville was to attempt the first flight. Five people assisted the brothers in moving the Flyer from its hanger to the wooden monorail that day.
As Orville prepared to take off, a bedsheet was waved to alert the sea-rescue lifesavers. Orville, mindful of Wilbur's' elevator handling, tried out his controls. The Flyer contained a stick that controlled the elevation of the Flyer. Orville controlled the wings with his hips, and the gas flow with a lever.
At 10:35 am, the Flyer began moving down the monorail with Wilbur running beside the Flyer, steading the wings. A volunteer lifesaver snapped a picture of the moment the Wright Flyer left the ground.
For 12 seconds, the aircraft flew, making it the first time in history a heavier-than-air, manned, powered aircraft had flown and landed.
The brothers flew the Wright Flyer three more times on December 17th, 1903.
Wilbur flew for the fourth and final time that day, flying for 59 seconds at over 800 ft. The Wright Flyer was damaged shortly after and never flew again.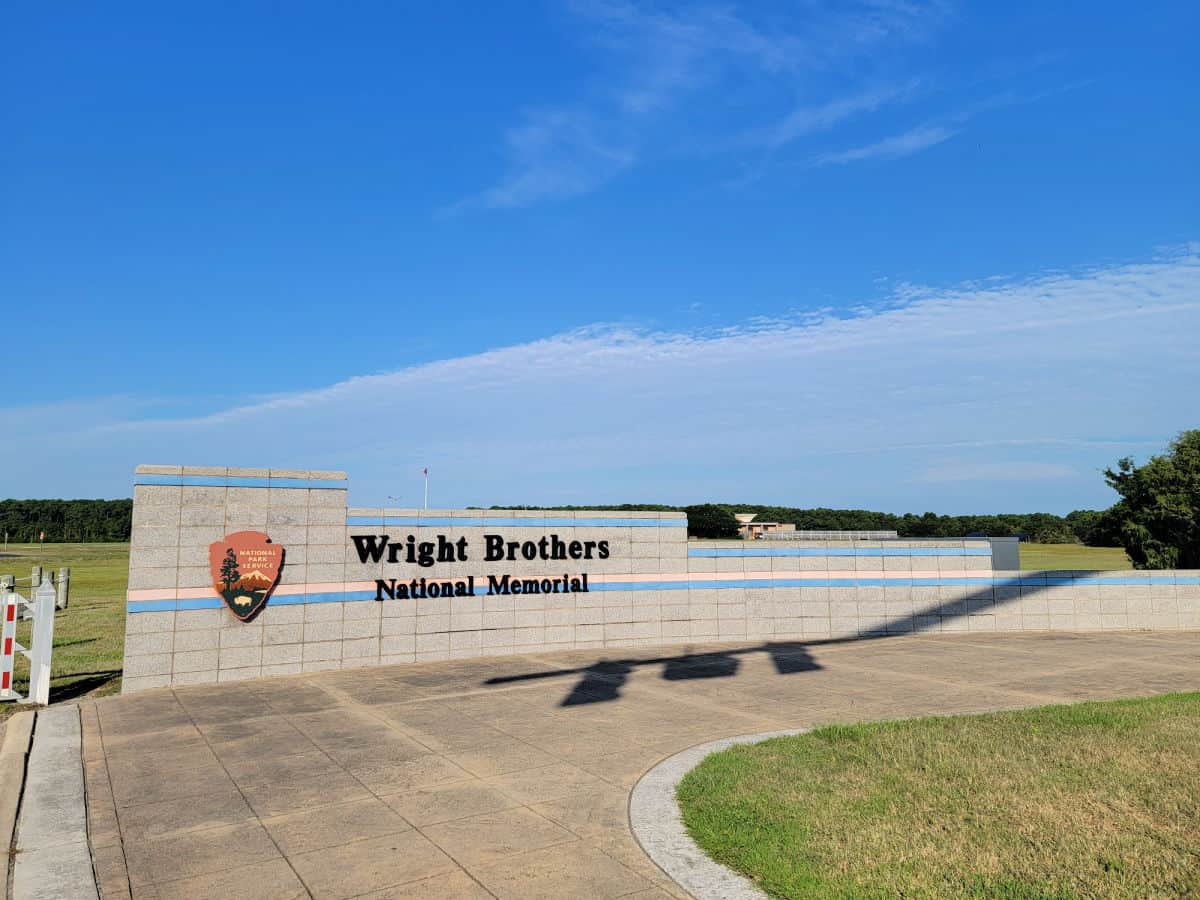 Wright Brothers Timeline
Wilbur and Orville Wright began creating gliders from their bicycle shop. The gliders would later become planes. This guide provides access to material related to the "Wright Brothers" in the Chronicling America digital collection of historic newspapers.

On December 17, 1903 the Wright Brothers' "flying machine" lifted off for the first time in history. The journey, lasting roughly twelve seconds, happens "as easily and gracefully as a bird." Over the next three years the brilliant brothers worked on their plan to conquer the sky, acquiring an official patent for their invention in 1906.

1900-1903 -Wilbur and Orville Wright begin to build "gliders" with profits earned from their bicycle repair shop. Flight experiments begin at Kill Devil Hill of the Kitty Hawk region in North Carolina.
December 17, 1903-Wright brothers achieve the first piloted, sustained flight of a heavier-than-air machine at Kitty Hawk, North Carolina.

January 5, 1904-Wright brothers make an announcement to the Associated Press about the success of their flights.

1904-1905-Wilbur and Orville continue their experiments and make improvements to their airplane.

May 22, 1906-U.S. Patent Office issues patent 821,393 to the Wright Brothers for their flying machine.

June 1909-Wright Brothers receive National, State and City honors (medals) in honor of their aeroplane invention.

October 25, 1911-Orville Wright breaks the world's gliding (non-engine) record in his experimental trials at Kill Devil Hill.

May 31, 1912-Wilbur Wright dies from Typhoid Fever.

1925-Orville Wright decides to send the Kitty Hawk aboard to the Science Museum at South Kensington, London due to a dispute with the Smithsonian Institute.

January 30, 1948-Orville Wright dies at age 76. Executors of his estate determine it was his desire to return the Kitty Hawk plane to the Smithsonian Institute.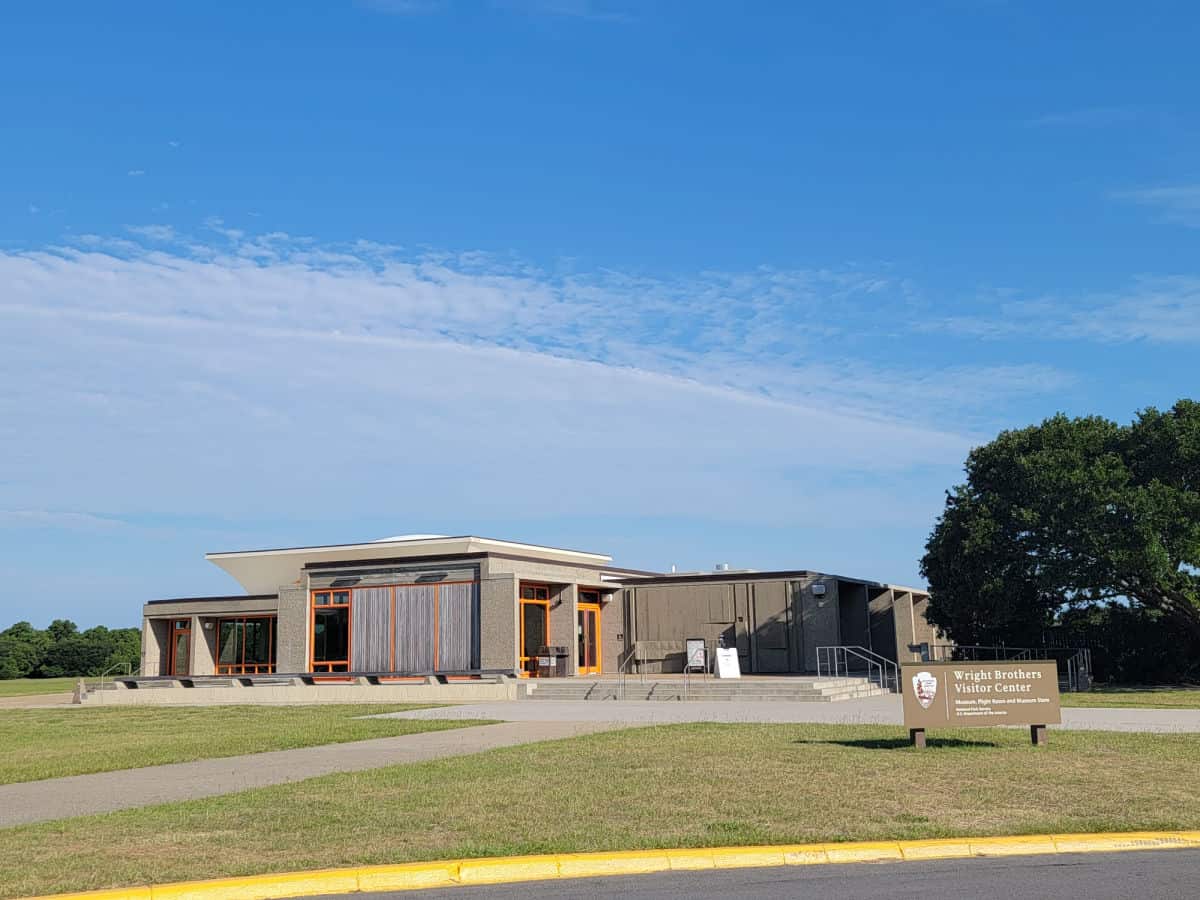 Things to know before your visit to Wright Brothers National Memorial
Entrance fee
$10.00 - Adult, 16 years and older, valid for 7 consecutive days from the date of purchase.
$0.00 - Children under the age 0f 15.
Planning a National Park vacation? America the Beautiful/National Park Pass covers entrance fees for an entire year to all US National Park Sites and over 2,000 Federal Recreation Fee Sites.
The park pass covers everyone in the car for per vehicle sites and for up to 4 adults for per-person sites.
Buy on REI.com and REI will donate 10% of pass proceeds to the National Forest Foundation, National Park Foundation and the U.S. Endowment for Forestry & Communities.
Learn more about National Park Passes for parks that have an entrance fee including all about the Senior Pass.
Free Entrance Days -Mark your calendars with the five free entrance days the National Park Service offers annually.
Time Zone
EST - Eastern Time Zone
Pets
Pets must be on a leash no longer than 6' at all times. Pets are not allowed in buildings.
Cell Service
We had great cell service while visiting the park.
Park Hours
Open seven days a week, year-round, 9:00 am–5:00 pm. The only day the park is closed is Christmas Day, December 25.
Wi-Fi
Public Wi-Fi is available in the park.
Insect Repellent
Insect repellent is always a great idea when outdoors, especially if you are around any body of water.
We use Permethrin Spray on our clothes before our park trips.
Water Bottle
Make sure to bring your own water bottle and plenty of water with you. Plastic water bottles are not sold in the park.
Parking
There is a large parking area near the visitor center. There are smaller parking areas near the monument.
Food/Restaurants
There are no restaurants at the park.
Gas
There are no gas stations at the park.
Drones
Drones are not permitted within National Park Sites.
National Park Passport Stamps
National Park Passport stamps can be found in the visitor center.
We use the Explorer Edition Passport Book that can be expanded and updated. This is a great way to track all of the parks you have visited over time.
Make sure to bring your National Park Passport Book with you or we like to pack these circle stickers so we don't have to bring our entire book with us.
Electric Vehicle Charging
There are multiple EV Charging stations in Kill Devil Hills, North Carolina including a Tesla Destination Charger and a ChargePoint Charging Station.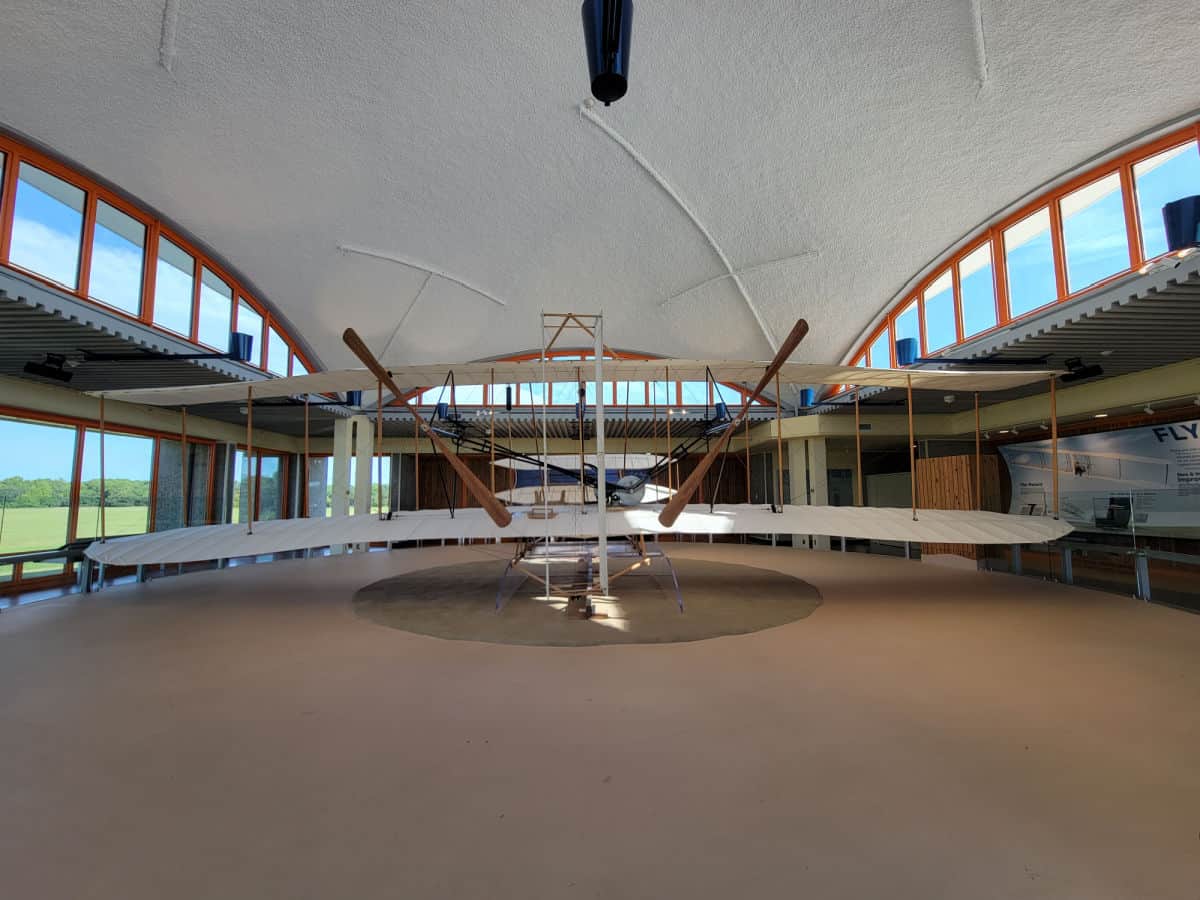 Details about Wright Brothers National Memorial
Size - 400 acres
Check out how the park compares to other National Parks by Size.
Date Established
March 2, 1927
The monument was officially dedicated in 1932, with approximately 1,000 people in attendance-Orville Wright among them.
Visitation
In 2022, Wright Brothers NM had 437,391 park visitors.
In 2021, Wright Brothers NM had 482,191 park visitors.
In 2020, Wright Brothers NM had 277,963 park visitors.
In 2019, Wright Brothers NM had 400,135 park visitors.
Learn more about the most visited and least visited National Parks in the US
National Park Address
Visitor Center address - 1000 North Croatan Highway, Kill Devil Hills, NC 27948
National Park Map
Where is Wright Brothers National Memorial?
The park is located at milepost 7.5 on U.S. Highway 158, Kill Devil Hills, North Carolina, United States.
Estimated distance from major cities nearby
Charlotte, NC - 368 miles
Raleigh, NC - 201 miles
Greensboro, NC - 279 miles
Durham, NC - 227 miles
Virginia Beach, VA - 90 miles
Norfolk, VA - 76 miles
Washington DC - 274 miles
Baltimore, MD - 319 miles
Philadelphia, PA - 349 miles
Newark, NJ - 427 miles
Estimated Distance from nearby National Park
Great Smoky Mountains National Park - 483 miles
Congaree National Park - 415 miles
Shenandoah National Park - 275 miles
New River Gorge National Park - 422 miles
Mammoth Cave National Park - 750 miles
Hot Springs National Park - 1,138 miles
Cuyahoga Valley National Park - 614 miles
Where is the National Park Visitor Center?
The Wright Brothers Visitor Center is located to the northwest of the main parking lot after entering the park. The park entrance is along US 158 in Kill Devil Kills, a town on the Outer Banks of North Carolina.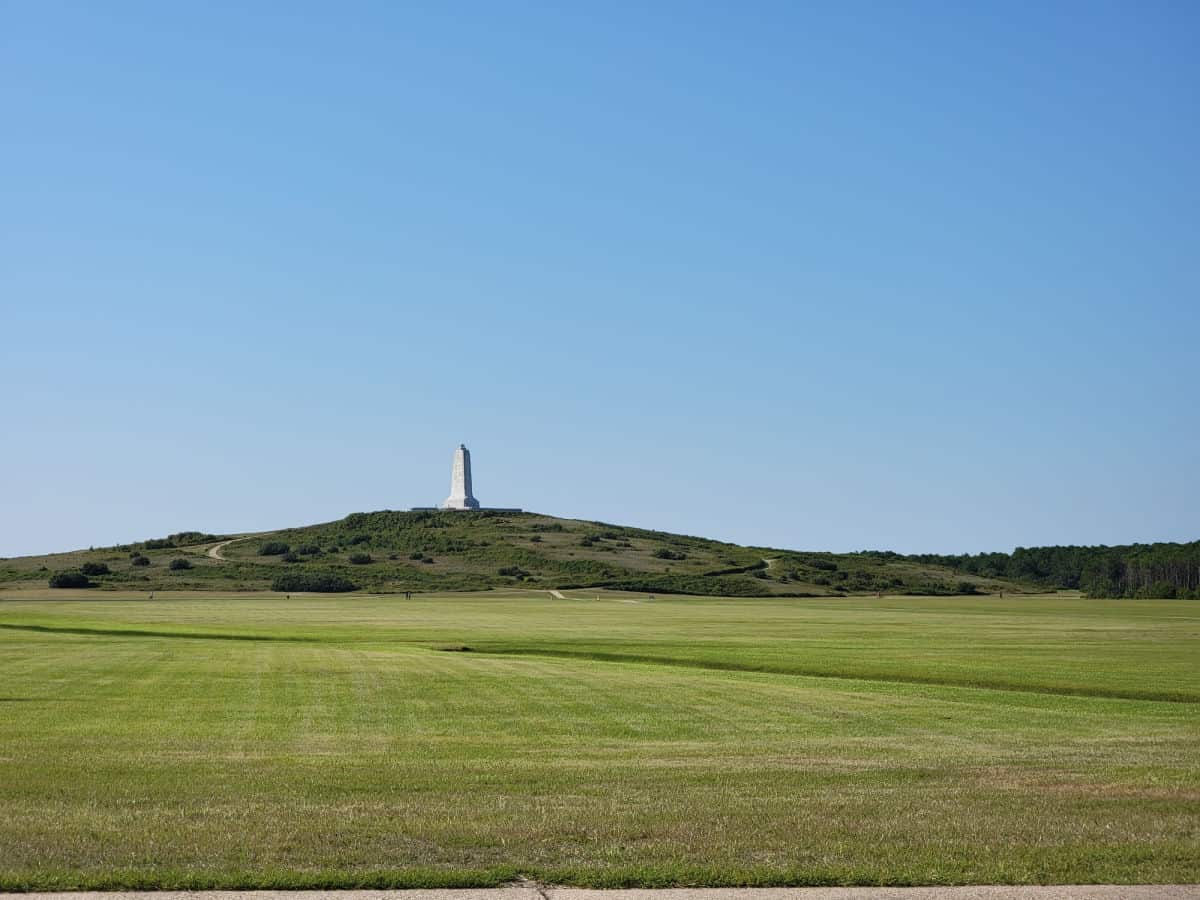 Getting to Wright Brothers National Memorial
Closest Airports
The Manteo/ Dare County Regional Airport (MQI) services private aircraft. The First Flight Airstrip (FFA) at the park has a 3,000' runway and tie-downs. There are NO services (fuel, hanger space, repair service, etc) at the airstrip.
International Airports
Norfolk International Airport (ORF) is located about 100 miles to the north in Norfolk, VA
Raleigh-Durham International Airport (RDU), which is located about 200 miles from the park.
Public Transportation - Public bus transportation is not available in the area
Driving Directions
North (From Norfolk, VA)
Follow I-95 South to Richmond, Virginia. Take I-64 East toward Norfolk/ Virginia Beach, Virginia. Take I-64 or I-664 to Chesapeake, Virginia. From I-64, take Exit 291B to Route 168, the Chesapeake Expressway*. Once in North Carolina, Route 168 turns into US 158 East. Follow US 158 through Kitty Hawk to Kill Devil Hills, North Carolina.
* - Chesapeake Expressway is a toll road.
West (From Rocky Mount, NC)
Via I-95 into North Carolina. Take US 64 East toward Rocky Mount. Follow US 64 east through Williamston and Plymouth. From Plymouth, continue east to Nags Head and the junction of US 158 through Nags Head to Kill Devil Hills, North Carolina.
South (From Florence, SC)
Coming from South Carolina, take I-95 to Wilson, North Carolina. Take US 264 East through Greenville and Washington. From Washington, take State Route 32 to Plymouth, and follow US 64 East to Nags Head. Continue on US 158 through Nags Head to Kill Devil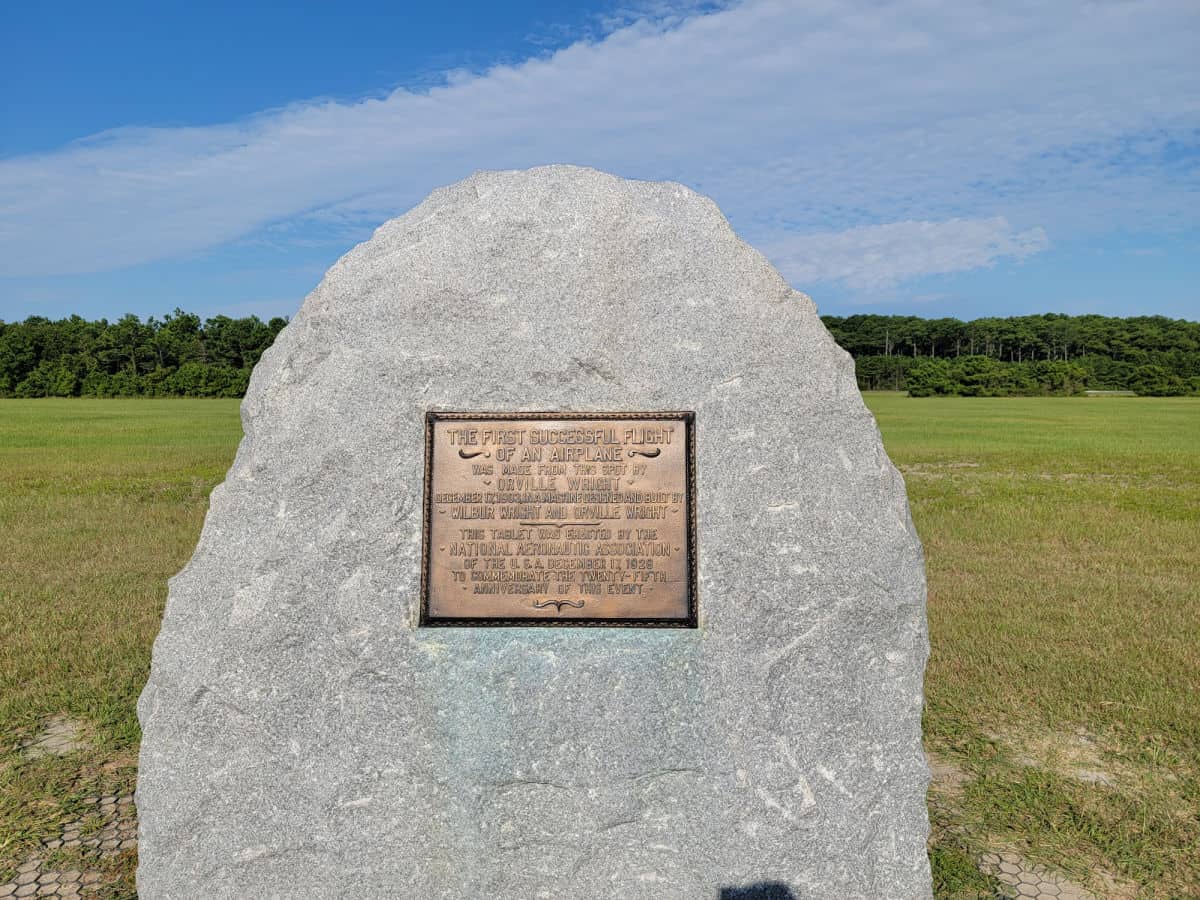 Best time to visit
The best time to visit the park is during the Spring and fall but really any time is amazing. Just plan to arrive early in the morning if visiting in the summer so you can enjoy the park.
Weather and Seasons
The warmest weather in Kill Devil Hills, North Carolina is rom June 4th to September 18th with an average daily temperature above 79 degrees.
The coldest weather is from December 5th to March 14th with an average temperature below 58 degrees.
The hottest weather is in July with an average high of 86 degrees and low of 74 degrees.
January is the coldest month with an average low of 38 degrees and high of 51 degrees.
One thing to know is this area does experience seasonal humidity with May 19 through October 13th the weather can be muggy and miserable at least 23% of the time.
Best Things to do in Wright Brothers National Memorial
Visitor Center
The Wright Brothers National Memorial Visitors Center is a National Historic Landmark built in 1960 and newly renovated.
Make sure to plan time to explore the visitors' center. There is an amazing reproduction 1903 flyer that is so cool!
The visitor's center is filled with interpretive panels and great information on aviation history. You can easily spend an hour or two just exploring the visitor center.
There is a fantastic gift shop!
You can pick up a Junior Ranger Program at the visitor center and complete the pages during your visit.
This book does include going to a few different spots in the park to answer the questions. Make sure to pick up your Junior Ranger booklet before heading out into the park.
You can get started by downloading the Junior Ranger booklet ahead of your visit.
First Flight Boulder and Flight Line
Visit the site where Orville and Wilbur first took flight and the locations where they landed.
It is an easy walk from the visitor center to the First Flight Boulder and the Flight Line. You can walk down the flight line to see just how far the Wright Brothers flew.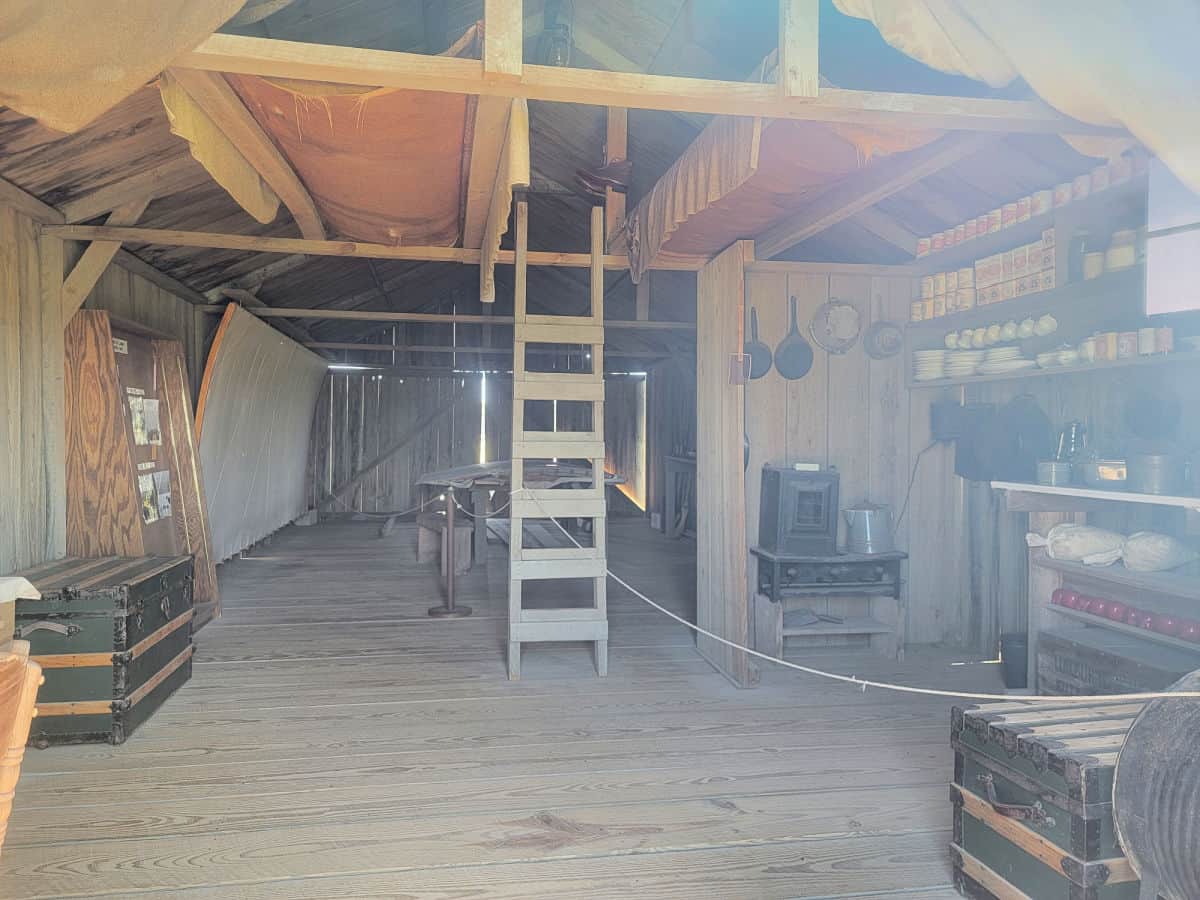 Reconstructed 1903 Camp Buildings
The reconstructed 1903 camp buildings were built on the location where the Wright Brothers lived while experimenting on the Outer Banks. The hanger and living quarters offer a glimpse of what life was like for the brothers in 1903.
Wright Brothers Monument
Located on the top of Kill Devil Hill this was the first monument to commemorate the Wright Brothers' world-changing achievement.
The 60-foot granite monument sits on a 90-foot dune that gives you a great view of the landing points the brothers Wilbur and Oroville were able to reach.
The monument was finished and dedicated in 1932. The monument sites on a starbase and the monument itself were designed to look like bird wings. There is a beacon of light that shines at night to light the way for aviators.
The doors to the Wright Brothers Monument contain 8 bronze panels that tell the stories of humans' attempts to fly.
Big Kill Devil Hill is a 90 food stabilized sand dune. The dune had soft sand so the dune had to be stabilized with to keep it from shifting. Grass was planted to anchor it in place.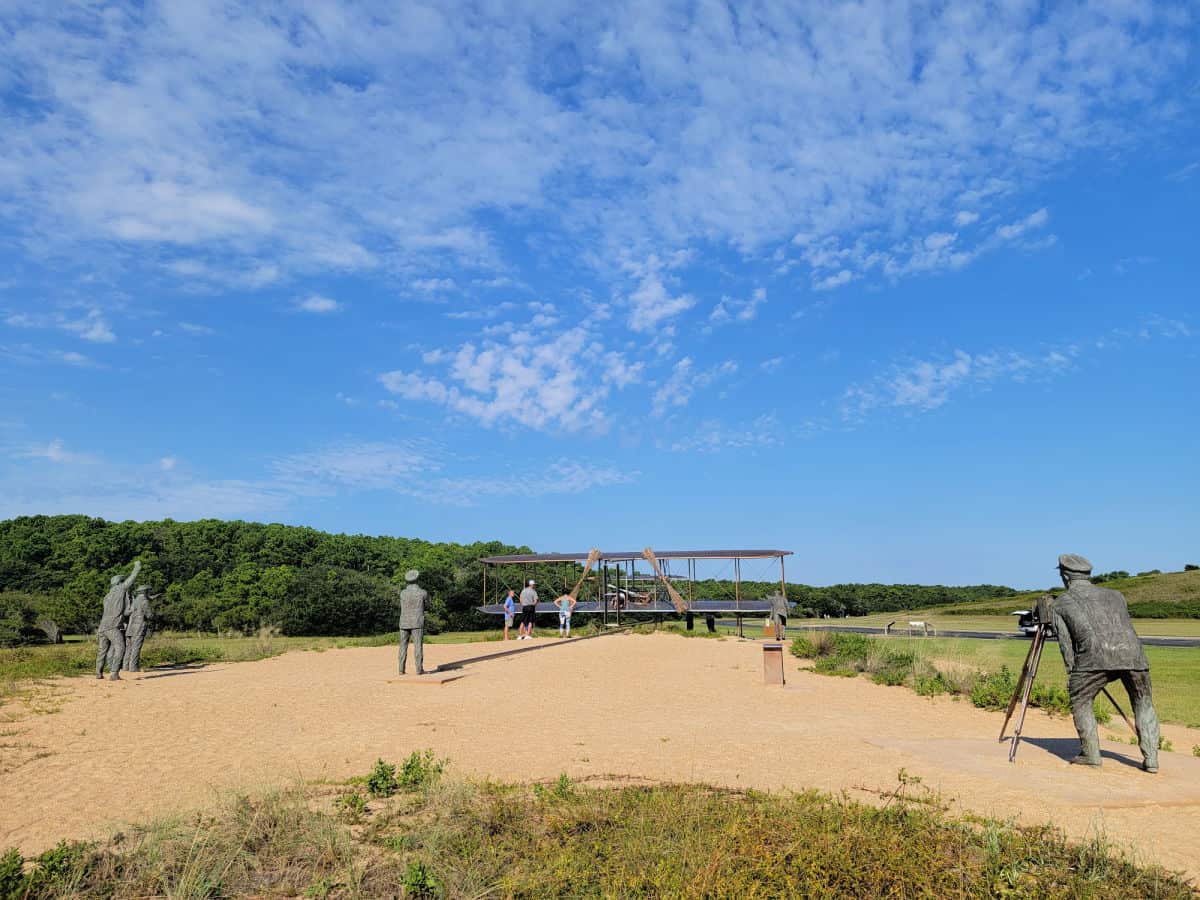 December 17, 1903 Sculpture
Located on the south side of Kill Devil Hill this sculpture is an artistic representation of the moment of the first flight.
You can walk around the sculpture and climb on it if you want to. We highly suggest getting photos here! It is so much fun.
Hiking
Always carry the 10 essentials for outdoor survival when exploring.
There are no specific hiking trails in the park but there is a lot of walking and a climb up to the memorial.
Please plan for the weather and being outside without a lot of shade.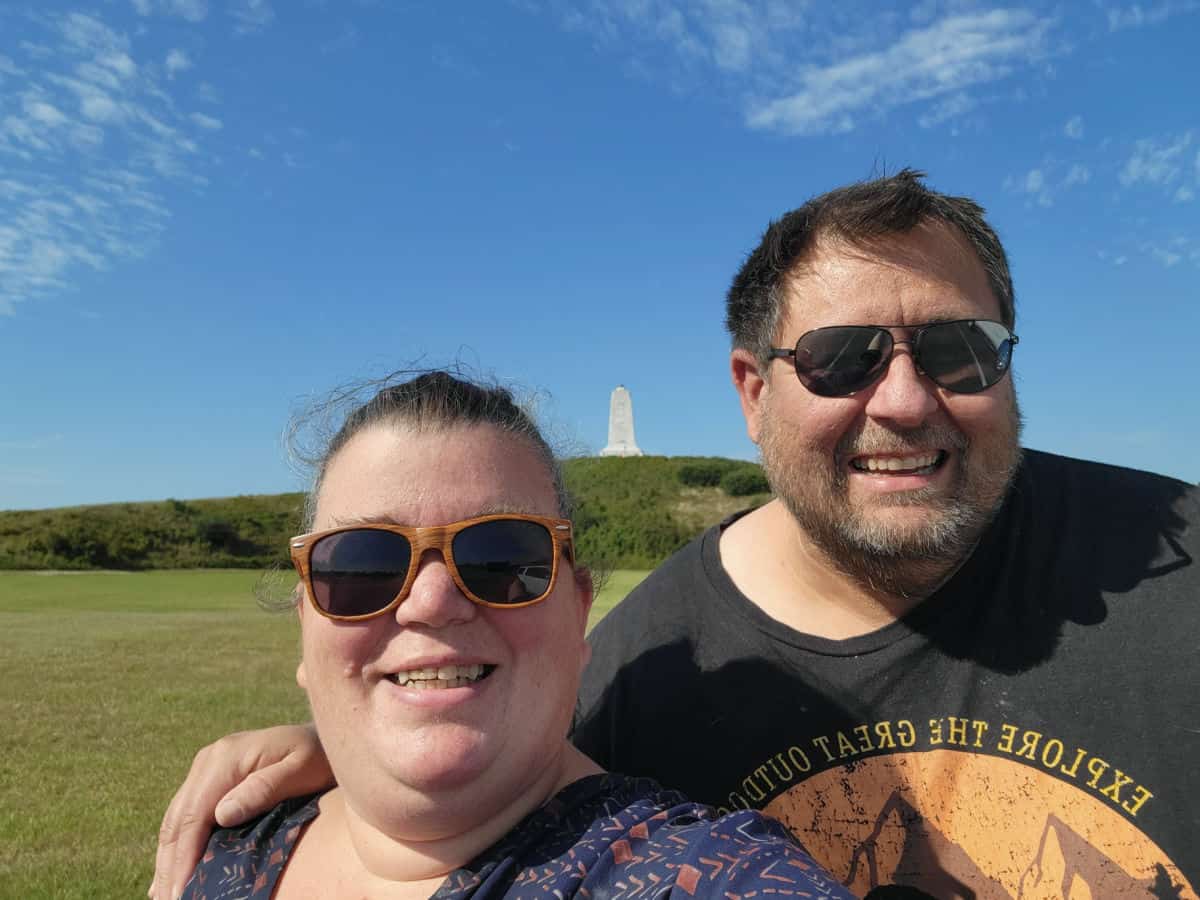 How to beat the crowds?
We suggest arriving early in the morning to explore the park without huge crowds. That being said we arrived at the park right when they opened and there was a line of cars waiting to enter.
There is a lot of space in the park to be able to move around without having to be in a crowd.
Where to stay
There are no National Park Lodges within the park.
Nearby Lodging includes:
TownePlace Suites by Marriott Outer Banks Kill Devil Hills - This smoke-free aparthotel features an indoor pool, a fitness center, and a bar/lounge. Free Wi-Fi in public areas and free self parking are also provided. Additionally, a snack bar/deli, a 24-hour business center, and dry cleaning are onsite. Each apartment provides a kitchen with a refrigerator, a stovetop, a microwave, and a dishwasher.
Travelodge by Wyndham Outer Banks/Kill Devil Hills - Located close to Wright Brothers National Memorial and Avalon Fishing Pier, Travelodge by Wyndham Outer Banks/Kill Devil Hills provides a terrace, mini golf, and a 24-hour business center. Active travelers can enjoy rowing/canoeing, motor boating, and fishing at this hotel. Stay connected with free in-room Wi-Fi.
Sea Ranch Resort - look forward to a bar, a gym, and a conference center. With a beachfront location, beachfront dining, and surfing, this hotel is the perfect place to soak up some sun. The onsite American cuisine restaurant, Beachside Bistro, features ocean views. Stay connected with free in-room Wi-Fi.
Wingate by Wyndham Kill Devil Hills NC - Laundry facilities, a gym, and a business center are just a few of the amenities provided at Wingate by Wyndham Kill Devil Hills NC. For some rest and relaxation, visit the sauna. Guests can connect to free in-room Wi-Fi.
Click on the map below to see current vacation rentals and lodges near the park.


Camping
For a fun adventure check out Escape Campervans. These campervans have built in beds, kitchen area with refrigerators, and more. You can have them fully set up with kitchen supplies, bedding, and other fun extras. They are painted with epic designs you can't miss!
Escape Campervans has offices in Vancouver, Seattle, Portland, San Francisco, Las Vegas, Los Angeles, Phoenix, Salt Lake City, Denver, Chicago, New York, and Orlando

Wright Brothers Quotes
"Do not let yourself be forced into doing anything before you are ready." - Wilbur Wright.
If we worked on the assumption that what is accepted as true really is true, then there would be little hope for advance.
"We were lucky enough to grow up in an environment where there was always much encouragement to children to pursue intellectual interests; to investigate whatever aroused curiosity." - Orville Wright
"The airplane stays up because it doesn't have the time to fall."
"The exhilaration of flying is too keen, the pleasure too great, for it to be neglected as a sport." n- Oroville Wright
"For some years I have been afflicted with the belief that flight is possible to man. My disease has increased in severity and I feel that it will soon cost me an increased amount of money if not my life."
"It is possible to fly without motors, but not without knowledge and skill."
"Thousands of men had thought about flying machines and a few had even built machines which they called flying machines, but these were guilty of almost everything except flying."
"The desire to fly is an idea handed down to us by our ancestors who, in their grueling travels across trackless lands in prehistoric times, looked enviously on the birds soaring freely through space, at full speed, above all obstacles, on the infinite highway of the air." - Wilbur Wright
"No bird soars in a calm." - Wilbur Wright.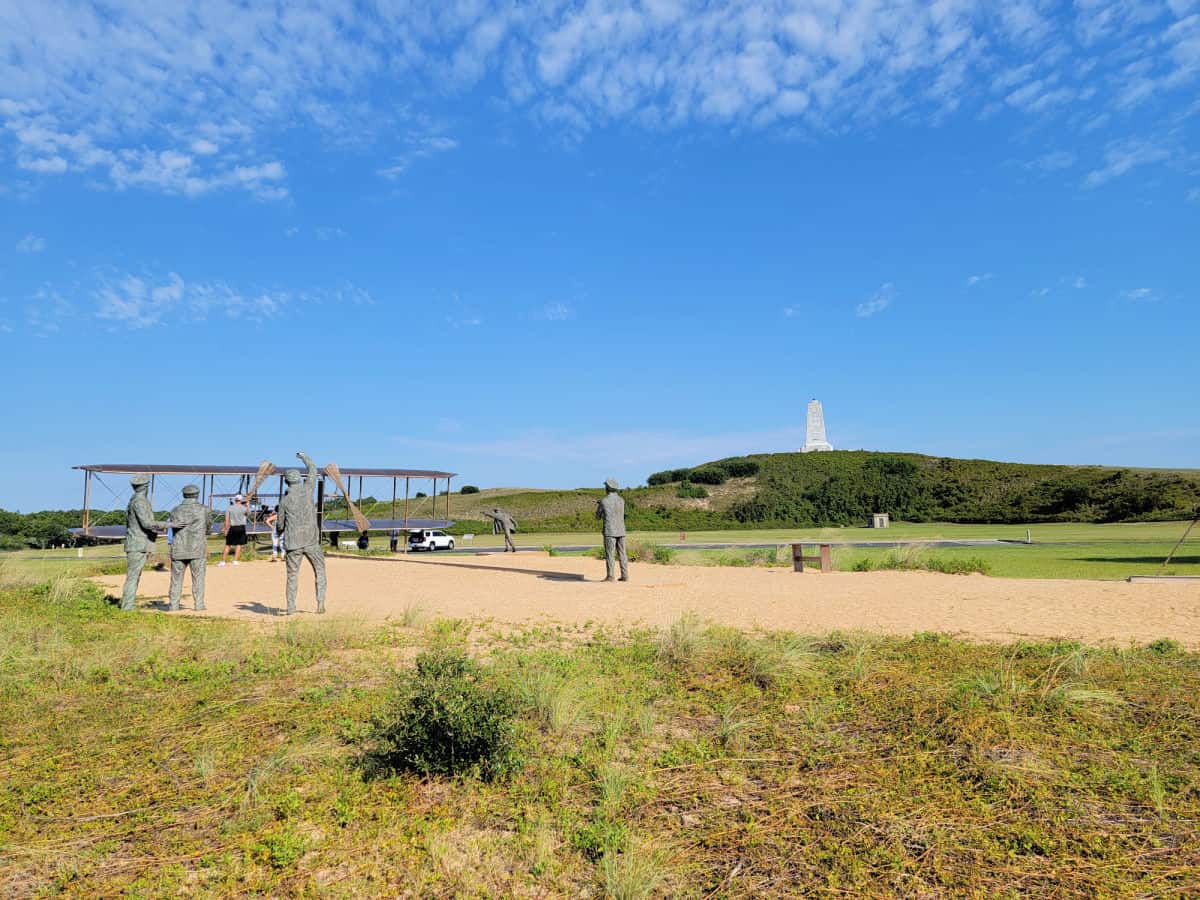 Parks Near Wright Brothers National Memorial
Fort Raleigh National Historic Site
Cape Hatteras National Seashore
Cape Lookout National Seashore
Moores Creek National Battlefield
Assateague Island National Seashore
Check out all of the North Carolina National Parks along with neighboring National Parks in South Carolina, Tennessee National Parks, Virginia National Parks, and National Parks in Georgia