Fort Raleigh National Historic Site in North Carolina interprets the story of the first two English attempts to colonize North America in the late 16th century on Roanoke Island.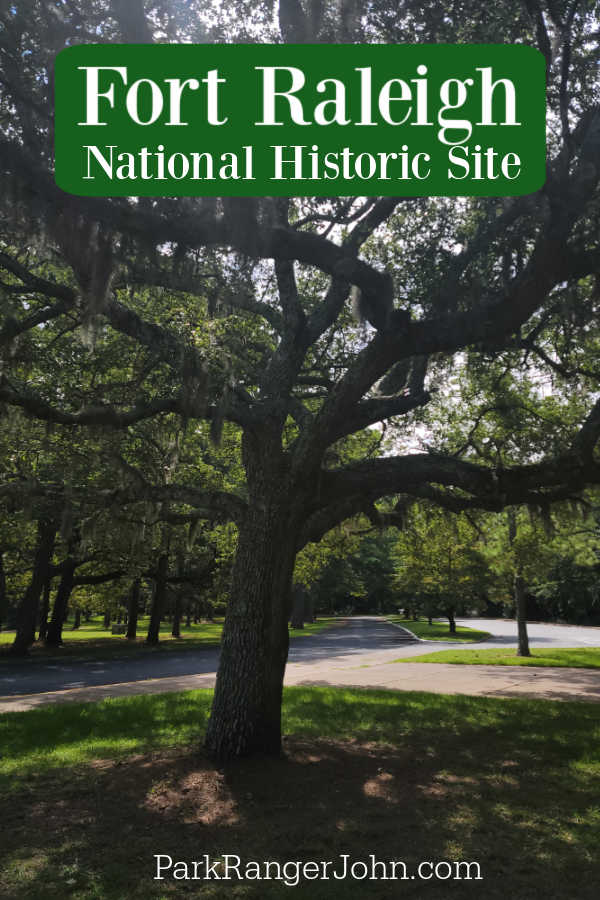 Fort Raleigh National Historic Site
Both of these settlements were organized by famed adventurer Sir Walter Raleigh. The 1st colony was attempted in 1585 but encountered difficulties and returned to England in 1586.
The 2nd settlement attempt occurred in 1587 and also encountered issues and sent their leader John White back to England for help.
When John White left for England he left 117 colonists which included his granddaughter Virginia Dare. She was the first child of English parents born in the New World.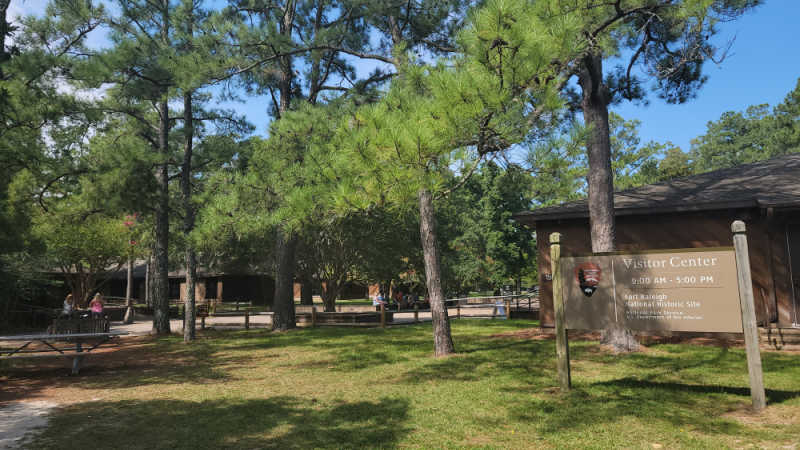 Lindsay Warren Visitor Center
The visitor center included amazing interpretive displays exhibits on the Algonquian, the English, the Roanoke Island Freedmen's Colony, the Civil War Battle of Roanoke Island, and Reginald Fessenden, the park video, and the Raleigh Room.
1896 Monument
This stone marker commemorates the birth of Virginia Dare, the first English child born in North America along with the baptism of a Croatoan native Manteo.
First Light of Freedom
The First Light of Freedom monument commemorates the Roanoke Island Freedman's Colony that was set up during American Civil War.
Freedom Trail
The Freedom Trail is a 1.25-mile trail that ends with views of Croatan Sound located on the western edge of the park.
Thomas Hariot Trail
The Thomas Hariot Trail is a .3 mile loop trail that runs through the maritime forest before reaching the sandy shores of Albemarle Sound.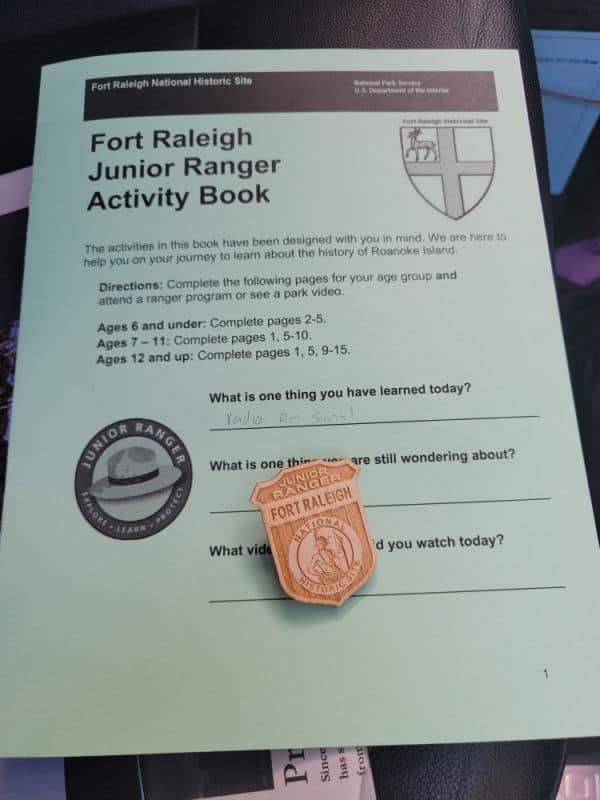 Junior Ranger Program
The Junior Ranger Program can be picked up at the visitor center front desk or you can prepare for your trip by downloading the Junior Ranger booklet before your trip begins.
This booklet is mainly filled out within the visitor center. It is great for learning more about the park and the history of the area.
Waterside Theater
The nation's first and longest-running outdoor symphonic drama The Lost Colony is performed by the Roanoke Island Historical Association.
The outdoor symphonic drama is performed evenings from late May to mid-August.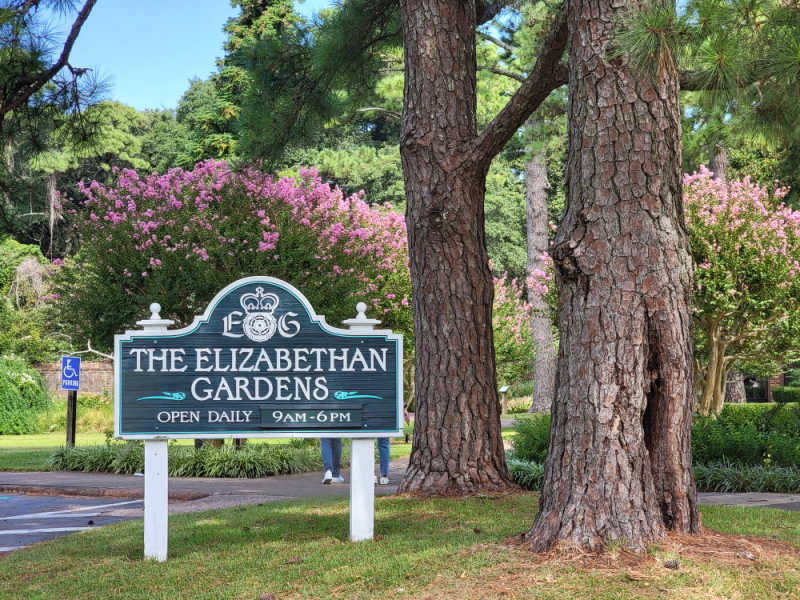 The Elizabethan Gardens provide the opportunity to enjoy 10 acres of flora designed as a living memorial to England's first " New World" colonists.
Tickets are $10 for adults age 18 and older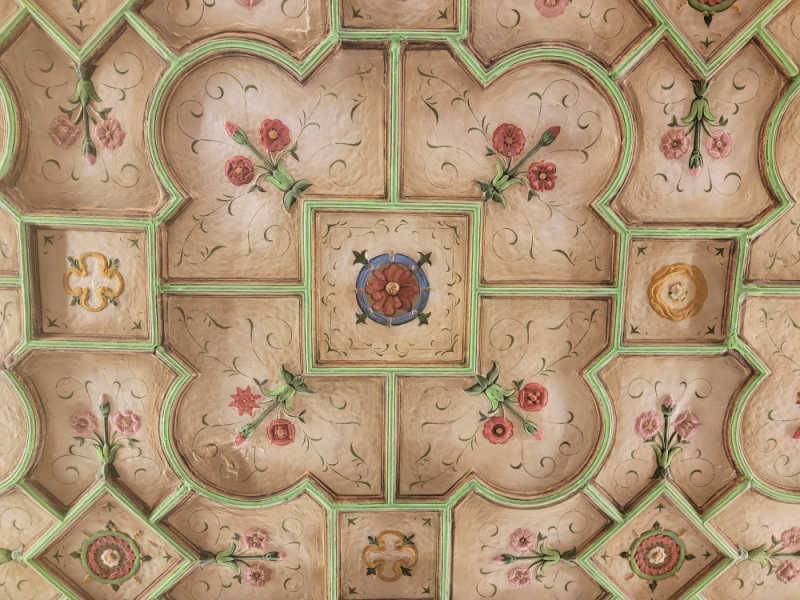 Things to know when planning a visit
Park Address - 1500 Fort Raleigh Road, Manteo, NC 27954
Located on the northern end of Roanoke Island, north of the town of Manteo, NC.
Park Hours - The grounds are open for visitation 24 hours a day.
Entrance Fees - $0.00, there are no fees to visit this park
Pets - Pets must be on a leash no longer than 6' at all times. Pets are not allowed in buildings.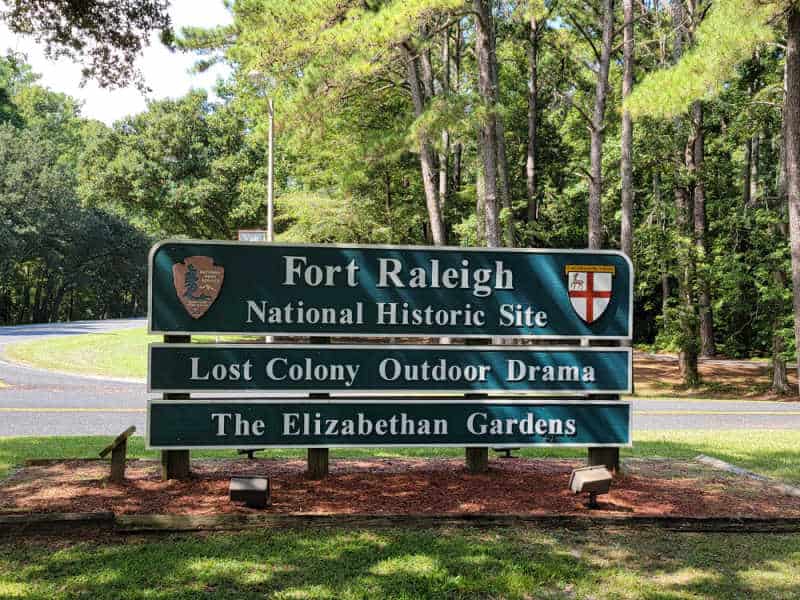 National Park Sites near Fort Raleigh NHS
Wright Brothers National Memorial
Cape Hatteras National Seashore
Cape Lookout National Seashore
Colonial National Historical Park
Check out all of the North Carolina National Parks along with neighboring National Parks in South Carolina, Tennessee National Parks, Virginia National Parks, and National Parks in Georgia