Complete Guide to Fort Monroe National Monument in Virginia, including things to do, Casemate Museum, Hours, Directions, History, and so much more!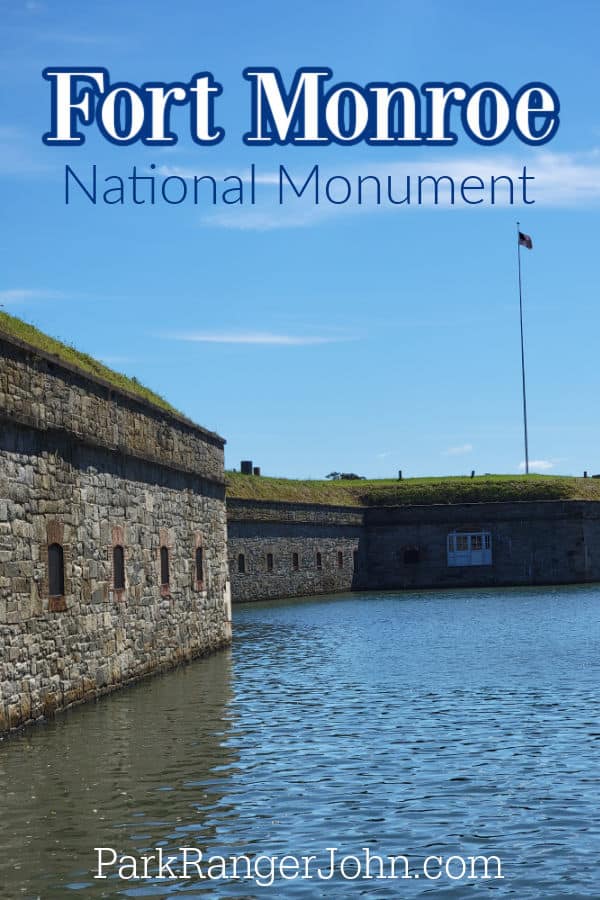 Fort Monroe National Monument
Fort Monroe National Monument is also known as the Freedom Fortress. This great national monument is located in Hampton, Virginia.
About Fort Monroe National Monument
Fort Monroe's history spans from the 17th to the 21st century, from American Indians to Captain John Smith's journeys to American Civil War history. The Fort was known first as "The Gibraltar of the Chesapeake" the bastion of defense and later as "Freedom's Fortress,"
Originally named "Pointe Comfort" by Captain John Smith in 1607 when the first English colonists came to America. It was here that the settlers of Jamestown established Fort Algernon in 1609.
Fort Monroe is the largest four-star bastion fort and the largest of the Third System of fortifications ever built in the United States. The fort was named after US President James Monroe.
It was developed as a coastal defense strategy to protect the Chesapeake Bay. The fort took 15 years to complete between 1815 and 1836.
The fort construction was built under the supervision of Robert E. Lee who was at the time a U.S. Army Lieutenant who later commanded the Confederate forces in the Civil War.
Ft. Monroe was the site of the first landing of enslaved Africans in 1619. They had been captured by the White Lion ship. The ship traded the 20 Africans for provisions and supplies so they could make their trip back to England.
This marked the beginning of African enslavement in the Virginia Colony.
In May 1861, Major General Benjamin Butler made the famous "Fort Monroe Doctrine," determining that escaping slaves who reached Union lines would be considered contraband and not be returned to bondage.
Slavery was also called bondage during this time. Even though Virginia had seceded from the Union in 1861, Fort Monroe stayed in Union hands for the entirety of the Civil War and served as a haven for slaves escaping to freedom.
This started when three enslaved men, Frank Baker, Shepard Mallory, and James Townsend fled Confederate-held territory at Sewell's Point and rowed across Hampton Roads not knowing their future when they reached the fort.
They risked their lives in hopes of finding freedom. More than 500,000 freedom seekers sought protection at the stone fort.
The fort served as the U.S. Army's Coastal Defense Artillery School during the 19th and 20th centuries, and most recently, as headquarters of the U.S. Army's Training and Doctrine Command.
On November 1, 2011, President Barack Obama named Fort Monroe a National Monument—a key strategy to preserve the fortress with the National Park System.
Fort Monroe was decommissioned in 2011 and became a National Monument. The park is only 10 years old and still working on developing a full park plan.
The fort was designated a National Historic Landmark in 1960 and it is listed on the National Register of Historic Places.
Fort Monroe is managed and operated in partnership between the National Park Service, Fort Monroe Authority, and US Army.
Is Fort Monroe National Monument worth visiting?
Yes! We truly enjoyed our visit to the park. Being able to walk by the historic buildings, learn more about on-going preservation work, explore miles of waterfront, and soak in the scenic views was amazing.
We were really impressed with the historic preservation that has been done while the area is still used as living area.
There is so much rich history and historic resources in the park.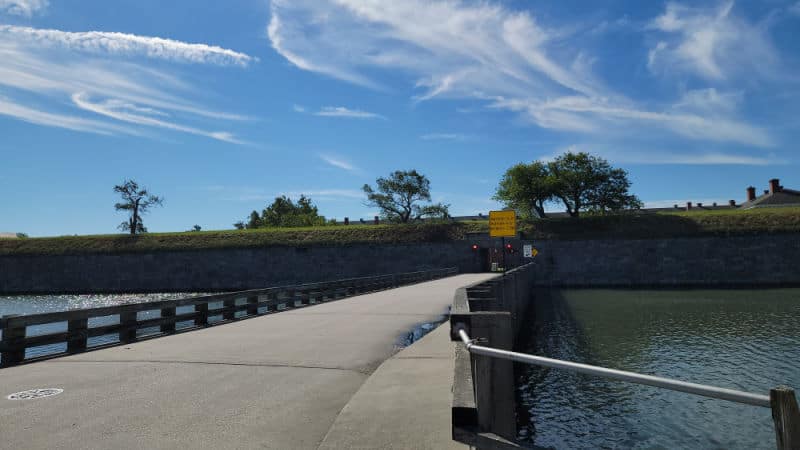 History of Fort Monroe National Monument
Fort Monroe National Monument preserves the largest fort ever built by the American Military. The site where Fort Monroe now stands has guarded the Chesapeake Bay and surrounding area since 1609.
The Fort Monroe National Monument tells the story of America from the time of arrival of the first colonists in Virginia. The site has witnessed several watershed moments, including the arrival of the first enslaved Africans, who landed at Old Point Comfort in 1619.
The stonewalled bastion fort that makes up the Fort Monroe National Monument was constructed in the 1830s as part of the Third System of fortifications. The fort was named in honor of the fifth president of America, and Founding Father, James Monroe.
Fort Monroe has hosted several famous figures, such as Robert E. Lee, the writer Edgar Allan Poe, and Abraham Lincoln.
Old Point Comfort
In 1607 three ships under the command of Captain John Smith and Christopher Newport carrying the first colonist arrived in America. They established Jamestown Virginia, and with it the British colony of Virginia. Shortly after, in 1609, Fort Algernourne was built on the strategically important site of Old Point Comfort.
Fort Algernourne was a wooden stockade fort that protected the area from 1609 until 1622. The fort was renamed the Point Comfort Fort in 1612.
The Point Comfort Fort, along with several other wooden stockades, protected the newly established settlement.
During this time, the first enslaved Africans arrived in the colony. On August 25th, 1619, between 20 and 30 enslaved Africans arrived at Point Comfort Fort. They had been transported as human cargo on a ship called the White Lion.
The White Lion had acquired the "20. and odd" Africans, as they were referred to, after a battle against a Spanish slave ship. This arrival began an almost 250-year period of slavery in America.
The fort was not used after 1622 until Fort George replaced it in 1728. During the Revolutionary War (1775 to 1783), the British used the ruins of Fort George as a base.
Building Fort Monroe
The building of the brick and stone fort, Fort Monroe, on the site where Point Fort Comfort and Fort George had once stood, began in 1819. The bastion fort was completed in 1834. It was designed by a French military engineer named Simon Bernard.
Fort Monroe was the first of its kind. It was the first of a series of fortifications built to form a new type of coastal defense system known as the Third System of Coastal Fortifications.
New coastal defenses were developed after the weaknesses of American coastal defenses were exposed during the War of 1812.
Fort Monroe During the American Civil War
When the American Civil War began in 1861, Virginia seceded from the Union and joined the Confederate States of America. Despite the state of Virginia supporting the Confederacy, Fort Monroe remained under Union control.
Fort Monroe played a pivotal role during the Civil War. Early in the confrontation, the fort received minor damage during the Battle of Sewell's Point – fought for the control of Hampton Roads.
During the Civil War, Fort Monroe earned the nickname Freedom Fortress due to the Fort Monroe Doctrine.
The doctrine, drafted by Major General Benjamin Butler, stated that any enslaved person who reached Union lines would be declared 'contraband of war.' This meant that any enslaved person would not be returned to the Confederacy, and was therefore free.
Union General George B. McClellan launched his Peninsula Campaign from Fort Monroe. With the help of Union gunboats stationed at Fort Monroe, McClellan managed to reach the Confederate capital, Richmond. McClellan laid siege to the capital but failed to capture it.
Fort Monroe served as a communication hub from 1862. All incoming mail from the Confederacy to the Union passed through the fort, including letters from prisoners of war. The mail was inspected and sent on.
Fort Monroe helped the Union maintain control of crucial areas that proved pivotal to the Union's success. Confederate President Jefferson Davis was imprisoned at Fort Monroe when he was captured in May 1865.
Fort Monroe During the World Wars
Fort Monroe continued to protect the Chesapeake Bay and surrounding area after the Civil War ended.
Fort Monroe returned to active duty in 1917 when America declared war on Germany and its allies in 1917, entering the First World War.
Fort Monroe was once again used to protect Hamptons Roads and the important military installations in the area. The fort became the headquarters of the Harbour Defense Command of the Chesapeake Bay. This was a branch of the military consisting of the Army Coast Artillery Corps.
Fort Monroe remained as the headquarters of the defense Command of the Chesapeake Bay. Due to advances in weaponry and the construction of newer fortifications, Fort Monroe was no longer the main defense of the Chesapeake Bay area.
After World War II, Fort Monroe became a training ground for the U.S Army. The fort became the headquarters for the Continental Army Command until 1973. The U.S Army decommissioned the site in 2011.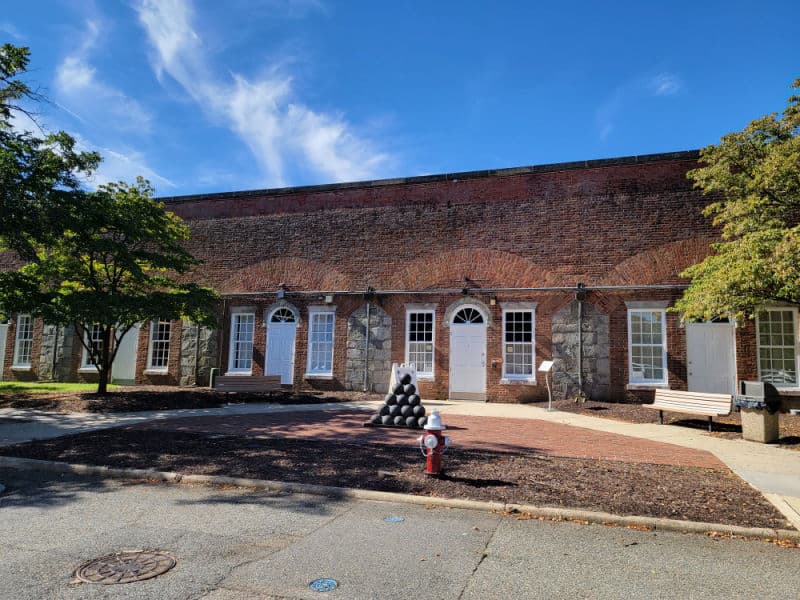 Things to know before your visit to Fort Monroe National Monument
Entrance fee
$0.00 There is no entrance fee to visit the park
Planning a National Park vacation? America the Beautiful/National Park Pass covers entrance fees for an entire year to all US National Park Sites and over 2,000 Federal Recreation Fee Sites.
The park pass covers everyone in the car for per vehicle sites and for up to 4 adults for per-person sites.
Buy on REI.com and REI will donate 10% of pass proceeds to the National Forest Foundation, National Park Foundation and the U.S. Endowment for Forestry & Communities.
Learn more about National Park Passes for parks that have an entrance fee.
Free Entrance Days -Mark your calendars with the five free entrance days the National Park Service offers annually.
Time Zone
Eastern Time Zone
Pets
Pets on leashes are welcome but cannot be on the beach during the summer months (May 15th - Sept. 15th) or in the buildings.
Cell Service
There is usually cellular coverage throughout the park.
Park Hours
Fort Monroe National Monument is open year-round for outdoor activities like walking and exploring the grounds from dawn to dusk.
The beaches at Fort Monroe are open to the public all year from sunrise to sunset.
Wi-Fi
Public Wi-Fi is available.
Insect Repellent
Insect repellent is always a great idea when outdoors, especially if you are around any body of water.
We use Permethrin Spray on our clothes before our park trips.
Water Bottle
Make sure to bring your own water bottle and plenty of water with you. Plastic water bottles are not sold in the park.
Parking
Public street parking is available throughout Fort Monroe.
Food/Restaurants
Fort Monroe has several dining options, including prepackaged food and beverages at the Colonies RV and Travel Park store. A variety of restaurants can also be found in the Phoebus area and other nearby areas of Hampton.
Gas
There are no gas stations within the park.
Drones
Drones are not permitted within National Park Sites.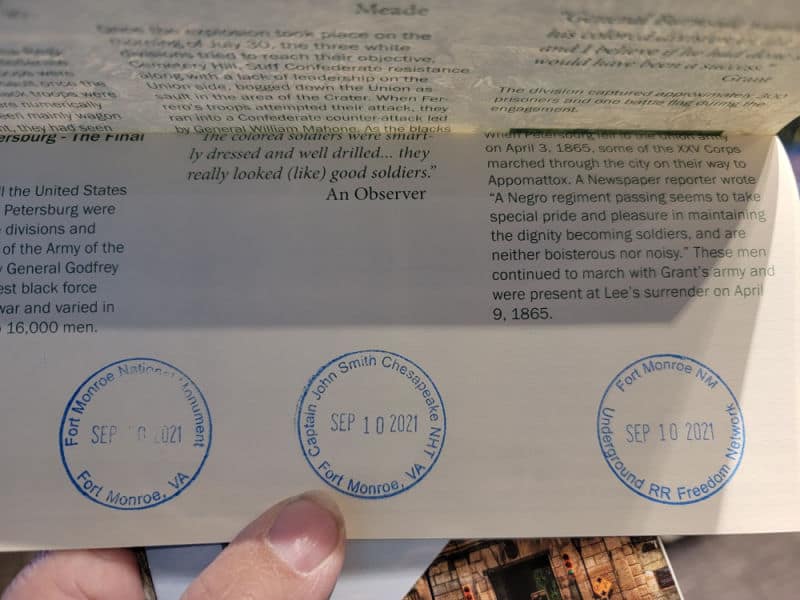 National Park Passport Stamps
National Park Passport Stamps can be found in the visitor center gift store. There were three stamps during our visit
-Fort Monroe National Monument, Fort Monroe, VA
-Captain John Smith Chesapeake NHT, Fort Monroe, VA
-Underground RR Freedom Network, Fort Monroe NM
They also had a lighthouse stamp for the U.S. Lighthouse Society's Passport Program.
Make sure to bring your National Park Passport Book with you or we like to pack these circle stickers so we don't have to bring our entire book with us.
Fort Monroe National Monument is part of the 2019 Passport Stamp Set.
Electric Vehicle Charging
There are currently 30 electric vehicle (EV) charging stations within a 10-mile radius of the center of Fort Monroe, VA.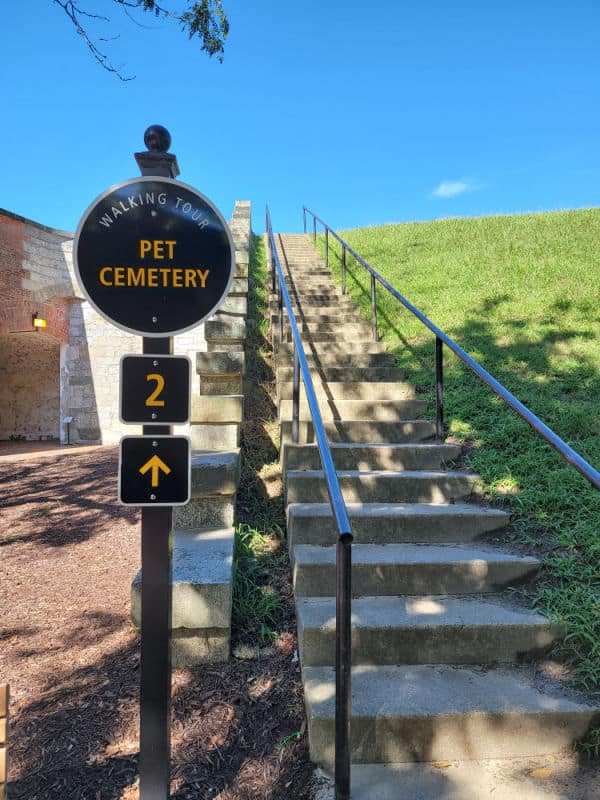 Details about Fort Monroe National Monument
Size - 565 acres
NP is currently ranked at out of 63 National Parks by Size.
Date Established
November 1, 2011 - by President Obama
Visitation
Park visitation statistics are not available.
Learn more about the most visited and least visited National Parks in the US
National Park Address
41 Bernard Road, Building #17, Fort Monroe, VA 23651-1001
National Park Map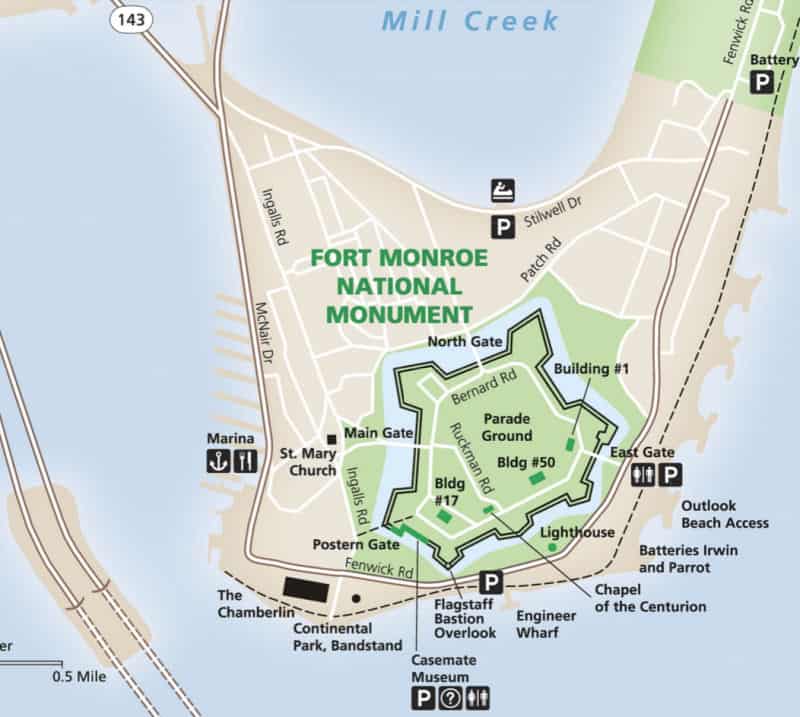 Where is Fort Monroe National Monument?
Fort Monroe National Monument is located in Hampton, Virginia, a city located on the southern tip of the Virginia peninsula.
Estimated distance from major cities nearby
Norfolk, VA - 20 miles
Chesapeake, VA - 25 miles
Virginia Beach, VA - 30 miles
Washington, DC - 180 miles
Raleigh, NC - 200 miles
Baltimore, MD - 220 miles
Durham, NC - 220 miles
Greensboro, NC - 250 miles
Philadelphia, PA - 320 miles
Charlotte, NC - 360 miles
Estimated Distance from nearby National Park
Shenandoah National Park - 200 miles
New River Gorge National Park - 350 miles
Congaree National Park - 412 miles
Mammoth Cave National Park - 472 miles
Great Smoky Mountains National Park - 455 miles
Where is the National Park Visitor Center?
The Fort Monroe Visitor and Education Center is located at 30 Ingalls Road, Hampton, Virginia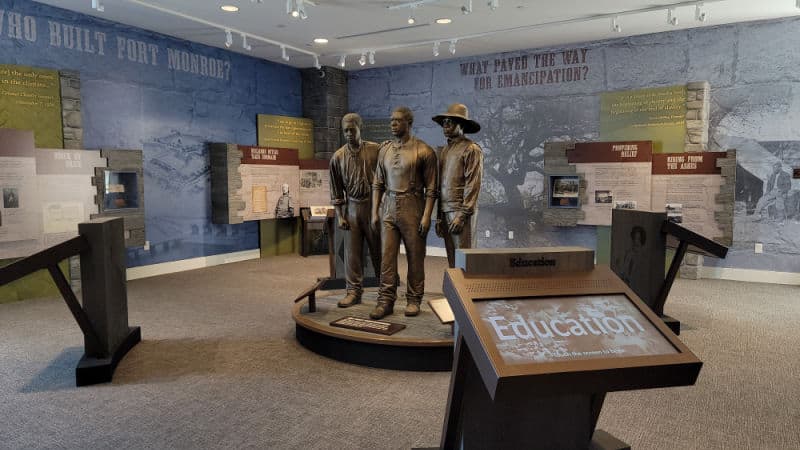 Getting to Fort Monroe National Monument
Closest Airports
Norfolk International Airport - 16 miles
Newport News/Williamsburg International Airport - 17 miles
International Airports
Richmond International Airport - 75 miles
Washington Dulles International Airport - 200 miles
Baltimore/Washington International Thurgood Marshall Airport - 220 miles
Raleigh-Durham International Airport - 230 miles
Regional Airports
Chesapeake Regional Airport - 35 miles
Middle Peninsula Regional Airport - 55 miles
Elizabeth City Regional Airport - 70 miles
Emporia Greensville Regional Airport - 90 miles
Northeastern Regional Airport - 95 miles
Driving Directions
From I-64 East or West take Exit 268 (169 East Mallory St/Ft. Monroe) (Going East: Last Exit prior to Hampton Roads Bridge-Tunnel, going West: first Exit after it.) Top of Exit Left at light onto S Mallory St (0.1 mile). Right at 2nd light onto E Mellen St. Continue crossing a small bridge (0.6 mile).
Continue straight at the light (Left fork) onto Ingalls Rd (0.5 mile). Left onto Ruckman Rd towards fort Main Gate, pass through fort walls Right onto Bernard Rd, angled parking on Left (0.2 mile).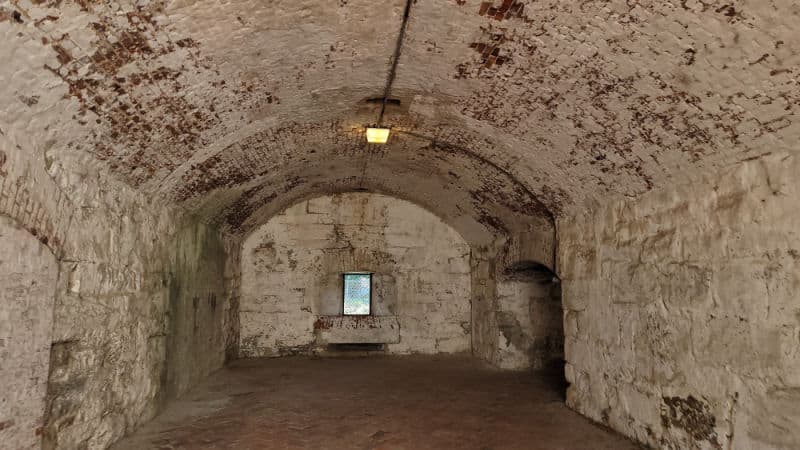 Best time to visit Fort Monroe National Monument
The best time to visit Fort Monroe National Monument may depend on your personal preferences and interests. If you prefer mild weather and enjoy outdoor activities, the spring and fall months may be a good time to visit. If you prefer warmer weather and enjoy participating in the events and festivals, the summer and early fall may be a good time to visit.
Weather and Seasons
The warmest weather is from May 31st to September 16th, with an average daily high temperature above 79 degrees.
The coolest weather is from December 4th to March 5th, with an average daily high temperature below 56 degrees.
The snowiest weather typically occurs between December 24th to March 6th, with an average of at least 1 inch a month. February gets the most snow with an average of 2.2 inches.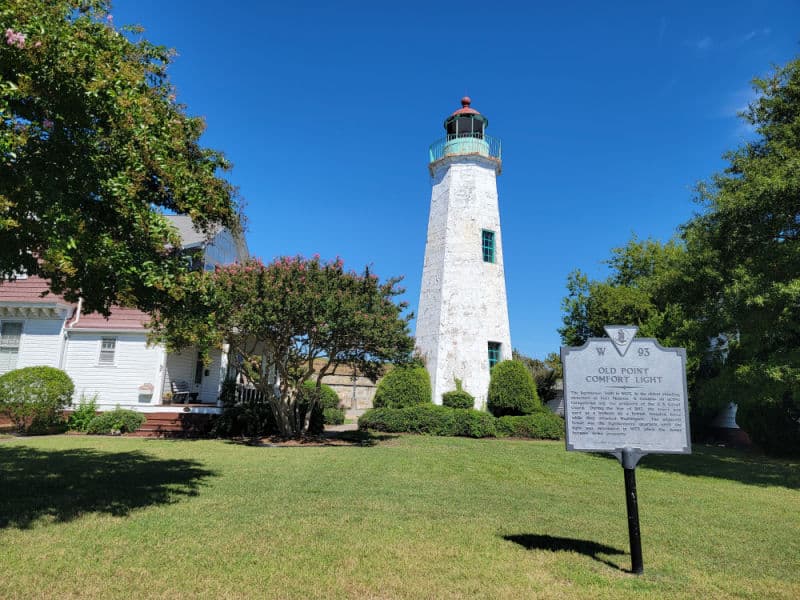 Best Things to do in Fort Monroe National Monument
Many of the historic fort buildings are currently occupied, when exploring the grounds please respect the resident's privacy by not peering into windows or opening gates.
Use caution when walking the ramparts that circle the top of the fort. Do not venture too close to the edge of the fort walls and stay clear of the moat.
Visitor Center
The visitor and education center is not on the fort grounds it is across a small bridge near the water. You can park near the Casemate Museum and easily walk over to the museum. It is a great walk through the fort walls.
The visitor center has exhibits, a small park store, and information on the fort.
There are great signs all over the park detailing the walking tour.
Junior Ranger programs are available at the Casemate Museum.
The Junior Ranger Booklet can also be downloaded here.
Casemate Museum
This partner-operated museum presents the complex history of Old Point Comfort and Fort Monroe across more than four centuries.
Access to the museum is by time reservation entry through the visitor center. One can also call 757-690-8181 or visit: https://bit.ly/3icOzD4 to make a reservation online.
The Casemate Museum is operated by the Commonwealth of Virginia through the Fort Monroe Authority.
Admission is free and the facility is wheelchair accessible.
The Casemate Museum is open daily from 10:30 am - 4:30 pm and closed on Thanksgiving, December 24, December 25, and January 1.
The Casemate Museum includes the cell that Jefferson Davis was held in. Jefferson Davis was the President of the Confederate States and held for treason.
Old Comfort Point Lighthouse
The Old Comfort Point Lighthouse stands 58 feet tall and is made of sandstone masonry. The lighthouse has an octagonal shape. The original lighthouse was built in 1774 and then reconstructed in 1803.
The Old Comfort Point Lighthouse is the 2nd oldest lighthouse on the Chesapeake Bay after the Camp Henry Lighthouse. It is the oldest continuously active lighthouse on the Chesapeake Bay.
The lighthouse is maintained by the US Coastguard
Building #1, Quarters No. 1
Major General Benjamin Butler occupied these quarters in 1861 where he made the pivotal "Contraband decision."
These quarters were also President Lincoln's residence while planning the attack on Norfolk in 1862.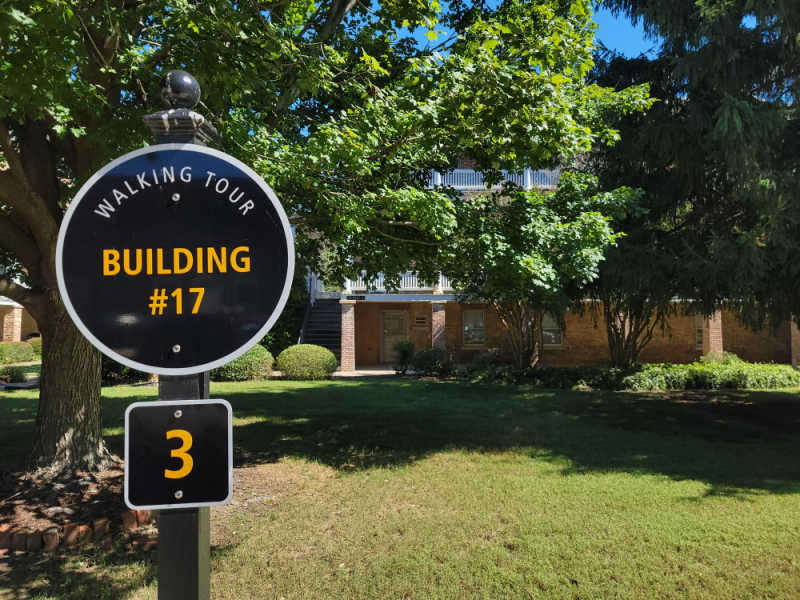 Building 17
The house where Robert E. Lee lived with his family. While on leave from Fort Monroe, Robert E. Lee married Mary Custis, great-granddaughter of Martha Washington, at Arlington House in present-day Arlington, Virginia, and occupied these quarters from 1831-34. Lee's first child, a son, Custis Lee, was born here in 1832.
Chapel of the Centurion
Dedicated in 1858 in honor of the Roman centurion Cornelius and designed in the style of noted architect Richard Upjohn this chapel features many impressive architectural details including three Tiffany stained-glass windows.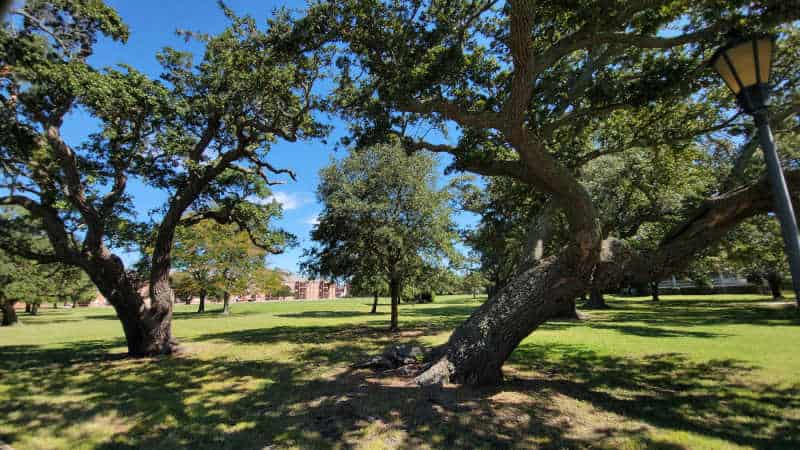 Parade Grounds
This open area, surrounded on three sides by mature live oaks including the 500-year-old "Algernourne Oak," was historically used as much for recreation as military exercises and ceremonies.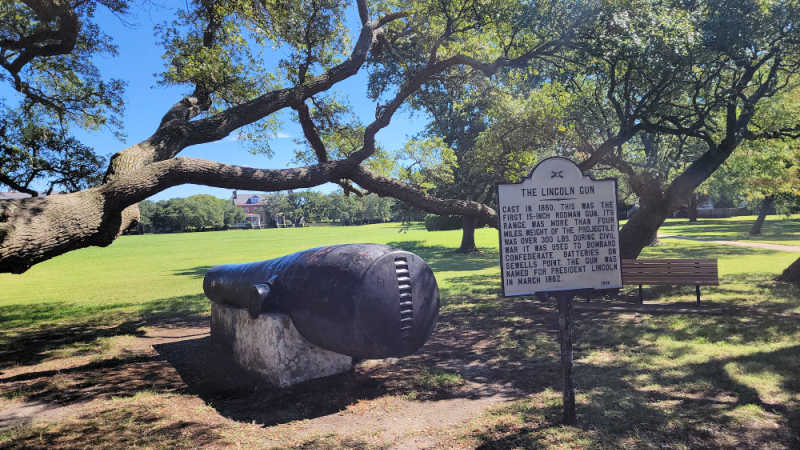 The Lincoln Gun
The Lincoln Gun can be seen along the parade grounds. It was cast in 1860 and was the first 15-inch Rodman Gun..
It had a range of more than four miles. 300-pound projectiles were used during the Civil War to bombard Confederate Batteries on Sewell Point.
The gun was named for President Lincoln in March 1862.
Pet Cemetery
Fort Monroe's pet cemetery was founded in 1928. There are 243 graves with markers and an additional 400 reported graves in the cemetery.
Today the cemetery is closed to all burials. Visitors can go and view the gravestones of family pets, working war dogs, and unit mascots.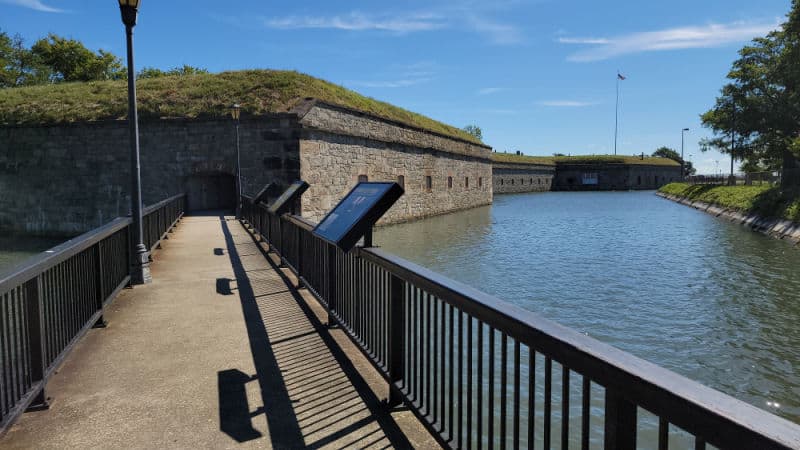 Hiking in Fort Monroe National Monument
Always carry the 10 essentials for outdoor survival when exploring.
There are no specific hiking trails within the park but there is a lot of opportunity to walk around and explore.
How to beat the crowds in Fort Monroe National Monument?
We did not experience any big crowds while in the park. There are some areas of driving congestion but it was nothing major.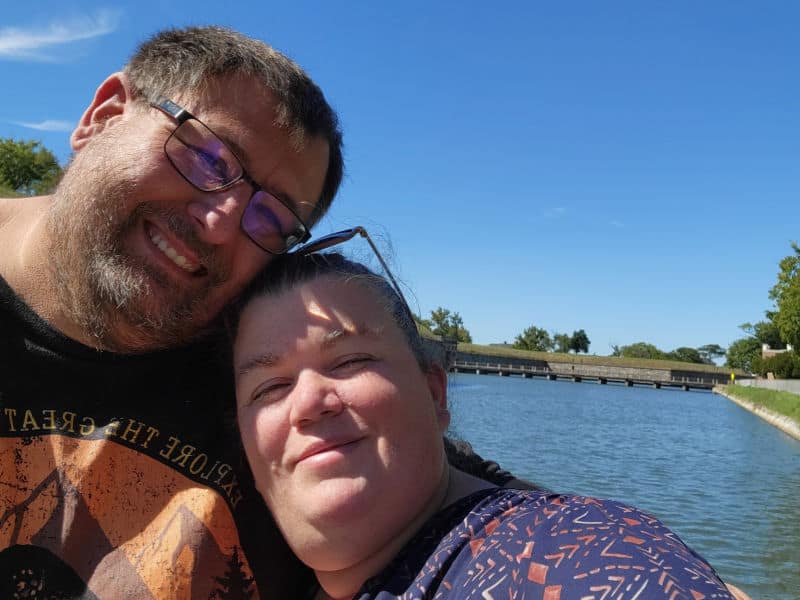 Where to stay when visiting Fort Monroe National Monument
There are no National Park Lodges within the park
There are plenty of options in and around the Fort including The Colonies RV and Travel Park, indoor lodging throughout the City of Hampton and boutique hotels located in downtown Phoebus.
Nearby Lodging includes:
The Landing at Hampton Marina, Tapestry Collection by Hilton - take advantage of a marina, a free grocery shopping service, and shopping on site. Be sure to enjoy a meal at Topsail, the onsite restaurant. Free in-room Wi-Fi is available to all guests, along with dry cleaning/laundry services and a bar.
Embassy Suites by Hilton Hampton Convention Center - free continental breakfast, a free daily manager's reception, and a terrace at Embassy Suites by Hilton Hampton Convention Center. For some rest and relaxation, visit the hot tub. The onsite restaurant, Cyprus Grille Restaurant, features local cuisine and happy hour. In addition to a coffee shop/café and dry cleaning/laundry services, guests can connect to in-room Wi-Fi (surcharge).
Hyatt Place Hampton Convention Center - free breakfast buffet, a grocery/convenience store, and a terrace. Be sure to enjoy a meal at The Bar, the onsite restaurant. Free Wi-Fi in public areas is available to all guests, along with a bar and a 24-hour gym.
Courtyard by Marriott Hampton - provides a coffee shop/café, dry cleaning/laundry services, and a fireplace in the lobby. The onsite American cuisine bistro, The Bistro, features light fare. Stay connected with free in-room Wi-Fi, and guests can find other amenities such as a bar and a gym.
Click on the map below to check out additional vacation rentals and lodging near Fort Monroe.


Camping
The Colonies RV & Travel Park is located in a historic and scenic setting on Fort Monroe National Monument. 14 full-service camping sites with 30/50 amps and paved pads. They also offer nine sites with 30 amps, electricity, and water. Tent Sites are available on a first come first serve basis.
For a fun adventure check out Escape Campervans. These campervans have built in beds, kitchen area with refrigerators, and more. You can have them fully set up with kitchen supplies, bedding, and other fun extras. They are painted with epic designs you can't miss!
Escape Campervans has offices in Vancouver, Seattle, Portland, San Francisco, Las Vegas, Los Angeles, Phoenix, Salt Lake City, Denver, Chicago, New York, and Orlando.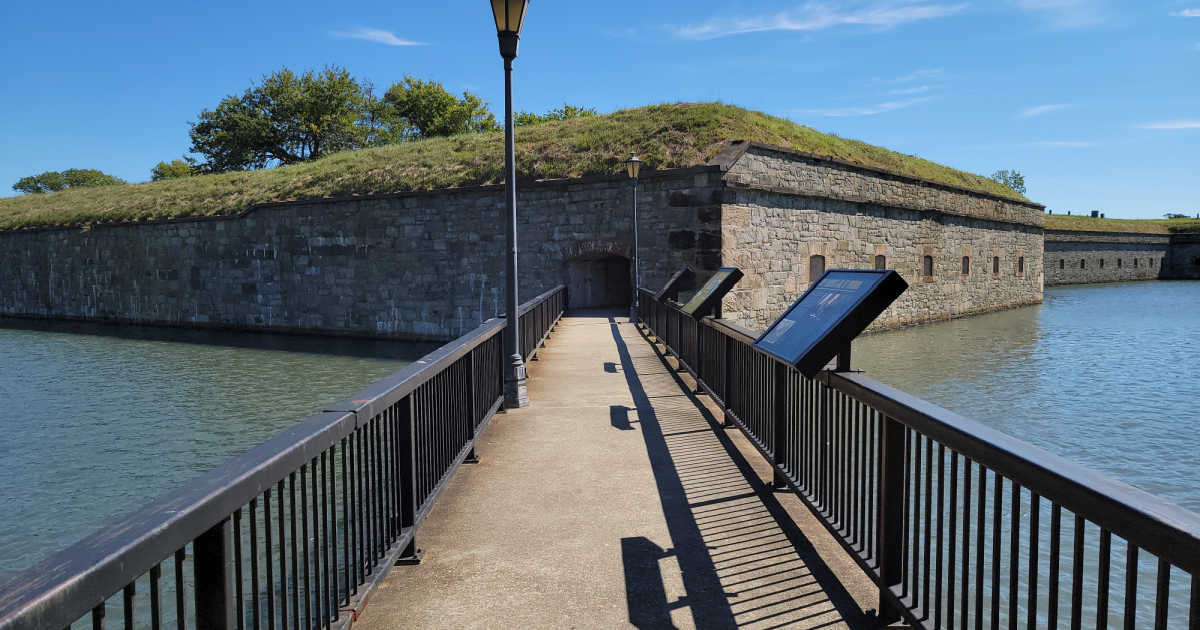 Parks Near Fort Monroe National Monument
Colonial National Historical Park
Assateague Island National Seashore
Richmond National Battlefield Park
Maggie Walker National Historic Site
Wright Brothers National Memorial
Fort Raleigh National Historic Site
Chesapeake and Ohio Canal National Historical Park - 250 miles
Valley Forge National Historical Park - 330 miles
Check out all of the National Parks in Virginia along with neighboring National Parks in Washington DC, National Parks in North Carolina, National Parks in Kentucky, National Parks in West Virginia, and National Parks in Maryland
Check out all of the National Monuments managed by the NPS
There are quite a few National Parks in the Southeast US