Maggie Walker National Historic Site in Central Virginia preserves and protects the home of America's first African American female bank president.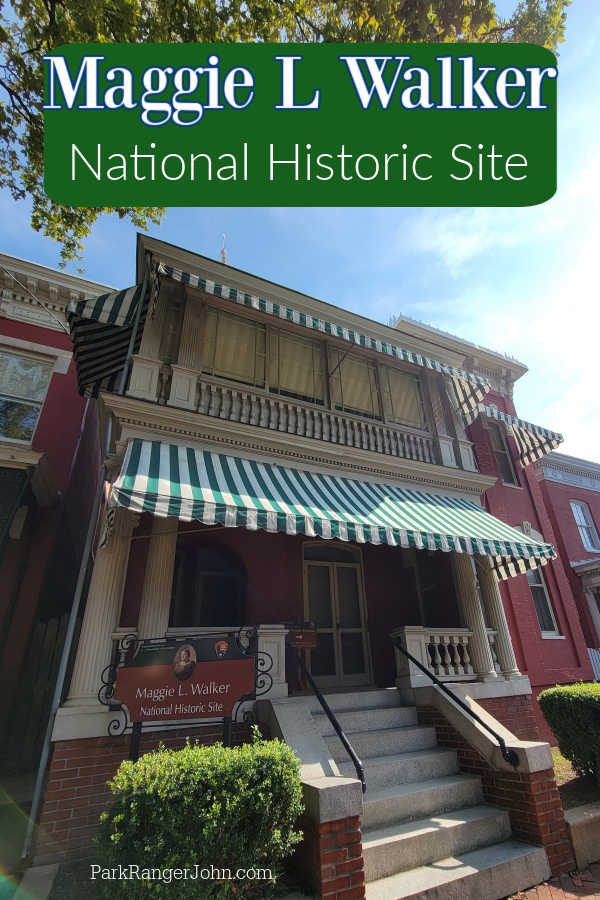 Maggie Walker National Historic Site
This US National Historic Site is located in Richmond, Virginia in the Jackson Ward neighborhood. This urban park site is one well worth visiting.
About Maggie Walker National Historic Site
Maggie Walker was born in 1864 to a mother who had been enslaved. Maggie L Walker was the leader of an African-American fraternal and social organization.
While serving as the head of the Independent Order of St. Luke she realized a dream in 1903 when she founded the St. Luke Penny Saving Bank.
The bank's mission was for depositors to take the nickels and turn them into dollars. By starting the bank Maggie L Walker became the first African-American woman to charter and serve as president of a bank in the United States.
Mrs. Walker was a civil rights activist, who pushed for economic empowerment during the Jim Crow era.
The Walker family bought an 1883 2 story Victorian house on East Leigh Street in the Jackson Ward neighborhood in 1904. The Jackson Ward neighborhood was the center of Richmond, Virginia African American business and social life, and a national historic landmark district.
Maggie L Walker lived in the house until she passed away in 1934. When she passed away she had achieved prominence in many local, state, and national organizations including being on the board of directors for the National Association for the Advancement of Colored People (NAACP).
The house was owned by the Walker family until 1979 and still includes the elevator that was added in 1929 to assist Maggie L Walker in reaching the 2nd floor when she was confined to a wheelchair.
One fun thing to know is Mrs. Walker and her family had a pet collie named after Booker T. Washington who they were friends with.
Mrs. Walker also went to a play by Nobel Prize-winning playwright Eugene O'Neil who has a historic site dedicated to his work in California.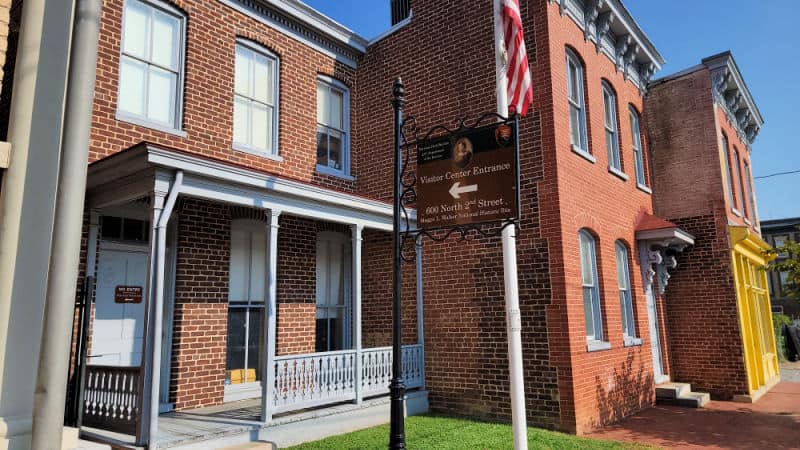 Is Maggie Walker National Historic Site worth visiting?
Yes! We found this site amazing to visit. Maggie L. Walker is incredibly inspiring.
History of Maggie Walker National Historic Site
Maggie Walker National Historic Site is located on Leigh Street in Richmond, Virginia. This area is known as "Quality Row" in the Jackson ward neighborhood.
The site commemorates the extraordinary life of Maggie Walker who devoted her life to advancement opportunities for African Americans and women.
Maggie Lena Mitchell was born on July 15, 1864 in Richmond, Virginia. It is believed that Maggie never knew her father and her mother and father were never married.
Maggie's mother, a former slave, worked as a cook for an abolitionist and married a man named William Mitchell. The couple had a child, Maggie's half-brother Johnnie, in 1870.
Maggie's stepfather was head waiter for a prestigious hotel and the family had enough to rent a house nearby.
In 1876, William Mitchell was found dead in the James River. While the authorities ruled his death a suicide, Maggie's mother, Elizabeth, always believed he was murdered.
The death of William forced Maggie and her family into poverty. Her mother began a successful laundry business and Maggie helped her mother by delivering clean laundry to patrons.
It was this experience that showed Maggie the opposite societal class from her own. She determined that it should be possible for her to work hard and live the way the upper white class lived.
In the late 1970s, Richmond was fortunate to house quality schools for African Americans to attend.
Maggie graduated in 1883 and worked as a teacher for three years. In September 1886, Maggie married Armstead Walker Jr., a wealthy bricklayer.
Maggie's school forbade their teachers to be married while employed so she quit her job. The couple eventually had three sons (one who died at just seven months old) and also adopted a daughter.
While Walker was attending high school, she had joined the Independent Order of St. Luke, a group that focused on helping the sick and elderly of Richmond.
During her years of teaching and then marriage, Walker grew through the ranks of the Order and used this as a way to help and encourage African Americans, especially women, to build successful careers and businesses.
By 1902, she had created and began putting out publications in the St. Luke Herald in the city of Richmond. It gave many African American business owners a boost and a voice to become successful.
In 1903, Walker established the St. Luke's Penny Savings Bank. Walker was the first woman (of any race) to establish a bank in the United States.
In 1904, Maggie and her husband bought the home in which the historic site is located – 110 ½ East Leigh Street in Richmond.
This was known as the epicenter of African American owned businesses and homes. Over the years, many of their children and grandchildren lived at that location with the couple. The home, which began with 9 rooms, grew to 28 over the years of changes.
A smart businesswoman, Walker encouraged members of the St. Luke's Penny Savings Bank to invest money early so their interest would grow. She strived for African Americans to be able to afford financial independence from white business owners.
During the Great Depression, numerous businesses failed and many banks closed their doors. Walker persevered by combining with another bank and creating the Consolidated Bank and Trust Company in Richmond in 1930.
Today, that bank is the oldest United States bank that has continually been managed by African Americans.
In 1915, Maggie Walker's son, Russell, shot and killed his father. Russell claimed he had mistaken his father for an intruder. Russell was arrested for murder but was deemed innocent after trial.
Russell never quite recovered from this incident and died eight years after his father after struggling with alcoholism and depression.
Maggie Walker suffered health issues of her own. She developed severe diabetes and was bound to a wheelchair for the last year of her life due to a wound on her leg. Although she was in a wheelchair, that did not stop her from fighting for civil and women's rights.
Walker helped found the Richmond chapter of the NAACP (National Association for the Advancement of Colored People) and also the Council for Colored Women.
In 1921, Walker ran for governor under the "Lily Black" ticket. This was an all-black division of the Republican Party. After the loss, she went back to focusing on making changes in her own community.
Walker died on December 15, 1934 due to complications of her diabetes.
It was in 1979 that her family home on Leigh Street was bought by the National Park Service and opened as a National Historic Site.
This amazing woman was an inspiration to African Americans and women alike in Richmond and around her country.
Her intelligence, perseverance and kind nature proved that anyone can be successful and make a difference if they have the drive to do it.
Even someone who has to battle through the racial divides of their surroundings can make a difference, which Maggie Lena Walker definitely accomplished.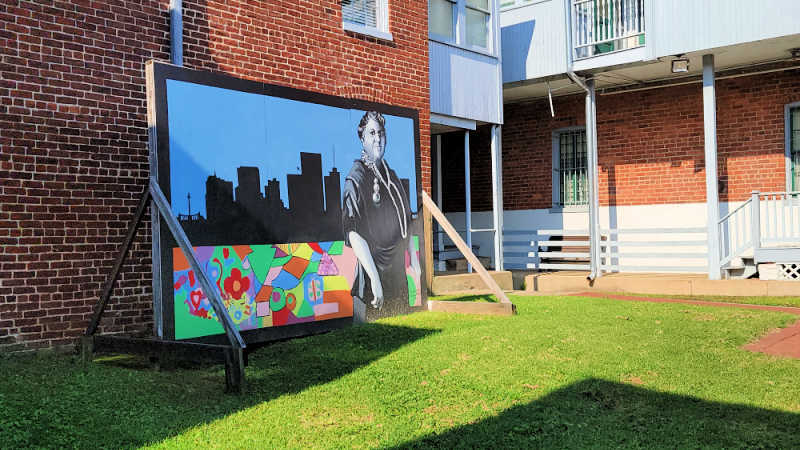 Things to know before your visit to Maggie Walker National Historic Site
Entrance fee
$0.00, There is no fee to visit this park
Learn more about National Park Passes for parks that have an entrance fee.
Free Entrance Days -Mark your calendars with the five free entrance days the National Park Service offers annually.
Time Zone
Eastern Time
Pets
Pets are not allowed within the park buildings.
Cell Service
We had great cell service while at the park.
Park Hours
Open Tuesday through Saturday, from 9 am to 4:30 pm.
The site is closed Sundays and Mondays, as well as Thanksgiving, December 25th and January 1st.
Wi-Fi
Public Wifi is available at the park.
Insect Repellent
Insect repellent is always a great idea when outdoors, especially if you are around any body of water.
We use Permethrin Spray on our clothes before our park trips.
Water Bottle
Make sure to bring your own water bottle and plenty of water with you. Plastic water bottles are not sold in the park.
Parking
There is street parking in front of the park. Make sure to check street signs to confirm parking is allowed on the street.
There is also a parking garage a couple of blocks away near the Richmond Convention Center.
Food/Restaurants
There are no restaurants in the park. There are tons of restaurants in Richmond, VA.
Gas
There are no gas stations in the park. There are multiple gas stations in Richmond.
Drones
Drones are not permitted within National Park Sites.
National Park Passport Stamps
National Park Passport stamps can be found in the visitor center.
Make sure to bring your National Park Passport Book with you or we like to pack these circle stickers so we don't have to bring our entire book with us.
Maggie Walker NHS is part of the 2020 Passport Stamp Set.
Electric Vehicle Charging
There are 327 EV Charging Stations in Richmond, Virginia.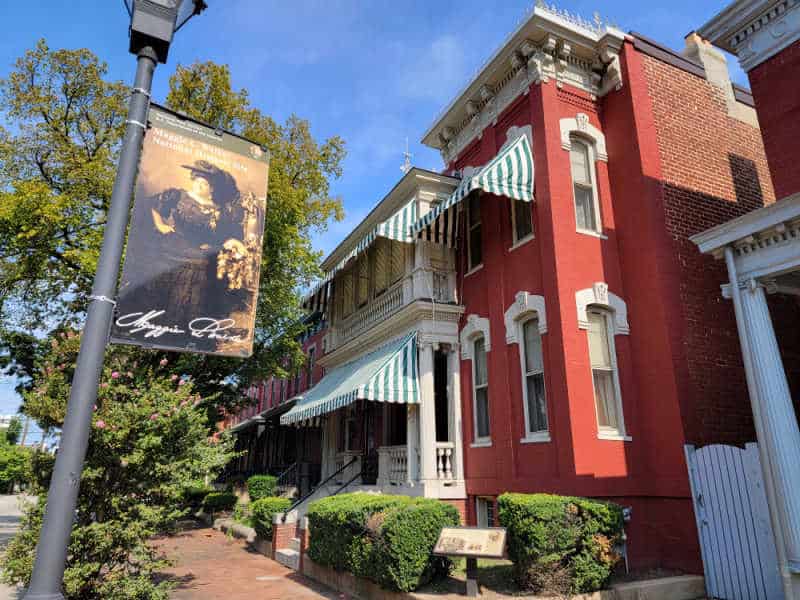 Details about Maggie Walker National Historic Site
Size - 1.29 acres
Check out how the park compares to other National Parks by Size. Hint the park is super small!
Date Established
1978
Visitation
In 2021, Maggie Walker NHS had 2,568 park visitors.
In 2020, Maggie Walker NHS had 1,849 park visitors.
In 2019, Maggie Walker NHS had 9.602 park visitors.
Learn more about the most visited and least visited National Parks in the US
National Park Address
600 N. 2nd Street, Richmond, VA 23219
National Park Map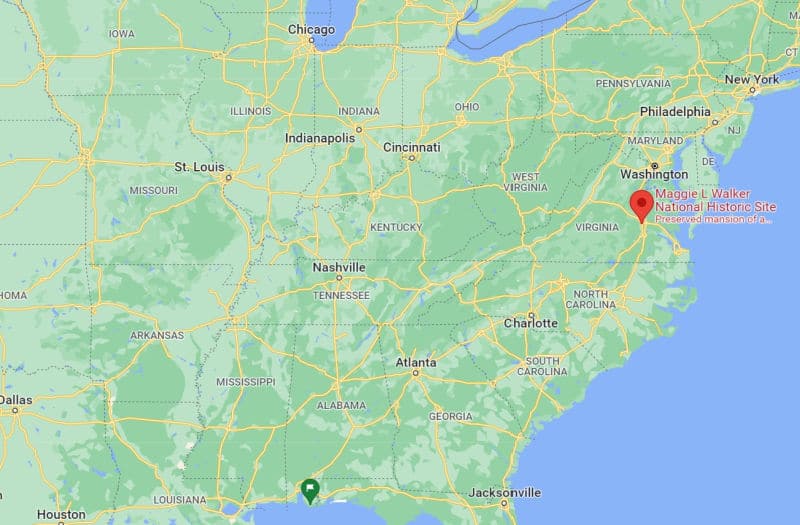 Where is Maggie Walker National Historic Site?
Maggie Walker NHS is located in Richmond, Virginia on the East coast of the United States.
Estimated distance from major cities nearby
Norfolk, VA - 93 miles
Chesapeake, VA - 104 miles
Virginia Beach, VA - 106 miles
Washington DC - 108 miles
Baltimore, MD - 146 miles
Durham, NC - 151 miles
Raleigh, NC - 156 miles
Philadelphia, PA - 247 miles
Pittsburgh, PA - 343 miles
Estimated Distance from nearby National Park
Shenandoah National Park - 104 miles
New River Gorge National Park - 241 miles
Congaree National Park - 377 miles
Mammoth Cave National Park - 623 miles
Cuyahoga Valley National Park - 448 miles
Where is the National Park Visitor Center?
The visitor center is located just down the street from Maggie Walker's house.
There are signs showing how to reach the visitor center entrance.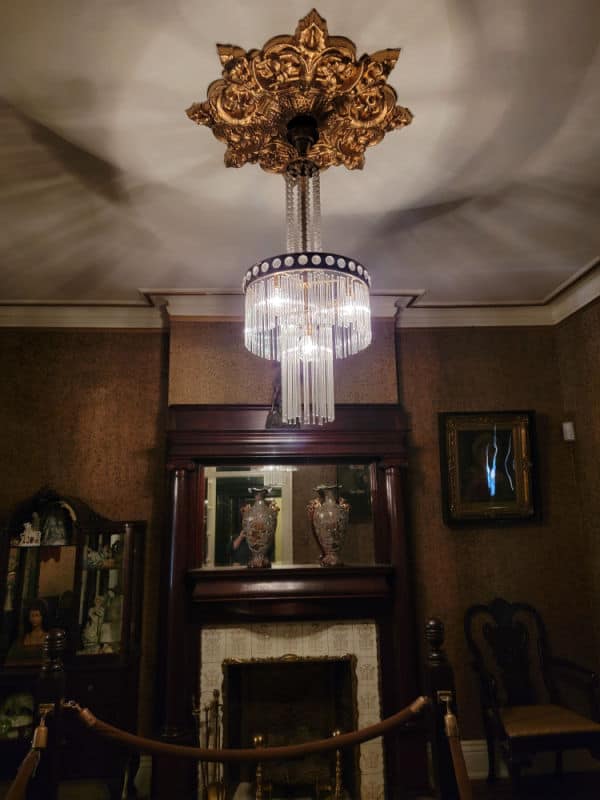 Getting to Maggie Walker National Historic Site
Closest Airports
Richmond International Airport (RIC)
International Airports
Ronald Reagan Washington National Airport (DCA)
Washington Dulles International Airport (IAD)
Baltimore/Washington International Thurgood Marshall Airport (BWI)
Newport News/Williamsburg International Airport (PHF)
Norfolk International Airport (ORF)
Regional Airports
Charlottesville Albemarle Airport (CHO)
Lynchburg Regional Airport (LYH)
Shenandoah Valley Regional Airport (SHD)
Driving Directions
Coming west on I-64, take exit 75 to 3rd street, turn right on Leigh St., park on 2nd street.
Coming South on I-95, take exit 79 east onto I-64 East to Norfolk, then follow directions coming from the west.
Coming east on I-64, take exit 190 to 5th St, Downtown, continue straight on 5th, turn right on Jackson, left on 3rd, right of Leigh St, then right on 2nd St.
Coming North on I-95, take exit 76A for Chamberlayne Ave, turn left on Chamberlayne Pkwy, left of Leigh St, then left on 2nd St.
Best time to visit Maggie Walker National Historic Site
The best weather for visiting the park is late spring and during the Fall.
Weather and Seasons
Summers are hot, muggy, and wet in Richmond, Virginia while winters are cold and snowy.
The hottest weather is from May 29 to September 15th with an average daily temperature above 8o degrees Fahrenheit.
The coldest weather is from December 1 to March 1st with an average daily high temperature below 55 degrees Fahrenheit.
The rainiest months are from May 4th to August 26th with greater than a 31% chance of rain.
The snowiest weather is from November 25 to March 18th with the most snow in February.
The muggiest weather is from May 24 to September 24th.
Best Things to do in Maggie Walker National Historic Site
The most important thing to do while visiting the park is to take a guided tour. You do not want to miss this tour!
Visitor Center
The visitor center is the 1st place to stop when visiting the park. There is a small interpretive area, park store, and you can check-in for the park tours.
The Junior Ranger program is fantastic. You have the opportunity to learn not only about Mrs. Walker but also about the Jackson Ward district.
I loved learning that Mrs. Maggie Lena Walker visited Hot Springs NP and enjoyed hot baths and massages before it became a park.
Mrs. Walker also attended Franklin D. Roosevelt's inauguration in 1933.
You can download your Junior Ranger Book to get started today!
Historic Walker House Tours
Daily historic house tours are available BY RESERVATION ONLY at 10 am, 11 am, 1 pm, and 3 pm.
To make reservations, please email or call (804) 771-2017 ext. 0.
The historic tours are amazing! You have the opportunity to explore the 1st floor of Maggie Walker's family house on this guided tour.
During our tour, the ranger did an amazing job explaining how the house was adapted to Mrs. Walker's changing health and age.
Seeing the public and private areas of the house is amazing and you can see how different each area was lived in.
Esteemed guests include Langston Hughes, W.E.B. DuBois, and Mary McLeod Bethune dined here at the circular dinner table.
Tour the Jackson Ward Historic District
Make sure to explore the Jackson Ward Historic District which was home to not only Maggie L Walker but also Bill "Bojangles" Robinson and many others.
Richmond, Virginia Tours
If you would like to hear more about the history of Richmond, Virginia and events that have occurred here there are a couple of great tours available.
Richmond Downtown Walking Tour - This 2 hour walking tour covers the origin of the city along with its role in the Revolutionary and Civil War along with the Civil Rights Movement.
Richmond's Women in History Segway Tour - Learn more about the trailblazing women who have called Richmond home including Elizabeth Van Lew, Ellen Glasgow, Maggie L Walker, and more.
Richmond Landmark Segway Tour - Take a 1 or 2 hour Segway tour of the major landmarks and notable sites in the city.
How to beat the crowds in Maggie Walker National Historic Site?
We were the only visitors we saw during our visit to the park.
Where to stay when visiting Maggie Walker National Historic Site
There are no National Park Lodges within the park.
Click on the map below to see current rates for vacation rentals and hotels in Richmond, VA.


Camping
There are no National Park Campgrounds within the park. Here are a few campground options near Richmond, VA.
Riverside Camp and Marina - Lanexa, VA
This campground offers lodging, RV and Tent Sites, waterfront, boat launch, and more.
River's Rest Marina and Resort - Charles City, VA
This campground offers lodging, waterfront, boat launch, a restaurant, and more.
Anvil Campground - Williamsburg, VA
This campground offers lodging, RV and Tent Sites, a pool, dog park, and more.
Check out all of the campgrounds in the area on CampSpot.
Additional Resources
Maggie L. Walker: Pioneering Banker and Community Leader (Trailblazer Biographies)
Right Worthy Grand Mission: Maggie Lena Walker and the Quest for Black Economic Empowerment
Parks Near Maggie Walker National Historic Site
Richmond National Battlefield Park
Petersburg National Battlefield
Colonial National Historical Park
Appomattox Court House National Historical Park
Check out all of the National Parks in Virginia along with National Parks in Kentucky, National Parks in Maryland, National Parks in North Carolina, Tennessee National Parks, and West Virginia National Parks