Petersburg National Battlefield is located in South-central Virginia. The park offers driving tours of the siege and battlefield locations along with guided tours, a junior ranger program, and interpretation.

Petersburg National Battlefield
Petersburg National Battlefield was the site of the final chapters of the Civil War. The Battle of Petersburg lasted more than nine and a half month siege with 70,000 casualties!
This hard-fought battle was vitally important to the Confederacy because Petersburg was the supply chain for the capital of the Confederacy in nearby Richmond.
General Lee knew that if Richmond fell to the Union, the war would soon end.
Petersburg National Battlefield Park includes 13 separate sites on the auto tour route that travels 33 miles.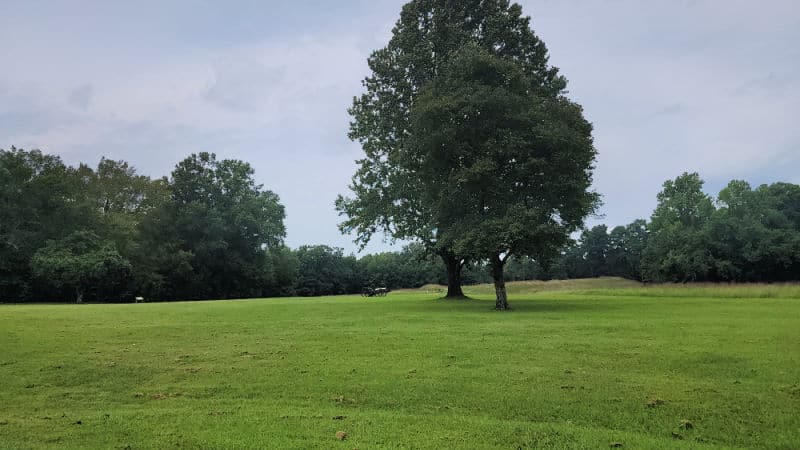 About Petersburg National Battlefield
Thousands of U. S. Colored Troops fought for the Union, they fought for the freedom of their race.
It was here that Gen. Ulysses S. Grant eventually cut off all of Petersburg's supply lines ensuring the fall of Richmond on April 3, 1865.
Six days later, Lee surrendered at Appomattox Court House
Is Petersburg National Battlefield worth visiting?
Without a doubt yes! It was the Battle of Petersburg that eventually put an end to the painstaking Civil War!
This war divided our country, placed family members at war against one another, and exposed racial inequality in America.
Today we can walk amongst the grounds where these battles were fought and where lives were lost.
Ask yourself, have we healed as a nation? Have we freed ourselves of racial injustice?
Since the end of the Civil War, have we thrived hard to build a country free of racism, or have we found new avenues to continue to oppress others?
Approximately 620,000 people died in the Civil War, did they die valiantly or die in vain?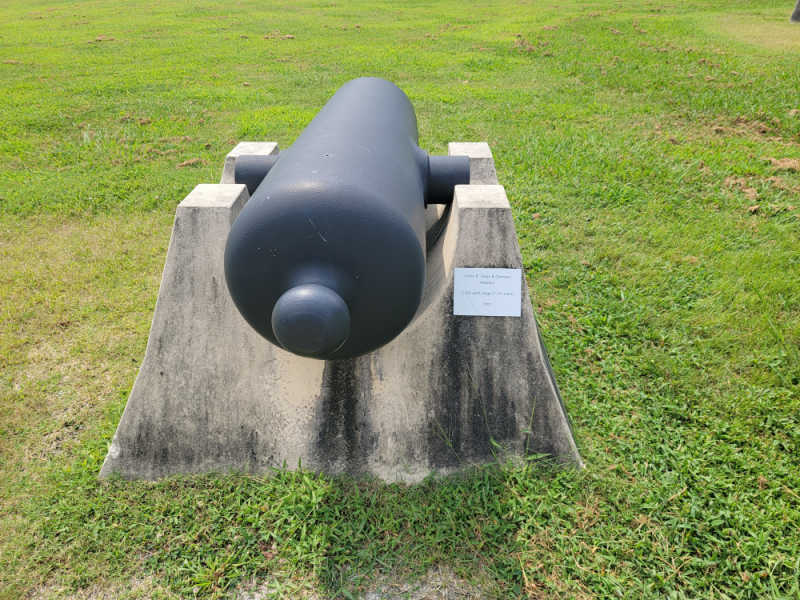 History of Petersburg National Battlefield
The Petersburg National Battlefield is where the last months of the Civil War unfolded.
It was here that between June 9th, 1864 and April 2nd, 1865, General Ulysses S. Grant of the Union and General Robert E. Lee of the Confederacy engaged in a series of battles, skirmishes, raids, and trench warfare.
These would become known as the Siege of Petersburg.
The Siege of Petersburg was a brutal and lengthy campaign. It was the longest campaign of the war and a pivotal moment in American history.
The Siege of Petersburg was the grand finale of the Civil War. The Union and Confederates fought each other in trenches for nine and a half brutal months.
General Grant pushed bit by bit in an attempt to cut off the Confederates' supply lines, dwindle General Lee's forces and resources, to turn the tide of the war.
So how did the Siege of Petersburg begin? And why was it so different from the rest of the Civil War?
The Overland Campaign
The Siege of Petersburg saw a complete change in military tactics by General Grant. The period leading up to the Siege of Petersburg saw General Grant and General Lee engaged in many battles.
Grant aimed to make it harder for the Confederate army to engage in warfare. Grant kept Lee on the defensive, hoping that the Union could defeat the Confederate army and take their capital of Richmond.
This period of fighting is known as the Overland Campaign.
Eight weeks of intensive fighting maneuvered Confederate forces into a prime position for an attempt by the Union army to cross the James River and take Petersburg.
Within eight weeks, General Lee had been pushed back to the defensive line surrounding Petersburg. The outermost line of defensive earthworks is known as the Dimmock Line. It consisted of 55 artillery batteries and entrenchments.
Why Was Petersburg so Important?
Petersburg is roughly 20 miles south of Richmond and was the main supply base and railway hub for the Confederacy in 1864.
Although the Union never succeeded in fully cutting all of the supply lines, they did lock the Confederate army into position. General Robert E. Lee could not leave Petersburg for fear that Richmond, the Confederate capital, would fall.
If the Capitol fell to the Union, it would effectively end the Confederacy.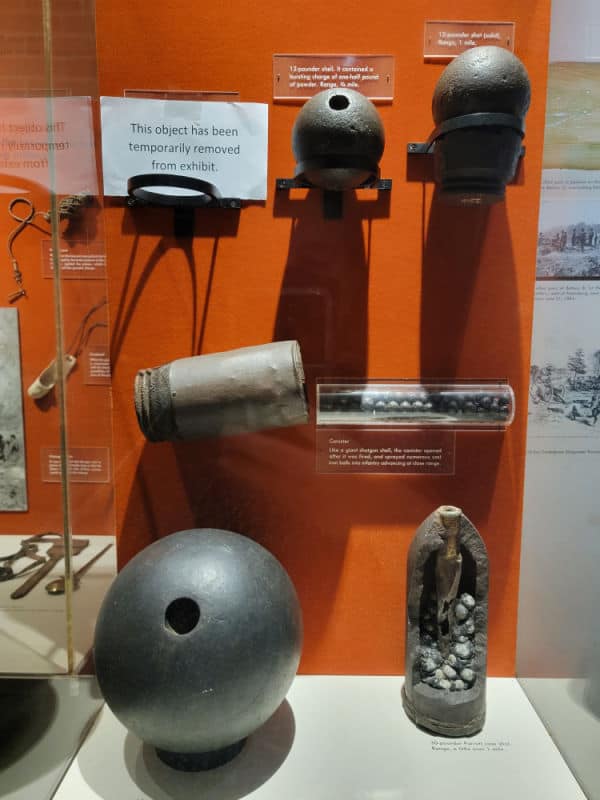 The Siege of Petersburg
The Siege of Petersburg was not a siege in the traditional sense of the word.
It was a series of battles, raids, and skirmishes centered in and around the defensive entrenchments that surrounded Petersburg. Ironically, a lengthy siege was what General Ulysses S. Grant was trying to avoid.
The Union first attempted to take Petersburg from the Confederates on the 9th of June, when union forces crossed the James River under cover of night.
This early attempt at taking Petersburg failed, as did the second. During both of the battles for Petersburg, the confederate line held firm in the trenches.
For Grant, the only option was to gain ground piece by piece, which meant taking sections of the trenches in each offensive or skirmish. Grant knew he had a superior number of forces to Lee.
If Grant could succeed in cutting off Lee's access to resources and dwindle his forces even further, one final push would then be enough to defeat the Confederate army.
During the nine and a half months that followed, the two sides engaged in trench warfare. At the beginning of June, Lee had 20 000 men against the Union's 67 000, yet the Confederate army held on despite being outnumbered.
If one defensive line fell, they moved back and reinforced. The Union could gain ground, only to be halted and pinned down by heavy Confederate fire. Grant and his generals had to change their approach because of this characteristic of trench warfare.
Grant ordered his forces to hunker down, and refocused their efforts on overwhelming the Confederate forces by coordinated attacks on Petersburg and Richmond's defensive lines.
For every attack or skirmish that took place in Petersburg, an attack took place at Richmond. This tactic intended to stretch Lee's forces even further than they already were.
Despite this new approach, Grant tried to end the siege by full-out assault once more at the Battle of the Crater on July 30th.
This was a horrific fight in which the Union blew up the Confederate trenches, creating a crater in which both the Union and Confederates became trapped. Both sides suffered heavy losses. With the battle often being described as a 'turkey shoot".
Mounting Pressure
After the failure at the Battle of The Crater, Grant refocused the Union's efforts on coordinated skirmishes and the destruction of the Confederate supply lines.
The Union wanted to cut off Petersburg and Lee's armies from their supplies by destroying the railroads in and around the area. After several failed attempts, the Union finally succeeded in October 1864 by cutting off the Weldon Railroad.
By February 1865 both sides had endured months of daily skirmishes, mortar fire, poor living conditions in the trenches, and even poorer rations.
Lee had 45 000 soldiers to Grants 110 000. Further skirmishes and raids were ordered by Grant to strain the Confederate defense.
The End of the Siege
March 1865, Lee was desperate to break the Union's Siege of Petersburg. The Union had cut off all but one railroad, which meant supplies were fast running out. The time in which Lee could act was fast disappearing.
He knew that Grant's forces would be bolstered by a further 50 000 men. Lee knew that he would not have another opportunity to break through the Union's line as he would at Fort Stedman. This was to be Lee's last push.
Lee's offensive failed and weakened the Confederate forces even further. On the 02 of April 1865, General Grant ordered a full assault once more. And the Third Battle of Petersburg commenced.
The Confederates surrendered the city to the Union on the 3rd of April. General Robert E. Lee surrendered at the Appomattox Courthouse one week later, effectively ending the Civil War.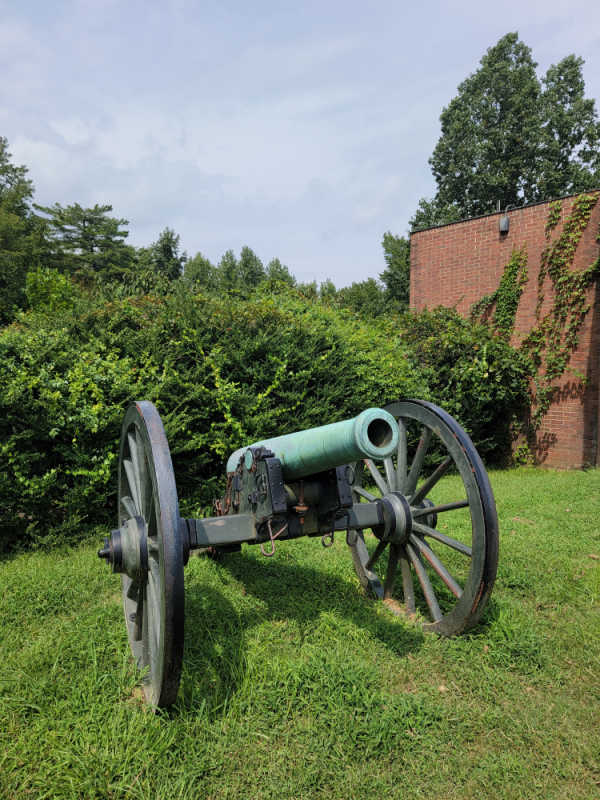 Things to know before your visit to Petersburg National Battlefield
Entrance fee
$0.00, there is no fee to visit the park
Planning a National Park vacation? America the Beautiful/National Park Pass covers entrance fees for an entire year to all US National Park Sites and over 2,000 Federal Recreation Fee Sites.
The park pass covers everyone in the car for per vehicle sites and for up to 4 adults for per-person sites.
Buy on REI.com and REI will donate 10% of pass proceeds to the National Forest Foundation, National Park Foundation and the U.S. Endowment for Forestry & Communities.
Learn more about National Park Passes for parks that have an entrance fee.
Free Entrance Days -Find the five free entrance days the National Park Service offers annually.
Time Zone
EST - Eastern Standard Time
Pets
Dogs are welcome at Petersburg NB as long as they are on a leash no longer than 6 feet long.
Pets are not allowed in any public building, Poplar Grove National Cemetery, or on top of earthworks or forts.
Stop by the visitor center to learn more about the park's B.A.R.K. Ranger program.
Cell Service
We had pretty good cellular service for the most part. As with all parks, there can be areas without coverage.
Park Hours
The Eastern Front Unit of Petersburg National Battlefield is open every day except for Thanksgiving, Christmas, and New Years Day.
The Eastern Front Visitor Center is open from 9:00 am - 5:00 pm every day except for the holidays stated.
The park tour road is open from 9:00 am - 5:00 pm, November 7 - March 13, 2022, however, the grounds remain open to pedestrians until sunset.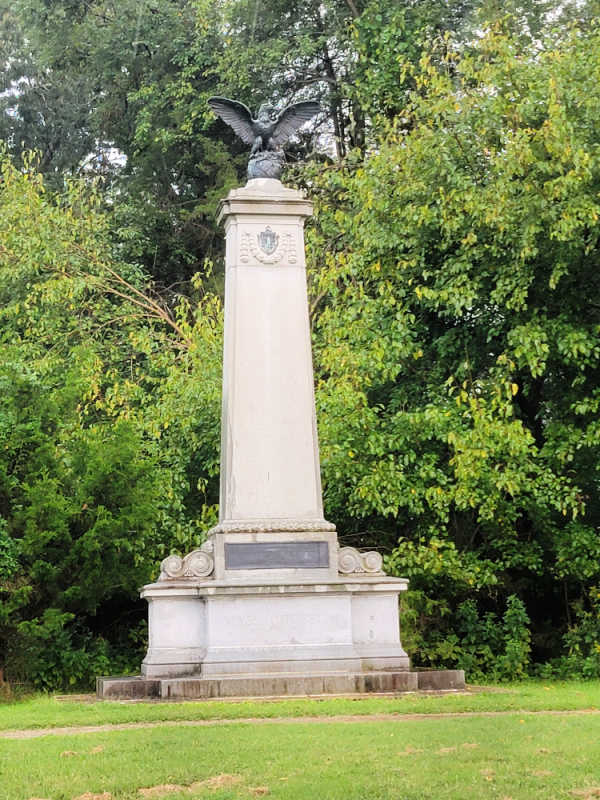 Wi-Fi
N/A You are close proximity to larger cities, cellular service could easily have WIFI Available.
Insect Repellent
Insect repellent is always a great idea when outdoors, especially if you are around any body of water.
We use Permethrin Spray on our clothes before our park trips.
Water Bottle
Make sure to bring your own water bottle and plenty of water with you. Plastic water bottles are not sold in the park.
Parking
There was a large parking lot in front of the visitor center.
Food/Restaurants
There are no restaurants located within the park.
Gas
There are no gas stations located within the park.
Drones
Drones are not permitted to be flown within the National Park Site.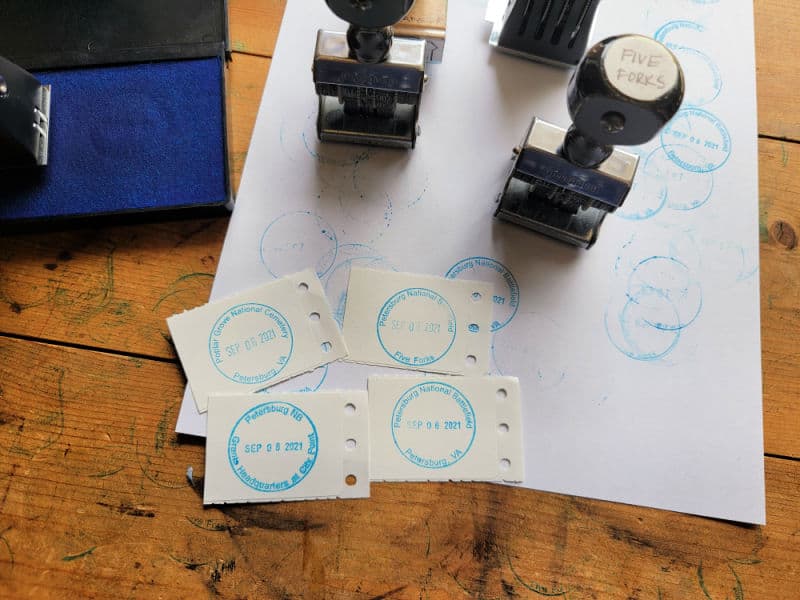 National Park Passport Stamps
National Park Passport stamps can be found in the visitor center.
Petersburg NB was featured in the 2001 Passport Stamp Set.
Make sure to bring your National Park Passport Book with you.
We like to bring these 1.5-inch circle stickers with us to the park so we don't have to bring our entire Passport Book with us.
Electric Vehicle Charging
There are 16 EV Charging Stations within a 10-mile radius of Petersburg, VA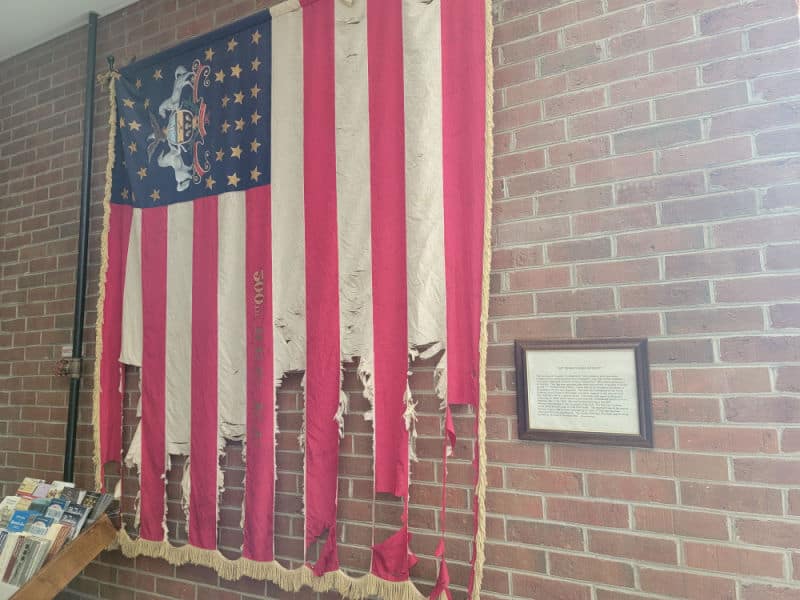 Details about Petersburg National Battlefield
Size - 9,368 acres
Check out how the park compares to other National Parks by Size.
Date Established
July 3, 1926
Visitation
In 2021, Petersburg NB had 201,606 park visitors.
In 2020, Petersburg NB had 152,878 park visitors.
In 2019, Petersburg NB had 235,691 park visitors.
Learn more about the most visited and least visited National Parks in the US
Petersburg National Battlefield Address
Eastern Front Unit Visitor Center
5001 Siege Road
Petersburg, VA 23803
Petersburg National Battlefield Map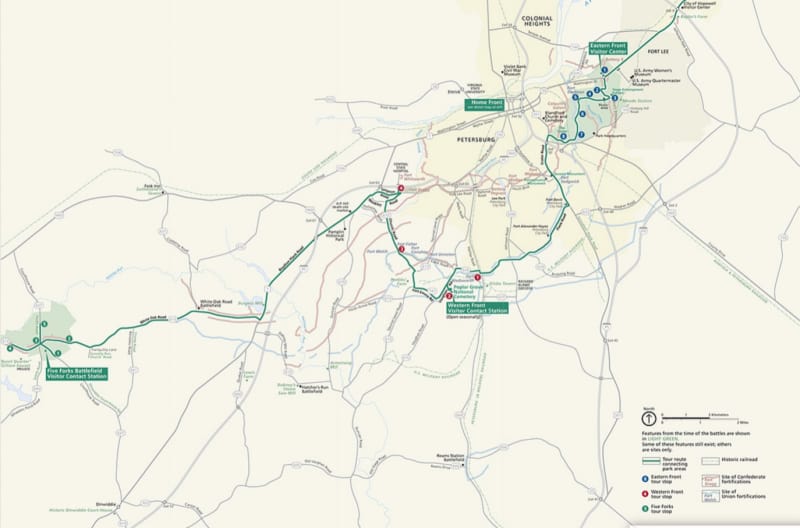 Where is Petersburg National Battlefield?
The park is located in Petersburg, Virginia, United States
Estimated distance from major cities nearby
Norfolk, VA - 79 miles
Virginia Beach, VA - 95 miles
Washington DC - 134 miles
Durham NC - 129 miles
Raleigh, NC - 133 miles
Baltimore, MD - 172 miles
Philadelphia, PA - 273 miles
Estimated Distance from nearby National Park
Shenandoah National Park - 119 miles
Great Smoky Mountains National Park - 432 miles
Mammoth Cave National Park - 648 miles
Congaree National Park - 348 miles
New River Gorge National Park - 285 miles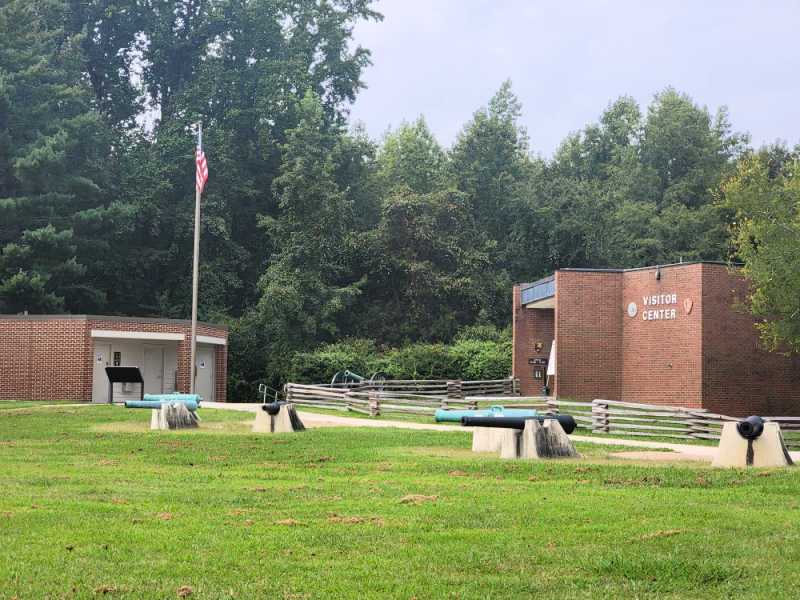 Where is the National Park Visitor Center?
There are four visitor centers for Petersburg NB
Chimborazo Medical Museum
Address: 3215 East Broad Street, Richmond, Virginia, 23223.
Fort Harrison Visitor Center
Address: 8621 Battlefield Park Road, off of Route 5, Richmond.
Cold Harbor Battlefield Visitor Center
Address: 5515 Anderson-Wright Drive, five miles southeast of Mechanicsville on route 156.
Visitor Center Station at Tredegar Iron Works
Address: 470 Tredegar Street, Richmond.
There is a parking fee for the American Civil War Center at Tredegar Iron Works.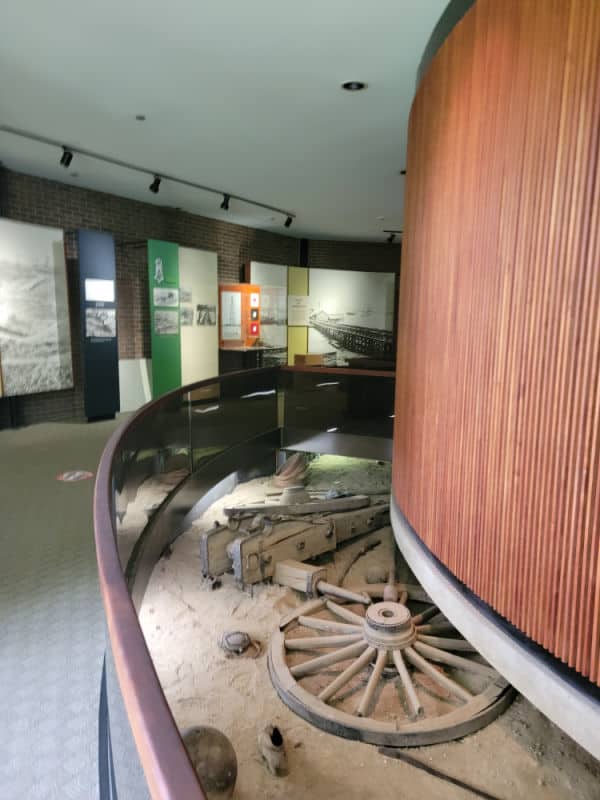 Getting to Petersburg NB
Closest Airports
Richmond International Airport (RIC) - 24 miles
International Airports
Ronald Reagan Washington National Airport (DCA)
Raleigh-Durham International Airport (RDU)
Washington Dulles International Airport (IAD)
Baltimore/Washington International Thurgood Marshall Airport (BWI)
Newport News/Williamsburg International Airport (PHF)
Norfolk International Airport (ORF)
Driving Directions
Driving directions to the Eastern Front Visitor Center, Crater and Fort Stedman Battlefields
5001 Siege Road
Petersburg, Va.
From I-95 and I-85: Take the Wythe Street Exit(Rt. 36 East). Southbound I-95 (Exit 50D), Northbound I-86 (Exit 69) Turn onto the one way road and drive 2.5 miles to the park entrance located on the right.
From 295 (Take exit 9B) onto Rt 36 west to the park entrance on the right hand side past Fort Lee.
Take 460 West to Petersburg and take (Rt. 301) Crater Road North exit. Follow Crater Road to Wyther Street , turn right and follow it for 2.5 miles to the park entrance.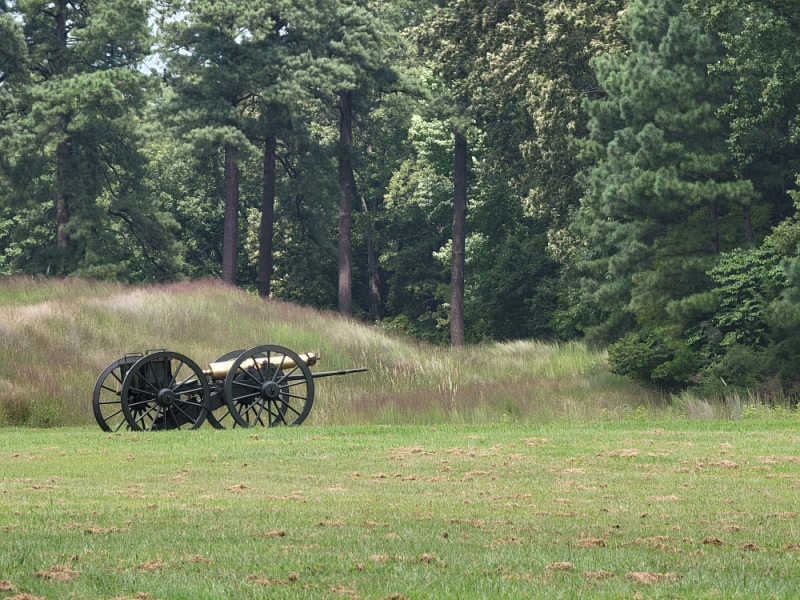 Best time to visit Petersburg NB
Spring and Fall are typically the best time of year to visit southern Virginia. Summers are very humid and not uncommon for temperatures to get above 100 degrees Fahrenheit and winters can get below freezing.
Weather and Seasons

Best Things to do in Petersburg National Battlefield
Auto Tour
The 16-stop driving tour takes visitors through all four units of Petersburg National Battlefield
General Grant's Headquarters at City Point (present-day Hopewell), Virginia
The Eastern Front (where the initial assaults and the Battles of the Crater and Fort Stedman occurred)
The Western Front, where intense fighting continued as Grant's Army encircled the city struggling to destroy the last of Lee's supply lines
Five Forks Battlefield, a battle in which the outcome would eventually lead to the Confederates' retreat to Appomattox.
Eastern Front Unit
The Eastern Front Unit includes three historic interpretive trails that cover the opening attacks on Petersburg (Stop 1), the Battle of Fort Stedman (Stop 5), and the Battle of the Crater (Stop 8).
General Grant's Headquarters Unit
General Grant's Headquarters and Supply house was the perfect place to have base camp. It was 8 miles behind battle lines, has access to the railroad and the James River and Appomattox River.
This made a perfect location for supplies to be brought in for the Union troops including food, clothing, ammunition, and anything else you would need to fight a war. It was also great to run communications Fort Monroe, Virginia and Washington D.C.
Five Forks - Self Guided Tour
The Five Forks Battlefield Unit has a driving tour that includes 5 stops with wayside exhibits.
The Junior Ranger Program can be picked up at the visitor center.
This is a great way for visitors of all ages to learn more about the park.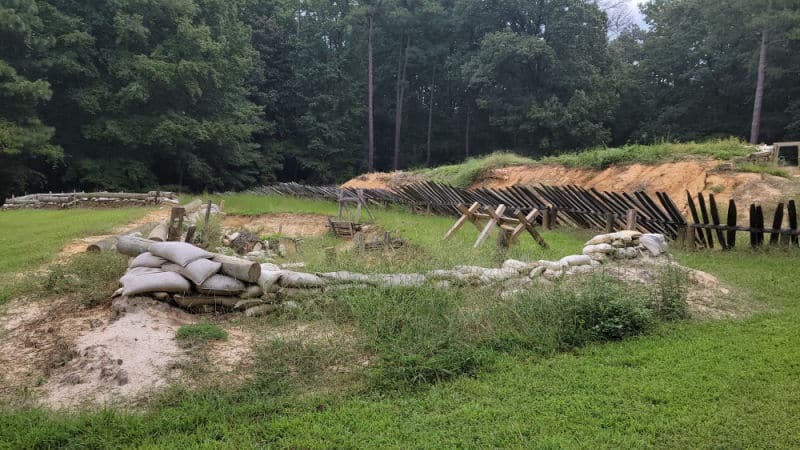 Hiking in Petersburg NB
Always carry the 10 essentials for outdoor survival when exploring.
There are several short trails (under a mile) between sights at Eastern Front Battlefield and Five Forks Battlefield. They give you a chance to go for a walk and stretch your legs from the car drive to the park.
If you want to go for a hike when visiting the park, make sure to ask for a trail map at the visitor center.
How to beat the crowds
We did not experience overcrowding during our visit. The Visitor center had a generous parking lot and several of the locations were well dispersed.
As with all major National Park sites, Summers, weekends and holidays will be the busiest times for visitors.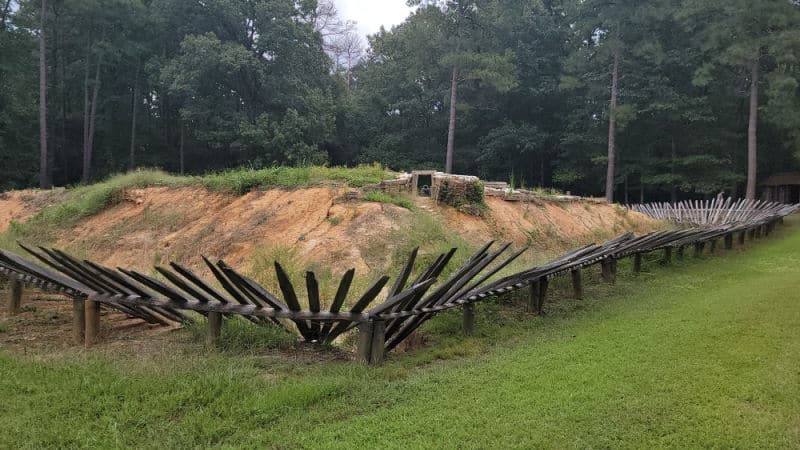 Where to stay when visiting Petersburg NB
There are no National Park Lodges located within the park.
Baymont by Wyndham Prince George at Fort Lee - Free continental breakfast, a coffee shop/café, and dry cleaning/laundry services at Baymont by Wyndham Prince George at Fort Lee. Be sure to enjoy a meal at Proud Mama's Kitchen, the onsite restaurant. Stay connected with free in-room Wi-Fi, and guests can find other amenities such as a fireplace in the lobby and a bar.
Sleep Inn & Suites At Fort Lee - free breakfast buffet, dry cleaning/laundry services, and a 24-hour gym. For some rest and relaxation, visit the hot tub. Stay connected with free in-room Wi-Fi, and guests can find other amenities such as a business center.
Comfort Suites South Park - free breakfast buffet, a terrace, and car rentals on site at Comfort Suites South Park. In addition to a gym and a business center, guests can connect to free in-room Wi-Fi.
Stay-Over Suites - free self-serve breakfast, 27 holes of golf, and concerts and live shows. Tee up with amenities like golf lessons, a golf clubhouse, and golf caddies at this hotel. Stay connected with free in-room Wi-Fi, and guests can find other amenities such as laundry facilities and an outdoor entertainment area.
Click on the map below to see the current rates for vacation rentals and hotels in Petersburg, Virginia
Camping
There are no campgrounds located within the park.
For a fun adventure check out Escape Campervans. These campervans have built in beds, kitchen area with refrigerators, and more. You can have them fully set up with kitchen supplies, bedding, and other fun extras. They are painted with epic designs you can't miss!
Escape Campervans has offices in Vancouver, Seattle, Portland, San Francisco, Las Vegas, Los Angeles, Phoenix, Salt Lake City, Denver, Chicago, New York, and Orlando
Parks near Petersburg National Battlefield
Richmond National Battlefield Park
Appomattox Court House National Historical Park
Colonial National Historical Park
Fredericksburg & Spotsylvania National Military Park
George Washington Birthplace National Monument
Check out all of the National Parks in Virginia along with National Parks in Kentucky, National Parks in Maryland, National Parks in North Carolina, Tennessee National Parks, and West Virginia National Parks
National Park Service Website