General Grant National Memorial in New York City is home to the largest mausoleum in the United States which is the final resting place of President Ulysses S. Grant and his wife, Julia.
The memorial was created by the thankful residents of the United States who wanted to celebrate the work President Grant did to heal the nation.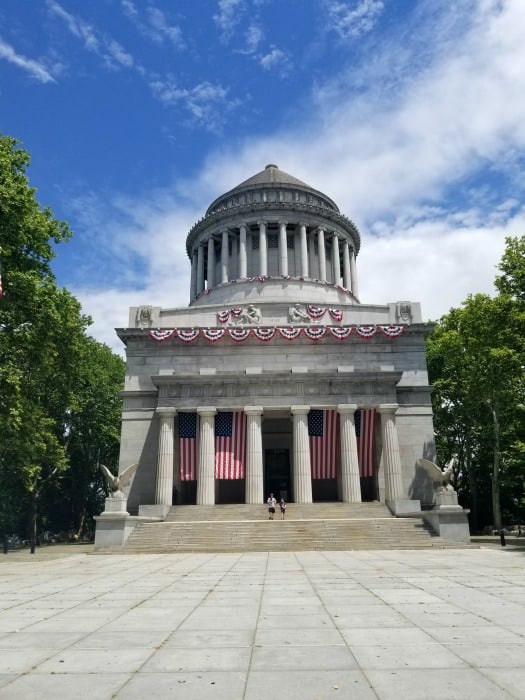 General Grant National Memorial
When he passed away in 1885 around 90,000 people from around the world donated more than $600,000 towards the construction of his tomb. Grant's Tomb was dedicated on April 27th, 1897.
President Grant asked to be buried in New York City where he lived the last five years of his life. His wife, Julia Dent Grand is buried beside him in the tomb. Grant's Tomb as is it is commonly called is a marble and granite structure that overlooks the Hudson River in the Morningside Heights area of Manhattan.
Grant's Tomb is more than 150 feet tall making it the mausoleum in North America. Inside the Rotunda is decorated with mosaics that depict scenes from the Civil War and well as busts of other Civil War generals.
When you enter the memorial look up to see "Let us have peace" from Grant's letter accepting the Republican nomination for president in 1868.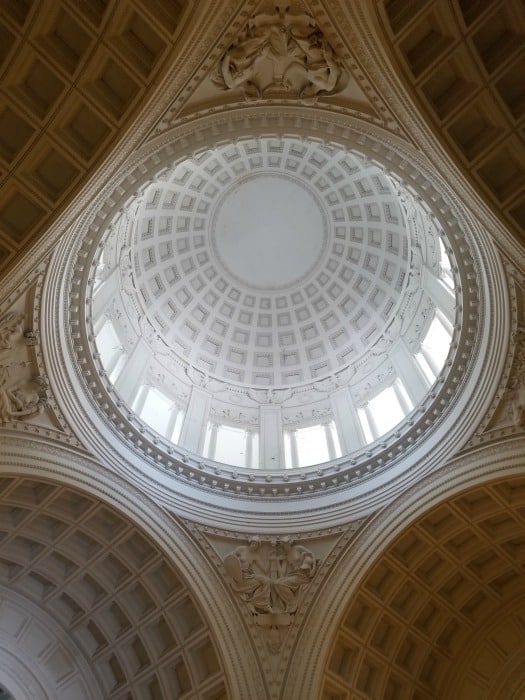 We were not expecting to enjoy General Grants Memorial as much as we did. We thought it would be a quick visit and ended up spending a couple of hours visiting the park.
The park movie at the visitor center was fantastic and a great way to learn more about the work that General Grant did during his life.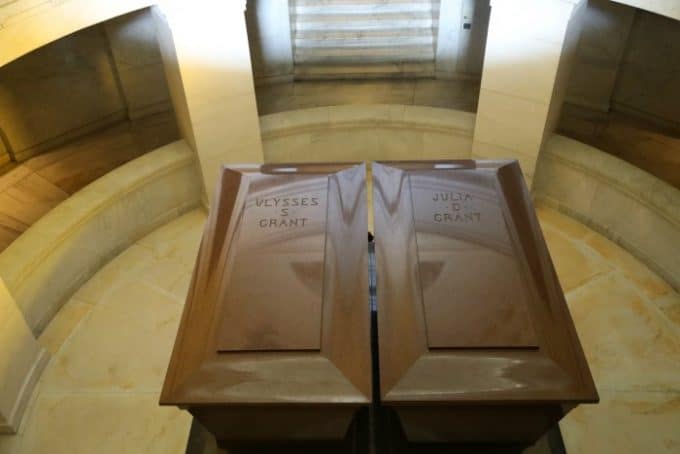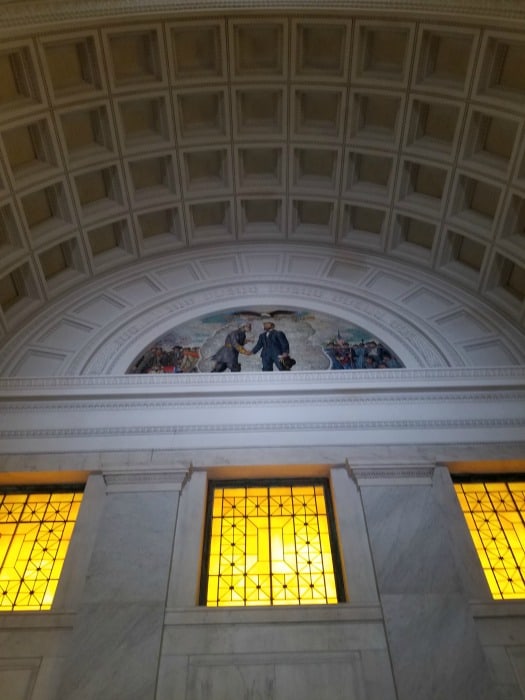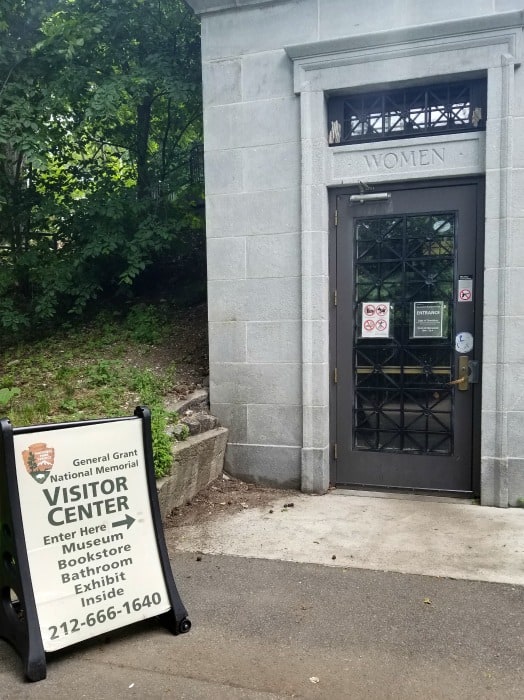 Visit the visitor center
The General Grant Memorial Visitor Center is located across the street and downstairs from the mausoleum.
Don't be surprised that the entrance door looks like an entrance to a woman's restroom. Don't worry you are in the right place 🙂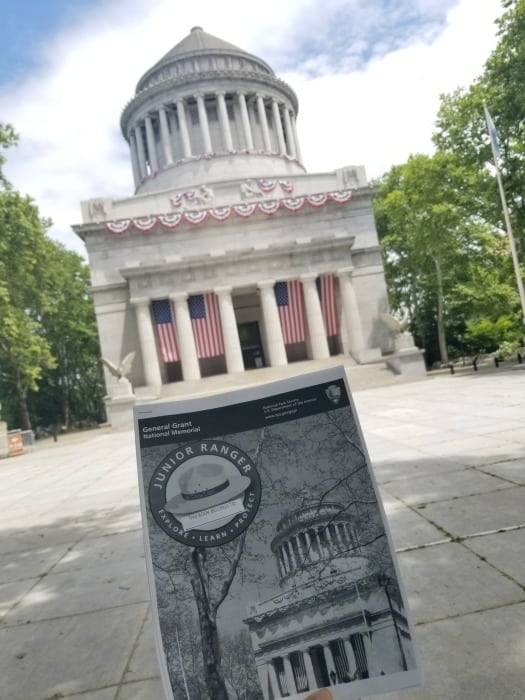 Become a Junior Ranger
The General Grant NM Junior Ranger pamphlet can be picked up at the visitor center.
The information necessary to complete the booklet can only be found on-site, so a visit to "Grant's Tomb" is required for the General Grant National Memorial Junior Ranger Program.
You can expect the Junior Ranger program to take between 30 to 90 minutes to complete depending on the age of the participant. We watched the park video and then toured Grant's Tomb to find the answers for the program.
Tour the mausoleum
The mausoleum does have interesting hours so make sure and check them out before heading to the memorial.
It is open for an hour and then closed for an hour and then open again. Rangers rotate through the Mausoleum and are available to answer questions during your visit.
There are stairs down to the tombs if you want to see them up close. If you have difficulty with the stairs you can look over the balcony and see them below.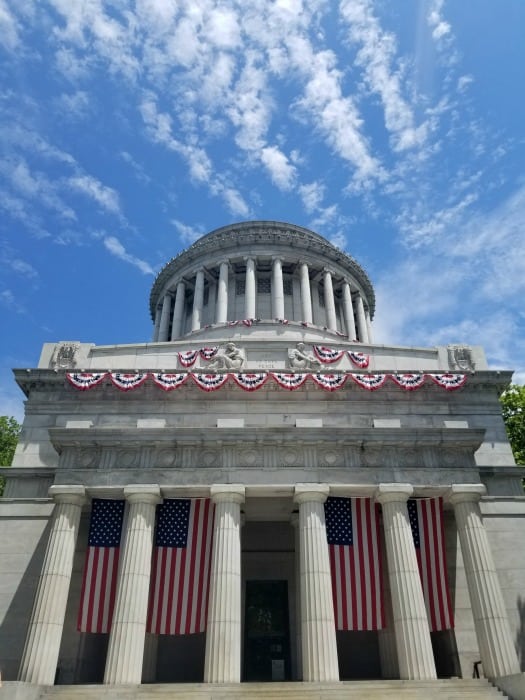 Things to know when visiting General Grand National Memorial
Park Address
Riverside Drive and 122nd Street
New York, NY 10027
he visitor center is located to the west, across south-bound Riverside Drive.
Park Hours
Closed on the holidays of Thanksgiving Day, Christmas (December 25th) and New Year's Day (January 1st).
Visitor Center Hours
Sunday 9:00 AM - 5:00 PM
Monday Closed
Tuesday Closed
Wednesday 9:00 AM - 5:00 PM
Thursday 9:00 AM - 5:00 PM
Friday 9:00 AM - 5:00 PM
Saturday 9:00 AM - 5:00 PM
Mausoleum Hours
Sunday 10 am - 11 am; 12 pm - 1 pm; 2 pm - 3 pm; 4 pm - 5 pm
Monday Closed
Tuesday Closed
Wednesday 10 am - 11 am; 12 pm - 1 pm; 2 pm - 3 pm; 4 pm - 5 pm
Thursday 10 am - 11 am; 12 pm - 1 pm; 2 pm - 3 pm; 4 pm - 5 pm
Friday 10 am - 11 am; 12 pm - 1 pm; 2 pm - 3 pm; 4 pm - 5 pm
Saturday 10 am - 11 am; 12 pm - 1 pm; 2 pm - 3 pm; 4 pm - 5 pm
Entrance Fee
There is no fee to visit the General Grant National Memorial
National Parks near General Grant National Memorial
Ellis Island
Castle Clinton National Monument
Check out the other amazing New York National Parks and neighboring National Parks in Massachusetts, Pennsylvania National Parks, National Parks in Vermont, National Parks in New Jersey, and National Parks in Connecticut
For more fun ideas on what to do in New York City check out this
NYC Bucket List
!