Epic Guide to the General Grant National Memorial in New York City including things to do, history, how to get to the park, and so much more.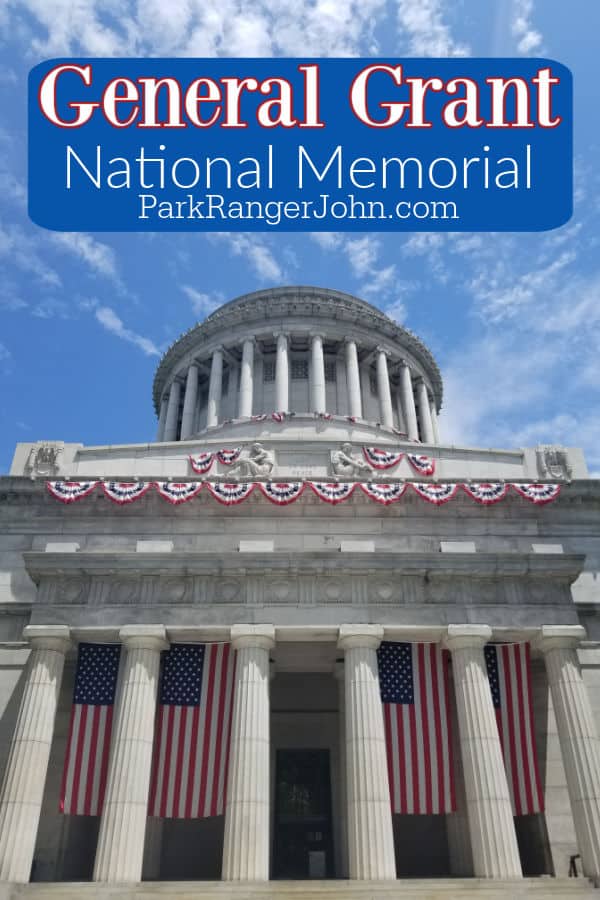 General Grant National Memorial
General Grant National Memorial in New York City is home to the largest mausoleum in the United States which is the final resting place of President Ulysses S. Grant and his wife, Julia.
The memorial was created by the thankful residents of the United States who wanted to celebrate the work President Grant did to heal the nation.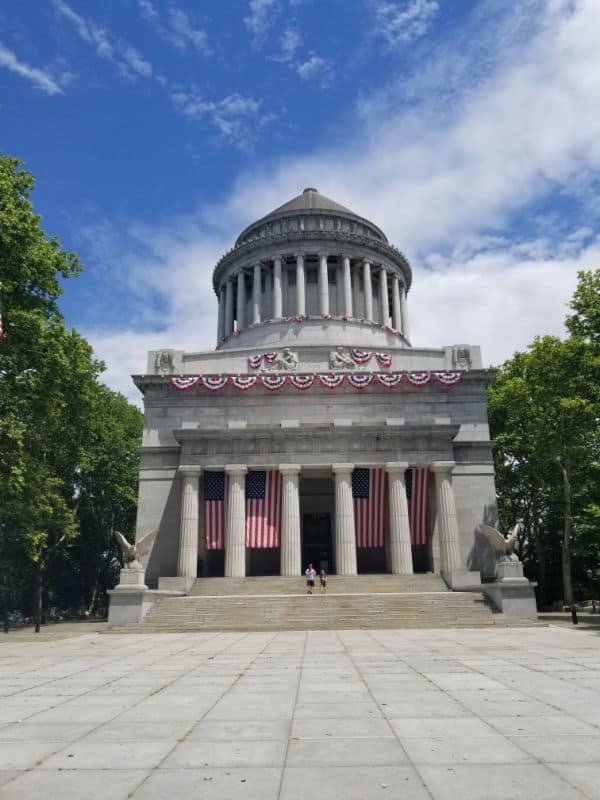 About General Grant National Memorial
Ulysses S. Grant was the first four-star general of the US Army and served two terms as President of the United States.
When he passed away in 1885 around 90,000 people from around the world donated more than $600,000 towards the construction of his tomb. Grant's Tomb was dedicated on April 27th, 1897.
President Grant asked to be buried in New York City where he lived the last five years of his life. His wife, Julia Dent Grand is buried beside him in the tomb.
Grant's Tomb as is it is commonly called is a marble and granite structure that overlooks the Hudson River in the Morningside Heights area of Manhattan.
Grant's Tomb is more than 150 feet tall making it the mausoleum in North America. Inside the Rotunda is decorated with mosaics that depict scenes from the Civil War as well as busts of other Civil War generals.
When you enter the memorial look up to see "Let us have peace" from Grant's letter accepting the Republican nomination for president in 1868.
Is General Grant National Memorial worth visiting?
We were not expecting to enjoy General Grants Memorial as much as we did. We thought it would be a quick visit and ended up spending a couple of hours visiting the park.
The park movie at the visitor center was fantastic and a great way to learn more about the work that General Grant did during his life.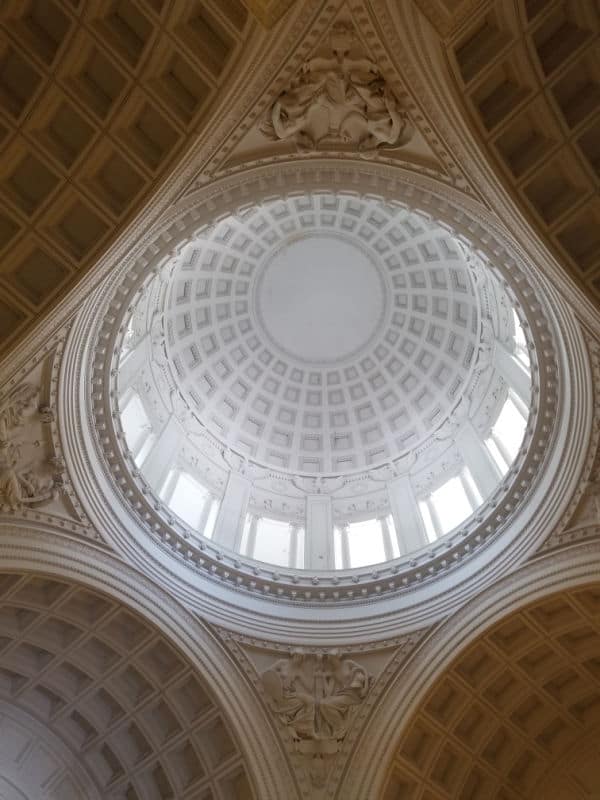 History of General Grant National Memorial
General Grant National Memorial, also known as Grant's Tomb, is the final resting place of Ulysses S. Grant and his wife Julia Grant.
Ulysses served as the 18th President of the United States from 1869 to 1877. Grant's Tomb is located in Upper Manhattan in New York City.
Hiram Ulysses Grant was born in Point Pleasant, Ohio in 1822. His father was a tanner and merchant; his ancestors had arrived in Massachusetts in 1630.
At an early age Grant had a great talent with horses so his father put him to work on a farm.
Grant was accepted and later graduated from West Point Academy in 1843. Grant was soon promoted to second lieutenant and sent to fight in the Mexican-American War.
Upon his return in 1848, he married a woman he met right before the war, who would become his lifelong love, Julia Dent.
Although Grant showed bravery in the war under Commander Zachary Taylor, Grant later tired of army life. He tried his hand at many businesses along the way which all failed.
In 1854, Grant resigned from the Army. After trying farming in Missouri, the Grants ultimately ended up in Galena, Illinois in 1860.
Grant worked with his brothers there in a leather business named Grant and Perkins. The Grants rented a brick home on the outskirts of Galena.
Grant enjoyed his home and family in Galena, but that all changed in 1861 when the Civil War broke out and he was called to serve in the Union army.
He began as a commissioned colonel and rose to General by the end of the war.
Julia and the family's four children lived in Galena while Grant was serving in the war.
In 1904, after Grant's death, this home was gifted by his children to the City of Galena and is today a historical location with much information about the former General and his family.
Grant's aggressive leadership and attack strategies made the Union army stronger and eventually the Confederate army weaker.
Grant was the General who accepted the surrender of Robert E. Lee and the Confederate army at Appomattox Court House in 1965.
Although they were not able to meet often in person, Grant had an especially close relationship with President Abraham Lincoln; they had great mutual respect for each other.
Lincoln said of Grant: "General Grant is the most extraordinary man in command that I know of."
Grant remained in the army and his ties to the Republican Party strengthened over the next few years. This, coupled with his military achievements, led to his election as the 18th President in 1869.
Politically inexperienced and the youngest president in history at that time, Grant rose to the job, along with his wife Julia.
Julia suggested strong individuals for positions in the White House and supported women and African American rights; she considered Susan B. Anthony a personal friend.
Grant supported both amnesty for Confederate leaders and equal rights for former slaves.
He helped to pass the Ku Klux Klan Act of 1871 which furthered equal rights for African Americans and allowed for the President to have full control in combating the KKK.
After Grant's presidential term was complete, many championed for him to run again. Grant did little to support this idea.
After his term ended, he and Julia went on a trip around the world and were welcomed warmly by numerous countries.
His reputation as the General who led the Union army to defeat the Confederate and further the morals of Lincoln was respected around the world.
After this trip, Grant's health rapidly declined. It has since been discovered Grant suffered from throat cancer.
Grant began writing a personal memoir, with famed writer Mark Twain by his side assisting him. After Grant's death in 1885, Twain made sure the memoir was published.
Grant's death was one of the largest outpourings of support ever seen in the nation.
The funeral was attended by numerous dignitaries and the funeral procession marched through New York City with thousands lining the streets.
Before he passed, Grant had said he wanted to be buried at West Point but that idea was abandoned quickly as women were not permitted to be buried there.
Grant's only wish was to be buried next to his wife and stated that she could choose the location.
The idea to erect a monument for President Grant began in 1890. The chosen spot was a bluff overlooking the Hudson River.
Julia chose New York as his final resting place as the family had enjoyed the years spent living there.
Nearly 100,000 people from around the world donated over $600,000 to construct the memorial.
Designed by architect John Duncan, the mausoleum building was 150 feet tall and was constructed in grey granite. Construction began in 1892 but slowed for a few reasons.
The initial design for the memorial was not possible, as the necessary funds were not available.
Additionally, a stonecutter's strike in 1892 slowed progress. It was completed in 1897 and is still to this day the largest mausoleum in North America.
His campaign slogan "Let Us Have Peace" was etched on the front of the mausoleum.
Grant's body had been entombed in a temporary location right after his death.
Grant's remains were quietly moved to his final resting place and the site was dedicated on April 27, 1897.
The day was called "Grant's Day" and the number of citizens in attendance far surpassed the event of his funeral procession. Julia passed away in 1902 at which point she was buried next to her husband of 40 years.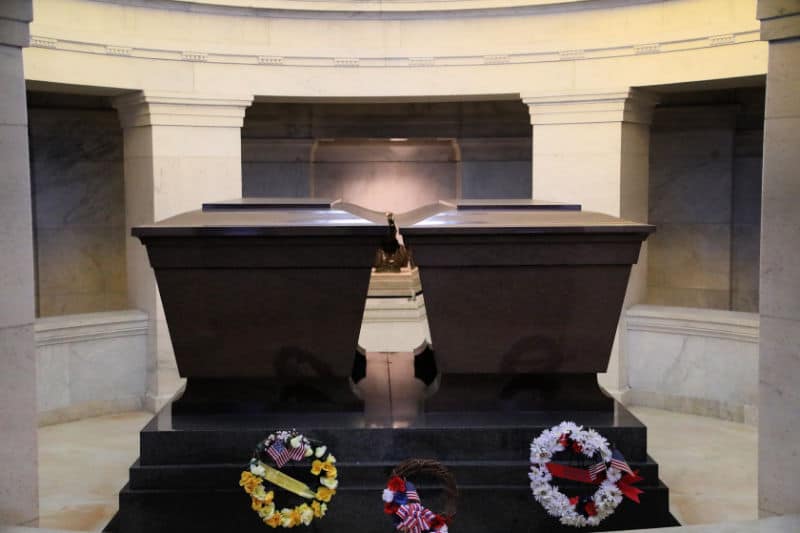 Things to know before your visit to General Grant National Memorial
Entrance fee
$0.00 - There is no entrance fee to visit the park.
Planning a National Park vacation? America the Beautiful/National Park Pass covers entrance fees for an entire year to all US National Park Sites and over 2,000 Federal Recreation Fee Sites.
The park pass covers everyone in the car for per vehicle sites and for up to 4 adults for per-person sites.
Buy on REI.com and REI will donate 10% of pass proceeds to the National Forest Foundation, National Park Foundation and the U.S. Endowment for Forestry & Communities.
Free Entrance Days -Mark your calendars with the five free entrance days the National Park Service offers annually.
Time Zone
Eastern Time Zone
Pets
Pets are not allowed within the memorial.
Cell Service
We had fantastic cell service while visiting the park.
Park Hours
Make sure to check the National Park Service website for current hours.
Wi-Fi
WiFi is not available within the park.
Insect Repellent
Insect repellent is always a great idea when outdoors, especially if you are around any body of water.
We use Permethrin Spray on our clothes before our park trips.
Water Bottle
Make sure to bring your own water bottle and plenty of water with you. Plastic water bottles are not sold in the park.
Food/Restaurants
There are no restaurants within the park.
Gas
There are no gas stations within the park.
Drones
Drones are not permitted within National Park Sites.
National Park Passport Stamps
National Park Passport stamps can be found in the visitor center.
Make sure to bring your National Park Passport Book with you or we like to pack these circle stickers so we don't have to bring our entire book with us.
The Ulysses S. Grant memorial is part of the 2011 Passport Stamp Set.
Electric Vehicle Charging
There are EV Charging Stations throughout New York City.
Accessibility
There is wheelchair access to the visitor center.
The mausoleum is not wheelchair accessible.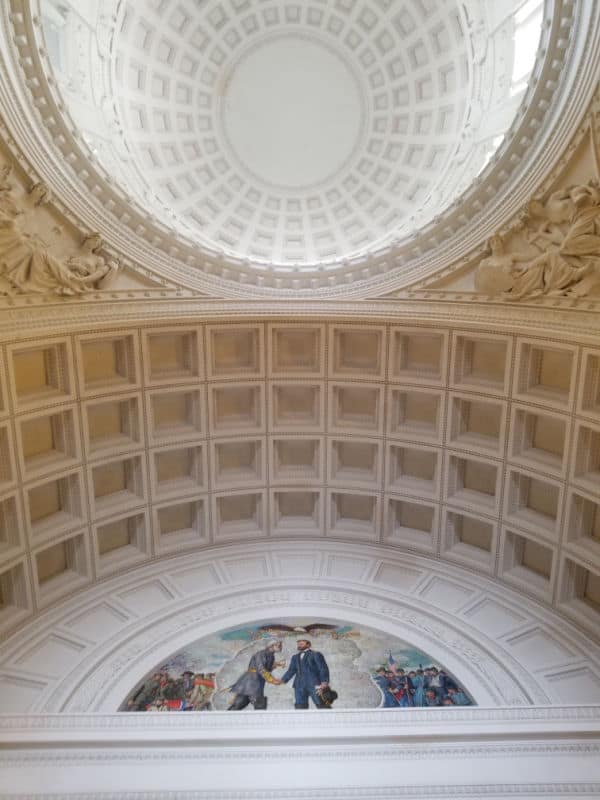 Details about General Grant National Memorial
Size - acres
Compare the park to other National Parks by Size.
Date Established
April 27, 1897 - The site was dedicated
1959 - Became a US National Memorial
Visitation
In 2021, General Grant NM had 57,487 park visitors.
In 2020, General Grant NM had 24,475 park visitors.
In 2019, General Grant NM had 113,852 park visitors.
Learn more about the most visited and least visited National Parks in the US
National Park Address
Riverside Drive and 122nd Street
New York, NY 10027
National Park Map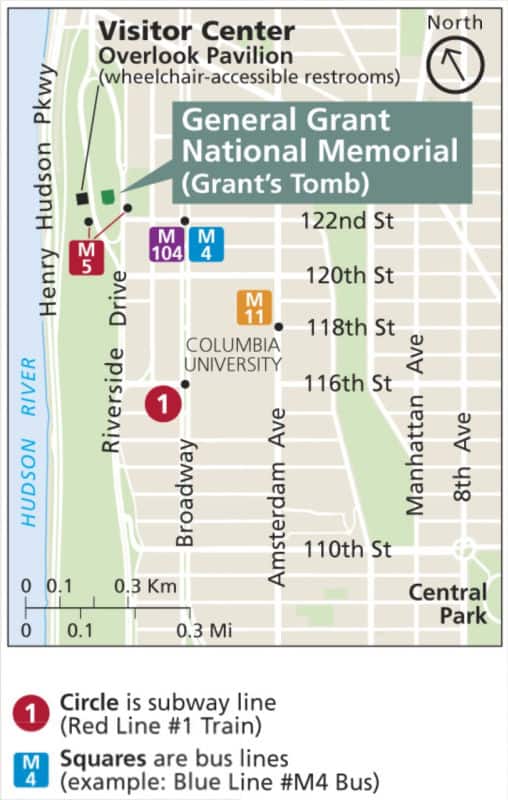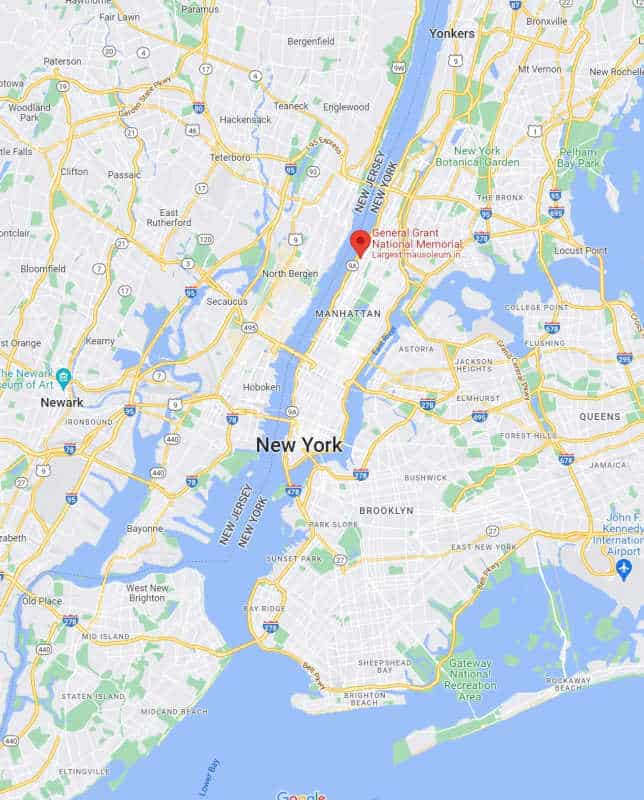 Where is General Grant National Memorial?
General Grant Memorial also known as Grants Tomb is located in Riverside Park in Manhattan, New York City.
Estimated distance from major cities nearby
Newark, NJ - 23 miles
Philadelphia, PA - 105 miles
Baltimore, MD - 203 miles
Boston, MA - 209 miles
Washington DC - 236 miles
Virginia Beach, VA - 374 miles
Estimated Distance from nearby National Park
Acadia National Park - 480 miles
Shenandoah National Park - 307 miles
Great Smoky Mountains National Park - 717 miles
Cuyahoga Valley National Park - 445 miles
Indiana Dunes National Park - 752 miles
Where is the National Park Visitor Center?
The visitor center is located to the west, across south-bound Riverside Drive.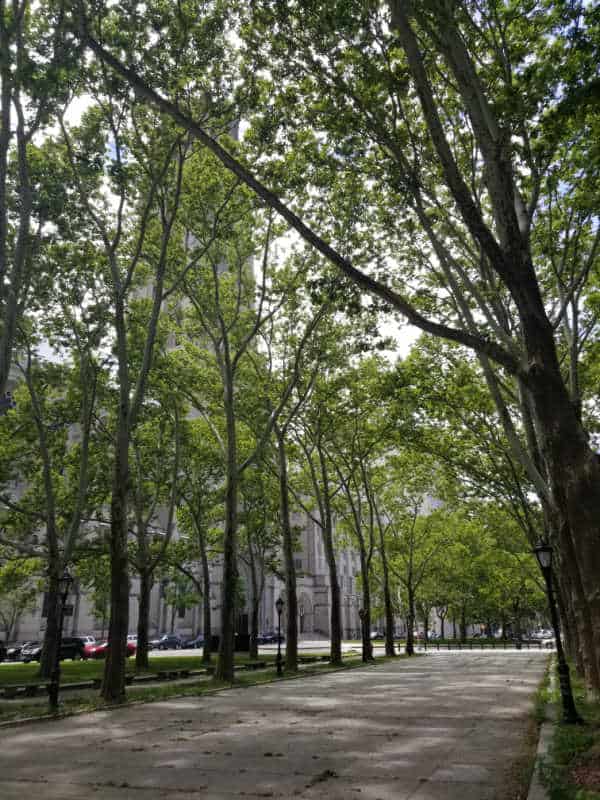 Getting to General Grant National Memorial
Closest Airports
Newark Liberty International Airport (EWR)
Teterboro Airport (TEB)
LaGuardia Airport (LGA)
John F. Kennedy Airport (JFK)
International Airports
Philadelphia International Airport (PHL)
Regional Airports
Morristown Municipal Airport (MMU)
Westchester County Airport (HPN)
New York Subway
Take the #1 train to the 116th Street-Columbia University station on Broadway. Walk six blocks North to 122nd Street, and two blocks West to Riverside Drive.
If taking the #2 or #3 express trains, please change at 96th Street for an uptown-bound #1 local train.
Public Bus
Take the M11 bus to Amsterdam Avenue and West 118th Street.
Take the M104, M4 or M5 bus to 122nd Street and Broadway.
Driving Directions
Passenger Cars
From the North: Take the George Washington Bridge, I-95 (Cross Bronx), or I-87 (Major Deegan Expressway) to the Riverside Drive exit. Turn south on Riverside Drive to 122nd Street.
From the South: Take the Henry Hudson Parkway to the 95th Street exit. Drive north on Riverside Drive to 122nd Street.
Buses, campers, and all other vehicles
From the North: Take I-87 (Major Deegan) to exit 4, East 149th Street. Drive west on 149th Street across the bridge onto West 145th Street. Continue west on 145th Street to Broadway. Turn south on Broadway to 120th Street. Turn west on 120th Street to Riverside Drive.
From the South: Drive north on 10th Avenue and Broadway to 120th Street. Turn west on 120th Street to Riverside Drive.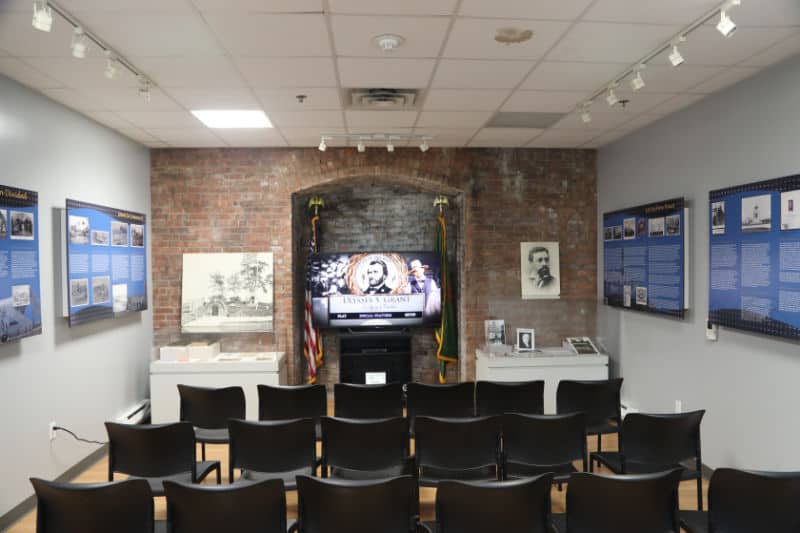 Best time to visit General Grant National Memorial
We visited in June and the weather was amazing. The park is open year-round but for the best experience I would plan to visit when there isn't snow on the ground.
Weather and Seasons
New York City experiences all four seasons with warm humid summers and cold snowy winters.
The warmest weather in New York City is from June 2 to September 16th with an average temperature above 76 degrees Fahrenheit.
The coldest weather in NYC is from December 3 to March 12 with an average daily temperature below 48 degrees Fahrenheit.
Snow often occurs between November 26 to April 2 with February being the snowiest month with an average of 6 inches.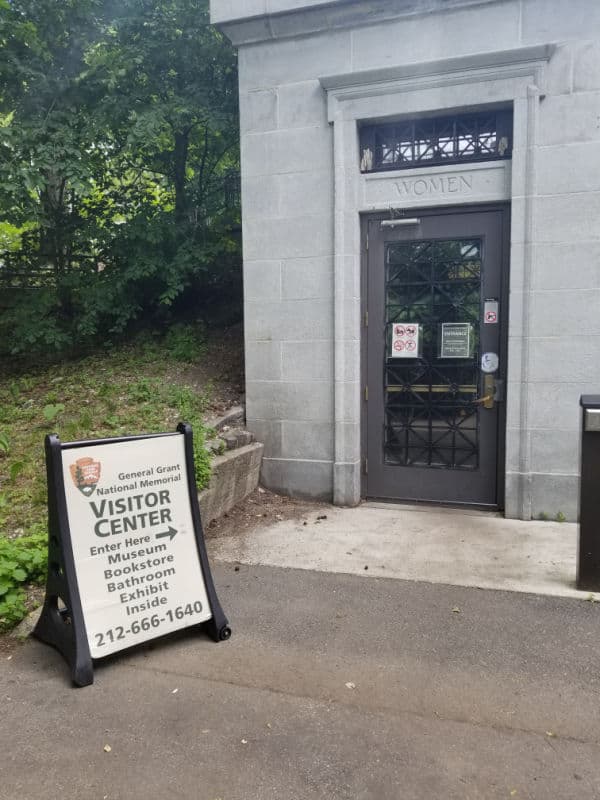 Best Things to do in General Grant National Memorial
Visitor Center
The General Grant Memorial Visitor Center is located across the street and downstairs from the mausoleum.
Don't be surprised that the entrance door looks like an entrance to a woman's restroom. Don't worry you are in the right place 🙂
The General Grant NM Junior Ranger pamphlet can be picked up at the visitor center.
The information necessary to complete the booklet can only be found on-site, so a visit to "Grant's Tomb" is required for the General Grant National Memorial Junior Ranger Program.
You can expect the Junior Ranger program to take between 30 to 90 minutes to complete depending on the age of the participant. We watched the park video and then toured Grant's Tomb to find the answers for the program.
Tour the Mausoleum
The mausoleum does have interesting hours so make sure and check them out before heading to the memorial.
It is open for an hour and then closed for an hour and then open again. Rangers rotate through the Mausoleum and are available to answer questions during your visit.
There are stairs down to the tombs if you want to see them up close. If you have difficulty with the stairs you can look over the balcony and see them below.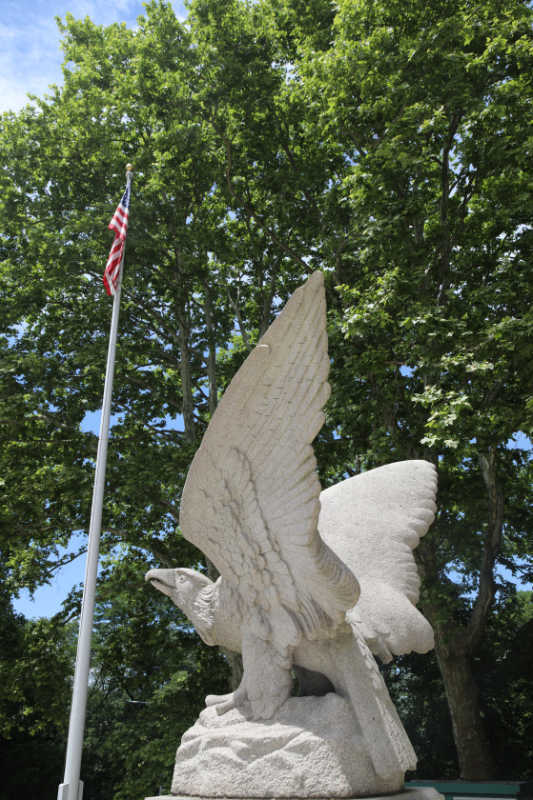 Hiking in General Grant National Memorial
Always carry the 10 essentials for outdoor survival when exploring.
There are no hiking trails within the park but you can walk around the park and explore the area.
How to beat the crowds in General Grant National Memorial?
We did not experience any crowds during our visit to General Grants Tomb.
Holidays and busy summer weekends you may experience a crowd while visiting.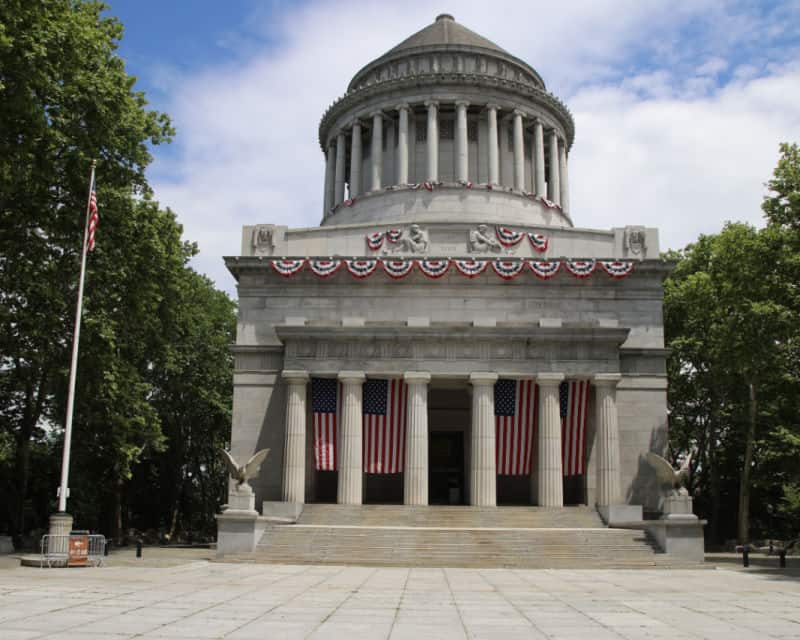 Where to stay when visiting General Grant National Memorial
There are no National Park Lodges within the park.
1 Hotel Brooklyn Bridge - 5-star luxury hotel in the heart of Brooklyn Heights, a neighborhood in Brooklyn. All 194 individually decorated rooms offer comforts such as premium bedding and air conditioning,
Holiday Inn Express New York City - Wall Street - Hotel located near One World Trade Center with rooms rejuvenated in 2017. located close to Battery Park and National September 11 Memorial, and provides free to-go breakfast, a grocery/convenience store, and dry cleaning/laundry services. Stay connected with free in-room Wi-Fi, and guests can find other amenities such as a gym and a business center.
Hilton Garden Inn NYC Financial Center/Manhattan Downtown - 3-star hotel revitalized in 2017 and located near One World Trade Center. Free in-room Wi-Fi is available to all guests, along with a 24-hour business center and a restaurant.
Moxy NYC Downtown - 4-star hotel near One World Trade Center. All guestrooms at Moxy NYC Downtown boast perks such as laptop-compatible safes and air conditioning, in addition to amenities like Wi-Fi and sound-insulated walls.
If you are planning a romantic getaway to New York make sure to check out the most romantic hotels in New York State!
Click on the map below to find current rates for hotels and vacation rentals in New York City.
Camping
There are no National Park Campgrounds within the park or nearby.
For a fun adventure check out Escape Campervans. These campervans have built in beds, kitchen area with refrigerators, and more. You can have them fully set up with kitchen supplies, bedding, and other fun extras. They are painted with epic designs you can't miss!
Escape Campverans has offices in Vancouver, Seattle, Portland, San Francisco, Las Vegas, Los Angeles, Phoenix, Salt Lake City, Denver, Chicago, New York, and Orlando
Campgrounds in the area include:
Camp Wyanokie - West Milford, NJ
This campground includes tent sites, a waterfront, hiking, and more.
Turkey Swamp Park - Freehold, NJ
This campground offers lodging, RV and Tent Sites, a waterfront, boating, and more.
Sun Retreats Pleasant Acres Farm - Sussex, NJ
This campground has lodging and RV sites, fishing, a dog park, and more.
Check out additional campgrounds in the area on CampSpot.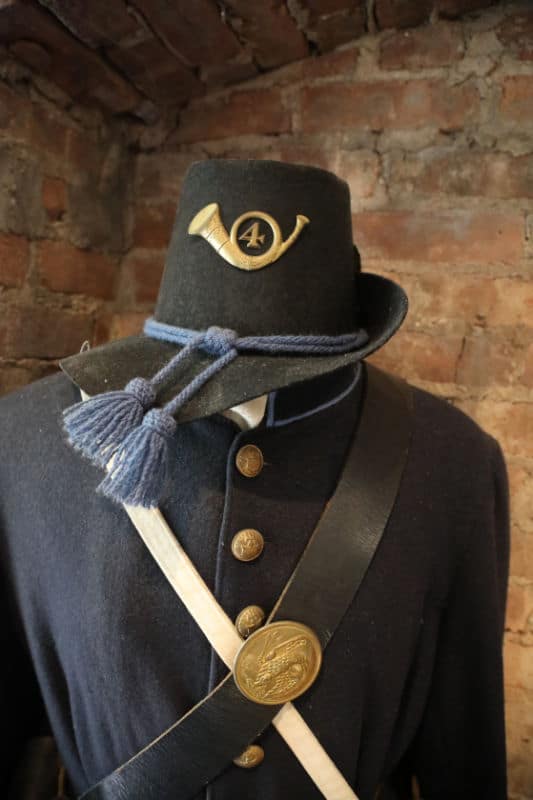 Additional Resources
Here are some additional tours available in New York City
New York CityPASS - Visit 5 major New York City attractions at significant savings including the Empire State Building, American Museum of Natural History, Statue of Liberty and Ellis Island, Intrepid air and space museum, and Guggenheim Museum.
1 hour cruise around the Statue of Liberty and Ellis Island - Sail within 100 feet of the Statue of Liberty and Ellis Island, Cruise under the Brooklyn Bridge and passed South Street Seaport, Marvel at the skyline of Lower Manhattan from both the east and the west sides.
NYC: SUMMIT One Vanderbilt Experience Ticket - Re-imagine New York City with a visit to SUMMIT One Vanderbilt. Transcend 93 floors above the concrete jungle and step into an immersive, multi-sensory art experience with sweeping 360 degree views of the city.
Chinatown and Little Italy Food Tour - Immerse yourself in the history and food of Little Italy and Chinatown
Manhattan Island Helicopter Tour - Experience the beauty of Central Park, Brooklyn Bridge, Hudson River, the Statue of Liberty, the Intrepid Air and Space Museum, and more
9/11 Memorial & Museum Timed-Entry Ticket - Reflect on the events of September 11, 2001 when visiting the poignant 9/11 Memorial & Museum. Listen to personal stories of remembrance & resilience following the attacks.
Parks Near General Grant National Memorial
Ellis Island
Castle Clinton National Monument
Check out all of the National Parks in New York along with neighboring National Parks in Connecticutt, National Parks in Massachusetts, National Parks in New Jersey, National Parks in Pennsylvania, Rhode Island National Parks, and Vermont National Parks
For more fun ideas on what to do in New York City check out this NYC Bucket List!