Massachusetts National Parks include incredible historic sites in Boston and all over the state. One of the great things about visiting National Parks in Massachusetts is there are just so many of them.
Lowell National Historic Park
Lowell, Massachusetts is about 30 miles north of Boston, and just south of New Hampshire. Lowell National Historical Park commemorates the story of the Industrial Revolution in America.
At the Boott Cotton Mills Museum, you can experience the extreme noise of power looms from the 1920s operating in a weaving room (they hand out earplugs before you go into the room.) Take a trolley or a canal ride. The Lowell National Historical Park features exhibits at the Visitor Center, the Mill Girls & Immigrants Exhibit, and the Center for Lowell History. The offerings of the park are either free or inexpensive.
There are many other attractions to visit while you're in Lowell. Interested in fiber arts? Check out the American Textile History Museum and the New England Quilt Museum. Art lovers can enjoy the Brush with History Art Gallery and Studios and the Whistler House and Museum. Transportation buffs will be interested in the Boston & Maine Railroad Historical Society, and the National Streetcar Museum at Lowell.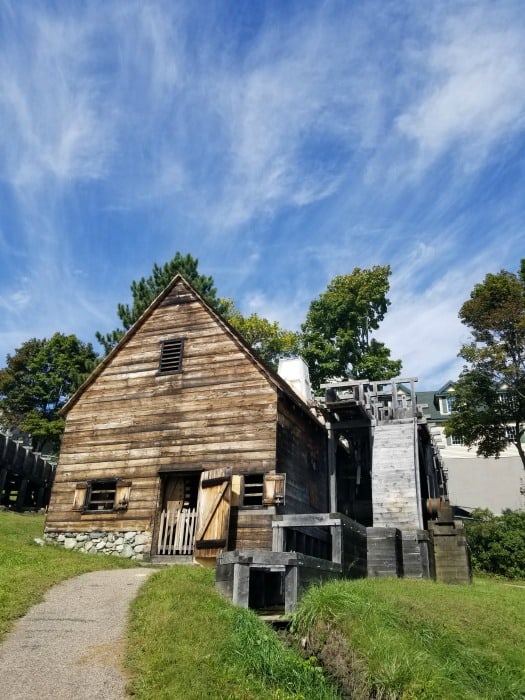 Saugus Iron Works
The National Park Service also supports the Saugus Iron Works. "Explore this place where European iron makers brought their special skills to a young Massachusetts colony. Three-hundred-year-old artifacts, working waterwheels, and mill machinery help to tell the story of a business failure destined to be a National Park." There are pictures of the original structures on the site which were uncovered during archaeological digs. These include the blast furnace, forge and slitting mill.
The first integrated ironworks in the US was built at this site in the mid 17th century. Visitors will see a reconstructed iron works settlement and an open-air museum with working waterwheels. You will want to start your visit with a 12-minute video "Iron Works on the Saugus." There is no charge for your visit.
National Parks in Massachusetts
National Parks in Massachusetts
Adams National Historical Park
Appalachian National Scenic Trail
Blackstone River Valley National Historical Park
Boston National Historical Park
Boston African American National Historic Site
Boston Harbor Islands National Recreation Area
Cape Cod National Seashore
Essex National Heritage Area
Frederick Law Olmsted National Historic Site
John Fitzgerald Kennedy National Historic Site
John H Chafee Blackstone River Valley National Heritage Corridor
Longfellow House Washington's Headquarters National Historic Site
Lowell National Historical Park
Minute Man National Historical Park
New Bedford Whaling National Historical Park
New England National Scenic Trail
Salem Maritime National Historic Site
Saugus Iron Works National Historic Site
Springfield Armory National Historic Site
The Last Green Valley National Heritage Corridor
Washington – Rochambeau National Historic Trail
There are 15 Massachusetts National Parks with over 10 million visitors a year. These visitors create over $521 million in economic benefits!
National Parks in Massachusetts include 5 National Heritage Areas, 3 Wild and Scenic Rivers managed by the park service along with 3 National Trails managed by the park service.
There are 4,312 National Register of Historic Places listings in Massachusetts along with 189 National Historic Landmarks.
11 National Natural Landmarks along with 1,706 places recorded by Heritage Documentation Program and over 5.3 million objects in Massachusetts National Park museum collection.
For an entire list of US National Parks head over to our list of US National Parks in Alphabetical Order. We also have a printable checklist of all 417 National Park properties in the United States available.
If you have dreamed of working in the National Parks make sure and check out our article on How to Become a Park Ranger. Working in the parks is one of the most amazing jobs you can find. There is just something special about waking up and knowing you are going to work in a beautiful park.
Check out the National Parks in neighboring states
National Parks in Rhode Island
National Parks in New Hampshire